3D printing has come a long way and gained great popularity in recent years. It is not only known among professionals and large industrialists but it is also becoming popular among students and enthusiasts.
The expiry of patents and widespread availability of 3D printers at affordable rates leads to its acceptance among general consumers also.
When 3D printers came around, only industrialists could afford them, as those were expensive. Later on, companies came up with compact and affordable 3D printers. Several companies also introduced DIY 3D printer kits to the market.
The Do It Yourself (DIY) 3D printer kits are budget-friendly. Thus, they are ideal for people on tight budgets yet they want to try 3D printing. However, it might take hours to assemble and install them. In addition, it could be quite frustrating sometimes to figure out the right settings.
Should I Build My Own 3D Printer? (Advantages)
It is an exciting experience for users, especially enthusiasts, to build a 3D printer from scratch. It might take a lot of effort and time but it is worth doing it, as the sense of achievement after successfully assembling a printer is unexplainable.
Overall, it is a satisfying experience. In addition, there is great learning, especially for students. How 3D printers are made and how do they work?
The self-assembly helps to better understand the mechanics of these machines. In addition, they could properly view and study each component of the machine.
Moreover, the self-assembling of 3D printers involves fixing all the nuts and bolts of the machine. Therefore, if there is a need for replacement or repair in the future, you could possibly fix the problem by yourself without the need of calling a professional or sending it back to the company.
The DIY 3D printer kits are usually cheaper than fully assembled printers. Thus, you can save some money and easily buy a desirable 3D printer within your budget.
Most self-made 3D printers are open source. They can be easily adjusted, modified, and upgraded easily with the manufacturer's permission.
Many Prusa, Anet, and Creality printers are open source. In addition, most 3D printer kits have open frames.  These offer large build areas for the same size. Thus, users can print large parts in one go.
Comparison Chart
| Name | Link | Nominations | Overall Rating |
| --- | --- | --- | --- |
| RepRapGuru DIY Prusa i3 V2 | | Great customer support | 6.8 |
| Original Prusa Mini | | Top pick | 8.4 |
| DXPRO SC-3 by Prusa I3 | | Precise printing | 7.9 |
| Anet A8 Plus | | Large build volume | 7.8 |
| Tronxy X1 | | Cheapest | 7.6 |
| TEVO Tarantula | | Quiet operation | 6.8 |
| Elegoo Neptune | | Workhorse | 8 |
| JGMAKER Magic | | Smooth surface finish | 7.9 |
| Anycubic Kossel | | Taller prints | 7.1 |
| Colido DIY | | Editor's choice | 8.8 |
List of Best 3D Printer Kit
RepRapGuru DIY Prusa i3 V2
RepRap is one of the top 3D printer kit manufacturers, known for providing unique and high-performing budget-friendly 3D printers. These offer precise and accurate 3D prints.
Although it takes a lot of patience and time to assemble the Prusa I3 V2, it is worth the effort. You will have fun calibrating the printer if you love challenges.
The build volume is 8 x 8 x 7 inches. The machine is compatible with Mac, Windows, and Linux. It offers an intuitive user interface. The printer is based on FDM technology and is available for $279.
Uses:
The user can produce precise parts due to the printer's sturdy acrylic frame. It stabilizes the printing process and eliminates vibration.
The open-frame design of the printer allows you to keep track of the printing process.
A holster holds the filament spool, providing users to have more workspace.
The heated print bed offers flexibility in printing with various materials that have a high melting point and minimize warping.
The connectivity through SD card allows stand-alone operation of the 3D printer.
You can customize the printer easily, which allows printing customizable parts with the same printer.
The user can print models with a wide range of materials. These include PVA, Wood, ABS, PLA, and TPE.
As it is affordable, it is best for home use and hobbyists.
Original Prusa Mini
The Original Prusa Mini is a compact FDM 3D printer with modern technology. It has a build volume of 180 x 180 x 180 mm and a layer height of 0.05 to 0.35 mm.
The three-piece assembly is easy to set up. It offers high print quality and a smooth surface finish. It can also precisely and accurately print complex designs. It costs around $349. Thus, it is worth the price.
Uses:
The removable magnetic build plate allows easy removal of 3D prints.
The Ethernet RJ45 port helps in streamlining the workflow.
There is a color LCD screen, which allows you to preview the designs before printing.
The 3D printer has a Bowden System with 3:1 drive gear ratio. This allows you to keep the extruder lightweight,  hence reducing the wobbling problem.
The automatic bed leveling eases your tasks and offers greater accuracy.
The printer is embedded with a customized 32-bit motherboard and uses Trinamic 2209 drive.
DXPRO SC-3 by Prusa I3
Prusa I3 is well known for its simple, easy to assemble, and great 3D printer kits. DXPRO SC 3 is one of its top products. It offers a large build volume, clear design, and various other advanced features.
The printer has a high printing speed of 20 mm/sec and a large build volume of 300 x 300 x 400 mm. The layer thickness varies between 0.05 and 0.4 mm.
The printing accuracy is 0.01 mm. The printer costs $399.99. The price is worth your while, as the machine produces high-quality 3D prints.
Uses:
Targets hobbyists, makers, small businesses, and beginners, as it is affordable and easy to set up
You can refer to manual and online videos for assembling the printer within five minutes.
The printer can be easily used at home and in small offices due to its compact design.
You can always keep track of the printing process through the printer's open frame.
You can use this machine for printing large parts
This printer is a workhorse as it can work continuously for 200 hours without any break. The imported linear navigation reduces friction and lowers the print pressure.
A heated bed allows better adhesion of the first layer and minimizes warping.
Easy to set up and minimizes mistakes during assembling of various components
The power outage recovery allows saving and pausing of the printing process when there is any power failure and resumes printing after the power returns.
The metal body of the machine provides stability and minimizes vibration during 3D printing. Due to it, the printer is reliable and offers accurate 3D prints.
A touchscreen provides an intuitive user interface and allows controlling of the printing process without the need to connect it to a laptop.
There are interchangeable nozzles that allow working with three different nozzle sizes, with diameters covering 0.4, 0.3, and 0.2 mm.
Anet A8 Plus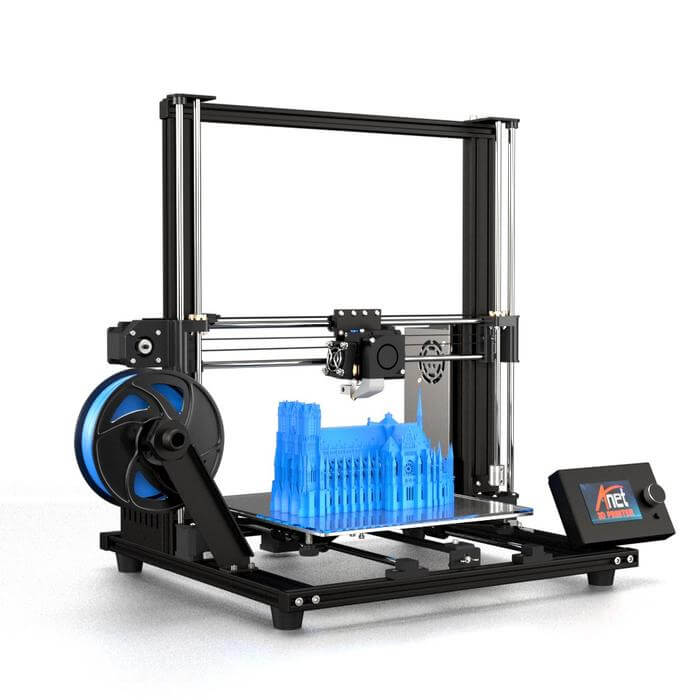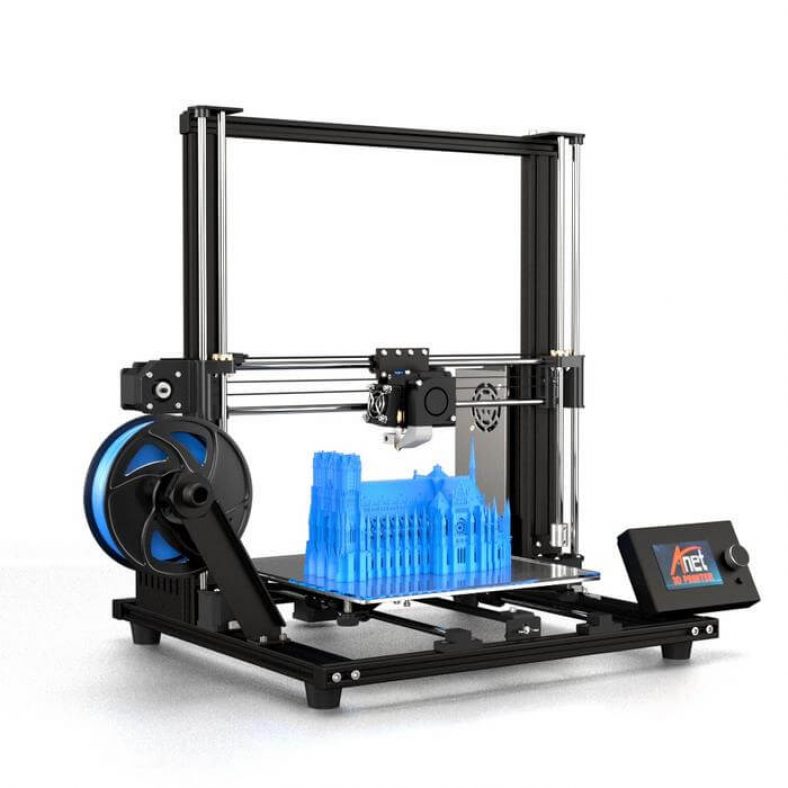 The Anet A8 Plus is an upgraded version of Anet A8. It is available as both a fully assembled device and a DIY kit. Unlike the Anet A8, it has a large print space and a sturdy metal frame.
The printer uses the Fused Deposition Modeling (FDM) technique for 3D printing. It has a build volume of 300 x 300 x 350 mm with a single nozzle of 0.4 mm diameter.
This model is sleeker than Anet A8. The maximum temperature the print bed can sustain is 100oC. You can connect with the printer through a Micro SD card.
The machine costs only $300. With a minor price increase, the company offers a great upgrade that enhances the user experience.
Uses:
The frame of the printer is made of aluminum that stabilizes the machine's operation.
Better motherboard that protects from over current and short-circuiting issues
Removable glass heated print bed that allows easy removal of print parts
The open frame allows you to keep track of the printing process.
Tronxy X1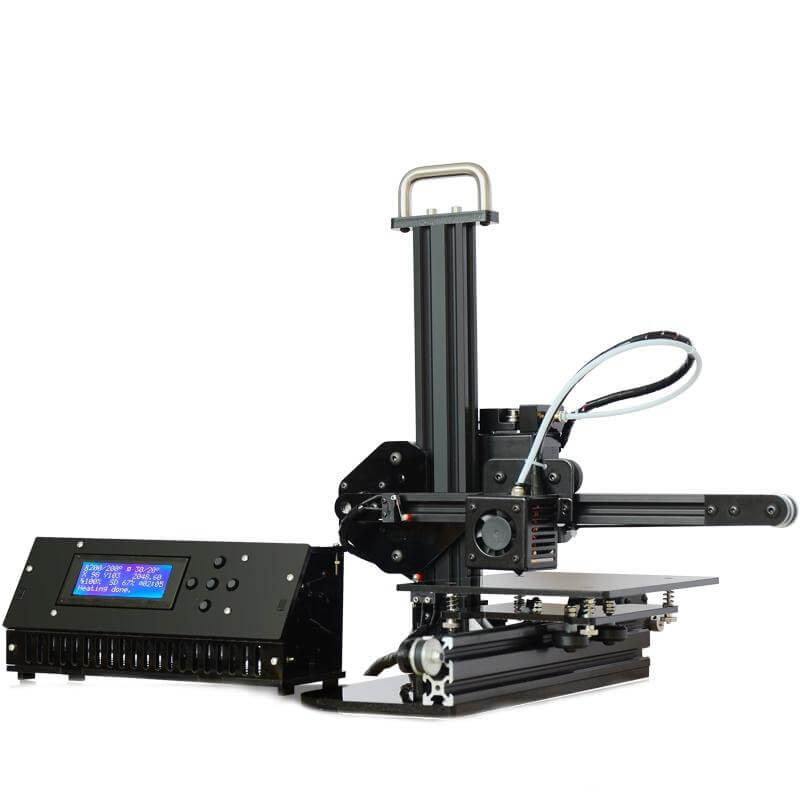 With a minimalist design, the Tronxy X1 is easy to set up as compared to models with a complex design. It is budget-friendly, available for under $150.
The build area is 150 x 150 x 150 mm and the resolution is 100 microns. The printer has an aluminum frame, a nozzle of 0.4 mm diameter, and a simple single-arm design.
The print speed is 130 mm/s. You can connect easily through an SD card. The machine is CE, FCC and RoHS certified.
Uses:
Ideal for learners and beginners
The LCD screen allows you to control the printer settings
TEVO Tarantula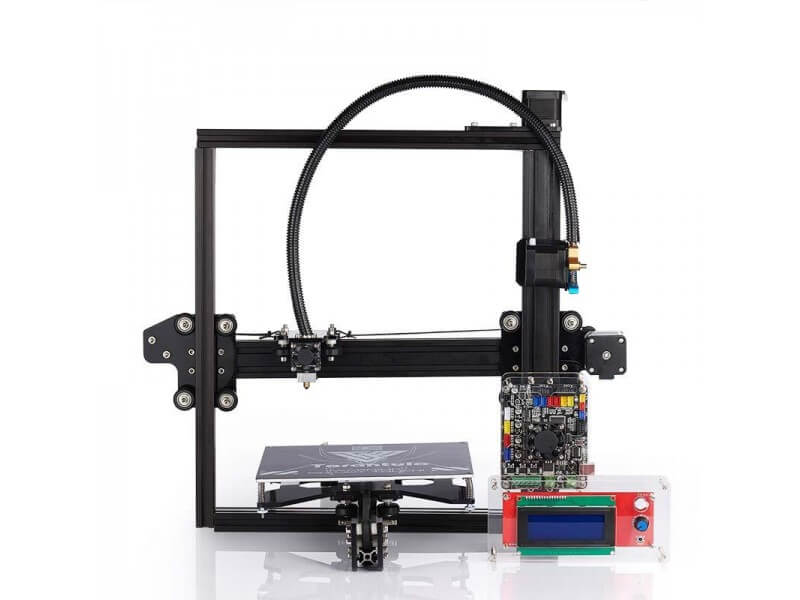 The TEVO Tarantula is better than the Prusa i3. It is based on FDM technology and has an extruded black anodized aluminum metal frame with a build volume of 200 x 200 x 200 mm and the layer resolution varies from 50 to 200 microns.
The printer is compatible with Windows, Mac, and Linux. The maximum speed of the printer is 150 mm/s. You can connect with the printer through a TF card or USB. The average price of the printer is around $200.
Uses:
The automatic bed leveling upgrade uses sensors to detect the print bed and adjusts accordingly.
You can print with a wide range of materials, which include wood, PVA, PLA, PETG, and flexible filaments
You can print with single or dual colors.
For standalone operation, you can use the LCD screen to control the printing settings.
ELEGOO Neptune
The ELEGOO Neptune caters to the needs of beginners and experts. It is easy to set up and is cheaper as compared to other DIY 3D printers.
This printer is a complete workhorse, designed to provide flexibility to print with different filaments. The print space is 8 x 8 x 8 inches and the resolution varies from 0.05 to 0.3 mm.
The printer has a single nozzle with a printing speed of 100 mm/s and a maximum temperature of 260oC.
You can print with a wide range of filaments, ranging from PLA to ABS. The machine costs around $260 and is ideal for newbies.
Uses:
The ELEGOO Neptune is a semi-assembled device. It takes not more than 30 minutes to assemble the 3D printer. You will get instructions, which are easy to follow.
The Titan Extruder of the printer allows printing with various filaments and creates precise designs.
The design of the machine is compact yet sturdy. The metallic body provides stability and eliminates vibration.
This model has an inbuilt filament run-out sensor, which pauses printing when the filament level is too low and resumes it after you reload the spool.
The pause and resume feature of the printer allows dealing with electric failure and prevents damage to the prints.
A carbide print bed offers better adhesion of the first layer and easy removal of the finished 3D prints.
The heated bed minimizes the warping and shrinking of models.
The open-frame design allows keeping track of the printing process.
JGMAKER Magic
JGMAKER Magic is one of the best and cheapest 3D printer kits available today. It is easy to assemble and offers great print quality and is ideal for beginners.
The printer has a build volume of 220 x 220 x 250 mm and layer thickness ranging between 0.05 and 0.3 mm. The print speed varies from 10 to 150 mm/sec.
It has a stable nozzle that can withstand a temperature of 240oC. You can connect to the machine through an SD card or USB. The machine costs $199.
Uses:
The open frame of the printer allows easy viewing of the printing process.
The sturdy aluminum body offers high stability and reliability as it minimizes vibration during 3D printing
There is a filament holder on one side of the printer. You can easily replace the filament without disturbing the printing.
The user can assemble it easily within 2 hours even without any experience.
The heated removable print bed allows better adhesion of the first layer and easy removal of the printed parts after completion.
The resume feature of the machine pauses the printing when there is a power outbreak and resuming it later from where it stopped. It also allows saving printing when you remove the SD Card accidently during printing.
There is also a filament run-out sensor, which pauses printing when the filament is low in the spool and resumes it after replacement.
Built-in power design makes it safe for use
The user can print with multiple materials, including ABS, Wood, and PLA
Anycubic Kossel
AnyCubic is well known for its Kossel 3D printers. There are two versions; pulley and linear. The pulley version uses wheels on the carriage while the linear one uses rails. The pulley version is cheaper than the linear version.
However, it is a little difficult to assemble. The print volume is 220 x 220 x 240 mm and speed ranges between 20 and 80 mm/s. The layer thickness varies from 0.1 to 0.4 mm and printer accuracy is 0.001mm.
You can connect using an SD card or a USB stick. The price varies from $160 to $200, depending on the level of upgrades you choose.
Uses:
Thanks to the metallic frames, the machine is stable and sturdy. It allows printing accurate parts with less vibration.
You can prints taller parts.
There is on-board control that allows managing the printer settings.
The machine is compact and lightweight. This makes it portable and best for home and office use.
Due to a single extruder, the user can print with only one color.
Colido DIY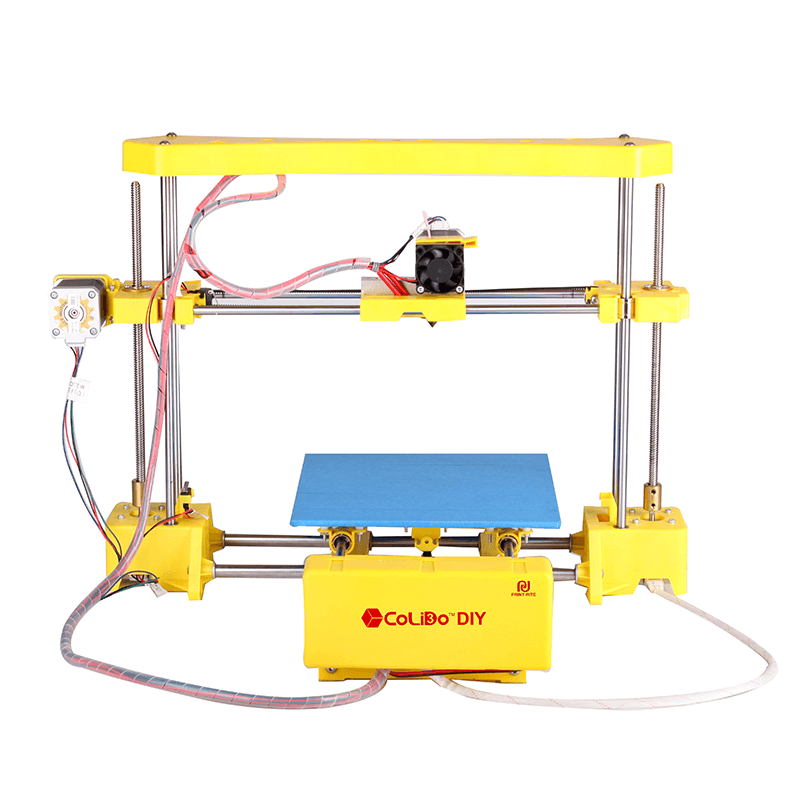 The ColiDo DIY printer kit is suited for hobbyists who like to experiment with their imaginations. It is easy to assemble as compared to other DIY kits and offers decent print quality at an affordable rate.
The print space is 7.9 x 7.9 x 6.7 inches and the resolution is up to 0.1 mm. It is based on FDM technology for 3D printing. The nozzle diameter is 0.4 mm. You can connect easily with a USB port. The printer costs $299.
Uses:
Allows you to print large parts, thanks to the huge build volume
Ideal for starters as it provides a great learning
You can print with PLA
The user can assemble and calibrate it within 45 minutes
Buyer's Guide
You should know what to look for when searching for the best DIY 3D printer kits. Before you start 3D printing, you may have to build a 3D printer from scratch.
It might be hard and take a few days if you are a beginner. As a result, you require assistance from professionals or the company.
Consider the following factors when making a final purchase decision:
Proper Instructions
When purchasing a 3D printer kit, look for proper manual instructions that are easy to follow for assembling the printer. Sometimes, manufacturers miss a few points in those guidelines.
The vague instructions sometimes put not only beginners but also experts in hassle. Thus, you should make sure that the kit comes with complete guidelines that allow you to set up the printer easily.
Online How-To Videos
Sometimes companies and various professionals upload step-by-step assembly and operation videos of a particular 3D printer kit on their website or YouTube channel.
These videos guide the users in assembling the printer properly. Thus, by watching those, you can easily build a printer.
Technical Support
Whether you are a buying plug-and-play 3D printer or a DIY kit, you will need technical support to properly operate the printer and deal with any mishaps.
Online Communities
The online communities help you get in touch with those who have experience using a particular 3D printer kit and solve your queries any time.
Frequently Asked Questions (FAQs)
Before making a final purchase decision, always look for FAQs regarding a particular 3D printer kit on the company's website or online. This will help you to understand the specifications of the printer better.
Can I Build My Own 3D Printers?
Yes, you can build 3D printers as mentioned in this article. Several companies launched Do It Yourself (DIY) 3D printer kits at affordable prices.
Hobbyists, learners, and home users can also buy these kits to experience constructing their own printers. These kits include all components required by the printers and a manual with proper instructions for the users.
Is It Cheaper To Build Your Own 3D Printers?
Yes, DIY 3D printer kits are comparatively cheaper than fully assembled 3D printers are. Sometimes it is a tedious job to assemble a 3D printer but it helps to manage your tight pockets largely.
What Skills Do I Need To Build My Own 3D Printer?
The most important skill that you require is patience. There are times when it takes several days to assemble a complex 3D printer. It can be a tedious task. However, you need to remain calm and work hard to assemble it.
Several companies have come up with kits that are easy to assemble and require limited basic tools, such as screwdrivers.
In addition, many kits come with proper instructions to guide you through the assembly process. Thus, you can conveniently create a 3D printer with little or no technical expertise.
Conclusion
There are hundreds of DIY 3D printer kits available in the market. They vary greatly in prices, print quality and precision, build volume, printing speed, and technology.
Some 3D printers might take minutes to assemble while others take hours or days. Several kits are cheap but do not deliver the desired results.
Hence, for your convenience, we listed the ten best and cheap 3D printer kits in detail. These printers are known for their performance. By reading this guide, we hope you can choose one that best fits your 3D printing goals.