Have you tried and failed when trying to select the 3D printer that would best suit your purpose? This happens to almost everyone. 3D printers are designed for different applications.
Some are especially created for hobbyists, some are for professionals, some fit right for educational niche and others are for beginners. These are also categorized as industrial 3D printers, budget printers etc. Hence, getting to that one option which you can call 'best 3D printer' for yourself, among so many variants is sure a daunting task.
The number of 3D printer's brands are increasing every now and then and each brand is coming up with new technologies included in their latest 3D printer.
These all seem so intimidating sometimes. This is why it is important to know what all things you must consider before buying a 3D printer. From speed to performance to lot many other specifications. Once you do that, you can at least get an idea of what you want.
So, before we start checking out the affordable yet decent and high performing 3D printers, let us look at the different specifications one must keep up with when buying a 3D printer.
What Specifications to Look for in the Best 3D Printer?
How can you even imagine to assess a device when you are not acquainted with its different features that make each of these 3D printers different from one another? It is certainly an important point to consider.
If you are paying for a device that would cost you at least few hundred dollars, you must select the best 3D printer as per your needs.
Every 3D printer isn't equal. Some have high speed, while others perform better. Some have huge build area, but low speed and others with small build space yet impressive quality. By monitoring these features, one can conclude what suits best for the desired job.
Build Space: What is a build space? Most of you have guessed it right. The build space is the maximum volume of the objects that can be printed using the specific 3D printer. Some may believe that a smaller area isn't worthy. However, this is not the case. Small print areas can be used for bigger objects when printing is broken in parts. Hence, considering it a drawback won't be justified. However, if you wish to know what standard area must suffice most of the tasks, then, you can go with 5x5x5 inches of build space.
Width of Filament: The filament width may not be a contributing factor for the surface finish as it mostly depends on the extruder, it is still an important factor to consider. There are two standard sizes available: 1.75 mm and 3mm.
Extruder: Extruder is responsible for melting the material and depositing it layer by layer on the print bed. Most of the 3D printers have one extruder to work with. This means that the 3D printer with one extruder can print with one material and color at a time. If your printing goals comprise of dual extruder, you must choose the one that comes with multiple extruder.
Layer Thickness: Layer thickness decided the surface quality of your models. The minimum the layer thickness is, the better is the surface quality. The layer differences are visible more when the layer thickness if more. In other words, if you need greater details, you must choose the one that allows for finer layer deposition. You may find most of the 3D printers allowing a layer thickness of 0.2 or 0.3 mm, but you can also get the one that let you print with layer thickness of 0.1mm. However, the ones with finer layer thickness has lower speed. If you do not want to compromise with any of the two specifications, you can choose the one that let you adjust the layer thickness depending on your models while giving you the freedom to control the speed.
Resolution: Every 3D printer has different resolution. The ones with smaller resolution get you the finer details. You can choose your best 3D printer by choosing the one that provides you considerate feature resolution.
Speed: Print speed is very important. You won't want a 3D printer to sit and work for weeks for printing a part. That won't either be economical or practical. Hence, a decent print speed is a must when buying the best 3D printer.
List of Best 3D Printers
3D printers are very useful and some can also be a part of your fun routine. Let us explore some of the most affordable and best 3D printers for different purposes.
Ultimaker 3 Extended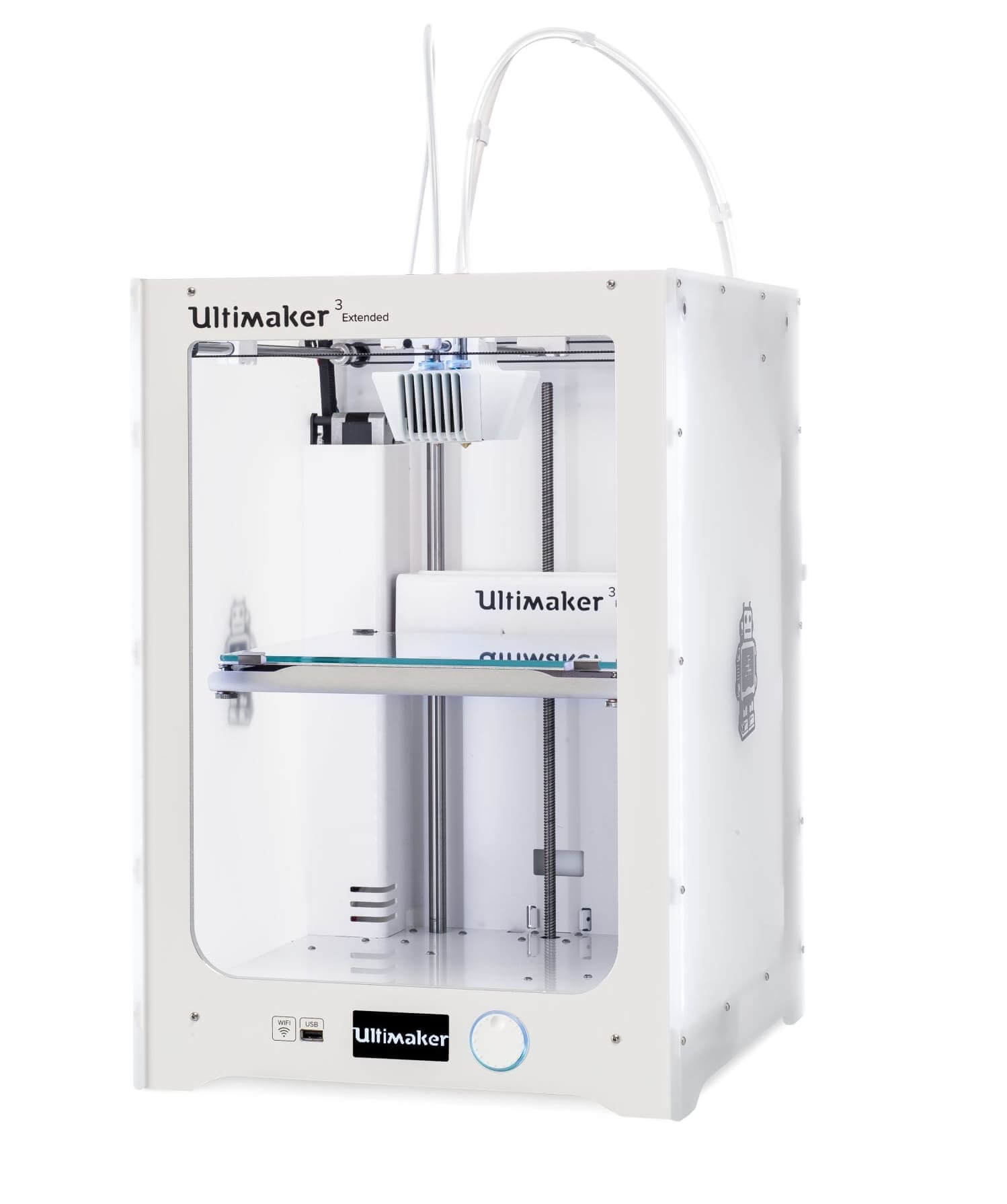 Ultimaker has been able to create some of the finest 3D printers for its users. The latest version has always something more to add to the one already existing. By trying to improve their own offering, Ultimaker has ensured that it wants to provide best to its customers.
The Ultimaker 3 Extended is an example of the same. The Ultimaker 3 Extended, as the same suggests, is an improvement on Ultimaker 3. The machine offers 10 cm of extra build space that is present in Ultimaker 3.
Most of all, the functionalities are same. The 3D printer uses swappable print cores. This is highly useful when printing with soluble support elements. This has further the benefits of this device. Instead of printing with same material to construct support, this machine can use different material that can be removed easily. Increasing the chances for printing complex geometries.
Moreover, the nozzle that is not working is lifted up making way for smoother prints. It also offers auto bed leveling. This means that one would have less trouble installing the device. And, it can be used continuously for printing many parts. It can be connected with wifi. So, if you wish to send the digital file directly from your mobile, you can do that via wifi connection. Also, the build in camera helps you keep track of your print status closely, even when you are not around.
You can use Cura software for slicing or watching the printer creating the parts. You can expect high quality and accuracy from this smart printer. But the price is on a higher side and the speed may fail to impress you very much.
However, take those parameters out of the judgement and this 3D Printer is amazing. The printer is designed taking in consideration the needs of professionals and small-scale manufacturing. It costs more than $4000.
back to menu ↑
Formlabs Form 2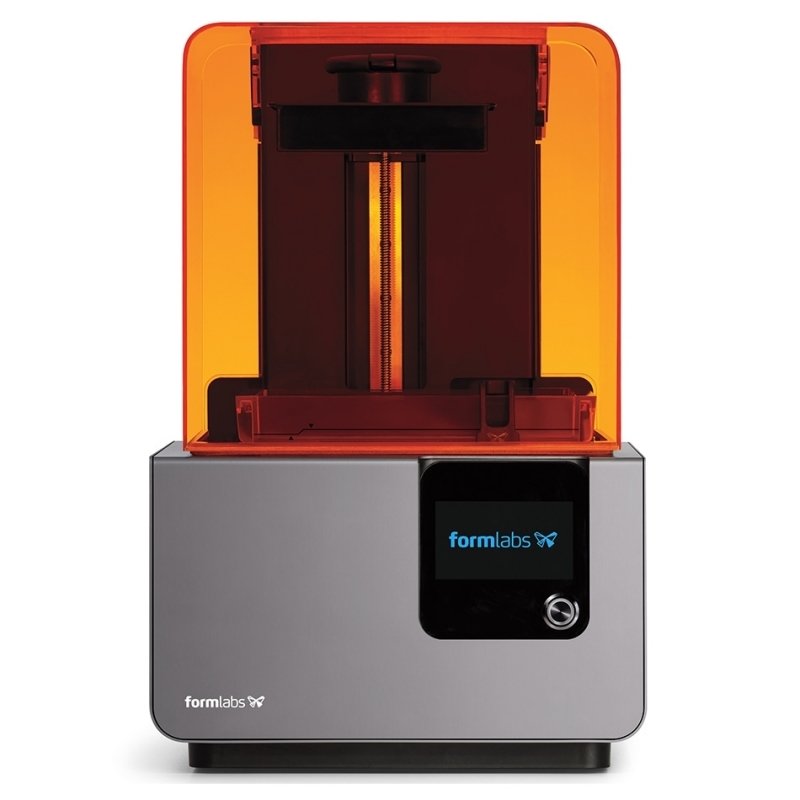 Since the time this printer was released, it has been successful in maintaining its space within the highest selling 3D printer for prosumers use. Based on SLA process, this printer works with resin. The looks are also stunning. The orange hood on the top complimenting the black and grey body, would look fabulous when placed on your work table.
The Formlabs 2 has been designed to increase the possibilities of 3D Printing in terms of space and functionality. It has 40% larger build space than the previous version. Not very much usual, the printer includes a sliding peel mechanism to remove the leftover materials for preparing the print for the next layer. In midst of the procedure, a self heating tank is used for warming the resin to a set temperature.
The automatic resin system is smart enough to indicate the amount of resin for a stable print process. The printer maintains quality as well as ensure that the speed stays optimum. With many great features to provide, this machine surely is a huge competition for many such machines in the market.
Being an SLA 3D printer, the cost of Form 2 isn't very high. But for those, who are buying a printer for the first time and cannot differentiate between an FFF and SLA printer, may find the price too much to afford. It costs around $3499. We made an article about the different 3D printer types that we recommend you take a deep look at.
Also, the cost of resin and post processing efforts are intimidating, past that, the prints are of astonishing quality and worth every time and effort involved.
back to menu ↑
Markforged Mark 2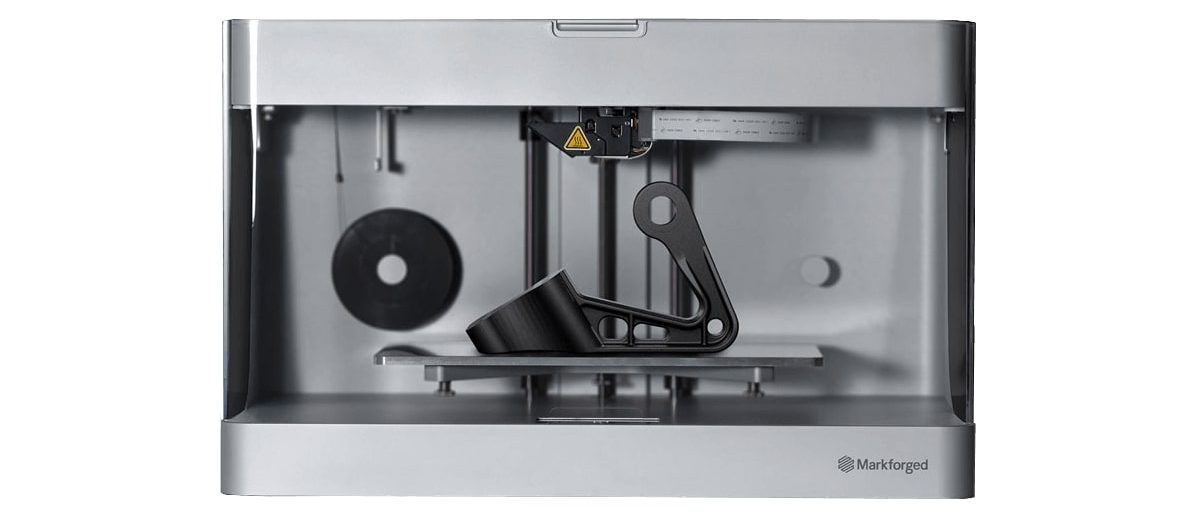 If you are working for some serious stuff, this 3D printer can help you complete your projects effectively. The reason it stays on the top list in because of its capability of creating structure parts in the shortest time.
This version has been amplified in terms of looks as well as functionality. Moreover, it uses continuous composite fibres for printing with a strength-to-weight ratio close to that of a metal. It serves a detachable build plate and flaunts a build area of 320×132×154mm.
The 3D printer provides access to cloud-based storage and ease during many steps involved in 3D printing. The accuracy needs no introduction when it comes to print with the help of Markforged Mark 2.
One can print using nylon and onyx with this machine. The 3D printer uses the power of carbon fibres, fiberglass or kevlar to strengthen the parts during the print process. Imagine printing parts that are around 25 times stronger and powerful than the ones printed by other similar machines using ABS. Even the strength-to-weight ratio could be augmented and made better than aluminium 6061 with Mark 2.
If you listen to the analysts vouching for Mark 2, you will get an idea why this printer has been so popular among serious 3D printing experts. It is reliable and can create parts with best quality.
Some even call it the best 3D printer in the last five years. As it is used for specific tasks and can be best aid for industries producing functional prototypes, the asking price is also high. You can expect this printer to come for nothing less than $13,499.
This 3D printer is not for beginners or those looking to experience the technology. It seems to be much more than just a fun creator. You can achieve a lot of things with this 3D printer, given that the software it uses is also full of ample functionalities offering you freedom to take your imagination to top notch designs.
back to menu ↑
Raise3D N2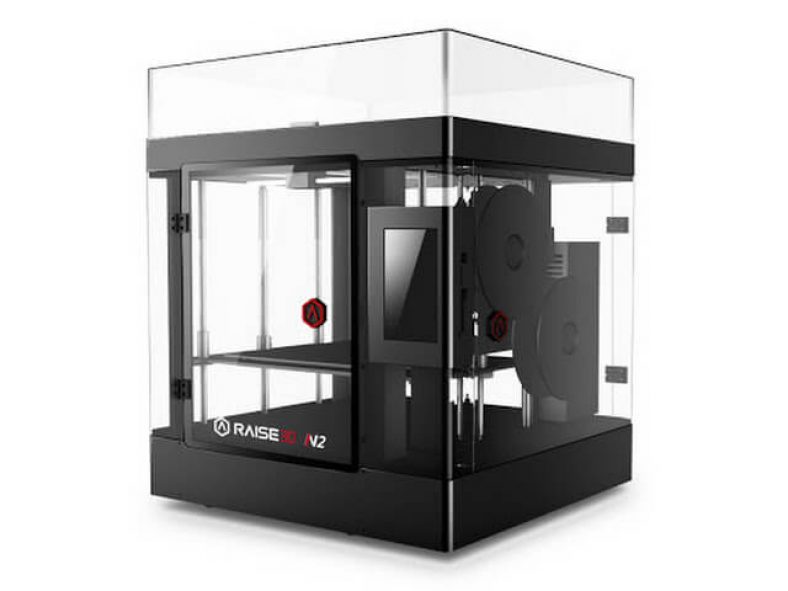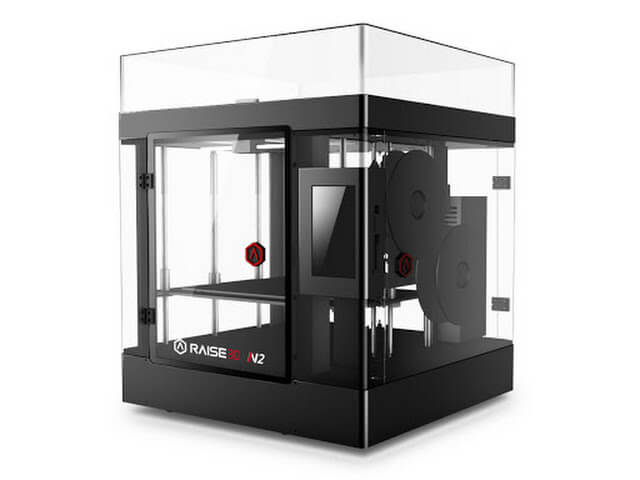 .
This again is a 3D printer designed for those employing 3D printing for specific reasons. This high end 3D printer is capable of creating fine designs. The print quality is worth mentioning.
Plus, the different feature it entails gives this option the ticket for entering professional 3D printer niche. The fully enveloped design makes it safe and secure for working with materials like ABS that leaves toxic fumes. Designed to awe specific niches, this beautiful 3D printer is very intuitive and works awesome.
The 3D printer offers huge material choices. You can print with PLA, PC, ABS, Ninjaflex, T-glass, PET-G, Alloy910 and many others. The device is equipped with the resume feature which helps to start the print where it was interrupted decreasing the chances of failed print. The price for the printer starts from $2,800 offering build augmentation of 305×305×305 mm.
Because of the larger print, you can make bigger parts and prototypes. For most of the users, design volume matters a lot. And, this printer very well serves to that percentage of users who prefer build volume over most of the features. This does bring with itself a concern of large space requirement. However, this can be managed.
One little concern that has been notified by few users is the unpredictable touch screen that sometimes is a challenge to work with. The print quality is accurate and the build finish is awesome.
You can use the printer for different applications. The software could be an issue for some as the feedbacks from customers indicate. However, all in all, this 3D printer has been popular among prosumers and professionals given its build quality and reliability of performance.
back to menu ↑
LulzBot Mini 2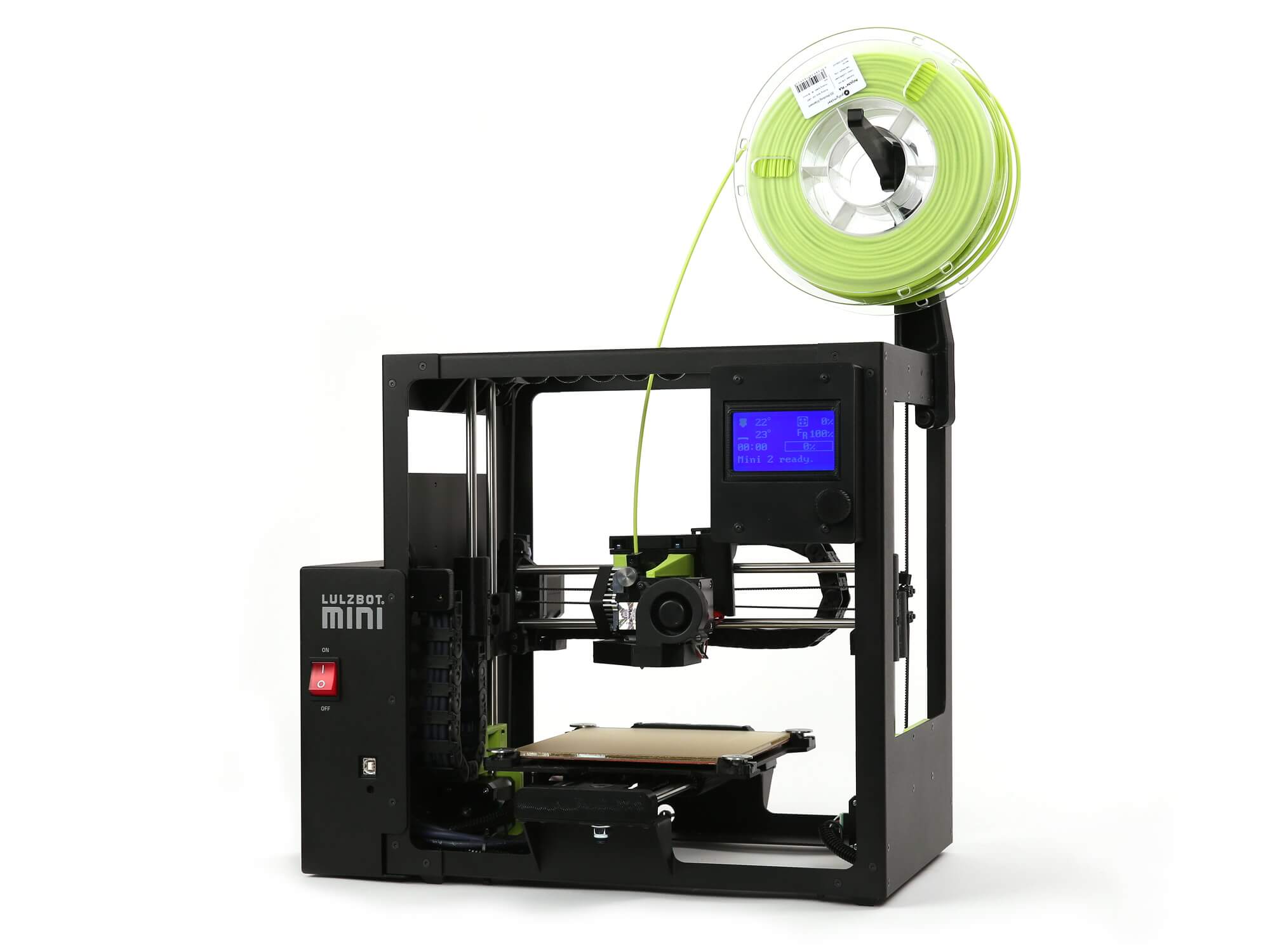 Are you a beginner who wants to start printing without getting involved in setting up your printer? If yes, this Lulzbot Mini 2 would help you start your 3D printing journey right away after being unboxed. You get a lot of automatic features that helps you work with the 3D printer with utmost ease. You can use auto-leveling, self cleaning nozzle, heated build plate and other instinctive features that make this choice worth mentioning.
If you do not have much knowledge about the technology and would like to learn without hitting your head around, this printer is the best choice so far. Simplest to use and highly reliable. The printer has a huge fan following comes from an open source community.
But the 3D printer does have some limitations. You need to connect it with a computer all the time. There is no interface on the printer. But who likes to worry about this smaller issues when something so crucial is available for such decent price?
Moreover, the client support is amazing. You can depend on the support for any issue. Because of the large community resolutions are easily found on the internet. And, if not, you can seek help from the client support team.
You do have smaller build volume, but you are just starting off. As mentioned before, smaller build volume may not be a problem if you know how to break your design in parts and assemble them together later. Anything can be created using such hacks.
You can choose this device if you do not wish to get yourself into the hassle of fixing things yourself while operation. To get a smooth experience at the start of your 3D printing journey, this pal would be a huge addition.
back to menu ↑
Zortrax M200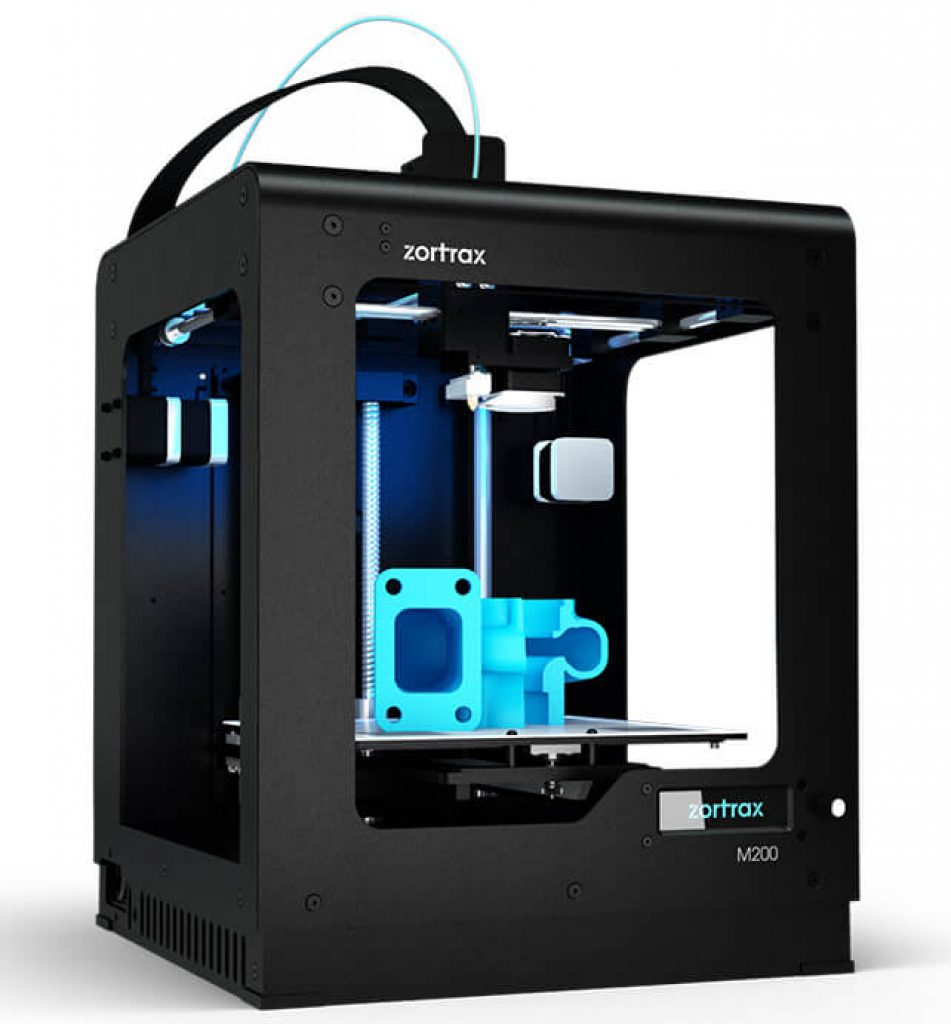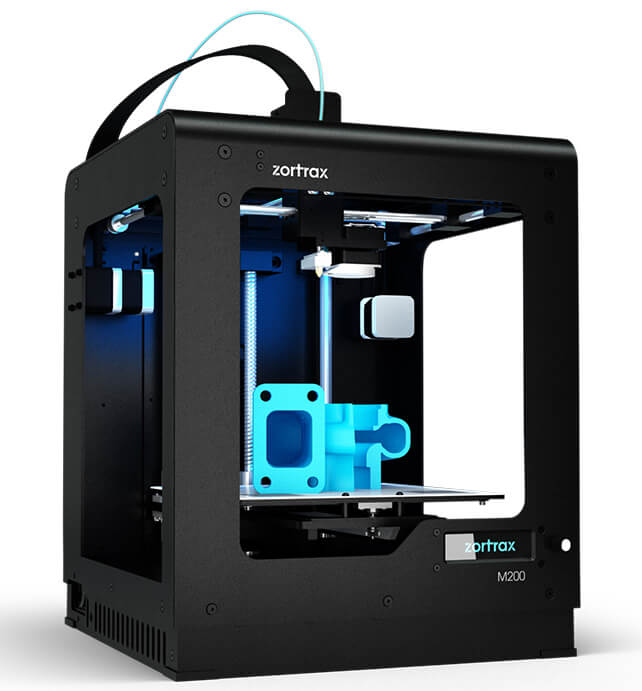 A truly value for money option, Zortrax M200 has been able to provide best results since last four years and committing to do the same going forward. The regimen started in 2013 when the company decided to match excellence with comfort and created this 3D printer. And, since its release, it has been able to deliver what was promised and aimed by the company.
The printer supports third party material which was, for some reasons, stopped in the past. This shows that the company is all ears when it comes to hear to the wishes of its users. The printer, however, has some limitations regarding customer support and in few other minor areas.
You can start printing with this machine right after unboxing. It again has some of the cool features that make it easy to use and a breeze to operate. To start with, the auto calibration feature lets you start the job in few simple steps. The build platform which is perforated helps decrease the chances of warping. It provides a build platform of 200× 200×185mm.
You can use this machine to give wings to your creativity. A great choice for beginners and those who really do not wish to tackle the setup challenges. You can get to the top of your game only after few steps and without needing to invest a lot of time setting up the machine. It is available for $2400 with a complete assembled option. It can assist beginners as well as experts by offering accuracy and reliability.
The speed is somewhat mediocre. But the print quality is par excellent. So, you can very well decide for yourself. Put under the best affordable 3d printer tag, this machine is certainly a preferred choice for many users.
back to menu ↑
CraftBot PLUS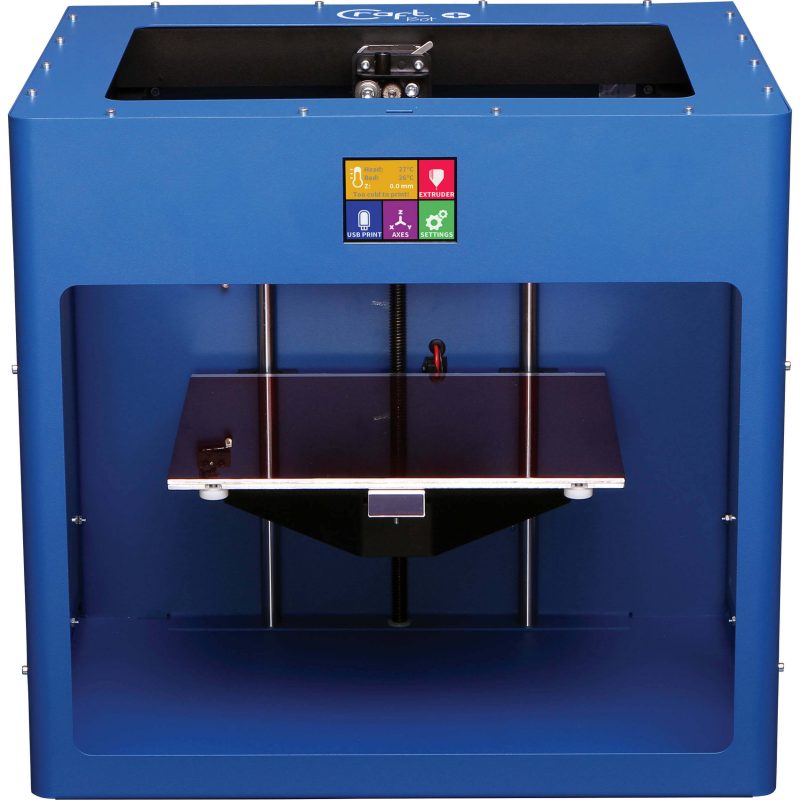 This is also from the plug and play category. This means that you can start using the printer right after taking it out of the box with few simple settings. Although there are many great things about this 3D printer that makes it suited for the list, there are few that are exemplary.
To start with, the 3D printer offers a great slicing software. Those who do not know, slicing software is very important in giving the right shape to your designs. It also affects the print quality. So, it occupies an important role when selecting a 3D printer.
The 3D printer is consistent in performance and can make things possible with less hassle. It is comfortable to use and the slicing software it offers is also easy to learn and utilize. The printer has heated build plate that makes it easy to print using different materials. You can use wood filled PLA's or even few metals when working with this 3D printer. You can transfer the digital file right after being sliced to this printer and the work will start in minutes.
You also get a color touch interface with touch screen accessibility. You can find a lot of helpful guides online for using this printer for optimizing its quality. It provides you the freedom of comfort and simplicity. The absence of dual extruder does ring bells for more aspirations within its users; however, the design is still very impressive and accurate.
There are few concerns. It has comparative low speed and is noisy as quoted by its users. If you can manage with those flaws, you can certainly have a great experience when working with this awesome choice.
back to menu ↑
Original Prusa i3 MK2S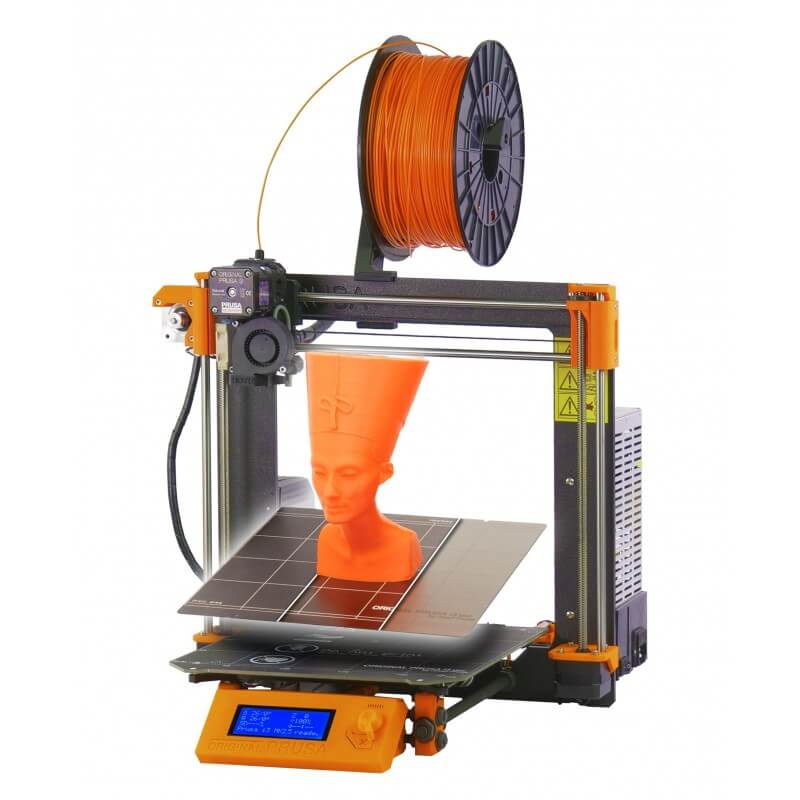 The company intends to better every time with its latest variants of 3D printers. Original Prusa i3 MK2S is an example of same. The printer excels the performance of already amazing MK2. It has been ranked best among the categories of astonishing 3D printers with ability to work like a rock.
MK2S exhibits a build volume of 250×210mm×200mm. This is quite larger than the standard size when compared to the other desktop 3D printers. It also has the heated build plate which makes it even more irresistible. It features a thick PCB (printed circuit board) heater that includes a thin PEI foil on its top. This allows for faster heating and cooling of the build plate, hence surging the quality of the parts printed using this device.
This choice is from a completely open source community which makes it very desirable. All the updates can be included within the same version without adding any extra cost. The support is, no doubt on the top of its game. It can work continuously producing many parts and will work same without inculcating any issues. It is reliable and go a long way when used with care.
The price starts from $724. This makes it one of the most affordable 3D printers. This best 3D printer can let you experiment the nuances of possibilities of 3D printing. It is splendid in terms of affordability and performance.
Many would rank it best when these two qualities come hand in hand. You can even create few of the printer's parts using your very own printer. Doesn't that sound exciting and useful. If you need a replacement, print it all by yourself. How does that sound? It is an amazing choice and wonderful 3D printer with all the awesome ingredients playing their part accurately.
back to menu ↑
FlashForge Finder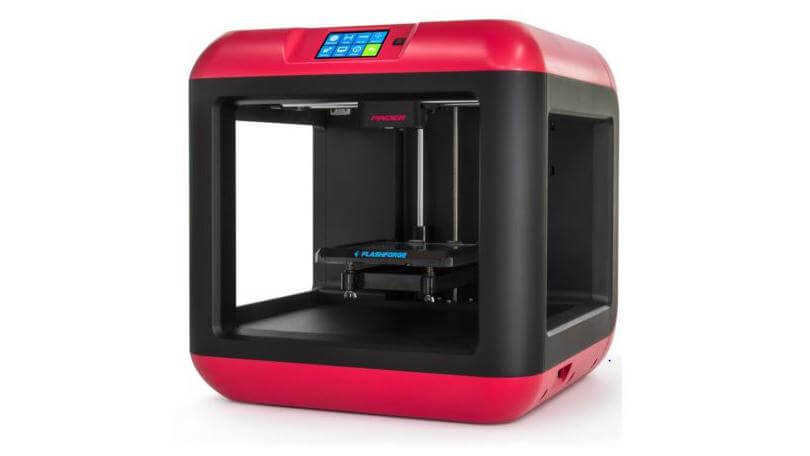 Not a fan for expensive 3D printers? This may get you all excited. The FlashForge Finder which comes for around $400 is one the best 3D printers with highly affordable price tag. Why to compromise with the performance when you can buy a 3D printer online with accurate results for cheap cost?
This is a compact 3D printer which certainly has the looks to enhance the beauty of your desk. A flashing 3.5-inch touch screen gets you all desirable to play with the settings. You get to use the SD support, flash drive support as well as wifi connection to enjoy hassle free printing experience.
So, you can set up the device without worrying about tangled wires making the entire room look unorganized. It also comes with a filament detection that assist you in acknowledging that the filament is about to end. Hence, helping you to refill the printer for uninterrupted printing.
There are many wonderful features that make this companion a huge bonus for beginners. If you haven't used 3D printers before, you would love to feel the simplicity that this 3D printer offers. Giving you control of your settings and yet, being able to provide comfort of use, make this choice a fit for the list.
Apart from the sleek design, you can fall in love with the colorful exterior in seconds.
back to menu ↑
Robo R2 3D printer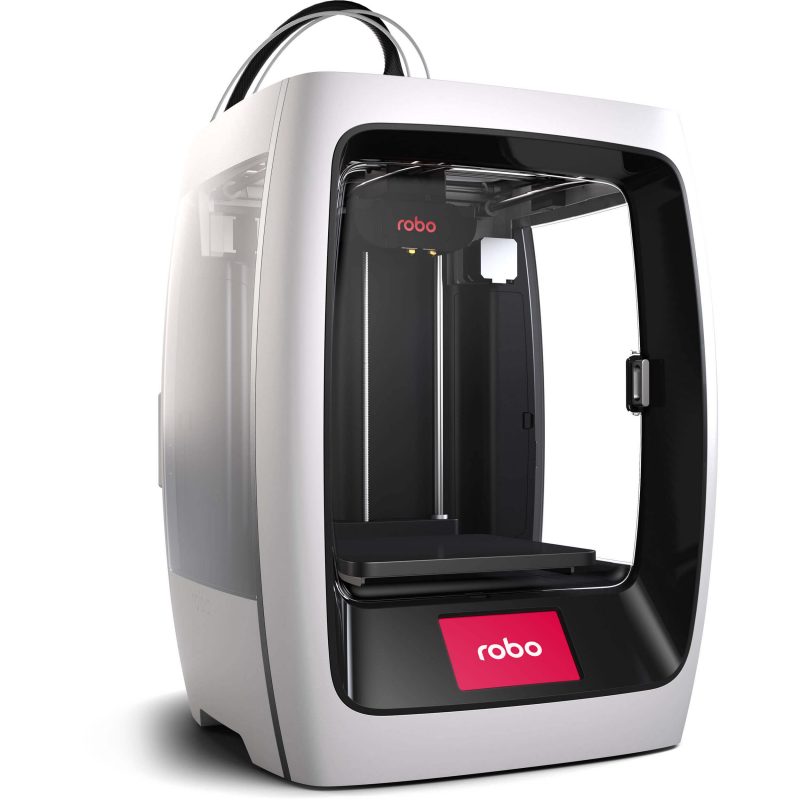 The sleek and powerful design of Robo R2 3D printer is unusual to find or even match. It looks contemporary and amazing to start with. However, the sleek body does not always mean a smaller build area. This 3D printer proves that mindset wrong and offers a larger build area of 8 x 8 x 10" as compared to the standard ones.
The build area is enclosed, hence, less noisy and safe for unexperienced and young users. It also is a great printer to work with ABS, offering closed printing from all sides. Although it comes with single extruder, it allows an addition of the second one to enhance the speed of the prints.
Like to talk about the print quality? Why not check out for yourself. This is a high budget printer and hence, you can expect it to get you the best quality to start with. The mesmerizing results would make you fall with this awesome 3D printer.
With 20-micron resolution setting, you can very well get a smooth surface parts with invisible layer difference. It also supports more than 30 different filaments. The list contains glass-infused PLA, magnetic iron and many other exquisite materials. Though you would need a metal extruder for executing this task safely.
It also offers two fans for faster cooling. It also makes it easy to set the printer up with auto bed leveling feature. The self calibrating print head further simplify the printing process. There is a 5 inch touch screen interface and a inbuilt slicing software.
Talking about the price tag, you must be ready to pay 1,500. This means that it is unlikely on the list of naïve users or those looking for a budget printer. But, if you can stretch your pocket a little, you may be able to get hold of serious printer that aims excellence.
Moreover, the support offered for this 3D printer is also decent. If you ever run into any issue, you can avail the prompt support to get over problems quickly and easily.
It also has a one year warranty that make it reliable. Apart from building great designs, you can be rest assured of the ease it offers to its users. You get few designs uploaded on the USB received with the 3D printer. You can either use it directly after unboxing the printer or can start with your own design.
It lets you explore the depths of 3D printing niche. All you need to do is be creative and this choice would definitely lead you to the right path.
The Conclusion
Every user has their own concerns when buying something. Same goes with 3D printers. Some look for learning experience while others chooses to be as creative as possible. This helps in defining the aims of every user as being very specific to their needs. When buying a 3D printer, one must consider all the facts and reason oneself to find out which option would be the best 3D printer based on desired features.
You can go with the affordable options that may not be as great as other expensive 3D printers in terms of quality. Or, you can look for the best 3D printer that leaves every single choice far behind when it comes to performance. In order to find the one that could be your companion for long, you need to work a little and research a lot.
These expensive 3D printers are not everyday buy. This gets to your cart once in a long while. You must pick the right one. Or else, you may have to wonder how it works. If you are a beginner, look for plug and play and affordable 3D printers. If you are an expert, concentrate on quality and less on budget. Few even have the match for both qualities. So, take time before you finalize which 3D printer you wish to buy.