Canfield Vectra XT
Designed especially for medical applications, Canfield Vectra XT is a complete 3D body scanner offering amazing results.
PROS
Highly accurate
Offers competitive scan speed
Compact design
360 degrees body imaging
Automated functions for higher accuracy and easy simulation
Table of Contents
Designed especially for medical applications, Canfield Vectra XT is a complete 3D body scanner offering amazing results. The device helps plastic surgeons with the preparation of various procedures such as nose lifts, breast implants, and more.
By offering assistance in assessing the probable risks as well as simulating the different outcomes of selected surgery procedures, the machine offers great aid.
By acquiring models in ultra-high resolution, that too within 3.5 milliseconds of capture time, the device certainly is a home to various unmatched features. Allows scanning face and breast the machine also carries 360-degree body imaging and circumferential measurements.
With amazing resolution and color image capture, the Vectra XT by Canfield ensures to highlight even the smallest details with ease.
In addition, the space-friendly design lets you enjoy its perks without worrying about the unnecessary size that often is pronounced in full-body scanners. To be precise, along with a wall projection, less than 17 inches, the device sits snuggled in a smaller space.
With its proprietary technology, the manufacturer ensures that the scanner automatically adjusts to the specific needs of face scan, body imaging, etc. To know more about the Canfield Vectra XT 3D scanner, read our detailed review outlining its benefits and limitations.
Features
Undoubtedly, Vectra XT possesses many premium features, making itself one of the most powerful full-body scanners.
Automated Measurement for Volume Differences
All you need is a click to check the volume differences. By using the color distance map, users can easily gaze at the degree of contour change.
With the scanner's automated feature for measuring volume differences, it becomes easier for doctors to operate the machine to get the most optimum result.
In short, with automatic measurements, the scanner helps doctors and plastic surgeons to better understand their patient's prevailing conditions.
Carry Contouring with Ease
The Vectra XT is very efficient and is useful in many ways. For instance, it needs no effort to remove or add volumes from the body as well as the face for a better clarification about results from specific surgical procedures.
Not only is the 3D scanner accurate but allows plastic surgeons to come to the final conclusion by keeping all the choices close.
Canfield's Proprietary RBX® Technology
The RBX® technology helps in differentiating the exclusive color signatures for Red as well as Brown skin components in order to clearly determine the specific skin conditions to each color component.
Seamless Assessment of Skin Surfaces
Canfield Vectra XT features Markerless Tracking. This offers a seamless assessment of differences in skin surface without any hassle. And, all of this happens automatically using Markless Tracking.
The skin surfaces of the patients are aligned automatically for accurate tracking and mapping.
Automated Front and Back Stitching
Vectra XT aims to become a complete solution for plastic surgeons. And, here is a feature to prove the same. Its automatic stitching of the front and back view of the patients to create a single, and precise wraparound image not only offers accuracy but also a profound visualization of the aesthetic as well as the structural appearance of the subject.
Dorsal Height Adjustment
The 3D scanner comes with a slider-based dorsal height adjustment. Offering seamless simulation for rhinoplasty procedures without any manual efforts.
Breast Sculptor New Update
By bringing a new tool to the Breast Sculptor®, the manufacturer has made the scanner even more efficient and useful.
Now, users can use the slider-based controls for simulating the breast revision of current implants using the newly selected larger implants. In addition, the tool helps in adjusting the volume of each breast, as well as links it to match desired changes.
Most importantly, with the help of the Mastopexy interface, the Breast Sculptor® closely captures the surgery performance. It also includes adjustable incisions for simulating skin removal.
Measurement of Body Volume and Circumferences
As discussed, this 3D scanner is a professional tool offering a plethora of benefits for its users. And, one such amazing feature is the automatic measurement of circumference and volume while accomplishing body contouring with its revolutionary 360-degree imaging.
Create Varying Procedure Outcomes for Comparison
The device can easily prepare multiple implant results and scenarios. Hence, assisting patients as well as surgeons to come up with the most suitable choice in terms of style, size as well as shape for breast, and face.
Gray Mode
To further help with the final decision about plastic surgeries and related corrective procedures, the 3D scanner comes with the gray mode for revealing contours. This saves time to understand the patient's needs and adjust the corrective procedure accordingly.
Specifications
Technology

Stereophotogrammetry

Geometry Resolution

1.2 mm

Capture Time

3.5 milliseconds

System Power

110-120V AC, 50/60 Hz, 5.0A or
220-240V AC, 50/60 Hz, 5.0A

Operating System

Windows 10 Professional, 64 bit – (Recommended)
NOT SUPPORTED: Windows Home Edition and Windows VISTA

Processor

2.2Ghz Quad Core i5, 7th Gen or higher (Intel i7 7th Gen or higher, recommended)

System memory (RAM)

16 GB or higher
Canfield Vectra XT offers a 1.2 mm geometry resolution for face captures. Its accurate results come along with an unmatched scanning speed of 3.5 milliseconds capture time. Moreover, the onboard modular and intelligent flash units ensure that the body imaging happens with utmost precision, outlining the smallest details with ease.
The 3D scanner is based on the manufacturer's proprietary Stereophotogrammetry technology and is very efficient in terms of ease and performance.
Its compact design is complemented with a floor stand and a motorized lift for adjusting the machine to each patient's height for higher accuracy.
It comes along with a Dell computer and flat panel display for better visualization of digital images.
Price
You must contact the manufacturer for the price of the Canfield Vectra XT 3D scanner.
First Impression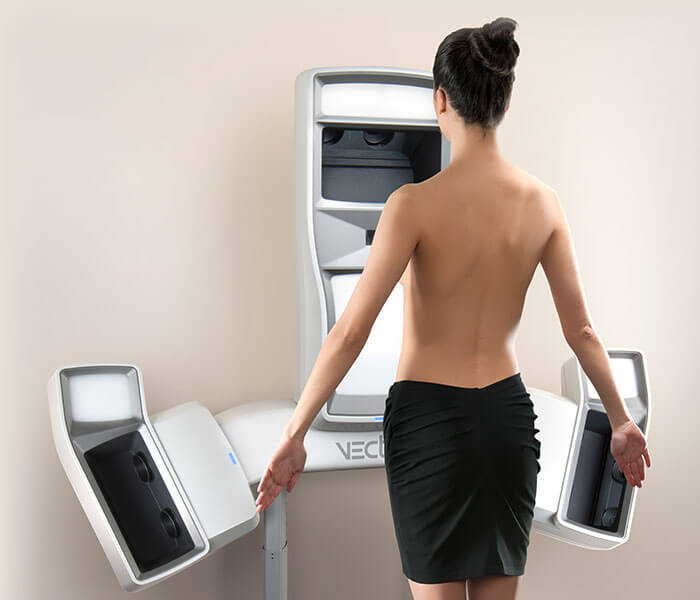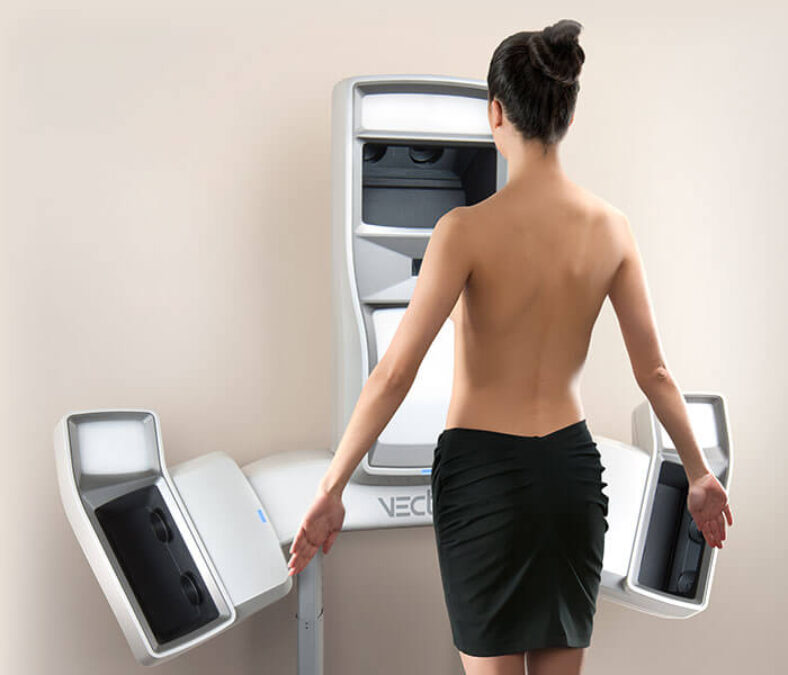 A compact and simple design, offering a robust 3D scanning solution for body parts, Canfield Vectra XT, is a very impressive device.
Comes along with a motorized lift and a floor stand, providing adjustable height for different needs. Occupies small space, when compared to other similar devices.
Setup
Canfield's Vectra imaging system is a professional device. Hence, one needs to be trained to be able to operate the machine. Therefore, the manufacturer offers on-site training for those wanting to operate the scanner for the first time.
In addition, users can also choose to attend the unlimited webinar that is free for the first year from the purchase date. Hence, you can easily get acquainted with the installation and working of the device, given its seamless design and plenty of automated features.
Scanning Type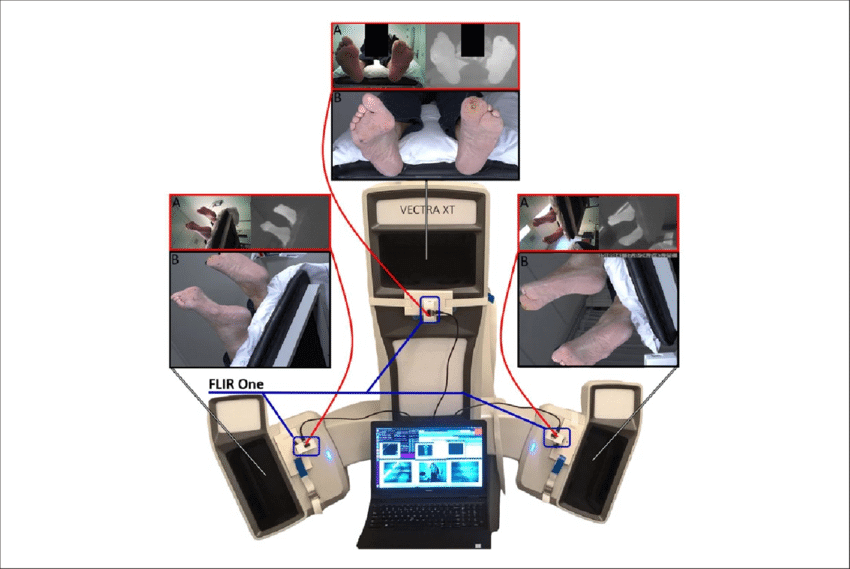 Credit: researchgate
The 3D scanner is based on the company's proprietary Stereophotogrammetry technology.
Scan Quality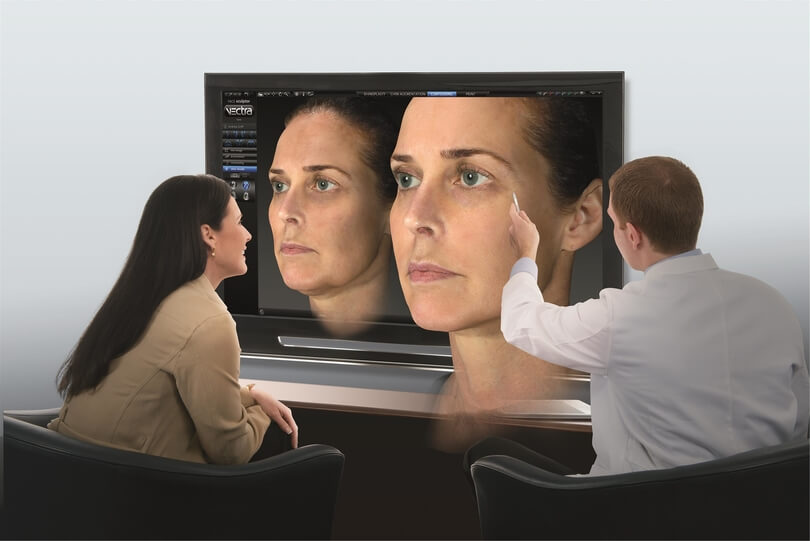 Credit: amicogroup
Without any doubt, the Vectra XT provides unmatched scan quality. From offering precise accuracy to being able to define the intricate details with ease, the scanner surely outperforms many of its competitors. It offers 1.2 mm geometry resolution (triangle edge length) and works with 3.5 milliseconds capture time to ensure complete ease of performance.
Hence, you can expect to experience great quality scans captured at a faster speed for offering ease of judgment for implants and corrective surgeries.
Software
In order to help users with multiple applications concerning various plastic surgery procedures, the scanner comes equipped with different applications.
VECTRA Capture Module
RBX® image processing
Mirror® PhotoTools
Face Sculptor®
VECTRA® 3D Analysis Module
Mirror® PhotoFile®
Breast Sculptor®
Body Sculptor®
Apart from these choices, the company also includes an optional application: Skin Analysis Sculptor.
Customer Service
An impressive scanner with amazing support makes Canfield Vectra XT an unbeatable choice. When it comes to assisting customers, the manufacturer ensures that all the expectations are met. With its product, the company offers one year of limited warranty. This also includes support with upgrades.
The support also Includes advanced replacement as well as round trip shipping for those residing in the USA. Customers can also enjoy software feature improvements. For an additional price, users can choose Canfield Care as well for additional benefits.
Parameters Influencing Buying Decision
If you are planning to buy Vectra XT, here are a few parameters that could help you make the right decision. Find out if the scanner is suitable for your particular need.
3D Scanner cost: Designed for use within medical applications, the scanner is expensive featuring many amazing features.
3D Scan quality: As mentioned, the scan quality is astonishing. The device can easily outline intricate details and variations with ease.
3D Scan speed: Offering 3.5 milliseconds of capture time, Vectra XT is one of the fastest scanners in the market currently.
3D Scanner capability: Can scan the full body, including face, breast, and more. Very precise and easy to use. In addition, the adjustable floor stands for increased ease of operation.
3D Scanner Practicality: Designed especially for plastic surgeons, the scanner can accomplish many applications within the niche. From corrective procedures to implants, doctors can use the device for many needs. Offering easy simulation of varying results to visualize the output in advance, the scanner is really impressive.
3D Scanner User expectations: Apart from the expensive price tag, the 3D scanner fulfills almost every expectation of the users.
The Verdict
Among many 3D scanners available today, some promise unbeatable results. And, the Canfield Vectra XT is surely among those choices. Complementing its plethora of features is the compact design that makes it a great choice for clinics.