Cosine Additive AM1
Cosine Additive AM1 offers freedom to small and large part manufacturers to openly design their parts and also put them into an application for real. And that's where it majorly stands apart from other 3D printers in the same price range.
PROS
Highly efficient dual extruders.
Unique pellet extrusion.
High temperature withstanding extruder, heated bed, and print chamber.
Large touchscreen interface.
Swappable set of nozzles.
Compatible with open materials.
CONS
Demands a huge one-time investment.
Table of Contents
Equipped with high-temperature extruders, Cosine Additive AM1 is a large volume industrial 3D printer manufactured by Cosine Additive – the 3D printer manufacturer based in Houston, USA. Primarily suitable for 3D printing prototypes, end-use parts, and sand molds, Cosine Additive AM1 hosts extruders that are capable of withstanding high temperatures.
The machine can print even with exotic filaments like PC or ASA. And while it is 3D printing, users can enjoy the real-time monitoring of the complete process, thanks to an integrated ethernet camera. Moreover, the printer allows users to choose from multiple extrusion options.
Its efficient pellet extrusion system provides flexibility and cost savings. Rather than being limited to just 10 to 20 various kinds of plastic in filament, the pellet extrusion lets you choose from the entire market present at your disposal.
So, let's take a closer look at the printer to know how it unfolds and turns out to be so efficient for users from different niches.
Features
Cosine AM1 is an industrial FDM 3D printer packed with power to print at high speed, volume and delivers top-quality performance.
The printer is supported by hardware parts such as a sublime extruder, aluminum bed, specialized software, and much more. Its compatibility with almost every 3D printer filament available in the market presents enormous options in front of users.
Overall, the machine has many intriguing features that make it stand apart from other printers in the same price range. Such features are mentioned and explained below in detail.
Dual extruders
This feature makes it possible to 3D print with multi-materials. Users get more options to experiment and create parts with even more innovation than they can with a single extruder. Dual extrusion system provides professional 3D designers with a sense of freedom which they can utilize to imagine complex parts with different materials.
Cosine AM1 can bring them to reality using dual extruders that are capable of processing two different filament materials at the same time. This enhances the application range of parts produced by Cosine AM1. Also, it strengthens the overall load-carrying capacity of the manufactured parts and functional prototypes.
Superior quality hardware
AM1's hardware enables the machine to print with a positional accuracy of 50 nanometers. Having stated so, it doesn't mean that the printer offers only quality and lacks in terms of print speed. The machine can print with speeds as high as 15,000 millimeters per minute.
Both the characteristics of the printer mentioned above are due to the superior quality hardware used in it. The parts have been designed in such a way that smoother acceleration is possible. The ball screws and servo motors of AM1 provide an optimal solution for swift and precise printing.
AM1's extruders are capable of withstanding temperatures up to 500 degrees Celsius, whereas its heated bed can maintain temperatures up to 200 degrees Celsius. Moreover, the printer's heated chamber can sustain constant internal temperatures up to 100 degrees Celsius.
Aluminum print bed
To ensure stable 3D printing with high glass transition 3D printer filaments, Cosine has put in place an Aluminum print bed that can withstand up to 200 degrees Celsius.
It needs lesser maintenance than typical print beds of industrial 3D printers and provides a higher outcome. All that users need to ensure before using the bed is its leveling.
The height of the nozzle system from the print bed should be accurate to make certain a desired first layer 3D printing.
Compatible with 3rd party filaments
Cosine does not restrict AM1 users to manufacture parts and functional prototypes with its proprietary 3D printer filaments. Instead, users can utilize their material suppliers or vendors for 3D printing and developing new materials for particular industries ' needs.
Moreover, the printer manufacturer also serves its users by supplying material upon request. By doing so, Cosine aims to suffice for customer's demands of a high repeatability rate. Also, AM1's users can find a sort of balance between material cost, quality, and satisfaction as they are open to proprietary as well as open filament materials.
Efficient design
AM1 offers a massive build volume of 1100 mm * 850 mm * 850 mm. Its print chamber is insulated with sliding doors to ensure that a sort of temperature stability is maintained inside and there is no uneven heating on any of the sides of the print chamber.
It is to note that the printer's print chamber can withstand 100 degrees Celsius that makes it possible to print with 3D printer filaments that have a relatively higher glass transition temperature.
Specialized software
Cosine Additive AM1 is compatible with specialized in-house design software that is customized typically for AM1 3D printers. The application is intuitive in its approach of sensing a design and making changes accordingly.
It utilizes a data-driven approach and provides extended functionality at the user's fingertips. Moreover, the software does not necessarily demand any previous experience of the user with modeling software.
Allows for remote management
AM1 supports remote print management using an ethernet-operated camera. Using this tool, the user can have a 24*7 view of the printing process on its devices. This allows operators to take immediate decisions that can either make the 3D printing better or save it from failure.
Straightforward connection
Connecting with AM1 is a piece of cake. The printer can be linked with Wired WAN, Wifi, or even Verizon 4G. With such a broad range of network connectivity, it is possible to use one or the other option to continuously monitor the machine remotely even during unfavorable conditions.
The large touch screen interface
Easing the overall interaction of users and the printer is a 23 inches long touch screen interface that permits owners to have complete control over the printer with a single touch. Many operations can be controlled using this part, as well as it allows you to change various settings even when the printing is going on.
Swappable nozzle set
With AM1 users can print using various nozzle diameters like 1.0 mm, 1.5 mm, and 2 mm. Whereas, the nozzle size for the pellet extruder is 4 mm. Different nozzle sizes are known to provide vivid flow rates that can be utilized for making various geometries of distinct qualities.
Specifications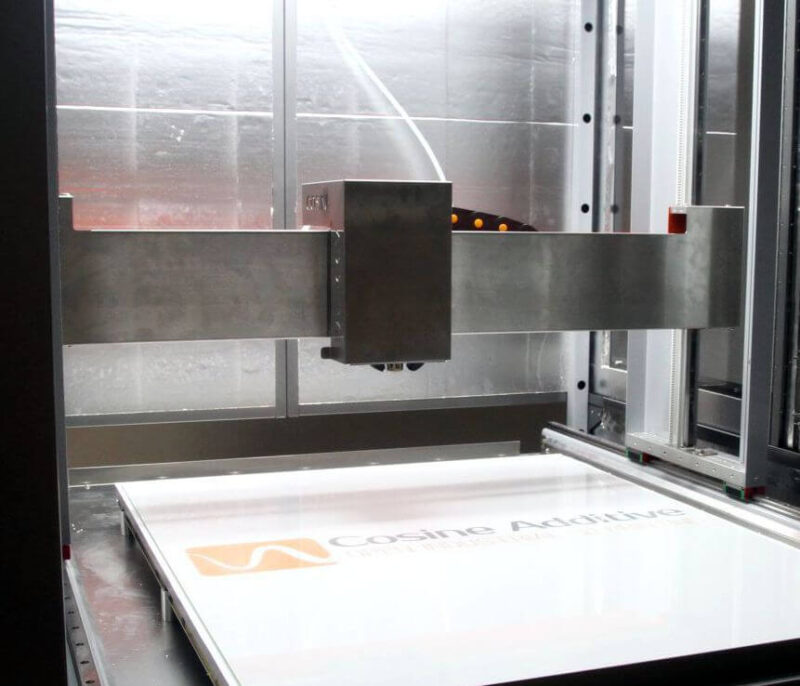 Cosine AM1 is based on FDM 3D printing technology, It is a large-scale industrial 3D printer that offers a build volume of 1100 mm * 850 mm * 850 mm. Not only is the machine compatible with popular 3D printing materials such as ABS, PLA, PETG, TPU, PC-PBT, Carbon Fiber, and Glass, but also with composite materials, and up to 800 different materials.
It can provide a layer thickness range of 50 to 1500 microns on 3D printed parts. AM1 offers a build rate of 300 cubic centimeters per hour with a single filament extruder, whereas up to 6000 cubic centimeters per hour with a pellet extruder. The thermal management of AM1 is well-taken care of by its fully enclosed print chamber.
A heated Aluminum print bed with reusable ABS, PC, PEI, Borosilicate Glass, or Ceramic substrates supplies excellent bed adhesion to parts. The printer can be connected with a wired WAN, Wi-fi, or 4G. It features a built-in camera for real-time monitoring of the complete 3D printing process.
Price
To get the exact price of Cosine Additive AM1, users need to request a quote from the printer manufacturer.
First Impression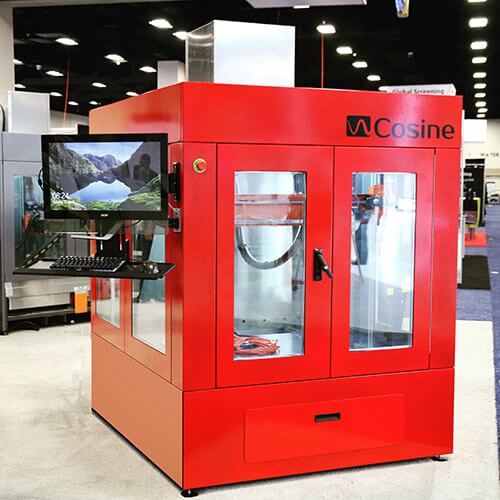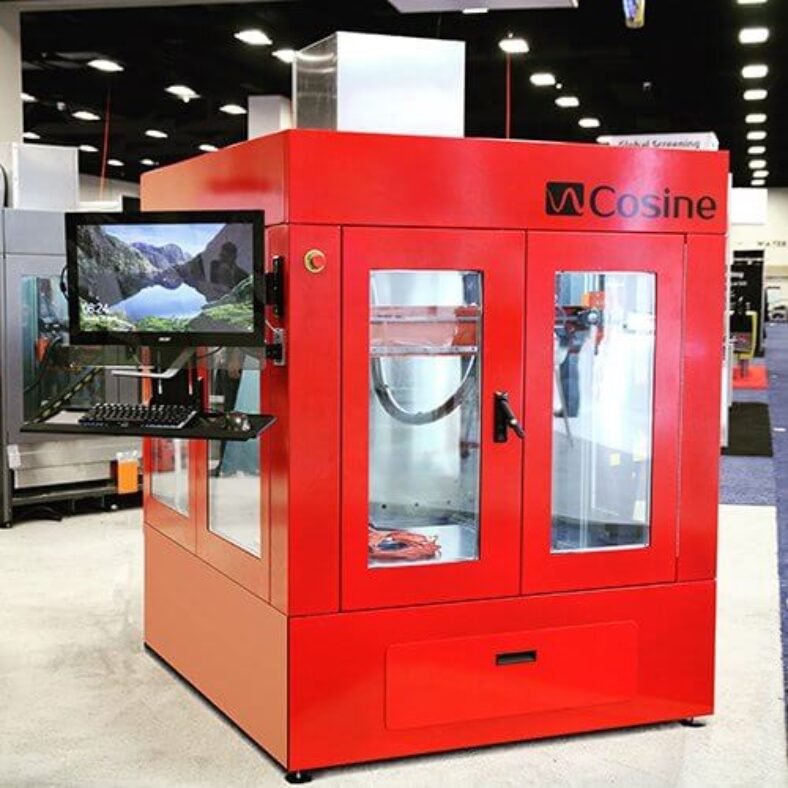 At its first glance, AM1 looks like a typical cage that can be accessed from three sides via doors to access its print chamber. A computer system integrated with the printer is attached to the printer that allows complete control over various print functions. There is a compartment present right below the front door of AM1 for storing filaments.
Setup
Like most other industrial FDM 3D printers, Cosine Additive AM1 is a plug-and-play 3D printer. It comes completely assembled and only needs to be leveled for starting 3D printing.
Print Type/Cost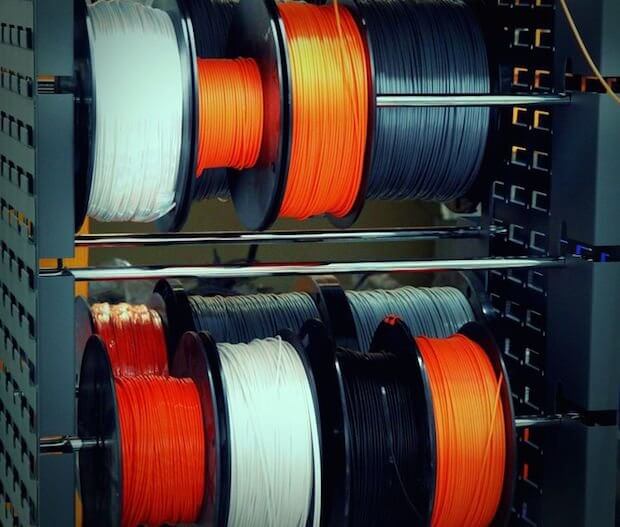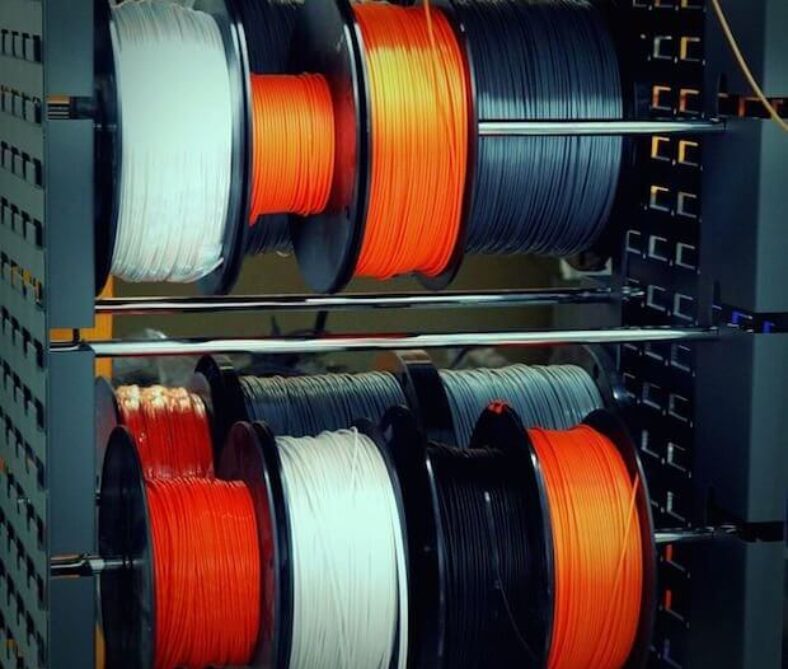 Credit: tctmagazine.com
FDM 3D printing process starts with a 3D printer filament's heating process till it reaches slightly above its glass transition temperature. After that is achieved, the melted filament is rolled over thereby depositing the first layer on the bed. The roll-over process is according to the geometry of the part that's fed into the printer. One after the other, all the layers are deposited and the part is allowed to solidify.
The general cost of 3D printing with FDM technology is a lot cheaper compared to other technologies. However, it depends on a lot of factors such as part geometry, type of filament used, cost of that filament, support structures, etc.
Print Quality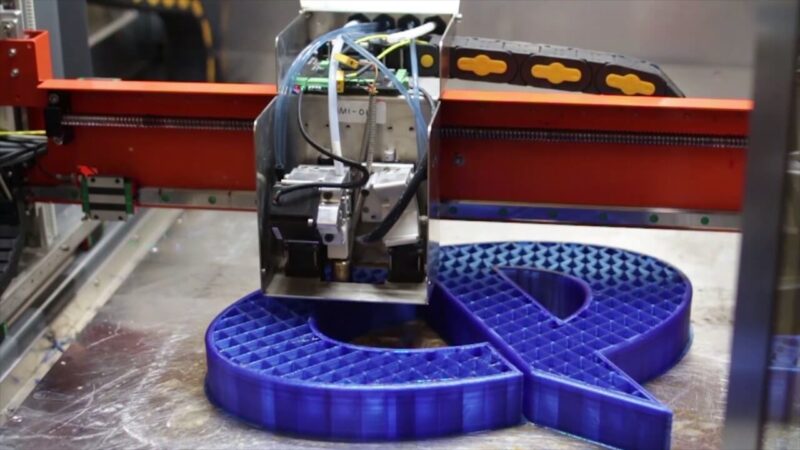 AM1 can deliver an excellent layer thickness ranging from 50 to 1500 microns. Users can make use of this very broadly available layer thickness range for manufacturing parts and functional prototypes of varied kinds. Especially the dual extruders enable users to mix two materials into one, producing a unique and more realistic geometry with increased strength.
Also, the aluminum heated bed and the enclosed print chamber that's capable of withstanding high-temperature ranges offer excellent bed adhesion and thermal management. Thereby leading to a part with decent surface finishes.
Software
Cosine Additive AM1 comes paired with an intuitive and data-driven design that provides extended functionality at the user's fingertips. It is designed in-house and delivers optimal solutions aiming at enhancing the overall print quality.
Customer Support
Cosine's technical team is well versed in identifying the problem you are looking for an answer to via email or phone. Also, there is enough documentation available on the Internet that you can refer to for setting up or getting familiar with all the parts of the printer.
Parameters Influencing Buying Decision
Below mentioned are the key factors that one must know before buying Cosine AM1.
3D Printer Cost: You'd have to request a quote from the printer manufacturer to know the cost of AM1.
3D Print Speed: Users can print with two different flow rates on AM1, one with a single extruder, the other one with a pellet extruder which makes things much flexible.
3D Print Quality: Decent quality prints of small as well as big build volumes can be made using AM1. The printer provides a good surface finish even with curvy and edgy geometries.
3D Printer Capability: Expert users can print with almost all kinds of 3D printing filaments using AM1. Thanks to its pellet extrusion system which is compatible not only with the popular thermoplastics but also with rare 3D printer filaments.
3D Printer Practicality: The dual extruders make the overall 3D printing experience of users pretty much flexible on AM1. It allows them to print with two materials simultaneously. Also, the integrated built-in camera makes remote monitoring possible. So, overall many features facilitate the user's working over AM1 seamless.
3D Printer User Expectations: Professional designers will find AM1 a joy to work with. The printer offers just the correct amount of design freedom combined with excellent thermal management. Added to it is the Aluminum heated bed integrated with specialized software and superior quality hardware. All of these make 3D printing on Cosine AM1, like a piece of cake.
The Verdict
Although Cosine AM1 has many typical features that make it just like any other large volume FDM 3D printer, the machine also hosts some eccentric ones that separate it from the list. Included in it are the pellet and dual extrusion system, integrated remote monitoring, and superior quality hardware system.
The machine does involve a lot of one-time investment, but then which industrial 3D printer does not? AM1 offers freedom to small and large part manufacturers to openly design their parts and also put them into an application for real. And that's where it majorly stands apart from other 3D printers in the same price range.