Due to the growth of additive manufacturing, more and more people are getting into it. Those who already have a 3D printer, you are going great!
Also, those who have made up their mind to purchase a 3D printer, you too are feeling the heat. But for those who want to be in additive manufacturing and are yet skeptical about whether to purchase a 3D printer or not, there is an option to help you out.
Custom 3D printing services offer assistance in creating and shipping the 3D products as per your design needs. These services are for those who are, yet in the grey zone for purchasing 3D printers.
As well as, it is for those who still are a beginner in additive manufacturing and not looking to invest in it. People who are yet experimenting and trying to make the most out of 3D printing, this service can be a boon for them.
In their offerings, the 3D printing service companies have left no stone unturned. They offer services that include 3D printing based on the cheapest technology to the most expensive technology in the market today.
Some of the examples of the cheapest technology involve, FDM and SLS. Whilst the examples of expensive and recent innovative technology involves CLIP and Multi Jet Fusion technologies.
You can get a whole list of companies that promise to offer you the best result using the technologies mentioned above. However, in this guide, we will look at seven standard examples of such companies.
Recommendations of Top 7 Custom 3D Printing Services:
It is to note that, with the progress in technology, companies give you more choices in terms of material and size. Hence, without wasting much time, let us jump into the list of some of the most popular and trusted 3D printing services around the globe.
Kraftwurx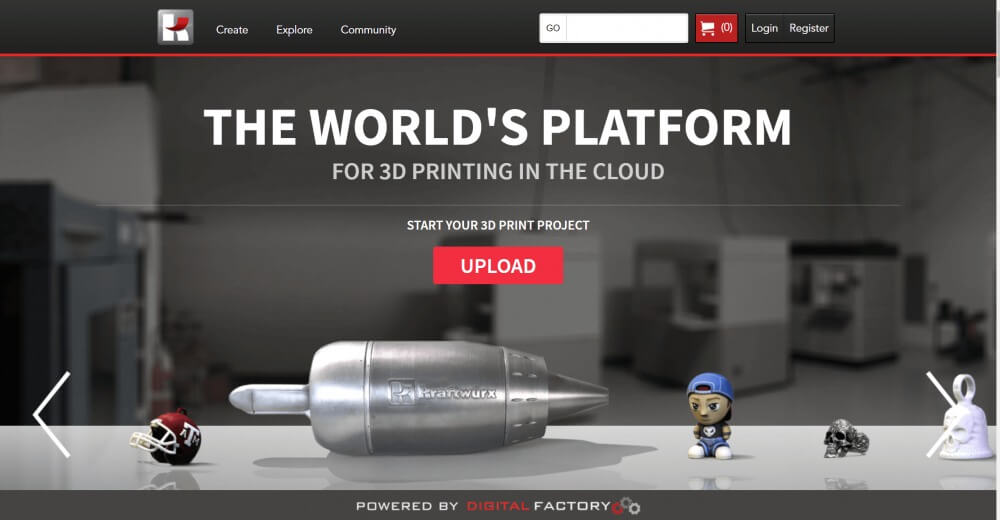 Started to give more power in the hands of designers and engineers, 2020 makes Kraftwurx 16 year old in the additive manufacturing industry.
The company is specifically known for the creation of Digital Factory which gives an option to every designer to minimize waste.
The company claims to manufacture locally, taking in mind the lowering costs of transportation and shipping. The activeness of the company towards lessening of carbon footprint worldwide is eccentric.
Though being just 16 years old, the company has expanded itself into its 110 production facilities to make sure at least one of those is near you. Kraftwurx's headquarter is in Houston, Texas.
An amazing feature that you might not find when you search it in other companies is the ability to publish and sell your design online.
Kraftwurx has taken this step into account, by which a designer can not only earn by producing the product designed by him/her, but also by selling his design online.
While talking of amazing features, not to forget that Kraftwurx also allows you to open a website named on the domain you choose.
In this domain, you can sell your independent 3D products that are patented using its Digital Factory technology. As a beginner in additive manufacturing, it is hard for one to think, what more could you ask for?
Stratasys Direct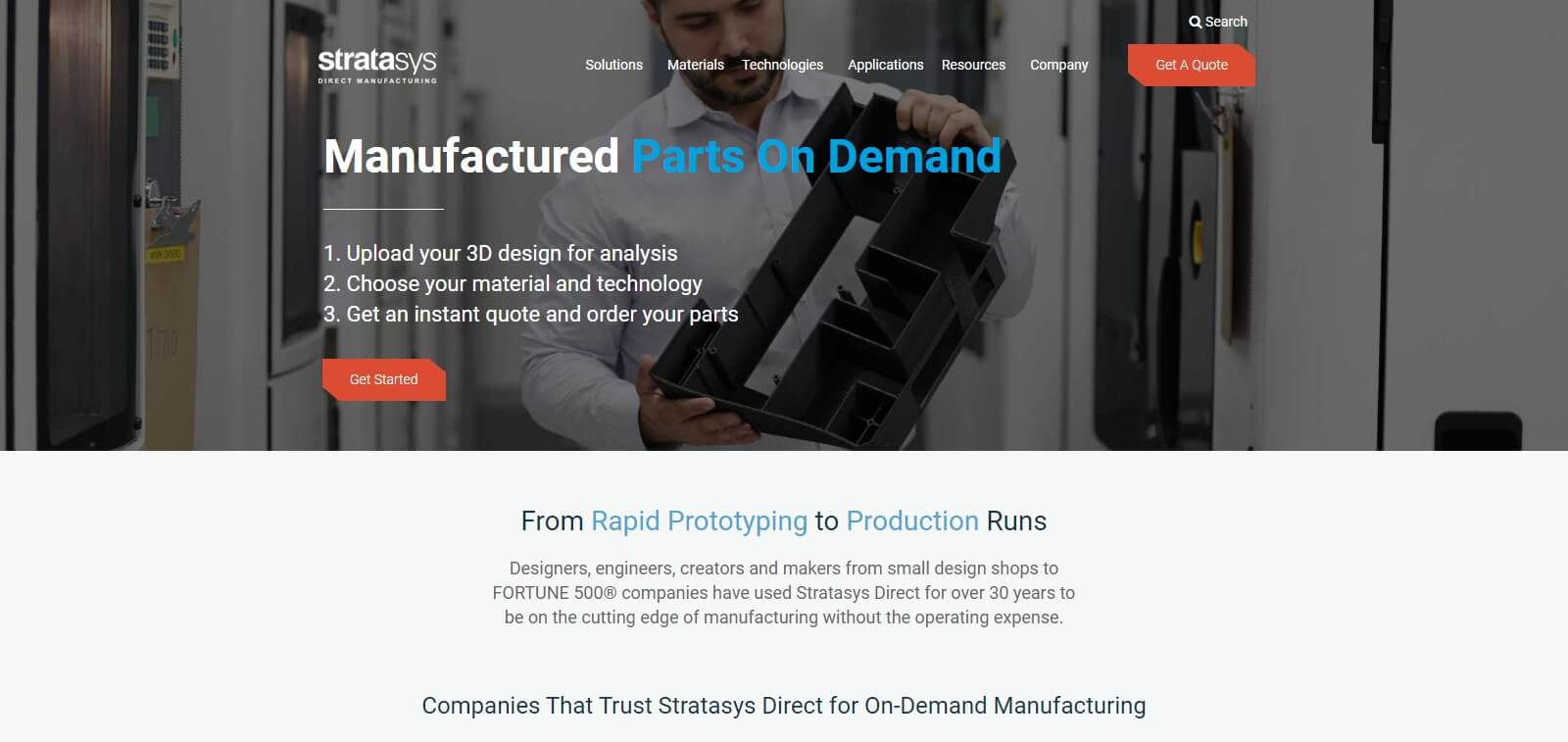 If there is a company that can shock you with a varied number of 3D printing technologies it has to offer, its Stratasys. Be it DMLS, FDM, SLS, Multi Jet Fusion, PolyJet, or Stereolithography, Stratasys offers you all.
One more distinctive characteristic that is rare to find is, the founder of the company has invented a 3D technology himself.
That's right! Stratasys has been in additive manufacturing, after the invention of a 3D technology by its founder, 30 years back.
One would be impressed to see the number of companies that Stratasys has helped. Be it in automotive, aerospace, or medicals, Stratasys has made sure it has its hands spread wideout in every domain that 3D printing has a scope in.
One of the main benefits of Stratasys is that it does not only offer services for 3D printing. In addition to 3D printing, it offers services of CNC milling and injection molding i.e. two of the most used manufacturing technologies currently.
Stratasys also has a wide range of offerings in terms of materials. A combination of its wide range of offerings in materials as well as technologies makes one choose Stratasys as his/her choice for custom 3D printing service.
Xometry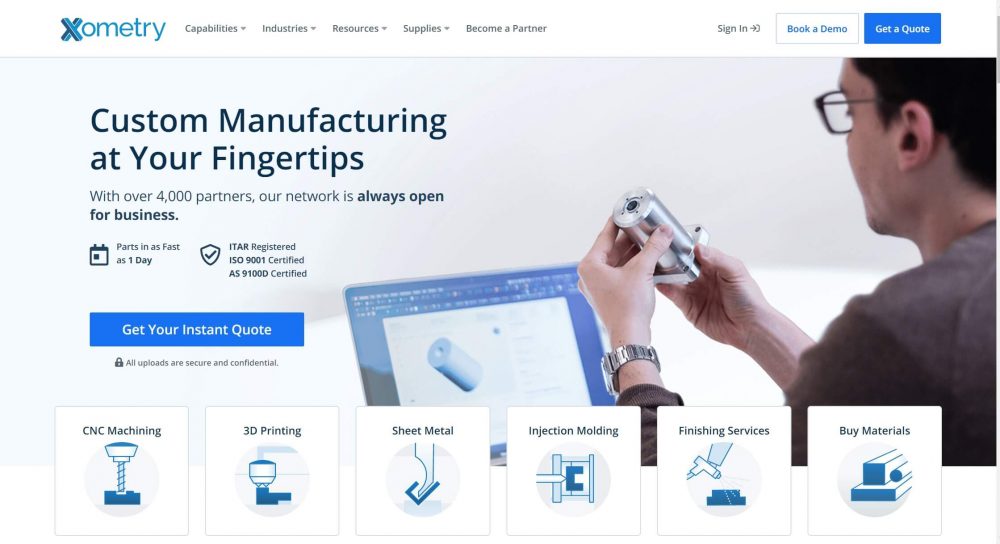 Founded in 2014, Xometry has learned from the leaders at that time in additive manufacturing. One gets to know about the insights that are already present in Xometry, which, once, other additive manufacturing companies had to learn themselves.
Perhaps, this is the benefit of entering a market which is still at its inception and entering it while it is growing. 3D printing services is a market that is currently, arguably, the number one market showing signs of growth.
On its website, the company boasts of having heard the market problems in two ways: 1) from the product designers and engineers. 2) From the machine shops.
According to this, Xometry was able to create a proprietary software platform where both the problems were, either solved or made negligible.
The company, like the one mentioned above it, offers custom 3D printing services by involving innovative processes such as Multi Jet Fusion, DLS/Clip as well as keeping in its pocket the traditional, FDM, SLA and SLS.
As reported on a few websites, the company has become the widest one in offering 3D custom printing service options. Xometry too, like Stratasys, offers other services like injection molding and CNC milling.
Make XYZ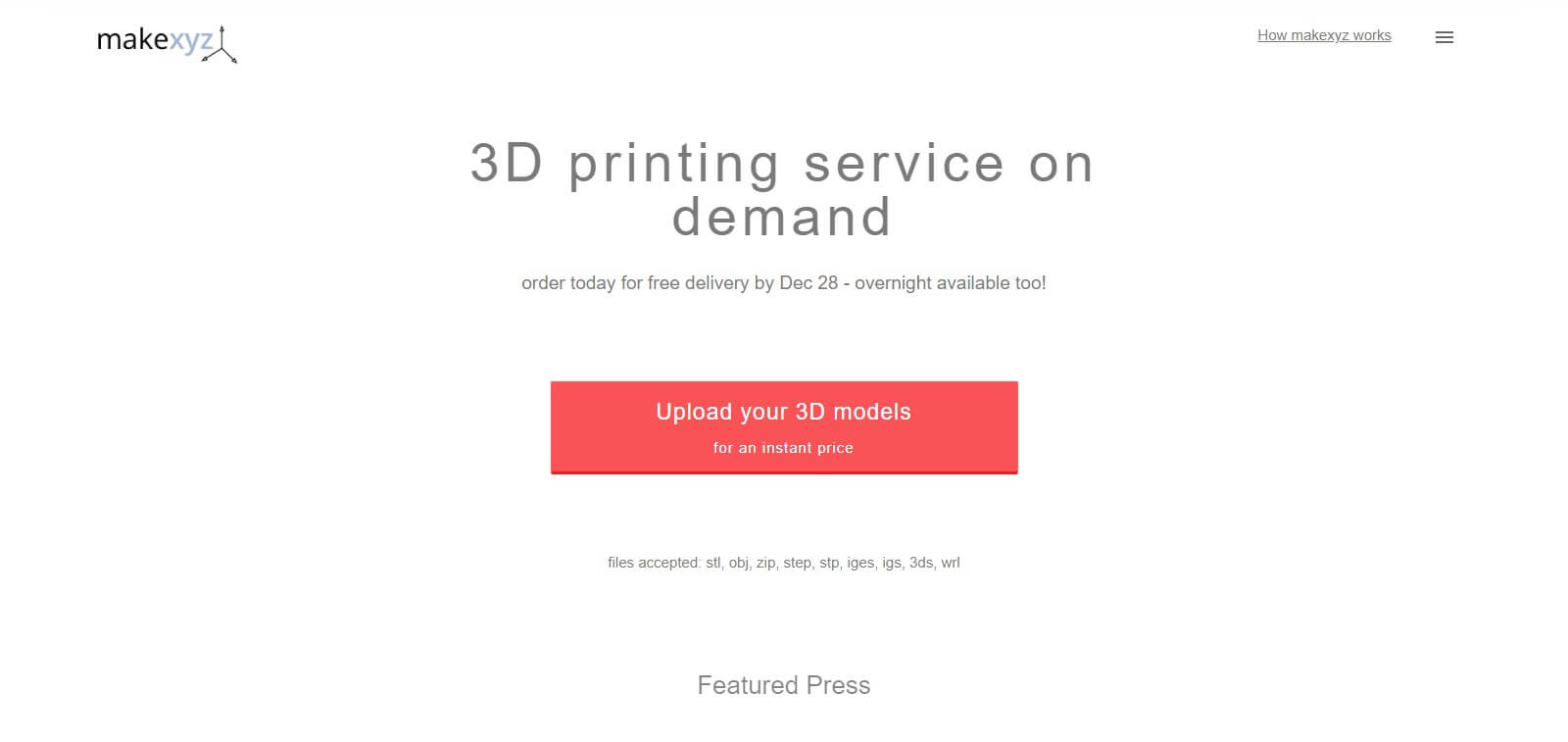 This company started by joining the demander and supplier. By getting the database from the demand line and the supply line of additive manufacturing, Make XYZ, ensured the product was delivered as expected.
If you had a 3D printer, you could register yourself with Make XYZ and whenever there is an order from your locality, Make XYZ would notify you of the same.
This idea is also popularly known in the business field by Hub's business model. This is a very clever idea because unlike, others, this requires the least amount of investment.
The company has grown since it was found. You realize this when you check out their service offerings which include CAD designers, 3D scanners, and CNCs apart from custom 3D printing services.
It is also amazing to know that a company that does not make the product to sell it to the seller has managed to keep most of his demands up to the mark.
Make XYZ offers custom 3D printing services using FDM, SLA, SLS, and PolyJet 3D printing. The materials in which Make XYZ offers custom 3D printing services include, PLA, ABS Nylon, TPU, and high detailed resins.
Protolabs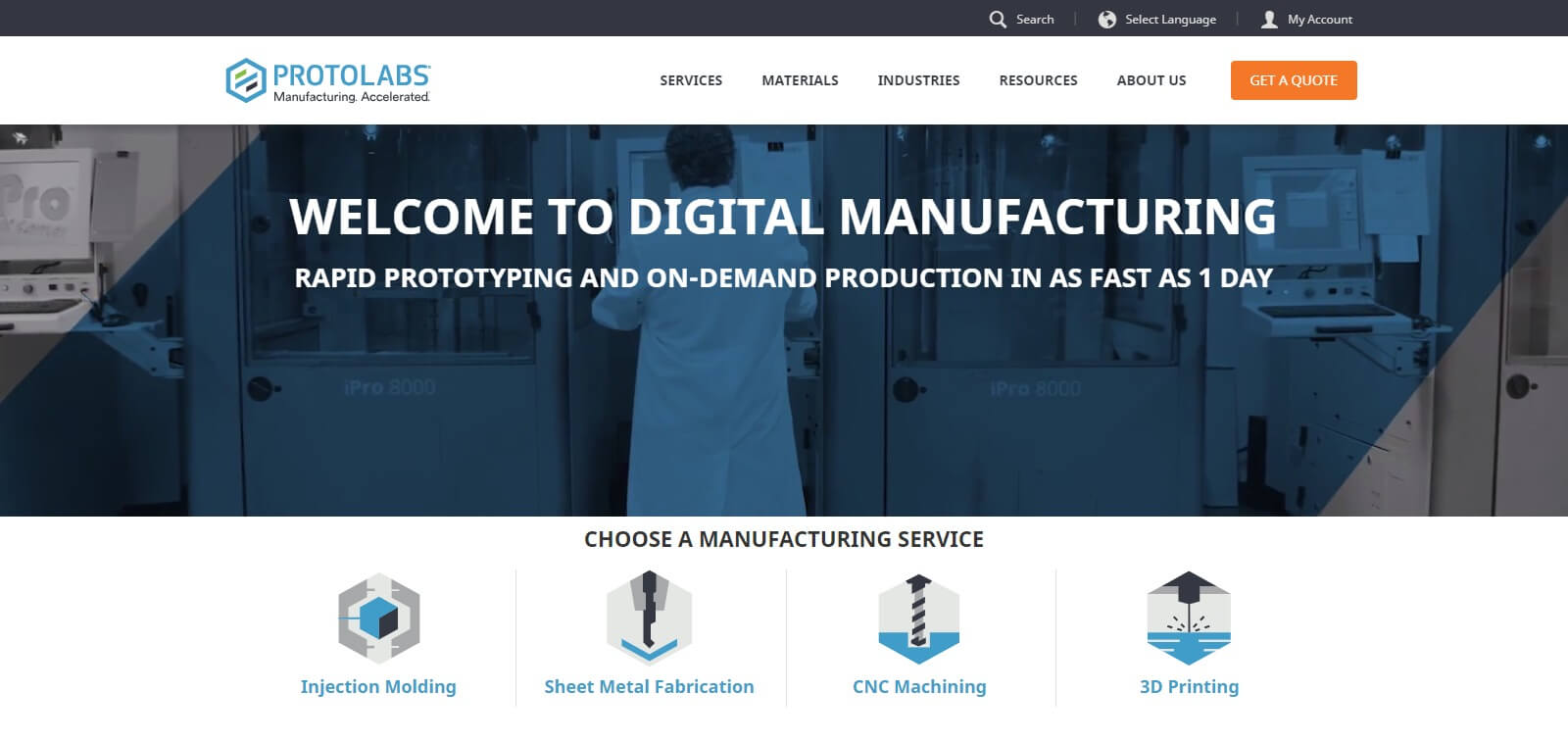 Being in the additive manufacturing business for 20 years now, Protolabs has evolved from a low-cost injection molding and CNC services offering company to a custom 3D printing services offering one.
Having said that, it should have given you an idea about Protolabs' experience in the manufacturing sector.
Larry Lukis, the founder of this company has managed to automate the traditional manufacturing process by putting in algorithm and developing a software that can do complex calculations and make work easier for humans.
In its journey of 20 years, Protolabs has managed to expand itself in eight countries. The company claims to be the fastest manufacturer of custom prototypes and on-demand production parts.
In the information about its future journey, the company's website states to be expanding more on injection molding, CNC machining and demographically expanding in countries like Europe and Japan.
Protolabs offers 3D printing customization involving technologies like SLA, SLS, DMLS, MJF, and Polyjet. By offering services using the technologies mentioned, Protolabs takes into account the needs of its customers related to plastic, resin, and metal parts.
One of its anomalies is that Protolabs also offers custom 3D printing services on special materials such as Elastomers to many of its customers.
i.materialise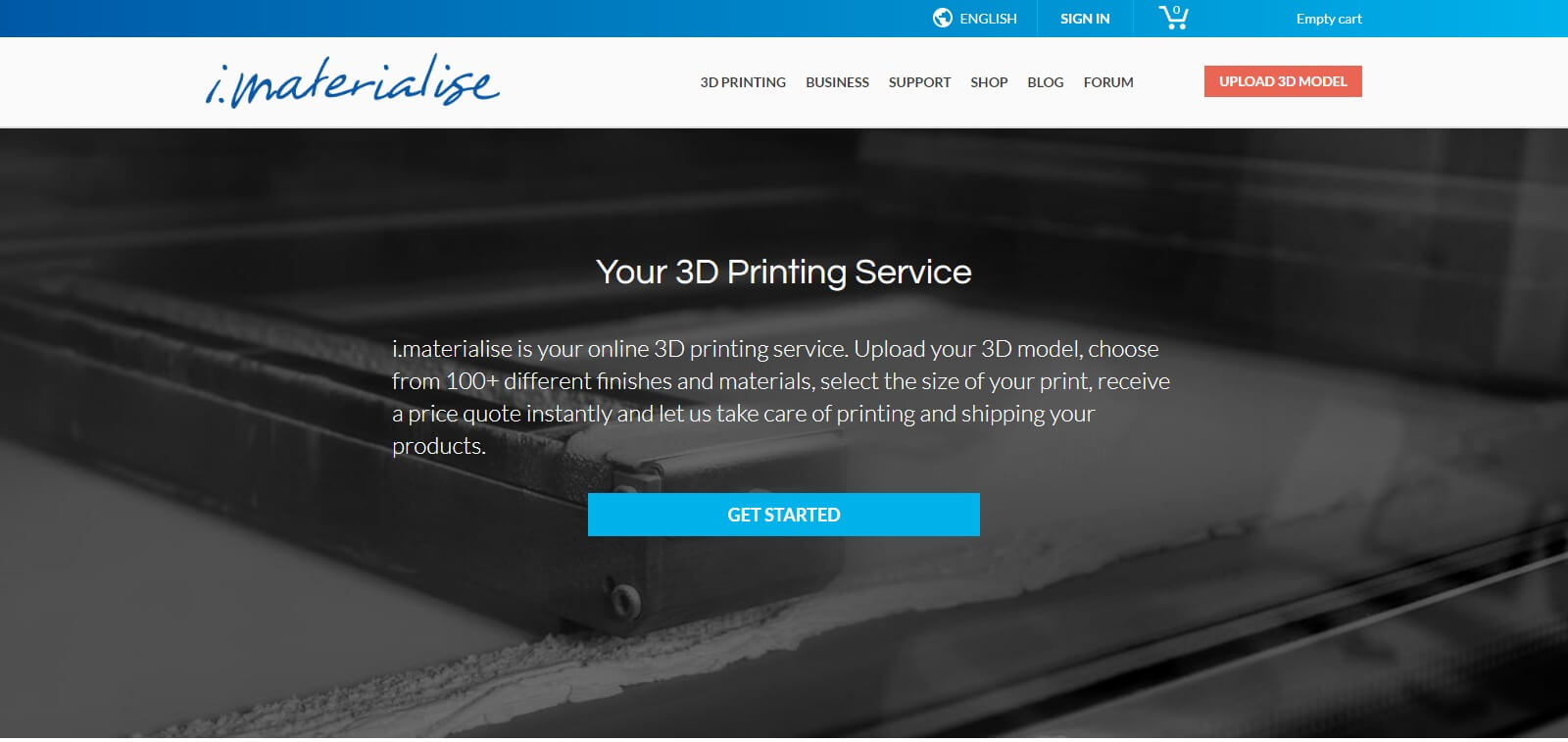 A part of Materialise NV, i.materialise has an experience of 25 years in the additive manufacturing sector. Based in Belgium, i.materialise too, like other companies that offer custom 3D printing services offer huge varieties in terms of technologies such as FDM, SLS, SLA, CILF, Low-Cost waxing, multi-jet fusion, and Polyjet.
This company also offers designers to upload their designs on the company's website online and sell it to earn money. Apart from this, one can also choose to just print using i.materialise i.e. choose the material, the model, and select the technology offering to get the final product delivered at his/her doorstep.
On its website, the company claims to have one of the largest production facilities in the world. Also offering custom 3D printing services in the largest variety of materials and finishes.
Materialise, the company of which, i.materialise is a part of, is open to healthcare, aerospace, art and design, consumer goods, etc. i.materialise is known to experiment even after achieving the finest results in the additive manufacturing industry.
Their thirst to constantly give to the market something new to adore and admire is unquenchable. Not just limited to producing, but also promoting entrepreneurs and their designs on their website is something that makes i.materialise a frontrunner in the list of companies that offer custom 3D printing services.
Shapeways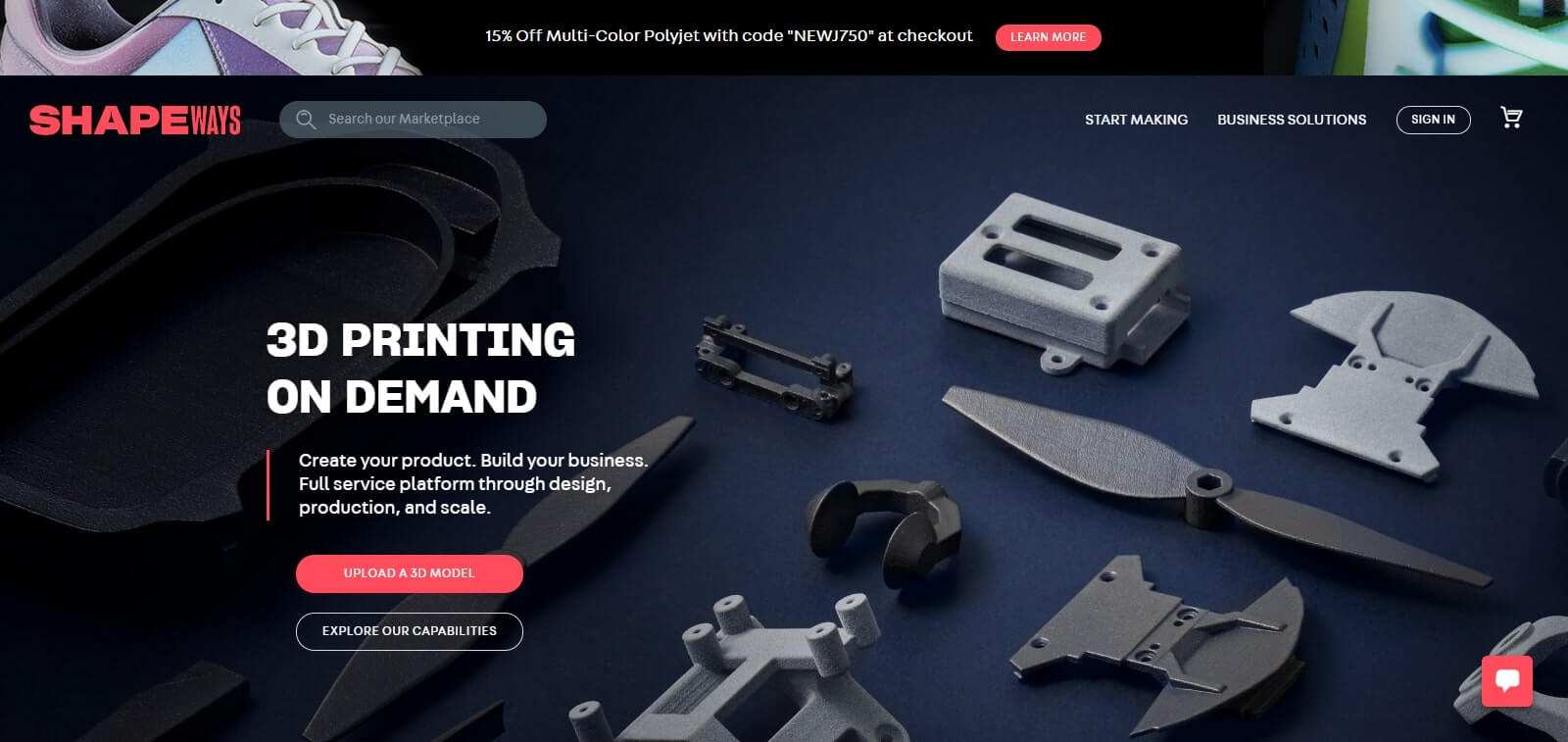 Founded by a Dutch entrepreneur, Shapeways has had a quite bit of a journey since its inception as it's currently based in NewYork.
Shapeways is one amongst those custom 3D printing services offering companies that are not limited to the service offering but has with time evolved as a complete marketplace.
Apart from the traditional printing technologies that other companies also offer like, FDM, SLA, SLS DMLs, Polyjet, etc, Shapeways also offers Binder Jetting custom 3D printing services.
Founded in 2007, the company has earned its name as the most versatile company offering custom 3D printing services because of its operation and transparency.
Shapeways offers a wide variety of materials to choose from for your custom 3D printing. It offers PLA, ABS, steel, bronze, silver, gold, platinum, brass, sandstone and porcelain.
One can register with Shapeways if he/she has a 3D printer and earn online. Apart from this, it also has an option for designers and engineers to upload their designs and sell them online.
The Conclusion
3D printing, as a part and additive manufacturing, is the most growing sector in the world today. To get associated with it ensures your success too.
With the advance in technologies, there have been and there will be evolutions in this sector, like in others. For example, at the time of its inception, additive manufacturing did not have an option for designers to earn online. But with the growth of marketplaces, more and more companies started offering this option. This sector is growing and is yet to see its pinnacle.
For those who are looking out to earn using custom 3D printing service, this guide would hopefully be beneficial. It is to note that the list of companies is not sequential how they are written and that the topmost is left on the reader to find out.
These are the list of seven such companies, which have an accountable number of experiences in the additive manufacturing and are currently renowned in the industry.
However, exceptions are always there and that's what makes any list subjective. If seen from the offering point of view, these companies are also far placed from one other because of the range of material offering or the technology on which they are based.
However, that's the fun of making a list that enables a reader to get a glimpse of every type of service offering that the companies have.
So if you are a designer, engineer, or an owner of a 3D printer looking to venture out your ideas in the field of the custom 3D printing services sector, best of luck with it.