Aluminum is a soft metal that is widely used industrially due to its lightweight and strength. It has a wide range of applications.
A huge variety of products that include kitchen utensils, cans, foils, and key chains, etc are made from aluminum. It is also used extensively in aerospace, marine, automotive, and railway industries due to its aesthetic and thermal appeal.
Aluminum needs to be cut precisely. Many CNC machines deliver great results when working with this metal. However, some are expensive, around $10,000 and huge sized. In this article, we have listed down a few great desktop-sized CNC machines for cutting aluminum. These cost less than $1000.
Computer Numerical Control (CNC) Machine
As the name clearly indicates, a Computer Numerical Control (CNC) machine is electronic equipment that is controlled by a computer and is used for cutting and milling various softer materials. These include wood, foam, acrylic, glass, plastic, and various soft metals.
A CNC machine is a great tool for makers. They were previously used in large industries but now the technology has advanced and you can even build it at your home.
It is a 3-axis machine that comes in a wide range of sizes and shapes. The equipment resembles an FDM printer a lot. However, the hot end is being replaced by the router.
Advantages of CNC Machining Aluminum
There are several advantages of CNC machining aluminum over conventional methods. These include:
Enables to build precise components
Offers reliable endurance
Increased production and scalability
Offers more capabilities
Less labor required
Uniform productivity
Lower production cost
Increased Safety
Low maintenance
Versatility
Design retention
Enable to perform complex tasks
Comparison Chart
| Name | Link | Nomination | Overall Rating |
| --- | --- | --- | --- |
| SainSmart Genmitsu 3018 Pro | | Most Quiet | 8.8 |
| MySweety 3018 Pro | | Best Selling | 8.5 |
| Cenoz 3018 Pro | | Best Pick | 9 |
| BobsCNC Evolution 3 | | Rigid frame | 8.7 |
| Gowe CNC Machine | | Offline controller | 8.6 |
| MillRight Power Route XL | | Largest | 8.9 |
List of Best Desktop Machines for Aluminum
SainSmart Genmitsu 3018 Pro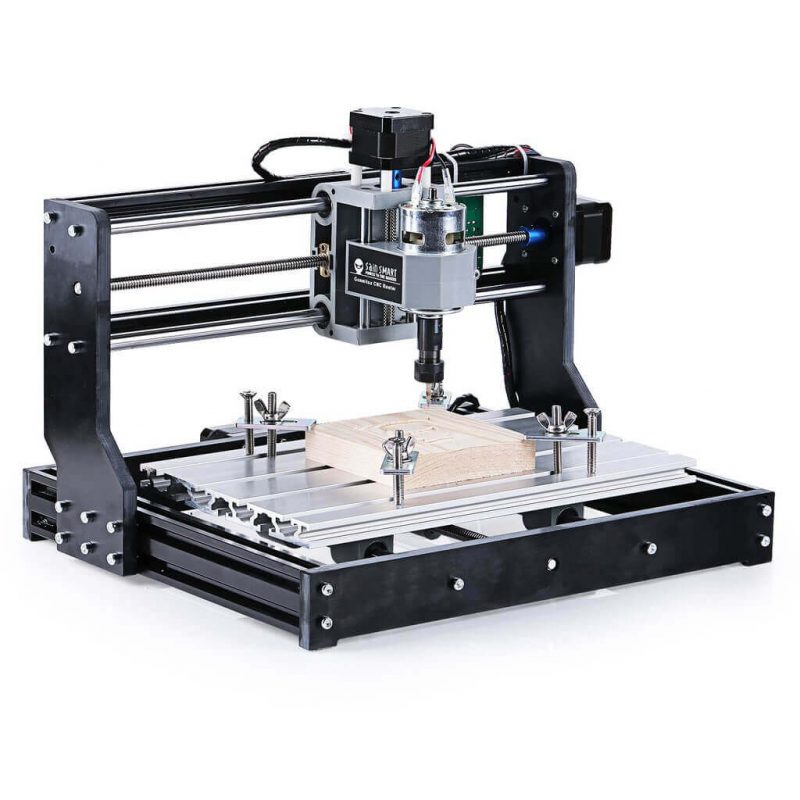 If you are looking for a CNC machine for commercial use, then SainSmart 3018- Prover is a great option to consider. '3018' is used across a wide range of CNC machines. However, SainSmart is well known for its CNC routers. The 3018 Prover by SainSmart is the new version of the 3018 Genmitsu CNC DIY Kit Series.
The machine has an aluminum body and is priced around $350. It is an entry-level CNC router that is based on open-source control software, GRBL 1.1 which has made it more powerful.
This CNC router weighs around 20.8 pounds and has a working space of 300 x 180 x 45 mm. It comes pre-assembled. Thus, it takes only 15 minutes to unbox and start over. The spindle speed is 10,000 RPM with 775 motor and 12-24 V.
For a comprehensive overview of the machine, you can watch a 20 minutes video by Techydiy. In addition, user guides and manuals are being provided by SainSmart.
Uses:
It is ideal for hobbyists, jewelers, engineers, woodworkers, and industrial designers.
There is an 18 inches display screen that enables manual control of the machine. It clearly displays the readouts and an emergency stop option in case any project goes wrong. You can immediately shut it down.
It has inbuilt Toshiba TB6S109 drivers that enable it to operate silently and add more life to the machine.
Optocouplers protect your router from emergency stops without causing any damage and minimize noise for consistent projects and the long run.
You can monitor the whole engraving process safely due to 5mm acrylic baffles that can block the 'flying' pieces of cutaway materials.
If you are looking for any upgrades and are experienced CNC users, you can install the matching SainSmart laser module kit that will help you to unleash your creativity to a great extent.
It is compatible with a wide range of materials such as MDF, plywood, PCB, nylon, acrylic, carbon fiber, aluminum, and soft metals.
PROS:
Easy to modify and upgrade
Efficient pre-assembly
Quiet and safe
Wide applications
Laser module available
Stable
Offline control
CONS:
No open-source CAD software comes with the unit
MySweety 3018 Pro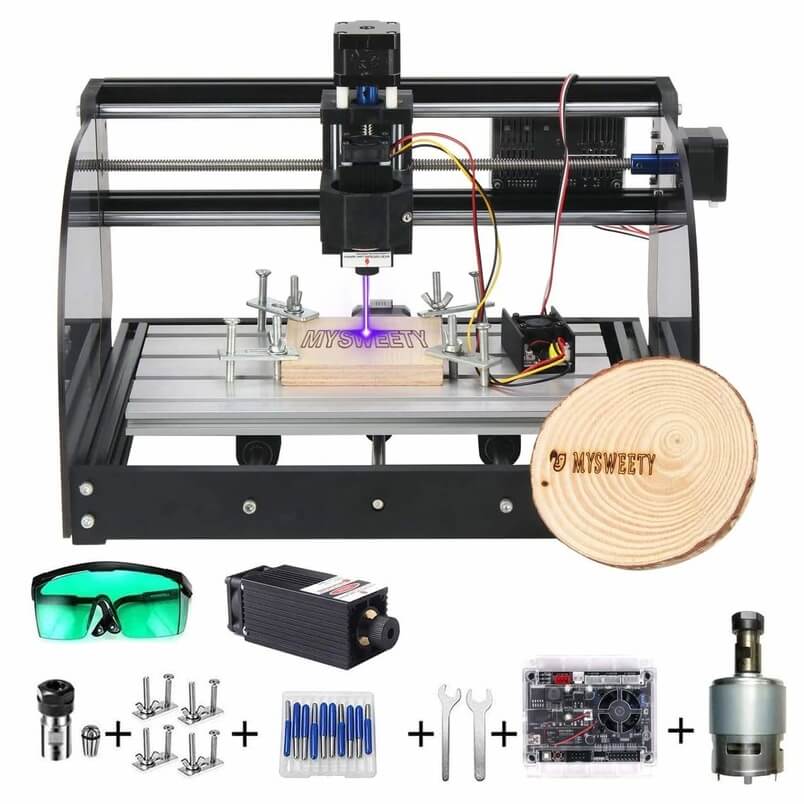 MySweety 3018 Pro may not be suitable for first-time users. However, it is a large machine that is suitable for bigger projects. It comes with a 5.5-Watt powerful laser with extra care and precision.
Uses:
It is great for commercial projects with a strong control board.
The machine has an offline control mode with a 1GB capacity.
It can be placed wherever you want to.
It has an integrated driver chip, fixed heat sink, external fan, and sturdy casing to extend the life of the control board.
It is capable of cutting all types of plastics, woods, acrylics, PVCs, and PCBs.
PROS:
Easy to assemble
1-year warranty
Accurate
Value for money
CONS:
Expensive
Not suitable for IOS
Cenoz 3018 Pro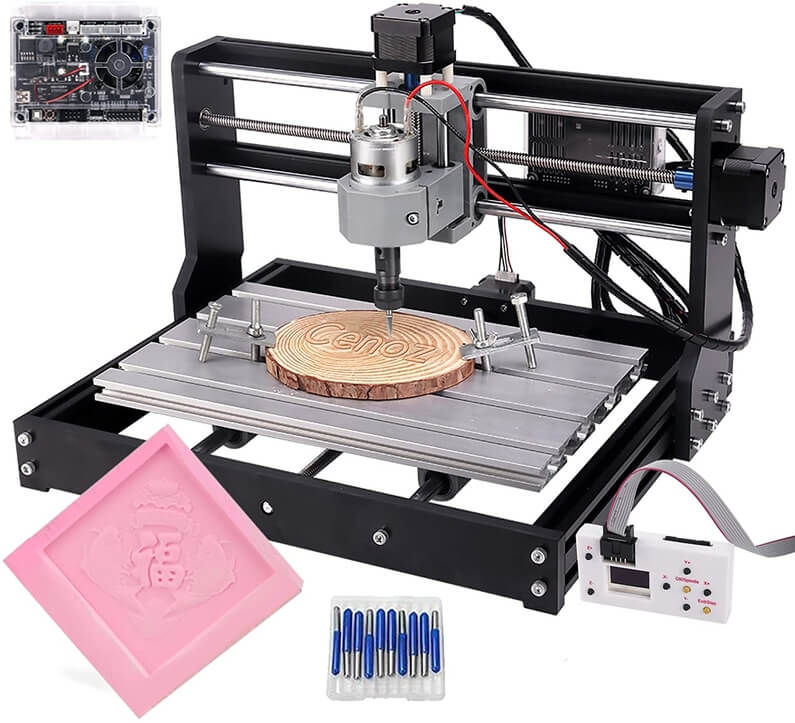 Another CNC machine similar to SainSmart 3018- Prover is the 3018 Pro by Cenoz. It is a reliable router to start cutting and engraving various materials. It costs $220 only. Due to a lower price, it is accessible and affordable by many makers.
The Cenoz 3018 Pro offers all the features you expect from a router. It is easy and quick to assemble. It takes only 20 minutes to put all the parts together. The machine weighs 14.81 pounds and has a working space of 300 x 180 x 45 mm. The spindle speed is 10,000 RPM with 775 motor and 24V.
The router is compatible with Linux and Windows. In order to meet customers' needs, they upgraded the CNC milling machine with a new version control board, more power, the latest GRBL 3 axis control, and an integrated driver chip.
A user manual is provided by the company. There is a professional team that offers support to its users 24/7.
Uses:
It is best suited for hobbyists, jewelers, engineers, woodworks, and industrial designers.
There are three different modes of control. Computer control mode is widely used. You can also use a manual control mode that enables you to input G-code yourself. In addition, you can take advantage of the offline control mode that is capable of storing 1GB of information.
It is compatible with soft aluminum, plastics, woods, PVC, acrylics, and PCB.
PROS:
3 control modes
Fast
Reliable
Easy to assemble
Accuracy
Relatively cheap
Value for money
CONS:
Not compatible with Mac
No laser included
Moderate noise
BobsCNC Evolution 3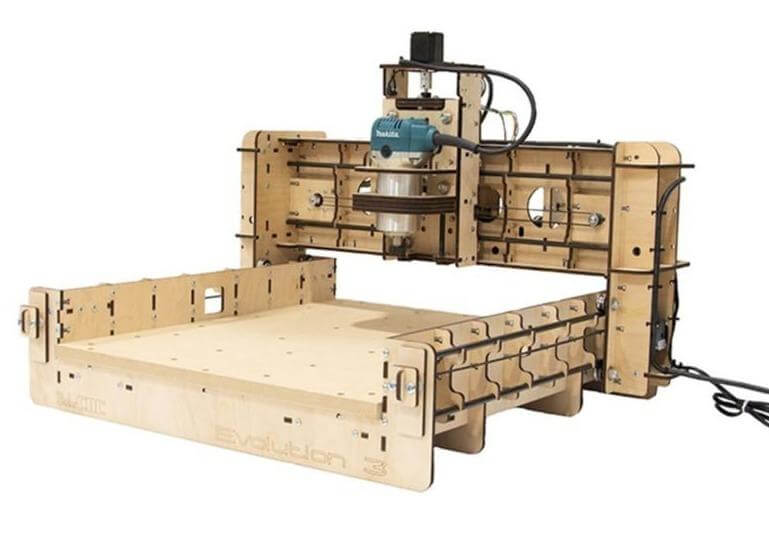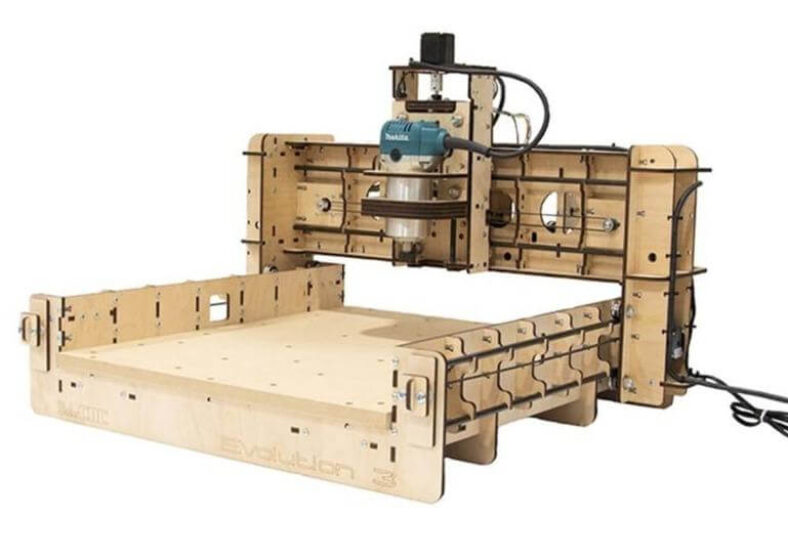 Looking for one of the best quality options in the market, Evolution 3 by BobsCNC is a great option. It has a strong laser-cut wooden frame that is more stable and less noisy as compared to other metallic frames.
The CNC router comes with an Arduino processor and a DW660 cut-out tool that uses a GRBL, which is connected through USB.
To enhance its performance, you can use a universal G-code sender software based on Java script and can run on Linux, Windows, OS, and Raspberry Pi. It is recommended to use F-Engrave software for designing and generating the G-code file.
The machine has a working space of 450 x 388 x 83.3 mm and weighs 25 pounds. It is easy to install and can be done within an hour. It has a 5Amp motor with a spindle speed of up to 30,000 RPM.
The company provides users with extensive resources on how to assemble and operate it not only on their website but also on their YouTube channel. It costs $900.
Uses:
It is ideal for small businesses, woodworkers, engineers, hobbyists, and jewelers.
It has an SG20U supported rail system and GT2 belt that drives on the X and Y-axis.
It has home switches on different axes that give more control to the users.
Its turn-on, the bump-off power switch is sealed against any dust damage, especially when working with wood.
PROS:
Wide range of qualities
Rigid wooden frame
Can cut 17 inches long stock
Accurate
Easy to assemble
CONS:
Proximity switches are not good in quality
Requires basic programming knowledge
Not too precise
Gowe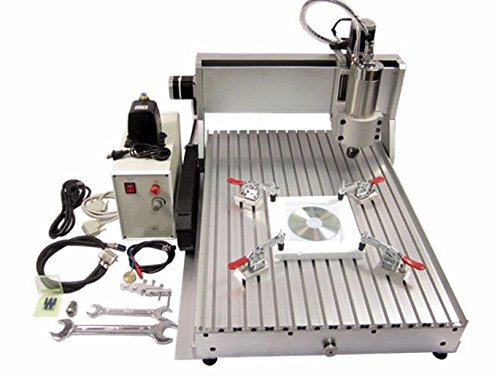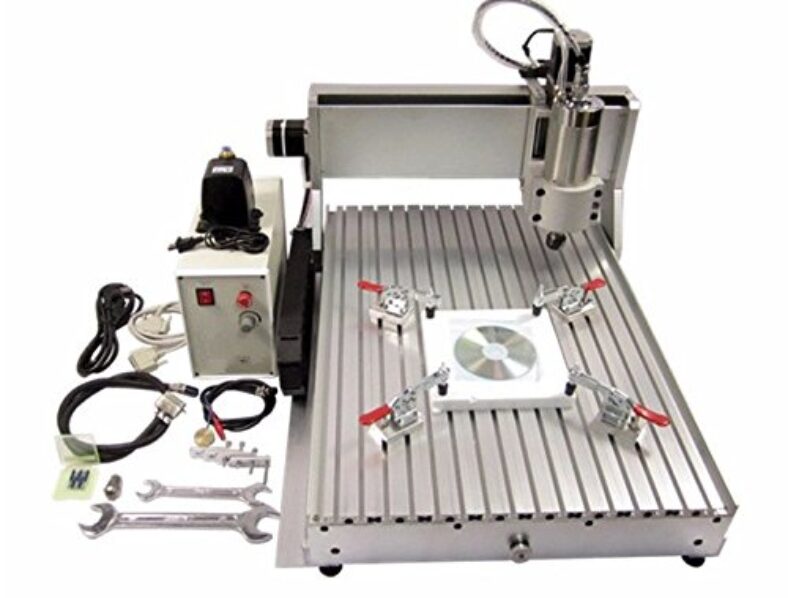 Gowe is a simple and smart CNC machine that is great for commercial and professional use. It has a metal frame body and runs on Mash 3 control software. It is easy to assemble and operate. The machine weighs 70 pounds and has a working space of 390 x 280 x 55 mm.
It costs $1700.
Salient Features:
It is best for small businesses, engineers, hobbyists, woodworkers, jewelers, and beginners.
It is compatible with multiple materials including plastic, PVC, wood, MDF, acrylic, soft metals such as aluminum, silver, and copper.
The machine is suitable for both cutting and milling.
It is great for some state-of-the-art crafting with wooden details.
It is suitable for industries including technology research, art creation, advertising design, teaching, hobby, and student projects.
It has cover plates that reduce pollution for the screws and shafts.
PROS:
Automatic tool changer
Offline controller
MillRight Power XL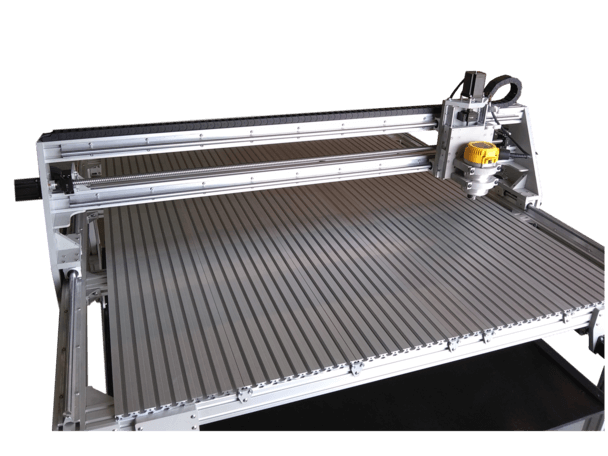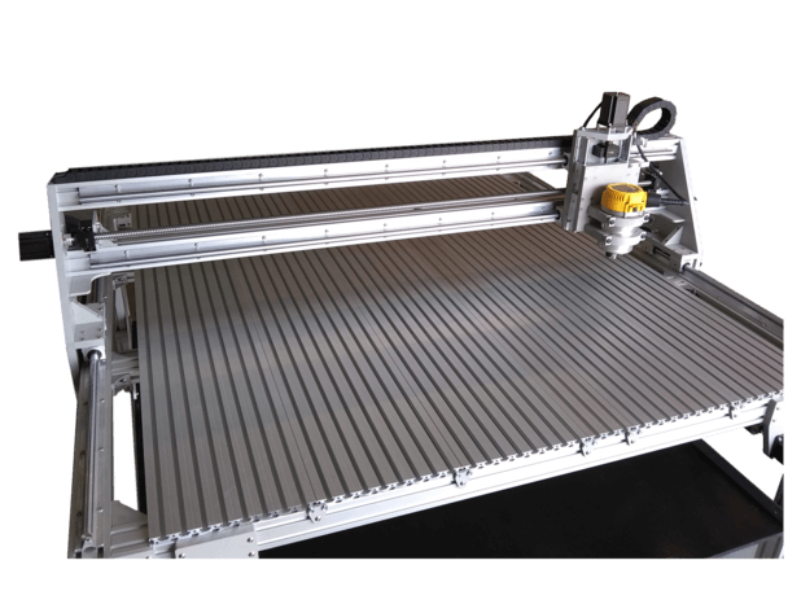 MillRight is based in Dawson, Georgia, USA. It developed MillRight Power XL that is a powerful, rigid, and precise CNC machine and is capable of cutting half a sheet of plywood. It is the largest machine of MillRight and comes 90% assembled. You can set it up within 60 minutes.
The machine weighs 450 pounds and has a working area of 1257 x 1257 x 127 mm. It has a spindle speed that varies between 16000 to 27000 RPM. You can use Fusion 360 or universal G code sender software to run the machine. These are open source and free to download.
Power XL costs $5400 and the company has an active user forum for all the queries.
Uses:
It is best for first-timers, hobbyists, small businesses, and researchers.
It can cut and mill plastic, composite materials, wood, and soft metals.
The material removal rate is up to 15 times.
PROS:
Large machine
Precise
180 days warranty
Powerful
Rigid
CONS:
Expensive
Does not come with design software
User Guide
There are many companies selling desktop CNC machines. They all differ in features and benefits that they offer. It is difficult to choose one that best meets your business goals. Thus, the following factors should be considered when making a purchase decision.
Cost of the machine
It is one of the most important factors to consider. The cost to set up, operational cost, and maintenance cost can all add up to a significant expense for you. Small businesses and desktop 3D printing users usually have limited budgets. Thus, they are not able to afford expensive 3D printers available in the market.
Working area (width x breadth x height)
The larger the working space, the bigger projects you will be able to produce. If you want to produce large size parts, then you should consider a machine with a huge build space. Otherwise, you will have to produce different small parts of an object and assemble them later. This will impact your product's quality.
Technical Support
Various companies have active user communities. They have tutorials, user manuals, and offer 24/7 technical support to their customers.
Maintenance
Always buy a CNC machine that has low maintenance and its spare parts are easily available.
Conclusion
Companies have come up with numerous CNC machines that cater to almost all professional needs. Choosing one is difficult, as you have limited time and a low budget. Thus, purchase one that is safe and has great reviews.