Dremel Digilab 3D20 3D Printer
Dremel Digilab 3D20 is one such printer that is designed to help those wanting to explore better insights of 3D printing.The printer is created keeping the focus on schools and universities that want to train enthusiastic students about the possibilities of this most revolutionary technology.
PROS
Easy to use
Compact and affordable
Fully assembled
Decent quality prints
The easy bed leveling process
CONS
Runs only with Dremel PLA filament
Do not provide WIFI connectivity
Product
Specification
Videos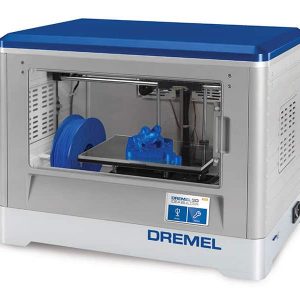 This 3D printer is created keeping the focus on schools and universities that want to train enthusiastic students about the possibilities of this ...
| | |
| --- | --- |
| Model | DigiLab 3D20 |
| Manufacturer | Dremel |
| Price Range | $ 679 |
| Release date | 2014 |
| Country | United States |
| Availability | Available |
| Classification | Desktop |
| Technology | Extrusion (FFF- FDM…) |
| Material | PLA |
| Filament diameter | 1.75 mm 0.07 in |
| OS compatibility | Linux, Mac OS, Microsoft Windows |
| Max. build size | 230 × 150 × 140 mm 9.06 × 5.91 × 5.51 in |
| Max. build volume | 4.83 L |
| Min. layer thickness | 0.1 mm 0.004 in |
| Dimensions | 400 × 485 × 335 mm 15.75 × 19.09 × 13.19 in |
| Weight | 8.85 kg 19.51 lb |
| Power input | 120V | 60Hz | 1.2A |
| Heated print bed | No |
| Heated build chamber | No |
| Automatic calibration | No |
| Closed frame | Yes |
| Dual extruder | No |
| Independent Dual Extruder | No |
| Full color | No |
| LCD screen | No |
| Touchscreen | Yes |
| On-board camera | No |
| Mobile app | No |
| 3D scanners | No |
| CNC mill | No |
| Electronics 3D printing | No |
| Laser engraving | No |
| Conveyor belt | No |
| Air filter | No |
| Pellet extruder | No |
| USB | Yes |
| Wifi | No |
| Bluetooth | No |
| SD card | Yes |
| Ethernet | No |

Table of Contents
There are many people who seek to learn 3D printers and often end up limiting their hobby to a handful of online learning videos. However, without having hands-on experience working with a real 3D printer, there is no way one can hone their skills pertaining to 3D printing.
And, it becomes even more important after 3D printers being so accessible. A company, Dremel that used to be involved in manufacturing handy tools for hobbyists, recently entered into the 3D printer manufacturing business focusing education sector. And, Dremel Digilab 3D20 is one such printer that is designed to help those wanting to explore better insights of 3D printing.
The printer is created keeping the focus on schools and universities that want to train enthusiastic students about the possibilities of this most revolutionary technology.
The company has tried to come up with an easy-to-use printer, however, trying to accommodate as many advanced features as possible. At the same time, trying to keep the price tag affordable for institutions and educational setups.
Here is a review of the various features and specs that the 3D printer offers to its users.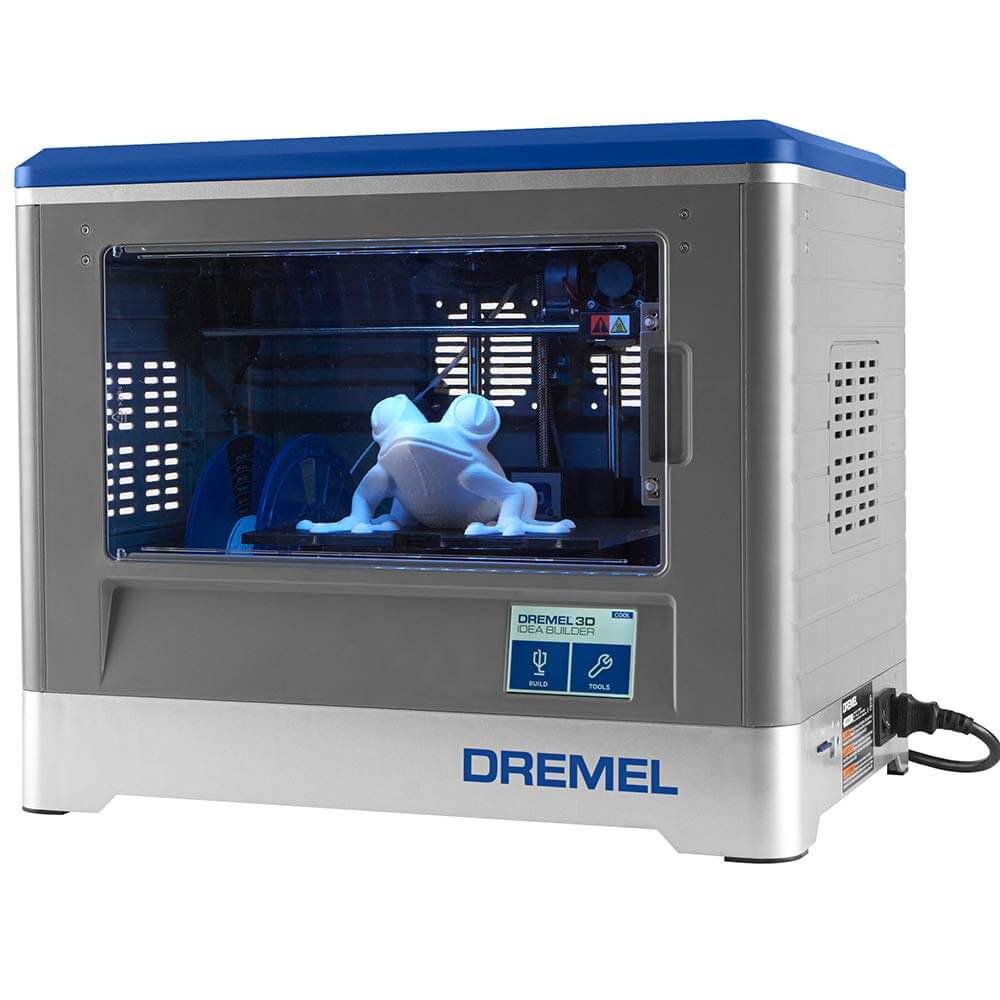 Features
The Dremel Digilab 3D20 includes a lot of fascinating features that can help users get some real-time experience with the machine and the technology.
3D printing is not for children. However, this does not fit well with current innovations. Companies have come up with smarter and safer 3D printers that can let young enthusiasts explore the depth of 3D printing.
Enclosed Chamber: To start with, Dremel has ensured that the learning experience stays safe and sound. By introducing the fully enclosed chamber, the printer keeps the print space covered, hence, safe for users.
There is no way one can accidentally get to the prints while it is still in process. Moreover, the covered design helps in retaining consistent temperature throughout the print process providing accuracy to the print results. And, the noise is also well managed inside the closed chamber, helping users to work around a less noisy machine.
Affordable Choice: As mentioned before, the company has tried to bring the price as low as possible for making it accessible to those trying to utilize it for learning tools.
Easy Setup: Although Dremel Digilab 3D20 isn't a fully automated printer and does not have an auto-leveling feature, it is very easy to set up the printer with the help of the guides and tutorials available. The company claims that beginners can also learn bed leveling in the easiest way possible when following the guide available with this 3D Printer. It also provides the freedom for users to explore more aspects of the machine and get involved in the basic setup.
Full-Color LCD Touch Screen: How can one miss this feature. Although you may find it in most of the 3D printers, the kind of interface this machine offers with its touch screen display is difficult to find. It is very Interactive and easy to follow. Users can easily modify settings, explore the files stored in the SD card, and can continue to print as well. The touch screen display makes it easy to control the prints like a standalone machine.
Nice Quality: The printer provides decent and nice quality prints. One can achieve consistent and reliable results when working with Digilab 3D20. There are many users who have backed for its quality after using it only a few times. The closed compartment and amazing accuracy add to the achieved print results.
PLA Support: This may be considered as a limitation to the material choice, but who wants to spend on expensive filaments when trying to learn about 3D printing. Keeping things simple, the machine has included support for PLA only. PLA is the cheapest material as well as easy to work with unlike ABS and other materials that are difficult to tame and are prone to problems like warping and curling.
Fully Assembled: The printer is completely assembled when taken out of the box. One only needs to insert the filament and print bed to make it completely assembled. Hence, no worrying about sticking to different parts together before starting the first print.
Connectivity: The printer is equipped with an SD card slot and a USB slot. This can help in printing with this printer without needing to connect with a laptop or desktop. Hence, the printer can work as a standalone machine.
The 3D printer is equipped with some nice features. However, one may find a lot of other features that could have been a part of the 3D printer, missing. But if one considers the aim of the machine that is inclined towards spreading the technology to every user base, it does accomplish the job with flying colors.
Specifications
No other 3D printing process can be as easy to learn as FDM. Hence, the printer is based on FDM technology making it easier for students to work with this 3D printer.
It comes fully assembled and uses the cartesian style of mechanical arrangement. Offering a build space of 230 x 150 x 140 mm, it has already made it possible for learners to play around with their creativity.
It does not have a heated bed. Who needs it anyway when printing with PLA? To connect the printer with 3D models, one can use the SD card slot or the USB slot. There is no inclusion of WIFI connectivity.
This is something that could have been an added feature. Anyway, it does not matter much when working in an educational setup. The company only supports the company's filament and works with a 1.75 mm diameter of the filament.
This 3D printer is compatible with windows, Mac as well as the Ubuntu operating system. The printer occupies a total space of 400 x 485 x 355 mm and weighs around 8.85 kg which is pretty sleek and compact.
Price
The 3D printer is available for $679 which is affordable for any institution wanting to train students. This price tag may not be very exciting for individual use, but a lot of enthusiasts and hobbyists can still afford it if serious about learning how to operate 3D printers for best utilization.
First Impressions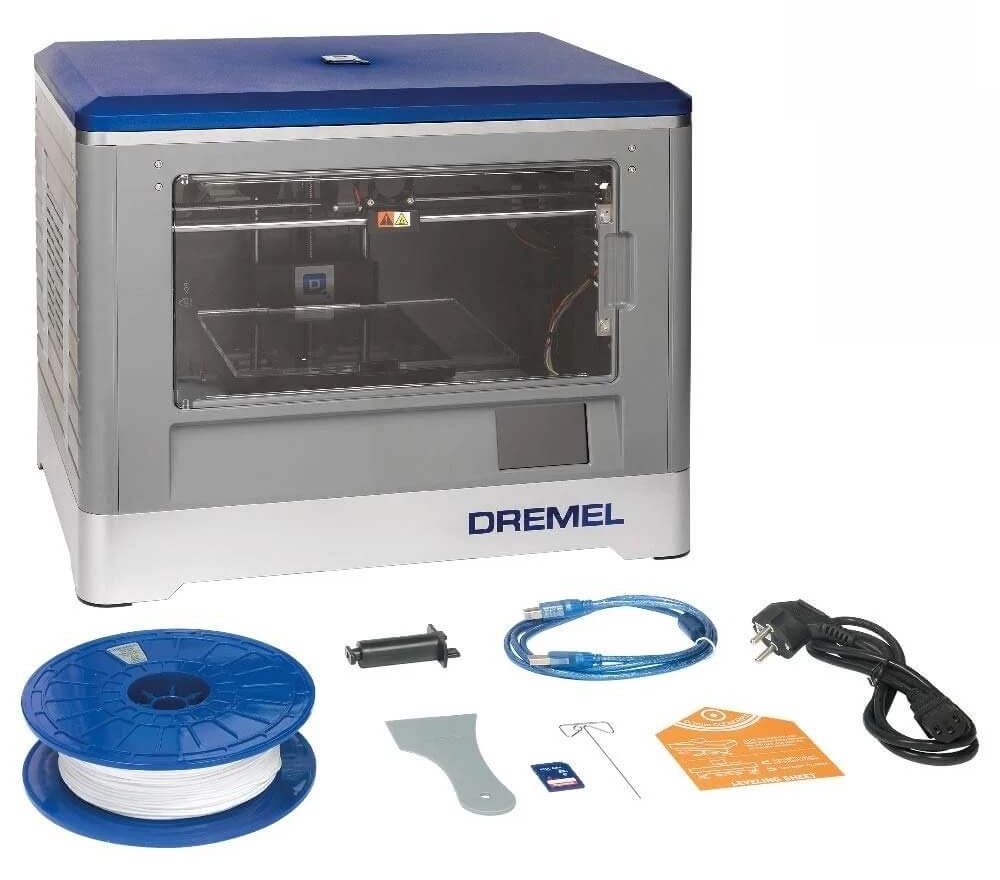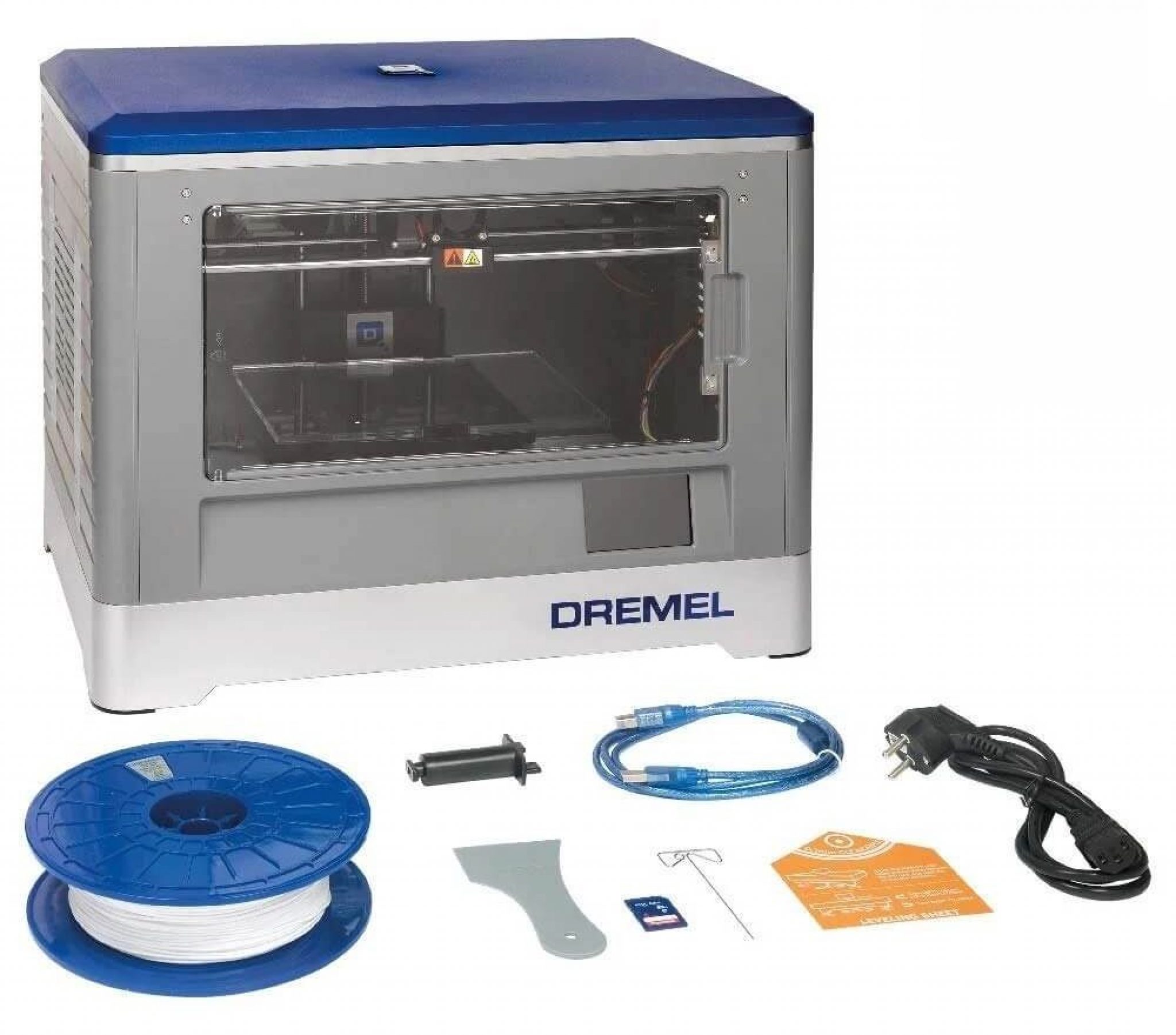 The printer looks like an oven or a microwave and does not scare the users away. It is simple in looks and so does in its operation.
The rectangular body and sturdy looks are fascinating and reliable. With completely assembled parts, one may feel at ease to see there is not much work required to set the machine up for printing.
The compact printer as it looks like is easy to place anywhere one likes to. It is lightweight and easily transportable. The transparent front door makes it easy for users to see the print process clearly.
The box consisting of this 3D printer contains many different items. Apart from the assembled Digilab 3D20 printer, users will find an instructions manual, a quick start guide, the power and USB cables, one Dremel filament spool the SD card, a leveling sheet, and some related tools and build tape. The parts included are enough to carry the setup process without needing any tools not present in the box.
Setup
Setup is very easy as claimed by the manufacturer. Although the bed leveling is manual, the tutorials provided by the company are easy to follow.
Even starters can easily learn how to manually level the bed. One only needs to fit in the filament and print bed, made of acrylic to start the printing process after calibrating the bed.
Users can at the same time, utilize the setup guidelines to learn about the bed leveling process in 3D Printing which is very crucial and important to complete with precision. The print quality depends a lot on correct bed leveling.
The 3D printer is completely assembled. So, that part is anyway sorted. By leveling the bed and putting a few parts inside, one can start the print in about half an hour after unboxing the 3D printer.
Printing Type/Cost
The printer is an FDM printer, hence, its operating cost isn't too expensive. Only the fact that the printer is compatible with proprietary filament, the freedom to choose among the cheapest material is taken away from the users. However, PLA isn't very costly and easily affordable.
Print Quality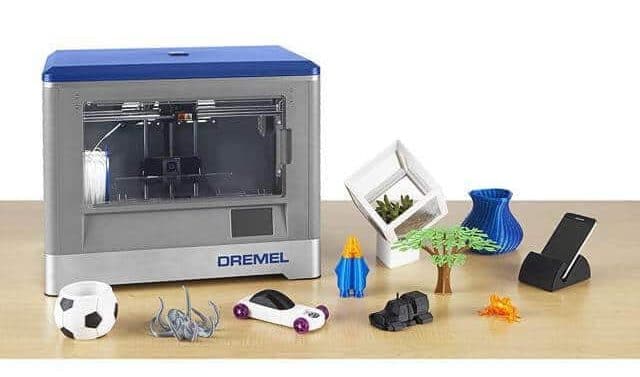 As stated before, the printer is impressive in terms of print quality. Even when working with PLA, users can produce great models. It very well serves the purpose of helping learners and beginners to start the 3D printing technology on their own.
With an easy learning curve and a lot of things already taken care of such as completely assembled parts, the printer provides easy and smooth printing experience. One can utilize the pre-existing models or can create their own to print the accurate and precise designs out of the printer.
Software
The 3D20 isn't an open-source machine. However, the company offers a built-in Dremel software which is easy to use and simple to handle. Considering the needs of students, the manufacturer has tried to make the software easily understandable.
Hence, one would be welcomed with a user-friendly interface and intuitive tools when working with this software. One can install this software on Windows, Mac OS, as well as the Ubuntu operating system.
Apart from this software, the 3D Printer is also compatible with Simplify 3D software. This is again a very friendly software with drag and drop options and lots of online tutorials on it.
Customer Service
The company provides one year warranty on the 3D printer. Apart from that, there are various guides and tutorials available for beginners on their website, Because of a huge follower of the printer, you will also find online communities sharing their knowledge to others for free.
And, to reach support is also easy and the team is very helpful.
Parameters Influencing the Purchase Decision of Buyers
There are certain important factors that one should go through before deciding to spend a handful of money on a 3D printer. The same goes for this one. Here are a few parameters that would help you decide for the best.
3D Printer cost: It is affordable. Not only educational institutions but home users can also pay the price for this 3D printer.
3D Print quality: The print quality isn't extraordinary, but is highly acceptable when considering the purpose of the machine. One can achieve decent quality prints and can create useful parts at home and for home decors.
3D Print speed: Print speed is also decent. One can print at a considerable rate and can create models in less time when compared with any other traditional methods.
3D Printer capability: It is a very capable printer. It can produce parts with sufficient build size and can also be used for connecting parts, being able to create larger models than its build space.
3D Printer Practicality: It is mostly driven towards helping colleges and schools to help introduce the technology to our coming generation. And, it also is designed for beginners and home users.
3D Printer User expectations: Certain expectations could have been addressed in a better way such as WIFI connectivity and cloud access. However, this isn't very huge of a challenge and can be ignored looking at its other benefits.
Verdict
Being an educational purpose 3D printer, the manufacturer has managed to include the essential features required for its operation. Some users may feel the lack of automatic bed leveling and struggle with filament removal major challenges.
But as you start working with this printer, you would know that the money you paid is well justified. The printer can help you create your first model with ease. And, you can learn a lot of other nuances of the technology with this easily affordable 3D printer.