Millright CNC M3
Those willing to purchase a standard CNC router for fun and creative projects can certainly opt for the Millright CNC M3 machine. Not just that, it can also help professionals to accomplish some of the complex tasks too.
PROS
Available at a very reasonable price
The package comes along with a few additional components: the DWP611 router and router mount
It can work with a variety of materials including soft metals
M3 comes packed with pre-installed Grbl
With its universal G code sender, the task becomes even further accessible
The customer support is active 24 by 7
It is sturdy and compact at the same time
CONS
Although considered beginners' friendly, the machine demands a little effort from your end to learn about its operation for bettering the performance
It lacks the option for stage 2 upgradation
Table of Contents
Millright CNC M3 is a compact and portable desktop CNC machine, offering great performance, suiting the needs of beginners and professionals alike.
A great addition to your woodwork projects, this small device can turn a lot of complex creations possible with ease. The machine comes in a DIY kit form and is highly practical. In addition, its affordable price tag is certainly the icing on the cake.
Using the very powerful Nema stepper motors, this machine is going to amaze you with its results. For a detailed explanation of the various features and perks of this machine, read our detailed review of Millright CNC M3 router.
Features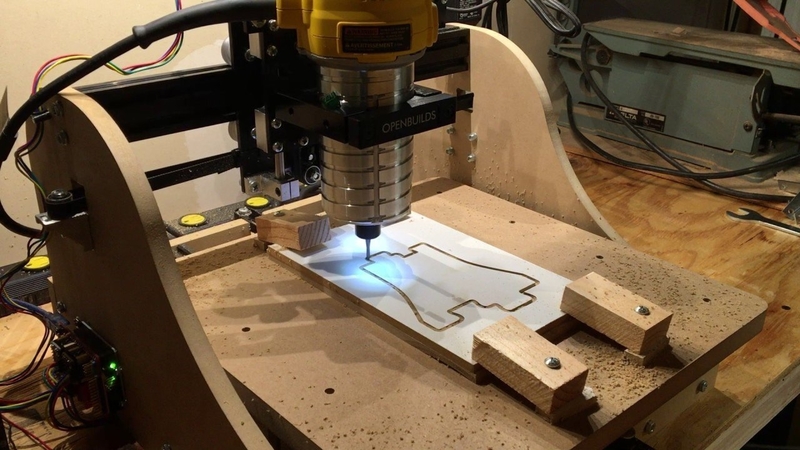 Credit: theedgecutter
Among the various features the machine hosts, some are highly pronounced among the users. And, why not? Selling at this price while combining the most advanced internals does signal a great deal. So, let's find out what features make the M3 powerful and robust.
Its Value for Money
You get more than what you pay for. When comparing the machine's rate with other competitors, you will easily understand that M3 has a lot much to offer. That too is completely pocket-friendly.
High Quality Performance
With positive customer reviews, the Millright CNC M3 router happens to be very capable of handling complex projects. Although not advertised for working with steel or stone, some customers have been able to produce fabulous results with these materials too.
Compact Design
Being a desktop CNC router, the machine is space friendly too. It can snuggle easily on top of the work table. Also, it's lightweight and very portable. Hence, the tool is best for home users as well as those operating small shops.
Suitable for Multiple Materials
Yes, the M3 is compatible work with an array of different textures and material strengths. You can use wood, plastics, acrylics, along with some of the soft metals too. With such amazing capability, users have been able to achieve satisfying results from M3, over and over again.
Needs Assembly
Because the CNC M3 by Millright comes as a DIY kit, it will require considerate efforts from the users while connecting the different components together. You must be a little savvy with cables and hardware to be able to complete the setup.
Although there is sufficient help available in terms of manuals and guides, a little expertise will shorten the work hour when installing the machine right out of the packaging box.
Specifications
| | |
| --- | --- |
| | |
| Price | $ 549 |
| Movement Range | 10.25" x 10.25" x 2" |
| Machine Classification | Fixed Gantry, Moving Bed, 3 Axis |
| Rapid Traverse Rates | 315 IPM (X and Y); 118 IPM (Z) |
| Micro-step Resolution | 0.001" (X and Y); 0.0005" (Z) |
| Motors | NEMA 17, 76 oz/in |
| Firmware | Grbl 0.9, USB based, preconfigured |
With a compact build, the Millright CNC M3 offers a workspace of 260 mm x 260 mm x 50 mm. It's not too big, not too small. Hence, you can easily carry most of your engraving and cutting projects using this machine.
Another major addition is its 9 mm fiberglass-reinforced GT2 timing belts. Also, it has the pronged tee nuts in the work bed.
As mentioned, it comes with the very powerful NEMA 17 stepper motors offering high torque. When talking about the materials it supports, you won't ever run out of options. Either it's wood, plastics, or thinner aluminum sheets, the router can cut through various other choices too.
It makes use of the Arduino Uno control board. Hence, it moves the table using one axis and the spindle using the other one. For this affordable price, there is no doubt that you are getting more than the value you pay for this device.
Price
As mentioned, the price is the most crucial selling point for this wonderful CNC machine. The basic kit costs only $549. However, you can also upgrade the design by adding some more bucks. It will still be much cheaper than most of its competitors offering similar value for money.
First Impression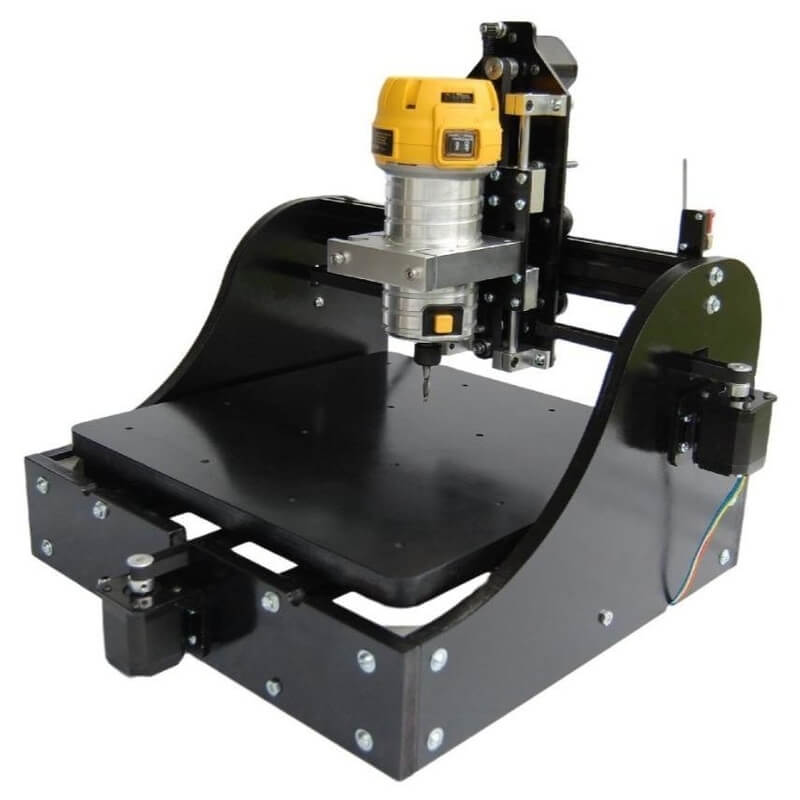 The desktop CNC miller is a basic kit, designed to introduce beginners to the world of CNC routers. As you would know by now, the machine hosts 3-axis parts. This includes the power along with the cost-cutting combination.
Frankly, the premium stepper motors and its 9 mm fiberglass tent add more efficiency and value to this overall design. At the same time, making it impressive for professional applications.
Apart from that, it houses laser-cut as well as aluminium anodized plates. With the addition of these two robust features, the machine becomes even more capable and better than its competitors, falling in the same price range and even some with higher costs.
Rather than making use of belts in its two-dimensional axes, the CNC router involves the screw on all the axes. Overall, it pays for the money you invest in this machine. And, it gets you a simple yet powerful design to experiment with your creations.
Precisely, in the basic kit, you get the following components:
The necessary hardware items to complete the setup
Machine parts kit
A Makita RT0701C router
Router mount
An end mill
Basic clamps.
Setup
Enabling an easy installation experience for the users, the Millright CNC M3 comes with necessary parts and documentation. Hence, it is simpler than it seems to connect the different components together to be able to start operating the machine.
The guide shipped is very detailed. Also, you can refer to the instructions available on the manufacturer's website as well to complete the setup. In short, it does come as a DIY kit but isn't complex at all.
CNC Machining Quality
It allows you to achieve decent results, with the highest stability of performance. You can work with a variety of materials and can enjoy the reliability of the Nema stepper motors.
Software
The machine comes pre-loaded with the most intuitive firmware, Grbl. The software, when combined with the astonishing hardware selection, offers great results.
Customer Support
Millright offers users all the possible help through its online helpline services. You can either drop a message through their website or write an email. Their website also has the sales direct number. So, if you wish to contact the company for any related inquiry, you can reach the team instantly.
Apart from that, Millright shares detailed instructions and guides to simplify the setup of the machine, as much as possible. Overall, they are prompt and responsive when it comes to replying to their customers with resolutions.
Parameters Influencing Buying Decision
To decide if the machine is fit for your specific needs, do not forget to assess the Millright CNC M3 against these important parameters.
CNC machine cost: At the time of writing, the machine costs around $549. This is a very reasonable price, affordable to most enthusiasts and hobbyists. The best part is that the company keeps offering discounts on the M3's price. So, if you can wait for a little, who knows you can bag the CNC router for a much cheaper price.
CNC machine quality: As expected, the machine is very well designed to amaze everyone with its performance. And, you will surely fall in love with M3 too.
CNC machine capability: A robust machine, capable to work with different material choices including thin aluminum sheets.
CNC machine practicality: You can either use it for your hobby or put this to work for high-end applications. The machine can offer great results to enthusiasts as well as professionals.
CNC machine user expectations: Looking at what you get for this affordable investment, it does match the expectations of the customers with ease.
The Verdict
Those willing to purchase a standard CNC router for fun and creative projects can certainly opt for the Millright CNC M3 machine. Not just that, it can also help professionals to accomplish some of the complex tasks too.
Plus, the company ensures a flexible setup experience for the users by incorporating intuitive manuals. Overall, this machine is made to impress. From its reasonable rate to high-end performance, there are a lot of things to love about CNC M3 by Millright.