Qidi Tech 1
Qidi Tech 1 is a 3d printer for all those who wish to juggle with lots of materials and colors for making vivid parts and functional prototypes.
PROS
Considerable build volume.
Customer-friendly bed leveling.
Excellent quality prints.
CONS
The build plate cannot be removed.
Absence of Wi-fi connectivity.
Table of Contents
Qidi Tech 1 is a dual extrusion 3D printer manufactured by Qidi Tech. The machine is able to deliver high precision even while creating some of the most intricate geometries. It almost offers a solution to the most common problem with FDM 3D printers i.e. nozzle clogging.
The printer features a total metal heated plate which ensures that the 3D printing process takes place more stably as well as smoothly.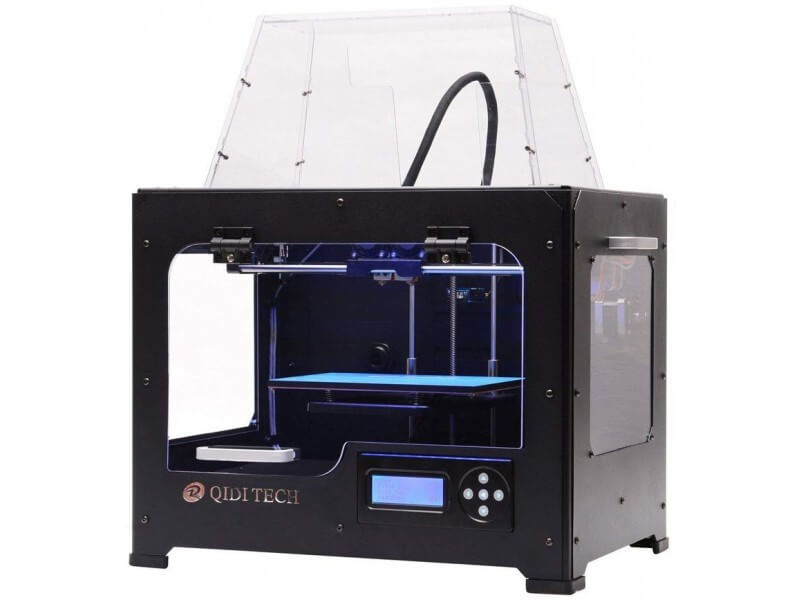 Also, a new design is ready to entertain users by reducing the signal interference which was a cause of delay in the printer's predecessor. Moreover, the machine comes with a print bed adhesive that works well, not only with ABS but also with PLA.
An LCD screen interface with a keyboard lets you control some of the functions via one touch. Qidi Tech 1 has many such intriguing features which we can only find out by looking at it in-depth. So, let's get going.
Features
Housing an enclosed print chamber, Qidi Tech 1 is suitable with filaments that generally show signs of warps and shrinkage. The printer has a striking full-steel black color casing that catches every eye nearby. Tech 1 is sturdy and compact to make it for a stable desktop 3D printer that fits almost any normal desk present at your place.
The machine hosts an aluminum heat bed with two hot ends, cooling fans, and an internal LED lighting system that lets you function efficiently while making a part or functional prototype. More such features that are worth noting are mentioned and explained below.
Optimized Design
Tech 1 does not have any corners cut from sides which makes it suitable for home use. Its print chamber is fully enclosed with acrylic paneling on the sides. Also, there is a sizable removable plastic top cover that is held in place by magnetic contact points.
Moreover, the hinged acrylic front panel opens upwards allowing users to access the build plate and stays upright unless interrupted.
The chamber ensures uniform heating which strengthens the possibility of consistent 3D printing and eliminates any probabilities of anomalies such as warps and shrinkage while printing with ABS-like materials. A full metal frame gives the exact amount of stability that's needed for 3D printing without vibrating.
High-Performance Delivering Motherboard
Tech 1 features an industrial motherboard which is an upgraded version of its predecessor. This component ensures that there is minimal to the point of being negligible signal interference while the process is on. So, there is no delay at all between the execution and passing of the command.
Also, the motherboard ensures that the 3D printing does not make much noise as in the case of other 3D printers in the same price range. In addition, the new motherboard increases the print speed of Tech 1 when compared to its competitors.
Huge Build Area
Although Tech 1 is a desktop 3D printer, it manages to offer a maximum build volume more than that of an average machine used to create parts for the home.
The printer provides 230 mm * 150 mm * 150 mm build space to users for experimenting with the objects they wish to create. With this, you'll no longer have to manufacture objects in parts, instead, you can create them in one go.
Standard Cartesian Arrangement
The printer manufacturer has relied on the trusted and proven Cartesian design that most desktop FDM 3D printers host. The machine features stepper motors along its X, Y as well as Z-axis and horizontal metal rods on linear motion bearings.
Dual Extrusion System
The main highlight of Tech 1 is its dual extrusion system that enables users to 3D print two parts and functional prototypes at the same time. Also, professional designers who love to play with colors can create more real objects by the use of multiple colors or support structures.
This feature helps especially while mass customization of a particular part. Tech 1 is a very affordable desktop 3D printer. To find a dual extruding device at such a price is in itself an anomaly.
So, Qidi should be credited for making such a 3D printer available at a low cost. Because of this, users who cannot afford dual extruders hosting 3D printers can still avail themselves of Tech 1 and continue innovating.
In fact, Qidi goes a step further by extending a wide array of colors such as orange, silver, red, yellow, black, green, gold, gray, blue, purple, and white. So, owners can have enough choice for mixing them while creating more realistic objects.
Aluminum Build Platform
Tech 1 stars a standard Aluminum build platform that can withstand high temperatures. This feature enables users to experiment with various materials. Because of a high temperature resisting build platform, Tech 1 allows printing with filaments such as ABS, PLA, PVA, and HIPS using open source 1.75 mm diameter filament.
LCD Screen Interface
To ease out the overall interaction of its users, Qidi has put in place in Tech 1 an LCD screen interface with a set of five control buttons.
This display is not only functional, but also capable of launching prints, bed leveling, and choosing the right filament according to the project. Moreover, using this component operators can load the filament in a single click which is a feature hard to find in printers falling in the same price range as Tech 1 does.
It's beneficial especially for users who are new to 3D printing and do not know how to level a print bed? Also, for operators who do not like to intervene much and increase the overall print efficiency.
Specifications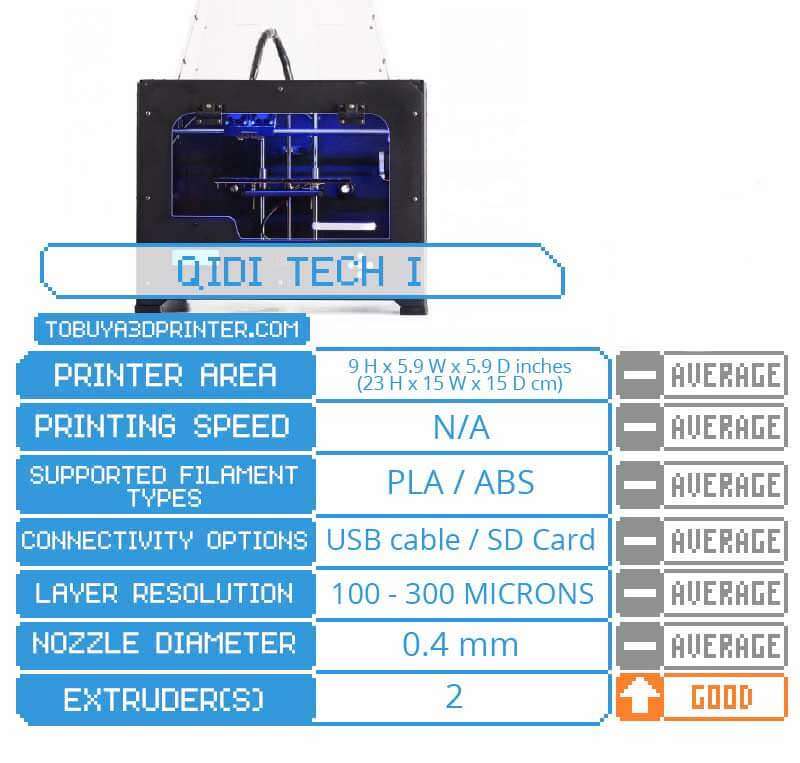 Credit: tobuya3dprinter.com
Qidi Tech 1 prints parts and functional prototypes using FDM 3D printing technology. It allows users to go up to 230 mm * 150 mm * 150 mm in terms of the build volume.
Additionally, the machine features a dual extruder thereby enabling operators to create two parts in the same time as it takes to create a single part on other 3D printers. Moreover, designers can also create parts with two different materials or colors.
The layer resolution offered by Tech 1 on objects created by it is 50 microns. The machine uses a nozzle with a standard 0.4 mm diameter and allows users to print parts with filaments of 1.75 mm diameter. Operators can connect with the printer using an SD card for transferring files on the printer.
An acrylic cover on the top of the printer improves its print quality. In coordination with it, a full metal frame provides enough stability that the user does not experience any vibration during the printing process. Owners can print using ABS, PLA, as well as with dissolvable filaments such as HIPS and PVA.
Price
Qidi Tech 1 is available for $699.
First Impression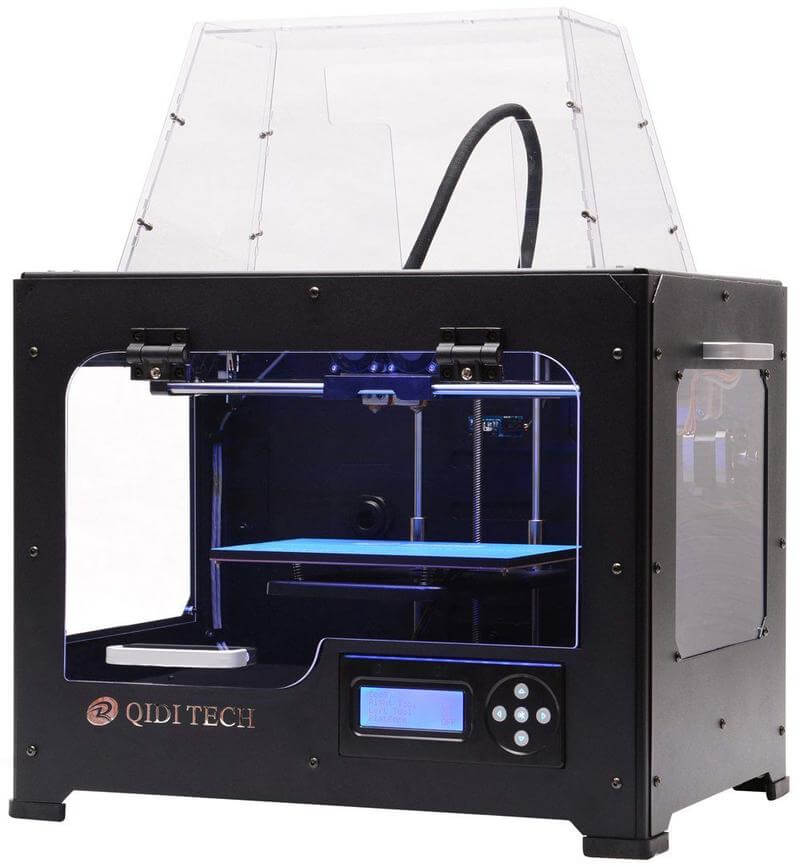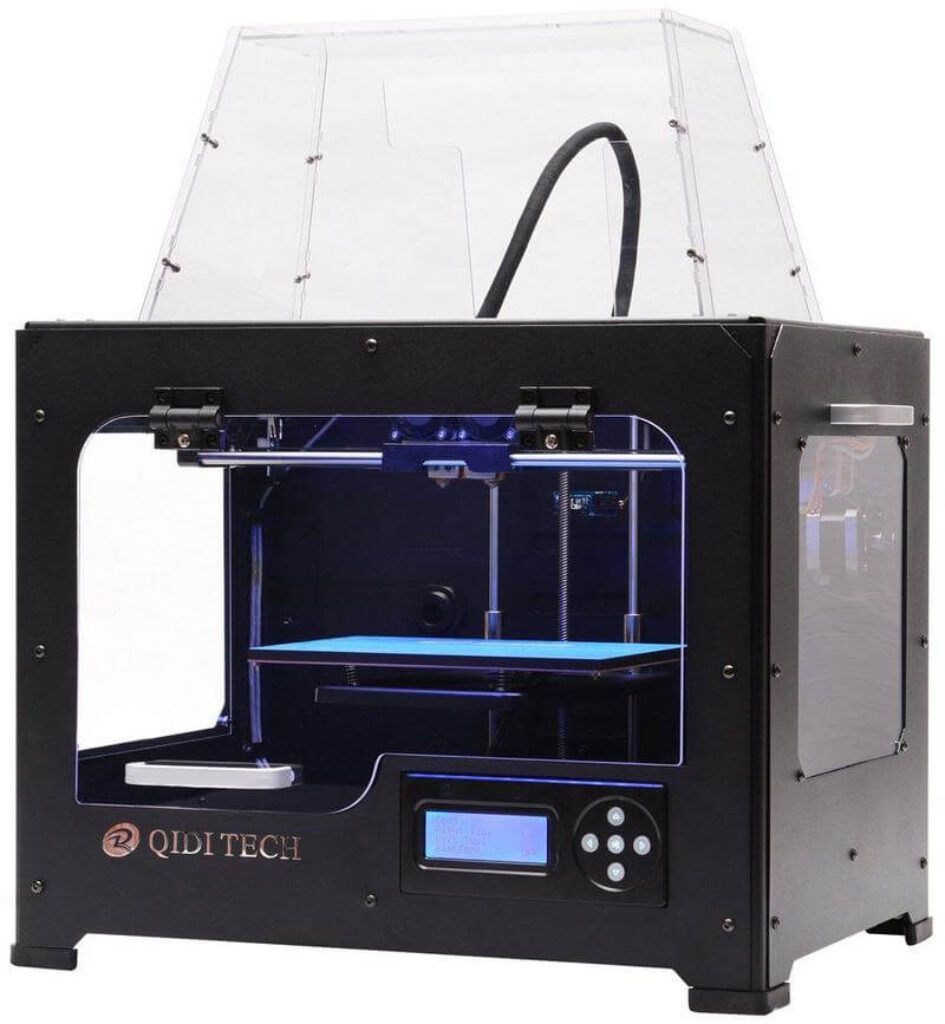 The printer arrives in a well-packaged appropriately laden in a double box with strayfoam trays, cable ties, and plastic sheets. In short, Qidi has assured that their machine is delivered to you without any travel during the transportation.
The entire package includes the following:
A quick start guide.
A bed for PLA printing.
A leveling paper.
Official documentation.
User manual.
One spool of ABS and one spool of PLA.
Spool holders.
A roll of blue painter's tape.
A power supply.
A scraper.
Filament tubes.
Tools.
Cables.
4GB SD card.
Acrylic covers.
Handles.
Parts box including fuses.
USB cable.
USB SD adapter.
And glue.
Setup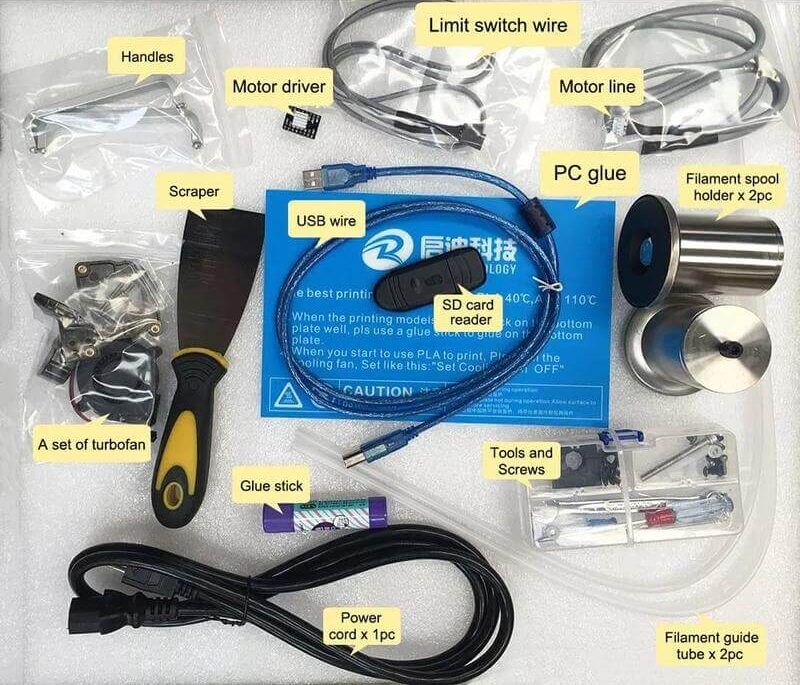 Credit: top3dshop.com
Tech 1 is almost pre-assembled, but it's not completely a plug-and-play because its installation will consume some of your time. After removing the protective strayfoam, users will have to install the extruders for which the guide needs to be referred to for getting all the arrangements correctly. And this is the step wherein most of the things that come with the printer will be used.
In the next step, operators have to install the spool holders and finally level the bed. That's all. Once powered up the printer walks through the first time setup and then you are all good to go for 3D printing.
Print Type/Cost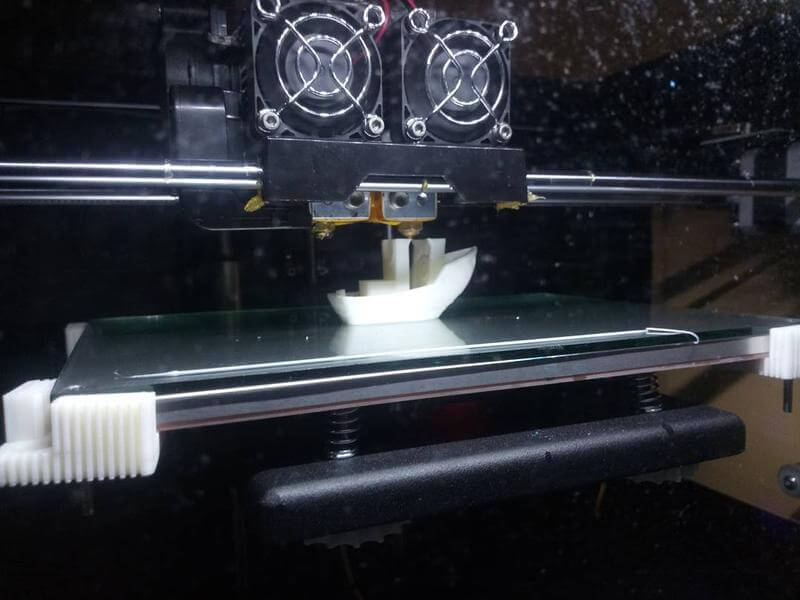 Credit: top3dshop.com
FDM stands for Fused Deposition Modeling. The printing process starts with a solid filament's loading on the printer's spool holder.
After which; the filament is heated until it passes its glass transition temperature and gets converted in a melted condition. Till then, the print head of the printer has moved to the exact point from which it has to start laying a fresh layer according to the part geometry.
The nozzle system allows the melted filament to flow to the print bed thereby depositing the first layer on it. After this, the print head shifts by the layer height, and another layer is deposited. This process is repeated until the complete part is printed.
The cost of printing a part or functional prototype using FDM 3D printing technology is generally lower when compared to other techniques. However, it depends on a lot of factors starting from part geometry, type of filament, cost of that filament, amount of infill needed for printing that part, support structures, etc.
Print Quality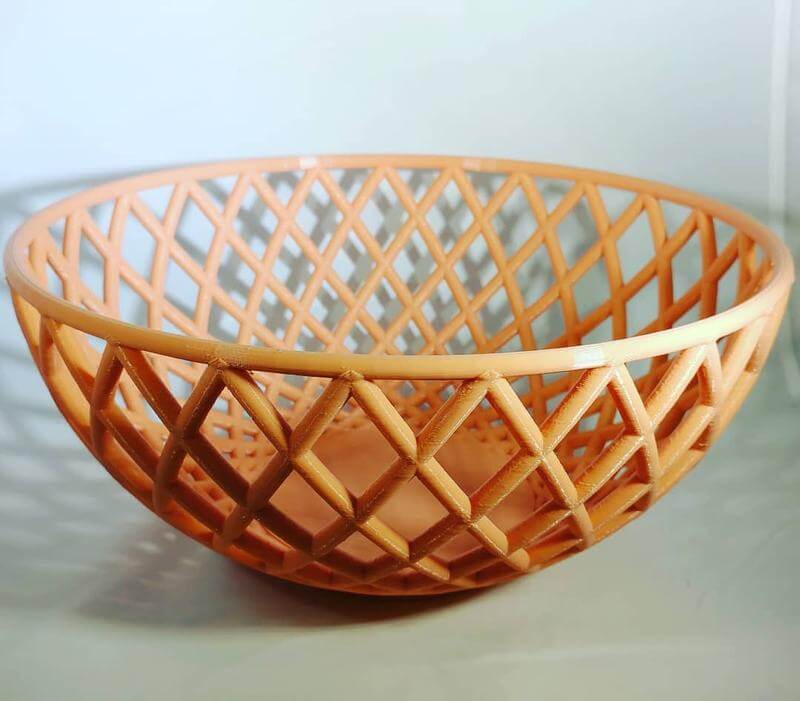 Credit: top3dshop.com
Being a printer that costs under $700, Tech 1 manages to impress with its print quality. The surfaces are smooth, and the detailing is rich as well as comfortable visible.
For an entry-level 3D printer the use of colors and different materials in the same part is very new. All thanks to the printer manufacture for equipping its device with an extremely useful dual extrusion system.
Software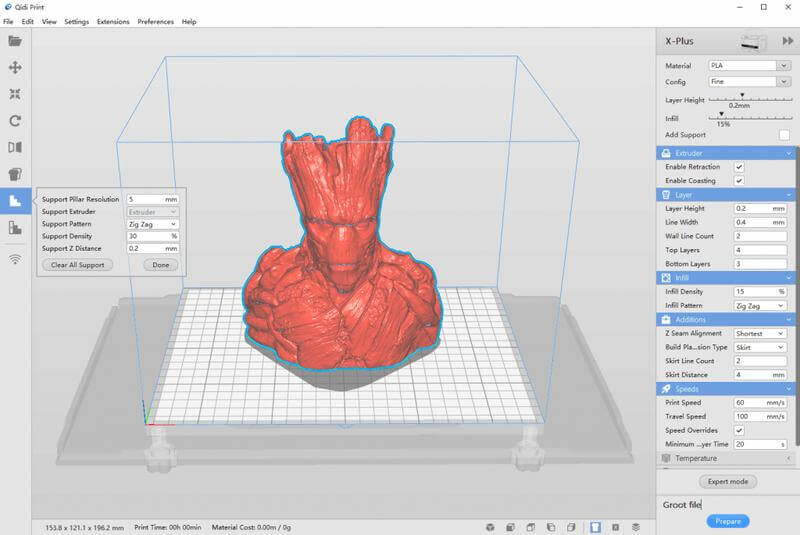 Credit: top3dshop.com
Qidi's proprietary software QIDI Print is capable of working with triangle meshes, it also easily removes supports and assist while making complex models. Overall the application is not only intuitive but also effective in a way that streamlines the customization of the print model. The software runs efficiently on Windows as well as Mac.
Customer Support
The top-tier technical team with experienced knowledge is available 24 hours to assist you with troubleshooting any problem that comes along with the printer. Users can reach out to the team using multiple options such as Skype, phone, or email. Also, the printer comes with a six-month warranty period.
Parameters Influencing Buying Decision
The summary of the entire article is mentioned below in brief using some factors that are the most important to glance over while making the buying decision.
3D Printer Cost: Taking into mind the dual extrusion feature, $700 is an extremely affordable cost for an efficient 3D printer such as Qidi Tech 1.
3D Print Speed: The printer offers decent print speeds like other FDM 3D printers in the same price range.
3D Print Quality: Detailed parts and functional prototypes with intricate geometries can be printed easily on Tech 1.
3D Printer Capability: Users can make use of the freedom that they get with the dual extrusion feature and experiment with various materials as well as colors for printing objects that are the closest to their imaginations.
3D Printer Practicality: A LCD screen interface makes work a lot easier for beginners in the field. Also, the new motherboard not only eliminates the problem of signal interference but also gives extra stability to the printer's performance.
3D Printer User Expectations: The printer assists novices in the field with its user-friendly features such as simple and reliable design, straightforward software. Whereas, the machine also lets professional users level up their design and execution skills at an affordable cost!
The Verdict
Overall, Qidi Tech 1 is an enclosed desktop 3D printer with a dual extrusion system and good quality components. It helps a wide range of individuals to bring their imaginations into reality by utilizing a simple 3D printing process. In short, it's a printer for all those who wish to juggle with lots of materials and colors for making vivid parts and functional prototypes.