Over the past decade, the world of prototyping has changed dramatically. And the change is not going to slow down, as estimated by the experts, over the next 10 years.
One of the most common reasons attributed by experts for this estimation is the increase in the widespread adoption of 3D printing.
This increase in 3D printing is due to 3D printing's new accessibility and affordability. Having said that, the rapid prototyping companies of tomorrow will also continue to be dramatically different than that of today.
The new research study done by International Data Corporation claims how worldwide spending on 3D printing will surpass £10bn in 2019.
Global spending on 3D printing was supposed to increase by 21.2 percent in the year 2019 year compared to 2018, as per the update to the Worldwide Semi-Annual 3D Printing Spending Guide from IDC.
Furthermore, the IDC predicts that in 2022 worldwide spending on it will be nearly £20bn, with a compound annual growth rate of 19.1 percent.
Clearly, the business of rapid prototyping is growing at a very fast rate. This article will bring in front of you the names of eight top rapid prototyping companies that are serving the need and increasing demand of the market.
Carbon 3D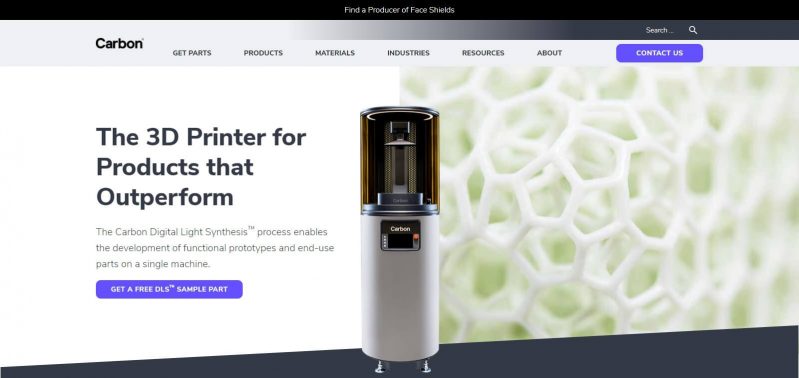 The company is famous for inventing its Digital Light Synthesis (DLS) technology that is powered by its proprietary CLIP process.
This technology utilizes: 1) Digital light projection. 2) oxygen-permeable optics. And 3) Programmable liquid resins, for producing parts quickly.
Additionally, you get parts with excellent mechanical properties, resolution, and surface finish. Carbon 3D's 3D printers are extensively used not only for prototyping but also for end-use applications.
You can see the examples of it in Adidas Futurecraft sneaker's 3D printed soles which is very well known in the field of rapid prototyping.
Carbon 3D is one of those rapid prototyping companies which introduced their latest 3D printer, the L1 in February 2020. The L1 became available to customers as a subscription for $250,000 per year for a 3-year term.
The company claims to provide industry-leading digital manufacturing solutions to the world. The solutions provided by the company are meant to empower companies for creating revolutionary products anywhere and at any scale.
Carbon is also one of the many rapid prototyping companies to join advanced hardware, software, and polymer materials capabilities on a single digital manufacturing platform.
This gives companies the ability they need to confidently design and bring better products to market in less time.
Desktop Metal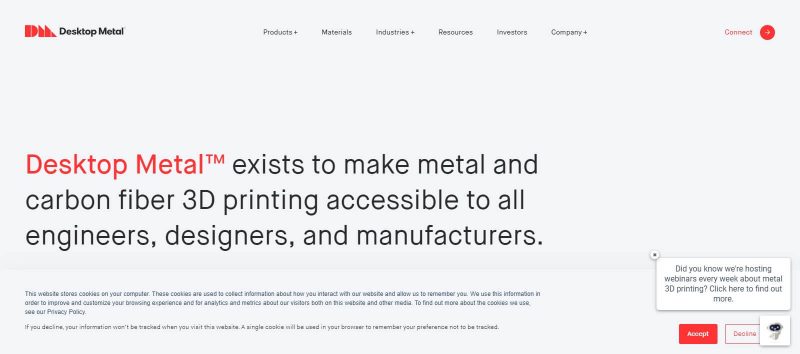 Known in the market of rapid prototyping for producing 3D printers based on binder jetting and sintering, which claims to be ten times faster than any other lased based system in the world, Desktop Metal is a company based in Boston.
Their Shop System is a desktop metal 3D printer that is used for producing high-volume manufacturing and low-volume prototyping. Shop System is claimed to having been designed for machine shops for producing mid-volume, batch production of end-use metal parts.
The printer has an all-in-one production system that incorporates binder jetting and sintering. The Shop System's pricing starts at $150,000.
The company has the most amazing leaders who came together to found it. The list includes leaders in advanced manufacturing, metallurgy, and robotics, who came together for addressing their unmet challenges of speed, cost, and quality.
In addition to this, they came together for making 3D printing an essential tool for engineers and manufacturers around the world.
The company is one of those in the field of rapid prototyping companies that have solutions for every stage of the manufacturing process.
Be it prototyping and pilot runs, mass production, aftermarket parts, anything. Desktop Metal claims to reinvent the way engineering teams produce metal and composite and use it across a wide range of applications and industries.
Relativity Space
Here is a company that 3D prints rocket engines for space exploration. Relativity Space claims to have the world's largest metal 3D printing system which is called Stargate.
And what this metal printing system promises is 100x fewer parts and 10x faster production time. In the year 2021, the company's first rocket is scheduled to make its first space flight.
What this space flight aims, is to send future generations of this system 3D printers into the outside world where there can be more printing of rocket engines and other components. The rocket is named Terran 1.
Relativity Space believes that the future of humanity is interplanetary. As a process of realizing this audacious vision, the company is creating technology that opens up the possibilities for human experience and wonder on Earth and beyond.
Relativity Space believes in a more inspired future wherein people are thriving on Earth and on Mars.
This company also claims to be the first and only company amongst the other rapid prototyping companies to have automated aerospace manufacturing by integrating intelligent robotics, software, and proprietary metal 3D printing technology.
Markforged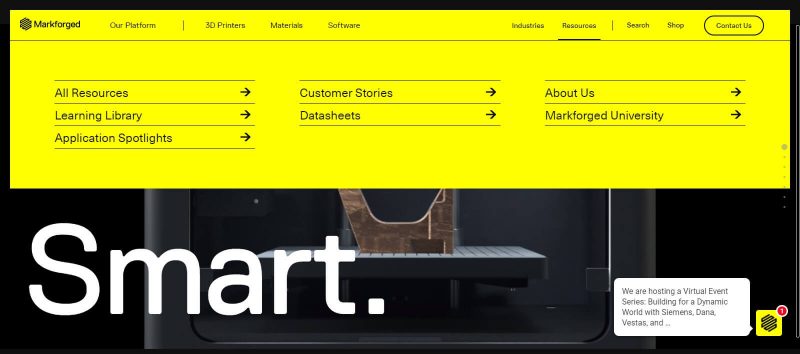 Markforged has gained a reputation in the market of rapid prototyping companies as the company which is a premier maker of continuous carbon-fiber 3D printers.
It's not that the company only produces carbon-fiber 3D printers, Markforged also produces industrial metal 3D printers that can build parts and functional prototypes of huge build volume.
The company's browser-based Eiger 3D printing software is amazing as it incorporates real-time fleet management and cloud-based collaboration.
It was in November 2019 that, they announced their Turbo Print for their second-generation X7 3D printers, which was aimed at doubling the printing speed.
The company was founded on the belief that there is a nuanced way of making things than what we have currently. As history holds, manufacturing innovation is something that has stagnated over the last century.
It was the wave of additive manufacturing that not only drove innovation for manufacturers but also held a lot of promise.
Currently, the world is into these initial forays of additive technology that costs too much, takes too long, or used materials.
Only after that, we get the yield of parts that are too fragile and short-lived for making an impact in the manufacturing environment. Markforged came into existence in 2013.
HeyGears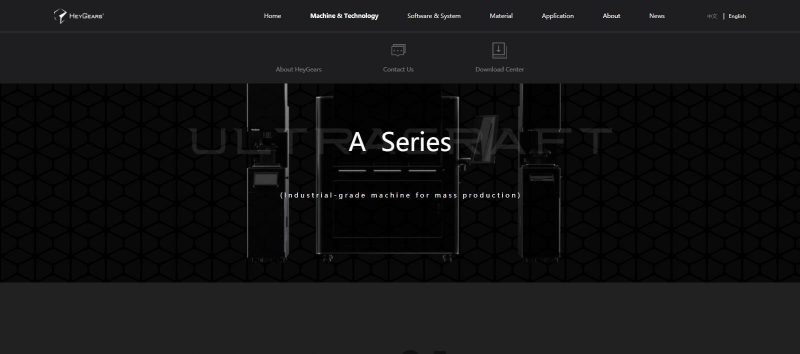 How do you like the company's name? Isn't that cool? HeyGears is a Chinese 3D printer provider and service bureau. The company focuses on providing a full-service ecosystem for 3D printing of commercial end-use products, remember they do not provide just services, but complete ecosystems.
Speaking about the company's hardware lines, to date the company has launched two. But as you read above, the company concentrates on providing a complete ecosystem, it also provides a suite of software platforms.
On reading more about the company, you get to know that the company also provides a range of resins for industries like dental, medical, and performance 3D printing, and post-processing solutions.
The technology that HeyGears prints parts and functional prototypes is DLP+ technology. It is one of those rare rapid prototyping companies that add optical scan (OS) technology to DLP 3D printing and makes DLP a DLP+ technology.
That's when you get to know that the company is not just cool, but smart as well. This technology, as per the claims made by the company allows them to print large volumes without the extra cost of more or larger light sources.
Fast Radius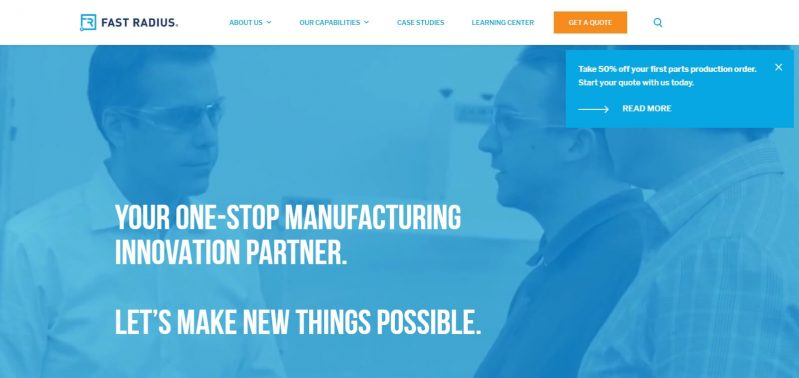 Fast Radius is one of those rapid prototyping companies that provide advanced additive manufacturing solutions for various companies.
The name list of companies getting served by Fast Radius includes Carbon DLS, HP Multi-Jet Fusion, CNC, and injection molding. UPS WorldPort in Louisville, KY is where the company's production facility is situated.
Claimed to be the world's largest packaging facility, Fast Radius has gained this by its exclusive partnership with UPS.
Claims made by Fast Radius boasts about how this gives them an additional six hours of production time. Which when compared to other additive manufacturing service bureaus is way more because they are already at an end of the runway site.
Another partnership of the company was announced in August 2019, with Curtiss Motorcycles for utilizing hybrid manufacturing to create the Zeus 8 electric motorcycle.
The companies serve you anything starting from as basic as application discovery and launch, to production-grade manufacturing capabilities.
The company also claims to help you deliver new product and supply chain innovations that are uniquely enabled by the latest additive technologies available in the world currently.
Xometry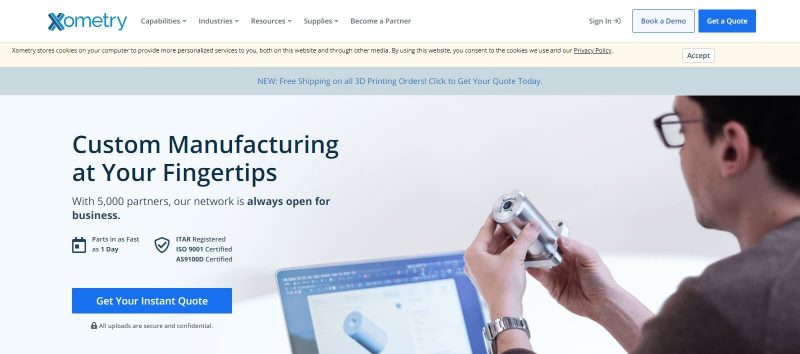 The company brands itself as the largest marketplace that is available online for on-demand manufacturing. Xometry has a massive network of 3,000 manufacturers that are partnered with them.
This enables Xometry to incorporate an instant quote engine, which is rare to have as a rapid prototyping company. The work is made easy for start-ups and Fortune 500 companies to get prices for production jobs.
After acquiring Shift which was an on-demand marketplace in Europe, Xometry, currently has established a global network.
Xometry was launched in 2014 and has since then grown rapidly. This company is driven by the ease of its instant quoting platform, manufacturing expertise, and relentless devotion to helping customers meet their project engineering needs.
In the year 2018, Xometry acquired MakeTime, which was another leader in the manufacturing-on-demand space. Since then the claims of Xometry as the single largest manufacturing partner network in the industry came into being.
Xometry's partner network now spans the nation for not only supporting the needs of customers but also to help drive the business of local machine shops and manufacturing facilities.
Fortify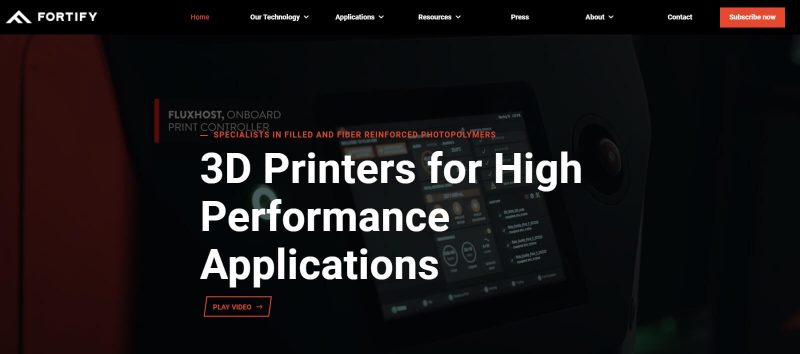 Fortify takes advantage of the Digital Composite Manufacturing for creating advanced materials. Fortify's fluxprint technology is something that gives power to DCM.
This technology is a magnetic 3D printing process that is known to produce optimized composites. Herein you have a combination of digital light projection (DLP) with magnetics.
While actual printing takes place, fibers within the part are magnetically aligned voxel-by-voxel in order to optimize the microstructure.
What this leads to is the creation of high-performance parts and functional prototypes that are rarely prototyped by other rapid prototyping companies.
This company was created for breaking the cycle that traditional manufacturing methods have i.e. leading to long lead times and inferior materials.
Fortify was founded as a part of the research that was conducted on composite 3D printing by Randall Erb and Joshua Martin when they were at Northeastern University.
The goal of both of them was to enable quick and seamless fabrication, firstly of composites with optimized microstructures and then other materials.
As a part of their research, they came across inventing magnetic 3D printing, or what we talked about in the paragraph before, Fluxprint.
Their aim behind establishing Fortify was also to bring optimized composites available to engineers across the globe.
To date, Digital Composite Manufacturing (DCM) has found success in many industries. The list includes tooling, aerospace, and automotive applications. Fortify claims itself as a leader in optimized composites.
And the DCM has transformed the DNA of materials, by pushing the boundaries of what's not possible and possible in engineering.
The Conclusion
As mentioned at the start of this article, this segment of the industry is still a very growing segment and has an immense amount of capabilities for replacing traditional manufacturing techniques.
More and more companies are associating themselves with this area because of the level of automation which produces real outcomes in terms of accuracy.
The decrease in labor or manual work is something that gives this manufacturing technique a huge significance.
Rapid prototyping companies also have another benefit, which is the power that they give in the hands of the creator to edit and modify the object as per his or her needs.
The other benefit is also in terms of what to think next, after delivering this product, at the time when the product is still getting manufactured.
All of this is a result of the enormous speed at which products can be designed and manufactured, delivered, and can be reviewed. Customers have the benefit to order from anywhere in the world at an affordable rate which is also universal.