If you are willing to buy a 3D printer with which silver 3D printing is possible but you seem confused, this article is just the right stop. We will take you out of your dilemma.
Recently, there has been an immense amount of increase in the popularity of silver 3D printing. The hence larger number of printer manufacturers have turned up to make silver 3D printers. And therefore, your confusion is justified.
We handpicked some of the most reliable silver 3D printers available in the market that will let you print silver parts that you desire. So, let's get started without further ado.
List of Best Silver 3D Printers
There are certain criteria based upon which we have made this list like layer height resolution, build volume, print speed, etc. And above all, according to their printer manufacturers, these 3D printers are primarily meant to serve the jewelry industry which is the main purpose of having a silver 3D printer. So, you are all good to go.
3D Systems Figure 4 Jewelry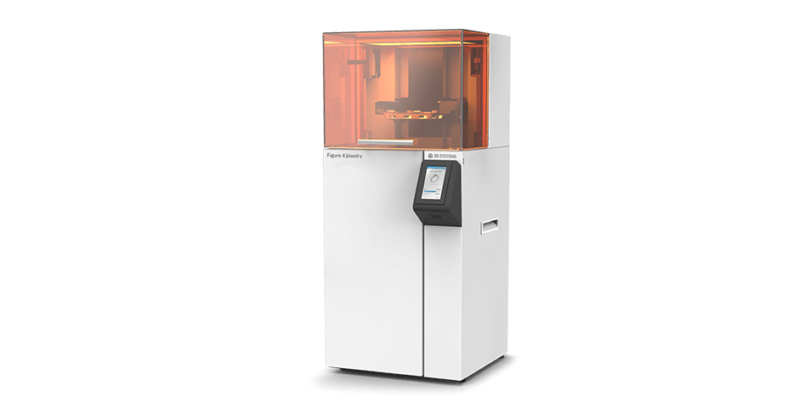 Part of 3D Systems' scalable, fully integrated Figure 4 technology platform, the printing system is an affordable solution that is particularly used for optimized jewelry design and manufacturing workflows.
Figure for Jewelry delivers unparalleled speed, productivity, ultra-fine detail, and smooth surface finish. Its printing algorithms developed particularly for jewelry workflows enable the printer to print patterns at 15mm/hr at 30µm layer.
Special features
Below mentioned are some of the special features of this Silver 3D printer
Capable of producing high-quality silver jewelry patterns: It can produce superior jewelry prints with a best-in-class surface finish. Figure 4 is based on non-contact membrane technology, that's combined with exclusive MicroPoint support structures, which enables minimizing part-to-support interaction, which results in the smoothest sidewalls and finest resolution for jewelry applications.
Ultra-fine detailing: Proprietary print build styles on parts that are developed specifically for jewelry, both for not just thin, delicate geometries, but also thicker geometries, that enable optimized jewelry prints with detail for settings, sharp prongs, fine mesh, and more.
Lower production labor costs: MicroPoint ultra-fine tip support structures used by the printing system enable both easy support removal and a smoother surface finish. Additionally, they reduce downstream labor costs and production time, this they do by minimizing polishing of support intersection points.
Gives you faster time to market your products: This Silver 3D printer is capable of creating prints ready for a) prototyping, b) casting or c) molding in hours. The printing system enables manufacturing to accelerate time-to-market. Not only that but also quickly respond to market demands for custom jewelry or short-run production at low per piece cost. Figure 4 Jewelry has a fast, digital workflow that is responsive to almost any design modification, be it minor or drastic. This lets it have new designs that can be delivered within very short timeframes, thereby enabling unparalleled flexibility.
Specifications
The printing system works on a non-contact membrane Figure 4 technology. It works related to industry's leading 3D Sprint software for file preparation and production combined with jewelry optimized build styles. There is cloud connectivity for predictive and prompt service with 3D Connect capability. You can work with production-grade materials.
Applications
Figure 4 Jewelry solution is specially made for designing and producing workflows for a) high-end customized jewelry manufacturing, b) short-run production, and c) prototyping/fit-check.
Jewelry Patterns for Direct Casting: Being a silver 3D printer, Figure 4 is used for creating highly accurate jewelry casting patterns for intricate, detail-rich feature pieces.
It offers superior casting quality and patterns that are ready for casting in hours for customized pieces manufacturing and also short-run production.
Master Patterns for Molds: The printer is used for producing 3D printed master patterns for RTV/silicone molds that are used in high volume, mass-production jewelry casting workflows such as accessories and costume jewelry.
Jewelry Prototyping/Fit Check: Used for making accurate, fine detail prototypes of jewelry designs for fittings and try-on, as well as to ensure the accuracy of stone settings.
EOS M 100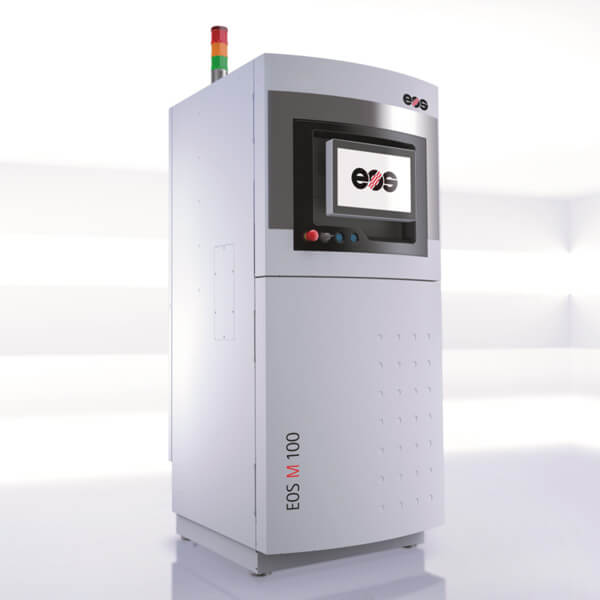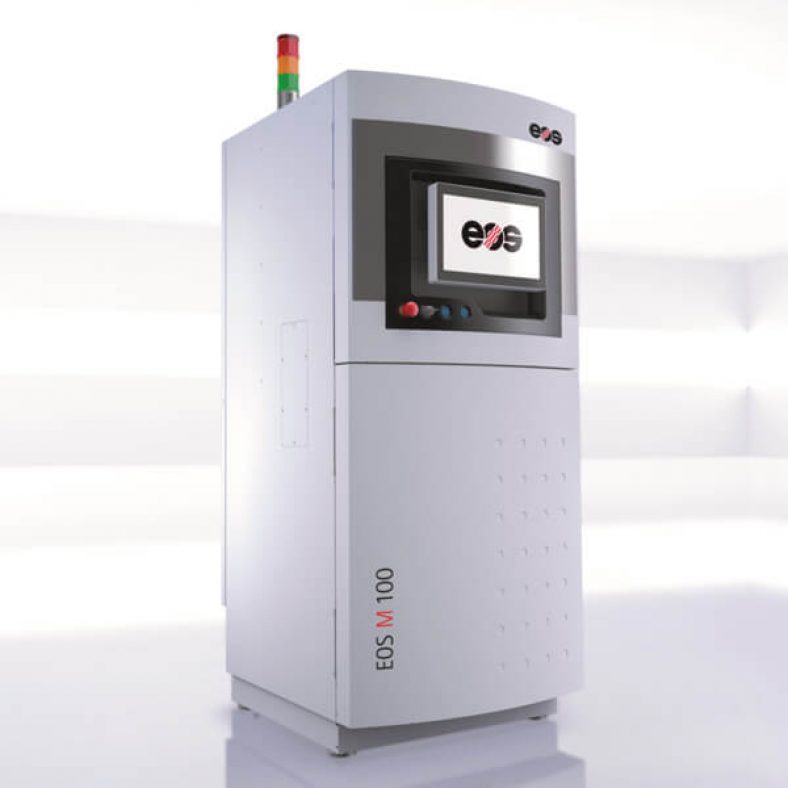 Mostly everyone in the 3D printing field is known to EOS as one of the big players in the field of additive manufacturing. The M100 is their entry-level metal cum silver 3D printer. It is based on direct metal laser sintering (DMLS), meaning it can directly print silver jewelry using silver metal powders.
If you take a look at the M100's spec sheet, you'll notice it has an all-new small build chamber which can be a problem for you if you're an engineer, but for silver jewelry pieces, it should be quite enough.
Special Features
Below mentioned are the special features of this Silver 3D printer
High power laser source: The power stability of the 200-watt fiber laser built in this 3D printing system ensures that it does optimal and consistent processing. The small laser spot of EOS M 100 has excellent detail resolution is ideal for manufacturing highly complex, delicate parts.
Huge Build Space: With its small build space on a round construction platform of 100 mm in diameter, the EOS M 100 is primarily geared towards cost-efficient production in small quantities.
High-quality accessories: Setup and cleanup of the printer are possible in just a few minutes thanks to the printing system's modular inner structure and the powder bed container. The material with which you need to 3D print is easy to switch and maintenance is quick to perform.
Something that's great about EOS is that the 3D printer manufacturer offers multiple different metal powders just like silver that are compatible with the M100. For example, you can print with powders from precious metals apart from silver-like, stainless steel, copper, alloys, and many others.
For post-processing, the printer manufacturer offers stations and furnaces that are used for the sintering of printed parts. Naturally, a printing system like this doesn't come cheap.
However, if you've got the funds available, consider it because not only because it has a great reputation, but also because it is cost-effective for smaller-scale production runs.
Specifications
The printing system has a build volume of 100 mm * 100 mm * 95 mm. It uses a Yb fiber laser of 200 Watts for 3D printing silver parts and functional prototypes and an F-theta lens which has high-speed scanner with a scan speed of up to 7 meter per seconds. It has a focus diameter of 40 micrometers and can be operated using a power supply ranging from 200 to 240 Volts. EOS operating is supported with EOSprint, EOS RP Tools, etc.
Product
Specification
Videos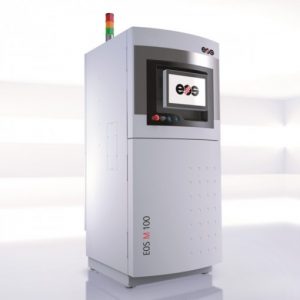 Specialized for rapid production of delicate 3D printed metal medical parts, EOS M 100 has a 200-watt fiber laser for consistent part quality. Small ...
| | |
| --- | --- |
| Model | EOS M 100 |
| Manufacturer | EOS |
| Price Range | $ 100000 – $ 250000 |
| Release date | 2015 |
| Country | Germany |
| Availability | Available |
| Classification | Industrial |
| Technology | Powder (SLS- SLM…) |
| Material | Metal |
| OS compatibility | Microsoft Windows |
| Max. build size | 100 × 100 × 95 mm 3.94 × 3.94 × 3.74 in |
| Max. build volume | 0.95 L |
| Min. layer thickness | 0.1 mm 0.004 in |
| Dimensions | 800 × 950 × 2250 mm 31.5 × 37.4 × 88.58 in |
| Weight | 580 kg 1278.68 lb |
| Power input | 1.7 kW |
| Heated print bed | No |
| Heated build chamber | No |
| Automatic calibration | No |
| Closed frame | Yes |
| Dual extruder | No |
| Independent Dual Extruder | No |
| Full color | No |
| LCD screen | No |
| Touchscreen | Yes |
| On-board camera | No |
| Mobile app | No |
| 3D scanners | Yes |
| CNC mill | No |
| Electronics 3D printing | No |
| Laser engraving | No |
| Conveyor belt | No |
| Air filter | No |
| Pellet extruder | No |
| USB | No |
| Wifi | No |
| Bluetooth | No |
| SD card | No |
| Ethernet | Yes |

DWS Systems 029JL2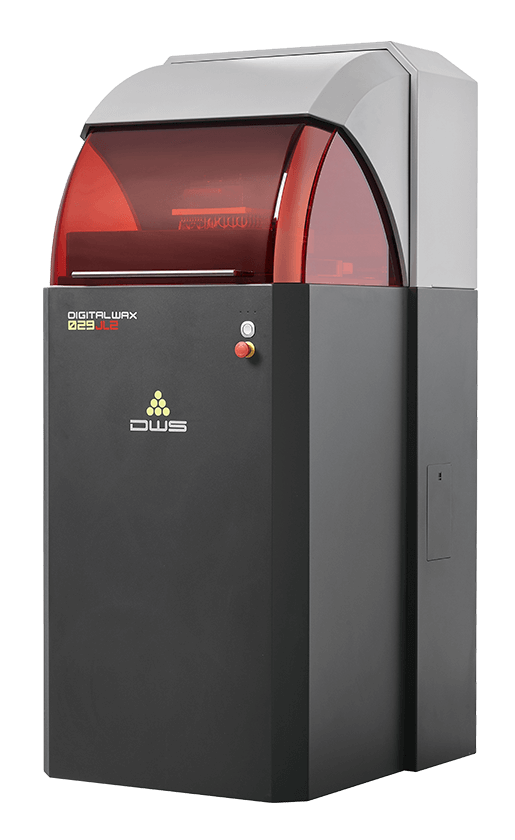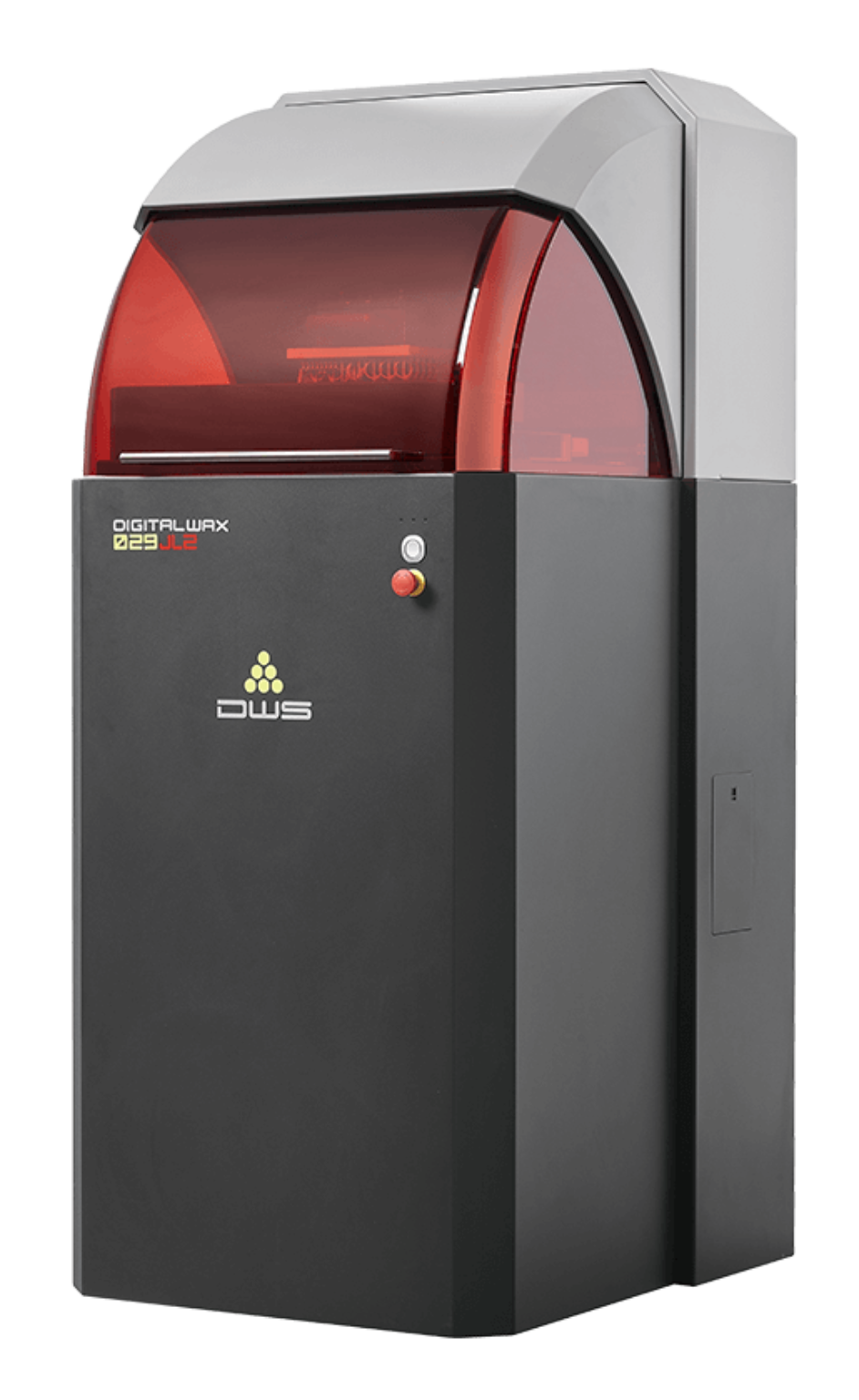 DWS Systems is an Italian company that is into the production of high-quality industrial 3D printers. The company 029JL2 is a Silver 3D printer suited for small to mid-size jewelry manufacturers.
It is based on SLA 3D printing technology and thanks to its relatively good build volume; the printer manufacturer claims that the 029JL2 can reach an output of around 5,000 jewelry pieces per day which is extremely commendable. In terms of materials, there's plenty to choose from apart from Silver.
The printer manufacturer has even developed multiple resins for casting, which jewelers will also surely appreciate. Alongside the printer, DWS includes software that goes by the unique name Nauta and Fictor.
The former is used for generating support and managing print settings, and the latter is the printer's management software, with which you'll be able to:
 Import files
Choose materials, and
Monitor the print process.
If you've got a serious jewelry operation, this is a highly recommended Silver 3D printer to go with.
Special features
High-end professional printer
Ideal for XCluster digital manufacturing
TTT System: Tank Translation Technology resin tank wear control
Lowest operating and maintenance costs
Industry 4.0 compliant
Specifications
The printer prints on the basis of Stereolithography 3D printing technology. It has a working area of 110 mm * 110 mm * 200 mm. The laser source used for solidifying parts and functional prototypes is Solid State BlueEdge, it gives you a slice thickness range of 10 to 100 microns. For scanning, the printing system uses a Galvanometer.
The Conclusion
Silver 3D printers are parts of the jewelry 3D printers' collection. They all belong to the main category of 3D printers called by the name DMLS 3D printers or SLM 3D printers.
Based on the powder bed fusion category of 3D printing technology, these 3D printers let you carve minute designs on jewelry items and have taken the jewelry industry to a whole new level after their inventions.
Apart from the traditional manufacturing techniques for carving on various jewelry accessories, these 3D printers offer a whole new dimension.
They let you make the complete part in a 3D model and then give you the option to manufacture. So, you have enough time to locate your flaws and act accordingly.
There are fewer chances of failure, more chances of dimensional accuracy. So, if you wish to manufacture silver parts for jewelry we recommend you the above-mentioned silver 3D printers.