Something that the movie Star Wars changed was the perspective of people who were near-fetched in all of their ideas.
That movie stretched their thought perspective by at least one more mile.
By showing how vast the universe is, the Star Wars movie also created a possibility of someone else alive, except humans.
To some extent or the other, everyone started thinking about the consequences of their actions.
People started imagining in their heads," what if! My deeds have some significance in the universe!"
Stretching of the traditional definition of right and wrong led to the emergence of a new one with a broader perspective emerged.
In this article, we are going to state in front of your eyes," 16 Astonishing star wars 3D prints Models."
How 3D printing technology is stretching the world of manufacturing is just as amusing as years before the movie Star Wars did.
And this is how exactly 3D printing relates to the movie Star Wars.
If you are a fan of that movie and have a wonderful collection of showpieces of that movie or are planning to get one, welcome to our article.
Herein we are going to list down showpieces inspired by the Star Wars movie characters made from 3D printing technology.
If you are a fan of the movie, or the perspective it presents, why not check one of these out?
Maybe, there is a possibility to find a table companion in any of the showpieces mentioned below!
16 Astonishing Star Wars 3D Prints Models
The best thing about this collection is, it presents designs that are handpicked and customized.
They are also available online for you so that you can easily buy them.
The Child (Baby Yoda) by an Adult Named Christopher Frieze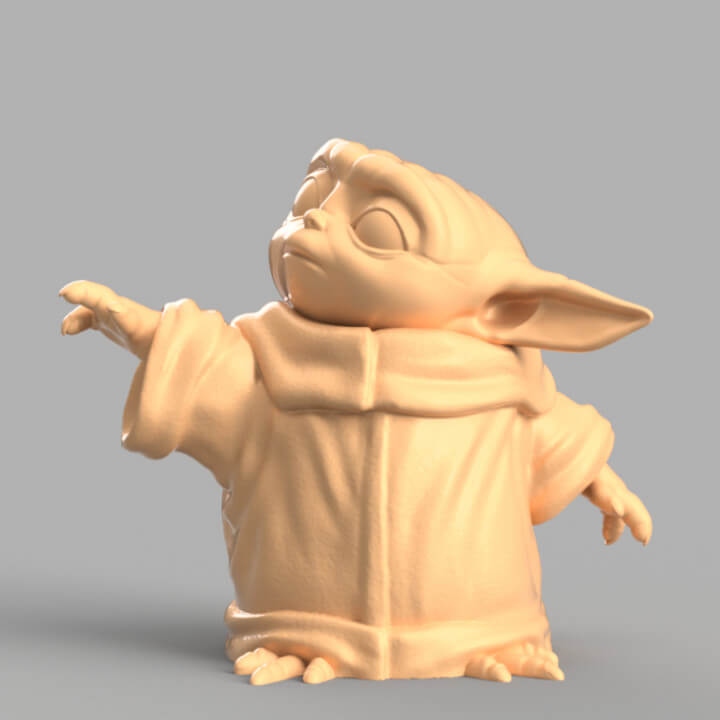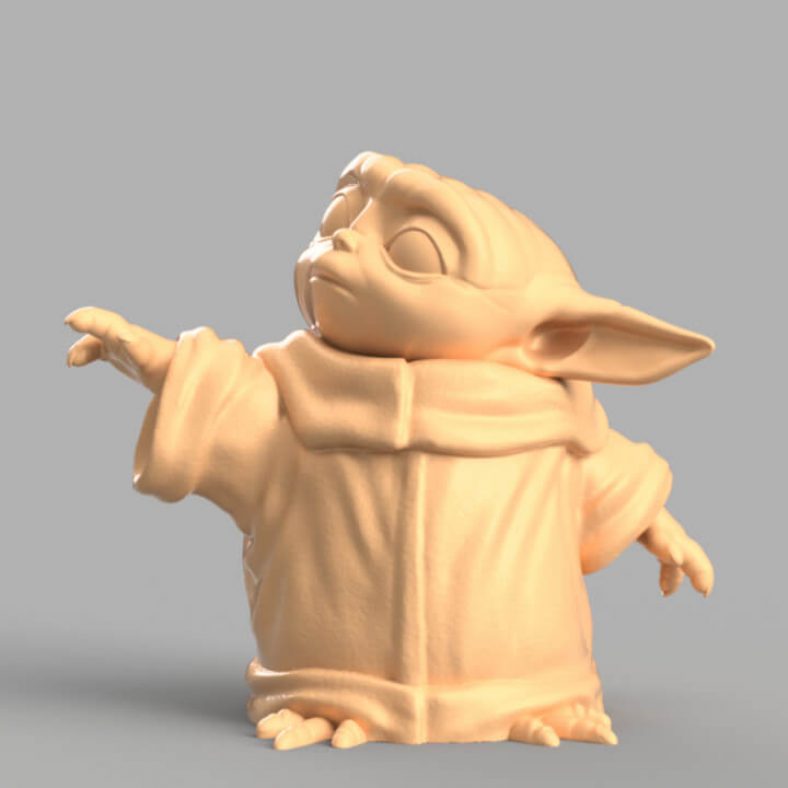 The design of the Child (Baby Yoda) is in such a way that the right hand of Yoda is pointing on its right side to the thing he has spotted. This design is available on MyMiniFactory.
For all of you out there, who is a fan of Baby Yoda for its cuteness, it's a wonderful opportunity to get it on your working desk.
The Mandalorians' Razor Crest Fan Sculpt by Aaskedall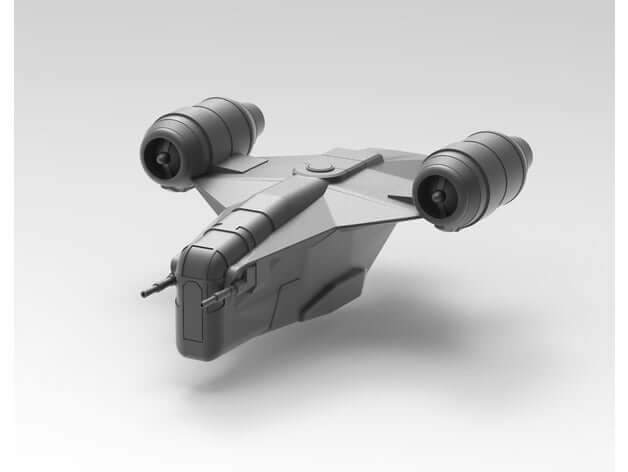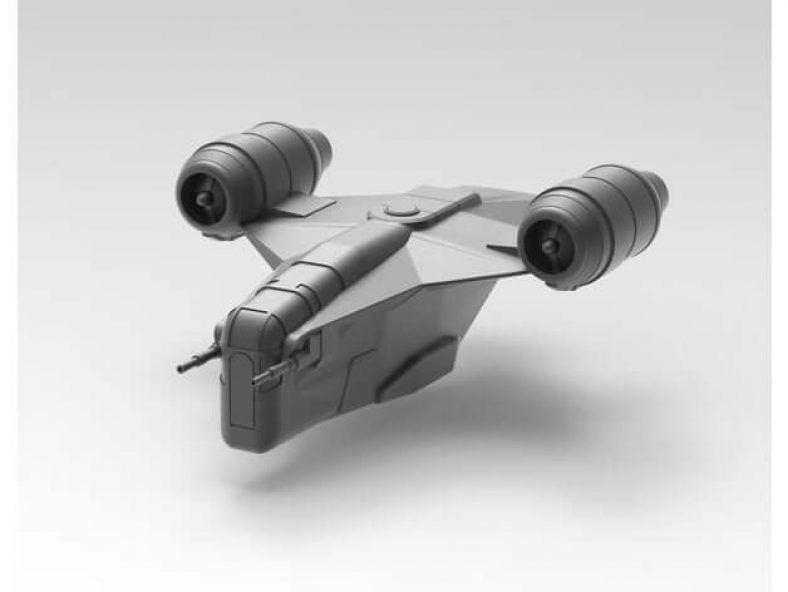 As characters in the Star Wars movie go to collect bounties across the universe, you can use this space ship.
All you have to do is to print a few pieces, and it will be all ready for going on a fight.
You can use this spaceship on your display cupboard and get to know who else is a fan of Star Wars 3D prints, except you.
The updated blender file of the same is also available on Thingiverse.
The maker of this 3D design file recommends you to not take into consideration the rafts of supports while printing it.
jstayton26 designed a Mandalorian Helmet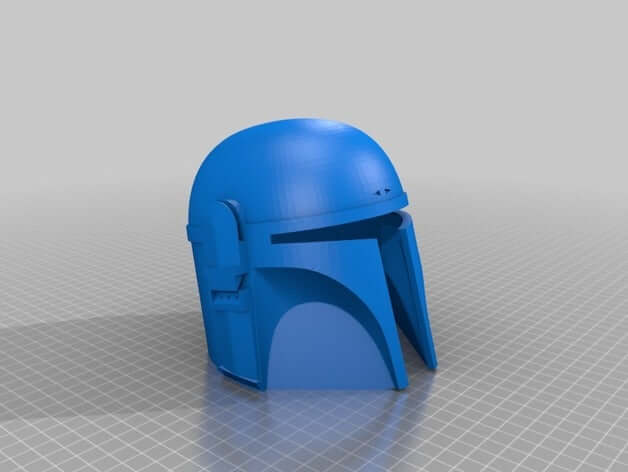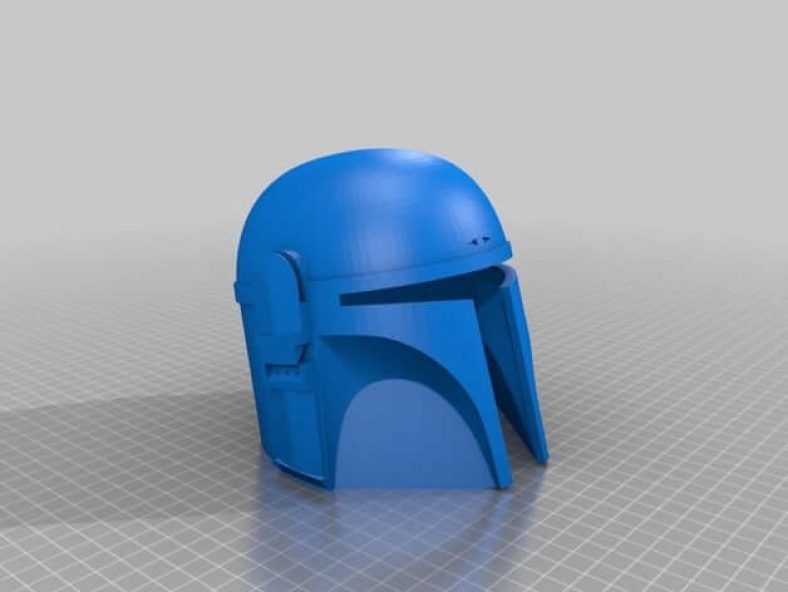 Use this helmet to not only make your showcase look attractive but also to protect your head with those little everyday fights you have!
To have your head covered in a fight, all you need is a strong helmet.
And this Mandalorian one can provide you enough strength to not let any sword damage you.
The 3D design file of this amazing head protection gear is available on Thingiverse.
You might remember this as it is a replica of the one that's seen in Star Wars episode four, five, and six.
The maker recommends you scale the pieces of this helmet by 7.5 to 10 percent according to your head using your software and keep the infill above 40 percent to ensure durability.
Finding a suitable material for the visor of this headpiece is considered as the final step by the maker.
Star Wars Rose's Rebel Alliance Iris Ring made by Ali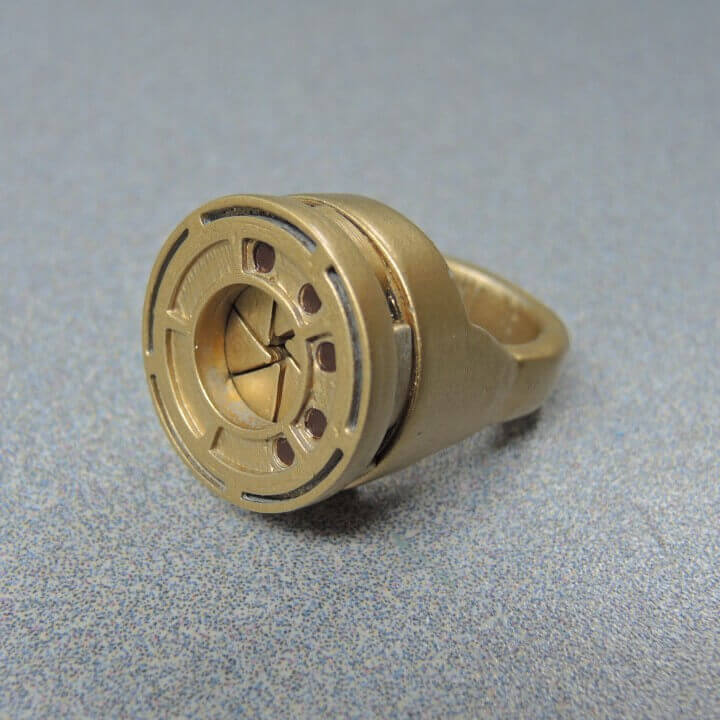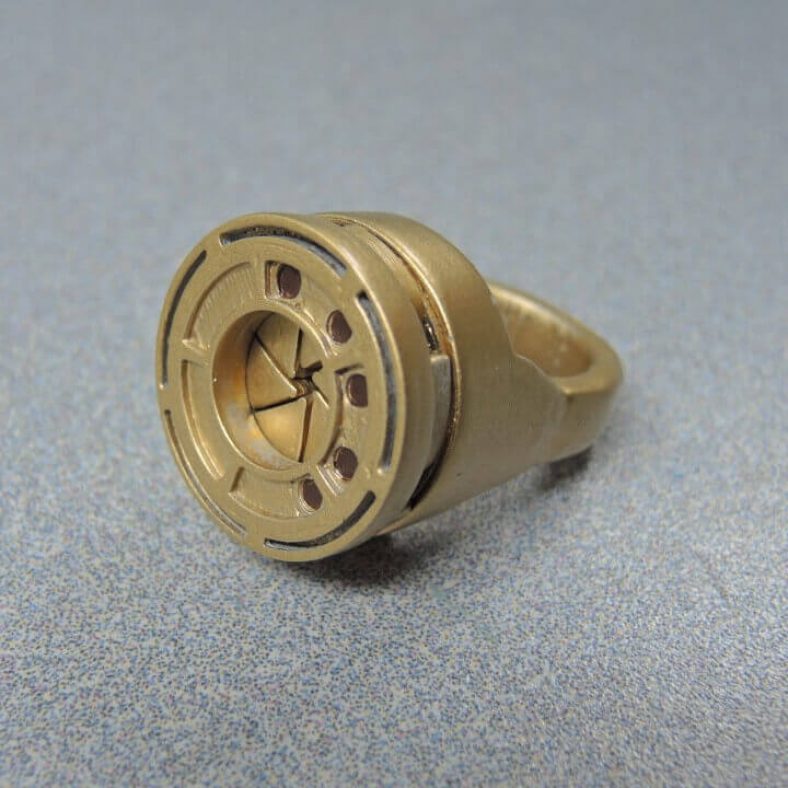 Fond of wearing rings and also a fan of Star Wars? The Rose's Alliance Iris Ring 3D design available on MyMiniFactory would be a well-suited gift for your hand.
It can be manufactured using the Fused Deposition Melting 3D printing technology. The 3D design can be downloaded for free and has to be printed in four parts:
Symbol.
Cap.
The Disc.
Base Ring.
Star Wars Storm Trooper Blastech E-11 Blaster Rifle by Blaster-Master by Raymond Hebert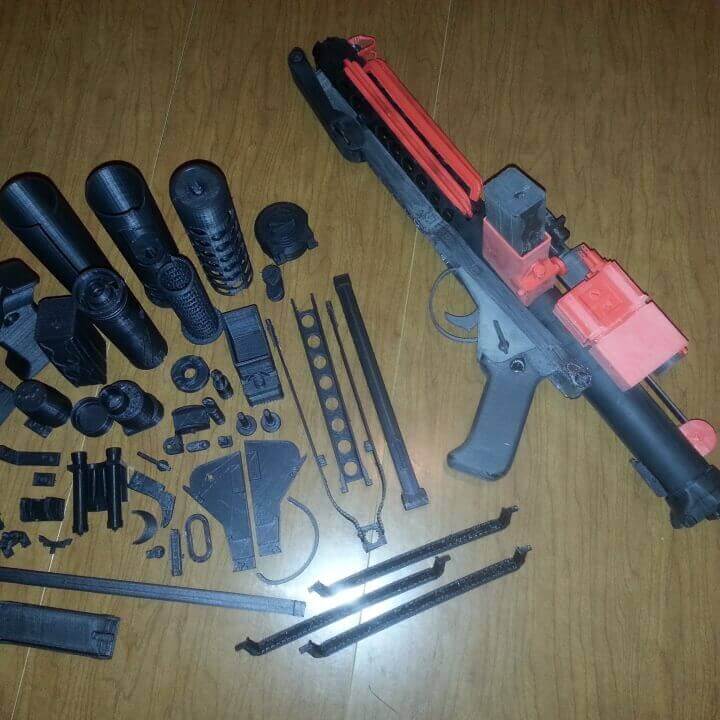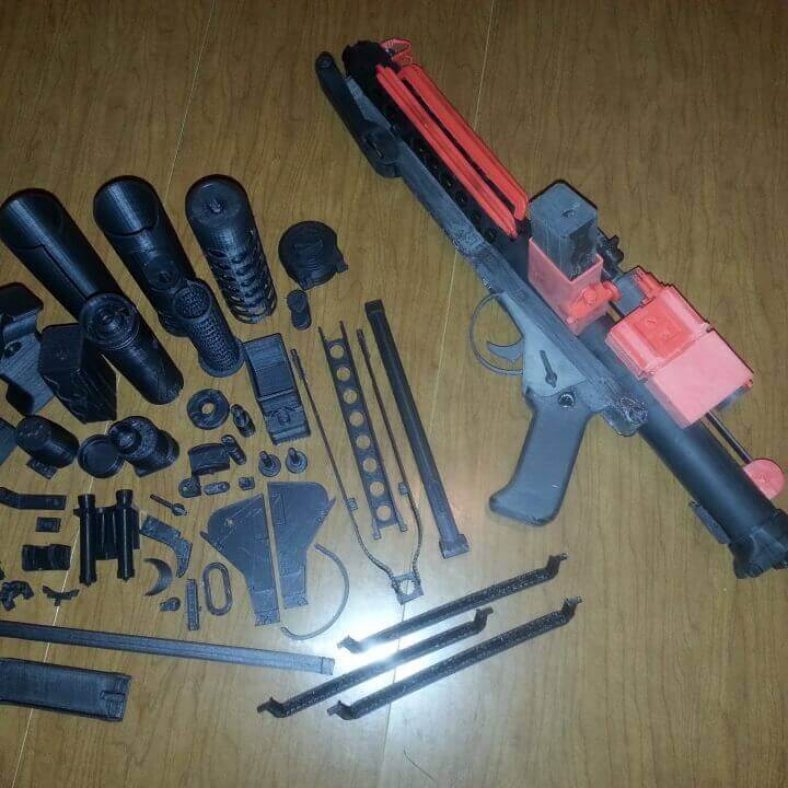 The scale of this rifle design is 1:1 with the model kit of Blasters used in the movie Star Wars "A New Hope," and "The Empire Strikes Back."
For printing this rifle, the maker recommends you use ABS with a minimum of 30 percent infill and three walls.
The dimensions of this rifle are 54.09 mm * 54.09 mm * 59.71 mm. All the rafts that you need for printing this part are present in the STL file.
Apart from that, you can use a raft if you have difficulty locking the pin and pivot.
The 3D design file is available for download on MyMiniFactory. The 3D model of this rife makes up for a worthy showpiece.
Star Wars Snowspeeder by Aitor Baltziskueta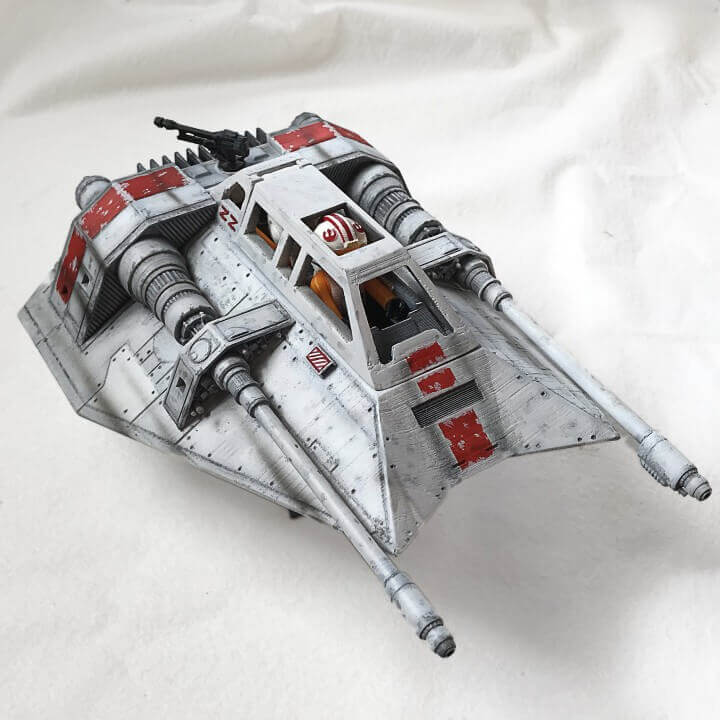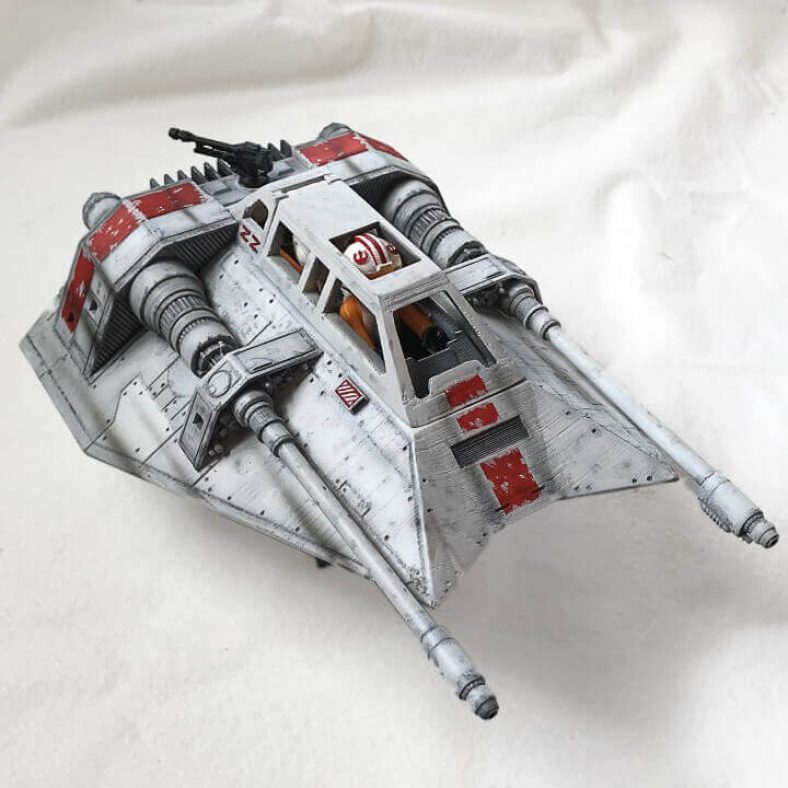 If you have to choose the world's coolest Snowspeeder model, you must choose this one.
This Snowspeeder's 3D design is made after getting inspired by The Empire Strikes Back.
The difference in this one versus the one shown in the movie is that this one comes with an opening canopy and moving flaps.
The dimensions of this 3D printed part are 12.75 cm * 12.75 cm * 26.41 cm. You can download the STL file of this 3D part MyMiniFactory.
If the maker is to be believed, you can 3D print this Snowspeeder without using any support structures.
Thermal Detonator by RoelVeldhuyzen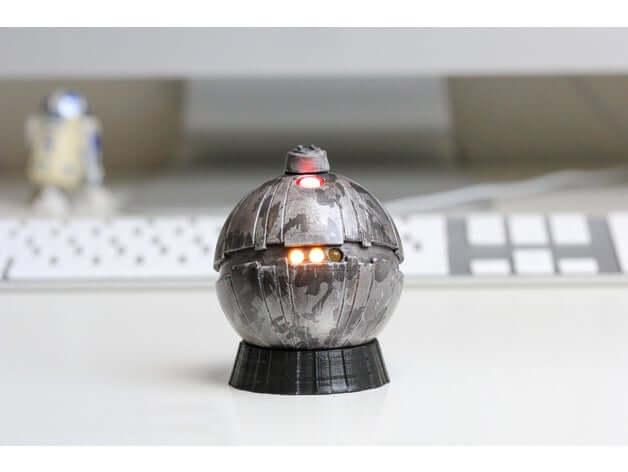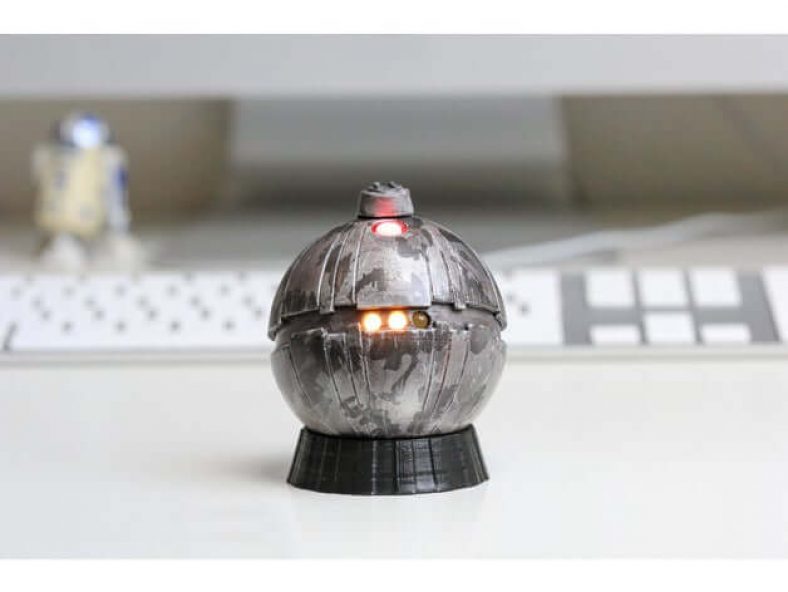 This whole needs to be printed with the caution of not missing out on any of the four parts.
Namely, the top and the bottom halves of the sphere, the sliding button that goes on the top, and a small-cap that will cover an LED in the top half.
The summary of this thermal detonator is available on Thingiverse.
You'll get to download the STL file that has four holes to accommodate three 5millimeter LED and one 3 millimeters LED.
Apart from the detonator, Slith Symbol Coin, C-3PO hand, C-3PO Shoulder bearing bracket make up for the designers' designs.
Star wars keychain v 1.1 by Takenby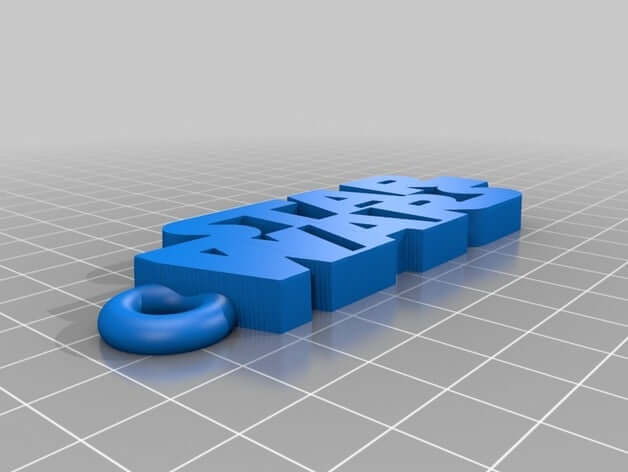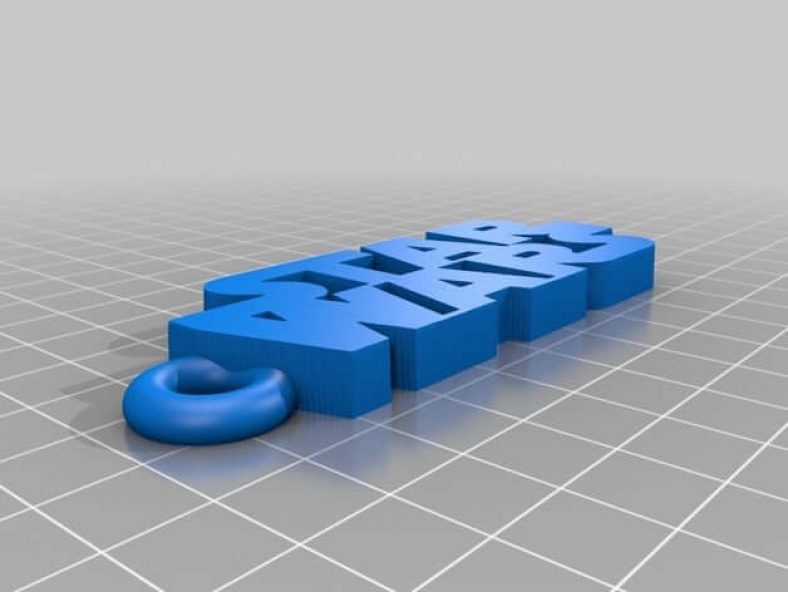 You will need rafts, as well as support structures to print a keychain so dear to you that would never let you miss your keys.
Because after attaching your keys with the keychain that has Star Wars, your favorite movie series' name, how would you ever forget taking it with you?
The layer resolution of this 3D printed part is 0.2 mm, and its infill is 50 percent. Its 3D design file is available on Thingiverse.
Star Wars Episode 7 Printable Helmet by Jace1969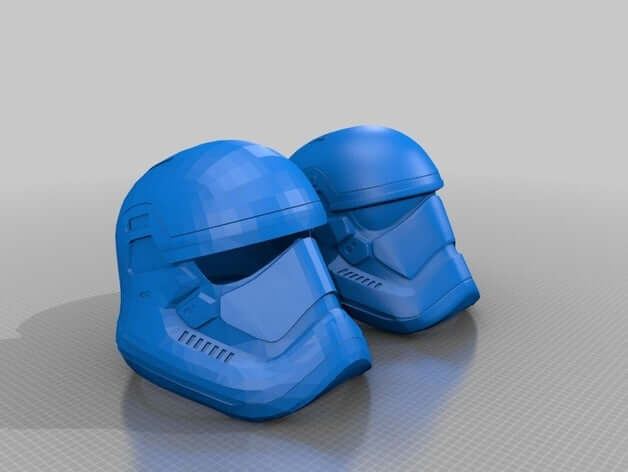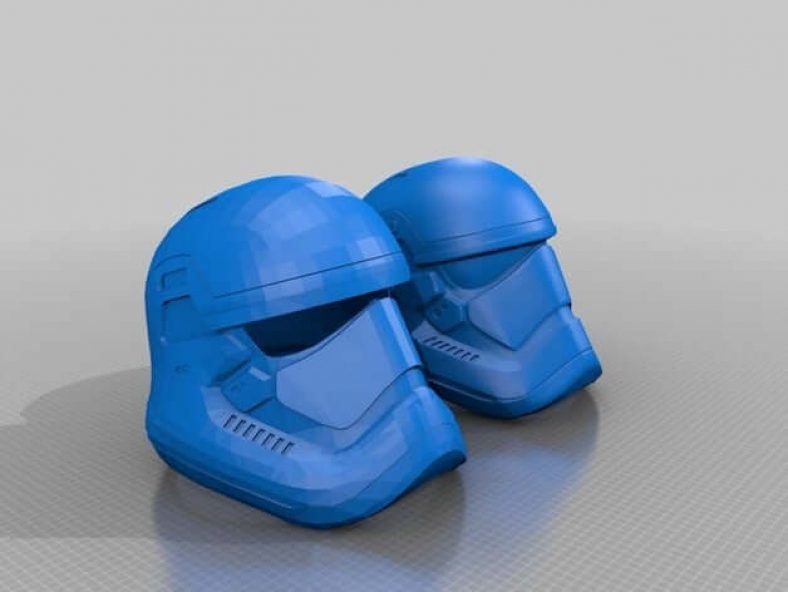 There is a warrior present inside all of us that comes out in the most difficult conditions in our life.
And to remind you of your war strengths and skills forever, you keep a helmet and get inspired by the fact that situations aren't as strong as you are.
Download the 3D design file of Star Wars Episode 7 Printable Helmet for free on Thingiverse and print it to never get short of motivation in life.
Fillenium Malcon by Aaskedall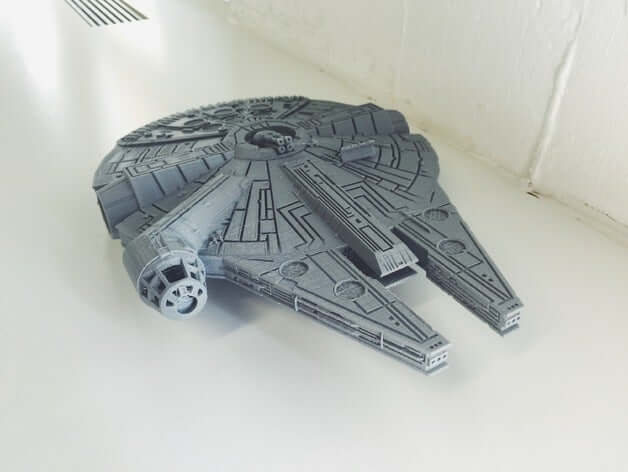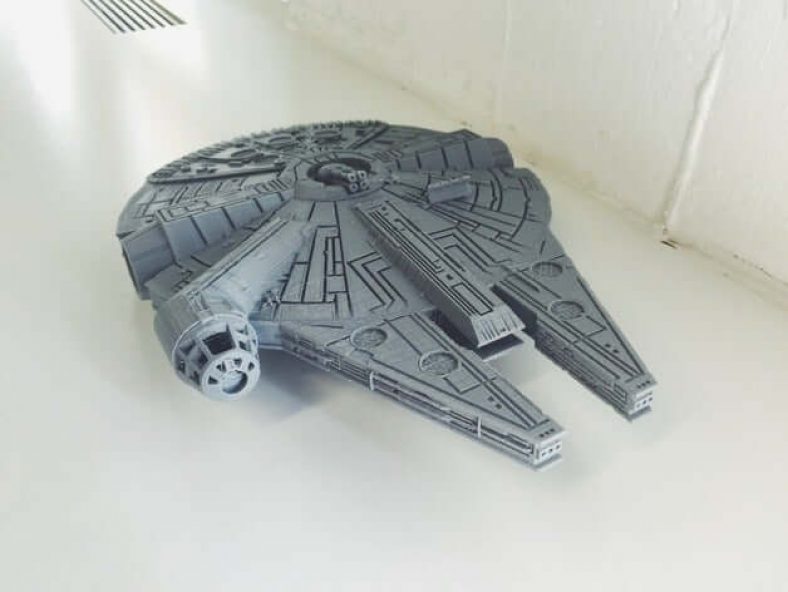 Even if you are not a fan of Star Wars 3D prints or any of the spaceship shapes that are in that movie, you will love this one if you are a fan of intricate designs.
Circles, triangles, lines, lines inside circles, circles inside lines, lines inside triangles, and vice versa.
There is too much detail in the ship's design to get lost in its wonder.
You can download the STL file of this ship's design from Thingiverse.
This ship is a perfect piece of art that can stay on your desk or showcase and increase the decorum of its surroundings.
Death Star Birdhouse by Plainolddave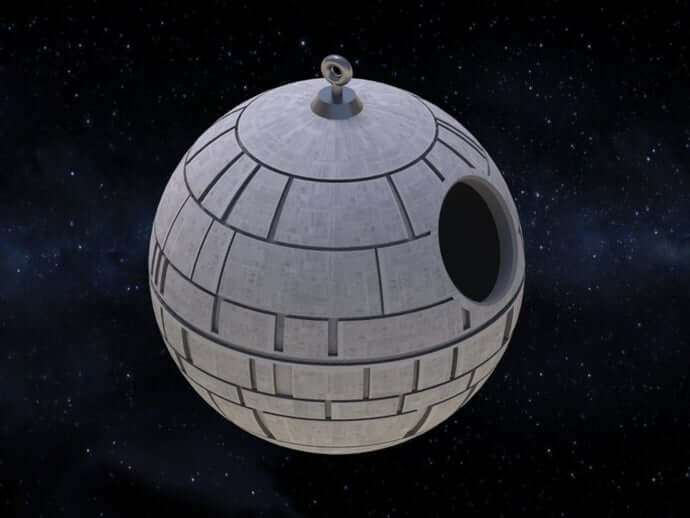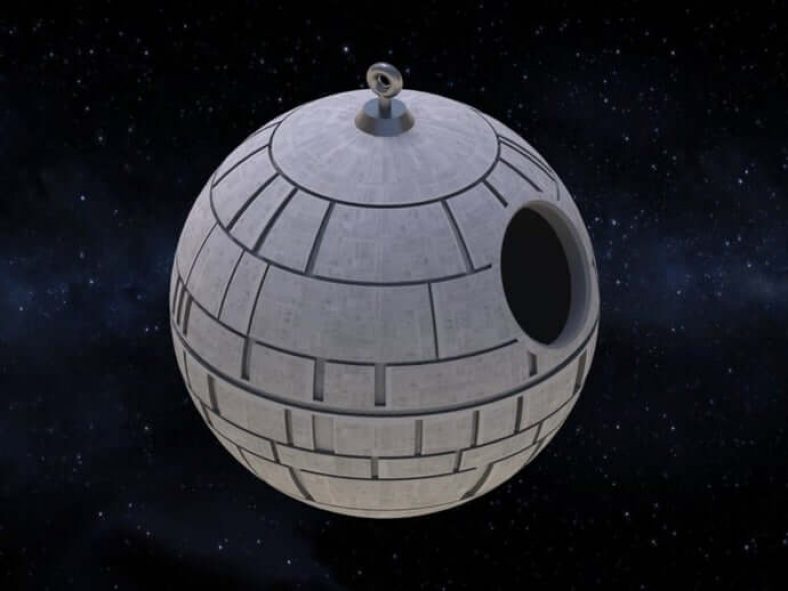 The maker had made this design as a part of his Birdhouse Challenge competition on the Thingiverse website.
The STL file provided by the designer will print a sphere of 100 millimeters, but the designer gives you the freedom to scale up if you wish to.
There is also a version remixed as a Christmas tree ornament available on the designer's Thingiverse.
Darth Vader Melted Mask by MadJack3dPrints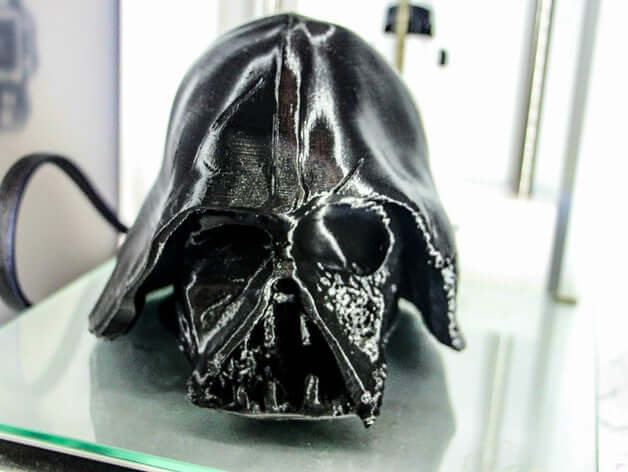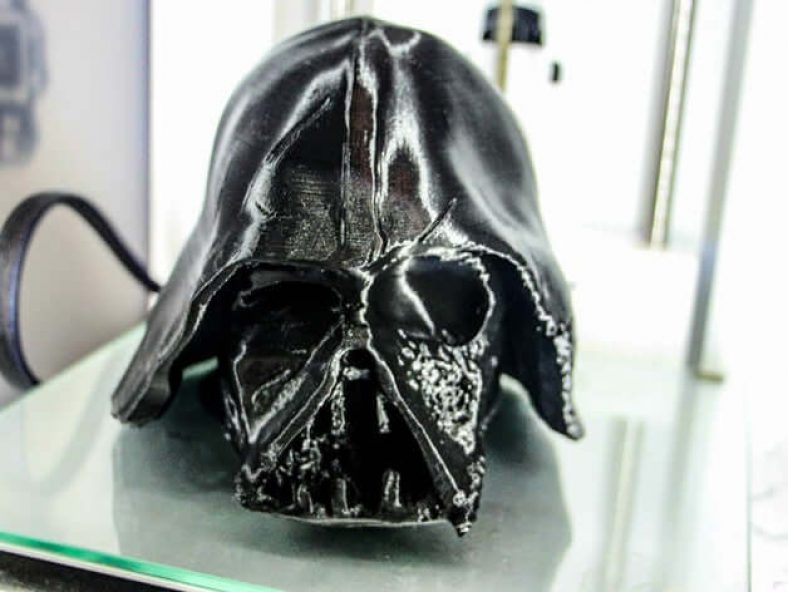 Remember a part of the Star Wars movie called," The Force Awakens?"
If you do, then you must remember this mask. We all have a second face, don't we?
For different situations, we need to have different virtues.
And what can depict this philosophy apart from a mask's 3D design that's available on Thingiverse for free?
You can print this mask without using any support structures.
Star Wars Snowflakes by Arcticdev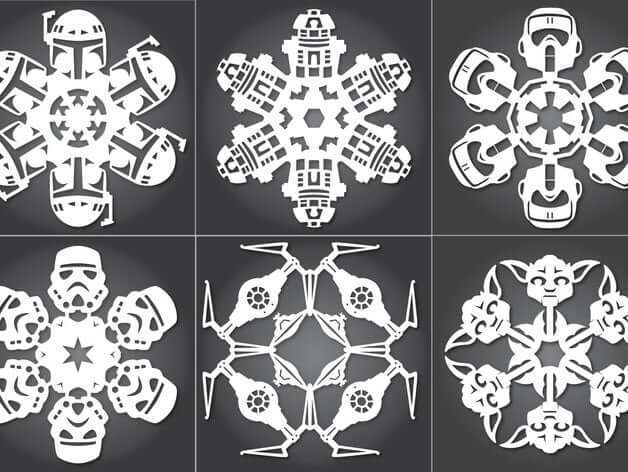 It's amazing how 3D printing lets you be so precise even while printing parts and functional prototypes of small build volume.
The dimensions of this Star Wars Snowflakes available for download freely on Thingiverse are small enough to make it impossible for creating such intricacies on the part with any other technology than 3D printing.
It can be used as an art piece in many scenarios.
Star Wars Spinners! by Scottychop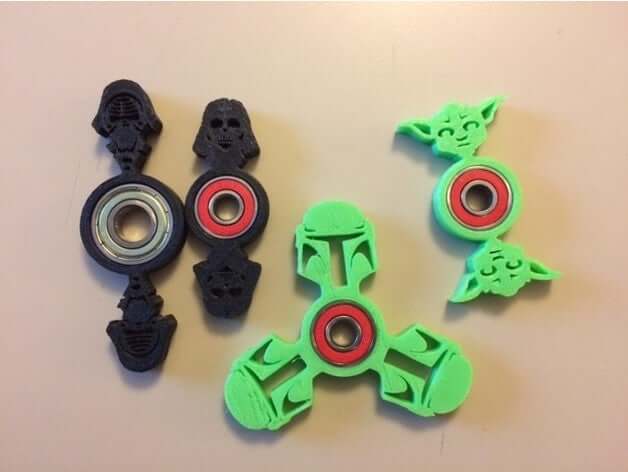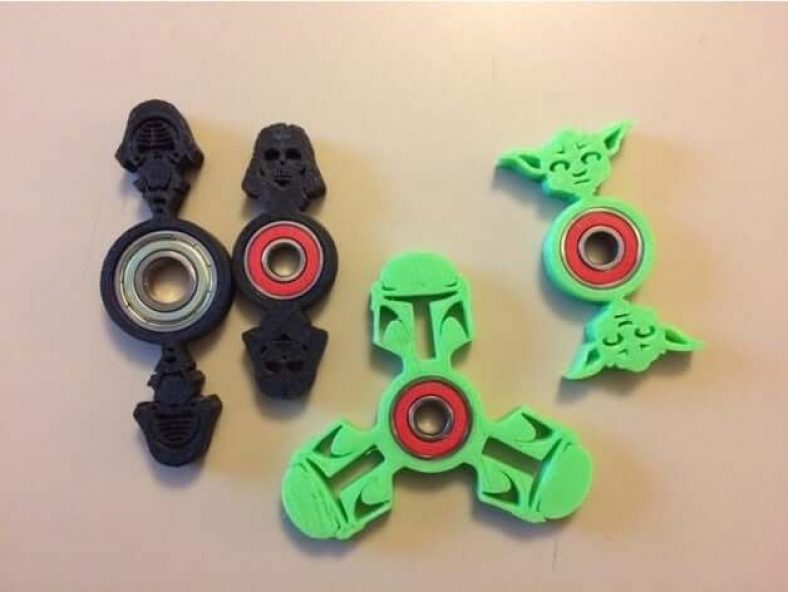 If there is a way in which you can not only admire Star Wars but get something to play using the same theme of Star Wars 3D prints, it's this!
The Star Wars Spinners! The maker has intelligently mixed two worlds of admiring and playing.
This design has been printed on a Wanhao Duplicator i3V2 3D printer. Its design file is available for free on Thingiverse.
There'd hardly be a person who does not know about the trend of spinners currently.
So, why not bring home a piece that has a characteristic of the current trend and the characteristic of your favorite movie series?
Tie Fighter by AssertiveWall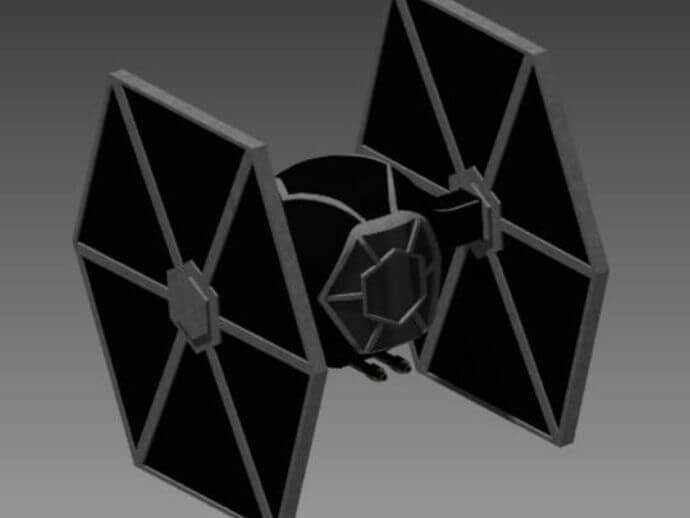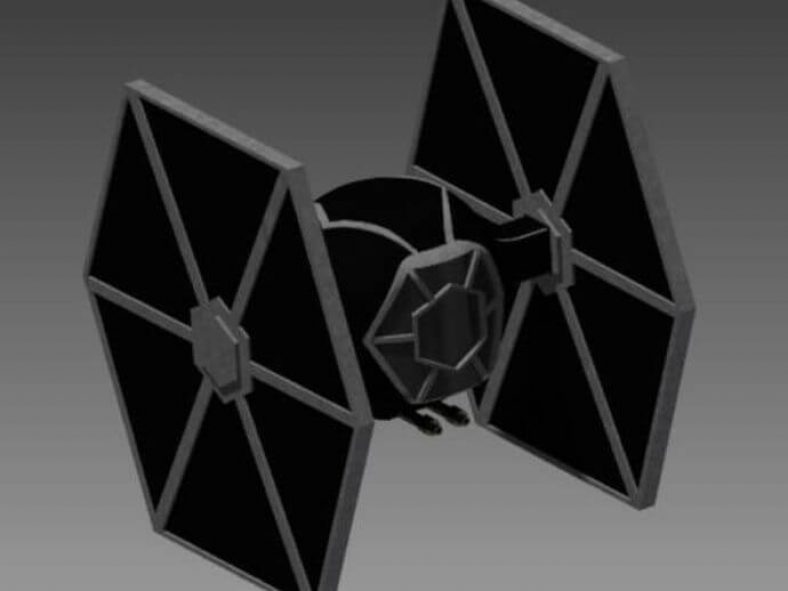 This is a cartoonish version of the Star Wars tie fighter and hence especially recommended for knowledge purposes.
If there is a kid at your place who has some penchant for space, this 3D design from Thingiverse would do complete justice in making the kid imagine space travels and much more.
You can freely download the file and help anyone curious about space travels by printing a model of this space travel vehicle.
Apart from the learning piece, the 3D printed part from this design can also make for a past time play for kids as well as a captivating piece of eyes of the people around it.
Star Wars Death Star by Doodle_Monkey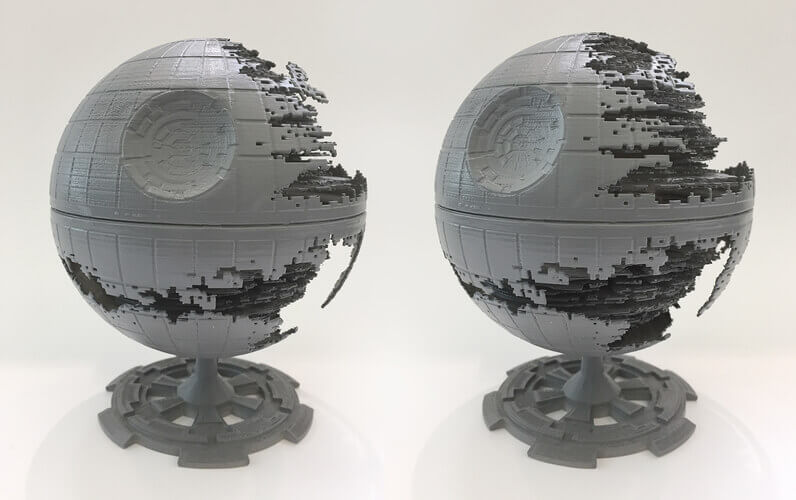 This is the only paid design mentioned in our list. The designer had printed this design with a Makerbot Replicator 2 3D printer.
You can download the 3D design file from Pinshape.
The design is priced at $6.5 but does not be a miser and think that" if all the designs are available for free, why is this one expensive?"
Instead, look at the specialty and intricacy on which the designer has worked to create not only a Star Wars 3D printed Death Star but an art piece on its own.
The 3D printed part from this 3D design can be attractive enough to catch the attention of the eyes of any passerby. It can be kept on your desk, glass showpiece cupboard, etc.
The Conclusion
These Star Wars 3D prints will become a symbol of seeing unique perspectives in life for you.
Whenever you will see a 3D printed part, you will think, firstly of the movie Star Wars, and secondly of the 3D printing technology.
Both of them, as we mentioned at the start of the article, have stretched the perspective corners of the world and burgeoned them by a bit, if not more!
So, select your favorite 3D printed star wars' showpiece and never lack the imagination to appreciate every perspective.
Just like 3D printing technology, remember that every image will once become a reality with perfect machinery and design.