Stratasys Objet1000 Plus 3D Printer
The Stratasys Objet1000 Plus is a professional 3D printer. Its key quality is it allows you to print with multiple materials with a very fast 3D print speed.
PROS
Print Area.
Print Speed.
Allowing to print without support structures.
CONS
Affordability. Not suitable for a lot of small businesses as well apart from the home users.
Product
Specification
Videos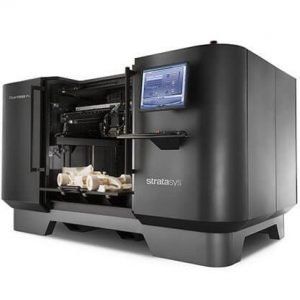 Based on triple jetting technology, Stratasys Objet is capable of 3D printing with 14 photopolymers. A result of which is multiple parts with varying ...
| | |
| --- | --- |
| Model | Objet1000 Plus |
| Manufacturer | Stratasys |
| Price Range | > $ 250000 |
| Availability | Available |
| Classification | Industrial |
| Technology | Material Jetting |
| Material | Other plastics |
| OS compatibility | Microsoft Windows |
| XY accuracy | 0.085 mm0.003 in |
| Max. build size | 1000 × 800 × 500 mm39.37 × 31.5 × 19.69 in |
| Max. build volume | 400.00 L |
| Min. layer thickness | 0.02 mm0.001 in |
| Dimensions | 2868 × 2102 × 1960 mm112.91 × 82.76 × 77.17 in |
| Weight | 2200 kg4850.17 lb |
| Power input | 230 VAC 50/60Hz; 8A |
| Heated print bed | No |
| Heated build chamber | No |
| Automatic calibration | No |
| Closed frame | Yes |
| Dual extruder | No |
| Independent Dual Extruder | No |
| Full color | No |
| LCD screen | Yes |
| Touchscreen | No |
| On-board camera | No |
| Mobile app | No |
| 3D scanners | No |
| CNC mill | No |
| Electronics 3D printing | No |
| Laser engraving | No |
| Conveyor belt | No |
| Air filter | No |
| Pellet extruder | No |
| USB | No |
| Wifi | No |
| Bluetooth | No |
| SD card | No |
| Ethernet | Yes |

Table of Contents
The Stratasys Objet1000 Plus is a professional 3D printer made by a company named Stratasys, a manufacturer based in the USA.
The Stratasys Objet1000 Plus uses the PolyJet 3D printing technology which is similar to inkjet printing.
The only difference being that instead of jetting drops of ink onto paper, PolyJet professional 3D Printers jet layers of curable liquid photopolymer onto a build tray.
Here the liquid photopolymer is then directly UV cured to create a solid layer which becomes a foundation for the part or functional prototype that has to be 3D printed.
With the jetting of a curable liquid photopolymer, the PolyJet professional 3D printers also jet a removable gel-like support material that can be manually removed and dissolved in water.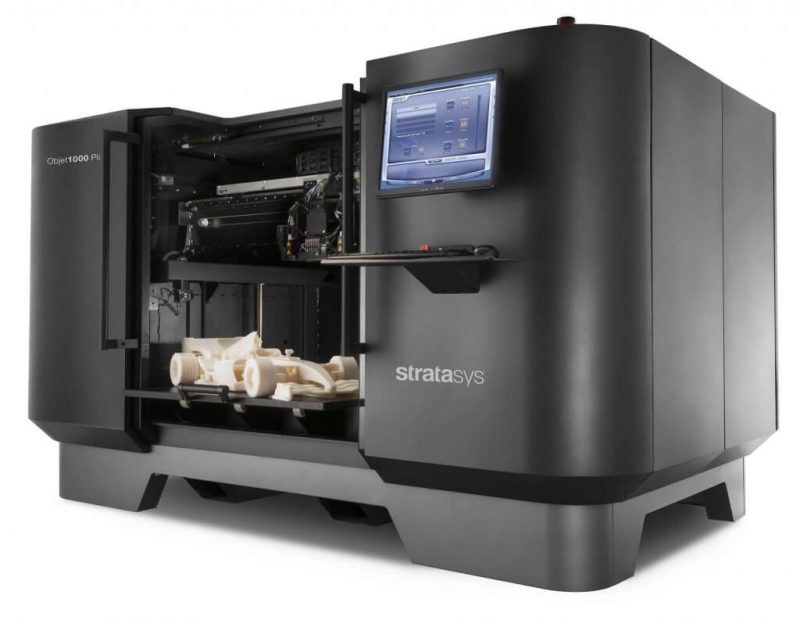 Particularly, the Stratasys Objet1000 Plus uses a triple-jetting technology that is capable of 3D print with 14 photopolymers.
This simulates a range of material properties with varying translucency, pliability, and thermal resistance.
This printer is an upgraded version of the previously named Objet 1000 printer and also 40 percent faster than that.
And if you are wondering to explore more about this 3D printer, do not forget to read the complete review before making the final call.
Features
Let's start with the most fascinating feature of Stratasys Objet 1000 Plus. The best part about the printer is its capability to produce a High Throughput, at low-cost ownership.
It is also titled the world's largest multi-material 3D printer. You can print on it anything ranging from full-scale prototypes to fully packed trays of precise small parts.
Thanks to the wonderful Polyjet 3D printing precision and material range deliverance of accuracy and statistics, the printer "aww"-strikes anyone which the quality of each object made on it.
Being 40 percent faster than its predecessor, Objet 1000 Plus lets one complete mass production assignments within very less time.
Also offering a lower cost per part, it guarantees a quick return on investment. It will let you deal with tough material options, letting you produce parts that can withstand drilling and assembly operations on them.
When it comes to producing stylish parts and functional prototypes experts have already claimed how Objet 1000 Plus surprises them with beauty.
The printer eliminates your need to paint, polish or rubberize final parts or functional prototypes produced on it.
The points that make this printer so special are its eccentric features which you should get to know. These features are not only mentioned below but also explained.
Able to print large parts in a single job
Because the printer has a huge build size, it is able to print and build large 3D printed parts as well as functional prototypes.
Which if you were printing using another printer would mean that you would have to make those parts by breaking the design.
And hence manufacturing the complete part in more than one step and later assembling them together.
Instead, by using this printer, you can manufacture the complete part with a single iteration. You do not need to split the CAD files and bond the parts later.
All in one take. It is because of this reason that you'd find this printer very handy while manufacturing objects that can be used in various professional industries.
Low-cost ownership
A lot of businesses and manufacturers count on cost per part printing before making the decision of buying the machine.
This cost depends on many factors based on the geometry that you are looking to manufacture, based on the infill, design, material chosen, etc.
When you compare the printing cost of this printer with other printers based on another technology, the cost of those machines would mostly be higher than this printer.
This affects you as a manufacturer who is in the business of mass-producing 3D printed parts and functional prototypes.
The massive build envelope and efficient workflow optimize your productivity to an extent that you can print large or small parts at a low cost per part.
Printed parts of this printer are ready to use
Not every part printed with an FDM 3D printer needs to go through extensive post-processing methods. Just scraping and cleaning are all needed to achieve a smoother look.
However, there are times when the support structures are too many. And, to get rid of those and then bettering the design later may eat up a lot of time and effort.
Likewise, there are other 3D printing technologies that require high-end post-processing. However, this is not the case with this amazing 3D printer.
As claimed by the company, this printer is based on Polyjet 3D printing technology so parts that are manufactured can be removed using little or no post-processing.
The supports are removed with a WaterJet and the smooth, multi-material parts require no polishing or painting. This makes this variant
Digital material options are available
The printer gives you the freedom to choose the material that you wish to 3D print with.
This freedom comes without any limitation that you otherwise face while combining the materials and then using them.
You can build parts with diverse material properties in one job, and even combine as many as 14 materials in one part.
There are three modes in which this printer can print. You can choose one of three printing modes that optimize performance.
Or swap material cartridges during print jobs for reducing your printing time even more.
With its PolyJet technology, the printer is able to produce models that are smoother, beautiful, and ready to handle without additional curing.
You can combine up to 14 different materials in one part, including VeroClear, Rigur, and the Tango and Vero families.
All your dreams of producing parts and functional prototypes in a very fast manner, using multi-materials would come alive using Objet 1000 Plus.
Isn't that a wonderful aid for manufacturers working with a variety of materials in one design?
Specifications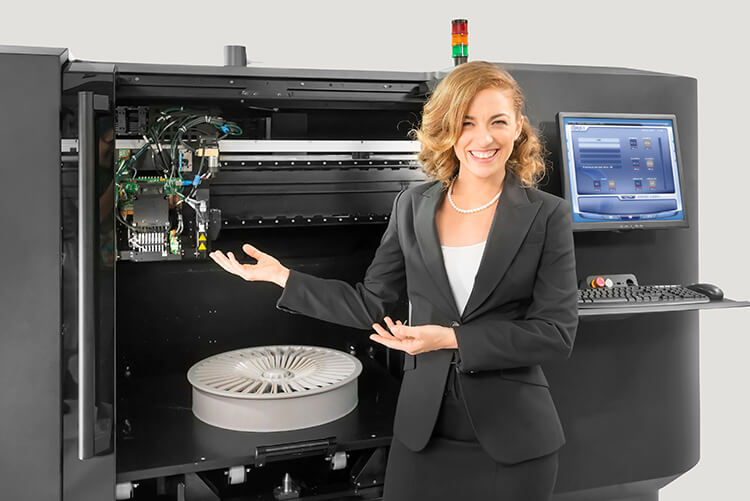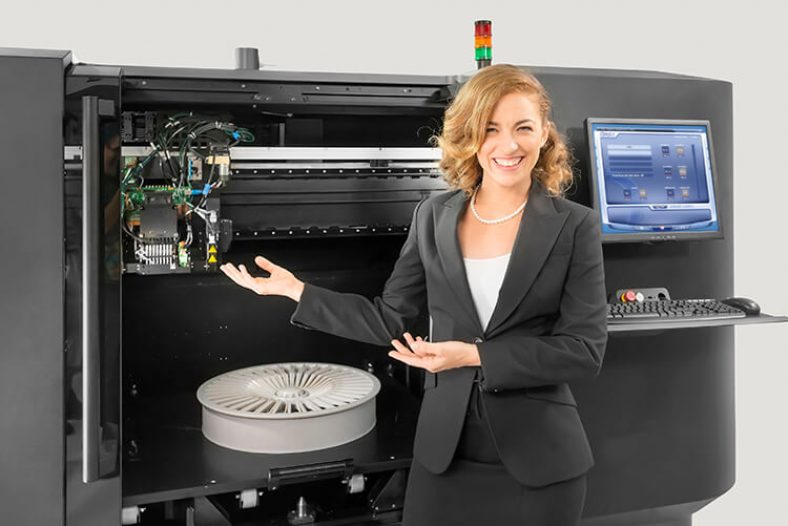 Credit: tech-labs.com
This machine is 1960 mm in height, 2868 mm in width, and 2102 mm in depth.
The machine weighs 2200 kilograms and has a build size of 1000 mm * 800 mm * 500 mm. So, it's definitely a huge and heavy 3D printer.
This makes it capable of handling bigger and heavy designs too.
The maximum weight of the model that the machine's tray can carry over it is 135 kilograms. The layer thickness of the part or functional prototype printed by the printer is as fine as 16 microns.
The accuracy of the printer is up to 600 microns for the full model size that is for rigid materials only, depending on geometry, build parameters, and model orientation.
And the build resolution along X-axis is 300 dpi; Y-axis is 300 dpi, and Z-axis is 1600 dpi. The model material options for this printer are in various properties are:
Transparent: VeroClear
Rubber-like: TangoPlus and TangoBlackPlus
Rigid Opaque: Vero family
Simulated Polypropylene: Rigur
The digital materials that can be used with this 3D printer have properties like:
Transparent shades and patterns
Rigid Opaque shades
Rubber-like blends in a range of Shore A values
Simulated Polypropylene blends in rigid and flexible options
The support material suggested by the company is SUP 705 water jet removable material.
The main highlight of this printer is that it allows you to print huge sizes with multiple options.
Price
Like most of the industrial-grade 3D printers, Stratasys Objet 1000 plus also does not come with a price tag explicitly.
So, you must contact the manufacturer to understand what it costs. However, you must expect it to be expensive like all other industrial-grade 3D printers.
First Impression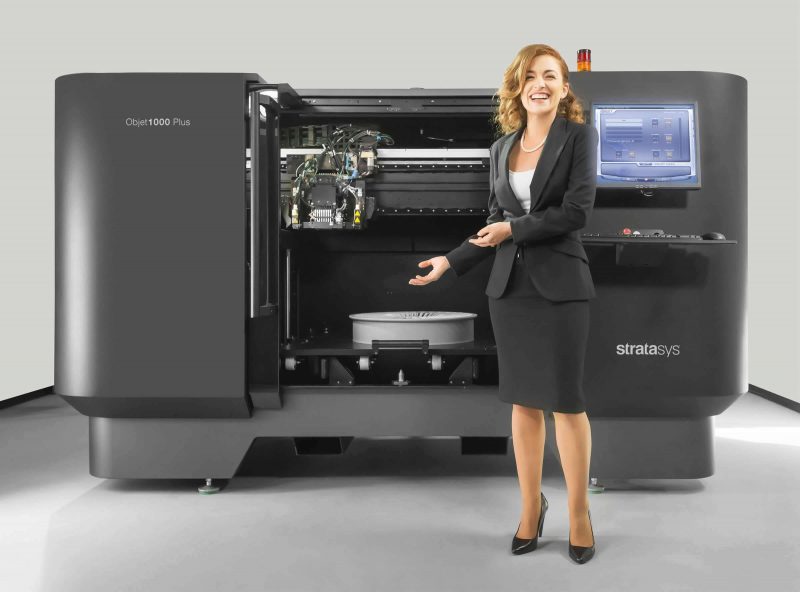 Credit: javelin-tech.com
The printer appears to us as a huge machine with two doors in the center. The right side of the machine has a touch screen interface from which it can be operated and monitored.
And inside there is the complete mechanism that leads to the production of parts through Polyjet 3D printing technology.
It certainly looks like a beast machine with enormous power to hold models of bigger size and hefty weights.
To make the shipping safe, the company ensures that the package arrives with secured packing.
Just one tip, if you haven't decided on a place for this printer, you must do it soon.
Because it would be a difficult task to keep shifting this machine from one place to another.
Setup
The 3D printer is completely assembled. So, ensure you make room for it when it arrives.
Along with the Object 1000 Plus 3D printer, you receive various other parts and a manual to understand the setup and working of the machine.
Also, the company has got all kinds of help and Q&As to support users with different phases of operation.
If not anything, you can always connect with the support team, in case of any confusion.
Also, you can seek help through onsite assistance to make your initial experience hassle-free.
And, if you have got an expert handling such a machine at your workshop, things would even be simpler.
Printing Type/Cost
PolyJet builds parts by jetting thousands of photopolymer droplets onto a build platform and solidifying them with a UV light.
Currently, it is one of the fastest and most accurate 3D printing technologies currently available.
But as mentioned about the printing cost in the specifications' region, this printer's printing cost per part is very low.
Hence, it can benefit you in the long term wherein you are manufacturing many parts on a daily basis and involved in the mass production of industrial parts and functional prototypes.
Print Quality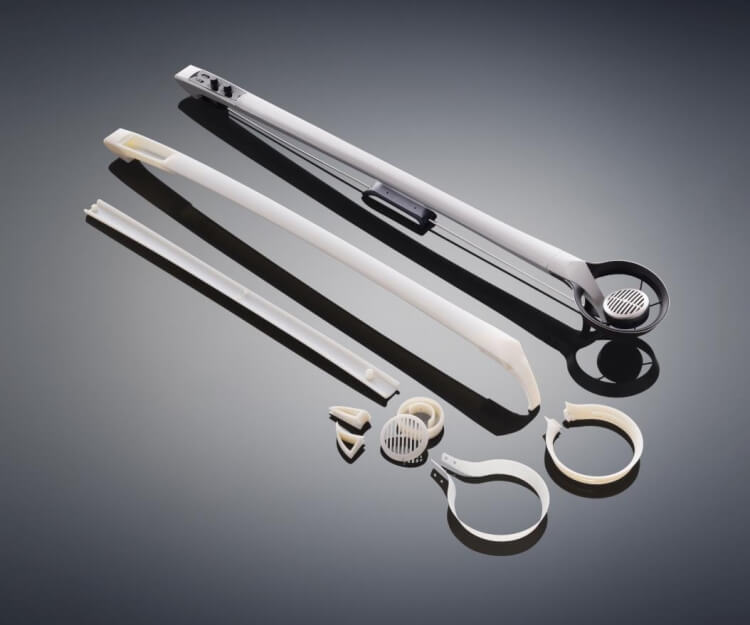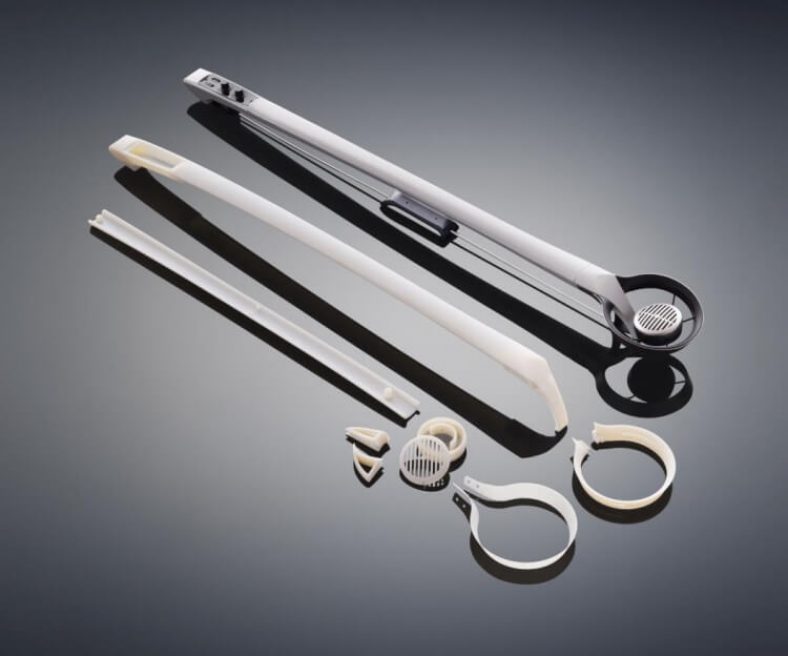 Credit: tech-labs.com
This is something that you would not be able to ignore at all. Thanks to the amazing build quality offered by this 3D printer.
Because of the same reason, the 3D Printer finds its way through an array of niches.
The applications of the parts and functional prototypes made by this printer is something that you would find in manufacturing, jigs and fixtures, production parts, rapid prototyping, realism, and composite tooling.
In the names of industries, you have Aerospace, Automotive, Consumer Products, Dental, medical, education, railway, and art, and fashion.
All of these industries are known to accept only those parts and functional prototypes that have dimensional accuracy in them.
Object 1000 is a printer that is renowned in the 3D printing market to make objects closest to your imaginations.
Software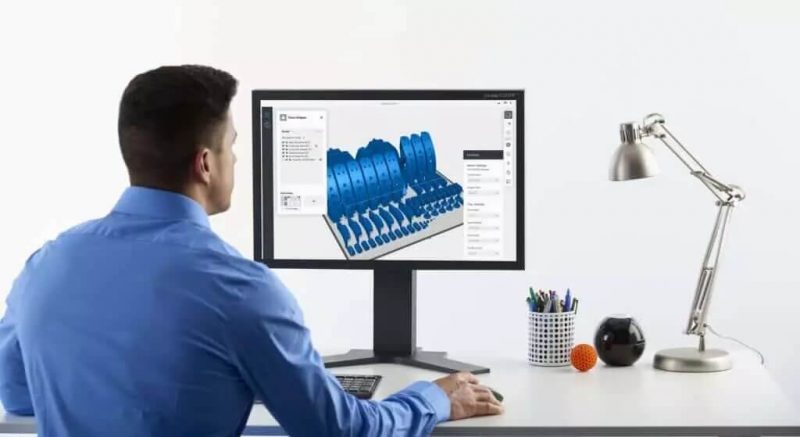 Credit: smushcdn.com
Stratasys offers GrabCAD Print to allow for a seamless slicing operation. It simplifies the traditional 3D print preparation workflow and provides intelligence around printer usage so your team can get quality prints, faster.
The various functions include and are not limited to: you can print directly from CAD, organize print queues, monitor material levels, and work with detailed views of your model.
The tray and slice preview feature in the software supports adjustments before going to print.
Customer Service
The two most common ways to reach out to the company, you can do that by clicking on the Contact Us tab, and the Support tab.
Stratasys is known to provide you on-site assistance, guide you via phone, email, Skype, and even in person.
Parameters Influencing Buying Decision
Here is a quick recap of the important factors that we have been talking about, in this article.
3D Printer Cost: Need to contact the company for the quote.
3D Print Quality: Above average.
3D Print Speed: Extraordinary.
3D Printer Capability: Able to print with multiple materials and their hybrids.
3D Printer Practicality: Parts and functional prototypes manufactured by this printer are used in many industries.
3D Printer User Expectations: Time-bound industrialists would be satisfied by this printer.
The Verdict
The key quality of this printer is it allows you to print with multiple materials with a very fast 3D print speed.
It is primarily targeted towards those manufactures in the field of 3D printing who are looking for offering quality products to their clients. And for those who love to spend more on getting astonishing quality.