Table of Contents
As 3D printing is growing as a must to learn technology, many experts like to share what they know about 3D printers. Knowing most of them through their reviews and manuals available online, very few make a long-lasting impression on their followers.
Amidst many of the online gurus of 3D printing, Thomas Sanladerer stands unique and undefeated as one of the best 3D printing experts.
Thomas Sanladerer, who is known for his amazing knack for 3D printing has been able to provide his inputs through easy to understand online reviews, guides, YouTube videos, and other sources. This man has a lot to share with those seeking to get the first-hand experience with 3D printers.
Explaining everything from the selection of the right 3D printer to specific details of popular and best 3D printers, you can find anything that relates to 3D printing from Thomas Sanladerer writeups and videos.
Whatever you need to know, just turn up to Thomas and you will be delighted with every possible help. A handful of information does not make anyone expert at 3D printing. It takes experience and huge dedication to learn the nuances of features and possibilities connect with 3D printing.
And, Thomas Sanladerer has got all of it. If you have ever wondered why this man has such a huge fan following, you must read his guides or reviews to know it better.
The mantra for success lies in the efforts. And, the popularity of Thomas Sanladerer comes from the dedication he has illustrated to make 3D printing accessible to the masses by every means possible.
The online information cited by this great leader has helped many keep their first foot in the world of 3D printing. It has also assisted many naïve users to become expert at 3D printing.
So, what makes Thomas Sanladerer such a great 3D printing expert? Let us find out the reason by checking what all this guy has to offer to the world.
Who is Thomas Sanladerer?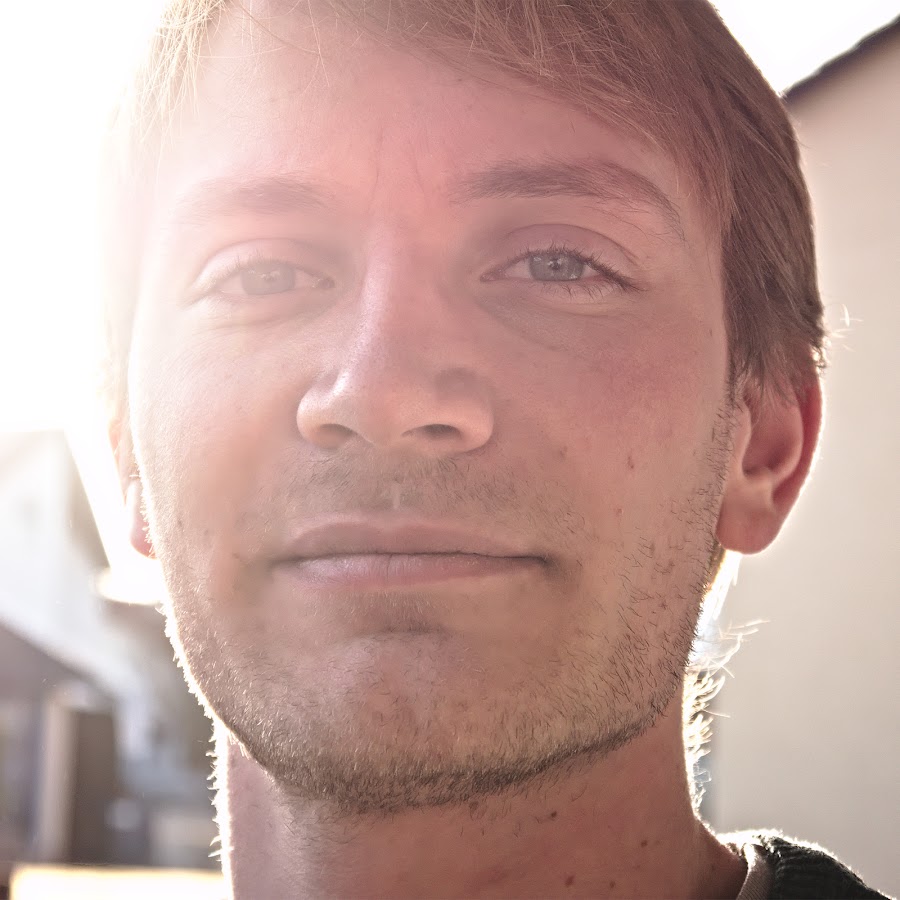 It would be better to start with a small introduction first. Those who do not know who Thomas Sanladerer is, here is a hint to his past work experience and current offerings.
Thomas is a German engineer who has worked with various 3D printing companies and has gathered huge experience working with 3D printers.
Currently, he is engaged in writing professional reviews of 3D printers and the parts attached to the 3D printers such as hot print beds, filaments, etc.
Because of his great knowledge backup, his reviews and guides are hugely popular among 3D printing lovers. The plenty of tricks that he shares through his guides have helped many from the 3D printing space.
And, he has tens of thousands of subscribers which make it clearer that the guy has got some great stuff up his sleeve.
He also is the author of many popular blogs and forums related to 3D printing.
What Does Thomas Sanladerer Offer?
Before getting into details, let us know what all things Thomas Sanladerer has to offer. The plethora of information that Thomas has already shared and keep sharing is immense. One can start 3D printing right away after going through the details of Thomas underlines in his guides.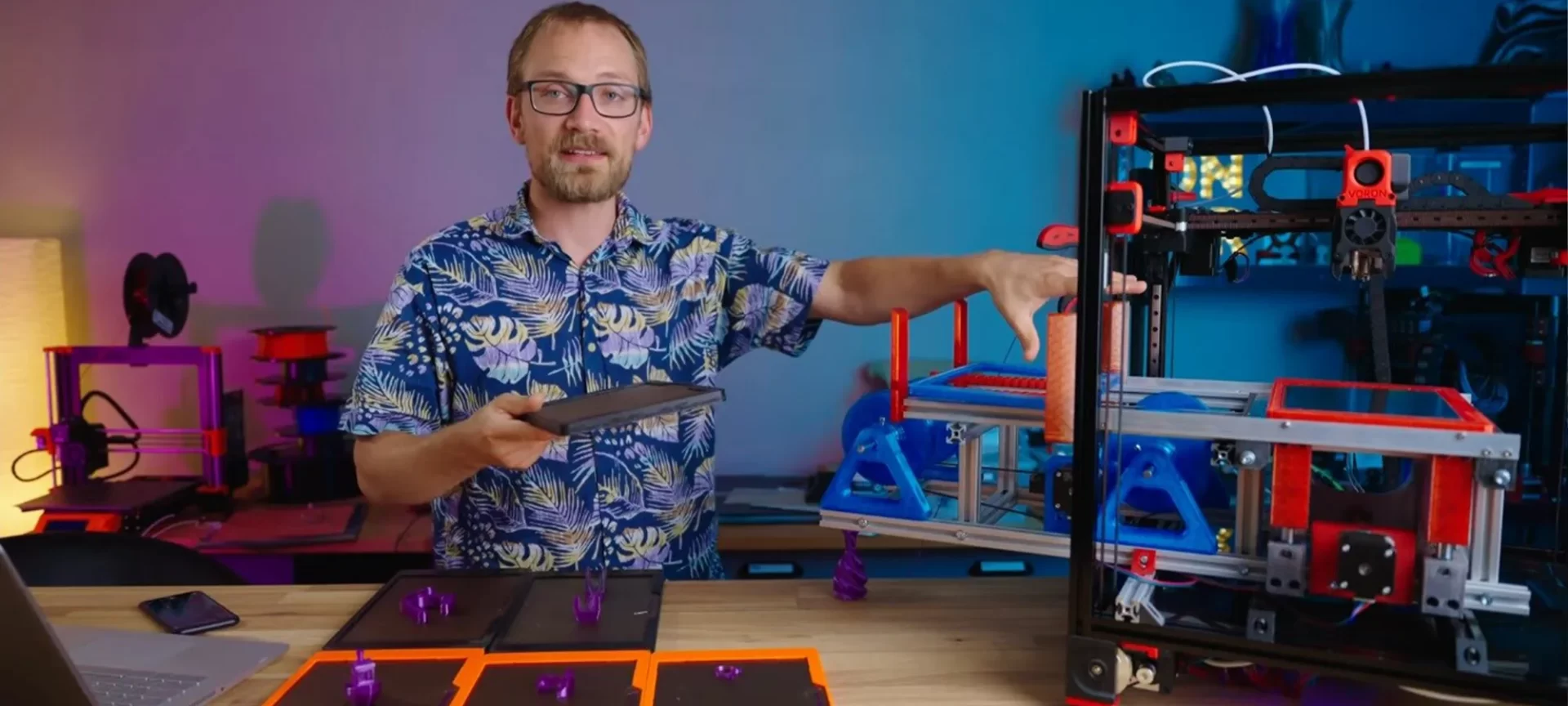 Guides:
Thomas Sanladerer guides feature tricks and tips to work with 3D printers. The guides include hacks and best suggestions about using the 3D printers for realizing the optimum results.
The guides range from common printer operation to a specific 3D printer know-how. You can know the best ways to use the adhesive when the build plates are not heated. Or, you can find solutions for bed leveling when the auto-calibration isn't available.
From smaller tips to high-end settings, one can find anything that relates to 3D printing through his guides.
Reviews:
Writing professional reviews isn't everyone's strength. It takes many years of experience working in the same niche to comment on features and results of 3D printers.
And, Thomas Sanladerer has enough experience with the desired field. He has not only worked with 3D printing companies but has been a part of the most important responsibilities concerning 3D printers.
His professional reviews are taken very seriously. 3D printing users follow his reviews to make the final decision. He not only shares reviews on the printers but the print bed, filaments and lot other stuff concerned with the 3D printing industry.
Latest News:
Not explicitly, but the articles on the latest updates on 3D printing technology takes up some space on Thomas Sanladerer's personal blog.
He regularly writes about anything new that peeks through. This helps readers to stay tuned with the latest developments taking place in the 3D printing niche.
YouTube Videos:
Apart from the blogs and articles, Thomas Sanladerer also posts YouTube Videos. He has got many followers who regularly watch the videos posted by him.
He reviews 3D printers, provides hacks for setting 3D printers, reviews filaments and provides various information related to 3D printing. The videos are well documented and share great knowledge.
Online Forums:
You can join the online forum operated by Thomas Sanladerer on his website.
This forum has many users and you can find answers to your specific questions in minimum turnaround time.
The active users from the 3D printing community administered by Thomas Sanladerer provide huge benefits to the lovers of 3D printers. You can create an account to join the forum and post on it.
What Makes Thomas Sanladerer Content So Enticing?
This question usually raises brows as there are many experts doing the same job. Then why, Thomas Sanladerer? Why people are so crazy about Thomas Sanladerer?
There are many reasons for the above questions. However, let us stick to the few most important ones.
Simple to Understand:
The content shared by Thomas Sanladerer is easy to understand. Even if you are a beginner, the language won't make you go haywire.
The usage of technical terms is limited and well expressed. Do not worry about technical jargon. There aren't any.
The content is very simple to understand for those who have never before worked with 3D printers. Most of all, the content is well structured so that you are not enticed to skip a few paragraphs.
Engaging Content:
There are times when the content is written with complete details but fail to keep readers involved.
However, this is not at all the case with writeups posted by Thomas Sanladerer. You will never at any point find the content overstretched.
The articles are crisp, still has enough information to get you going. The artistic language is also a plus for keeping readers engaged until the end.
In Dept Information:
There is no way one can find the content halfway left. Everything that is shared by Thomas Sanladerer is well researched.
There is nothing that you would like to add to the already posted content because these are complete in every sense.
The detail information drafted in a well-structured manner, make the entire article a must-read.
Comparing 3D Printers Available:
Sometimes, we all need a comparison to come to the final conclusion. Thomas Sanladerer shares the best comparisons of technologies and buying guides.
If you are stuck at any point, you can check the comparison available on Tom's website and make the most of it.
Unbiased Feedback:
Because Thomas Sanladerer is not connected with any specific 3D printer manufacturing company, although he vouches for some for the best features, the contents are completely unbiased.
You won't have to worry about anything when taking a decision based on his feedbacks and reviews.
Learning About New Technologies:
If you are interested to learn about the new updates within the 3D printing technology, articles by Thomas Sanladerer would be a great help.
Following his blogs and articles would keep you notified about the current trends and latest development in the field of 3D printing.
3D printing has become a very revolutionary niche. And, the changes to the technology are being introduced more often than to any other niche.
Hence, keeping a close view of the niche becomes very crucial for those being a part of 3D printing.
All these things really make this genius apart from the herds of experts pointing their terms on 3D printing.
Unlike any other 3D printing expert, the content posted by Thomas Sanladerer is noise-free and very unique.
His point of view is appreciated by millions of readers worldwide. He has been invited by many independent blogs and forums for his personal opinions. This makes a huge difference.
Where to Find Thomas Sanladerer's Content?
Although a lot of information is available on Thomas Sanladerer's blog, there are other independent blogs and forums where Tom often shares his experience.
Toms3d.org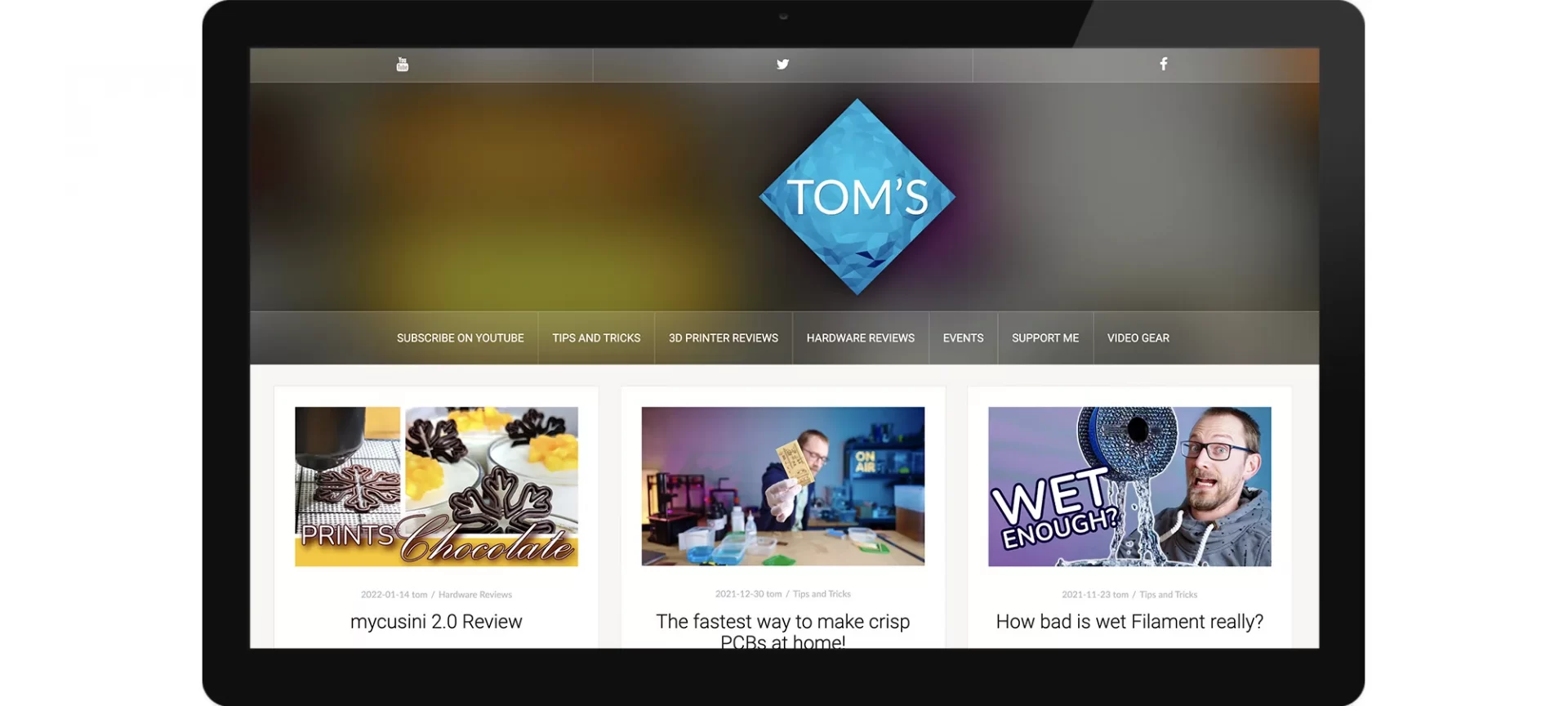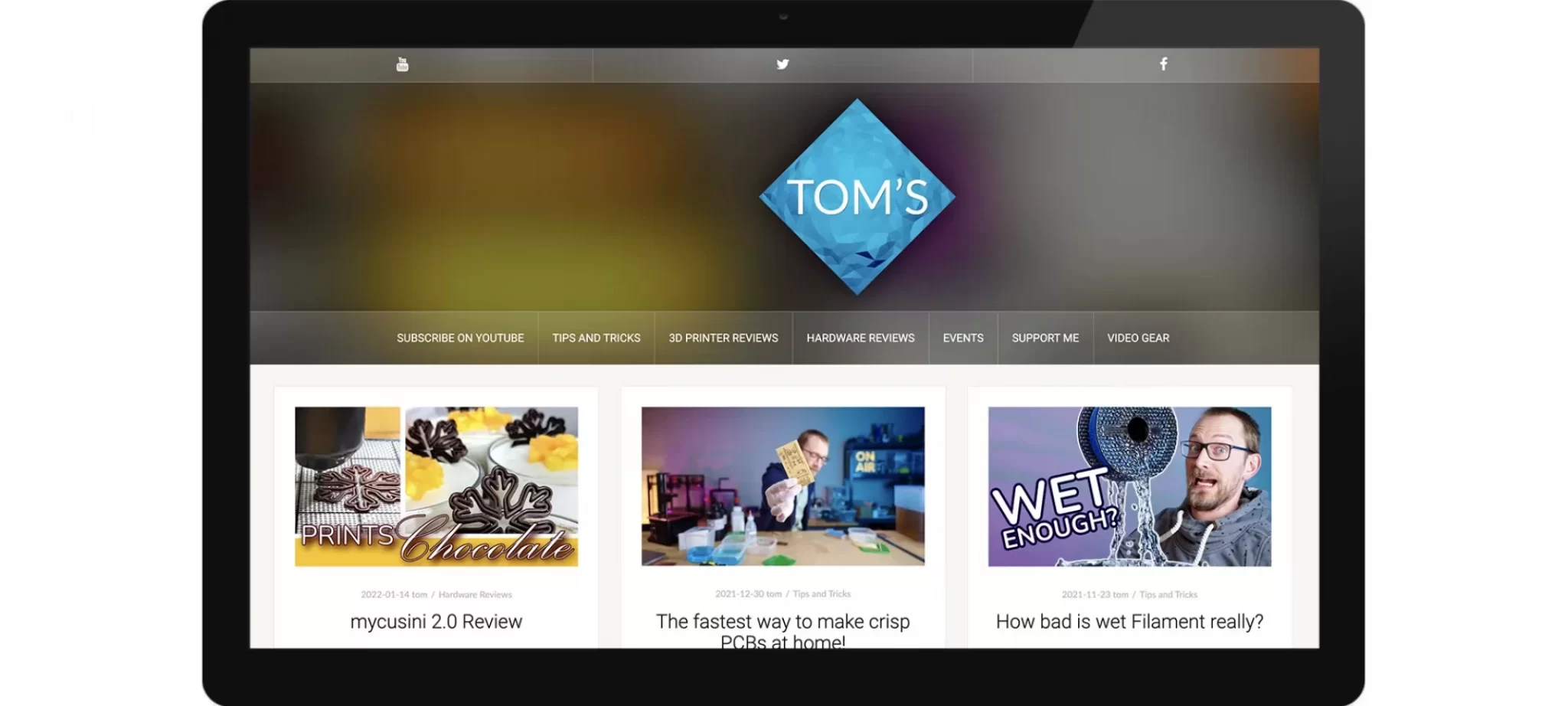 This is a personal blog that Thomas Sanladerer owns. Here you can find many topics and reviews on 3D printers.
It is free to read the content shared on this blog. So, you can read as much as you like without worrying about paid subscriptions.
In short, you learn for free. Who does such things these days? Sharing hard work with others without a cost? There are very few such experts and Thomas Sanladerer is definitely one of them.
His Youtube Channel
Thomas has nearly 400 videos uploaded in his channel, where he shares everything about 3D Printing and Making! Build guides, tutorials, tips, and reviews around the new generation of consumer and prosumer 3D printers (and more)!
Independent Blogs
Apart from the personal blog, Thomas Sanladerer is regularly invited to write for third party websites that he does not own.
For example, all3Dp.com, 3dfilaprint.com, 3ders.org, and many others. This simply verifies his demand among the 3D printing lovers.
It goes without saying that Thomas Sanladerer is one great expert that loves to contribute to the niche of 3D printing with open hands.
Thomas is also very active on Twitter, you can also follow him on his Facebook page. If you want to support his work, you can visit his Support Me Page and learn more about how you can do that.
The 3D printers from @Anisoprint use continuous carbon fiber reinforcements while giving the user maximum freedom in material choice and reinforcement positioning. It's a different approach than @Markforged – but not any cheaper 😉
? https://t.co/pwhZQzQNgC pic.twitter.com/KlR3Xzgsg4

— Thomas Sanladerer (@toms3dp) 27 septembre 2019
Who All Can Use Thomas Sanladerer's Content?
As the content is free, anyone who has an interest in learning about 3D printing can read his articles and reviews.
Either you are a beginner or an expert, Thomas Sanladerer has something for everyone. Being associated with the 3D printing field, he has equipped himself with the best practices of 3D printing.
His guides are well informed and reviews become the final say for the final decision.
Those who follow Thomas Sanladerer, keep finding his content irresistible. Users look forward to his unbiased reviews to take the call and make decisions taking every possible angle into consideration.
The Conclusion
3D printing is a vast term. One cannot decide to expertise in the field in a few days. It takes time to master the art of 3D printing. And, even more efforts for those who want to explain it to others.
Apart from the expertise related to 3D printing, one must own the skills of making it simple for others to understand. And, this specific quality can be witnessed in Thomas Sanladerer.
This guy not only knows his way out of the 3D printing puzzle, but he can also help anyone without any lead too. That is why it has been recognized as one of the most influential personalities when it comes to 3D printing niche. His words can change the decisions of his followers.
He has the charisma to make people fall for his simplest tip by making it engaging.
He has even tagged many users to his follower's list who were not even aware of 3D printing before.
The master of 3D printing and an artist who knows how to put words in the best possible order to make it engaging and interesting, Thomas Sanladerer is surely a passionate contributor to the 3D printing niche.
You would love to read his reviews, guides and many other contents that are well written and highly knowledgeable.
Accessing his blogs, one can learn the nuances of 3D printing and instill in themselves the huge potential for working with 3D printers. The popularity and fame that the expert has achieved are all that he deserves.
His dedication to continually grow with the technology and ensures that the same reaches the mass has been worth noting.
You can get the best material concerning 3D printing techniques. Either you want to print using an FDM printer or seek experience with the SLA printer, Thomas Sanladerer is your guy for getting you through the rough patches of a the 3D printing learning curve.