If you are an artist, you must know the excitement of watching your creativity take the shape in the real world. While many of you won't know that it is possible, there are quite a few professionals who are already using the best 3D pen to give forms to their imagination. Not just that these 3D pens have attracted artists, but users from all pace of life. Even the kids find these 3D pens fun to use and explore. Offering your kids, a productive way to spend their free time is every parent's dream. You can make this possible through the best 3D pen for freehand modeling.
Although these 3D pens were recently released, the technology that they are based on comes from a long back. It has made it possible to hold the high-tech gear in your hands by paying a very small price. This again makes these 3D pens very popular among hobbyists and designers.
One can easily hold the pen in hand and design as the creativity goes along. Though the technology may seem familiar, the entire workflow is different as compared to the 3D printers. These 3D pens do not require STL files or must not need a bed leveling to start with. One can simply fill the filament inside these pens and start using it with the flow of the hand.
There are a few options, but knowing which one is best according to price and performance is very important.
What is the Best 3D Pen in 2023?
Everyone has their own factors to rank the different 3D pens as the most suitable one for their needs. Deciding which one fits your requirements completely depends on your selection based on preferred features.
So, here is a list of a few of the most popular 3D pens from 2023. You can pick the one that you feel is the best 3D pen for you.
3D Doodler 3D Printing Pen by Leo Evo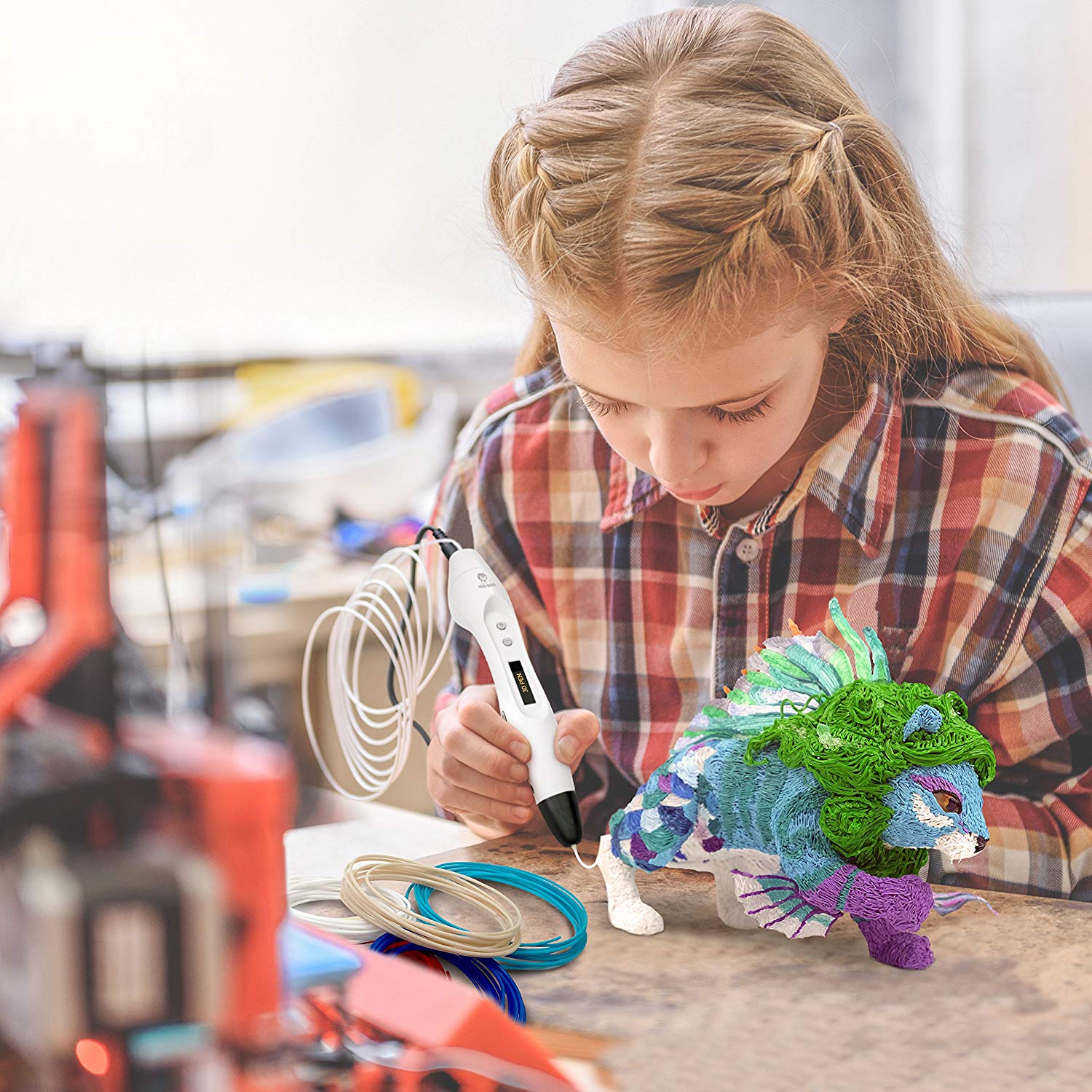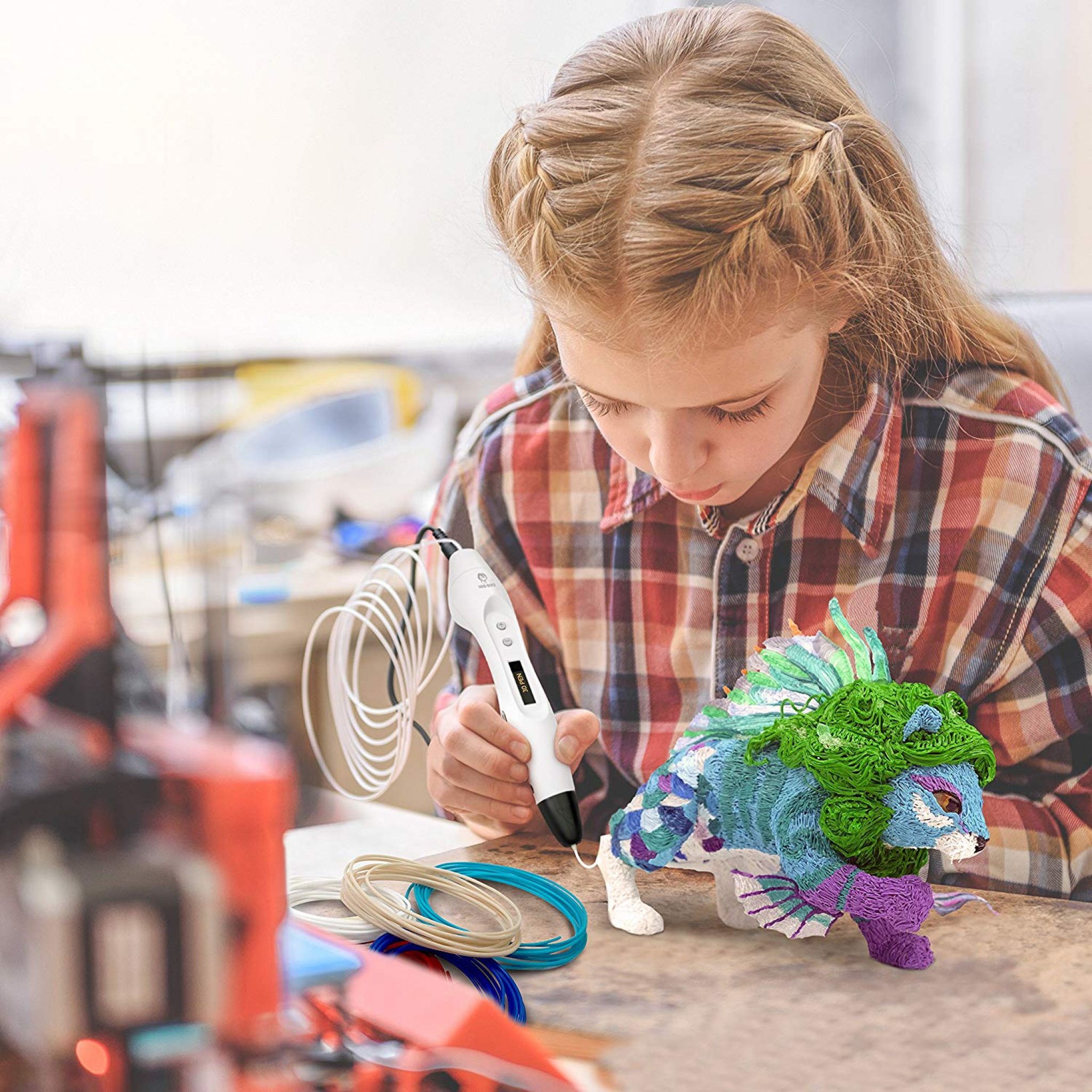 The company, Leo Evo claims that the product that it has created works for professionals as well as beginners. Even for kids, this 3D doodler pen is a great option. To cater to the needs of professionals, this 3D pen comes with advanced setting features such as temperature control and speed adjustments. For kids, the company provides doodle templates and colorful filaments to work with.
All in all, you get a decent buy in the most affordable price option. It may not be able to compete with the 3D pens that are expensive. But, has a lot of features that other 3D pens with similar price don't offer.
Few settings are definitely well thought and have been included in the doodler to keep experts engaged as well. If you are a beginner, you would find it easy to work with the pen with all the templates and directions provided. The product also has a silent mode drawing option to help kids use the pen without any noise issues.
Moreover, there isn't any smell or bubbles formation when drawing using this doodler. Because it is safe to use, beginners would find it easy to get acquainted with the pen. And, kids would love it too. It comes with a year warranty, so you can rest assured of the quality it offers.
A 3D Printing Pen by DigiHero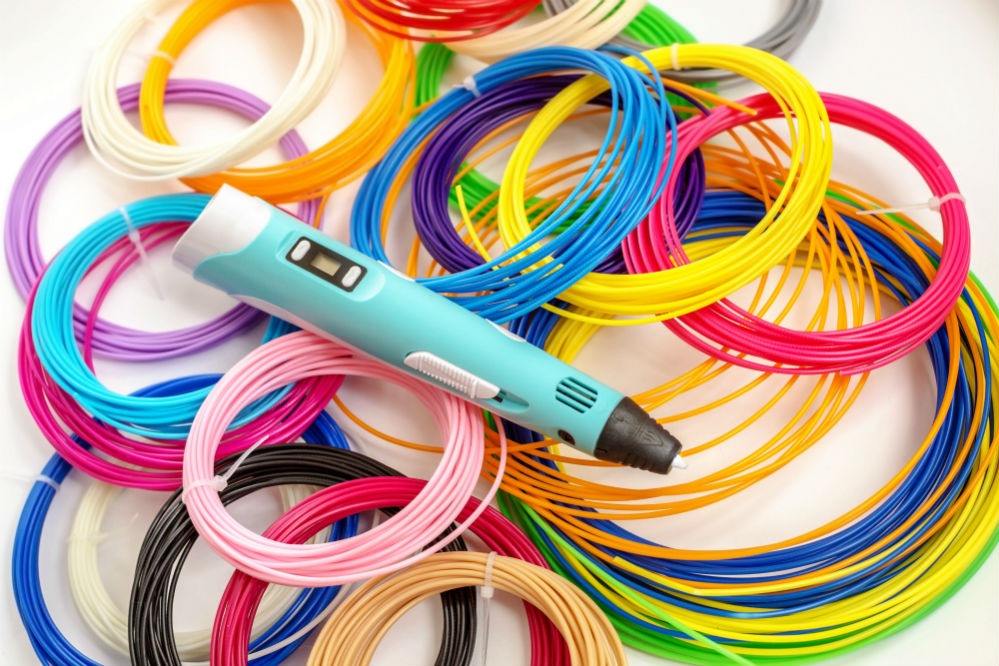 This 3D pen is designed especially for kids. If you wish to offer your kid a gift, nothing would be more exciting and fun than a 3D pen by Digihero. The pen is cheap and would easily fit your pocket. The safe design and slim looks make it convenient for the use of your child.
However, the 3D pen isn't suitable for those looking for in-built smart features. The pen is lightweight and easily supports the comfort of children. The pen also is shipped with a total of 12 PLA filaments. Hence, you get value for what you paid.
Most of all, your kids would never be able to thank you more.
3D Printing Pen by 7Tech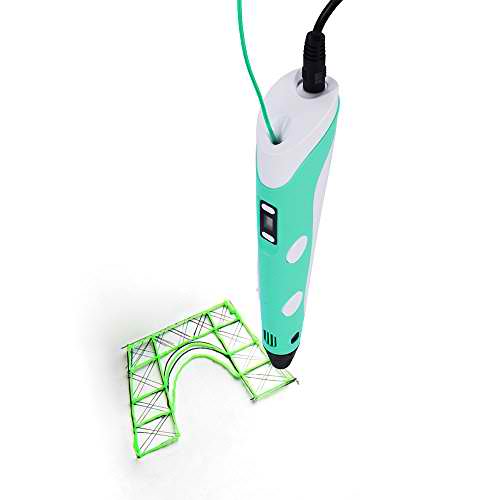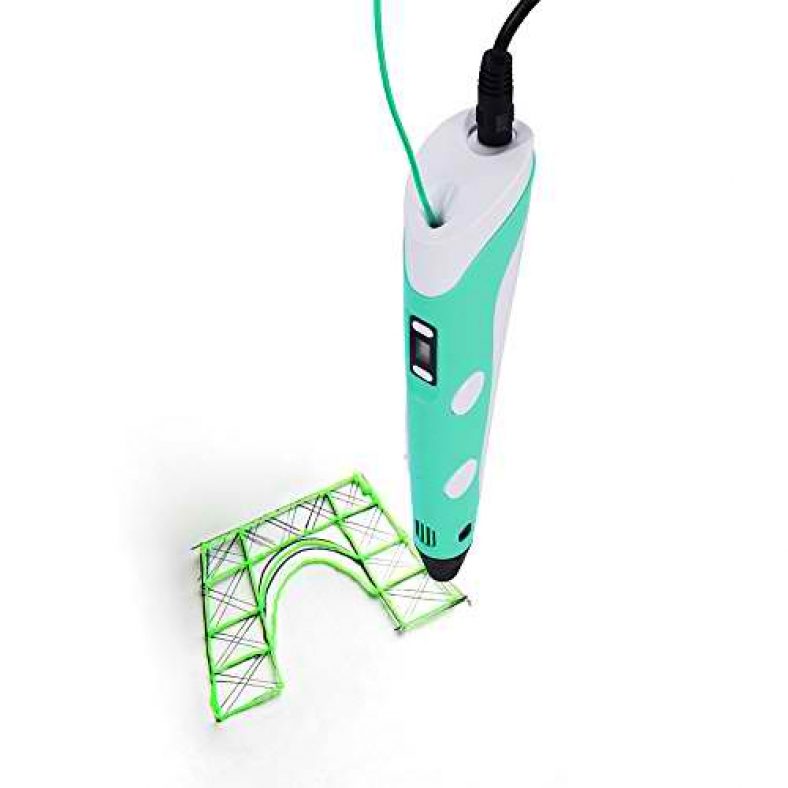 If you are someone looking to possess extra features that aren't available with most of the basic 3D pens, this is your option. 3D Pen by 7Tech has some of the advanced features that make it a level up from the pens available for beginners.
For example, the 3D pen notifies the user when the filament gets stuck. Or, the pen is equipped with the best thermal control features. You can even control the extrusion of the filament at your desired speed.
With its lightweight and slim body, it is easy to design patterns without any hassle. The protection is provided against the hot nozzle with the help of an aluminum spatula. It also offers a one year warranty.
However, filament supplied with the pen isn't too much. You may soon have to order more if you wish to continue 3D printing. Also, it is not suitable for kids as the temperature sometimes can be too high to be counted safe among kids.
This again is a cheap option if you wish to consider the strict budget. However, a great choice for starting your 3D designing hobby.
3D Printing Pen by AIO Robotics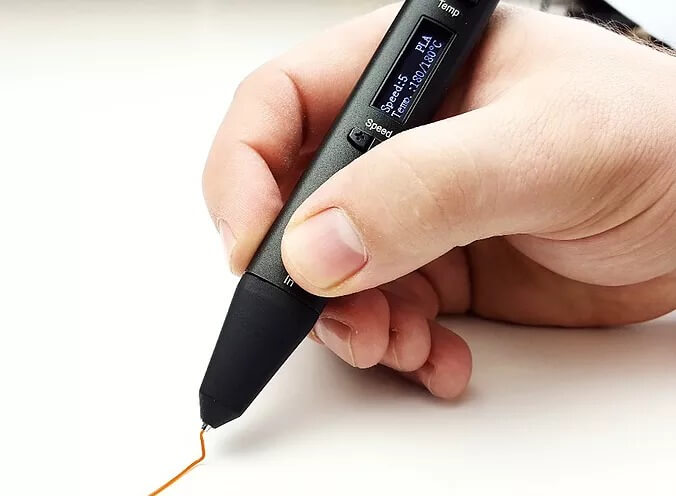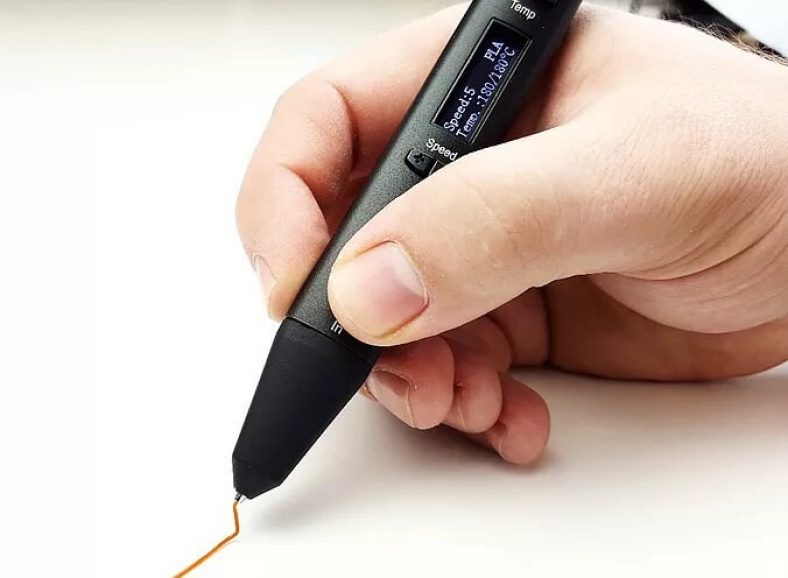 The 3D Pen by AIO Robotics here is designed for professional use to provide the most intricate designs with perfection. Being super slim and an added benefit of ergonomic touch, the 3D pen seems out of the box. With offering the most amazing gripping experience, it can be counted as the most comfortable 3D pens to work with.
Again, one of the most affordable 3D pens that fall within the $100 price tag is a must-have for those looking to create some fantastic designs with precision. The pen offers you complete control of the design moves. It lets you control speed, temperature, and various other metrics while playing around with your design.
You will not find it hurting your fingers as the body does not get heated up. The pen is a full metallic premium option for those having a hard time working with basic alternatives.
The pen also comes with a USB charging slot; hence you can use a power bank to charge your 3D pen. Moreover, the Pen supports a lot of filaments which include PLA, ABS, and others. You can easily change the filaments and progress with your work.
3D Printing Pen by TR-Life

If you are a beginner and want to experience what it feels to use a 3D pen, you can go with TR-Life's 3D doodler. A 3D pen designed for simple operation and great built-in features. The best part about the pen is that you do not have to worry about jamming of filament inside the doodler. The mechanism to control that problem is well introduced in this option.
Just around $50, you get a quality product in half the price that it deserves. The pen design is also cool and fun to hold. It comes with a see-through body that feels awesome to hold. It also is stuffed with great accessories to make your designing experience fun and exciting.
The box contains templates for beginners as well as transparent sheets for making the drawing process easier. With one button, you can control all the settings. This may not be liked by all the users, but has been appreciated by those looking for ease of use.
With all the advantages the Pen offers, its inability to work with different filament makes it unfit for those designing with multiple options. Hence, if you want to design with different filaments, it would be better not to consider this 3D doodler.
A 3D Doodler 3D Printing Pen by 3Doodler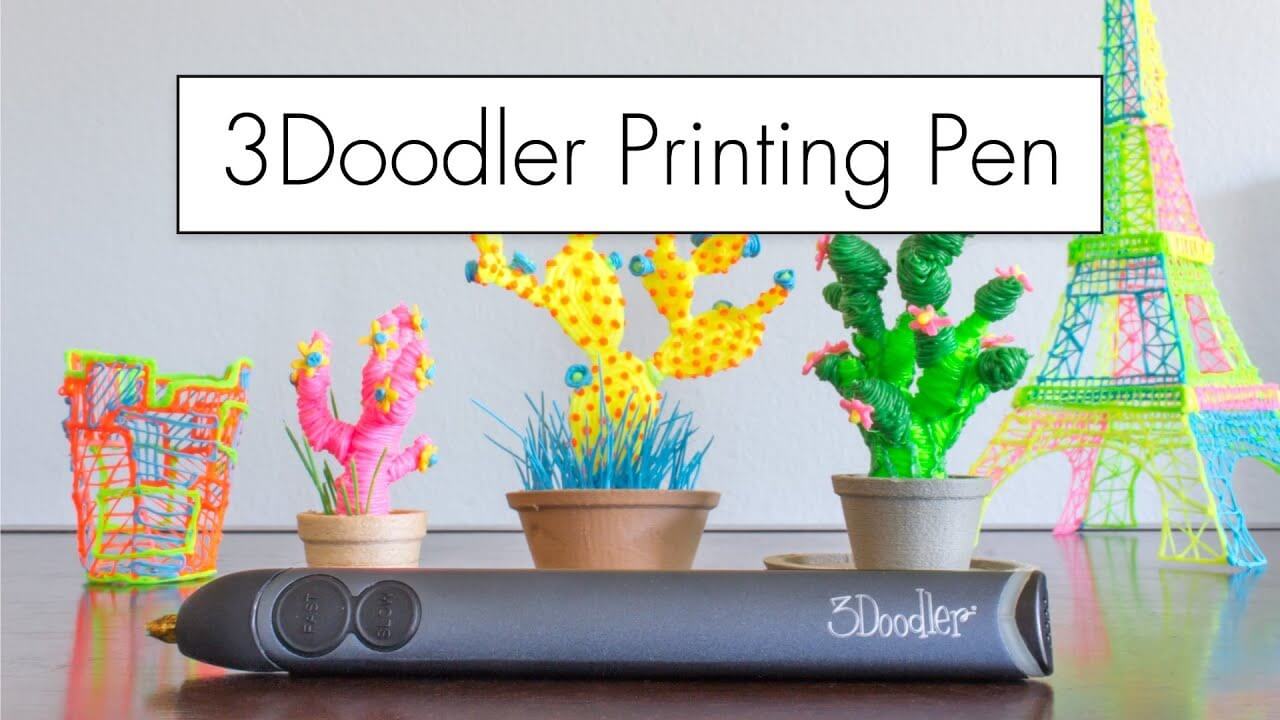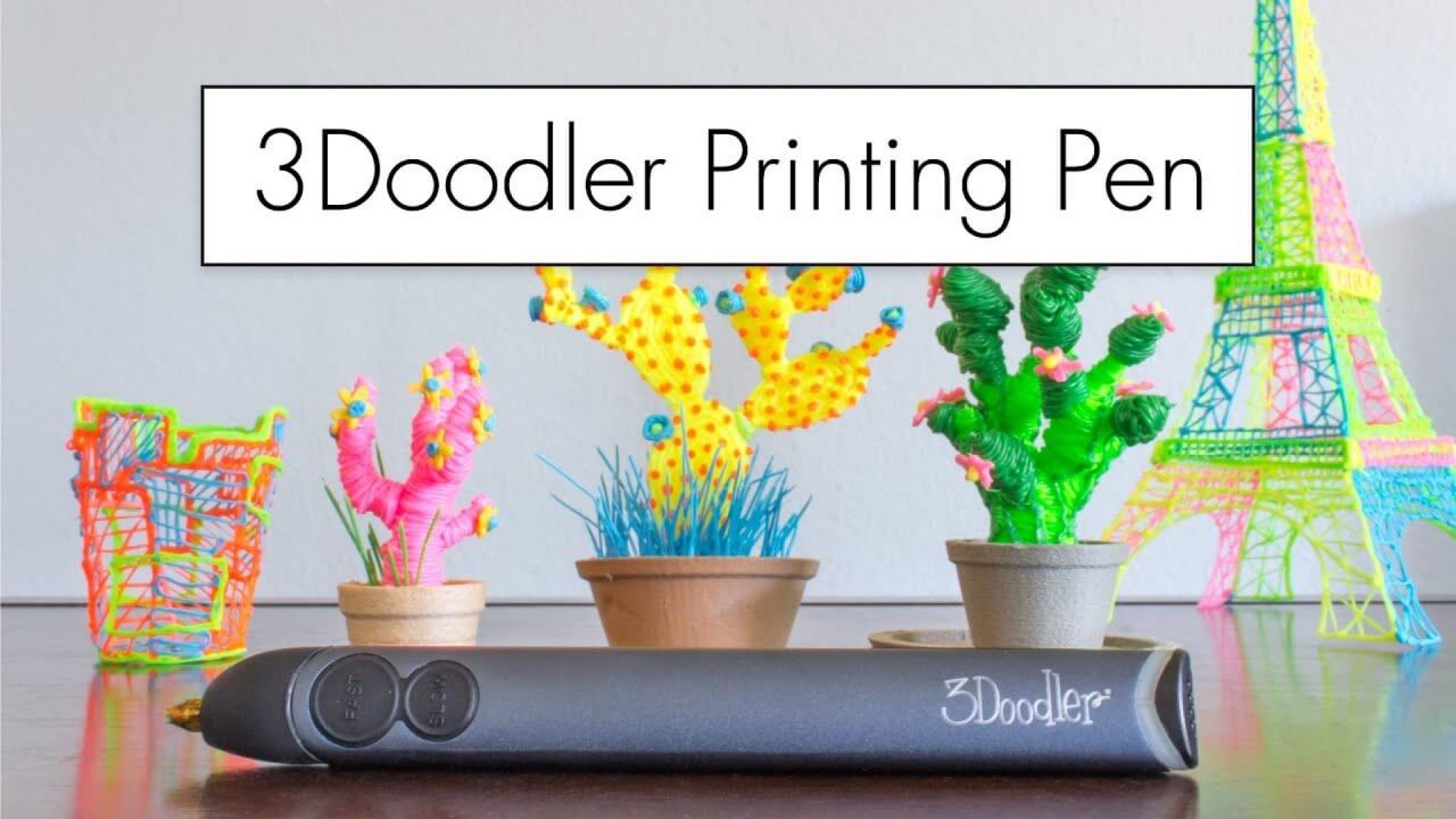 You would be excited to know that the company offers 50 plastic filaments with this 3D printing pen. You can consider it the best 3D pen in terms of the number of filaments it offers. By far, no company offers such a huge number of extra filaments. The filaments are easy to refill and replace. Moreover, the 3D Doodler by 3Doodler makes sure that no filament is clogged inside.
Even the design is great and working with the pen feels awesome. However, it may seem difficult to work with a pen for beginners. And, the weight of this 3D pen is not as low as other options available in the market.
So, if you can get past those shortcomings, you can enjoy using this pen as its affordable and looks trendy offering some of the most adorable features.
3D Doodler 3D Printing Pen by BeTIM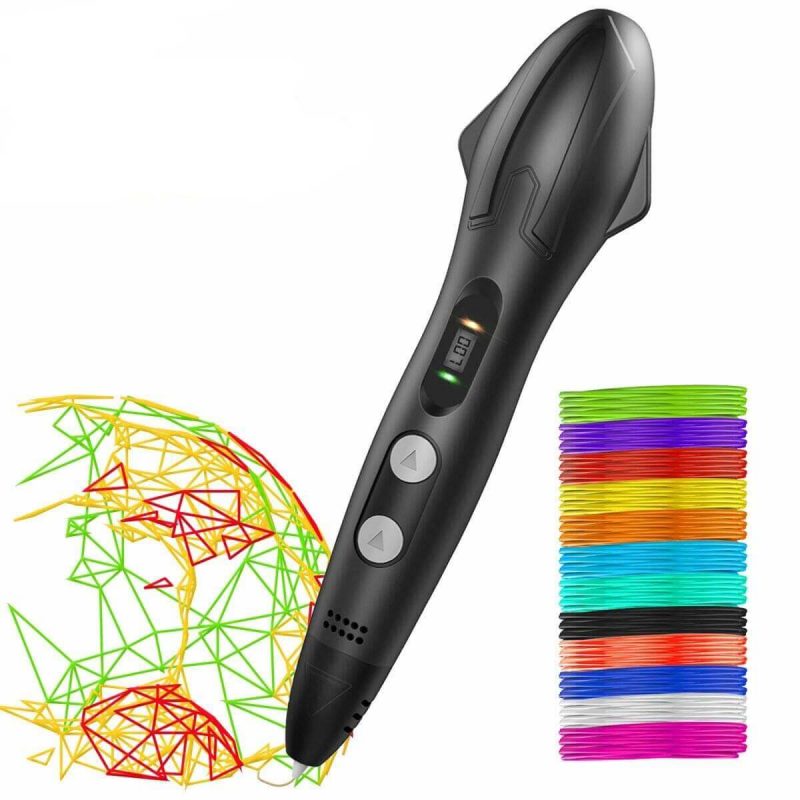 If you would check the advertisement for this pen, you would find it more focused on serving teens and kids. However, it does not look any worse in the hands of adults as well. Instead of making it colorful like blue or pink, it comes in the most sophisticated black and grey combination.
The 3D Doodler by BeTIM is lightweight and can work with PLA as well as PCL plastics. As both these filaments have different properties, the pen can be used for multiple applications. For example, PLA cools down to form solid objects, however, PCL is softer.
From price to its operation, most of the features are as good as you would find in the best 3D pen. The refill filament is also cheap. So, if you are over with the provided filament with the 3D pen, you can order more at a cheaper rate.
It also boots up faster than most of the other alternatives present. However, you may notice some filament clogging problems with the pen when using it for big projects. However, this problem does not surface when the printing is done in small amounts.
How Does 3D Pens Work?
Whether you are using a basic 3D pen or a top-rated 3D pen, each of these 3D doodlers available in the market works similarly. These pens use plastic filaments. After the filament is stuffed inside the pen, the high temperature helps in melting the filament.
You can think of it as similar technology to glue guns. However, there are many differences. Once the filament converts into a liquid, you can start designing with these 3D pens. You can even design in 3D space. The cooling happens so fast that you won't even know when the liquid filaments turned into a solid form.
The filaments are available in various colors to make the entire work fun to create.
How Much a Best 3D Pen would Cost?
Answering that question won't be easy as the price difference is huge. How much is a 3D pen depends on what budget you would like to invest in. The price depends on various parameters such as brand, ergonomics, brands and the features it provides. The price can be as low as $20 and as high as a few hundred dollars.
Hence, to find the one that fits your budget would largely depend on your requirements. If you are offering a 3D pen to your kid, you can check out the cheaper options. If finding one for yourself, you have got a plethora of options.
So, it is wise to compare the price and features of different 3D pen and decide accordingly. To help you with a few of the best choices, here is the list of some of the most popular 3D pens in 2023.
The Conclusion
3D pens are now being included in the mainstream because of the benefits it provides. One can use it as a hobby and others can even sell their creativity for making some fast cash. The ease of use cannot be sufficient in a few words. If you can think of something beautiful, the 3D pen can make that possible to create in few strokes of your hand.
If you are too experienced and have been using 3D printers for your requirements, it would be too difficult for you to find the best 3D pen. However, if you are a beginner and like to learn about new technologies, you would love to choose the one with basic features as well.
So, check out the options above and find the one that seems like the best 3D pen as per your needs.