We live in an era where technology has replaced manual labor and made it easy for us to carry-put our work more efficiently and save time.
The market is filled with complex and intelligent structures, and in this buying guide, we will be shedding light upon small 3D printers, which have grown immensely since their introduction in the 1980s in the realm of technology.
These days, modern 3D printers allow you to make high-quality metal parts and prototypes using less time and energy and reducing material waste.
Nowadays, companies prefer investing in machines that are high-speed and easy to use, while producing admirable results. There are various contemporary small 3D printers for you to choose from that fit your needs and can help you make your innovations come to life. Check them out below.
What Are Small 3D Printers And How Do They Work?
With the assistance of computer-aided design (CAD), 3D printers make three-dimensional items by layering materials like composites, plastics, or biomaterials.
You can fashion your objects in your desired shapes, colors, rigidity and sizes, and create lightweight parts that are strong and are flexible enough to be molded in any way possible.
Hence, they are a great way to put your creativity and innovation to the test and come up with original results which can help you market your products, leading to a flourishing business.
Small 3D printers are lightweight and compact, which means you can keep them in your office, school, or in the comfort of your home. They usually do not make much sound and are user-friendly for all ages, and are ideal for teaching 3D printing.
What Are The Benefits Of Small 3D Printing?
Small 3D printers are one of the go-to devices for beginners, hobbyists, or people who want their kids to start 3D printing. For parents who want to introduce their kids to 3D printing, small 3D printers are a great way to start as they are not harmless due to their size, and can be operated by them as well.
You do not need any expensive machinery, labor, or a warehouse to produce anything, which is ideal for small businesses as well. They are easily operable and do not take much of your time. Small 3D printers also use fewer materials and energy and are comparatively less toxic than large 3D printers.
For small 3D printing, you need a small, dense printer that is less expensive than large 3D printers are. 3D printing also allows you to create geometrical or other complex designs those traditional methods cannot, allowing for innovation and opens imagination for beginners, children, or students.
They are very much useful for supply-chain management and printing on-demand, which enhances your skills and also aids you in your business.
Comparison Chart
| Name | Link | Nomination | Overall Rating |
| --- | --- | --- | --- |
| Pusa i3 MK3S | | Most versatile | 8.5 |
| Ender 3 | | Lightweight and compact | 6.75 |
| FlashForge Creator Pro | | Most consistent | 7 |
| FlashForge Finder | | Very User-friendly | 7 |
| MakerBot Replicator Mini Plus | | Good for beginners | 7 |
| Dremel DigiLab 3D45 | | Easy to use | 6 |
| Monoprice Select Mini V2 | | Very resourceful | 9 |
| Monoprice Mini Delta | | Intelligent system | 7.5 |
| Anycubic Photon Zero | | Budget-friendly | 7 |
| Sindoh 3DWOX 1 | | Most adaptable | 8.75 |
| M3D Micro | | Most intuitive | 8 |
| FlashForge Finder 2.0 | | Safe for all ages | 8 |
| Tiertime UP Box Plus | | Most facilitated | 8 |
| Witbox Go | | Stylish, minimalist design | 7.5 |
| DAGOMA NEVA Magis | | Overall Best | 9.75 |
Recommendations for 15 Small 3D Printers
Pusa i3 MK3S
The Original Prusa i3 MK3S+ follows in the footsteps of the acclaimed Original Prusa i3 MK2. This is one of the best small 3D printers from Prusa due to its rebuilt extruder, a wide range of sensors, and the brand new magnetic MK52 heat bed with a PEI spring steel print sheet that you can replace if required.
The printer has improved safety features and can also print up to five filaments simultaneously, thanks to the multi-material upgrade 2S.
Uses:
Automatic mesh bed leveling, a filament sensor, a power loss recovery, many other and safety features
The SuperPINDA probe presents a high-quality sensor for a completely automatic mesh bed leveling process. Prior to printing, the MK3S+ studies the bed in many places and draws out a virtual height map of the print area. This process allows the first layer of print to be on target
The spring steel sheets are easy to manage and make the removal of items smooth and simple
Comes with an internally placed multiplatform slicer
Ender 3
Great for beginners and hobbyists, the Ender 3 by Creality is a cost-effective and versatile 3D printer.  It is great for people who love science and engineering or exploring 3D metal printing. This printer can work continuously for a whopping 200 hours without any pressure.
Uses:
The Creality Ender-3 3D Printer can reach 110oC for hotbed in approximately 5 minutes, which is suitable for printing ABS
The printer comes with V-slot wheels that rotate along the aluminum extrusions, making the printing process very smooth
Equipped with a BuildTak-like heated build plate, a power-saving mode, and a solid filament pathway for smooth printing with flexible materials
FlashForge Creator Pro
With a build volume of 8.9 x 5.8 x 5.9 inches, this is one of the sturdiest small 3D printers in the market, with a metal frame rather than the original Creator's wooden frame.
For easier access to your prints, the front door has been re-designed and pre-installed. Due to its open-source technology, the printer gives precise and great quality prints.
The Creator Pro proves stylish and user-friendly. Moreover, you have the liberty to choose your preferred software, such as FlashPrint, Cura, Simplify3D, and more.
Uses:
Comes with an aviation level aluminum plate that is 6.3mm thick, ensuring that the surface is completely flat and will not warp in the heating process
The enclosed chamber sheathes and secures ABS prints. The filament diameter is 1.75 mm
FlashForge Finder
FlashForge Finder is one of the most well-known small 3D printers for beginners. Although a bit pricey, this sophisticated model offers Wi-Fi connectivity and a color touchscreen.
This model is user-friendly and comes fully assembled. It does not make much noise and the printing quality is reliable. This printer can serve as a crash course for beginners and is acclaimed for boosting the interest levels in most of its users.
Uses:
The printer's build surface of the plate has an entirely flat glass surface covered with a thick self-adhesive plastic layer on which the 3D print is supposed to stick while printing. This exchangeable layer is exceptionally durable if you can keep it clean
Also, you can 3D print right onto the glass surface if you cover it with glue using a glue stick or by wrapping the glass with blue masking tape
The build plate of this model is not heated because the 3D printer is fit for PLA filament prints that do not need heated build plates
The special holder for the filament spools fold aptly into a designated space inside it, which means the spool will not stick out from the printer and is also safe from dust and tears
Makerbot Replicator Mini Plus
The MakerBot Replicator Mini+ is an exceptionally intelligent printer, equipped with the Smart Extruder+ and all the great features like an onboard camera, Wi-Fi, and USB cable.
The MakerBot Replicator Mini+ prints 10% quicker than its predecessor and has a 28% larger build volume. It is highly reliable due to its enhanced hardware.
This new 3D printer and its subsystems undergo refining and testing for 380,000+ hours across various aptitudes.
Uses:
Comes with a brand-new grip surface and the prints stick better, which decreases curling or warping
You do not need any blue tap as its build plate is factory-leveled, and so, this printer is ready to print as soon as you unbox it
You can control several printers from the MakerBot Print, which allows you to print on multiple build plates in sequence or simultaneously. Also, with this printer, you can store, keep, and retrieve 3D design files in your personal Cloud library
Can be kept in the classroom, office, or your home as it is non-toxic and 58% quieter
Dremel DigiLab 3D45
This award-winning 3D printer (2018-2020 PCMag Editors' Choice Award and 2019 All3DP Best 3D Printer for Schools Award) set a benchmark for small 3D printers.
It can print up to 50-micron layers and is tested internally by Bosch for 800+ hours, and third-party tested by the UL.
It has various incredible features like a built-in camera so you can monitor your prints, regardless of where you using the Cloud software.
Uses:
The heat build plate (10" x 6" x 6.7") assists you to use PETG, Nylon filaments, PLA, AND ECO-ABSs
The automated 9-point leveling system and the incorporated auto-leveling sensor picks up inconsistencies for the a better print job
The dynamic extruder heats up to 280°C, which proves its flexibility for printing various materials
The 4.5-inch Technicolor touch screen allows you to easily access and operate its settings
Monoprice Select Mini V2
Unlike other small 3D printers, this printer comes fully assembled for you to start printing right away. The Monoprice-15365 Select is compact enough for any desk equipped with a small footprint and a basic open-frame design.
It is an intelligent printer that features a MicroSD card and Micro USB connectivity and is well-matched with both MAC and PC. It's compatible with software like Cura, Repetier, and many others.
This small 3D printer's sample filament diameter is 1.75mm. It comes with a Filament size spool that is about 10ft, and for your convenience has a sample print and filament that is colored natural/clear.
Uses:
Has a heated aluminum build plate with a nozzle cooling fan that supports printing for all filament types
Compatible with a wide range of filament types like ABS and PLA, as well such as wood and metal composites, conductive PLA, and dissolvable PVA
Its maximum extruder temperature goes up to  482°F (250°C)
Monoprice Mini Delta
This printer comes fully assembled, which enables you to use it right out of the box. Known for its durability through steel frame and black anodized aluminum frame, it can withstand shock or abuse.
This small machine has some features of a large 3D printer, a feature you will not find with many other small 3D printers. Given the price, it performs exceptionally well.
Uses:
The auto-calibration system self-analysis so you do not have to muddle with leveling the bed of this printer
The open-source technology enables the print bed and extrusion nozzle to heat multiple ranges of temperatures
Prints through a computer via the Wi-Fi or USB connection, and even offline via a MicroSD card
Compatible with open-source software, like Repetie and Cura, so you can fashion your 3D prints to your preferences
Anycubic Photon Zero
The Photon is a great budget, adhesive small 3D printer. It comes in a stylish, black compact box with a UV-blocking lid. This sturdy printer comes completely assembled.
The build volume of this printer is 97 x 54 x 150 mm, which does not compromise the quality of prints. It is easy to operate and construct and does not take much time.
Uses:
Equipped with a lid-removal sensor, which allows the printer to pause automatically when you take off the lid
The touch screen is smooth and fast and does not lag so that you can easily go through the print menu
Ideal for beginners and experts to make prototypes, models, patterns, and production parts
Sindoh 3DWOX 1
The Sindoh 3DWOX 1 is one of the most convenient and intelligent small 3D printers in the market. It is simple to set up and comes with great advantages like assisted bed leveling and auto-loading of filament.
It has integrated flexibility and heating capability in one device, which makes it truly revolutionary. The HEPA filter in Sindoh 3DWOX 1 lets you print in a safe environment by clearing toxic fumes.
Uses:
Open-source filament mode that lets its users obtain 3rd party filaments
Comes with a flexible metal bedplate for smooth adhesion and safety for the users, so there is no need for extra adhesion or scrapers for the removal of objects
Integrated with HEPA filter to ward off fine particles during the printing process
Unlike many small 3D printers, changing the filament is a tiring job, which includes cutting, mending, and depositing into small openings, which you have to do manually. However, with 3DWOX 1, you just have to insert the cartridge and you are free
This intelligent printer assists you in leveling your bed plate by displaying clear instructions on its screen
Equipped with one (3DWOX 1, 1X) or two (2X) cleaning reservoirs that clean the nozzles to produce clean and vivid prints
M3D Micro
This printer is the updated successor of the original consumer 3D printer. Known for being beginner-friendly, it is safe, lightweight, and quiet for users of all ages.
The Micro+ cam use any conventional, un-chipped 1.75mm filament. It is equipped with free software and a manufacturer's warranty. Like other M3D printers, the Micro+ is made and put together in the USA.
Uses:
Equipped with free M3D software and therefore you can easily upload and adjust the settings of your print
Considering the size of this printer, it produces unexpectedly large prints: it has a print volume of 4.2 x 4.4 x 4.6 inches, totaling 85 cubic inches
The printer's print head and the bed is compatible with a wide range of materials, such as PLA, ABS, nylon, and others
FlashForge Finder 2.0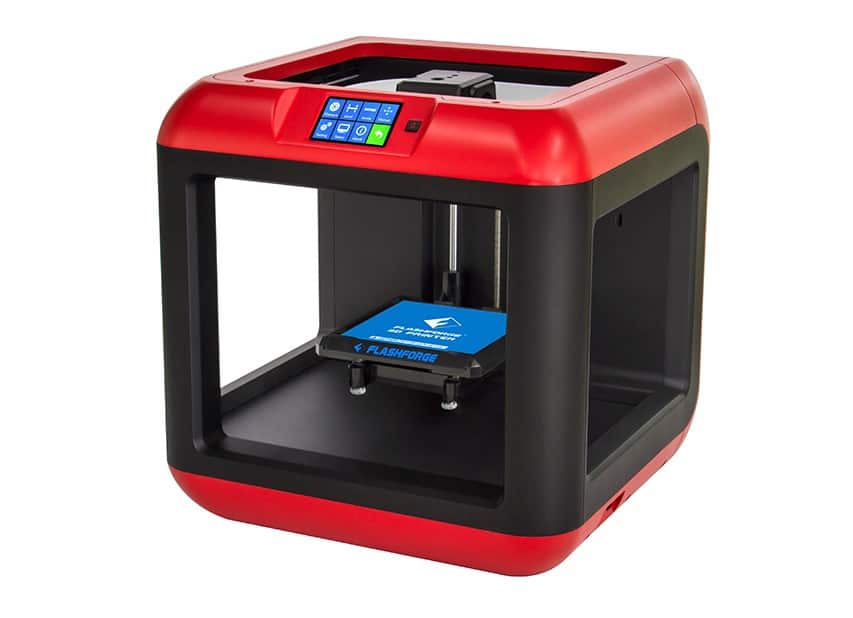 The FlashForge Finder is a small 3D printer measuring 16.54 x 16.54 x 16.54 inches and weighing 24.25 lbs. This printer has a slide-in build plate that enables prints to be removed easily.
It is sturdy, and the plastic alloy build allows stable printing. The 3.5-inch full-color touchscreen enables smooth and easy operation.
Unlike other small 3D printers, this model comes with an intelligent calibration detection system to support leveling.
You can tighten or loosen screws until the nozzle and the build plate are at accurate positions. The touchscreen enables you to follow all directions carefully during the calibration process.
Uses:
This printer is equipped with 2nd generation Wi-Fi connectivity with quick and smooth wireless file transmission. You can effortlessly transfer 3D files from your computer to Finder 8GB memory using your Wi-Fi network under the AP or STA modes
Supports 3D Cloud function that enables you to edit, share, and store, and check the printing status online. It also provides a huge model database
Utilizes non-toxic PLA only, and the heated components are insulated
Extractable platform, which makes removing the models easily and prevents damage to the holder or platform when removing the model
Tiertime UP Box Plus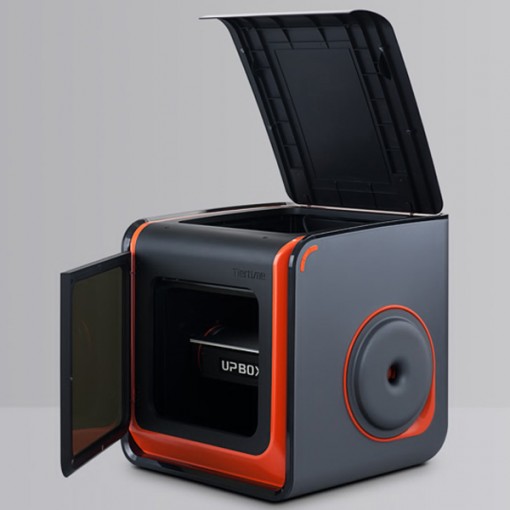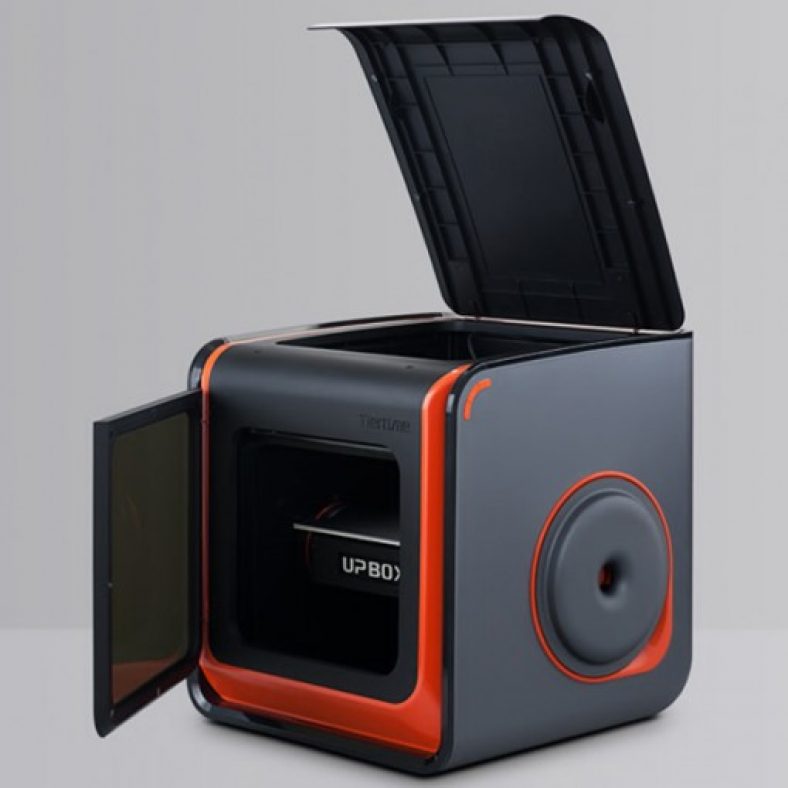 Tiertime is a smart small 3D printer with some outstanding features. It comes with resolute printing materials, i.e. the Tiertime Premium PLA produces high-quality prints using eight vivid colors, and Tiertime Premium ABS provides 17 color options to meet your prototype needs without any odor.
This printer's precision is up to a 100-micron layer with a larger build volume (25. 5 x 20. 5 x 20. 5 cm) than other small 3D printers.
Uses:
Comes with a built-in HEPA filtration system to get rid of microparticles and fumes produced by 3D printing
Resume function, which means in case of a power outage during the printing process, the UP Studio will resume printing where it left off
Will pause automatically if filament runs out
Completely automatic leveling of the platform and can detect the nozzle's height, without intervention
Witbox Go
What really sets this printer apart from the rest of the small 3D printers is that it comes with an Android operating system with a Qualcomm® Snapdragon ™ 410 processor and 8GB memory.
This is a perfect small 3D printer for beginners. It is lightweight (only 5kgs) and is designed to look stylish and minimalistic in any setting, whether in-home or in the office.
Unlike other printers that take ages to assemble, the Witbox Go takes approximately 15 minutes. All you have to do is configure it with your mobile or tablet, and it is all set to start printing.
Uses:
Equipped with a Trinamic Chip that powers all the engines, which means that the machine can stop printing in case the filament is finished, the extruder is jammed, or if the base is not accurately adjusted
This printer has NFC technology, which shifts information straight to the 3D printer about the color and availability of the filament
The nozzle is enclosed by a tough rubber package that amplifies its performance and secures the nozzle
DAGOMA NEVA Magis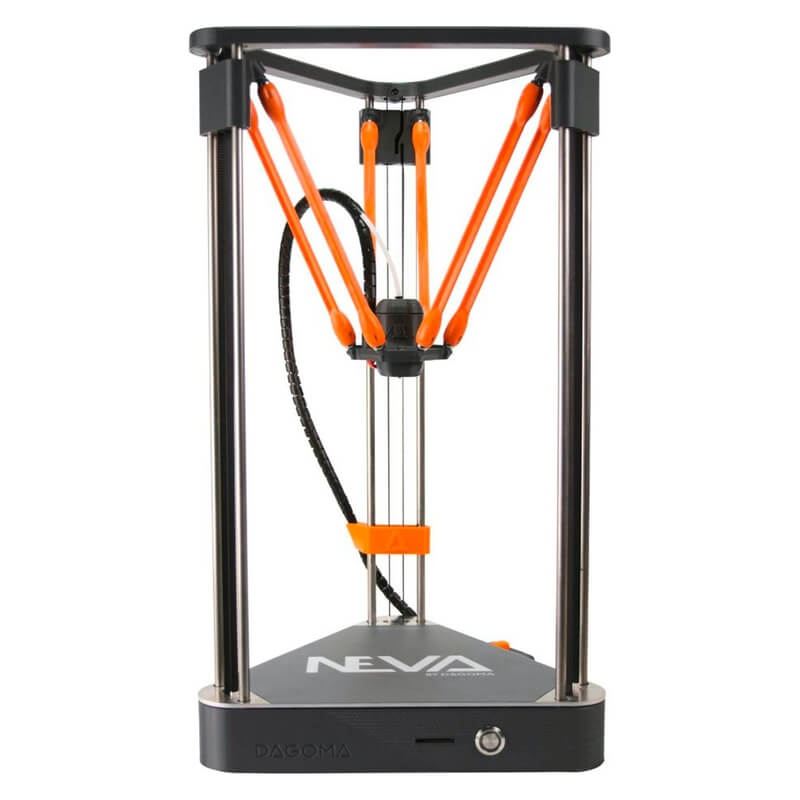 The NEVA Magis by Dagoma is ideal for beginners. It comes fully assembled and ready to use; one button to start, stop and pause the printer. The printer is equipped with free software, giving way to easy configuration.
The NEVA Magis is environment-friendly, which means that you can use it in the comfort of your home and for teaching. NEVA Magis is a cost-effective and ecological device to complete your projects without any trouble.
Uses:
The printer can detect the amount of filament and halts printing in case there is no filament left; you just have to change the spool to continue printing
Automatic ejection upon insert mechanism for filament
The printer auto drains the head when changing colors
Buyer's Guide
A few critical questions you need to ask
What are the mechanical functions of small 3D printers do I need to learn about?
How user-friendly is the printer I am opting for?
Does the printer I am choosing feature current software and storage program?
What kind of metals and composites works well with the printer I choose?
Do I need to be wary of the printer's speed and volume?
How would a small 3D printer benefit my business or work environment?
Prior to choosing a small 3D printer, you should be aware of the prerequisites so you can choose the correct model according to your needs. Below is all you need to know.
Printing Technology: This is the foundation of your machine. Although deciding upon the printing technology is a bit hard, but it is the key to ensuring that your printed object exceeds your expectations. Reflect upon the look your finished product should have, which will enable you to figure out the technology you need for 3D printing.
Precision and Quality: Carry out in-depth research about your device's must-haves so that it fits all the traits for smooth and high-quality printing.
User-friendliness:  The printer should have up-to-date software so you can easily print without issues. A user-friendly printer also helps you deal with errors and improve your quality. You also have to make sure that the printer is safe to use around children.
Size: Keeping in mind your workspace, you need to know the size of your metal printer before buying it so it does not bother your surroundings.
Materials: For the part, you choose to print, you need technology that is compatible with the requirements as there might be separate applications for all parts. This will enable the printer to adapt to the application of the material you print and perform accordingly.
Speed and Volume: For an effortless printing process that does not need any post-processing, you may need to pay attention to your metal printer's speed. And if you choose to print multiple parts, you might have to opt for a larger printer.
Furthermore, some materials are prone to release toxins that can be harmful upon inhalation. choose a printer with an enclosure or a device for ventilation so it can release the gases or fumes outside.
Frequently Asked Questions (FAQS)
What Exactly Do Small 3D Printers Do?
Small 3D printers assist you in processing complex and personalized metal parts in a modern fashion. You can tailor the parts you print to gain the full benefits of their application.
They are capable of producing prototypes and metal parts of exceptional quality and fit best to those who are unaware of the world of 3D metal printing due to their easiness.
Small 3D printers require no tools because they can print parts right from their digital model.
Which Industries Use Metal 3D Printing?
To name a few:
Manufacturing
Education
Robotics
In the medical field; surgeons' tools can be printed according to their and their patients' needs, issues, and morphology.
What Are The Benefits Of Using A Small 3D Printer?
The most important benefit of using a small 3D printer is that you can place it anywhere; it does not require a lot of space and no labor. You can easily assemble it and produce metal parts on your own.
Secondly, it is a great tool for teaching children or newbies interested in 3D printing. The system of small 3D printers is made to cater audience that wants to produce prototypes with less or no hassle, hence they do not require much brainstorming.
Also, you can print the parts in intervals which will help you with the storage of your products, thanks to on-demand manufacturing and a digital inventory.
Usually, we are too busy in our work routine that we often lag behind our assignments or presentations. If you are invested in 3D printing, small 3D printers can help you print parts quickly and aid you in your presentations, so you can make a great impression on your audience.
You can take full advantage of your 3D printer by using the latest technology to print excellent metal parts and prototypes. This gives you a competitive advantage over other companies and increases your market value. They are all compatible with up-to-date software which makes them print high-quality products.
Lastly, you can save money, time, and energy, and if you have a small business, this can really be an advantage for you. It does not affect your environment because it produces fewer toxins.
Are Small 3D Printers Expensive?
A few small 3D printers are expensive and might only be affordable for multinational companies or high-end institutes. It depends on your preferences and budget so that you can make the right choice.
If you are buying it as a hobbyist or a beginner, you might want to invest in a less-costly printer that does the job of introducing you to 3D metal printing.
If you have a small-scale business and you have worked out every part of 3D metal printing, you may invest in an advanced small 3D printer.
You ought to carry out in-depth research before you invest in a small 3D printer.  Other models are not expensive as they incorporate cheaper parts.
What Are Some Modern Printing Technologies Used For Small 3D Printing?
The 3D printing industry is rapidly expanding, and so, up-to-date technologies come out regularly. Considering this, you may choose the printer according to your needs.
Some contemporary methods of printing include:
Binder Jetting
Ultrasonic Additive Manufacturing
PrintSyst
Powder Bed Fusing
Metal Material Extrusion
Is There Any Difference Between Large 3D Printers and Small 3D Printers?
With large 3D printers, you can manufacture huge items, like 3D metal houses or furniture, and even bridges. In comparison, small 3D printers are compact and do not require much space, and are usually affordable, plus, they come in appealing designs which make them look captivating in your space.
Other than that, large 3D printers may need to be placed in a separate place because of their functionality and may need an expert's back-up who has all the know-how of metal 3D printing.
Large metal printers usually come in handy for fields like aerospace, automotive, and manufacturing. But, small 3D printers can also be used simultaneously for producing smaller parts that help in creating your project.
Conclusion
In today's market, small 3D printers have made an outstanding impression. In times like these, where the rise in technology is relentless, 3D printing amplified its development to cater to modern techniques. So many small 3D printers have aided people from all aspects of life.
You do not need to be in the field of 3D metal printing to be able to use them. You can just be curious, a hobbyist, or an artist who wants to explore their niche. Regardless of their costs, they add great value to production and innovation that we may not be able to achieve with traditional methods.