Markforged Onyx Pro 3D printer
Markforged's machines generally perform well and Onyx Pro is just another example of how the company has applied its knowledge and experience to build a 3D printer at a much lower price. If you are looking for a machine that allows you to print high-performance parts and functional prototypes, you will hardly have a choice as solid as this one.
PROS
Capable of building parts and functional prototypes that are ten times in strength than mainstream 3D printing materials.
Excellent layer resolution range.
Stable body.
Very intuitive software.
CONS
Cost of 3D printing materials compatible with this 3D printer is very high than mainstream FDM 3D printing materials.
Product
Specification
Videos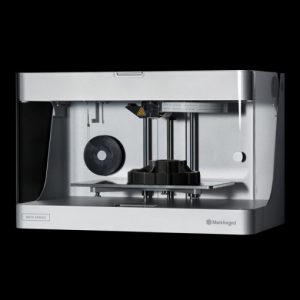 Facilitating two extruders, Markforged Onyx Pro is a professional desktop 3D printer capable of 3D printing parts with a high surface finish and heat ...
| | |
| --- | --- |
| Model | Onyx Pro |
| Manufacturer | MarkForged |
| Price Range | $ 6999 |
| Release date | 2017 |
| Country | United States |
| Availability | Available |
| Classification | Professional |
| Technology | Extrusion (FFF- FDM…) |
| Material | Carbon fiber and composites, Other plastics |
| Filament diameter | 1.75 mm 0.07 in |
| OS compatibility | Linux, Mac OS, Microsoft Windows |
| Max. build size | 320 × 132 × 154 mm 12.6 × 5.2 × 6.06 in |
| Max. build volume | 6.50 L |
| Min. layer thickness | 0.1 mm 0.004 in |
| Dimensions | 575 × 322 × 360 mm 22.64 × 12.68 × 14.17 in |
| Power input | 110-220 V 50-60 Hz AC |
| Heated print bed | No |
| Heated build chamber | No |
| Automatic calibration | Yes |
| Closed frame | Yes |
| Dual extruder | Yes |
| Independent Dual Extruder | No |
| Full color | No |
| LCD screen | No |
| Touchscreen | Yes |
| On-board camera | No |
| Mobile app | No |
| 3D scanners | No |
| CNC mill | No |
| Electronics 3D printing | No |
| Laser engraving | No |
| Conveyor belt | No |
| Air filter | No |
| Pellet extruder | No |
| USB | No |
| Wifi | Yes |
| Bluetooth | No |
| SD card | No |
| Ethernet | No |

Table of Contents
Onyx Pro is an advanced-level professional 3D printer that builds parts and functional prototypes using Continuous Fiber Reinforcement 3D printing process.
The printer has is built around an Aluminum unibody frame which delivers high accuracy as well as repeatability.
This 3D printer's hardened extrusion system enables it to print with 3D printing materials such as Onyx which is a micro carbon fiber-filled nylon filament that destroys traditional extrusion systems continuously reliably for thousands of print hours.
This machine is built to be easily operated and maintained. It has got easy-to-reach wear components like nozzles and feeds tubes for usability with focused features such as the print bed that can be removed and replaced with ten micrometers repeatability.
Moreover, there are also common features that you typically get to see in any FFF 3D printer.
The Onyx Pro has a second-generation fiber reinforcement system that avails you laying down continuous printers which are capable of printing continuous fiber-reinforced parts that can replace machined Aluminum parts. Let's start looking at different aspects of this printer.
Features
Onyx Pro is capable of 3D printing fiberglass that can build parts and functional prototypes that have ten times more durability than ABS.
It leverages the power of Continuous Fiber Reinforcement at an unbeatable price point. The printer is built precisely to enable you to print 3D parts and functional prototypes with precision.
Making continuous fiber accessible: Being in the same price range as many other 3D printers, Onyx Pro is able to print continuous fiberglass reinforced parts and functional prototypes that are ten times more durable than ABS. They are even known for replacing machined aluminum parts in many applications, in many industries.
Build to last body: The overall body of Onyx Pro is very solid. It features an Aluminum chassis and precisely machined components that deliver lights-out reliability over thousands of print hours. You can use it for mass production. The machine is conditioned to provide consistency even when you are printing many parts and functional prototypes in one go. It would not vibrate even when you are manufacturing a part or functional prototype that has a dimension that is equal to the maximum build volume this printer can offer.
Precise and beautiful parts: Onyx Pro can print precise parts with the best-in-class surface finish. Its ability to print with Markforged's most versatile material i.e. Onyx, micro carbon-filled nylon material is what makes the printer stand out from other 3D printers in the same price range and even above. The Z-axis layer resolution range offered by Onyx Pro is a hundred to two hundred micrometers.
Specifications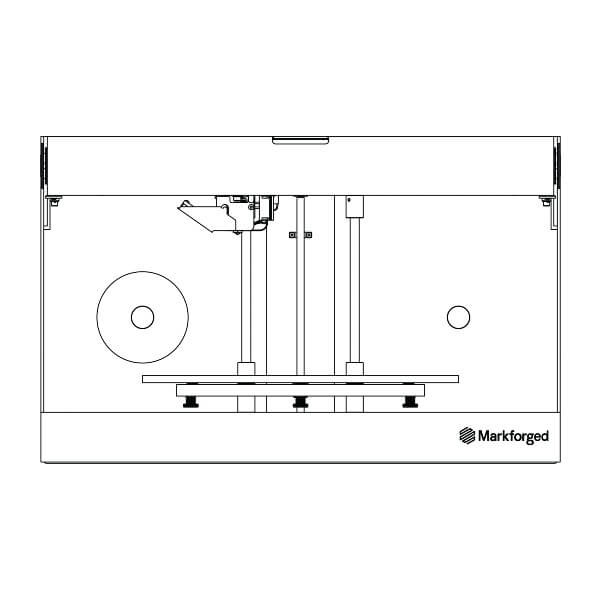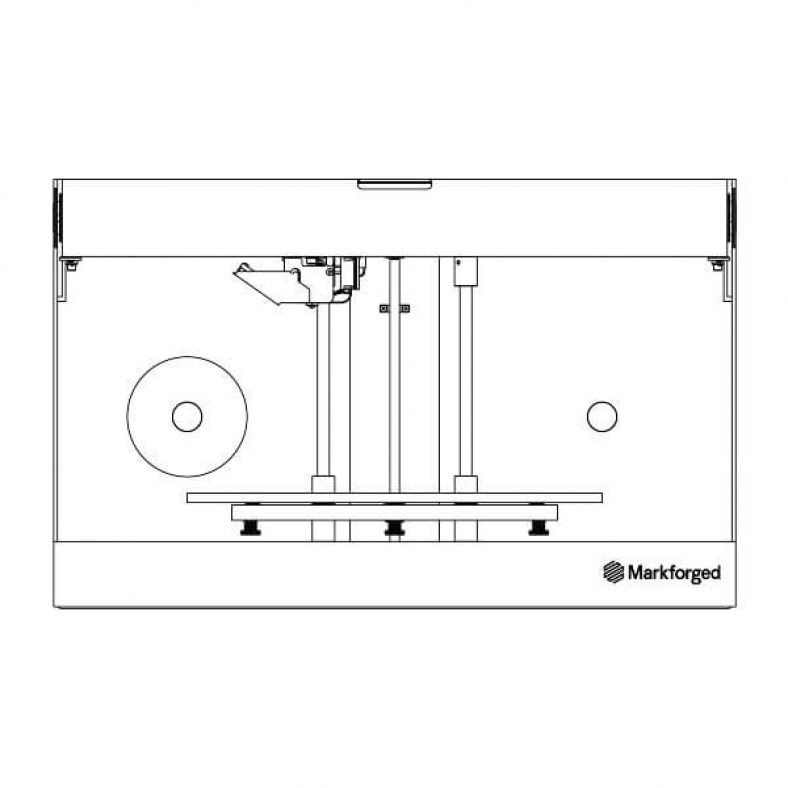 Credit: creat3d
As the name of this printer, Markforged Onyx Pro hints, it is capable of 3D printing using Onyx i.e. Nylon and chopped carbon filament.
The maximum build volume that you can print using this 3D printer is 320 mm * 132 mm * 154 mm, while the machine's overall dimensions are 575 mm * 322 mm * 360 mm.
It weighs 13 kilograms and manages to print parts and functional prototypes that have a layer resolution range of 0.1 mm to 0.2 mm.
The printer can be connected using Wi-Fi as well as USB. You can monitor this 3D printer using a web-based process.
The printing process used by this 3D printer for making parts and functional prototypes is Continuous Fiber Reinforcement.
You can print using composite base filaments and continuous fibers. The print bed of this printer has a kinematic coupling which is flat to within 160 micrometers.
The extrusion system of this printer features a second-generation extruder that has an out of plastic detection.
The power supply needed for this 3D printer is 100-240 Volts AC, 150 Watts, 2 Ampere peak. The printer needs an RF module with an operating band 2.4 GHz Wi-Fi Standards 802.11 b/g/n.
Price
To know the price of this printer you must request a quote from the company.
First Impressions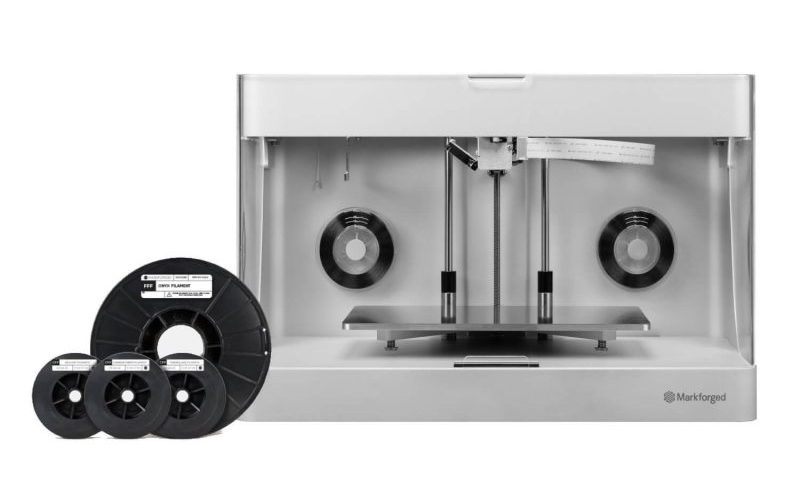 Marforged Onyx Pro has a design that is attractive enough to catch your eye's attention at the very first moment. The top and bottom of the body of this 3D printer are made up of Aluminum chassis.
There is a touch screen interface that directly gives you access to the setup of this 3D printer, administration as well as a full print queue which can be shared amongst your team.
There is a fiber local point on the extreme right of the print chamber of Onyx Pro.
On the extreme left, you have the fiber feed. There is an upgradable extruder head right in the center of this 3D printer.
The most eye-catch part of the inside of this 3D printer is the combination of high-quality engineering magnets that lets you snap your build plate in and out even when you are midway through a build.
The printer's print chamber can be accessed by opening the transparent part of the body. Overall, Markforged Onyx Pro looks like a rectangular box.
Setup
Once you have taken out all the stuff from the box and gotten familiar with each and every one of that, you need to run through the machine's setup.
You will have to power up the machine, connect it with electricity and run subsequent updates on the firmware.
You'll need to attach the Pelican case and feed tube that takes the Onyx material spool as well as a filament from an airtight container into the machine.
This complete process is going to take you about fifteen minutes and then you are all ready to go.
One of the key benefits that separate Markforge machines are the build platform of its printers.
Onyx Pro features three-point magnetic mechanical fixtures. Especially, because of the robustness of its build quality and some of the finest engineering works that you will ever see.
When you are done with the bed leveling process, you can completely leave it alone.
Printing Type/Cost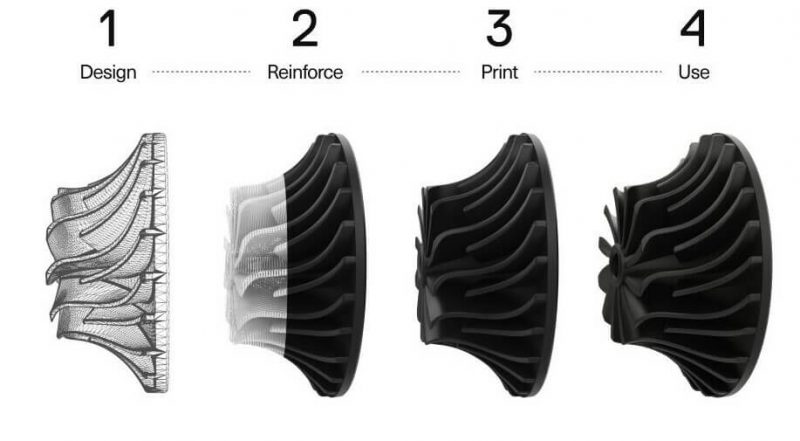 Continuous Fiber Reinforcement is the name of the 3D printing technology based on which this printer creates parts and functional prototypes.
The materials that you can use with this 3D printer are Onyx and Fiberglass. Both of which are rare 3D printing materials and are able to produce parts and functional prototypes having immense strength compared to any of the mainstream FDM 3D printing materials like ABS, PLA, or any other.
The printing process is similar to FFF 3D printing, the filament spool of the 3D printing materials needs to be fixed inside the print chamber of this printer.
It is connected with the nozzle system and starts to flow after reaching its glass transition temperature.
The melted material is laid down according to the geometry of the part or functional prototype required. And the nozzle system moves up by a layer and the same process is repeated until the construction of the complete part or functional prototype is accomplished.
The printing cost of a part or functional prototypes using this technology is much more because of the cost of the 3D printing material onyx and fiberglass.
Although 3D printing cost depends on many factors like the geometry of the part or functional prototype that you are 3D printing, the level of infill required, the need for supports if any, etc, with Onyx Pro it is got to be much more than any average desktop 3D printer in the same price range.
Print Quality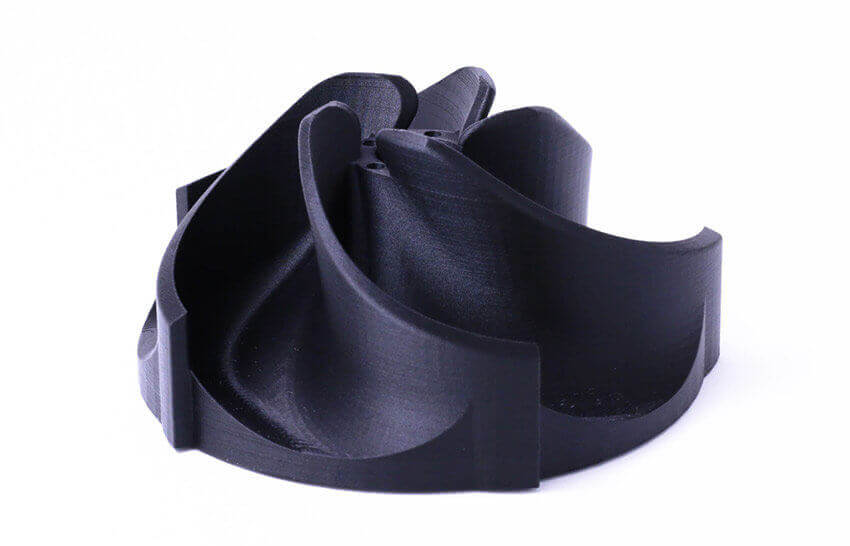 Credit: treatstock
Onyx Pro is very different compared to Markforged's previous versions. You do not get to see any single strand carbon fiber complexity of the set-up. It prints with two materials Onyx and Fiberglass.
Being a single build process particularly means that are some issues with support material as well as in surface quality.
But the parts that come into contact with the supports, do have a less than the optimal surface, this is what makes it better than other similar systems.
It is partly down to the material itself and the remaining to the support generation algorithms.
The printer manufacturer has done a very good job in regards to the support material peeling away easily without impacting the surface quality very neatly.
The parts and functional prototypes made from Markforged Onyx Pro are incredible. They have a bang-on-surface finish. But that's not their specialty. Their point of focus is their inherent strength.
When compared to any other desktop-level 3D printer that is dependent on single build material machines, the Onyx Pro is fantastic and the parts and functional prototypes made from it should stand up to any kind of heavy abuse. The printer is stronger, stiffer, and ready to operate at higher temperatures.
Software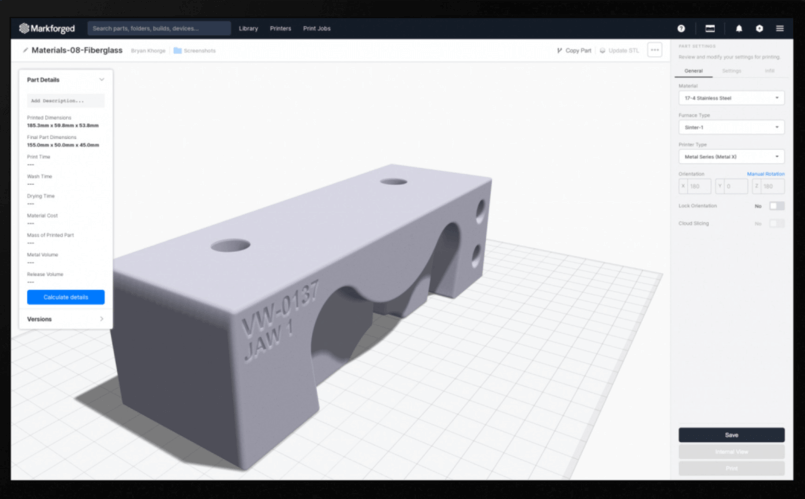 The printer is compatible with Eiger Cloud, and if you want to use any other 3D printing software you will have to pay extra cost.
For accessing this software you will have to undergo two-factor authentication, org admin access, and single sign-on.
Customer Support
Markforged is a company that offers excellent customer support via phone as well as email.
Parameters Influencing Buying Decision
A summary of the most important points that we think must influence your buying decision is mentioned below.
3D Printer Cost: Seeing the features offered by this printer, it is very affordable compared to other 3D printers in a price range higher than this one.
3D Printer Quality: High-quality surface finish is something that you see in parts and functional prototypes manufactured by this printer. Additionally, there is strength in the objects that you create on this printer which is unmatched in the industry.
3D Print Speed: The print speed of this printer is average.
3D Printer Capability: Although the 3D printer is only capable of creating objects with two 3D printing materials, it's enough. Parts and functional prototypes made from these materials find application in various industries.
3D Printer Practicality: When in operation, the printer's body does not vibrate even while printing a part that has the same build volume which is the maximum Onyx Pro can offer.
3D Printer User Expectations: The printer will easily be able to fulfill expectations like durability, strength, surface finish in the parts that you manufacture using this printer. Overall, it is great in use at your home, office, in school for teaching kids 3D printing, as well as for professional designing.
The Verdict
The only point of concern while buying this printer is the cost of the material you can print with this printer.
Onyx is available at $189 for 800 cubic centimeters which are way high than ABS, PLA, PVA, PETG, or any other filament with which you can generally print in any 3D printer that competes with Onyx Pro.
The integrated camera present inside the machine and its connection with Eiger software produce some amazing outcomes.
If you are someone who likes building a part or functional prototype overnight, Onyx Pro is something that should be your go-to.
Markforged's machines generally perform well and Onyx Pro is just another example of how the company has applied its knowledge and experience to build a 3D printer at a much lower price.
If you are looking for a machine that allows you to print high-performance parts and functional prototypes, hardly do you have any choice as solid as this one.
And this is why you should try thinking to go the extra mile and take up the risk of buying the expensive Onyx material or Fiberglass.
Because if it is able to produce high-strength parts and functional prototypes that are unmatched in the market, it is obviously going to sell in the market like no other.