Large 3D printers help you save time and reduce material wastage. This technology allows you to efficiently make economical prototypes and parts and they consume less energy.
These days, companies prefer producing machines that are high-speed and user-friendly. There are various large 3D printers in the market with a number of specifications and serve many different preferences.
Keeping all of this in consideration, this article will help you choose the best large 3D printer according to your needs. Check them out below.
What Are Large 3D Printers And How Do They Work?
The large 3D printers involve using laser beams that liquify 20 to 60-micron layers, which allows designers to fashion complex shapes and details that may not be possible with conventional production methods.
Upon completion, the material is post-processed by eradicating the support structure, washing, and heat-treating. Sometimes sanding is also carried out, depending on the surface finish required.
What Are the Benefits of Large 3D Printing?
Large 3D printers have many benefits and one of them includes no restrictions on design. From geometrical ones, additive manufacturing produces all designs with faster speed and accuracy.
One of the major advantages is that it omits overheads and bandwidth issues that might come with tooling. This means that the user can produce low-volume and affordable parts quickly.
In addition, it excludes production issues like disorganized workflows, third-party manufactures, and complex purchasing. Moreover, additive production is the best choice to manufacture customized objects.
Since there are so many advantages of 3D printers, manufacturers have started investing avidly into buying a large 3D printer.
With so many benefits of having large 3D printers, manufacturers nowadays cannot resist the idea of investing in them.
Comparison Chart
| Name | Link | Nomination | Overall Rating |
| --- | --- | --- | --- |
| Creality CR-10S Pro | | Easy to Assemble | 7 |
| Creality Ender 5 Plus | | Time saving | 9 |
| Monoprice MP10 | | Great printing speed | 7.5 |
| Dremel Digilab 3D20 | | Best Value | 8.5 |
| TronXY X5S | | Most cost-effective | 7.5 |
| LONGER LK1 | | Most resourceful | 8.5 |
| Xinkebot Orca2 Cygnus | | Intelligent processor | 6.5 |
| Qidi Tech X-Max | | Very efficient | 7 |
| gCreate gMax 2 | | Easy to use | 8 |
| Ultimaker S5 | | Most Reliable | 8 |
| Airwolf 3D EVO 22 | | Safe to use | 8 |
| eMotion Tech Strateo3D | | Very versatile | 8 |
| Raise3D N2 Plus | | Easy to monitor | 8.5 |
| BCN3D Epsilon W50 SC | | Most non-toxic | 7.5 |
| MakerFarm Pegasus 12 | | Impressively large print bed | 9 |
List of Best Large 3D Printers
Creality CR-10S Pro
The CR-10S works better than the printers that are cost approximately four times as much.
It is one of those large 3D printers that have an impressive set of printing abilities, such as its large build and a filament sensor that detects when it is running out. It is easy to set up and user-friendly.
It produces smooth layers and prints complex objects in PLA with excellent precision.
Uses:
Comes with a large printing size, up to 300 x 300 x 400 mm, with a sole print or split, and therefore, you can combine multiple parts easily
Resumes printing from the prior layer in case of a power failure
You can now feel in control with its improved dual Z Axis Leading Screws; high positioning precision, smooth and faster printing
Suitable for beginners and experts
Creality Ender 5 Plus
Creality's large 3D printer allows you to accurately measure the slant of the hotbed through its BLTouch Auto Bed Leveling Sensor and allows Z-axis leveling compensation, which saves your time and reduces waste.
By downshifting of Z-axis together, it enables the movement to be smooth and unproblematic.
The printer is easy to set up and has an Ender 5 Plus color touchscreen for effortless operation.
Uses:
This printer comes with a tempered glass plate over the heated bed, which makes removing the models easier. It also enables the hotbed flatter and gives complete production
Sturdy and large cube frame with a print volume of 350 x 350 x 400 mm
Upon restart, you can continue printing where you left off
It helps protect the power supply while doing long-term printing
There is a filament end sensor. which pauses printing when filaments run out, will be paused if filaments run out, shut off, or during other disturbances,
The Thermal Runaway Protection will allow the printer to switch off automatically in case the temperature rises If the temperature rises uncontrollably
Monoprice MP10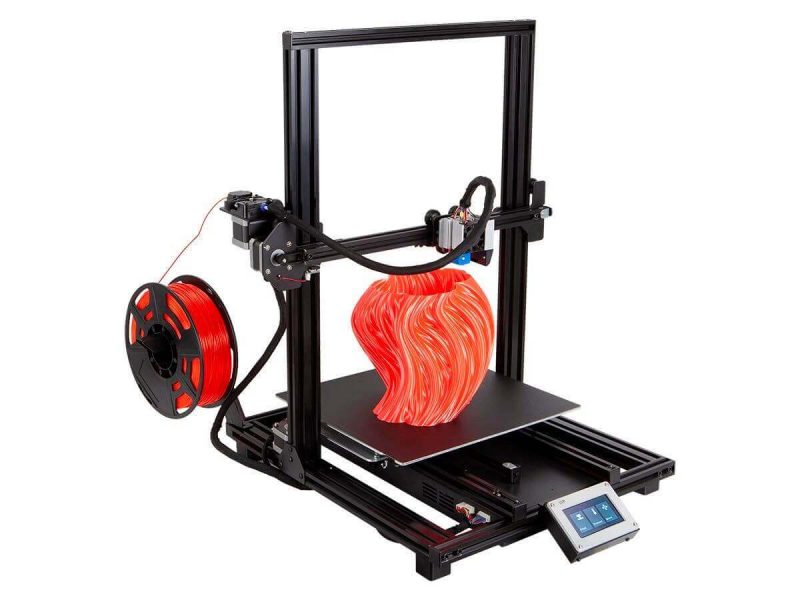 The MP10 is loaded with features. It makes its place in the large 3D printers' list with an area of 300 x 300 x 400 mm.
It is equipped with a 300 x 300 heated, flexile, and detachable steel spring build plate, and an all-metal extruder.
With this printer, wiring is not a problem, as all parts are pre-wired and primed with the connections covered in the cable management sleeve.
The Monoprice MP10 3D printer is well-known for its sharp and clean prints.
Uses:
It has a convenient Magnetic Extruder. The retractable magnetic Transmission enables an effortless launch point for fitting an extruder system of your preference
2 Screw Hot end Removal for accessing your hot end is simple, allowing fast switches to the tool head achievable. You can change from a 0.4mm to a 0.6mm nozzle without the trouble of actually swapping the nozzle
Bed Level Sensor: Leveling is simple with its level sensor. It senses changes in the bed, which enables you to set a correct Z offset to make first layers easy. Its Filament Diameter is up to 1.75 mm
The Print Bed is heated, detachable, & ductile, easily hitting 100oC, its large 300 x 300 print bed makes unfastening prints simple. The magnetic platform makes polishing and separating the bed manageable and undemanding
Dremel Digilab 3D20
Manufacturers trust Dremel since 1932 due to its high quality and flexibility. This large 3D printer (18.5 x 13.39 x 13.78 inches; 15.43 Pounds) gives countless hours of superior quality printing with a low-cost budget.
The Dremel 3D20 is one of the most user-friendly printers on the market, which ensures smooth and effortless printing.
This printer has better safety, thanks to features that include PLA-only printing, as well as a complete enclosure. The build plate is also non-heated, and the printer itself received a third-party UL safety approval.
Uses:
You can start your first print fast and easily with this pre-assembled printer, which also includes a 0.5 kg spool of filament
Works well with the newest Dremel Digilab 3D Slicer built on cura, the industry's chief open-source 3D printing software and gcode files so you can have the liberty of using your preferred slicer
Comes with a full-colored touchscreen so you can alter settings directly, search for files in its SD card, and print smoothly.
The printer's non-toxic, reusable, and plant-based PLA filament is harmless around children at home
TronXY X5S
TronXY X5S is a large 3D printer produced by Shenzhen Tronxy Technology Co., Ltd. Sold as a DIY Kit for you to assemble. It comes with a sturdy frame and a huge print volume of 330 x 330 x 400 mm.
Since early 2018, it is credited as one of the best-selling large 3D printers on platforms like Gearbest and Aliexpress. This sturdy model comprises aluminum.
Uses:
The printer is equipped with a heated bed, so you can 3D print with materials like ABS, Nylon or PETG
USB and a provided SD card ensure connectivity
The TronXY X5S is compatible with CoreXY cube configuration, which ensures that the stepper motors from the Y and X-axis don't vibrate while printing by remaining stagnant when not being used, which enables faster and accurate printing
Other than rigidity and smooth sliding, the setup is sturdy for the X and Y axis with the pulley system, which lasts long after continuous use
TronXY X5S makes for a precise balance between longevity and accuracy. The v-slot wheels on the gantry add more stability
LONGER LK1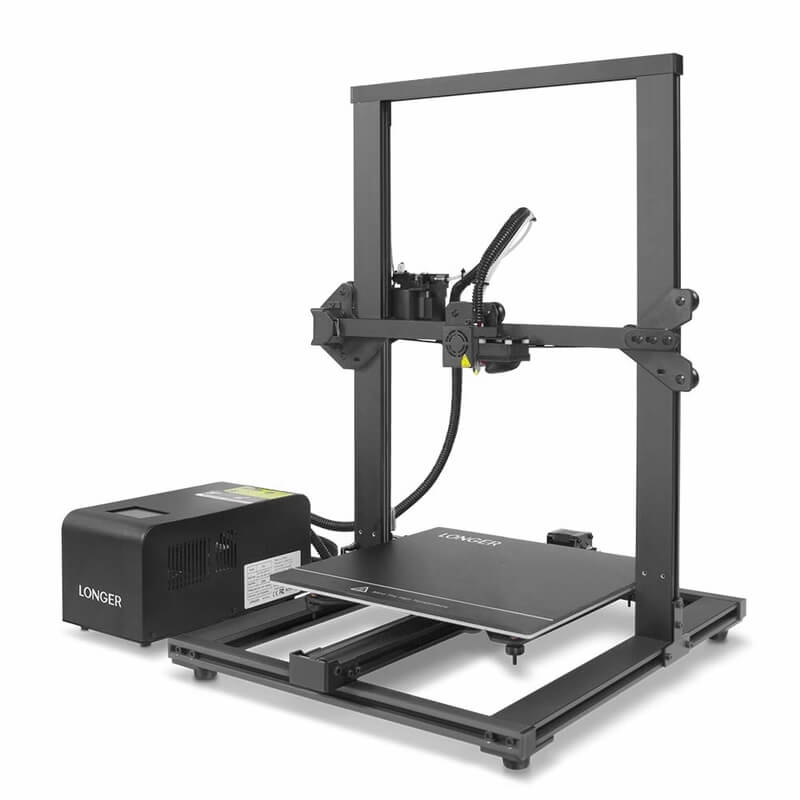 This is easily one of the largest 3D printers in the industry with a build volume of 300 x 300 x 400 mm.
It is user-friendly; takes only 15 minutes to assemble and can be easily operated through its 2.8-inch touchscreen, which is equipped with the newest UI preview model.
An interesting feature of the printer is that it provides you real-time printing status during usage, which allows it to be more intelligent and precise.
The printing speed goes up to 180mm/s, which lets your ideas come to life in a few moments.
Uses:
The printer comes with a tempered glass bed that efficiently stops warped bed issues and protects your heated bed
You can easily remove the printing models after they cool down
The LONGER LK1 will resume printing in case of a power outage or it accidentally pauses. This helps you retain material and power
LONGER LK1 employs a new aluminum extension profile to improve the structure's rigidity and stability
Xinkebot Orca2 Cygnus
The Xinkebot Orca2 Cygnus is widely known for its large build volume (400 x 400 x 500 mm).
The makers of Xinkebot Orca 2 Cygnus made a flawless structure of this printer, which enables them to work as high as 50 micrometers in layer resolution.
To make sure that this printer takes minimal time in production and processing, it comes with a direct extruder. All of these traits allow for a smooth, effortless printing process.
Uses:
Build volume of 400 x 400 x 500 mm
Comes with new mechanical structures and designs, which allows it to print big prototypes with incredible surface finish
Equipped with detailed designs of the aluminum heated bed, the z-end stop and the wires enables it to be a user-friendly printer
You can operate your prints on the fast-response 2.8″ full-color touchscreen
Qidi Tech X-Max
For 6 years, QIDI TECHNOLOGY focuses on developing the finest, high-performance large 3D printers to date. It enables the users to print larger prototypes.
With features like air purification, Wi-Fi, and soundless printing, this printer sets the bar high in the market.
Apart from all the features described above, QIDI TECH is known for its high-quality printers and customer service
Uses:
Extruder A prints material like PLA, ABS, and TPU, which is installed in the printer already
Extruder B prints advanced material like Nylon, Carbo Fiber, and PC
Equipped with a 5.0-inch touchscreen, which is wide and easy to use for smooth operation
Adjustable bent, metal extraction plate, which can be repeatedly used
gCreate gMax 2
Designed and produced in Brooklyn, NY with various parts sourced in the USA, gMax 2 offers affordable, high-quality printing.
It comes with a huge format desktop 3D printing and is made to assist the wants of various industries.
This printer is ideal for efficient and harmonious 3D printing of large parts and is easy to use.
Equipped with features like Wi-Fi, SD card, Cloud and USB, and USB Memory Printing, all of which are run by the gTouch Controller and Astroprint.
The print quality of gMax 2 is stronger than FDM printers and is comparatively consistent.
Uses:
The printer can be monitored through your phone, computer, or cloud. No wires are needed.
Slicing and printing can be done from the cloud
Has a brand new 600-watt heated bed with an outer relay that your gMax printer controls and temperatures are adjustable per layer
There are customized slicing profiles; whether you choose the paid or free version, you can pick the option that best suits your needs
Tailored to print with a wide array of 1.75mm filaments right out of the box
Ultimaker S5
The Ultimaker S5 is one of the newest large 3D printers from Ultimaker, designed to make industrial-quality prints on your office desk. It has a big building volume of 330 x 240 x 300 mm, which guarantees precision and accuracy.
It is important for industrial printing to allow produce smooth molding of consumables; hence, it is equipped with a filament sensor
Uses:
The printer has a secured front with tinted glass doors, which allows optimal building space temperature and airflow
3D printing will be paused by its filament flow sensor in case you need new material and you can continue where you left off
In union with its dual extrusion extruder and the usage of water-soluble support material, it makes for an impressive selling point on the market
The printer's 11.9 cm touchscreen enables you to operate your 3D printer easily. Moreover, it caters to all the important data for the finest control of the settings. All operations are supported by high-resolution figures and thorough descriptions.
Airwolf 3D EVO 22
Airwolf 3D is a 3D printer manufacturer in Fountain Valley, California. The latest 3D printer is the EVO 22 large 3D printer. This is a successful alternative to its current EVO printer.
Evo 22 has great precision and high-speed printing, which allows engineers, students, and hobbyists to create projects effectively.
The brand-new 3D printer is 22.75 inches tall, which makes it a foot taller than its preceding model that enables the printer to produce larger parts.
Uses:
Equipped with two built-in chamber heaters and a high-temperature print bed; 160 degrees Celsius, the Tri-Heat Build Environment allows users better control on the machine's internal atmosphere, enabling them to create a functional thermal environment for manufacturing large parts
Can produce superior quality, real-scale, end-use parts in almost 40 different materials
You can now stop part failure due to an electricity outage, accidentally unplugging a machine or other interruptions. Whenever the power is restored, PartSave™ allows you to resume from right where it left off
Finally, you can start, stop, and resume the printing process at any time due to EVO's PartSave™ technology
eMotion Tech Strateo3D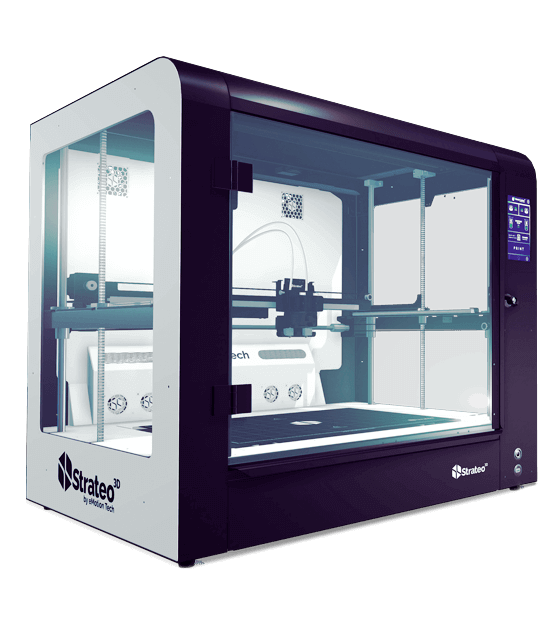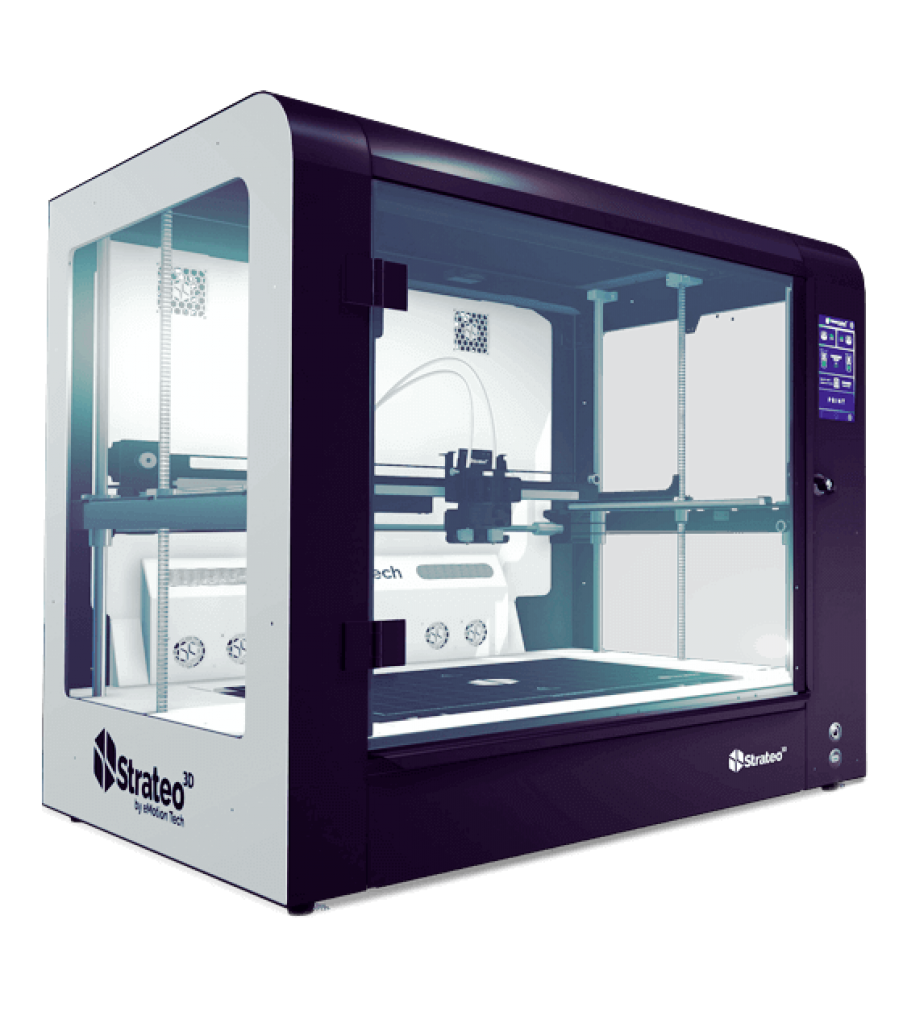 According to sources like L'Opinion 04/2019, Strateo3D has been the flagship of French 3D printing.
This is one of the large 3D printers, with a 600 mm X 420 mm X 500 mm printing surface, which makes for a large printing volume.
Equipped with a collaborative production host (Core I5), Strateo3D merges the slicing and a live remote monitoring system.
Since 2012, the design and manufacture have been in-house, machines are CE-labeled and come with a 1-year guarantee.
Uses:
For life-size prototyping or for mass production, Strateo3D offers an unmatched working surface
The 600 x 420 x 500 mm bed allows fast and efficient printing of complex and bulky parts
The dual extrusion especially aids in printing solvable support materials
Has a thermoregulated room that aids technical materials with high retraction
Comes with a modular tool with automatic detection, enabling more flexibility in the machine's operation
 Raise3D N2 Plus
The US-based company introduced their Raise 3D N2 Plus with up to 12 x 12 x 24 inches (305 x 305 x 610mm). The size and quality of printing accorded it with the Best Large Format 3D Printer Summer 2018 at All3DP.
There is no doubt that a building site like this needs efficient heat administration, especially if you choose to print with tougher materials.
Therefore, the crucial part of the range fully encloses the platform integrated with a heated print bed, making it an exceptional printer for ABS or Nylon material.
Uses:
The entirely enclosed design not only refines the quality of print when using materials, such as ABS, but also boosts the safety of the printer, making the N2 Plus a notable choice for schools and businesses
Printing with this model is user-friendly because of its 7-inch full-color touchscreen, which controls the device by print monitoring and fine-tuning while printing. The screen's functions can also be seen via Wi-Fi over a LAN setup, which means you can manage the printer from your home or office
The touchscreen resumes printing if the power shuts off due to any reason
The heated bed and the V2 Hot End are capable of temperatures up to 300oC. This allows compatibility with a range of materials, including PLA, carbon fiber, and metal composites
BCN3D Epsilon W50 SC
This large 3D printer is a professional printing machine that produces large-scale, industrial-grade parts.
Due to its heated chamber, humidity control, and complete enclosure, it is the best choice for companies and artists.
The BCN3D Epsilon W50 SC is run by its independent Dual Extruder System (IDEX), which enables it to carry out impressively strong and high-quality functionality.
Uses:
The duplication mode allows you to concurrently print identical models
This printer enables you to control humidity so you can protect the longevity of your materials. Its silica gel is receptive to dehumidifying the environment and absorbs moisture from the air into the chamber
Made with HEPA filters, it protects your working space from harmful chemicals
The BondTech Extruders present dual drive gears that enable more control, sharper detailing, and high-quality performance for any filament
Features modern connectivity features; BCN3D Cloud platform effortlessly sends your print files
MakerFarm Pegasus 12"
Makerfarm Pegasus is available in three sizes. The 12-inch printer is constructed with the largest build volume for manufacturing parts and effective prototypes. The frame is made of Aluminum, which makes it extremely rigid.
Uses:
Enables you to print large parts or prototypes, which can be used in the aerospace, defense, and healthcare industry, as well as automotive
Comes with an extensive build volume, heated bed, hot end options, and open filament system
The printer has a graphical LCD Interface which means that you can print without using your PC
The printer has a V-shaped extruder that assists in fast printing and smoother operation while printing.
Buyer's Guide
Some important questions you need to address when buying a large 3D printer include:
Which mechanical functions of large 3D printers do I need to be wary of?
How easily operable is the printer?
Is the printer up to date considering its storage and software?
What kind of composites is compatible with the printer I choose?
Do I need to keep the speed and volume in mind?
Before you choose a large 3D printer, you must know about some essentials so you can get the right model. Here is what you need to know:
Printing Technology: This is the foundation of your machine. Although deciding upon the printing technology is a bit hard, but it is the key to ensure that the printed item exceeds your expectations. Reflect on the look your finished product should have. Noting them down will eventually enable you to figure out the kind of technology you need that will help you in the production process.
Correctness and Quality: Thoroughly research the machine's requirements to ensure it has all the traits for effortless and high-quality printing.
User-friendliness: The machine must have advanced software that enables you to print easily and not badly affect the printing process. A user-friendly machine also guides you better in any case.
The Size: Considering space, you have for keeping your printer, you must know about the sizes and shapes. Make sure your large 3D printer does not affect your workspace.
Materials: For the parts that you are printing, it is extremely important to have the right kind of technology your material requires; there might be specific applications for different parts. This will allow the printer to perform according to the criteria you need to meet.
Volume and Pace: For a smooth finishing process that requires no post-processing, consider the printer's speed. Moreover, if you want to print multiple parts, you may have to choose a printer that has a large print volume.
In addition, some materials release toxins that can be dangerous if inhaled. Get a printer with an enclosure or a machine for ventilation so it can emit the gases or fumes outside.
Frequently Asked Questions (FAQs)
What Exactly Do Large 3D Printers Do?
Large 3D printers help in processing intricate and customized parts in a contemporary way. The parts can be fashioned to take full advantage of their application.
Which Industries Use 3D Printing?
To name a few:
Manufacturing
Education
Robotics
What Are The Benefits Of Using A Large 3D Printer?
First, you do not require workers who have to put in their blood and sweat to work for you. Secondly, it saves time and money and does not harm the environment. Moreover, they are up to date using the latest technology that meets your expectations during and after the printing process.
Do Large 3D Printers Cost A Lot?
Some AM systems might only be affordable by large companies because they are too expensive. However, companies like Markforged and Desktop Metal furnished their machines with cost-effective parts, which made them less costly for small businesses.
What Are Some Modern Printing Technologies Used For Large 3D Printing?
The 3D printing industry is growing fast, thus new technologies are introduced every other day. With that in mind, you have to choose according to the project you are working on. Some modern large 3D printing methods are mentioned below:
Powder Bed Fusing
Metal Material Extrusion
Ultrasonic Additive Manufacturing
Is There Any Difference Between Large 3D Printers And Smaller Ones?
With large 3D printers, you can produce enormous constructions, like 3D furniture, houses, and even 3D bridges.
The comparatively smaller ones do not take up much space and are cost-effective, but they may not allow you to produce large parts or save time.
Conclusion
In the current market, large 3D printers have reached phenomenal heights in the AM industry. In these times where technology has taken over greatly, 3D printing has boosted its development to match with modern methods.
Although it might be costly, we cannot overlook the notion that 3D printing adds exceptional value to the production process by giving way to innovative manufacturing that was otherwise non-viable or lacked creativity in design.