Snapmaker 3-in-1 3D Printer
Snapmaker 3-in-1 is specially designed for beginners and has been created ensuring to provide easy operation, affordability, and many other advantages to the user base
PROS
Provides 3 modules in one machine
Very affordable
Heated bed
Print quality is decent
Expandable laser power
Product
Specification
Videos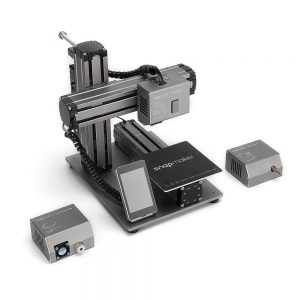 Snapmaker 3-in-1 3D printer combines a laser engraver as well as a CNC carver. With the printer, the company also packs it's users a spool of 1.75 ...
| | |
| --- | --- |
| Model | Snapmaker |
| Manufacturer | Snapmaker |
| Price Range | $ 799 |
| Release date | 2017 |
| Country | China |
| Availability | Available |
| Classification | Desktop |
| Technology | Extrusion (FFF- FDM…) |
| Material | ABS, Other plastics, PLA |
| Filament diameter | 1.75 mm 0.07 in |
| OS compatibility | Mac OS, Microsoft Windows |
| Generic material | Yes |
| Max. build size | 125 × 125 × 125 mm 4.92 × 4.92 × 4.92 in |
| Max. build volume | 1.95 L |
| Min. layer thickness | 0.05 mm 0.002 in |
| Dimensions | 272 × 332 × 289 mm 10.71 × 13.07 × 11.38 in |
| Weight | 4.5 kg 9.92 lb |
| Nozzle diameter(s) | 0.4 mm 0.02 in |
| Power input | 100-240 V |
| Heated print bed | Yes |
| Heated build chamber | No |
| Automatic calibration | No |
| Closed frame | No |
| Dual extruder | No |
| Independent Dual Extruder | No |
| Full color | No |
| LCD screen | No |
| Touchscreen | Yes |
| On-board camera | No |
| Mobile app | No |
| 3D scanners | No |
| CNC mill | Yes |
| Electronics 3D printing | No |
| Laser engraving | No |
| Conveyor belt | No |
| Air filter | No |
| Pellet extruder | No |
| USB | Yes |
| Wifi | No |
| Bluetooth | No |
| SD card | Yes |
| Ethernet | No |

Table of Contents
Snapmaker has tried to bring a complete workshop on the user's table by offering a Snapmaker 3-in-1 3D printer. The printer combines a laser engraver as well as a CNC carver.
The 3D printer which started as a kickstart campaign being able to raise $2.2 million in funds is now available for purchase. The device is specially designed for beginners and has been created ensuring to provide easy operation, affordability, and many other advantages to the user base.
It does have limited print space, however, huge potential for those looking to start their 3D Printing experience with a competitive machine.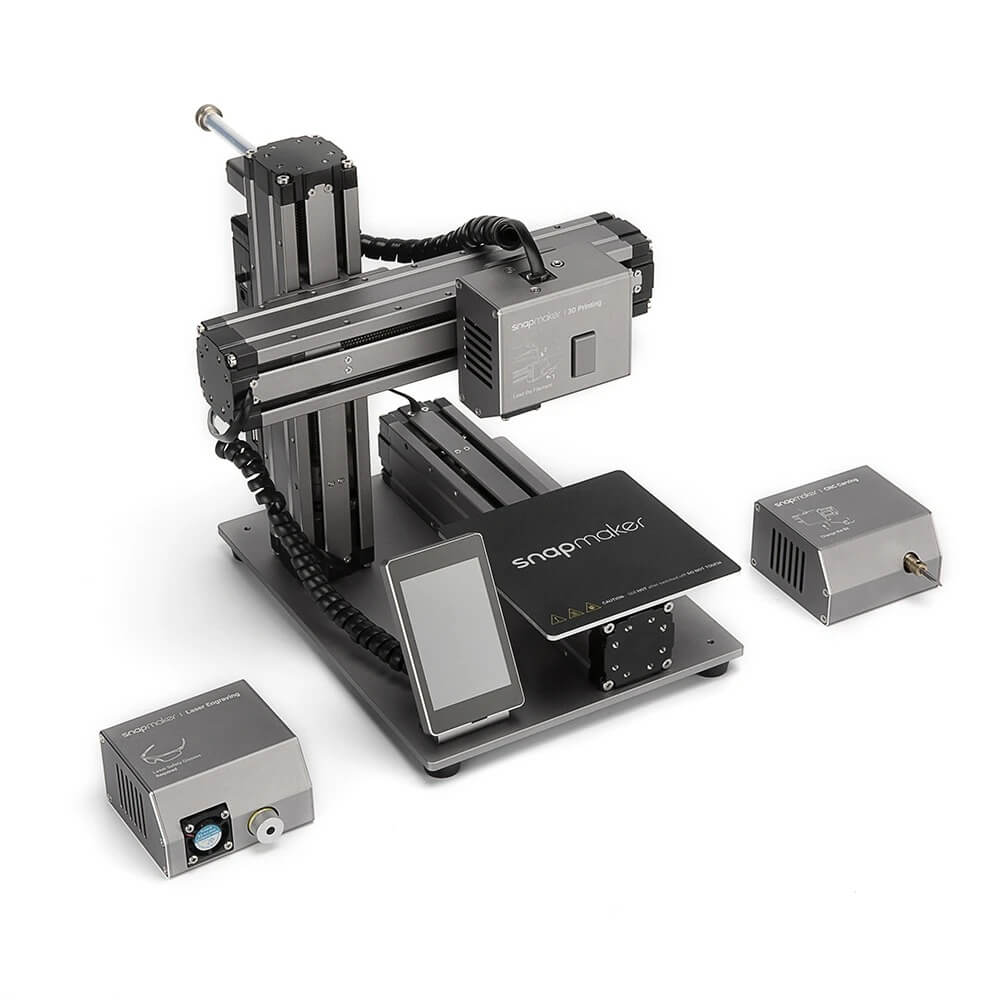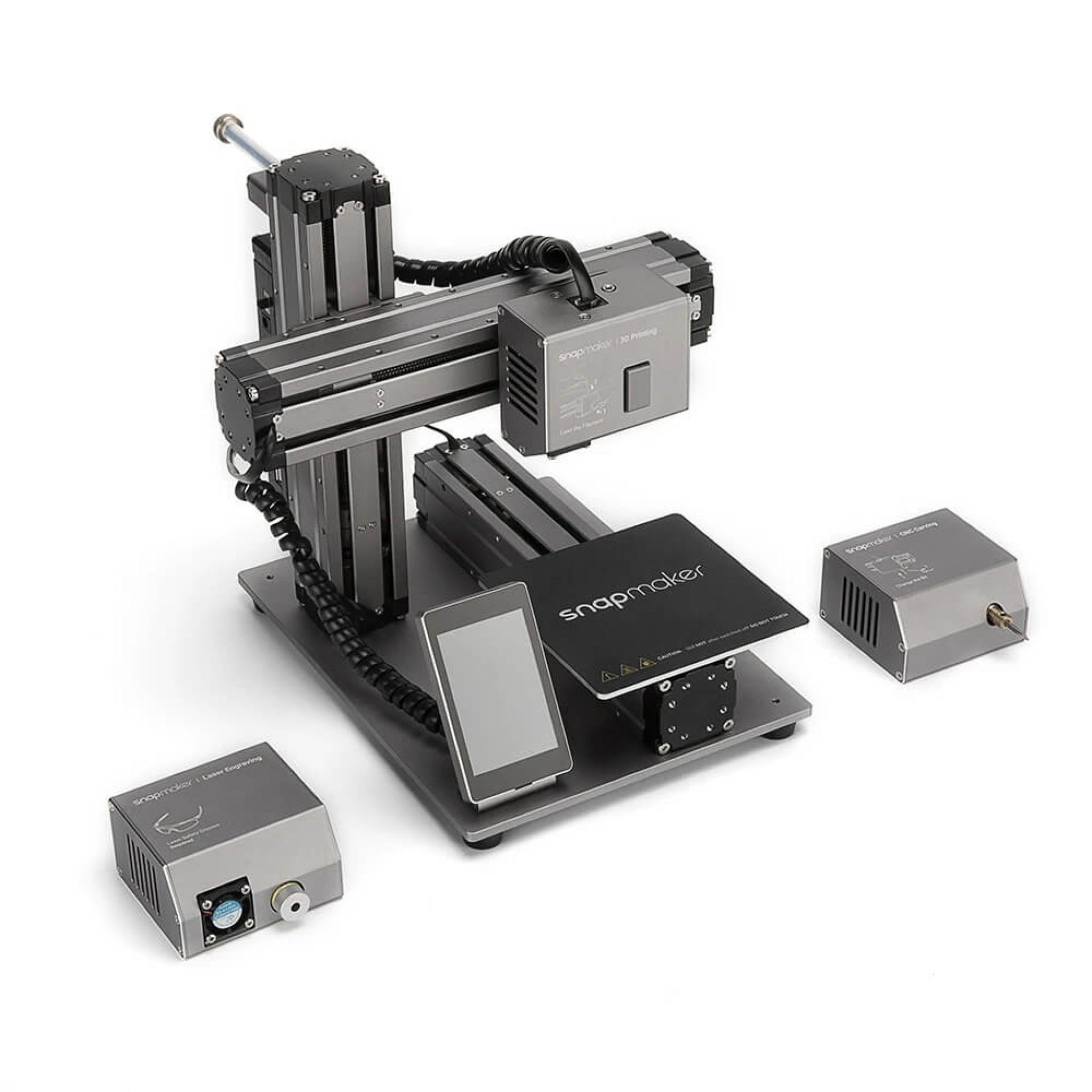 Features of The Snapmaker 3-in-1
The Snapmaker is a unique design that lets the user experience three technologies at once at a very affordable rate. The company claims to have included various features to make the machine friendly and useful.
The beautiful looks and sturdy body talk for reliability and trust among users. With a modular design, the 3 in 1 3D printer has impressed many. Hence, here are few features that deserve a say.
Sturdy Design: The machine is designed with care. It is made of an all-metal body. The aluminum frame provides this printer stability, hence, precise print results. It is very durable and can run for a long without any problem.
Open Frame: The printer has a completely open frame. But the best part is that the design is trendy and is not like any other simple looking 3D printer. It looks professional and very well created with a compact structure and defined looks.
Tidy Design: The printer is very well managed in terms of open wires. Most of the wiring is hidden behind the metal frame. And, some are hanging outside, however, are very well adjusted to provide a clean and tidy look to the 3D printer.
Interchangeable Module: As already discussed, this Snapmaker 3 in 1 3D printer has got three modules, and each one they are very attractive and easy to switch to. These modules can easily be swapped onto the X-axis rail and can be utilized as needed. The installation is very simple and can be done by even the novices.
LCD Colour Touchscreen: The printer boasts a 3.5 inches color LCD touchscreen with very intuitive controls. Users can make use of this interface to change settings and browse between the files stored in the USB disk. The LCD screen is right in front of the machine making it easy to reach.
Multiple Filament support: When working as a beginner, one always feels skeptical about choosing between different materials. With Snapmaker, one can try different ones and select the one close to their needs. With support for PLA, ABS, and many other options, one can print models with different mechanical properties and texture differences.
Heated Bed: With a heated bed that can reach a temperature of 80 degrees Celsius, this 3D Printer provides great ease of printing with materials that are tricky to manage and are prone to warping such as ABS.
Third-Party Filament Support: Users can design models with third party filament as well. Hence, the printer offers complete freedom to the users without restricting them to explore more options. One can choose between the cheap standard filaments or the special ones that are highly expensive.
Snapmaker 3-in-1 Specifications
The specifications can be categorized into three different modules. With three different operations possible with Snapmaker 3 in 1 3D printer, we must visit each module for a better understanding of the technical specs.
Snapmaker 3D Printer:
The printer provides a build space of 125 x 125 x 125mm (4.9" x 4.9" x 4.9") and supports different materials including but not limited to PLA, ABS, etc. The filament diameter supported is 1.75 mm.
However, one must check the complete list of filaments that are not supported such as Alumide, graphite, etc or else, it would damage the machine. With this 3D printer, one can achieve a resolution between 50 to 300 microns.
The printer has a decent travel speed of 100 mm/s. Talking about the nozzle, it includes a 0.4 mm diameter and can attain a temperature of 250°C. The printer supports STL and OBJ file formats and can work with proprietary as well as third-party software.
Snapmaker Laser Engraving:
Like a 3D printer, one can utilize the workspace of 125 x 125mm (4.9" x 4.9") when working with Snapmaker. The machine consists of decent laser power of 200mW with a wavelength of 405nm.
Similar to the case with a 3D printer, users can engrave on plenty of material choices such as leather, wood, non-transparent acrylic, plastic, bamboo fabric, paper, etc.
Once again, one must ensure not to use the materials that are not supported such as metal, gem, transparent material, glass, and others. However, the machine is expandable and the laser power can be increased by replacing the existing one with 1600mW laser module.
Snapmaker CNC Carving:
To accomplish the job of CNC carving, the work area is limited to 90 x 90 x 50 mm (3.5" x 3.5" x 2.0"). The machine boasts a 3.175mm of shank diameter and 19,000 RPM of spindle speed.
Users can work with multiple materials such as acrylic, PCB, wood, carbon fiber sheet, and others. To work with the supported files such as STEP, SVG, DWG, DXF, IGES, IGS, and others, one can make use of third-party applications such as Autodesk Fusion 360.
Snapmaker 3-in-1 Price
It is interesting to note that all these handsome operations and features are available in a bundle at a rate of $799 on Amazon. The price is very affordable and would suit anyone looking to use it for specific purposes.
It can be used at workspaces and is very handy to move from one space to another. With such an affordable rate, one would certainly be excited to get it right away. However, you must read the complete review to understand if the machine fits your specifications or not.
First Impressions of the Snapmaker 3-in-1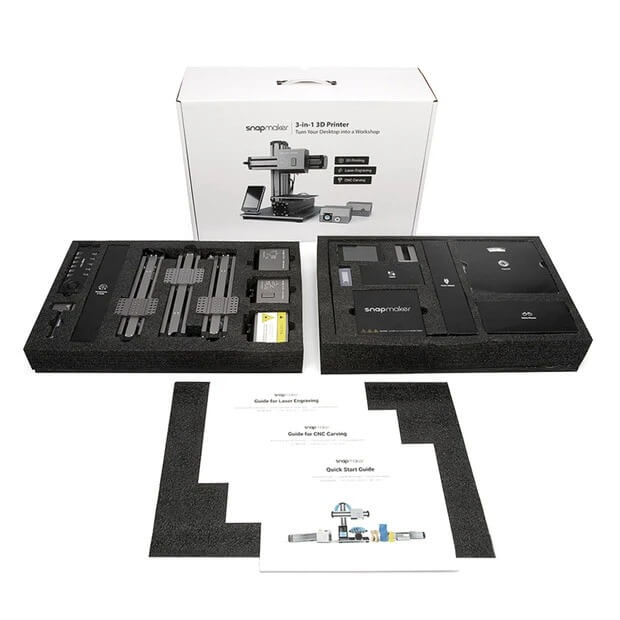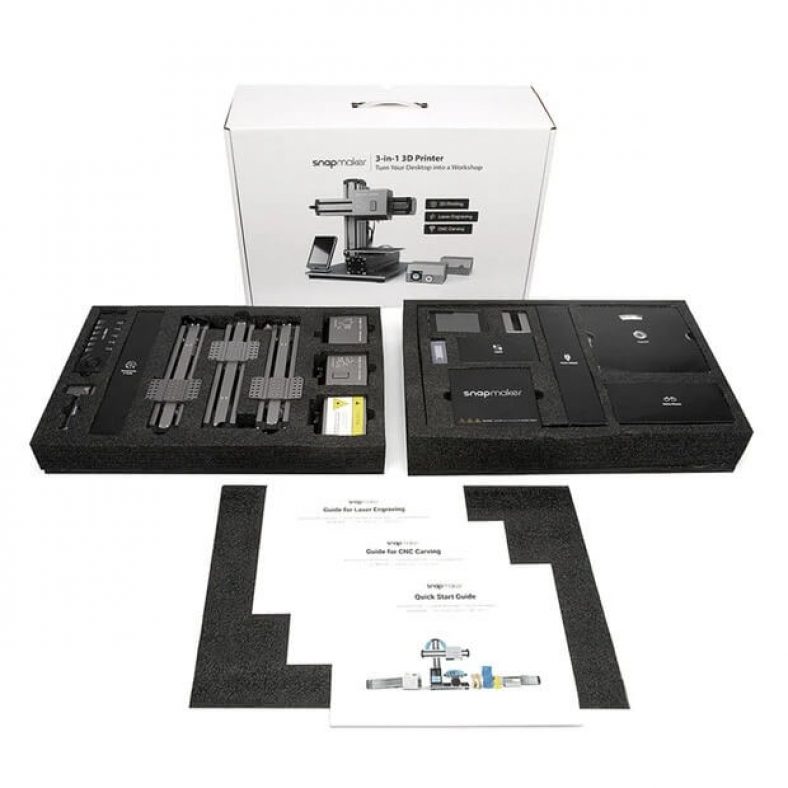 Right after opening the box, you would understand that the company isn't a novice. Snapmaker has cleverly packaged the unassembled machine in a very professional manner.
There is no way any of the parts could play lose inside the box. The well-boxed presentation containing the components required tools and accessories stacked within different boxes and snuggled in cut foam was the best way possible to wrap those parts together.
With the printer, the company also includes a spool of 1.75 PLA filament along with the filament holder, a power pack as well as material for laser engraving with stylish and cute wrap-around safety goggles.
Snapmaker 3-in-1 Setup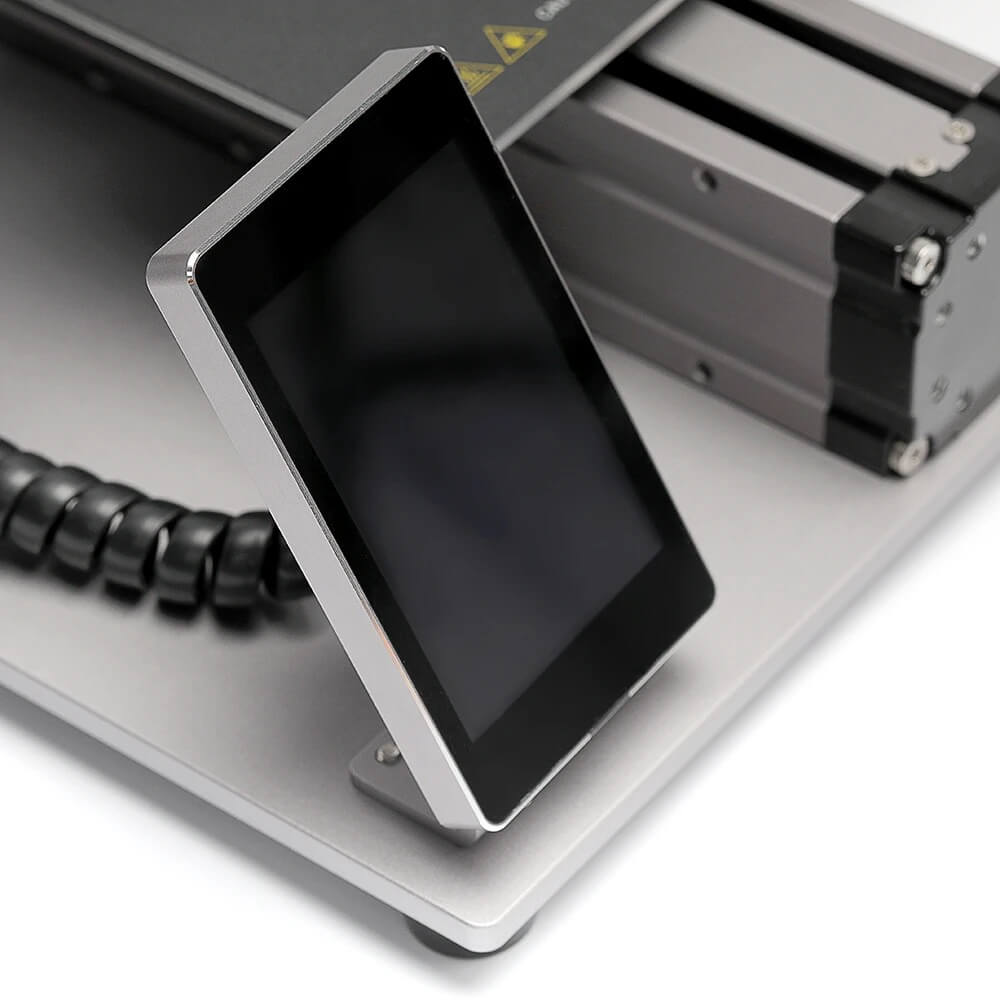 Setting up this printer and assembling the parts together is very easy. It won't take more than 30 mins to join the parts together and is the printing.
This is mostly because the trio of linear modules is identical including the same fittings and dimensions, even the screw holes. Moreover, the instructions provided in the IKEA build guide is clear and precise.
Each module of the machine contains rails, the wirings, bearings, and motors required for the operation of each ax. The assembly will happen like a breeze which consists of the most part of the setup.
After the assembly completes, one would have to get into the calibration setup. The good news is that the company has done a great job to keep the process as easy as possible.
Those who have experience calibrating the printer would find it even easier from before. And, a newcomer would learn it soon. The process is a combination of manual adjustments along with some refinement required with the help of a touch-screen. Unlike any other 3D printer, this machine has an extensible cable connecting the touchscreen. This allows the movement of the screen giving users the comfort of working.
Another thing that was found and has been claimed by many users is that the heated bed temperature can reach 100 degrees Celsius, instead of 80°C which is the claimable temperature by Snapmaker.
Printing Type/Cost
The printer is an FDM printer and runs on the filament. Hence, you can expect it to put you in as less operation cost as possible. Most of all, the printer supports third party filament. Hence, if budget is the issue, you can select the cheap materials, however, it may affect the print quality.
Snapmaker 3-in-1 Print Quality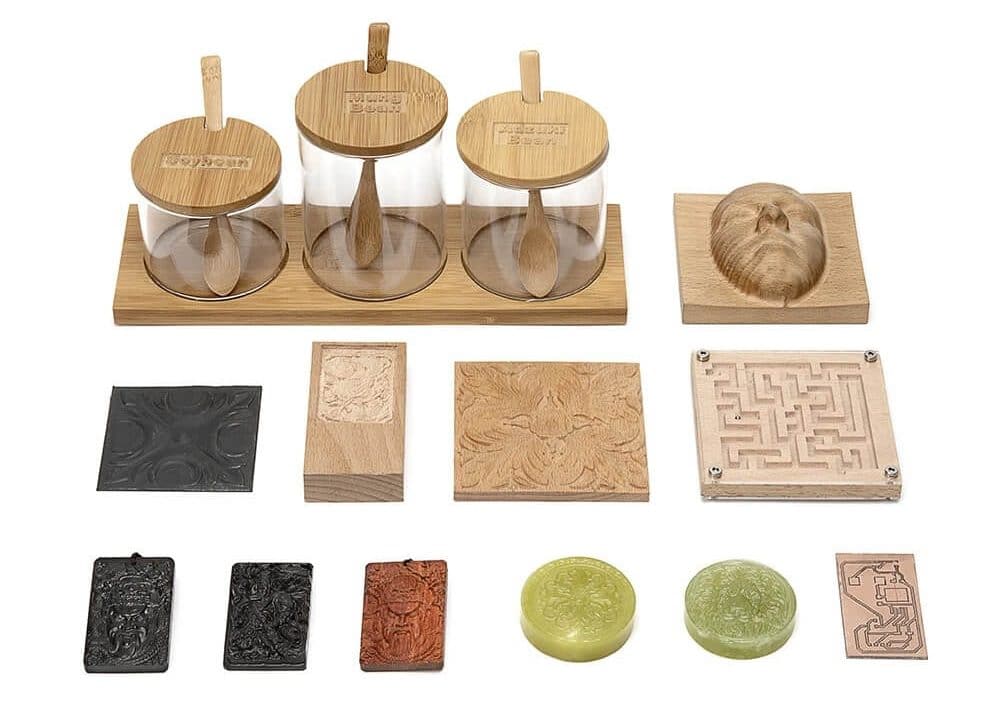 When printing with this machine, you will find a lot of great things. This is the time when you would actually be able to understand the worth of the 3D printer. It is very amazing.
Looking at the price point, the 3D printer produces satisfactory results. And, you would not find any problems such as adhesion issues or stringing when printing with this device. The 3D printer is designed to provide successful results to its users. And, very well justifies the claims made.
However, you may be alarmed by the noise produced by the printer. It is not one of those noiseless printers in the market and would always make you feel its presence in the room.
Many would feel that as a red flag but for most of the users, everything is fine if the prints and other modules are working as defined or desired.
Even the other modules, the laser engraver, and the CNC carver work fine. You would be impressed by the way it is so easy to switch between these modules. Instead of dismantling the entire machine, one only has to loosen four screws and fix it back with the part specific to the other module. And, the task is done.
Software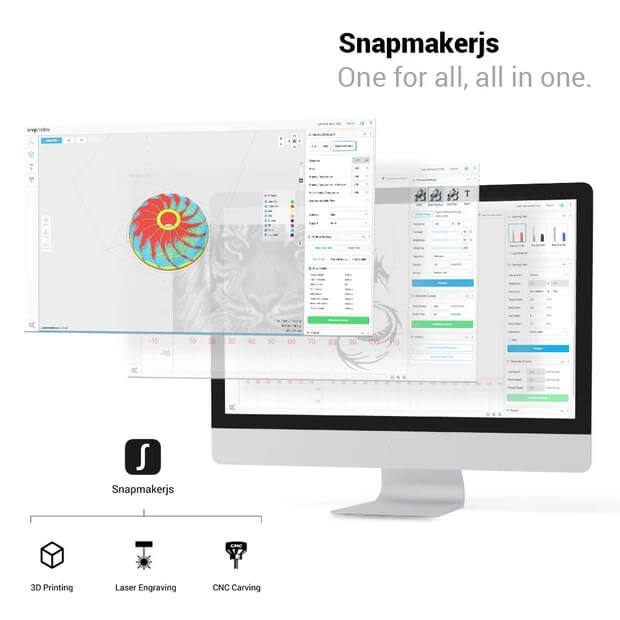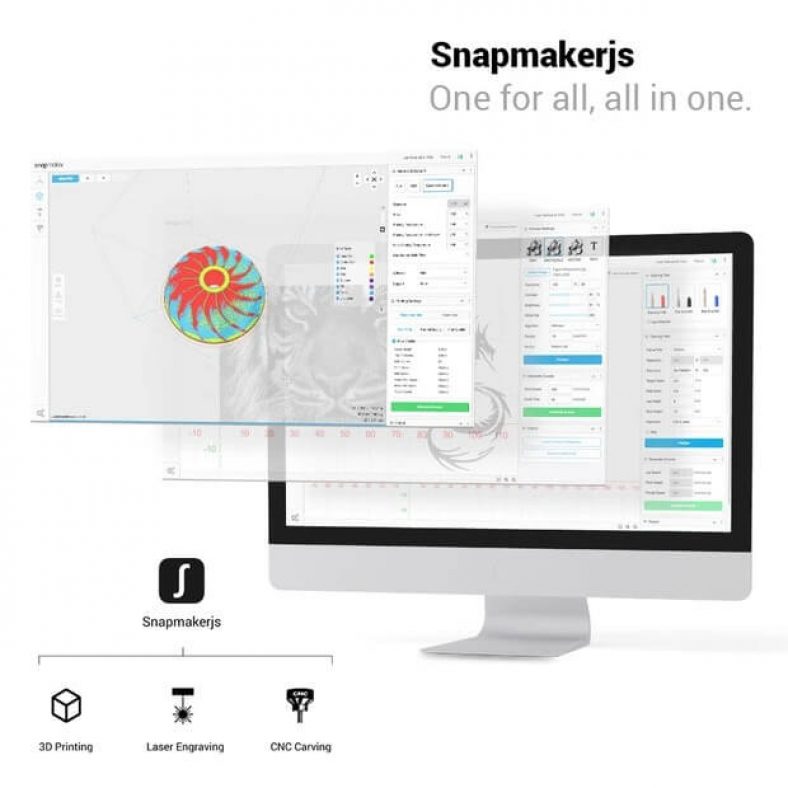 The company provides its Snapmakerjs software. This again is a 3 1 software. This means that users can work for all three modules of the machine with the help of this software.
And, it has got easy to use interface with very intuitive tools and features. By changing the module on the application, one can change the module of work on the machine.
This is very interactive software that lets the user do wonderful tasks and play around with their creativity. Apart from this, the company also supports a huge number of third-party software. One can use the one already equipped with instead of learning a new one.
Customer Service
The company offers great customer service. The company claims to reply within 24 hours regarding any issue raised by the user. Also, the replacement of parts that fall within the warranty period is also simple and easy and is done without hassle.
Parameters Influencing the Buying Decision
If you wish to buy this Snapmaker 3 in 1 3D printer, here are few things to notice.
3D Printer cost: It is affordable for individuals as well as small businesses.
3D Print quality: It produces decent print quality and is free of problems such as warping and stringing.
3D Print speed: The print speed is also decent. The speed for other modules is also highly satisfactory.
3D Printer capability: The printer is capable of printing with different materials and can be utilized for various applications.
3D Printer Practicality: Users can use this printer for learning applications as well as for producing models for business use and home use. Also, it can be used for rapid prototyping.
3D Printer User expectations: A printer is a complete machine as it claims to be. It falls right in place and works exactly as expected. It is nothing that it does not claim to be. The company has done a very precise job and has tried to bring most of the functionality within the affordable budget.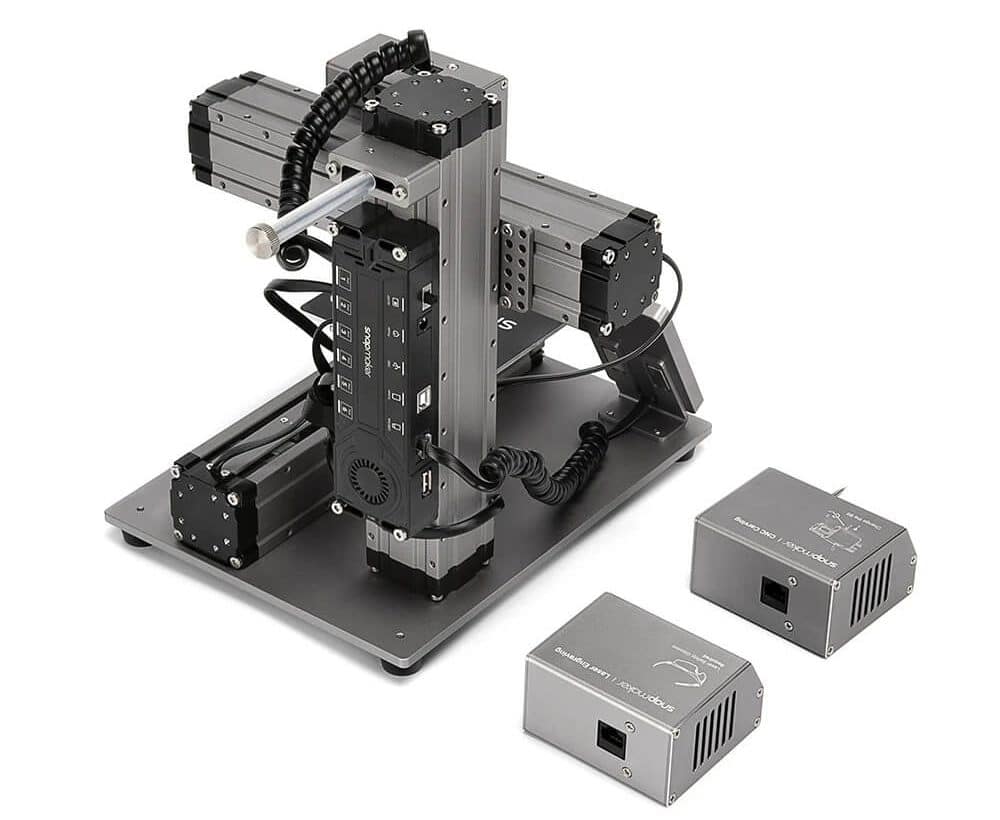 Verdict
Snapmaker 3-in-1 3D printer is a great choice for those trying to ride the ladder of 3D printing technology. Not just that it is great for educational purposes, but can be brought for many practical applications.
Just one limitation, the small print space is something that may disappoint a few users, especially those who are not aware of exactly what they want from a 3D printer.
For them, the freedom to try different applications may be very precise. Apart from that, the 3D Printer is a great machine and is wonderfully designed to provide the best results.