3D printing isn't just about getting the 3D printer installed and turning the switch on.
A lot happens behind the scene. For every 3D print, one must have an STL file. These 3D printer STL files are the 3D designs that is later printed to introduce to the real world.
One needs to have certain skill set to design STL files. If these files aren't designed well with exact specifications as necessary for error free 3D printing, the entire process will fail.
However, not everyone is expert in 3D modelling using available tools. Some have basic skills to pay around the existing designs.
For those, there are free STL files available in the online repositories. Choosing the best 3D printing design website with flawless designs and huge database is a must before letting your printer use the expensive material.
These websites help you access the plethora of options available on their website. You can either directly print the file or else can customize it as per your needs.
There are also websites that allow individuals to showcase their talent by giving them an option to upload the designed files. Some websites even let you sell these files online.
But, before we proceed, let us understand what file formats are used in additive manufacturing?and what STL files are?
What is an STL file?


You can call it as a blueprint of the design you wish to print using a 3D printer. Some think of it as an abbreviation for StereoLithography. While others call it as 'Standard Triangle Language or Standard Tessellation Language'.
An STL format represents the surface geometry of a 3D object. It does not detail the color or texture or any other common attributes of the model.
One must use a CAD software to design an STL file. This is the most used 3D printer file format and has been accepted widely by professionals as well as hobbyists.
back to menu ↑
Storing of 3D Model in STL File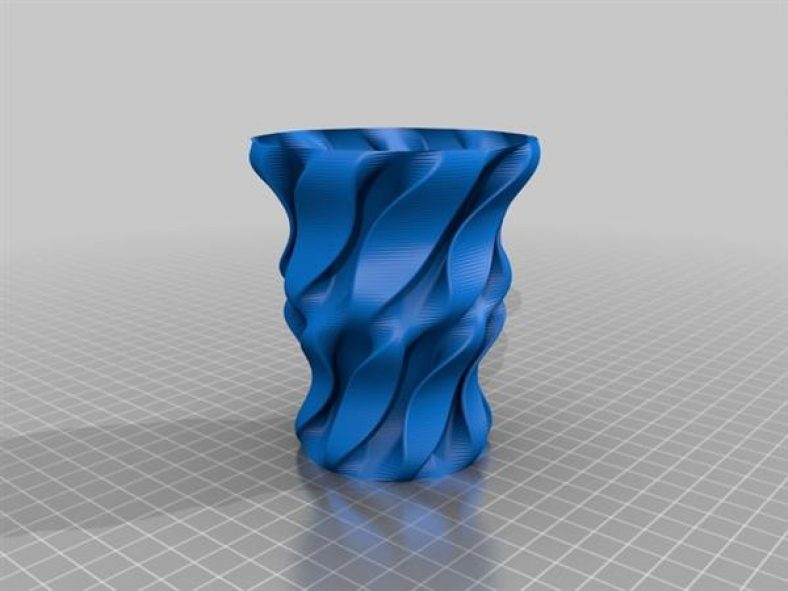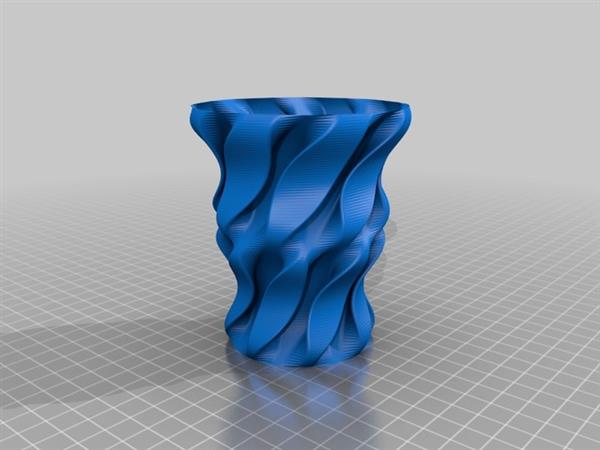 As you already know that the purpose of a 3D printable STL file is to encode the 3D model's surface geometry. It does this by using a concept known as Tessellation.
In this process, the surface is tilled together with the use of one or more geometrical surfaces without any gaps or overlapping.
The great thing about tessellation is that it can include simplest of geometrical shapes or the most complex ones without any hassle. STL files uses ASCII encoding or binary encoding to store the information about the tile's specifications of a model.
back to menu ↑
Free Repositories for 3D Printer STL Files
If you are thinking of going straight and downloading the STL file for printing using your 3D printer, stop right there.
You must know which design to pick before you put your 3D printer at work. Not every 3D files on these repositories are meant for every application.
Every 3d printer file sites store blueprints for intended applications. Your application must comply with the suitable STL file. Or else, you would end up ruining your time and effort.
back to menu ↑
Autodesk Online Gallery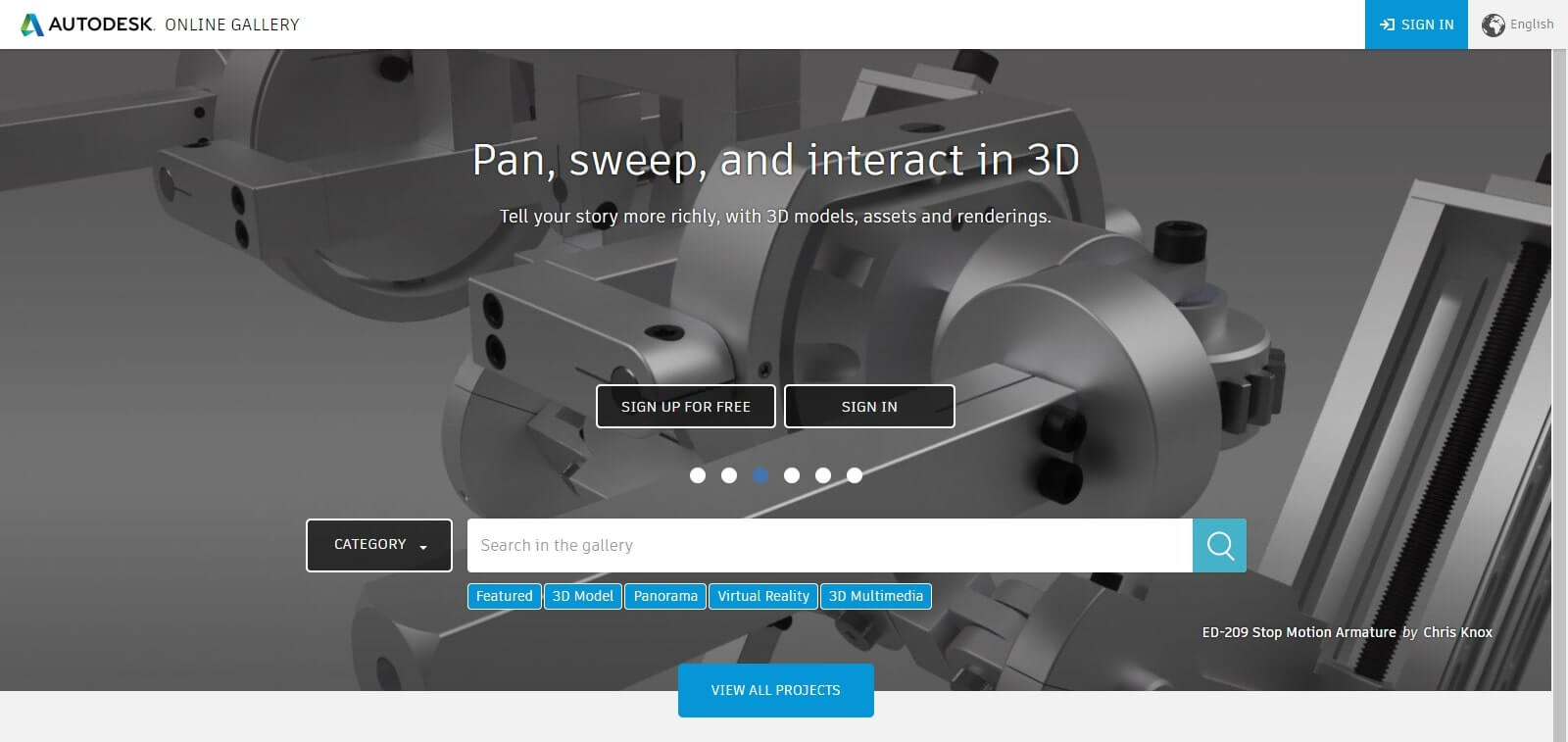 If you are a professional designer, you can make 3d printer projects download from this website. Best site for those seeking best work within the engineering niche.
From architecture to visualization, many applications have been touched through this website. Autodesk Online Gallery also lets you upload the designs which you can share with others for free.
However, if you are downloading the STL file, you must know that the quality of work differs greatly as there are professionals with varied skill sets who are uploading these files. All in all, an amazing site to look for the 3D printable models you would love to print.
back to menu ↑
TurboSquid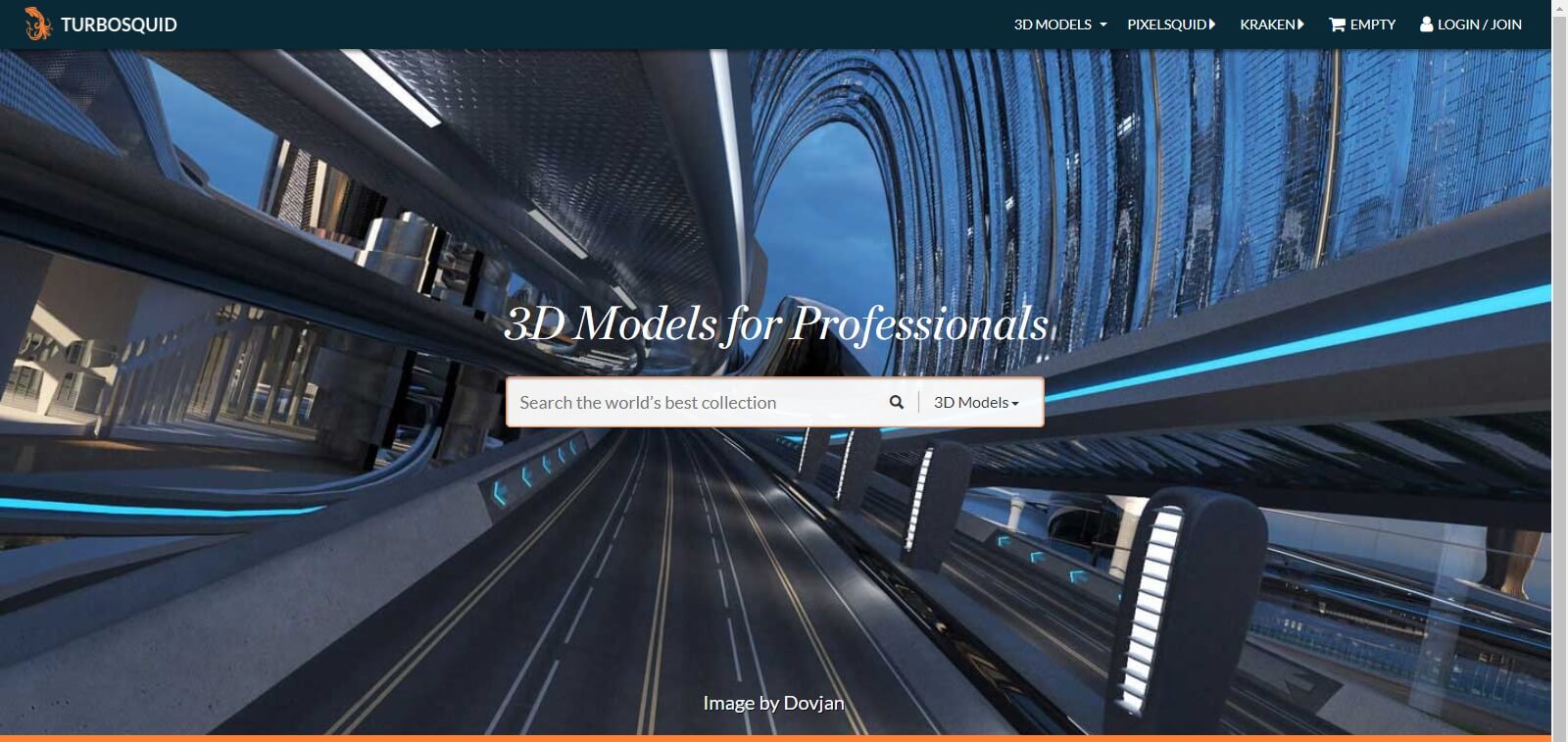 Focused on providing the best architectural designs for gaming and various graphics, TurboSquid is a fastest growing repository.
There is one unique feature of this portal that separate it from others. It provides a quality control tool, CheckMate.
This helps in evaluating the 3D models for its quality in terms of resolution, scaling and other factors.
A user can download the STL files as well as upload one's own file on the portal. Not just that, one can also sell the STL files for a preferred rate. Hence, you can find free as well as paid work on this website.
back to menu ↑
Instructables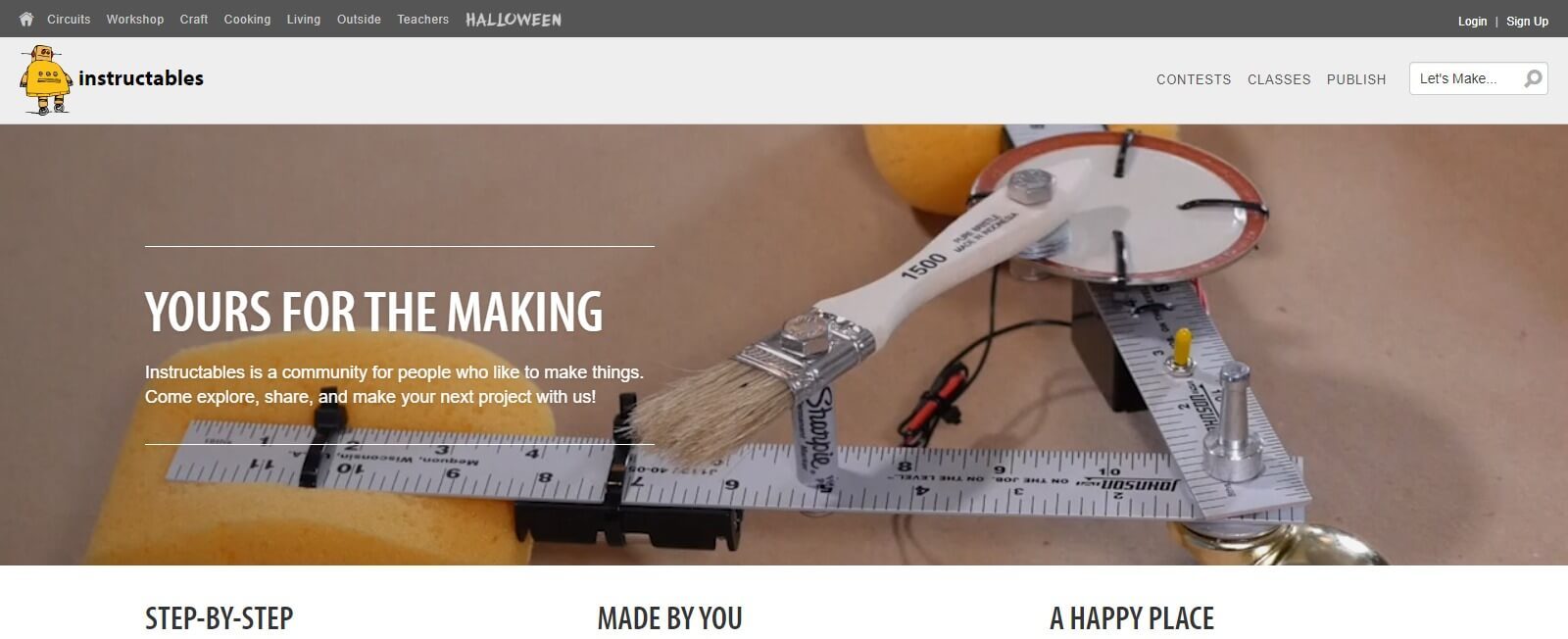 It wouldn't be incorrect to call this portal as a community for those interested in 3D modelling and designing. Apart from giving users an option to download the 3D printer STL files, the website also shares instructions and tutorials on 3D designing.
Users can even flaunt their DIY projects on the portal. You can also submit your queries related to the specific designs. The designers are very helpful and try to answer each question separately.
SO, if you are someone who likes to do it yourself, this is the community you must follow.
You get to learn a lot of things that's not available anywhere else. Being an interactive community, which is surging as the number of users are increasing, Instructables is one of the best 3d printer file sites.
back to menu ↑
Thingiverse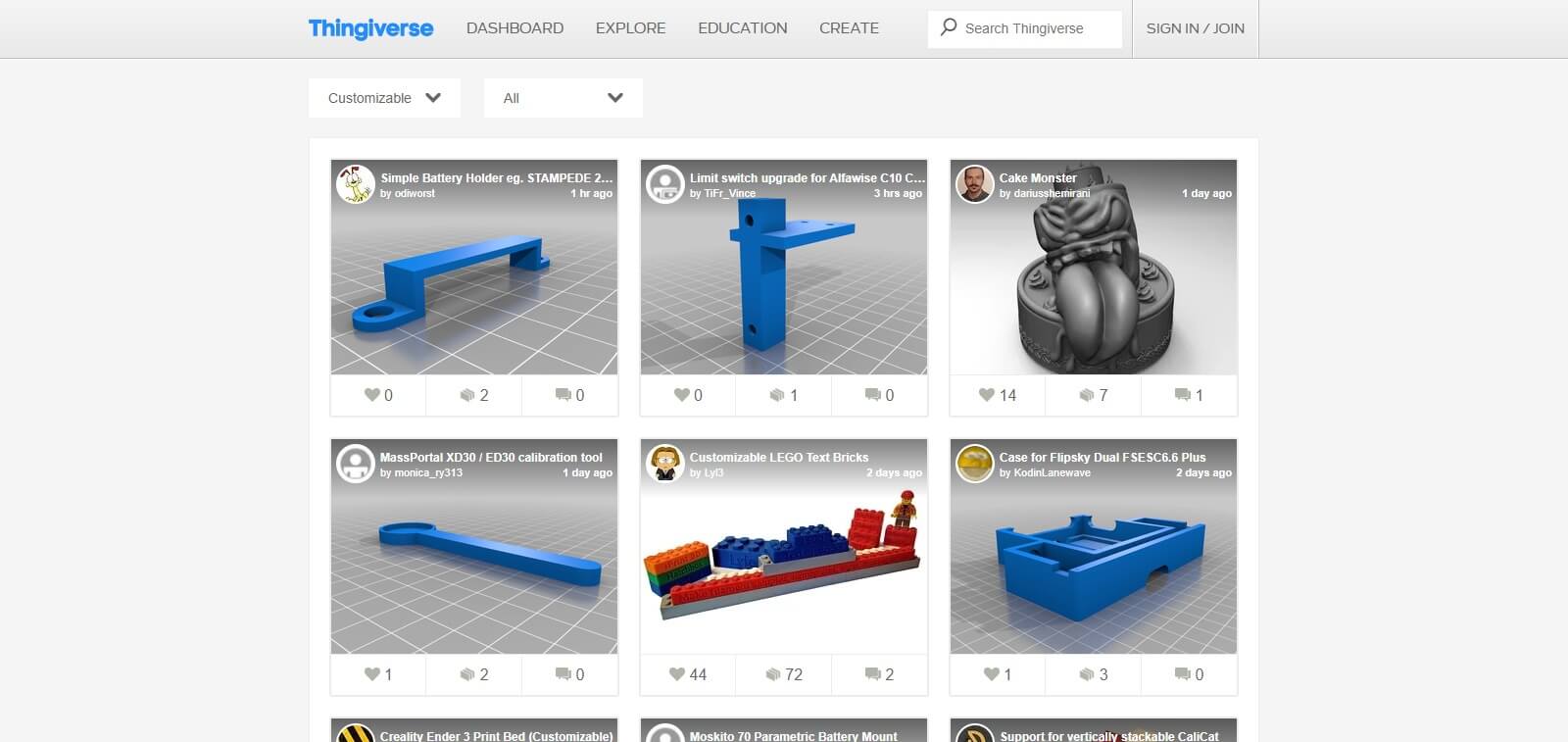 This website is one of the most popular repositories for 3D printer STL files. Those who have been 3D printing from quite some time, must have come across this name.
Started by MakerBot, the creator of Replicator series, Thingiverse has a lot to offer to those interested in STL files. Mostly focused on introducing fun designs to 3D print, Thingiverse has gathered huge recognition among the 3D printing community.
The website is free to use. You can upload your creations as well as can use others files to 3D print. The best part is that, this is not a niche-based community. You can find anything and everything on this portal. That is one of the major reasons for its such huge fan following.
back to menu ↑
NASA 3D Resources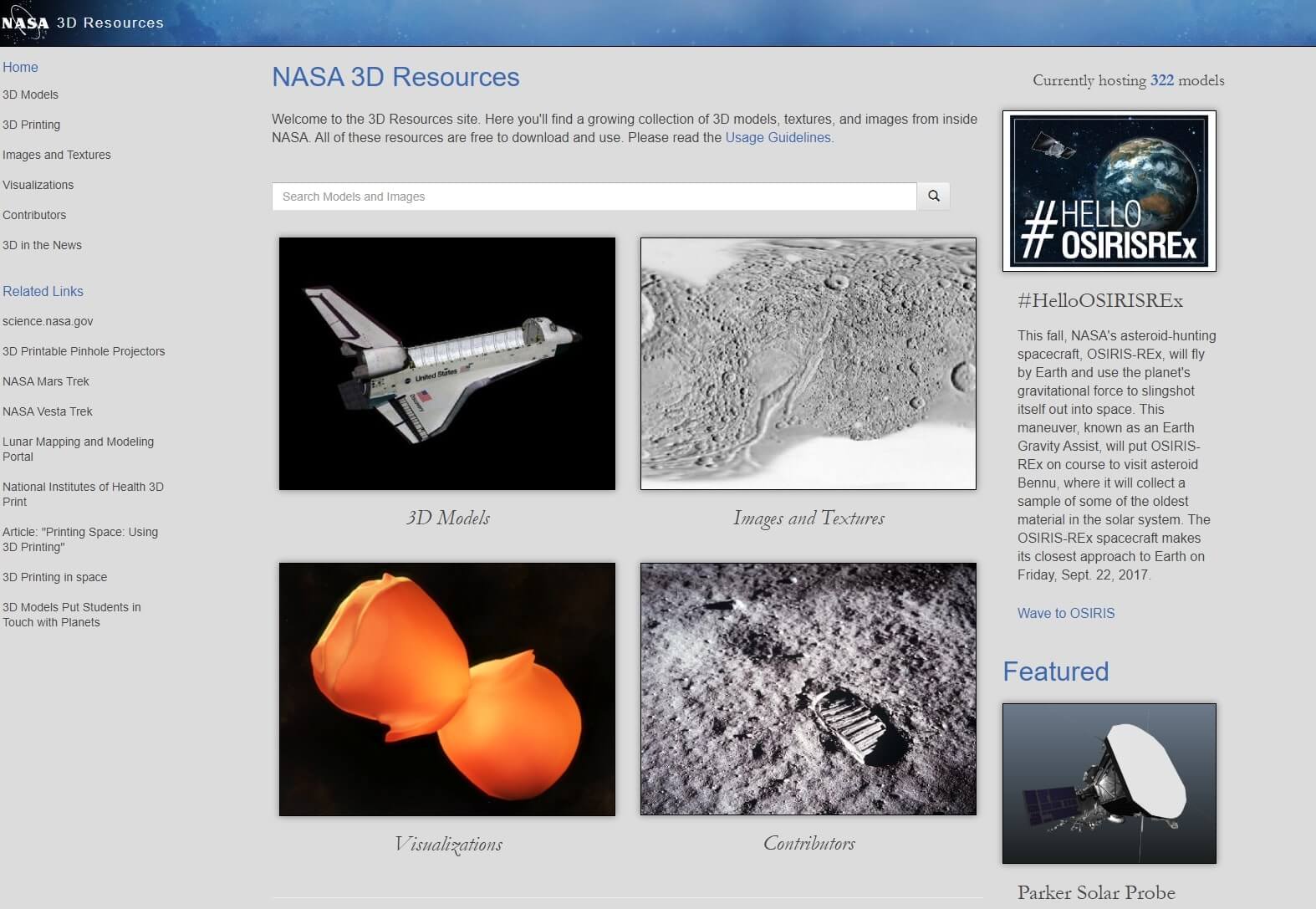 When you would open the website, you may be disappointed by the dull color of the repository. But stay on.
You must check some of the great works that have been posted on this online repository by none other than NASA. Created for educational purpose, you can build stuffs from space exploration.
You can print the curiosity Rover, Telescope and many other things related to the aerospace niche. A fun way to start your educational journey of 3D printing. Isn't it?
back to menu ↑
Cults3D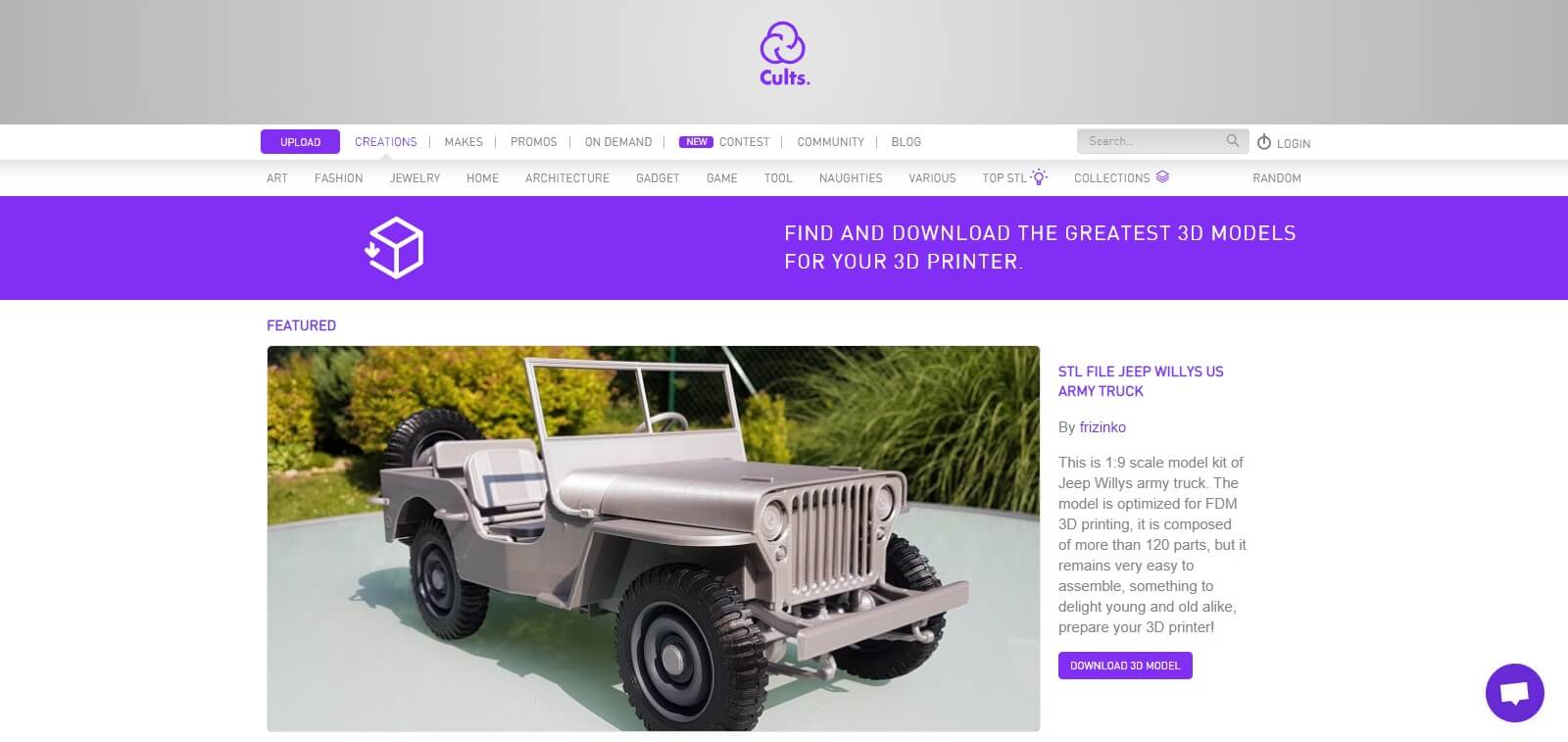 Similar to Thingiverse, Cults3D is also very popular among those looking to print for fun.
Almost every design is free on Cults, however, the portal charges a small amount if you want the highest quality file to 3D print.
This is again a community for those who love 3D printing. You can talk to designers, creators and experts who are the users of the website.
They have some of the best collection of designs you would be awed to print. With very specific details, the website helps you print simple to complex designs easily.
back to menu ↑
MyMiniFactory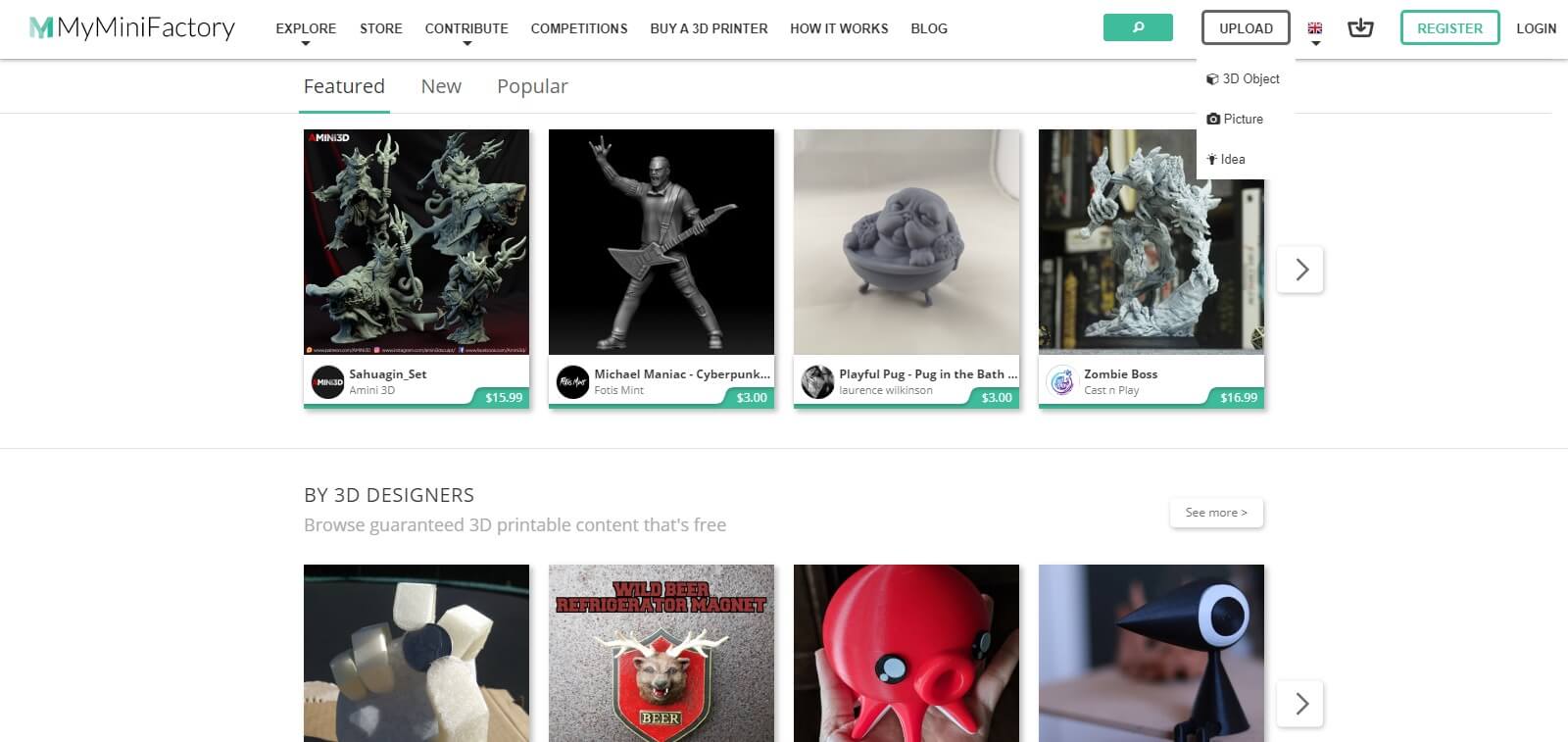 Are you someone who is 3D printing not just for fun? If yes, you would meet many professional designers on MyMiniFactory.
The website is managed by iMakr. The portal is a community of high-end designers and all the 3D printer STL files uploaded are evaluated first by experts.
You can also request for a design from a professional through this portal if you think that the STL file you require isn't available on the website.
You can do so many cool things using the STL files available on this MyMiniFactory. They have got thousands of tested designs that surely works.
With more than 60,000 designers, you can expect the best quality work, specially when it is already been tested beforehand.
Plus, the portal can be accessed in seven different languages which makes it even more attractive.
back to menu ↑
Free3D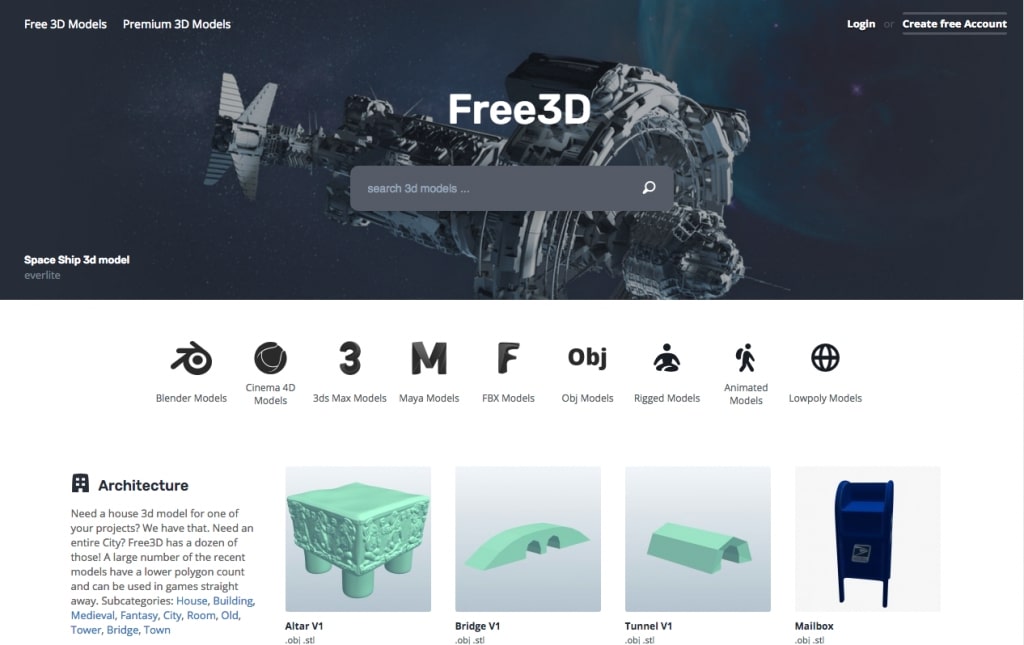 Sometimes, finding a repository isn't that difficult as it is to find the one with best user interface. Accessibility is one of the factors that greatly affect the popularity of websites. If a website has all the required inputs and no way to reach out to the information, everything goes for a toss.
But not with Free3D. This community based portal stands out in terms of best UI design.
The models are categorized and are easy to search. Being a free platform, users can easily flaunt their designs on the website without worrying about the cost of promotion.
They also have a voting system. The designers are voted my other members for their work.
If you are downloading 3D printer STL files, you can vote for the designs. Based on that, designers are ranked.
This helps in promoting healthy competition within the designers. And, letting them showcase their best work every next time.
So, you can expect quality design from Free3D. You can check out free models for vehicles, animals, furniture, architecture, and lot more.
back to menu ↑
TinkerCAd Things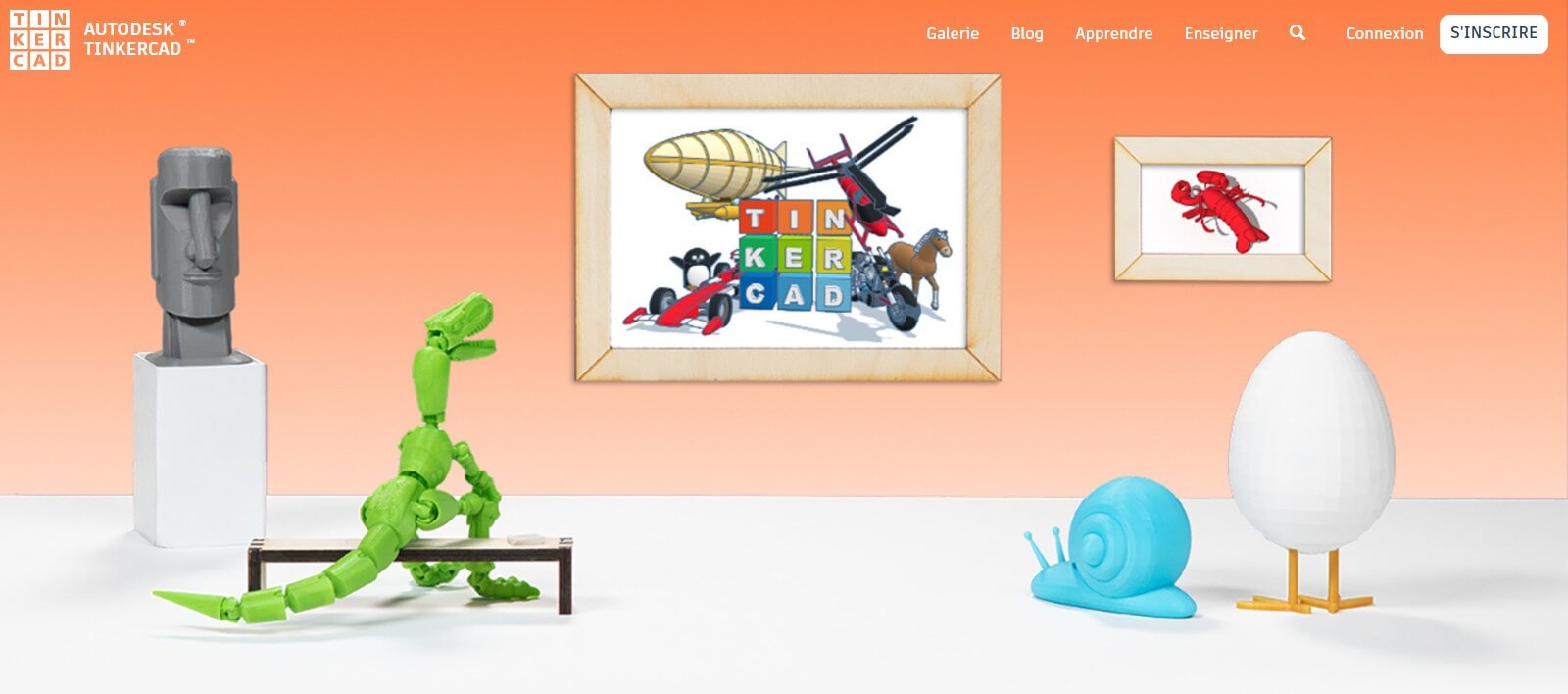 This option is for those who are working with Autodesk's free software version, TinkerCAD.
The portal has a gallery that features the designs posted by different users. This is where the users can upload as well as download the STL files and share it with each other. The website has designs available for tons of application.
One can choose the DIY projects as well as complex designs for various serious projects on this website. The website is open for all. So, you may have to struggle a bit for finding the quality design. There are many armatures working on this website too. So, choose wisely.
The downloading of the STL files is completely free. You do not need to pay for the files. Even if you wish to upload yours, you can do that for free.
back to menu ↑
CGTrader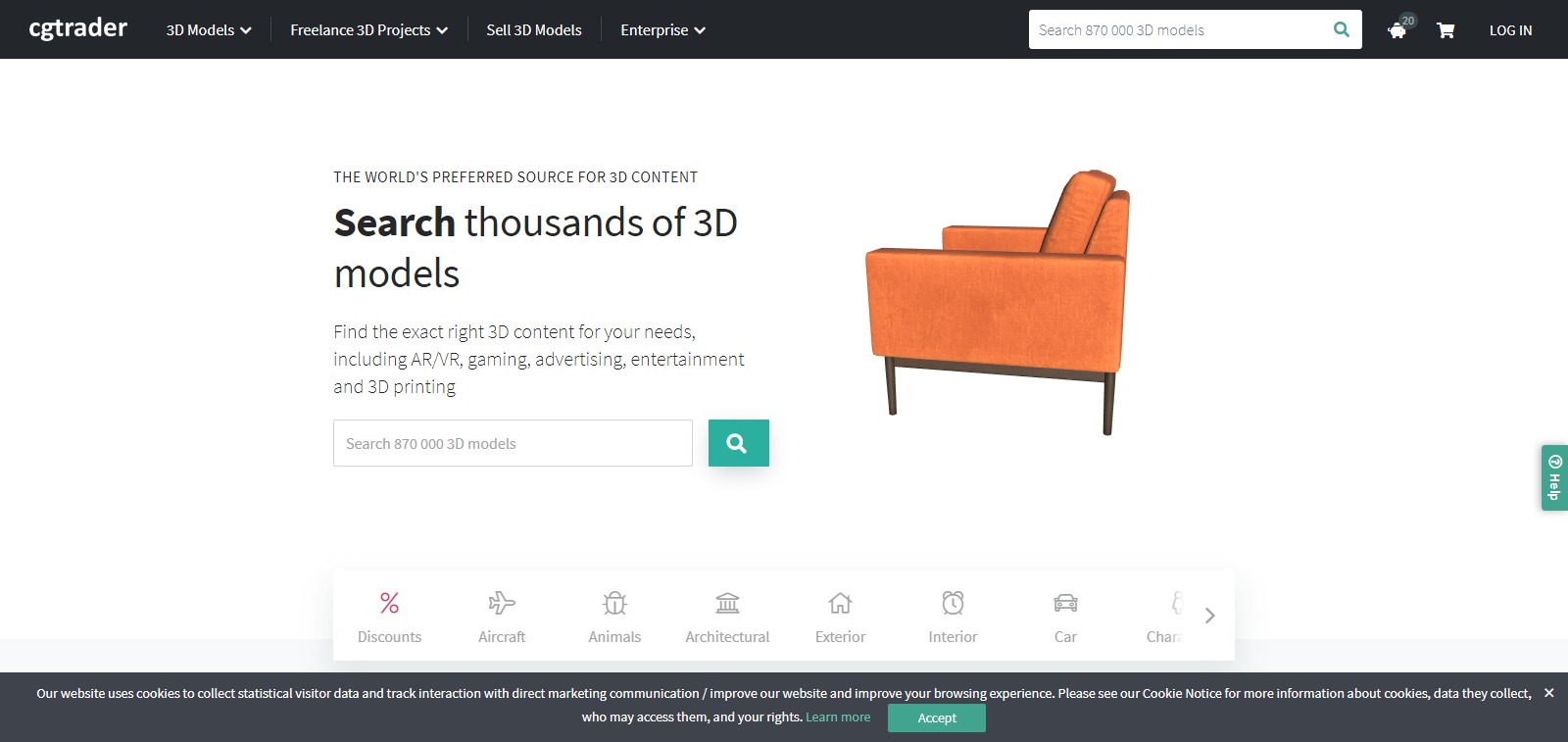 If you are looking for 3D models related to computer graphics, VR or AR blueprints, you can check CGTrader.
The portal has various designs. Some of which are paid ones and some are free to download. Apart from the 3D printer STL files, you can also download plugins and scripts for enhancing your 3D models further.
The website features challenges for designers, job boards requested by other users as well as allows users to download high quality 3D models.
back to menu ↑
Sketchfab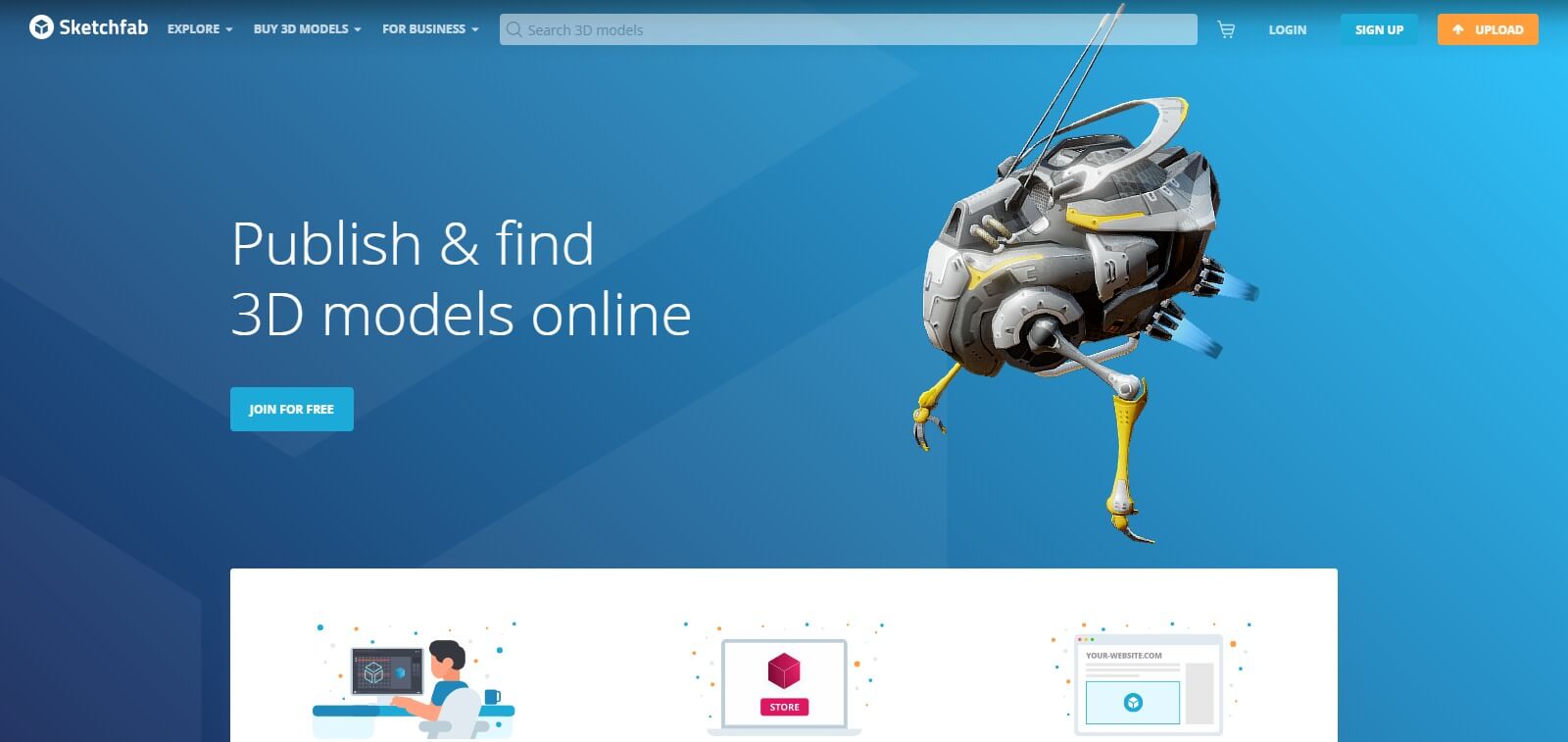 The craze for miniatures and sculptures aren't going to fade ever. If you are interested to 3D print the best selling miniatures, you must take a look at the designs offered by Sketchfab.
The website emphasizes on the designs of characters and helps users find the best quality blueprint for their required designs.
The website also has the OBJ files. So, if you are looking to color 3D print, you can download OBJ files instead of STL files.
There are many models that are designed taking care of those printing for the first time. And, the repository also contains 3D models for experts.
You can choose the 3D model that best suits your skill set and printing needs. The designs are compatible with almost all the 3D printers.
back to menu ↑
The Conclusion
You would be surprised to know that these are just drops from the oceans. With advancement in the technology, websites offering 3D printable STL files have surged exponentially.
There are hundreds of websites to choose from when trying to find the most suitable blueprint for your design.
While at some places, you only get to download the existing designs, there are websites that offer extended services.
You can seek help of professionals for a specific design. Or, you can use the tutorial and professional's help to create one by yourself.
It entirely depends on you how to proceed further. When learning 3D printing for fun and experiment, these websites come handy.
Easy to operate and navigate, you get to know what all you can do with 3D printing. 3D printer STL files makes the job easier. All you have to do is upload the files and start 3D printing.
Just know that the world of 3D printing is based on trial and error. Even the best design can go wrong when not accomplished correctly. So, get yourself equipped with the working of your 3D printers and use these 3D printer STL files to create masterpieces.