STL is the most common extension used to print, in the field of additive manufacturing. So, we have tried to search on the internet to bring to you some of the best sites in which you can get 3D Gun model's STL files.
STL files available on the internet can be divided into various categories i.e. jewelry, toys, engineering parts, and others. Among all, a 3D-printed Gun STL file is one of the most downloaded files from the internet. Let's look at the list of the top 12 websites.
List Of 12 Best Websites for 3D Gun Model
Every website mentioned below is unique in its way, listing them down using numbers, does not mean ranking them. They all are best than the rest.
GrabCad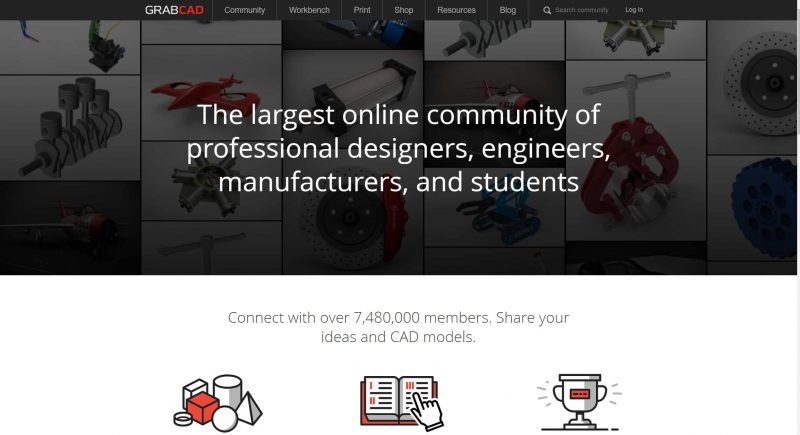 With more than 4,270,000 CAD files, GrabCad takes pride in informing about the number of engineers on the website as 7,470,000, which is, undoubtedly huge.
In all, the GrabCad community library offers 2.8+ million designs and models. For 3D printed gun STL files, GrabCad has 100 pages in which 24 designs are present in each page making it a total of 2400 designs approximately for the 3d gun model.
This includes every type of gun, starting from a normal spray gun to an AK 47, to a pistol, to M4A1, a machine gun, and whatnot.
Cults 3D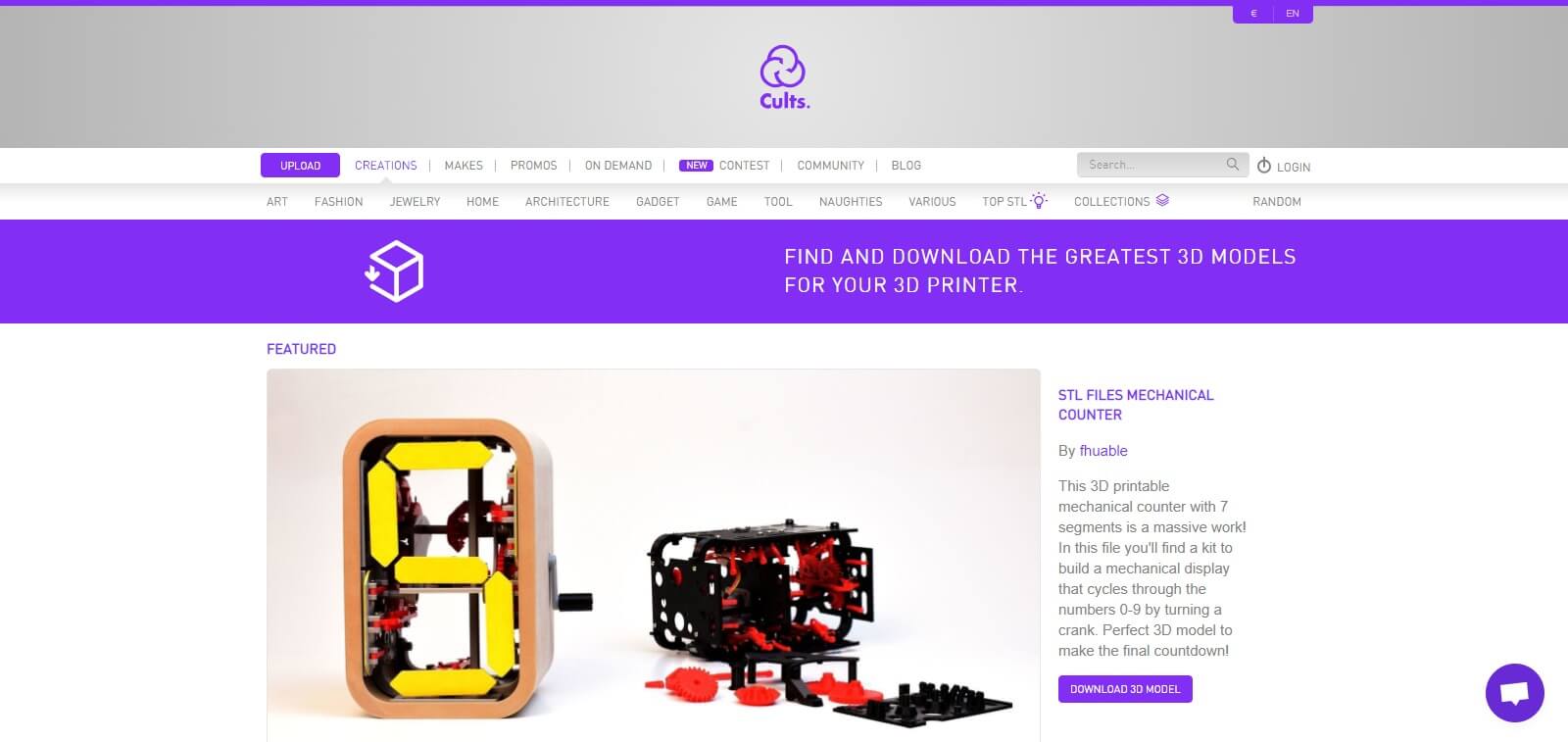 Not only does Cults3D offers its users maker-inspired 3D files, but also professional high-quality designs. The website checks each 3D design which is uploaded on it for 3D printability and categorizes them into sections such as fashion, art, jewelry, home, architecture, or gadgets.
Not every model uploaded on this website is available for free, but those which aren't free are available at affordable pricing. A "gun 3D model", search on this website leads to 1.84 thousand outcomes.
Pretty stylish designs of guns are available on this website ranging from a batman dark knight rises gun to, a Walther PPK cal 9mm to, a laser gun, a star-lord gun, a revolver, and many more.
CG Trader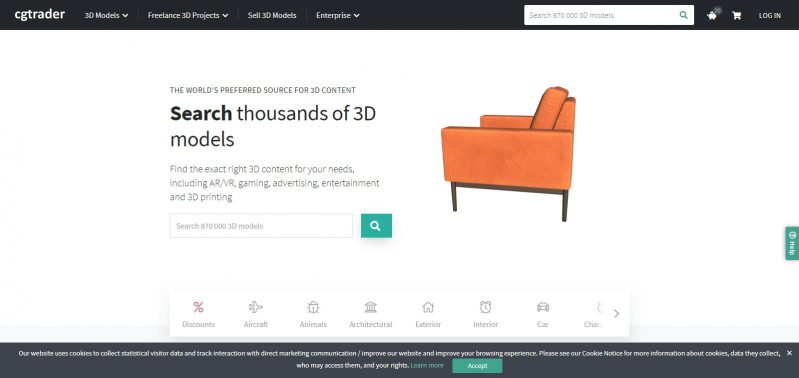 You get $20 off while registering on this website. CG Trader has approximately 36 designs on one page when you search for 3D printed gun STL files and such 121 pages, so imagine the amount of data that it has for 3D printed gun files alone.
Most of the designs on this website need to be purchased, we hardly found any design which was available for free.
But all these designs ranging from a shotgun to a low-poly, to an M4A1, to a submachine gun are very stylish. And hopefully, the professionalism that you get to see in the photographs from the website is what you get to see in the final product.
Free 3D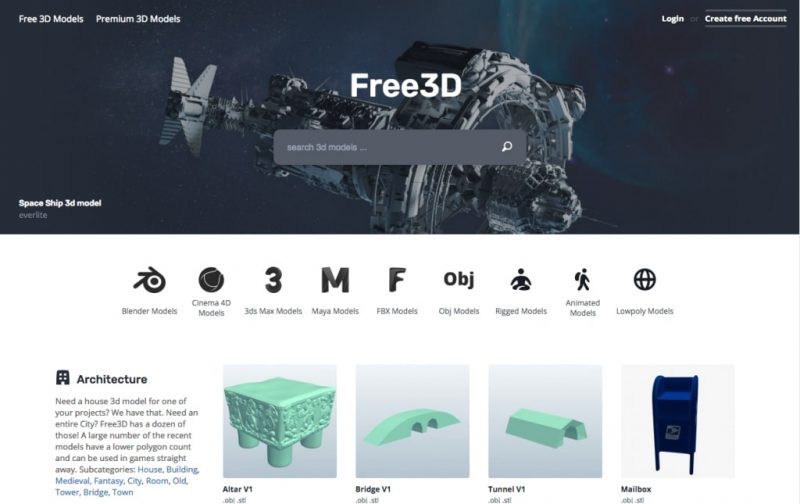 Apart from Stl, the files available on this website are also of extension OBJ. And it's not just about files, you can get access to a variety of 3D materials too.
Free 3D is a marketplace where you can get to find 3D modeling softwares such as Blender, Cinema 4D, or 3ds Max. This website has various sections listed over itself, such as architecture, vehicles, aircraft, or electronics.
By categorizing sections in such a way, users can search over the website more efficiently. Also, when you search for any model, it displays the search, both, collectively and categorically. 3D model for Guns available on the website is for Sniper rifle, M4a1, and AK 47, a shotgun, etc.
You have paid designs as well as models available for free on this website. If you are a designer or an engineer and wish to share the 3D model on this website, you can easily do that and get freelance work. This platform is available in more than 14 languages.
Clara.io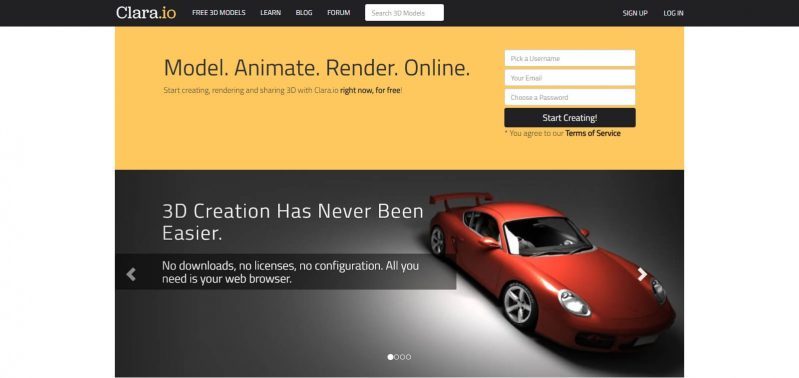 With more than a hundred thousand free 3D models in extensions such as OBJ, STL, FBX, DAE, Babylon, and Three.JS, at Clara.io you have the facility of rendering and sharing of 3D models.
Searching for 3d printed gun STL files, you get to see not as much as database as you get to see in the ones that are mentioned above but it suffices. An AK47, MP5K, Gun PBR, a handgun, a shotgun, a sniper rifle, and a lot more.
One thing impressive about Clara.io is that unlike other websites, when you search for a gun it does not show anything and everything related to guns.
It strictly shows files that have gun 3D models. Whilst the websites mentioned above display anything and everything related to guns, whenever searched!
MyMiniFactory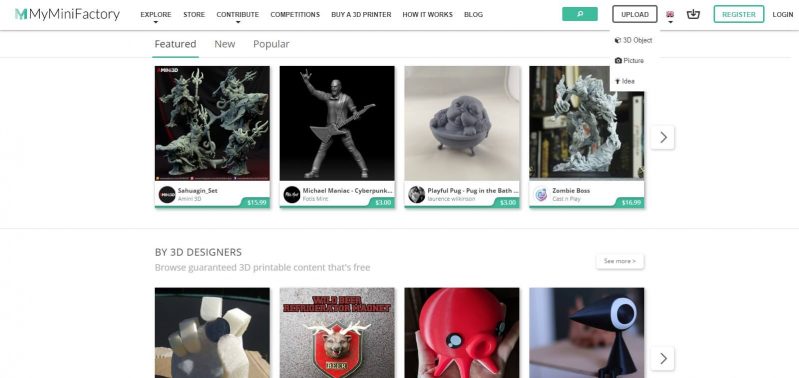 MyMiniFactory aims to increase collaboration between 3D designers by letting them share their work for free. One designer can know about the creativity of other designer and hopefully, they can come together appreciating each other's work and create something every more creative.
Free files are offered on MyMiniFactory for free and each file that is uploaded on this website is checked by community members of the website. You also get to see thousands of files on MyMiniFactory which were asked to be created by a specific designer by a user.
When you search for a 3D model of a Gun on the website, you get to see everything related to the gun on this website from a handgun, to a gun rack, to a Valkyrie with a gun, a flare gun, women with a gun and so on.
3DSky.org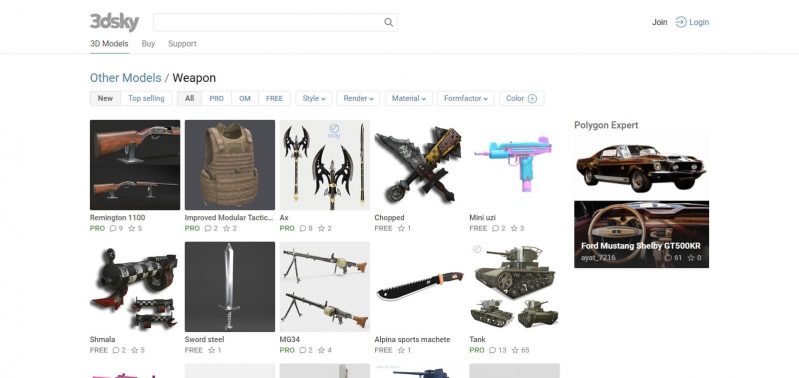 This website does not have as much database as the above-mentioned websites. When you search for a 3D printed gun STL file, you get to see everything starting from a hand grenade, a tank, a Glock pistol, a minion, and some guns too.
Although the websites claim to categorize itself in architecture, bathroom, child room, decoration, furniture, kitchen, lightning, other models, technology, and textures, one will be curious about the claims.
When you search for any model on this website, it displays the result by allowing you to search by material, color, form factor, what's a top-selling, styles, etc. This kind of search is not available on any of the websites mentioned in the list above,
Pinshape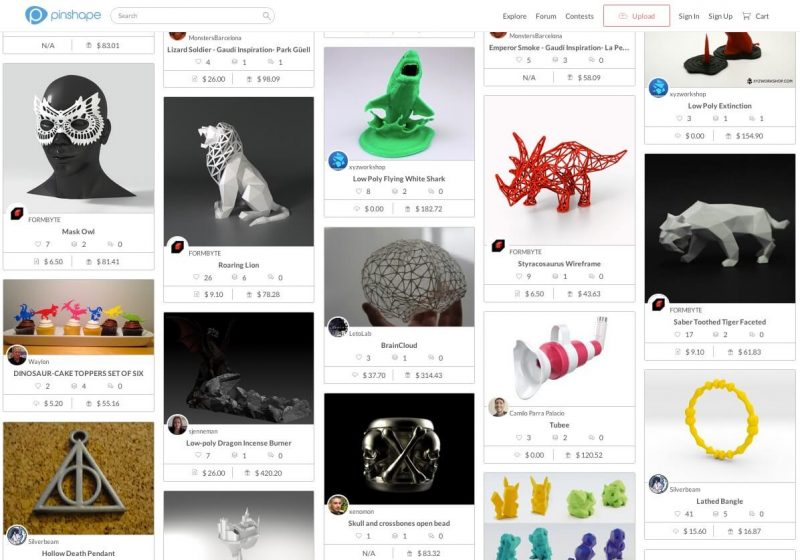 Pinshape brings together more than 70,000 manufacturers and designers who have published their 3D models on this platform. This website offers free and premium files that you can download for printing.
In 2016, this website was acquired by Formlabs, a very renowned name in the 3D printer making market. Since then, Pinshape also offers guidelines about how to 3D print and new 3D printing technologies.
Pinshape is intuitive in the sense that the basic algorithm displays work of few famous designers in front of you and the trendiest 3D designs, basically something that you any user searching for the 3D model would wish to see.
When you filter your gun search out from the available many other 3D models, you get to see many 3D models of a gun with gun cylinder, pen pencil holder, lowercase gun letters, and other such things as well.
However, you also get to see designs such as golden guns from James bond, gravity gun from half-life 2, etc. Overall, the website has many different options for every category of search, they are free as well as chargeable.
Thingiverse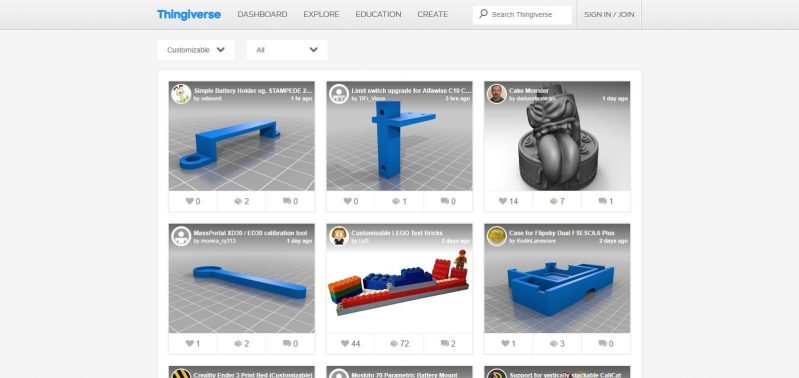 Thingiverse holds the title of probably one of the biggest and the most popular databases. The reason behind this title is not something that Thingiverse does eccentric from all these websites, it's just that the users here are more active than on other websites.
And the reason for having a more active user database can be credited to a more active community of the website. One thing that differentiates Thingiverse apart from the websites mentioned above is that it lets to access its database even without opening an account.
Of course, if you are registered on more organized websites like Cult and Pinshape, you will find Thingiverse a little unorganized than the former. But even the latter does not come with some fun as the former to its even.
Gun 3D model, when searched on Thingiverse, displays a result that has everything. Starting from a gun bottle opener, a rubber band gun, a pistol, a handgun, a kid's portal gun, a spray gun, a robot holding it a gun, etc.
You can filter your search by using options such as, viewing the most popular ones, the exact text rather than what's relevant, the newest ones, and the ones which are most made.
You also can search categorically using some time to figure out into which category your search falls into from the 50-70 odd mentioned ones. There is also another filtering that has options of searching for things, users, makes, collections, and groups.
Thingiverse is a platform that was launched in 2008. It belongs to the 3D printer manufacturer, Makerbot. Most STL files on this website can be freely downloaded. Apart from this, the website is also known for being interactive amongst users who upload their creation.
STL Finder
After logging into STL Finder, you get to see a search bar, a very basic page that asks you to search for the type of file that you are looking for.
You can type down the 3D model that you wish to search for, for example, the gun 3D model. What STL finder would do is, it would suggest to you all models associated with the one that you have searched on the websites that offer it.
STL Finder is more like a search engine that allows users to compare all the designs that are available on the web on a single platform and saving time.
This website takes your description of a 3D file on the sources and then displays the results to you. However, as simple it seems, it could get difficult because different websites interpret differently the search that you throw.
So, 3D printed gun STL files would not have the same results on Thingiverse as well as Cults. They would show different results, so you need to be precise with what you search, how you search.
Yeggi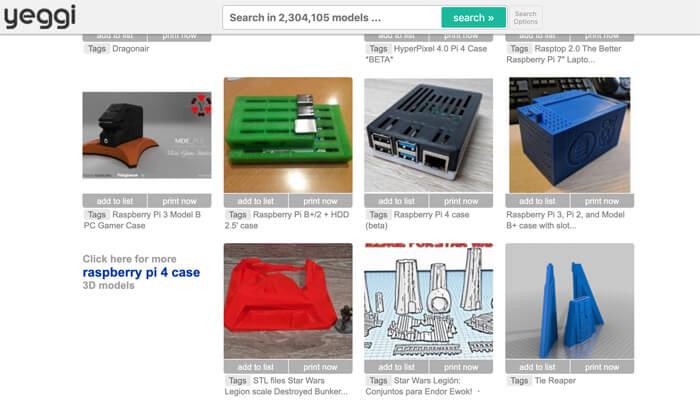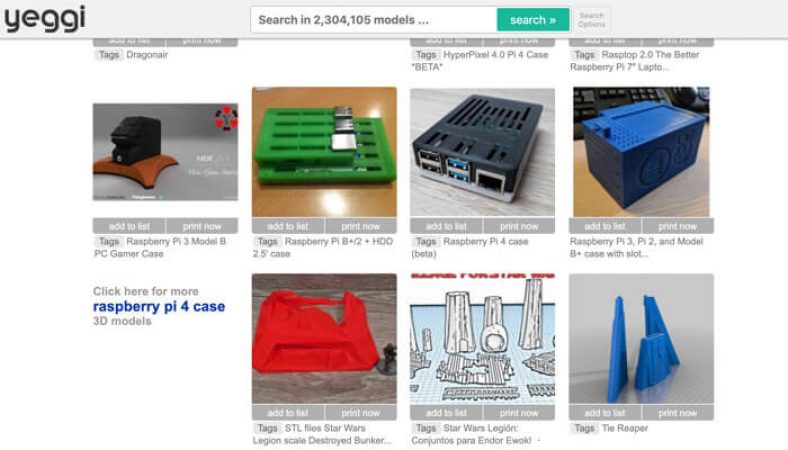 Another website with a similar logic as STL Finder by even more popular than STL Finder is Yeggi. Yeggi searches for your gun 3D model in its 2 million STL file options available online and displays results to you in few seconds.
What Yeggi does differently than STL Finder is that, it offers more filters and options than STL Finder. So, you can choose between free or paid files, the most popular models, recently added ones, etc.
This is something that STL doesn't do, it displays the searches that different platforms hold. The popularity of Yeggi is dedicated to the activeness of its users.
3D Warehouse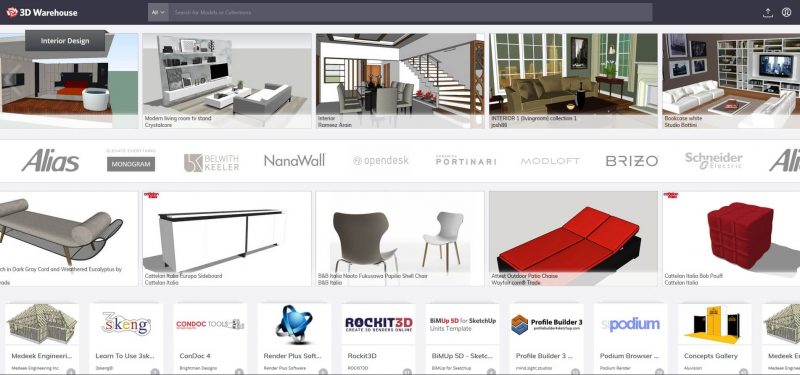 This website uses SketchUp software as a source. In the sense that, anything that is created on the software finds a listing on 3D Warehouse, be it an architecture model, or animal, or building product or any category from the 20-30 that are available.
More on the geometrical side, 3D Warehouse also gives you an option to view only the printable options, because it also shows some options which are only limited to designing and cannot be printed.
A search for a 3D model for gun results into a display of everything and anything related to guns, including a 3D printed gun STL file.
This website is mainly dedicated to makers, rather than users in the field of additive manufacturing.
It's highly valued in sectors such as architecture, design and serves as a platform for exchanging 3D models and also as a source of income for freelancers in the same field.
Not only can you download models using 3D Warehouse, but also can you add extensions to Sketch Up for improving your model quality.
The Conclusion
We have tried to express how these websites are best and what differentiates them apart from the others.
However, it's only when you would, as a user, may create an account and try to search for the type of gun 3D model, is when you would get to know the real experience. All the best for your search.