Formlabs Form 3
Formlabs Form 3 is again a huge accomplishment as they were able to pull the right cards with Form 2. The machine is even better and uses its propriety LFS process introduced by Formlabs itself. So, if you are looking forward to choosing SLA over other processes and still want to keep the budget low, you can go with Formlabs Form 3.
PROS
The print speed is fast as compared to its predecessor
The surface quality is improved
Controlled monitoring is available
Price is decent when compared to the other SLA printers
Advanced SLA technology coined as Lower Force Stereolithography
Closed body, hence safe
Good quality prints
CONS
Need support structure for prints
Post Processing Requirement
Product
Specification
Videos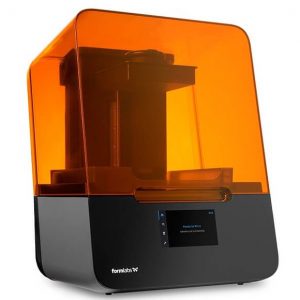 Providing pinpoint precision, Form 3 has a custom-designed Light Processing Unit that uses the intricate structure of lenses and mirrors for its ...
| | |
| --- | --- |
| Model | Form 3 |
| Manufacturer | Formlabs |
| Price Range | $ 3499 |
| Release date | 2019 |
| Country | United States |
| Availability | Available |
| Classification | Professional |
| Technology | Resin (SLA- DLP…) |
| Material | Liquid resin |
| OS compatibility | Mac OS, Microsoft Windows |
| XY accuracy | 0.025 mm0.001 in |
| Max. build size | 145 × 145 × 185 mm5.71 × 5.71 × 7.28 in |
| Max. build volume | 3.89 L |
| Min. layer thickness | 0.025 |
| Dimensions | 405 × 375 × 530 mm15.94 × 14.76 × 20.87 in |
| Weight | 17.5 kg38.58 lb |
| Heated print bed | No |
| Heated build chamber | Yes |
| Automatic calibration | Yes |
| Closed frame | Yes |
| Dual extruder | No |
| Independent Dual Extruder | No |
| Full color | No |
| LCD screen | No |
| Touchscreen | Yes |
| On-board camera | No |
| Mobile app | Yes |
| 3D scanners | No |
| CNC mill | No |
| Electronics 3D printing | No |
| Laser engraving | No |
| Conveyor belt | No |
| Air filter | No |
| Pellet extruder | No |
| USB | Yes |
| Wifi | Yes |
| Bluetooth | No |
| SD card | No |
| Ethernet | Yes |

Table of Contents
Formlabs is known for its high-end designs of SLA 3D printers. With its desktop SLA 3D printers, the company proved that the SLA technology is not limited to industrial use only.
Before Form 3, Form 2 was released with almost the same build volume, but working on SLA.
However, with Form 3, Formlabs has made some changes to what it calls Low Force Stereolithography. It claims that this new process is even better.
Because of this difference, the two printers, Form 2 and Form 3 are completely different machines when looked closer.
Let us check out what Formlabs has got us this time with their recent release of Form 3.
Features
Form 3 is based on LFS (Low Force Stereolithography). With many great features under its hood, the 3D printer boasting beautiful looks is set to make a huge contribution to those in love with SLA technology and have not been able to have access to it.
Black body with orange hood is an eye-catching combination and the way it works is also pretty different from lots of other desktop printers working on SLA technology.
So, let us delve deeper into understanding the various features of this machine that makes it worth all the buzz.
Specifications
Form 3 from Formlabs has quite a decent build volume of 145 x 145 x 185 mm. The company believes that this building space is enough to cater to the needs of more than 50% of the market users who are involved in 3D printing.
The user interface panel is also nice with a 5.5-inch touchscreen. This is close to the size of most of the smartphones in the market these days. This clearly means that there won't be any issues while interfacing with the panel as we usually do with our mobile phones.
The resolution is also one of the edges of the 3D printers Formlabs manufactures.
The z layer resolution of Form 3 could be adjusted from 25 to 300 microns. At the same time, the XY layer has a set resolution of 25 microns.
This is enough to build great models including finer details.
As mentioned before, the Form 3 3D printer works on LFS technology which is similar but not exactly a match to Stereolithography. It uses the Light Processing Unit of 250 mW405 nm. One can work with Formlabs resin cartridges with more than 20 material options to choose from.
| Specifications | |
| --- | --- |
| Build Volume | 145 x 145 x 185 mm |
| Laser | Light Processing Unit (LPU), 250 mW405 nm |
| File Type | STL, OBJ |
| Product Dimensions | 405 x 375 x 530 mm |
| Product Weight | 17.5 kg |
View full specifications here.
Formlabs Form 3 Price
Form 3 is available in two packages. One is the basic package that includes the necessary tools to start printing. This costs $3499.
The other is the complete package. Apart from the tools and machinery available with the basic package, the complete package also includes the post-processing tools such as one form wash, one form cure, 1 L of standard resin, and a Pro service plan. This package costs $5999.
There is a considerable difference between the packages. Choosing the one which may be your best fit will depend on how much you are ready to invest. If you are just trying to start printing, you can anytime choose the basic package.
First Impressions
When taking the Form 3 3D printer out of the box, one would find it exactly similar to the Form 2 versions released years back.
With the same design and almost the same build volume, one may get baffled by what makes this version different from its predecessor.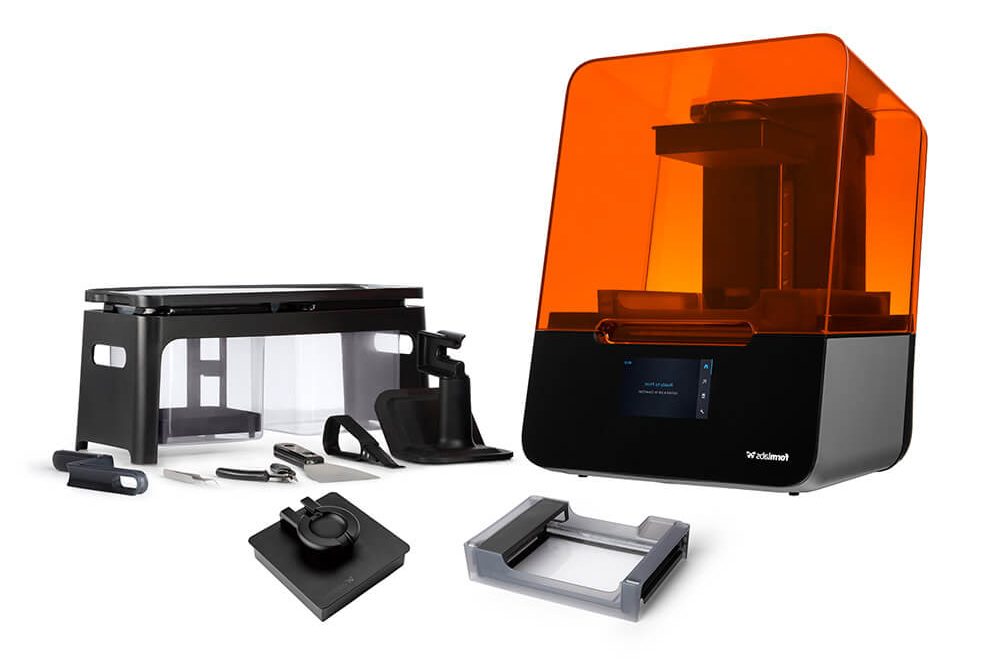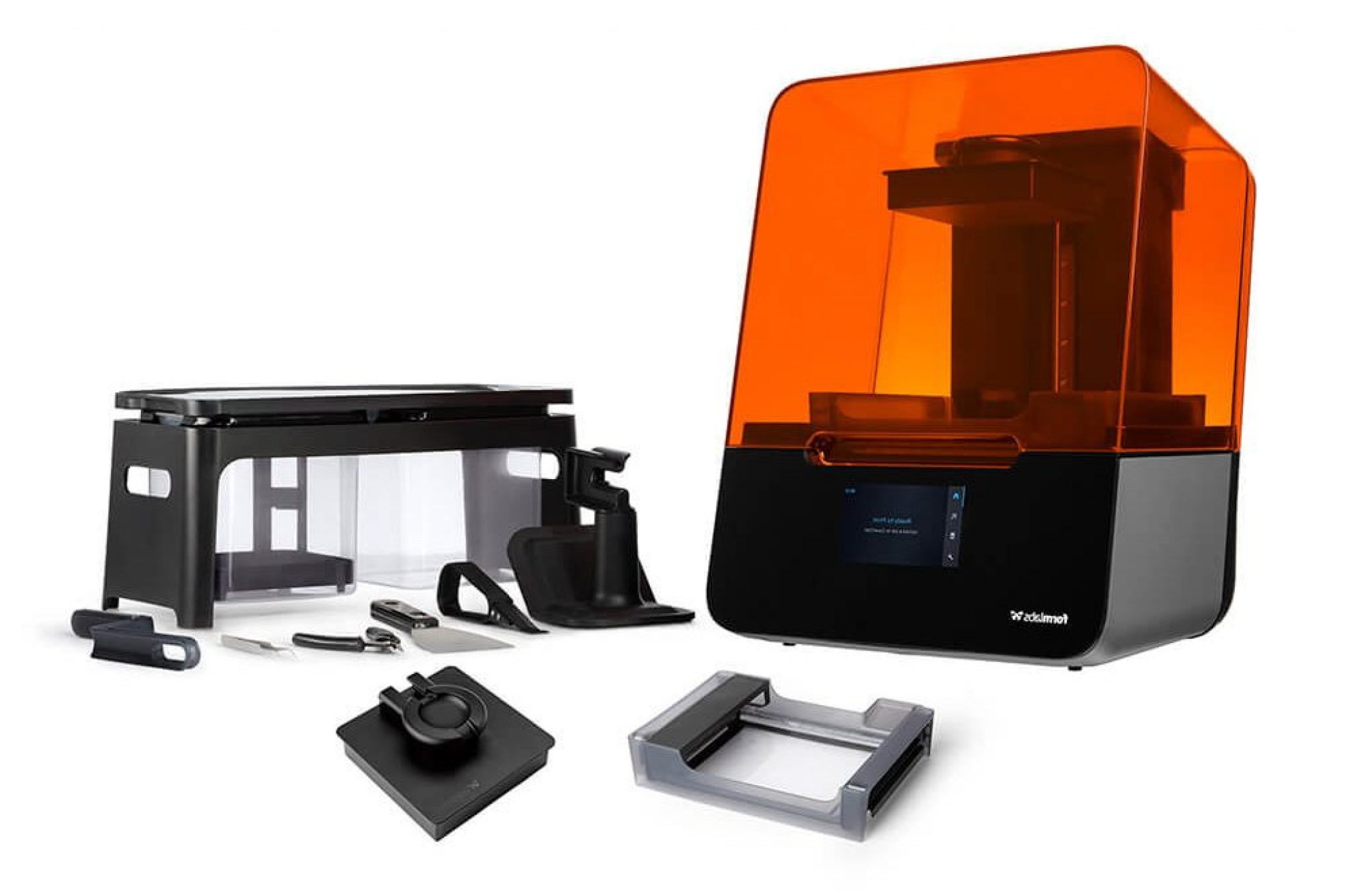 However, this machine is completely different from the previous release and offers many more benefits that features than the previous one.
The sturdy body and closed compartment make it safe to be used inside the house around children. It is also safe for beginners.
With plug and play feature, starting 3D printing is just as easy as a piece of cake, only if you are aware of how the technology works.
For beginners, understanding the setup and connecting the machine to a desktop or a USB or ethernet drive for loading the printable file may come as a challenge.
But that is only because beginners must have not used the 3D printers before. It is nothing to do with this 3D printer in specific.
Setup
Setting up Formlabs Form 3 3D printer is easy and can be done in a few minutes. The instructions are provided to help you through the setup process.
You must install a build platform, resin cartridge, and resin tank inside the printer. This is a one-time job unless you decide to change the materials.
It is easy to follow the instructions to set up the printer. They have online videos available on the website to help you with the entire process.
With automatic print bed leveling, you are only required to connect your 3D printer with wi-fi connectivity.
You can also use a USB or ethernet connection to load your printable file.
With no mess cartridges, removing and plugging in the material is also simple. You are required to use only Formlabs materials.
However, you do get a huge material selection with an expansive library of professional cartridges formulated for different industries.
Printing Type/Cost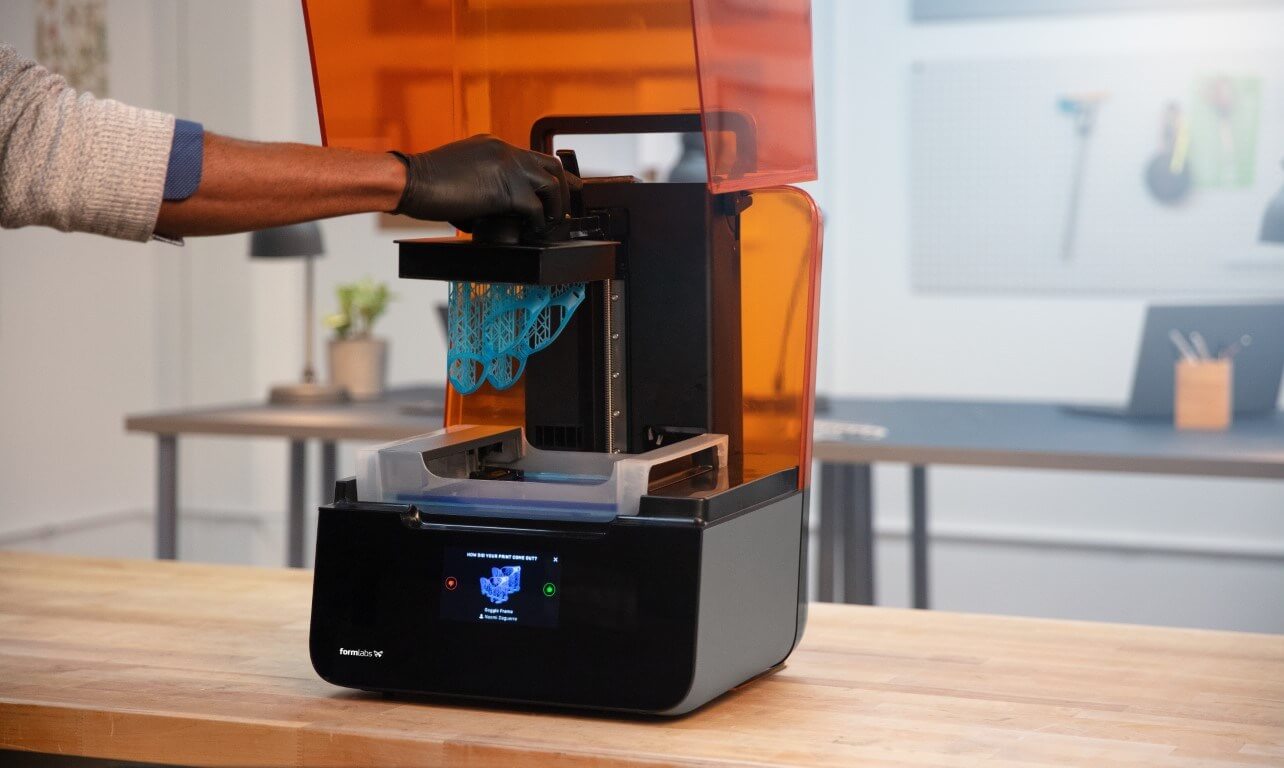 We have talked about LFS technology that triggers the working of Formlabs Form 3 3D printers.
However, what is this technology all about? There have been many questions about it.
What is the difference between traditional SLA and the newly designed LFS technology by Formlabs?
LFS (Low Force Stereolithography)
This technology is brought into action to reduce the stresses that are usually associated with traditional SLA 3D printing.
This can be experienced with all the 3D printers, small or big designed using SLA technology.
In the older release with Form 2, the company used the basic SLA technology which was based on curing the photosensitive resin using a laser.
With the investment of LFS, the use of direct laser is no more a case with Form 3.
In Form 3, the use of a flexible tank is introduced. This tank works to eliminate the peel force which used to be a common problem with the SLA process. This also helps in linear illumination.
LPU (Light Processing Unit)
The light processing unit abbreviated as LPU is the base of this new technology.
This is the high power density laser with 250 mW of greatness that helps in delivering the very precise printing for any kind of model, parts, and prototypes. This illuminates the build surface and causes the resin to set.
Unlike the usually fixed laser projection, the LPU moves laterally right beneath the resin tank.
This further assists in the involvement of lesser support structure, hence, a smoother layer finishes.
There are many benefits involved with such a printing process. Here are some of the major ones which are making Form 3 a popular competitor within its range of 3D printers.
Helps in Constant Monitoring: Did you know that this 3D printer is smart enough to notify you about the progress of the printing process in real-time? You may not have guessed this, but you can access the same over wi-fi connection on your mobile phones too. Moreover, the printer makes use of optical sensors which helps in automatic calibration. The sensors also sense the presence of unwanted dust inside the machine, helping you to take the necessary action.
Innovative Cartridge Function: If you have worked with SLA printers, you may know the pain of pouring the resins into the tanks manually. This is a hectic job taking into account the automation other machines have already been able to provide. However, with Form 3 3D printers, this is not something you must worry about. You can easily switch materials by replacing the cartridge. And, your job is completed.
Cartridge Sensors: The machine can detect when the cartridge is about to finish and would send you the notification beforehand.
Smoother Surface Finish: The new technology has given Form 3 3D printers, the privilege to print parts using lesser support. So, you get a better surface finish than the ones printed with the usual SLA process.
User-Friendly Post Processing Methods: The post-processing for parts is normally hectic with SLA technology. With Form 3, the company has tried to ensure that the task becomes easier by shipping its form wash and the entire post-processing kit with the purchase of the complete package of Form 3.
New Resin Introduced: There is a new Draft Resin material that has been introduced by the company alongside the announcement of Form 3 3D printer. This is for rapid prototyping. This resin's specialty is that it is designed to print up to 3 to 4 times faster than the ones available in the form of standard resins.
Easy Replacement of Parts: With Form 3, the removal and set of parts like resin cartridge, build plate, etc is easier. So, in case of repair or to replace the parts, you do not have to send the machine to the service center. This can be done at home all by yourself.
Print from Anywhere: A smooth dashboard design and cloud access, lets you provide instruction to your 3D printer for printing from anywhere. This is a fascinating feature and makes it easier to work with Form 3 3D printers.
Print Quality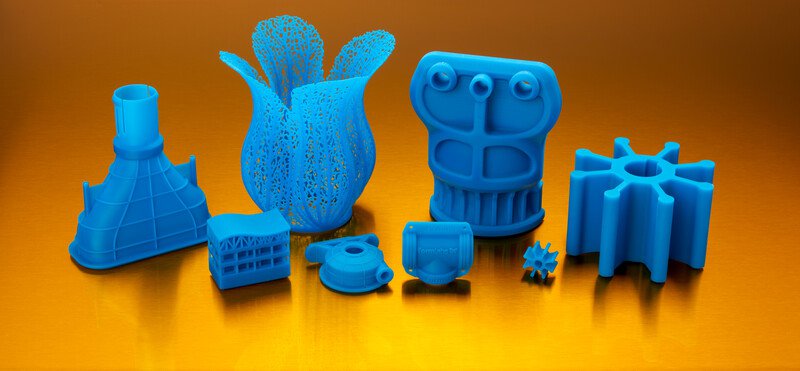 Talking about print quality, you anyway know that parts printed by SLA or LFS are better than the ones printed with FDM.
So, you will get results that cannot be achieved by many printers in the same range. Moreover, printing complex designs and functional prototypes is very much possible with this printer.
Also, the use of lesser and light support that is easy to peel off, the bar for surface finish, and the print quality are raised for every SLA printer in the market.
Software
The Form 3 3D printer accepts STL and OBJ files for 3D printing. The software available for managing the prints are PreForm and Dashboard Printer Management.
These are easy to operate and can be accessed via the cloud as well. You can save and print designs remotely with the help of Dashboard Printer Management.
It is cool to work with the software that comes in handy with this device. Even beginners will enjoy using user-friendly software.
Customer Service
The complete package available with Form 3 comes with a pro service plan. You can also go with the basic version and make use of their basic customer support services.
In short, the company has a very well structured support management to help resolve customer's queries.
Parameters to Influence Your Buying Decision
3D Printer cost: Although the price may look at the higher side, comparing it with the printers based on the SLA technology, you would understand how economical this option is.
3D Print quality: The print quality is sufficient to be used for professional as well as for printing intricate designs and prototypes.
3D Print speed: The print speed is also decent. Using the new draft of resin recently announced by Formlabs will even help you speed the printing process up to 5 to 6 times faster.
3D Printer capability: The usage of this printer stretches to huge applications. As per the company's verdict, this 3D printer is capable of serving more than 50% of the 3D printing population around the globe. That is a huge claim and the printer fits many criteria justifying the verdict.
3D Printer Practicality: Great for small printing productions. As well as the best choice for beginners who want to shift from an easy FDM technology to the vast SLA one.
3D Printer User expectations: Although the company has tried its best to reduce the efforts involved in post-processing requirements with the SLA process, you still need to go through these steps.
Users expectation of the machine is very much met with many parameters. However, the limitations connected with the SLA process are still there, if not completely.