Formlabs Form 3BL
Formlabs Form 3BL is not an ordinary SLA 3D printer. It's specifically for those who wish to manufacture dental parts on an industrial scale. It is tried and tested to produce 48 parts in a day.
PROS
Produces fine quality orthodontics model without any interruption.
Minimal cost per part.
Robust 3D printing system.
Enclosed build chamber.
Able to print with biocompatible resins.
Product
Specification
Videos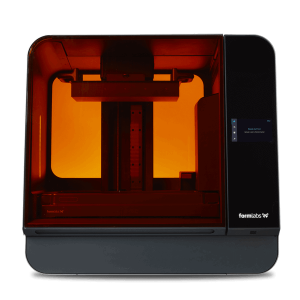 Housing a huge build volume of 200 mm * 335 mm * 300 mm, Formlabs Form 3BL is a dental 3D printer that's capable of working day and night with ...
| | |
| --- | --- |
| Model | Form 3BL |
| Manufacturer | Formlabs |
| Price Range | $ 13999 |
| Release date | 2020 |
| Country | United States |
| Availability | Available |
| Classification | Professional |
| Technology | Low Force Stereolithography (LFS)™ |
| Material | Liquid resin |
| OS compatibility | Mac OS, Microsoft Windows |
| XY accuracy | 0.025 mm 0.001 in |
| Max. build size | 335 × 200 × 300 mm 13.19 × 7.87 × 11.81 in |
| Max. build volume | 20.10 L |
| Min. layer thickness | 0.025 |
| Dimensions | 775 × 520 × 735 mm 30.51 × 20.47 × 28.94 in |
| Weight | 54.4 kg 120 lb |
| Heated print bed | No |
| Heated build chamber | Yes |
| Automatic calibration | No |
| Closed frame | Yes |
| Dual extruder | No |
| Independent Dual Extruder | No |
| Full color | No |
| LCD screen | Yes |
| Touchscreen | Yes |
| On-board camera | No |
| Mobile app | Yes |
| 3D scanners | No |
| CNC mill | No |
| Electronics 3D printing | No |
| Laser engraving | No |
| Conveyor belt | No |
| Air filter | No |
| Pellet extruder | No |
| USB | Yes |
| Wifi | Yes |
| Bluetooth | No |
| SD card | No |
| Ethernet | Yes |

Table of Contents
Form 3BL by Formlabs is an extremely large format desktop 3D printer that can be best said to be a "bar-raiser" in the field of dental 3D printing.
You can highly depend on this machine to get your dental parts done not only day-in-day-out but also with extremely detailing that is impossible to achieve otherwise.
It has an amazing accuracy range while printing Orthodontics models which lies somewhere near a hundred micrometers.
You can easily maintain ideal print conditions using Form 3BL with minimal operator intervention as it is designed for nonstop throughput. It is one of those rare 3D printers that deliver quality in an optimal time frame.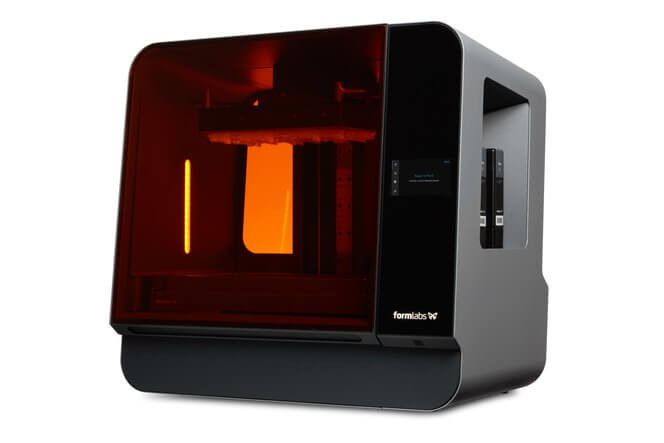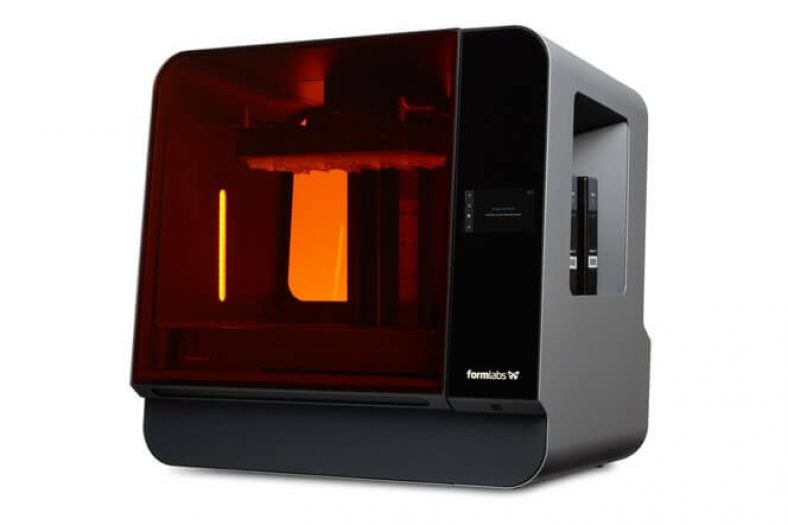 Primarily meant to help a team of dental experts to get the dimensional accuracy while manufacturing dental models, the printer is also by the experts that are responsible for Formlabs Dental. And this is something that makes Form 3BL special from other printers dedicated to the dental industry in the same price range.
In this article, we are going to unravel Form 3BL by taking you to the components and their functionalities that contribute to the printer as a whole. So, let's get started.
Features
Formlabs claim their printer to be maximizing productivity and minimizing intervention. And when you compare it to the niche that Form 3BL belongs to, which is a desktop 3D printer dedicated to making dental parts with LFS 3D printing technology, the claim actually stands true.
It is an outstanding machine that outdoes all of its competitors by simply delivering up-to-mark prints in amazing production times.
Below mentioned are the features that are highlights of this amazing beast in the field of 3D printing.
Automatic Resin Dispensing
As mentioned above, Form 3BL is based on LFS 3D printing technology and hence makes use of resin for creating an object.
While dealing with liquid material, there always lies an inherent problem of spilling it over while changing or keeping it in place.
So, you need a good arrangement in place to be able to dispense it and sort of play with it. And that's exactly what Formlabs has with Form 3BL.
They have an automated process for resin dispensing as the parts are printed. This is also one of the major reasons the printer has high throughput.
By automating the process in which there are chances of the most hassle, the printer manufacturer has actually increased the overall efficiency of the 3D printing process. Also, to know, how Form 3BL holds two different cartridges of resin to avoid mid-print interruptions.
Cloud Monitoring and SMS Alerts
Form 3BL has made the printer considering all the advances in digital technology. So, you have remote monitoring and inspection of your fleet of printers possible.
In fact, you can also track the printer's resin tank usage over specific time periods. All thanks to the online dashboard provided by the printer manufacturer.
Surveillance is a very important part of 3D printing and by making it convenient, Formlabs has taken the benefits of the technology to a completely different level.
The printer manufacturer has also availed you of SMS and email notifications. So, even when you are away from the printer, you will have complete information about the status of your prints.
Whenever they will be completed, or there will be conditions wherein your printer needs to be attended and that's when you will be notified.
In-House Repairs
All the important parts of the printer like the light processing units, the rollers, and the optics window can be replaced in-house.
Meaning that you do not have to wait at all for the replacement of any of the printer parts if something goes wrong. And this is a privilege to have in long-term 3D printing.
When you have even the replacements at your place in-house, you can afford to have some sort of uncertainties with ease.
If something pops up, you would not have to suddenly quit the printing procedure and wait for the amends. Only with such an arrangement can you take projects with more strict deadlines.
Given the fact that the printer is majorly used for producing dental models, this is a must.
Simple Software and Post Processing Tools
The management arena of Formlabs Form 3BL is pretty neatly distributed. After starting the printer, you will have to upload and prepare files using PreForm software.
Whereas, for managing the printer or printers you can visit the online dashboard! This is a convenient way of dealing with the complete management of the 3D printing process as the complete workflow is divided and isn't on a single platform.
Also, for the post-processing of parts 3D printed on Form 3BL you have unique post-processing stations such as Form Wash and Form Cure. Both of these can let you consistently post-process 3D printed parts with quality results in less time and effort.
All these tools are user-friendly and not much technical. So, even if you are a beginner in the field of 3D printing, you will be able to easily use them all.
Able to Prepare full Arch Orthodontic Models
The Grey resin with which you can 3D print on Form 3BL is capable of producing 100 microns layer thickness. The accuracy range of it is somewhere around 100 micrometers.
Coming to its accuracy over the surface it is somewhere near 103 percent. And this is a revolution in the field of dental 3D modeling.
Given the price at which Form 3BL is available, the build volume it can manufacture, and the technology it employs for producing parts, the scale is simply unmatchable.
You can easily prepare full arch orthodontic models using the printer with minimal intervention and ideal printing conditions.
Specifications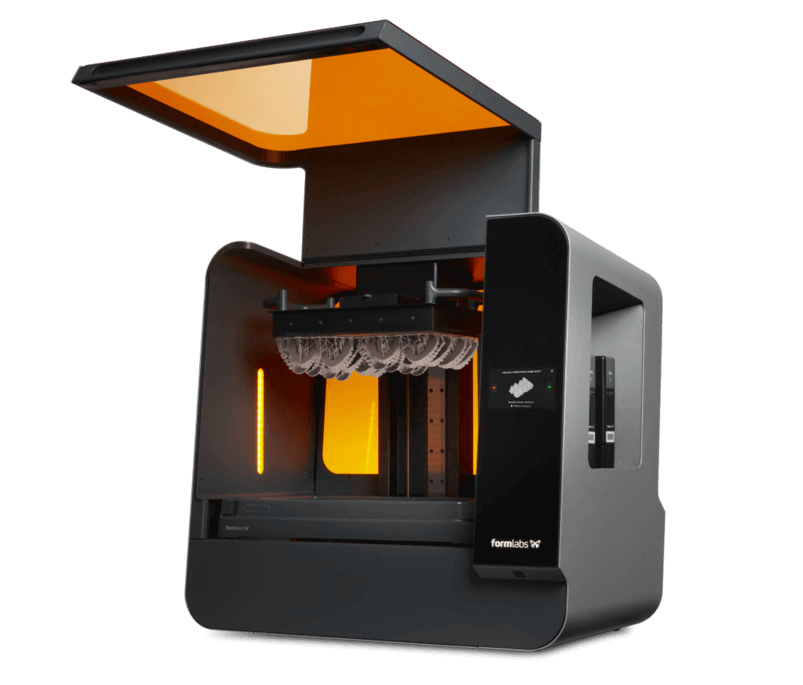 Credit: formlabs.com
Form 3BL is based on Low Force Stereolithography technology of 3D printing. The printer is able to produce an XY resolution of 25 microns. It has a laser spot size of 85 microns.
For curing a part or functional prototype the printer manufacturer employs two powerful laser sources of 250 mW.
Coming to the part that you all must be waiting for, Form 3BL is able to produce a maximum build volume of 33.5 cm * 20 cm * 30 cm.
Each and every dental part produced on the printer is said to have a layer resolution ranging between 25 to 300 microns. Also, to note how Form 3BL is compatible with biocompatible materials.
It has an automated system for resin filling and comes with two resin cartridges. The supports for 3D models are auto-generated using the management system of the printer.
Form 3BL's support can be removed via light-touch. Its dimensions are 77 cm * 52 cm * 74 cm and weight is 54.4 kilograms. The internal temperature of the printer auto heats to 35 degrees Celsius.
The temperature control is done via an air-heated print chamber. The ambient operating environment of Form 3BL ranges from 18 to 28 degrees Celsius.
It requires 100 to 240 Volts power source, 8.5 Ampere current at max, 50/60 Hz, 650 Watts power.
To connect with the printer, you can either opt for Wi-fi 2.4 GHz, Ethernet 100 Mbit, or USB 2.0. Form 3BL can be controlled via a 5.5-inch-long interactive touch screen which has a resolution of 1280 * 720.
Price
Form 3BL is available in a basic package at $13999.
First Impression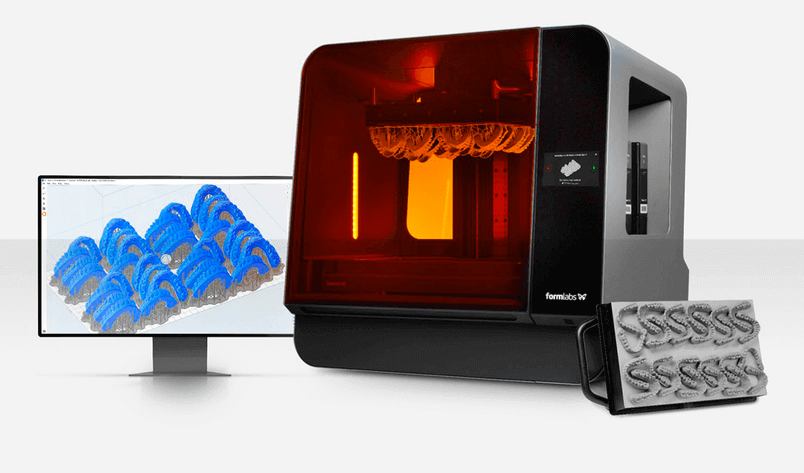 Credit: filament2print.com
The first thing that catches your eye in the printer, is the use of color, and then comes its sleek and modular design. It looks neat and sophisticated. At the left you have the print chamber; the touch screen interface is at the right.
This will make you think that there will typically be door handles either on the left or right to access Form  BL's print chamber from sideways.
But that's not the case, in fact, the printer's print chamber's door needs to be opened from its base.
The color of the print chamber's body is typically dark neon type increasing your curiosity of what's inside and how is the mechanism?
There is some slot on the right side of the printer which we are guessing is for lifting the printer or something else.
Setup
In the box that you will receive the printer you'll get the following with Form 3BL printer:
Form 3BL Resin Tank
Form 3BL Build Platform
Form 3BL Finish Kit: Cleaning Tools
Form 3BL Finish Kit: Rinse Bucket V1
Add a Service
The finishing kit with a rinse bucket will help you by coordinating with the cleaning tools to keep your workplace neat and organized while putting the finishing touches on your large format 3D printed parts.
Overall, the setup of this printer is very easy; it is a plug-and-play type 3D printer. All you will have to do is turn it in, initiate the setup, upload the sliced file and start 3D printing.
Print Type/Cost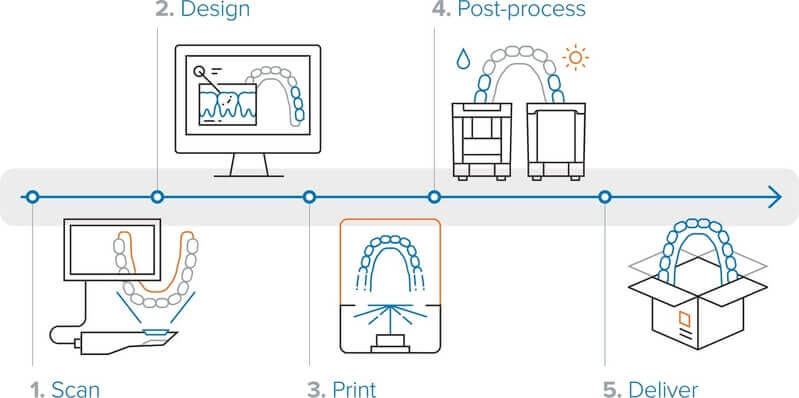 Credit: formlabs.com
Low Force Stereolithography is one variant of SLA 3D printing technology. Here too the parts are manufactured using liquid resins.
A laser source is used for curing the liquid resins that are laid over the build plate of the printer according to the geometry of the part or functional prototype that you are manufacturing. Point to point the part is individually cured using the laser source.
This is the reason why SLA 3D printers are known to give higher quality prints than FDM 3D printing technology. Coming to the cost of 3D printing a part using Form 3BL, it will obviously be more than average FDM 3D printers.
However, the overall cost depends on many variables including the geometry of the part that you are manufacturing, the resin used in it, the cost of that resin, support structures, etc.
Print Quality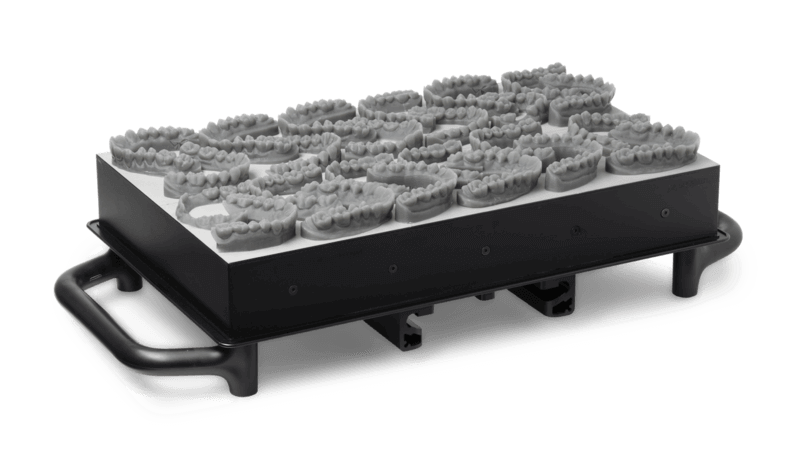 Credit: formlabs.com
Orthodontics is an industry wherein the accuracy of parts needed is very high and if the printer is able to function in such a fine detailing requiring industry, the work speaks for itself.
Apart from that, you can check out the layer resolution range offered by Form 3BL in the specifications section of the article.
Software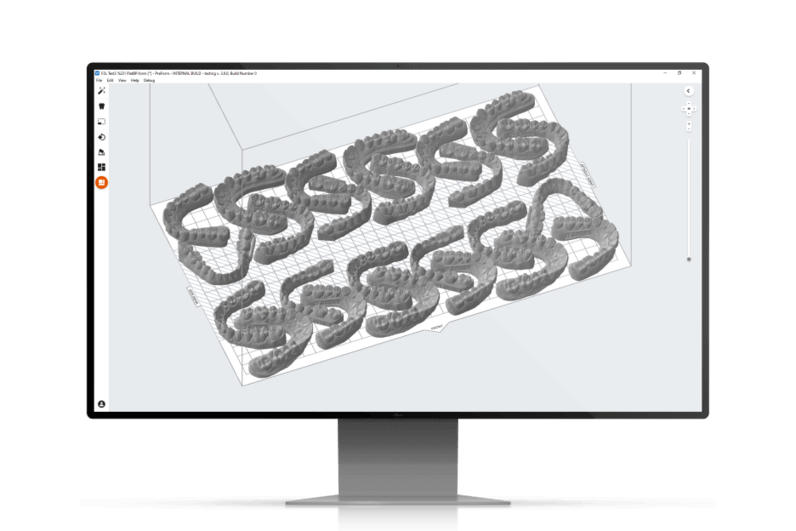 Credit: formlabs.com
Pre-Form is the name of the software that the printer is compatible with. You can play with file formats such as STL and OBJ on it. You will get the output in FORM format.
The software runs completely fine with Windows 7 (64-bit) and up Mac OS X 10.12 and up OpenGL 2.1 4 GB RAM.
Customer Support
Formlabs is known to offer world-class technical support and go to any extent for helping you out with your concerns on any of the printers that you purchase from them.
Guides and lots of reading material are available on their website. Apart from that, you can always contact them via email or phone.
Parameters Influencing Buying Decision
A printer can be rated by a sum of many factors such as its cost, quality, speed, capability, and user expectations. All of which are mentioned below in brief.
3D Printer Cost: On the higher end.
3D Printer Quality: Extraordinary prints with amazing layer resolutions possible to print.
3D Print Speed: The printer manufacturer has taken special care that its product has to undergo minimal interruption.
3D Printer Capability: Form 3BL is also capable of producing biocompatible materials.
3D Printer Practicality: When in operation the printer stands up to the claims of giving maximum productivity in minimal time.
3D Printer User Expectations: Dental experts are a group of individuals that'll be happy to receive such a tool that can turn their expectations into the closest reality models.
The Verdict
Formlabs Form 3BL is not an ordinary SLA 3D printer. It's specifically for those who wish to manufacture dental parts on an industrial scale. It is tried and tested to produce 48 parts in a day.
Although a bit on the higher end and able to produce only small build volumes, the printer is worth buying if you wish to become the manufacturer of dental parts.