FlashForge Adventurer 3
Adventurer 3 is a printer by Flashforge, that's based upon FFF/FDM 3D printing technology. This 3D printer is affordable, light in weight, user-friendly, and a compact desktop 3D printer.
PROS
Third-party filaments are supported in the printer.
The printer has a user-friendly touchscreen display.
There's a filament runout sensor in Adventurer 3 that's coupled with a resume print feature that allows parts to resume printing exactly from the same point from which they were left off after changing filaments.
Multiple connectivity options in Adventurer 3 include USB, Wi-Fi, ethernet, and cloud printing.
CONS
The build plate can move around too much and sometimes cause the part to fail so it has to be calibrated before printing which takes a lot of time every time!
The instruction manual that comes with this printer can be confusing to get through.
The Wi-Fi connection is known to present some issues while updating the software.
Product
Specification
Videos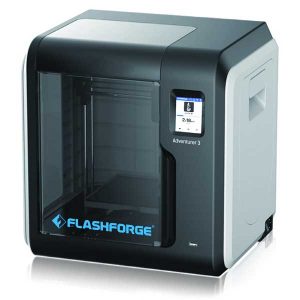 From style to performance, you can expect FlashForge Adventurer 3 3D printer, a great deal for beginners as well as experienced makers. Following a ...
| | |
| --- | --- |
| Model | Adventurer3 |
| Manufacturer | FlashForge |
| Price Range | $ 399 |
| Release date | 2017 |
| Country | China |
| Availability | Available |
| Classification | Desktop |
| Technology | Extrusion (FFF- FDM…) |
| Material | ABS, Other plastics, PLA |
| Filament diameter | 1.75 mm 0.07 in |
| OS compatibility | Linux, Mac OS, Microsoft Windows |
| Generic material | Yes |
| Max. build size | 150 × 150 × 150 mm 5.91 × 5.91 × 5.91 in |
| Max. build volume | 3.38 L |
| Min. layer thickness | 0.05 mm 0.002 in |
| Heated print bed | No |
| Heated build chamber | No |
| Automatic calibration | No |
| Closed frame | Yes |
| Dual extruder | No |
| Independent Dual Extruder | No |
| Full color | No |
| LCD screen | Yes |
| Touchscreen | No |
| On-board camera | No |
| Mobile app | No |
| 3D scanners | No |
| CNC mill | No |
| Electronics 3D printing | No |
| Laser engraving | No |
| Conveyor belt | No |
| Air filter | No |
| Pellet extruder | No |
| USB | No |
| Wifi | No |
| Bluetooth | No |
| SD card | Yes |
| Ethernet | No |

Table of Contents
Adventurer 3 is a printer by Flashforge, that's based upon FFF/FDM 3D printing technology. This 3D printer is affordable, light in weight, user-friendly, and a compact desktop 3D printer.
According to the advertisement done by the company, Adventurer 3 is primarily meant for educators and creators. The manufacturer of this printer, Flashforge, presented it at CES 2018 alongside other printers by the manufacturer like Creator 3, Inventor IIS, Guider IIS, and Explorer Max 3D.
Just like every other 3D printer, Adventurer 3 has some issues in it and they are primarily concerned with various filaments and software. However, the printer compensates by getting in some amazing features to suit hobbyists and students.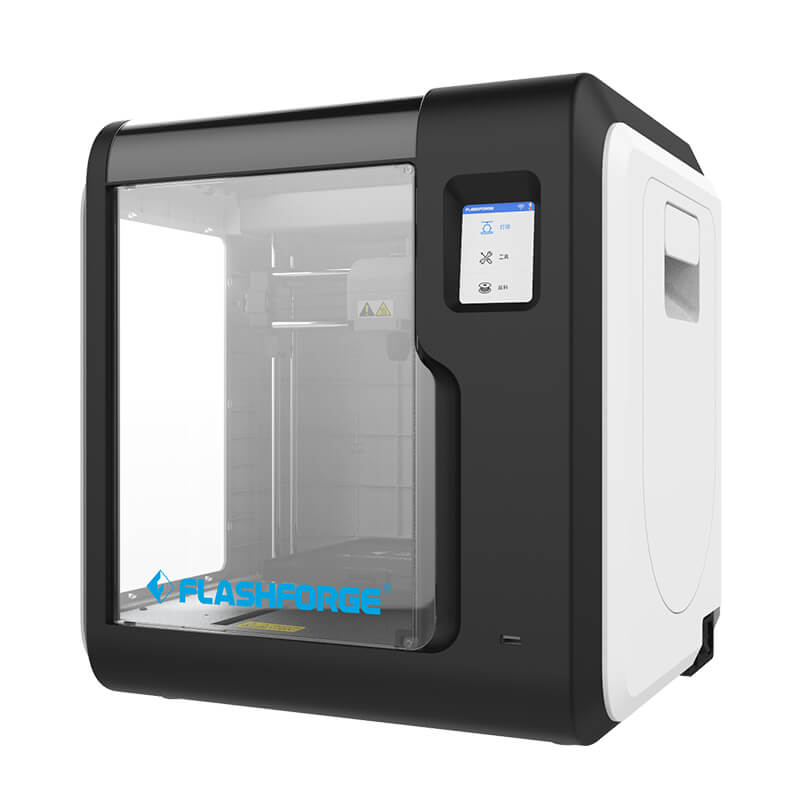 Like most of the desktop 3D printer, Flashforge Adventurer 3 has a fully enclosed structure and is considered to stay stable during the printing process. This 3D printer comes well packed in a large box and is fully assembled.
It is while unboxing this printer that you realize the fact that it is sky foam protected. And this makes Adventurer 3 shipped anywhere with a 100 percent undamaged guarantee.
Not that we have given you a little introduction about this printer let's take a look at features that makes Adventurer 3 suit its users.
Features
Flashforge Adventurer 3 boasts about important features and trust us when we say it has many. Below is a list of such features with an explanation that will enable you to compare and figure out what sets this printer apart from every other that's offered at the same price as this one.
It's important to note while buying a 3D printer that many things sets apart one printer from the other, but if you are looking to go along with this device you have to look at the features and understand them and sort of comparing it with the other before making your final call.
So, by giving this list out, we mean to help you before buying a 3D printer, as you must know some of the features in detail.
Speedy Heating Of Nozzle: All those who know how FDM 3D printing technology and the printer based on this technology works? They would be able to associate with this feature just by reading it, but for all those who do not know, don't worry. In FDM 3D printing technology the material that you print parts and prototypes with is kept in a filament that is heated using a nozzle. So the sooner the nozzle is heated, the faster the printing process of an FDM 3D printer starts.
Flashforge is an FDM 3D printer and its nozzle takes less time to be completely heated which in turn means that it will also take less time to start the printing process and end it. So the overall printing time of Adventurer 3 is less than its competitors in the same price range.
Flashforge Adventurer 3 is equipped with an upgraded nozzle that ensures stable filament loading. The manufacturer claims how its 3D printer can reach up to 200 degrees Celsius in just 50 seconds.
This is a point that you can specifically compare with other printers. The faster a nozzle is supposed to heat up, the lesser the printer's overall printing time is.
Impressive Extrusion System: The Extruder is the component from which the heated liquid is poured out layer by layer on the print bed. Different 3D printers have different extrusion systems. Flashforge 3 contains a turbofan and an air guide in its extrusion system itself. This improves the overall quality of the print. Another noteworthy aspect of the extruder's design its buckle release feature. Users can easily remove the nozzle using this feature, without dismantling the entire assembly and save time.
Easy To Use Touch Screen Interface: Notice when you go into buying a 3D printer that every desktop 3D printer nowadays comes with a touch screen interface. But not all touchscreen interfaces are easy to use. Some demand you to be techy, while some demand no knowledge to use it. Flashforge Adventurer 3 is not one amongst the former ones, but the latter. There is a touch screen interface that is fairly clean and intuitive. When compared to printers that come in a similar price range, this one works pretty well and faster in getting the job done.
Mechanism Of The Printer Is Simple: There is a singular print head of Adventurer 3 that moves along the X and the Z-axis, whereas the removable print bed moves on the Y-axis. The printer uses a Bowden extrusion system for the filament feeding mechanism. Mechanically, the motor is mounted away from the print head and the material has driven a tube to the print head via a nozzle which is made of PTFE. This mechanism of the printer enables users to increase print speed and precision without causing any hindrances.
Flexible Platform For Easy Object Removing: If you are finding any difficulties in removing the printed part, you can first remove the print bed and then take it to an open place and remove it. The heating bed can be removed and also be folded so that objects over this platform can be easily removed just by bending.
Specifications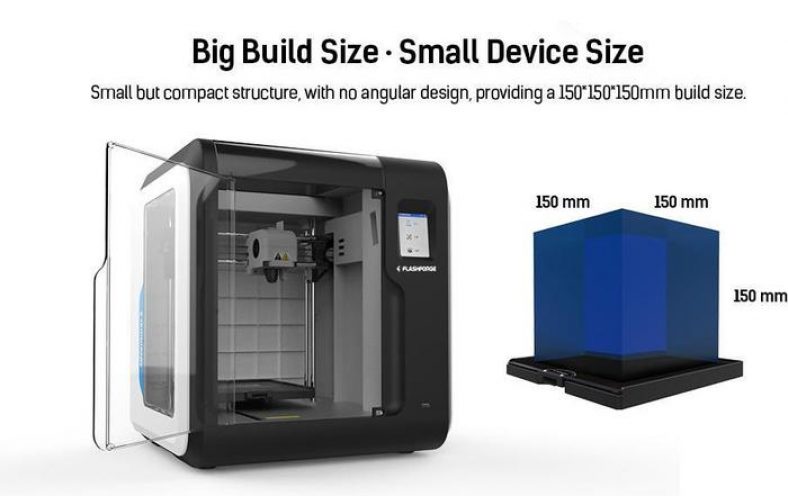 Adventurer 3 has a build volume of 150 m * 150 mm * 150 mm and a layer resolution range of 0.1 mm to 0.4 mm. Its nozzle diameter is 0.4mm and the maximum build plate temperature that can be achieved is 100 degrees Celsius.
This 3D printer is compatible with ABS as well as PLA and has a print speed of 100 mm per second. Adventurer 3 has a single extruder system and works on FlashPrint software.
The 3D printer works on FFF or FDM 3D printing technology and comes with a 2.8-inch touch screen interface with which you can operate the complete printing process.
Price
Listed at just $399 on Flashforge's website, Adventurer 3 has the above mentioned impressive features that justify its cost. These features deliver as they are advertised and could even do better when printing is performed according to the company's guidelines.
Overall, there are a few annoyances too while working with this printer, especially with its compatibility, as mentioned above. But that's the case with a printer that costs even more than this one.
First Impression
Unboxing Adventurer 3 will make you meet with a slick, well-constrained little cubical machine, plugging which will introduce with the friendly user interface on the built-in interface.
Adventurer 3 is simple in its use, overall design as it appears at first glance and has three door openings which are transparent enabling you to monitor the print process even without any help of the camera.
Knowing this, the company boasts about its simplicity feature quite well. When in printing mode, the machine runs relatively quiet and all noise that comes is only from the fans that are used in the printer.
However, it is recommended for the built-in chamber of this printer to have fit in standard size spools and not custom-made.
Setup
If you are unboxing the printer at a place that you had planned before it shipped to you, all you need to set up is a plug besides this printer, and you are done. Switch on the plug to start printing with Flashforge Adventurer 3.
Printing Type/Cost
The printing cost of this printer depends on very many things, starting from the material that you use for printing the part or type to the print speed it provides.
It also depends on a lot of other factors such as design complexity and other variables. Long print jobs, in particular, are not an issue for this 3D printer, as there is something called ABS Notre Dame Model of this printer which is reported to have printed for 15 hours with no issue.
Print Quality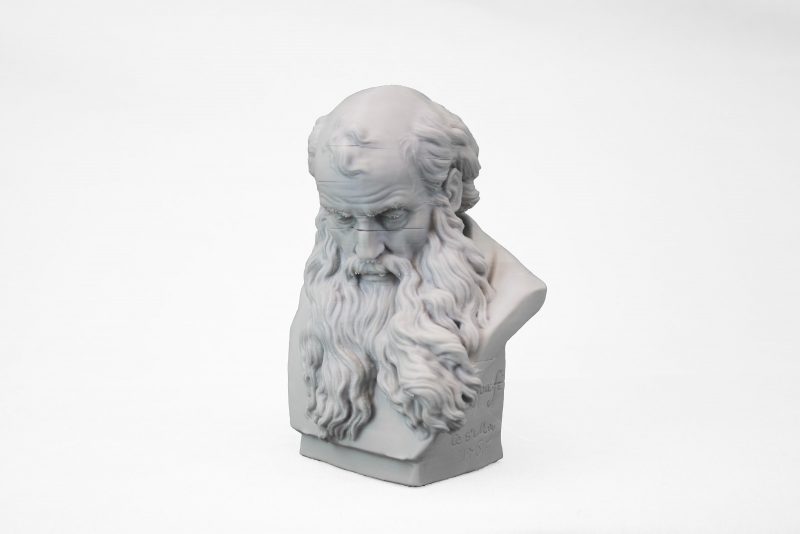 The part quality which is printed is excellent. When all lids are closed, the machine suddenly becomes great for ABS prints.
When working with more challenging materials such as ABS, the spool storage of the printer is outside of the system due to the small spool capacity that Flashforge Adventurer 3 has, but the effect on prints is negligible if the airflow is properly contained.
One can successfully print a Benchy, and Aria Dragon, and a detailed Pirate bust using this 3D printer. All the prints come out very nice and you are happy to see the quality this printer was consistently printing with out of the box.
There are also reports about how people can print an Iron Man lithophane, the print quality of which is fairly good. However, the print does have some adhesion issues and the outside edges of the parts do lift a little by causing some unwanted layer lines.
But that is due to the user and not due to the printer. You enjoy the fact that the heated bed is removable and flexible. It made removing completed prints with ease.
Software
The printer is only operational with Flashpoint software so you need to have that on your computer. This software is compatible with Windows 7 and above, Mac and Linux operating systems.
The manufacturer FlashForge provides its slicing software, FlashPrint. The user has to go through the basic print settings, like the material, print resolution, and whether a raft and supports that are necessary on their model.
Learning all this can take a considerable amount of time, but once done, it is forever done.
Customer Service
Flashforge is a renowned name in the 3D printing industry for its customer service and 24*7 assistance that the company promises to provide. You can get support from an e-mail, via phone or Skype, however, you like.
Parameters Influencing Buying Decision
Let's look at some of the parameters in brief before we provide the final verdict for Adventurer 3 by Flashforge.
3D Printer Cost: The overall cost of Adventurer 3 printers is justified based on the fact that the primary targets of the company are small businesses and hobbyists.
3D Print Quality: Flashforge Printers is known to provide excellent print quality because of which its parts and prototypes are used in various industries ranging from aerospace to jewelry.
3D Print Speed: Industry-standard i.e. 15 to 18 mm per second.
3D Printer Capability: All the printers in the Adventurer series by Flashforge are capable to print complex geometries with dimensional accuracy.
3D Printer Practicality: Desktop printers by the manufacturer help small businesses grow, whilst industrial-grade printers help manufacturers to build in bulk amount.
3D Printer User Expectations: Flashforge printer has gained fame in the 3D market by satisfying user expectations and it still intends to grow more in that area by presenting printers like Adventurer 3 in the market.
The Verdict
After only a week of printing with this machine, you would come to know that the features on which company banks and advertisements are really worth it.
Even while buying, if you compare the features with competitors you'd get to know that this printer has everything that it takes to be in the price range that it currently is.
The performance of Adventurer 3 isn't top of the line, but considering all the features packed in for the price, it's certainly acceptable.
The Adventurer 3 is a very useful tool for education, and beginners or the casual hobbyist that love to experiment with technology. In these regards, there are not many printers that can serve all three audiences.
However, for a maker or professional, this printer could very well end up being frustratingly limited, both in print size and slicer compatibility. But it serves the primary audiences with complete justice.