Ultimaker S5 3D Printer
Unlike other 3D printers that are exceptionally expensive and do not offer anything unique to the users, Ultimaker S5 breaks that myth. It isn't very cheap but remarkably justifies its cost with a variety of tools and functionalities it comes with.
PROS
The 3D printer is very simple to setup
The exceptional quality of prints possible
Bigger build volume
Compatible with multiple materials
Colorful touchscreen with intuitive control
Remote access to the print using Cura
CONS
Expensive
Print time may seem slower for smaller print height
Product
Specification
Videos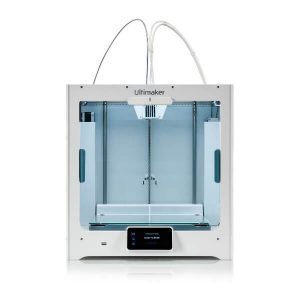 Extremely easy to use and setup, the Ultimaker S5 not only has exceptional quality but a large build volume. The printer comes with dual extrusion, ...
| | |
| --- | --- |
| Model | Ultimaker S5 |
| Manufacturer | Ultimaker |
| Price Range | $ 5995 |
| Release date | 2018 |
| Country | Netherlands |
| Availability | Available |
| Classification | Professional |
| Technology | Extrusion (FFF- FDM…) |
| Material | ABS, Other plastics, PLA |
| Filament diameter | 2.85 mm 0.11 in |
| OS compatibility | Linux, Mac OS, Microsoft Windows |
| Generic material | Yes |
| XY accuracy | 0.007 mm 0 in |
| Max. build size | 330 × 240 × 300 mm 12.99 × 9.45 × 11.81 in |
| Max. build volume | 23.76 L |
| Min. layer thickness | 0.02 mm 0.001 in |
| Dimensions | 495 × 457 × 520 mm 19.49 × 17.99 × 20.47 in |
| Weight | 20.6 kg 45.42 lb |
| Nozzle diameter(s) | 0.4 mm 0.02 in |
| Power input | 500 W |
| Heated print bed | Yes |
| Heated build chamber | No |
| Automatic calibration | Yes |
| Closed frame | Yes |
| Dual extruder | Yes |
| Independent Dual Extruder | No |
| Full color | No |
| LCD screen | No |
| Touchscreen | Yes |
| On-board camera | Yes |
| Mobile app | Yes |
| 3D scanners | No |
| CNC mill | No |
| Electronics 3D printing | No |
| Laser engraving | No |
| Conveyor belt | No |
| Air filter | Yes |
| Pellet extruder | No |
| USB | Yes |
| Wifi | Yes |
| Bluetooth | No |
| SD card | No |
| Ethernet | Yes |

Table of Contents
Ultimaker is one of the most renowned players in 3D printing, especially when it concerns the open-source community. Being able to provide huge hits to the users, the company has become a pioneer for many.
Among the few manufacturers known for their high-quality professional 3D printers, there is no surprise why Ultimaker S5 is such a treat.
The Ultimaker S5 review underlines the various unique features and advantages of this popular machine. Also, the article would highlight the limitations that the 3D printer comes along with. Hence, providing its readers with enough input to decide for the best.
A few years back in 2016, the company came up with its Ultimaker 3 bringing dual extrusion for professionals. And, it was the best value professional money available for a very reasonable price.
With Ultimaker S5, the manufacturer has increased the level of 3D printers even further. The machine is bigger with enhanced capabilities and better results. One can create astonishing and varying parts.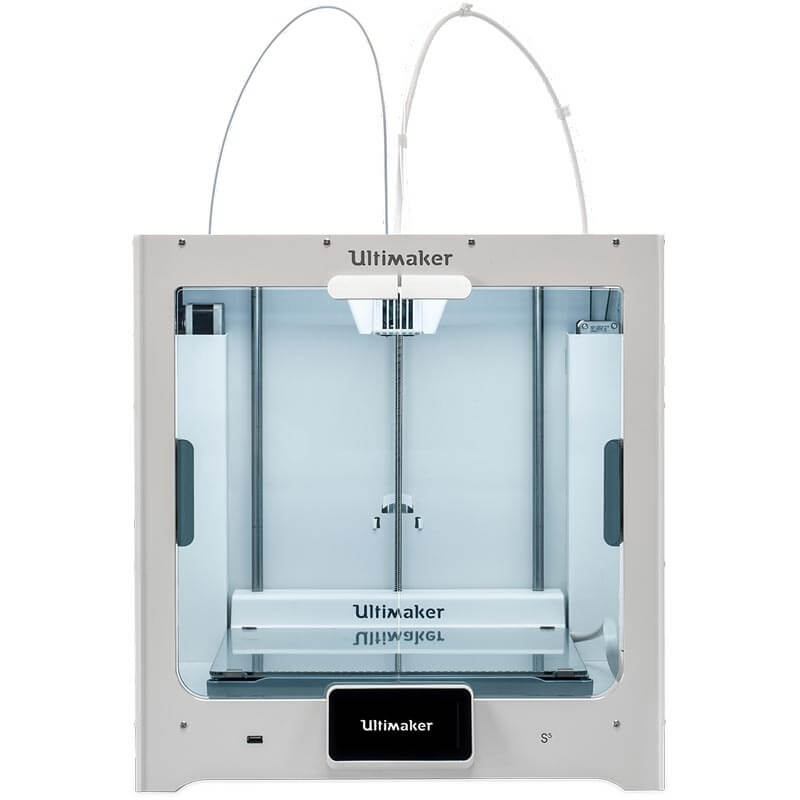 Unlike other 3D printers that are exceptionally expensive and do not offer anything unique to the users, this one breaks that myth. It isn't very cheap but remarkably justifies its cost with a variety of tools and functionalities it comes with.
You are certainly going to love this machine. However, as mentioned before, there are certain limitations too. But that is pretty obvious. No machine is perfect and this one is no different.
But, the Ultimaker has very well traded off the limitations with some exciting inclusion in S5 that wasn't there in the previous versions.
So, let us find out more about the machine and decide what it entails. And, who all can make use of this powerful 3D printer.
Features
As you would expect, the 3D printer has definitely left its predecessor far behind. Ultimaker S5 picks up a few of the most desirable features and locks it with its high reputation to bring the exciting deal forward.
Here are the major features of Ultimaker S5 that you must know about. These are what, when stuck together in one offering, can help create the most powerful machine.
Bigger Build Volume: This is a desktop 3D printer, yet offers a huge volume. You can accomplish most of the tasks in one go instead of depending on gluing different parts later. Because of its enormous volume, the machine is capable of working for a variety of niches. From prototypes to end products, you can build a huge range of products and parts using Ultimaker S5.
Sturdy Body: This is something that is common along with all the products of Ultimaker. The company always astonishes users with its sturdy frame that is highly stable. Hence, when printing with Ultimaker S5, you do not feel vibrations. Thus, achieving better finish and accuracy.
Dual Extruder: You can 3D print with two different colors and materials at the same time. With the ability to print with dual extruders, the 3D printer allows for better results. Again, one of the most important features when trying to suit the different needs of users.
Swappable Print Cores: Do you know that an ability to print with different sizes print core allows for a wider range of creation? With Ultimaker S5, this is completely possible. One can introduce a smaller diameter nozzle for finer details. However, when in need of high speed, switching to a bigger diameter would certainly be huge progress.
Heated Print Bed: The 3D printer can print with a variety of materials. That means you can build parts with standard materials such as PLA as well as with tricky ones, such as ABS and Nylon. With a heated bed, the chances of warping and problems with first layer adhesion reduce considerably.
Support for Soluble Support: Users can also print with PVA. This means that the post-processing can be eased using this soluble material as support.
Pre-Print Setting: The 3D printer comes with pre-settings. Hence, it can recognize the materials with the help of NFC reader and changes the settings accordingly. This makes it quite easy for beginners to work with this 3D printer.
Pause and Resume: Ultimaker S5 offers the capability to pause the print in between for changing the filament. Later, you can resume the process from where you stopped printing. This also gives the user the facility to print with multiple materials at once.
Active Bed Leveling: With this feature, the bed leveling becomes a breeze. Also, with precise settings, possible with fewer efforts help users achieve a flatter first layer for better adhesion. Hence, minimizing the chances of warping and insufficient layer adhesion.
Filament Flow Sensor: This enables the user to stay tuned with the amount of filament left for use. In other words, the 3D printer would pause and alert the user when the filament is low.
Open Filament Support: This is one of the most welcoming features of the printer. Because of this, users can use the filament from a third party as well. Many users wish to experiment with different filaments beyond the varieties that the printer's manufacturer sells. And, many times, it appears cheap as well. With open source backing, one can try that too.
Along with these features, there are many other beneficial additions that make this machine must go for active and serious users.
Specifications
The 3D printer comes pre-assembled and has a footprint of 495 x 585 x 780 mm. It offers a build volume of 330 x 240 x 300 mm.
This surely is something that is not accessible to most of the desktop 3D printer users. And, one of the reasons why the printer is so desirable.
Ultimaker S5 offers a print resolution between 20 microns to 600 microns. Hence, allowing users to achieve varying results. The nozzle can reach a print temperature of 280 degrees Celsius. Hence, one can print with the trickiest filaments as well with higher melting points.
With multiple material support and being able to 3D print with soluble material, PVA, Ultimaker S5 brings the most competitive technical specification forwards for others to envy.
Price
The basic price of the Ultimaker S5 is $5,995. Pretty expensive! However, when you consider the amount along with the other professional 3D printers with similar results, you would find it much deserving of the price tag. Not designed for home users and makers, but for professionals.
First Impressions
Ultimaker S5 comes packed securely with foam stuffed inside to keep the parts safe. The sleek packaging is easy to take off. Also, there are various accessories and replacement parts snuggled inside the package.
Along with the 3D printer, you would find two different build plates, one of Glass and another of aluminum for handling different types of materials. Also, there are two different print cores and one separate that is already installed in the machine. So, in total there are three print cores.
Apart from that, there are spool holders, power cable, ethernet cable, calibration sheets (for glass and aluminum bed), USB stick, three nozzle cover, glue stick, grease, oil as well as hex screwdriver.
You also receive test filaments. A 750 g of tough PLA and another 750 g of PLA. In short, you have everything to start printing right out of the box. And, not to forget, there is a setup guide for making every step easier.
Setup
Although a plug and play machine, the Ultimaker S5 does come with a few setup requirements. However, the quick setup guide has all the information you need for this task.
It has the proper description of how to install the Bowden extruder and the spool holder. After this completes, you must connect the spool holder to the NFC reader, for allowing the printer to adjust the settings as per the chosen filament.
Later, you need to put on the build plate. This is when you are ready to turn on the 3D printer. As it lights up, the touchscreen would guide you through the rest of the process. This would include language confirmation, filament loading, and various other steps.
You must connect the printer with the network and update the firmware if required. Apart from that, the guide instructs you on how to start with your first model using Cura.
Printing Type/Cost
Ultimaker S5 is an FDM 3D printer. It uses filament to create 3D parts. The extruder deposit one layer of the melted filament at a time. After it cools and sets, the build plate moves down for making room for the next layer. This process goes on until the entire part is created.
The cost of printing with an FDM printer would depend on the material you choose, the complexity of the part, the size of the part, layer height, and many other parameters. For keeping the cost low, you can choose PLA as it is the cheapest material available.
And, you should not forget to count the other expenses such as electricity cost, office rent (if you have one) and many other factors.
Print Quality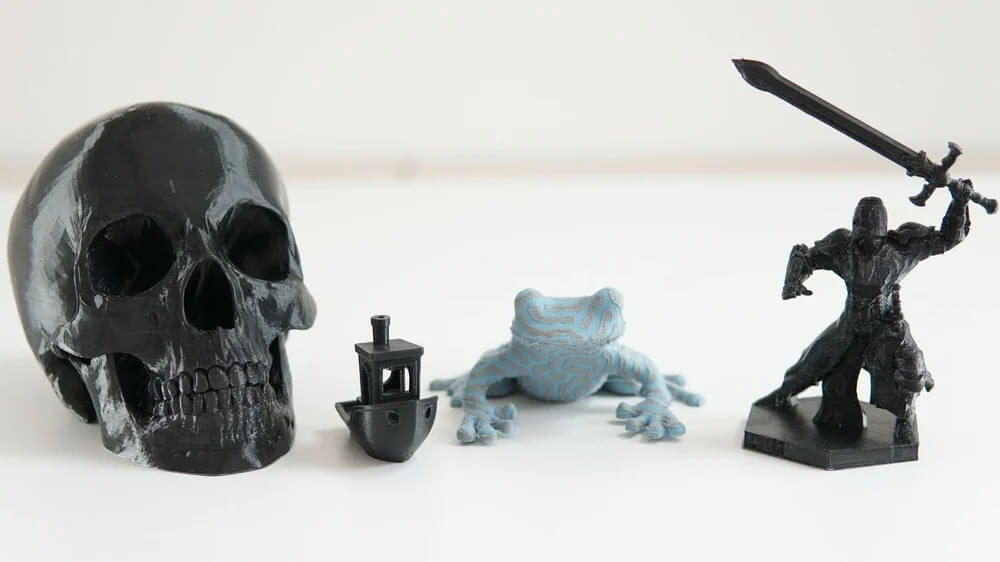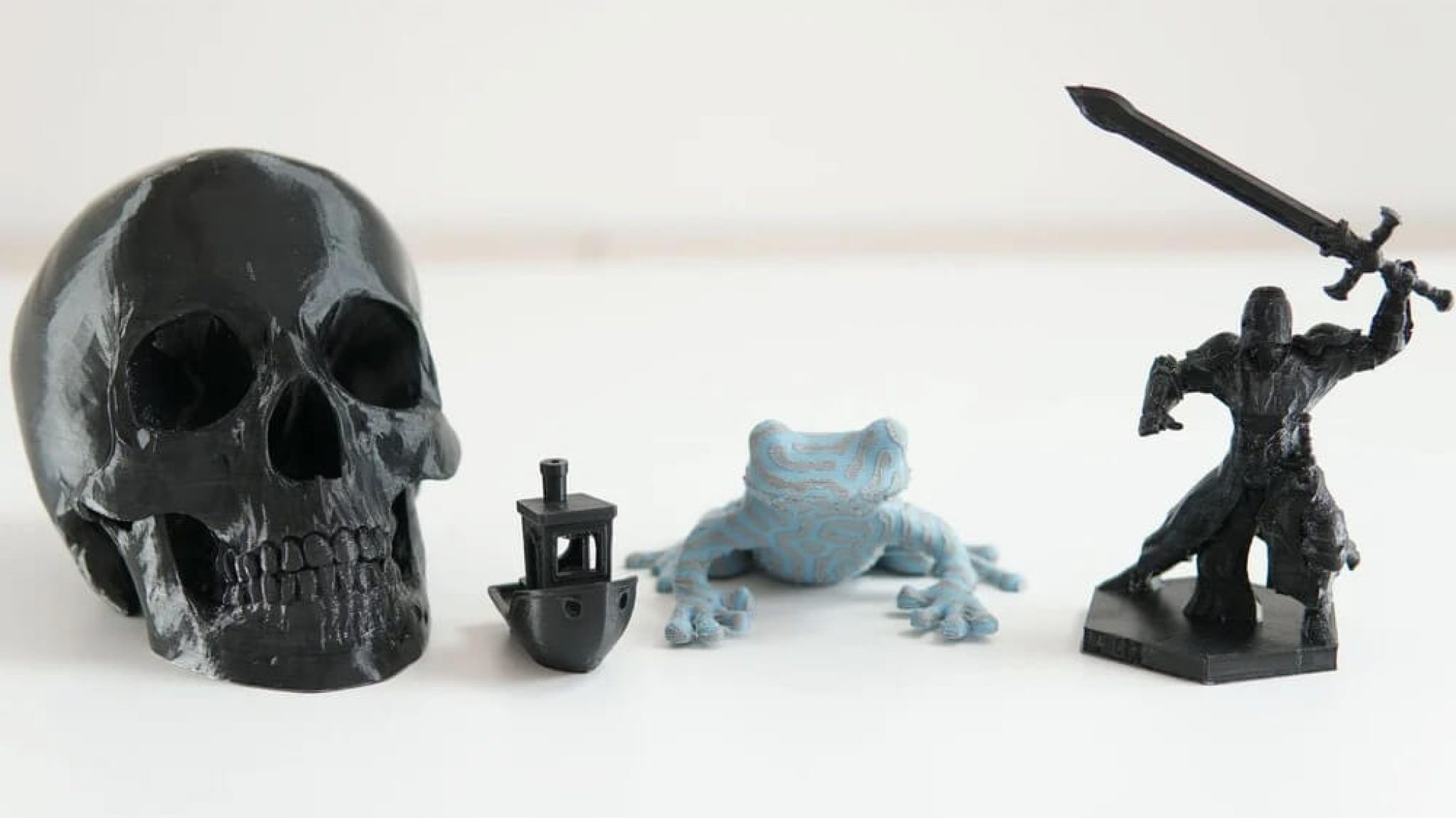 Ultimaker S5 has done no compromise in offering users with the most amazing print quality through this printer. It can print with ease. Either you like to print finer details or complex design, this printer would help you do so.
Moreover, you can print with different materials. However, few users have raised concerns about printing with different colors PLA.
This may deteriorate the print quality of the parts a bit. Actually, the company does specify that the print core BB was not for generic PLA. However, apart from this slight issue, the machine is designed for success.
Software
Easy to guess, the printer is compatible with Ultimaker Cura. This makes the print job so easy. From the live streaming of the prints to the remote loading of print files, almost everything is possible with this software.
You can even create a queue of prints and get the exact time for the preparation of these parts. The simplified processes make the management of 3D prints easy and simple.
With an intuitive interface, users can understand the working of the application without any hassle.
Also, the updates of the software are easily available for download and installation.
Customer Service
Ultimaker is the most reliable manufacturer of 3D printers. Offering the entire ecosystem of 3D printing, the company has gained huge success. The customer support is highly responsive.
Parameters Influencing the Buying Decision
Here is what you should check before planning to spend on this expensive 3D printer.
3D Printer cost: This is an expensive printer. This means that the machine is not affordable for home users or makers. It is designed for professionals as well as small businesses.
3D Print quality: You would be amazed to see the print quality. However, there are few challenges to print with certain material types. With adjustment of settings, you may get through that too.
3D Print speed: It is not very exceptional. However, pretty standard.
3D Printer capability: The machine can print finer as well as complex details without any hassle.
3D Printer Practicality: When considering that, the printer can help businesses find a better way of producing prototypes and parts. Suits the need for small business and can cater to the demand of different niches.
3D Printer User expectations: It does fit into the expectation of professionals and companies. With dual extrusion and multiple material support, it provides the best match of features.
The Verdict
When reading the Ultimaker S5 review, you must have gained an insight into what the machine entails. And, one thing is for sure, the 3D printer is an excellent performer. Plus, it carries the latest technologies together.