CNC stands for Computer Numerical Control. It is a method for automating three-dimensional cutting and milling processes. CNC routers are known for producing factory-grade work in a small shop.
CNC routers deliver precise and consistent work by using a computer and software to direct a predetermined cutting process, along with exact reproduction and high productivity rates, if desired.
It can work with wood, plastics, foam, and many other materials for producing carvings, decorations, panels, signboards, frames, moldings, furniture, and other things that you can imagine.
Where traditional mills and CNC wood routers are large handhelds or table-mounted spindles used for analog carving jobs, the same job that is done in a complicated way can be simplified using a CNC router machine.
The tool does so by introducing pinpoint accuracy in three axes and allowing you to produce end-use. You can pick yours in the price range of $200 to $1500.
In this article, you are going to learn about some of the most impact making routers in the year 2020.
The market was taken to a storm after their introduction because they were able to produce as per their claims. And that's how they have earned the tag of the most reliable, nuanced routers.
List of best CNC routers
These are the routers about which the "you get what you pay for" rule applies.
CNC Shark HD 4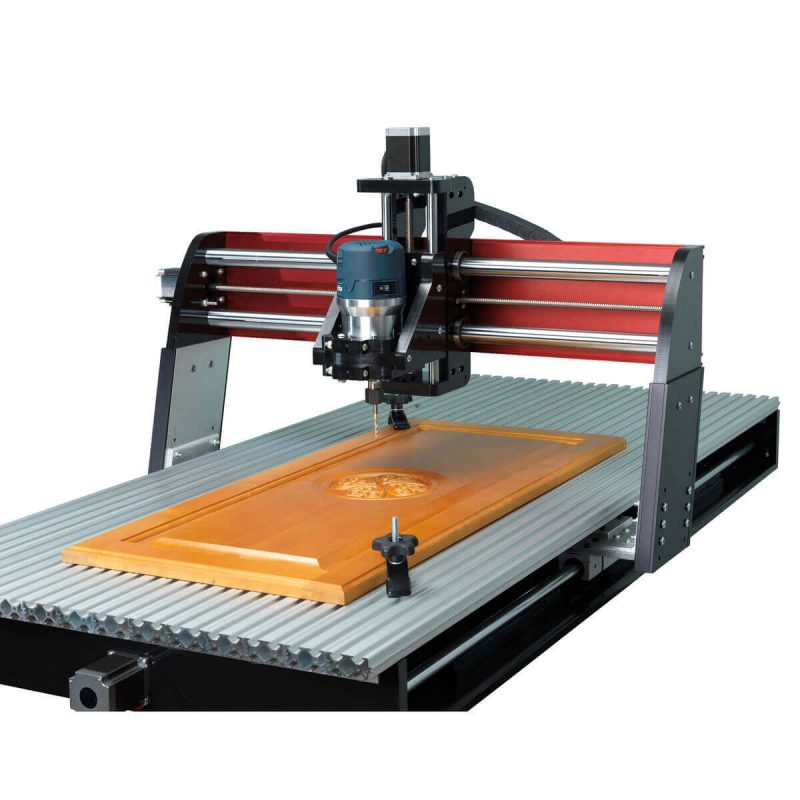 Upgrade of the previously available CNC Shark HD 4, this machine has several features that the advanced DIY CNC user will appreciate.
Improvements from its predecessor:
The first improvement in this machine is the heavy-duty reinforced gantry.
The second one is the interlocking aluminum table, which is a setup designed to reduce the wobble and backlash that were considered as the downsides of the previous Shark models.
The machine is also equipped with a new color touchscreen pendant controller because it is as easy to use as easy it is to use a smartphone. Also, it lets you run programs from a flash drive.
The complete unit of the machine is designed for commercial use which is made to handle large routers like the Porter-Cable 890, the Bosch 1617, or the Next Wave Automation water-cooled spindle.
The measuring and location of the workpiece are done using the auto-edge and auto-sensing features of this machine.
Moreover, those features can identify the toolpath start point wherever it is positioned in the square that has a width of 25 inches and a length of 25 inches.
This CNC wood router comes with the Virtual Zero software that maps the workpiece surface for maximum accuracy.
In the complete purchase of this router, the software named VCarve Desktop V9.0 Design and the Vector Art 3D Sampler Pack is also included.
Some points about the router that stand out:
Touchscreen controller
Heavy
Compatible with large routers
Not compatible with Macs
Commercial-grade reinforced build
back to menu ↑
SainSmart Genmitsu 3018 Pro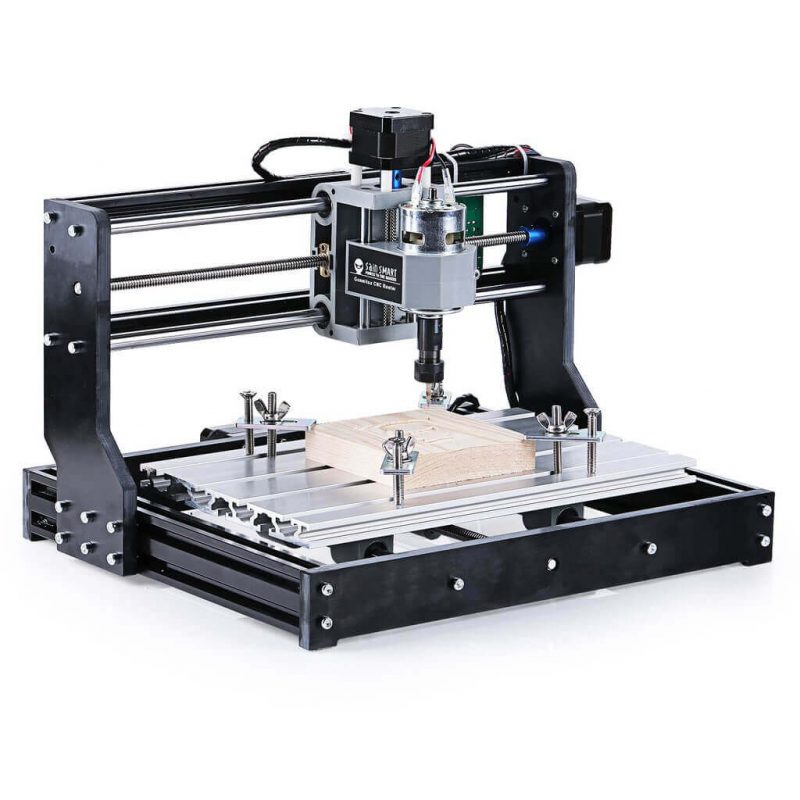 The SainSmart Genmitsu 3018 Pro comes as a cumulation of many small parts that are worth appreciating.
Among the very many of the CNC3018 kits gracing the internet, SainSmart is one of very few with highly visible documentation, web presence, and perhaps most importantly, customer support.
An ER-11 collet inside the machine gives some versatility in the end mills that you are using, and the kit ships with a small set of V-shape carving bits.
The names prefix might be odd for you and you may even take it as a mistake upon the writer to messing up the year, but it actually suggests, you have a 300 x 180 mm work area in the X- and Y- axes, and the spindle can plunge up to 45 mm.
Some points about the router that stand out:
Highly visible documentation.
Good customer support.
V-shaped carving bits.
Good work area.
back to menu ↑
CNC Piranha XL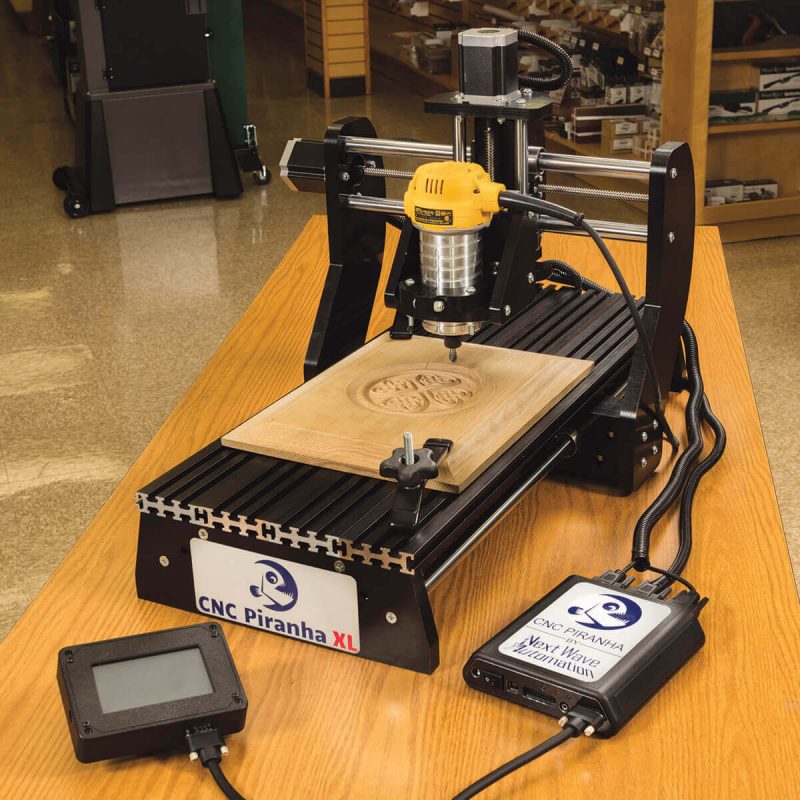 Offering an extended work surface and many of the same operating features as the CNC Shark HD, this new CNC Piranha XL is available at a much lower price point.
It comes with a touchscreen controller along with auto-edge and auto-sensing capabilities.
In addition to that, it comes with the Virtual Zero workpiece mapping software, as well as the VCarve Desktop V9.0 and the Vector Art 3D software packages, just like the first CNC router mentioned in this list.
CNC Piranha has XYZ travel dimensions of 12 x 24 x 4 inches and can run many renowned routers such as Bosch, Dewalt, Porter-Cable, and several others.
Apart from being a CNC wood router, it can run anything the router can cut working best with plastics, and soft metals apart from wood.
You can run the machine freely, there is no need to have a computer attached to the machine.
All you need to do is:
step 1: Just create a design.
step 2: Save it to a flash drive.
step 3: Plug it into the USB port on the pendant.
step 4: Run the program.
Some points about the router that stand out:
Touchscreen controller
Some instability if not bolted down
High capability at a low price
Not compatible with Macbooks
back to menu ↑
V1 Engineering Lowrider2 CNC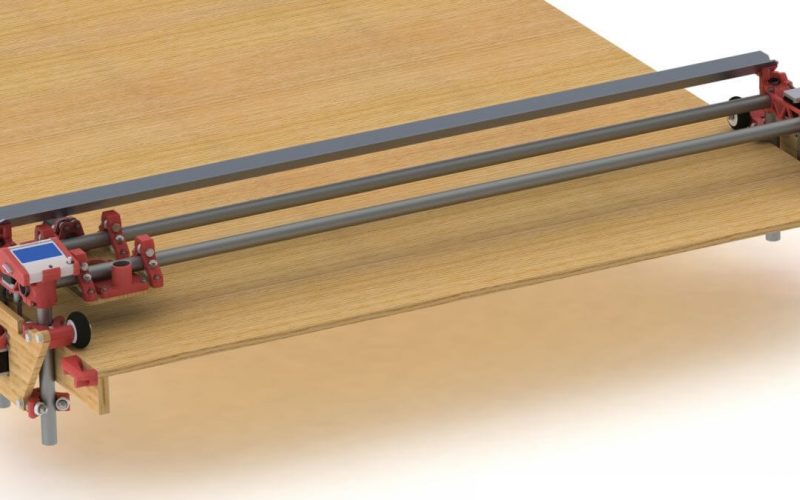 In its completely complete form, this machine is available as a parts bundle containing the vitals and electronics that are required to create this motion system.
What you will need apart from this is a source a spindle, the steel rails, and in addition to this a cut MDF and 3D print the parts required to hold it all together.
Those who are looking for an opportunity to extort you, can take this further with just the bill of materials and locally source every single piece.
For giving out all that effort, you get a CNC wood router with a large cutting area that has a Y-axis that is only bound by your table length.
The Lowrider is a machine that is capable of a full-sheet CNC router that, uniquely among the items on this list, heavily features 3D printed parts.
Some points about the router that stand out:
Custom Work Area
Spindle not required
Marlin programming
Priced at $326
back to menu ↑
JFT CNC 3040 CNC Router or Milling Machine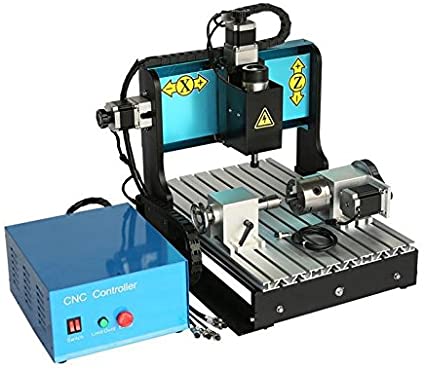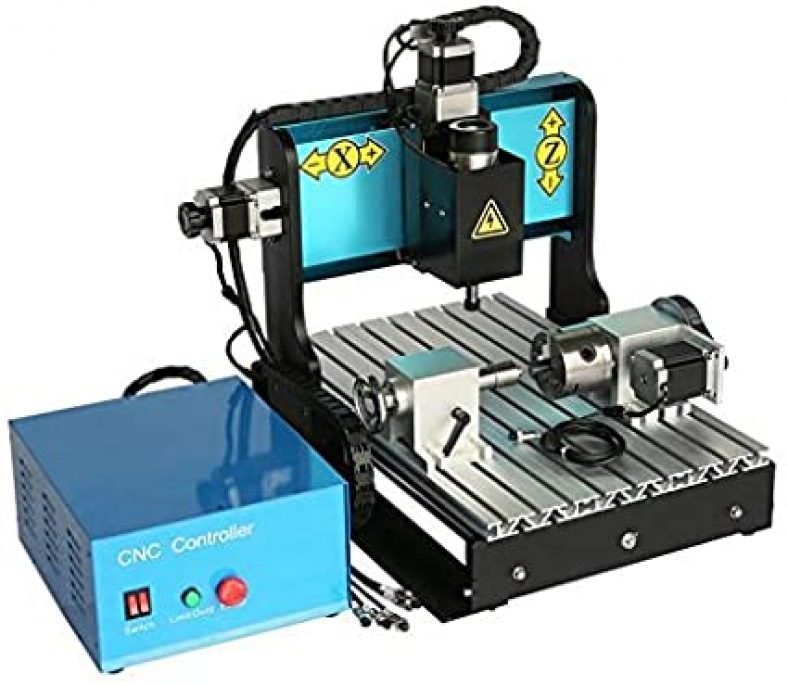 A Chinese imported machine that offers industrial-grade features including all-metal construction.
The work of this CNC router machine is 22 x 14 inch, whereas its travel is 11.8 x 15.74 x 3.5 inches of XYZ travel.
It has a 110-volt water-cooled machine that can handle long, as well as continuous operation periods.
This wood CNC router has a powerful two-phase stepper motor that is capable of producing .59 NM of torque.
An interesting fact about the spindle of this router is how it speeds up to 24000 RPM and can engrave at speeds of 2-137 inches per minute.
It contains separate housing that has the control unit of the machine, and it can operate on several types of software including ArtCAM, CopperCAM, and others.
It is the utilitarian appearance and the heavy construction of this printer that lets it stand out from the pack.
The machine features a hard-alloy aluminum gantry and 16mm ball screw that looks like they can stand up to industrial use, and the machine is plenty rigid overall that is known for producing a stable outcome of work.
Some points about the router that stand out:
Heavy-duty construction
Chinese import
Water-cooled operation
Compatible with several operating systems
back to menu ↑
MakerMade Maslow CNC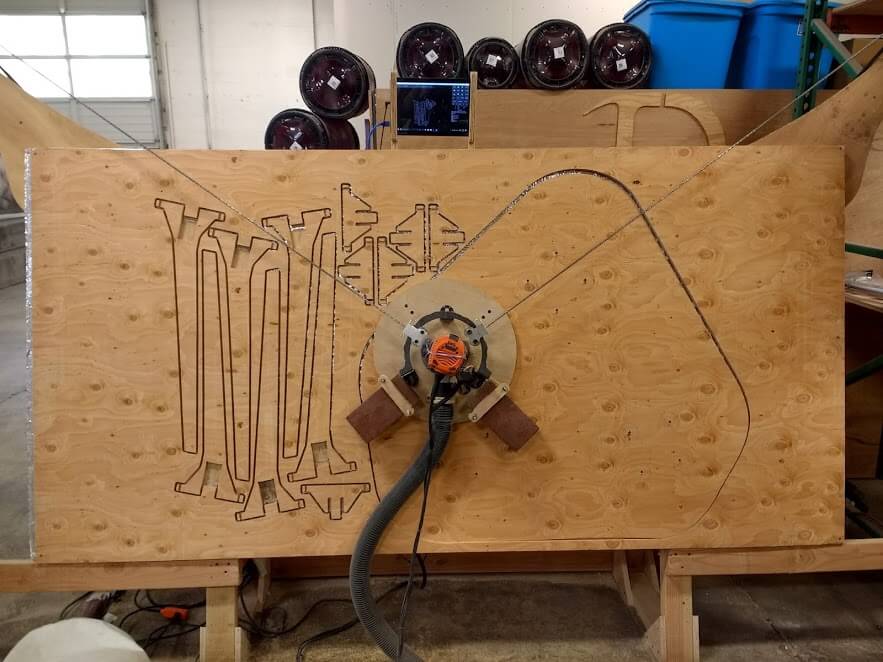 Centered around a rather unorthodox CNC machine, this router is capable of cutting large flat materials at up to 8-inches x 4 inches.
This CNC router stands vertically, condensing its large work area into a footprint that is 300 mm deep and approximately 3 meters wide.
The MakerMade Maslow works with a sled-mounted router suspended on its surface of cutting material with motor-driven chains that moves the sled across the material.
This CNC router is made by a manufacturer that sprouted from the Maslow open source project's distributed, a community-led manufacturing model, that produces official Maslow kits.
So, you can also seek them out for the real deal. Others are also equally good, but you can see that these are the ones produced to spec with the blessing of the Maslow project founders.
Some points about the router that stand out:
Large scale cutting for signage and furniture can be made.
Parts for mounting the router and mechanics and electronics are comprised in the machine's kit.
back to menu ↑
Axiom Precision AR4 Pro+ 4 Axis ready CNC router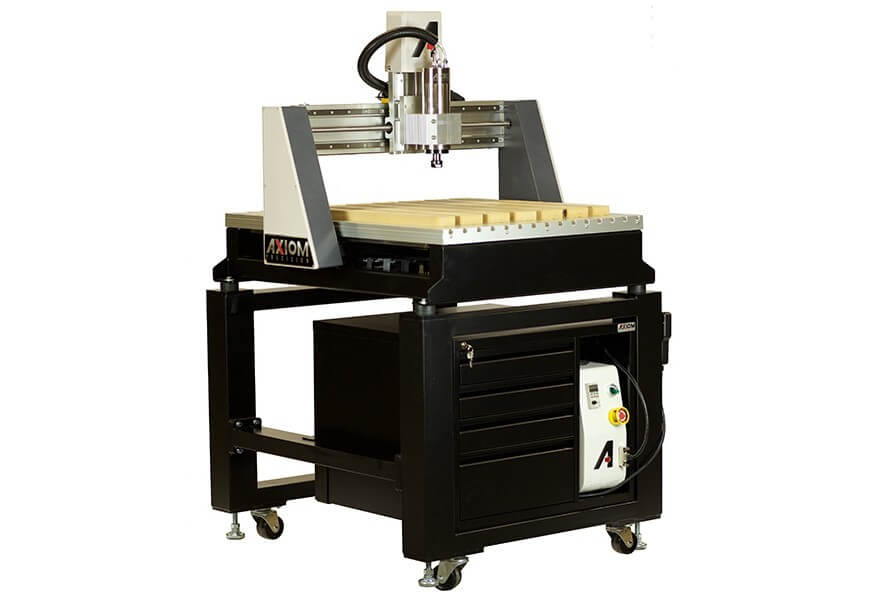 This CNC router is engineered from the ground up like a large industrial machine. But do not be afraid of its look, for, it is scaled to fit in the small shop.
This router is a best-in-class machine that has a liquid-cooled 3 HP variable-speed spindle.
Joined with a high-torque precision stepper motor, in addition to precision ball screws on every axis, and helping them both is an extruded aluminum 24 x 24-inch table.
All this is built up in a cast-aluminum frame that requires a 220-Volt power supply and runs spindle speeds up to 24000 RPM.
There are three AR Pro models and this one is the smallest of all weighing 320 Lbs.
The machine can be operated via a handheld controller that is capable of reading the design file from a flash drive and making a connected computer unnecessary.
Axiom is actually nothing less than a compact industrial machine in which you can get to configure it to your needs.
The manufacturers will literally build you a custom CNC machine from fine precision components.
Although there are no corners cut on the AR4 as every nut and bolt is a build-up of the highest quality.
The machine contains industrial-grade screw-in data cable connectors, with heavy ball screws, and joined with onboard cooler.
When you consider the quality and capability of this CNC router, it is the best in the industry.
And the fact that this machine comes with training and life-time support, the price is actually very reasonable.
Some points about the router that stand out:
4-axis capable
Heavyweight
Highest quality and capability
Training and service after the sale is excellent
back to menu ↑
Millright CNC M3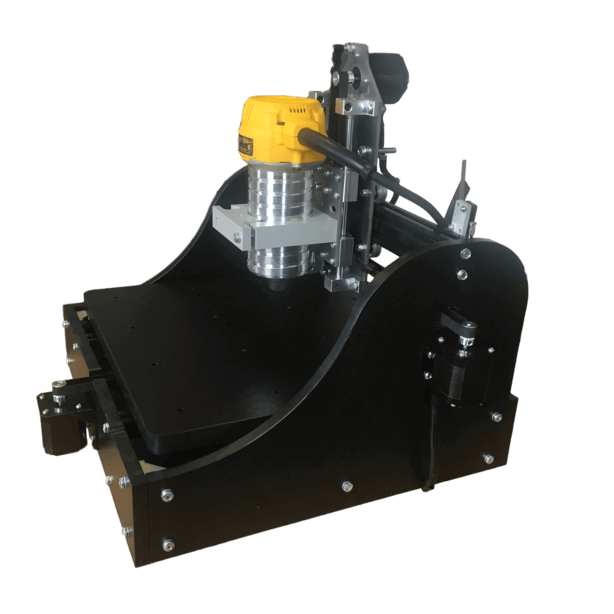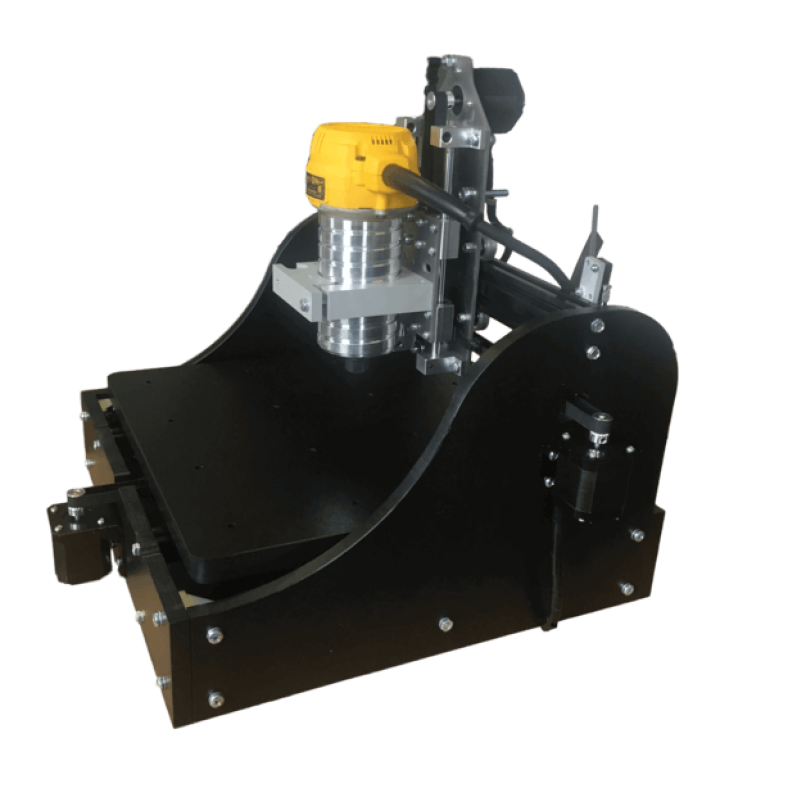 This CNC router kit is a mixture of low price with high-quality results. Although the frame of this router is laser cut plastic, all the connecting and bearing areas are reinforced with steel so the overall body is sturdy.
The tool of this machine is clamped in aluminum and it is driven in the X- and Z- axis while the worktable moves in the Y-axis.
The complete kit of the router includes the controller. You can use Autodesk's free Fusion 360 as controlling software.
This router's kit comes with all that you need to get cutting and its pricing starts at $499.
Extras of the printer like homing switches and further frame reinforcement packages can be customized into your kit or can even be purchased later as extras.
Some points about the router that stand out:
Low in price.
Can achieve high-quality results.
Sturdy body.
The Conclusion
As you can judge from our article, there is a broad range of price points in the world of CNC routers.
All of them are actually very simple tools. So you are paying for a few features that make operation easier, save your time, and serve you with a factor that is more efficient than before.
The cost of this router mainly goes toward getting the solid build and sturdy operational characteristics that are required to produce consistent precision and accuracy in the router's work.
If you enjoy CNC work, you will most likely quickly outgrow any of the lower-end machines.
So we advise you to learn the work and the machine as much as possible and then you can also think of saving the money.
So, choose your CNC router and get to learn about them with efficiency, and this is bound to make you succeed in the longer term at least.
And you do not need to think about the shorter term, because that approach would not be far-fetched as much as getting into this field on a longer-term is.