Raise3D Pro2 Plus
Raise3D Pro2 Plus 3D printer is all set to expand creativity while empowering designers, makers, and engineers of varying skill sets to do something more with their creativity and build something beyond the best.
PROS
Dual extruder
Enhanced drive motor setup
Heated and removable bed
Large print space
Power outage recovery
Filament run-out sensor
Best for professional application
Reliable
Responsive support
CONS
Expensive
Slicing software is tricky to understand
Not fit for home use
Very large in size, occupying considerate space
Product
Specification
Videos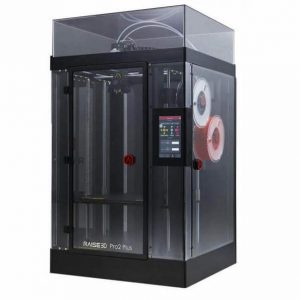 Pitched at labs, in front of entrepreneurs, manufacturers, and even prototyping companies, the printer has wide range applications. Because of its ...
| | |
| --- | --- |
| Model | Pro2 Plus |
| Manufacturer | Raise3D |
| Price Range | $ 5999 |
| Release date | 2018 |
| Country | United States |
| Availability | Available |
| Classification | Professional |
| Technology | Extrusion (FFF- FDM…) |
| Material | ABS, Carbon fiber and composites, Other plastics, PLA |
| Filament diameter | 1.75 mm 0.07 in |
| OS compatibility | Linux, Mac OS, Microsoft Windows |
| Generic material | Yes |
| XY accuracy | 0.0125 mm 0 in |
| Max. build size | 305 × 305 × 605 mm 12.01 × 12.01 × 23.82 in |
| Max. build volume | 56.28 L |
| Max. print speed | 150 mm 5.91 in /s |
| Min. layer thickness | 0.01 mm 0 in |
| Dimensions | 620 × 590 × 760 mm 24.41 × 23.23 × 29.92 in |
| Nozzle diameter(s) | 0.4 mm 0.02 in |
| Power input | 100-240 VAC | 50/60 Hz |
| Heated print bed | Yes |
| Heated build chamber | No |
| Automatic calibration | No |
| Closed frame | Yes |
| Dual extruder | Yes |
| Independent Dual Extruder | No |
| Full color | No |
| LCD screen | No |
| Touchscreen | Yes |
| On-board camera | Yes |
| Mobile app | No |
| 3D scanners | No |
| CNC mill | No |
| Electronics 3D printing | No |
| Laser engraving | No |
| Conveyor belt | No |
| Air filter | Yes |
| Pellet extruder | No |
| USB | Yes |
| Wifi | Yes |
| Bluetooth | No |
| SD card | No |
| Ethernet | No |

Table of Contents
There have been great developments within the industrial-grade 3D printers. Not only these machines are becoming compact but they also offer a great price difference.
In the era of desktop 3D printers, what else could be expected? Following similar leads, Raise3D has come up with its Pro2 Plus version, unveiling even better functionalities and possibilities than its predecessor.
The Raise3D Pro2 Plus review would outline the major advantages that the printer brings onboard. Not to miss, the 3D printer offers a massive build space, leaving a lot of other professional machines behind.
And as they say, quality is equally important. So, the 3D printer is equipped with some of the most trending and crucial attributes to keep itself best among many.
Those who prefer to work with easy to handle 3D printers would love to make some room for this amazing machine.
The 3D printer is all set to expand creativity while empowering designers, makers, and engineers of varying skill sets to do something more with their creativity and build something beyond the best.
This machine providing scalable solutions could get you the taste of future manufacturing, transforming your needs from prototypes to end products. So, let us check out what all is in store with Raise 3D Pro2 Plus 3D printer.
Features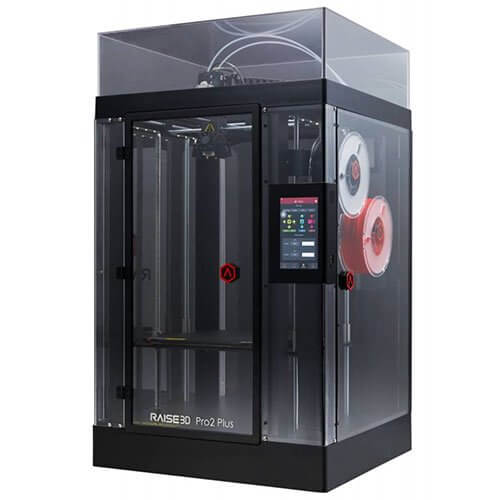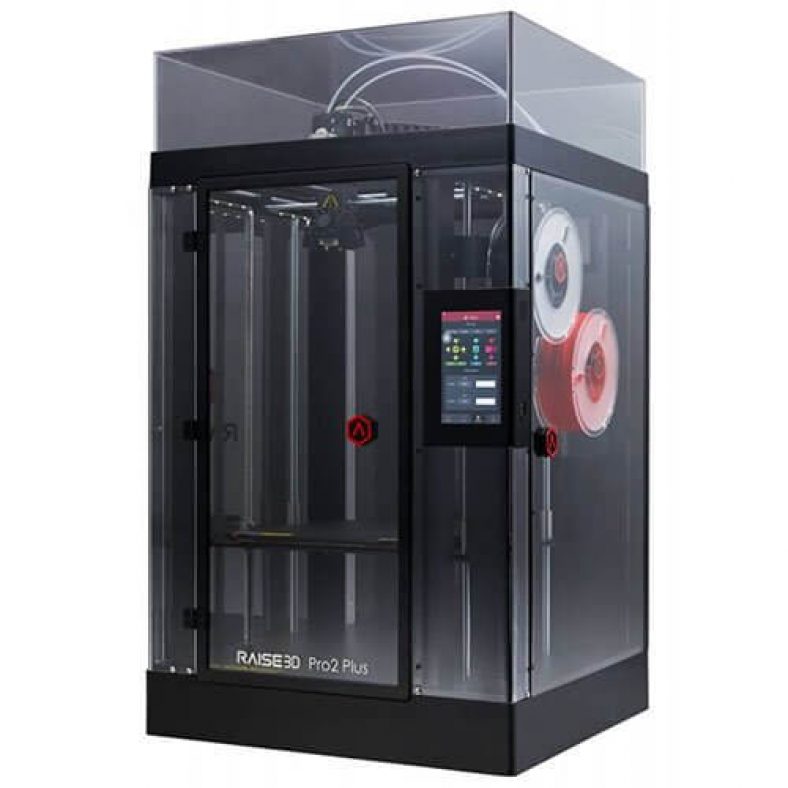 It's astonishing to work with this 3D printer. You will find it pushing you through better results compelling you to do more.
The manufacturer has included comprehensive features set to offer users the most sustainable results. If you like to see results coming without working too much for the same, this is your pal.
With easy to use workflow and well-blended functionalities, you get to explore the unmarked possibilities of the future.
Enclosed Chamber: A closed chamber is what you need for reliable results when working with 3D Printers. In other words, you need to maintain a constant temperature for printing and an enclosed chamber gets you that seamlessly. Moreover, it keeps you safe from heated electronics. Letting you create the most perfect designs without any hassle. From adhesion to consistency is taken care of by an enclosed chamber.
Metal Frame: The 3D printer is very sturdy. The 3D printer has a metal frame made of aluminum which provides durability and stability to the printing process. Hence, the parts are printed without any vibrations and with the highest precision.
Huge Build Space: This is where things get even more interesting. The 3D printer has a huge printing space. It features around 12 x 12 x 23.8 inches of build volume. Hence, you can create large 3D objects without a need to connect different parts after printing separately.
Power Outage Recovery: Like many advanced 3D printers that can resume printing, this one also can save you from huge losses. Can you imagine finding your model failing in the middle of the print progress due to a power outage, especially when you are working on larger parts? With this 3D printer, you do not have to face such problems. This is because the print progress is saved in case of electricity goes out. And, after the power recovery, the 3D printer starts printing from where it stopped before the outage.
Filament Out Sensor: Along with power outage recovery, you also have the filament out the sensor. Using this feature, the 3D printer would stop right away after the filament is over from the spool. And, it would only resume after you refill the filament spool. This helps save parts from falling in between the prints.
Heated Build Plate: With a heated build plate, you can work with a number of different materials with varying temperature needs for adhesion. The printer is compatible with almost all the filament you can think of. The nozzle can also reach a temperature of 300 degrees Celsius. This adds to the advantage even further. From PLA to Nylon to wood-filled, Raise3D Pro2 Plus can work amazingly with any type of material, providing users with huge possibilities.
HEPA Filter: Not every material is like PLA which does not emit any harmful fumes. ABS is one such filament that produces fumes that often are hazardous with longer exposure. Hence, HEPA filters are worth noting. This helps to filter the dust and fumes to about 90 percent. Hence, you can use the printer in a closed room as well with not much ventilation as well.
Remote Monitoring: Using the slicer software, you can monitor the 3D printer's progress remotely over the WIFI connection. You just have to log in to your account to do so. You can even control as well as upload the STL files to start the print process.
Automatic Bed Leveling: You must be willing to invest minimum efforts after paying so much for a 3D printer. And, why not, you must be. This 3D printer offers automatic bed leveling, making the setup process easier before every new print project.
7 Inches Colour Touchscreen: Raise3D Pro2 Plus offers 7 inches of highly intuitive touchscreen to handle most of the settings right from the 3D printer itself. It can work as a standalone device with most of the controls available through the user interface available on the 3D printer.
Dual Extruder: Yes, you can 3D print with two colors as well as two materials at the same time. Using PVA as the material for the support structure, you can achieve high precision and easily removable support.
There are many other features that adjust for a few here and there. In short, you get almost everything that you expect from an industrial-grade 3D printer when working with Raise3D Pro2 Plus 3D printer.
Specifications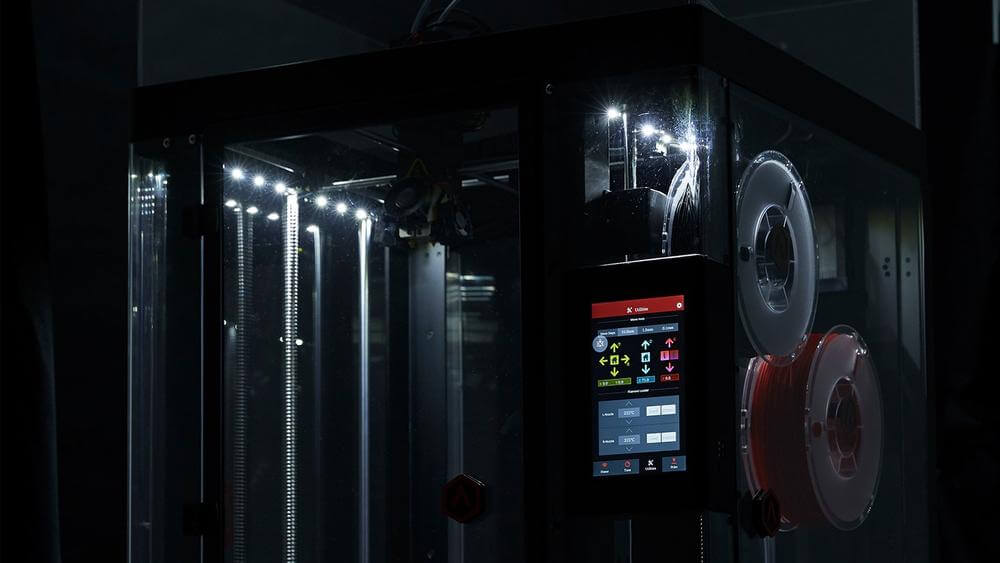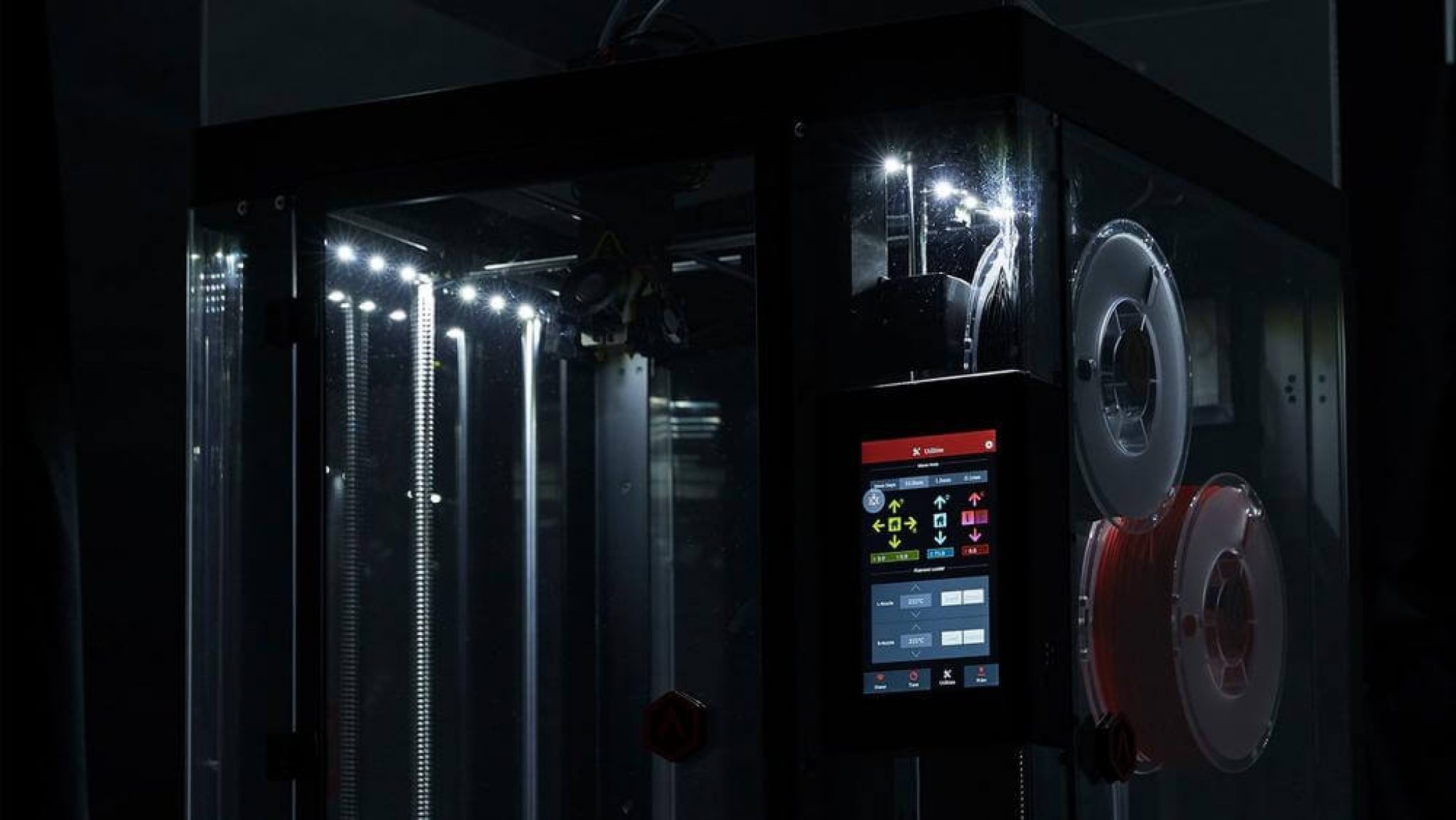 Raise3D Pro2 Plus is a cartesian based frame FDM 3D printer which works with full potential to provide best results to the users. It's a huge 3D printer offering 305 × 305 × 605 mm of build space.
Falling under the category of professional and industrial 3D printer, the machine manages to offer high precision. With 0.01mm layer height possible, you can create finer details seamlessly.
Plus, the accuracy is unmatched when compared to many other choices falling in the same range.
The printer flaunts interchangeable nozzles varying from 0.2mm to 0.8mm. The speed stays within the limit of 30 – 150 mm/s. So, you can choose to go slow as well as achieve the recommended high speed for the best results.
You can even print with third-party filaments. Hence, furthering your options when selecting your favorite material for working around the 3D models.
And, connectivity is not just limited to USB but extends to LAN and WIFI as well. With a removable print bed and an inbuilt camera, you get everything you will ever need. The ease of printing as well as effortless monitoring.
The printer occupies a huge space of 620 × 590 × 760 mm weighing 52 kgs. Hence, if you are planning to order the machine, make some room prior to itself.
Price
The 3D printer is available at $5999 with a one-year warranty. However, the manufacturer offers extendable warranty options with a change in price.
1 Year raised shield warranty – $6499
2 Year raised shield warranty – $6999
3 Year raised shield warranty – $7799
First Impressions
The 3D printer comes securely packaged in a large box. The package will contain all the essential items you would need to set up and start with the first print.
For example, you have all the related tools for setting the parts together such as hex wrenches, spatula along with gloves, nozzle cleaning kit, and few spare parts such as screws and others.
You also get the power cables, depending on the country you stay with two spools of PLA filament.
Setup
The setup is easy as mentioned above. Keeping most part automatic throughout the settings, the 3D printer takes most of the load all by itself.
The printer is fully assembled and comes with all the tools required for tightening the screws in place. The bed leveling is also automated for the most part of it.
Hence, you can complete the setup in not more than 30 minutes. The touch screen would guide you through the entire process step by step for offering a hassle-free experience. And, the guide is very elaborative, making the setup just a breeze.
Printing Type/Cost
We are talking about the FDM 3D printer; hence, the printing cost would stay low. Preferring PLA, you can print at the lowest cost. The price of printing each model will differ. After all, the design and amount of complexity will add to the difference.
Print Quality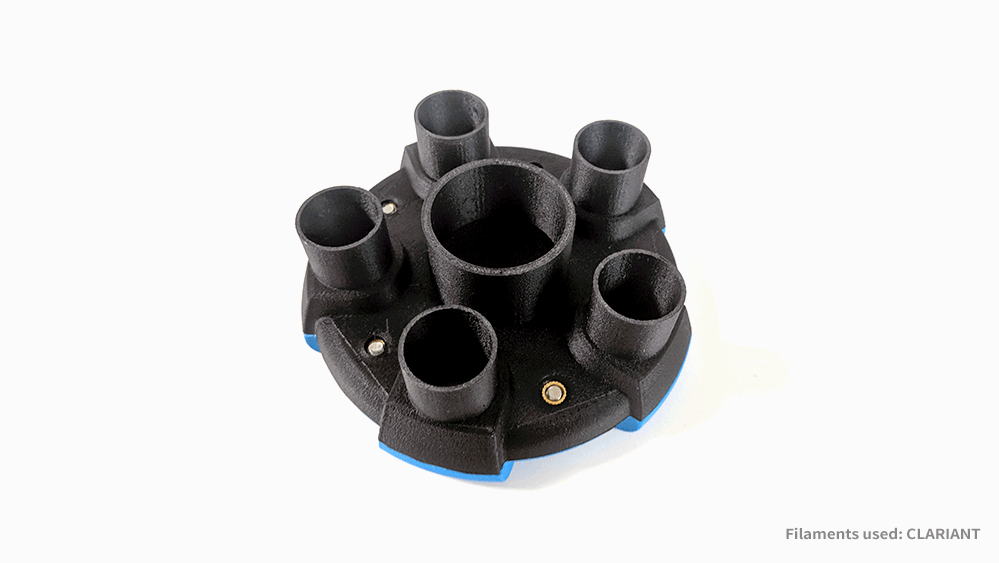 As you would expect, the 3D printer is created for providing results. You cannot take this one for granted. And, there is no way anyone would prefer it for fun.
Raise3D Pro2 Plus provides great accuracy with 0.01 mm minimum layer height. Hence, you can achieve finer details with perfection.
Not just that, the complex geometries can also be printed with precision. Moving on, with the support of multiple materials, one can use the machine for various purposes. From prototyping to creating end products, you have a huge list of possibilities lying right beside you.
Software
Raise3D provides users with dedicated software not only for slicing needs but also for controlling the printing process remotely over a WIFI connection.
It uses IdeaMaker to make that work. Most of the times, it is difficult to fight the open-source applications with dedicated ones. One reason is that these can be used with different printers and dedicated ones are specially made for that one printer you use.
That clearly defines why it becomes important to go with proprietary applications. As it understands the specific machine better than any other option in the market. Plus, you get it free with your 3D printer. So, what's the harm.
And, ideaMaker is a workhorse for sure. It has all the advanced functionalities to handle your projects with complete satisfaction. It is difficult to manage it though. You find it hard to locate a few controls. But over time, the efforts would pay for sure.
Customer Service
The company does offer a dedicated team to handle user queries. However, it does not have a direct number to reach. You must mail them the issues to find a solution to. They respond fast and are very helpful. Plus, they do offer a warranty with their product.
Parameters Influencing Buying Decision
When spending on such an expensive machine, you must look for the right ingredients and find out if the recipe suits your taste or not.
Because you won't be able to get rid of it later. The Raise3D Pro2 Plus review provides you the quick bite to understand the offerings of the printer briefly to help make the right selection.
3D Printer cost: The 3D printer is expensive. It costs $5999 which is not like a few months saving unless you are earning a lot. Hence, you must only choose the printer if you wish to get a good amount of work. You must have the right reason for choosing this machine.
3D Print quality: It offers amazing print quality with great resolution.
3D Print speed: It is among the fastest speed FDM printers. It can reach a speed of 150 mm/sec which is the highest recommended speed for retaining print quality.
3D Printer capability: You can do a lot of things with this workhorse. From functional prototypes to end products. With a variety of materials too.
3D Printer Practicality: The 3D printer is designed for experts involved in professional applications.
3D Printer User expectations: The 3D printer has everything that a user will need. And, finding such a powerful machine at this price range is practically unusual. So, it does check the right boxes.
Verdict
The printer offers a great selection of features with larger print space, mostly on the Z-axis. The Raise3D Pro2 Plus review clarifies that the printer is for serious applications. So, opt for it if you need to better the existing manufacturing workflow. And, it would pay off.