Formlabs Form 3B 3D Printer
Form 3B is quoted at a fairly affordable price for professionals, this 3D printer could certainly help designers and dental manufacturers to get their work done with precision and at a faster rate. Hence, it is worth your attention. Mostly when it can work with multiple sets of resins for differentiating results.
PROS
Easy to learn and operate
Offers great accuracy and precision
Compact design
Auto-generated support
Light touch removal of support
High surface quality
CONS
A little expensive
Post-processing required
Product
Specification
Videos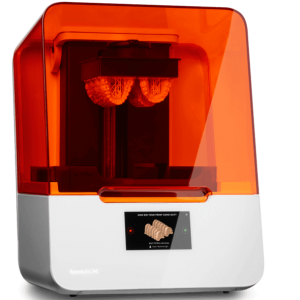 Featuring a flexible resin tank and technology for enhancing the surface quality and part removal, Formlabs Form 3B is a reliable dental 3D printer. ...
| | |
| --- | --- |
| Model | Form 3B |
| Manufacturer | Formlabs |
| Price Range | $ 3999 |
| Release date | 2019 |
| Country | United States |
| Availability | Available |
| Classification | Professional |
| Technology | Resin (SLA- DLP…) |
| Material | Liquid resin |
| OS compatibility | Mac OS, Microsoft Windows |
| Generic material | Yes |
| XY accuracy | 0.025 mm 0.001 in |
| Max. build size | 145 × 145 × 185 mm 5.71 × 5.71 × 7.28 in |
| Max. build volume | 3.89 L |
| Min. layer thickness | 0.025 |
| Dimensions | 405 × 375 × 530 mm 15.94 × 14.76 × 20.87 in |
| Weight | 17.5 kg 38.58 lb |
| Heated print bed | No |
| Heated build chamber | Yes |
| Automatic calibration | Yes |
| Closed frame | Yes |
| Dual extruder | No |
| Independent Dual Extruder | No |
| Full color | No |
| LCD screen | No |
| Touchscreen | Yes |
| On-board camera | No |
| Mobile app | No |
| 3D scanners | No |
| CNC mill | No |
| Electronics 3D printing | No |
| Laser engraving | No |
| Conveyor belt | No |
| Air filter | No |
| Pellet extruder | No |
| USB | Yes |
| Wifi | Yes |
| Bluetooth | No |
| SD card | No |
| Ethernet | Yes |

Table of Contents
Aiming to benefit the dental industry through its innovative 3D printers, Form 3B is the latest addition from Formlabs that focuses on high results.
An iteration of Form 3, the newer version is expected to go way beyond the results the previous one offered.
Known for leaving competitors behind through an overall excellent print performance, dental 3D Printers from Formlabs have always been extraordinary.
And, Form 3B won't be any less. Therefore, it becomes imperative to find out the various features that come in handy with this machine.
Formlabs have been trying to bring SLA technology to those who weren't able to afford it before. Thankfully, its dental 3D printer product line has always made it to fame in no time.
Targeting the pain points that orthodontic applications suffer from traditional manufacturing methods; the company has been able to create amazing machines. However, wouldn't it be wonderful to find that out yourself.
Read our Formlabs Form 3B review to explore the various perks the company has brought to the users. How this 3D printer could help eliminate the issues prevailing within the dental manufacturing domain? And, a lot more.
Features
In order to help dental professionals by offering a speedier fabrication process, yet cost-effective, Formlabs has come up with its Form 3B machine. Hence, further strengthening its SLA 3D printer ecosystem.
What's more interesting is the fact that the 3D printer can also work with biocompatible materials. Hence, vouching for an eco-friendly and safe application for dental professionals.
It is difficult to ignore the vast experience Formlabs has gained along with its dedicated team of professionals when looking at Form 3B.
With tested results, this 3D printer happens to carry a lot of astonishing features. So, without beating around the bush, let us get to the point.
Compact Design: The 3D printer only occupies a little space on your desk. You can keep it at home or use it at the office, the compact design allows it to stay completely manageable.
Enclosed Frame: Offers controlled temperature for higher accuracy and print quality. The closed compartment also ensures safety for the users from heated components and laser. The sturdy design is again a great addition to the features of the machine.
Air-Heated Build Chamber: Form 3B boasts a temperature-controlled print chamber to make sure that the parts are perfectly designed without any anomalies.
Low Force Stereolithography Technology: Also called LFS, coupled with a Light Processing Unit (LPU) and a flexible resin tank, the 3D printer helps achieve undisputable high-quality prints with an impeccable surface finish. Hence, the parts can be produced with ease, yet not compromising the quality of the designs. Moreover, the LFS technology also allows reducing the peel force problem that is inherited by SLA technology. The problem resists SLA printers from perfecting certain types of design. Thankfully, with LFS introduced by Formlabs, this problem is the least of the worries for professionals.
Automated Resin Filling Design: Then comes the automated resin filling system. Making it simpler for the users to work with this wonderful 3D printer. It is easier to operate this machine with fewer labor requirements. Hence, cutting production costs with a high margin.
Compatible with Biocompatible Resin: This feature makes this 3D Printer the best-suited companion for dental application. Because of the same reason, the machine can also be used for other medical applications such as the printing of hearing aids.
Auto-Generated Support: With its highly advanced slicing print preparation software, Formlabs' 3D printers can help create support automatically. Moreover, these supports are easily removable with just a light touch, as the company likes to call it.
Wifi Connectivity: What's more you need? You can work with this printer remotely. With WIFI support, preparing prints online isn't a problem. It is easy to upload design without a need for connecting the printer with the desktop throughout the print process. Moreover, the dashboard could also manage multiple prints along with the teams. Fascinating, isn't it?
Touchscreen: To add icing to the cake, the printer comes with 5.5 inches of a touchscreen. Hence, you can operate a lot of print settings right from the 3D printer. Hence, making the 3D printer, a completely standalone device. Further ensuring easy use to the professionals working with Form 3B.
Can Print a Variety of Dental Parts: Not just limited to one or two designs, the Formlabs' Form 3B can work to create a variety of designs. Users can print crowns, bridges, surgical guides, clear aligners, dentures, casting patterns, retainer models, occlusal splints, and more. Hence, allowing users to accomplish a variety of tasks from just one 3D printer. On top of that, while attaining great surface quality and accuracy.
Specifications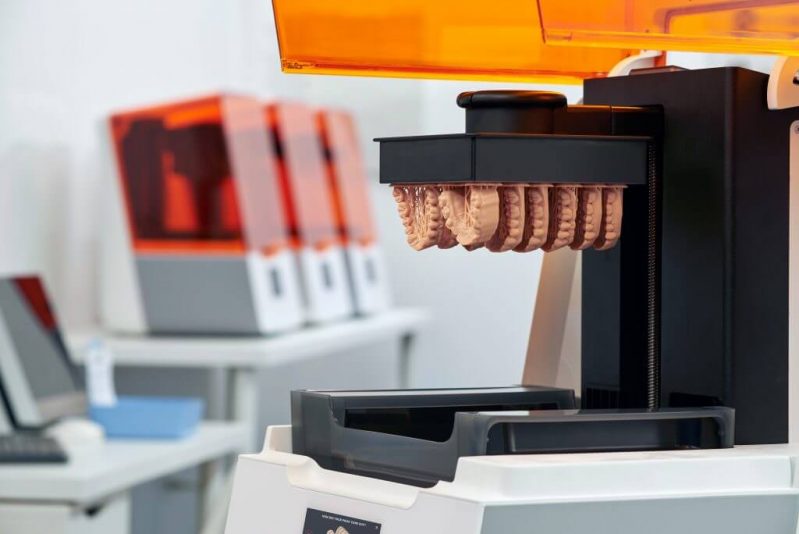 Credit: goprint3d
Formlabs Form 3B has a footprint of 405 × 375 × 530 mm. And, it offers a build volume of 146 × 145 × 185 mm which is pretty decent for dental parts production.
Hence, users can create multiple parts instead of one. All the benefits are wrapped in its 17.5 kgs of weight.
So, you can easily move it from one place to another. This makes this 3D Printer a lot easier to manage as well.
With a temperature control compartment, you can expect high-quality parts, suitable for the best application.
It enjoys an operating temperature of 35 degrees Celsius. Alongside, it has one laser processing unit.
The laser strength is pretty remarkable with a 405 nm wavelength, 250 mW power, and a laser spot of 85 microns for higher resolution.
Moreover, the auto-fill resin tank further makes it convenient to complete the task faster and with the minimum effort possible.
There is one resin cartridge. Overall, the 3D Printer has been designed with close precision for attaining high-quality dental prints.
Price
When compared to the Form 3 3D Printer, this one is a little expensive. Unlike Form 3, whose basic package begins at $3,499, Form 3D basic package starts at $4,999.
Similar to its predecessors, you get options to choose from the list of other components to add more room for innovation and creativity.
In the basic package, you receive a Build, finish kit, and tank along with the 3D Printer. However, you can choose for Form wash and cure station by paying some extra bucks. This could cost somewhere around $5,999.
First Impressions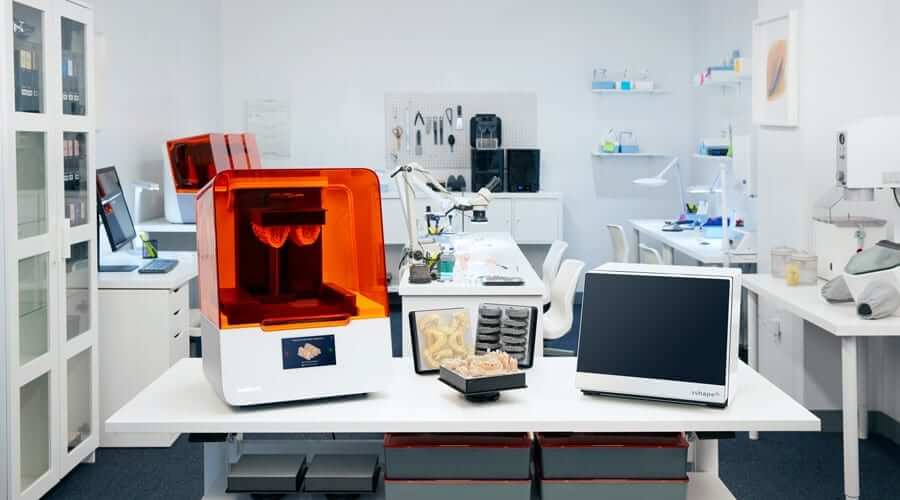 Credit: eacpds
The 3D printer is clearly a work of great precision. Right after you lay eyes on Form 3B, you can fall in love right away.
The sleek design with orange and grey color structure offers a resonance to the family of dental 3D printers offered by Formlabs.
However, it never ceases to impress us through its looks and the way it's wrapped safely inside the packaging box.
Yes, the company takes extra care for ensuring the machine reaches you safely. Completely assembled, the 3D Printer is easy to set up for the first time. Hence, offering users a hassle-free experience.
And, not to forget, its compact design gives users one more reason to opt for this 3D printer.
Setup
As mentioned before, setting up this printer for the first time won't take long. Along with the packaging box, you receive the manual for connecting the different components together and starting the print following the same.
It comes completely assembled. Therefore, there is no need to invest hours fixing printer parts together. Just turn the machine on, carry few basic steps such as filling material, uploading the CAD design and the rest will fall in place.
Printing Type/Cost
Formlabs Form 3B machine works on SLA 3D printing technology. Like other 3D printing processes, this technology also creates the models, one layer at a time.
The laser is used for curing the liquid polymer which solidifies as soon as the laser falls on the set paths or the cross-sections. At first, the build plate is staying just one layer away from the liquid surface.
After the layer is done, the build plate moves with a layer difference, making room for the next layer. The same process continues until the part is completely printed.
In terms of cost, SLA is not the cheapest 3D printing process available. However, the print quality and precision it offers, help it justify the cost effortlessly.
Also, Form 3B, working with biocompatible dental resins, can seem a bit expensive than the usual SLA 3D Printers.
However, to accurately calculate the cost of printing each model, you must refer to the various factors. It could be the print geometry, design, layer height, and more.
Print Quality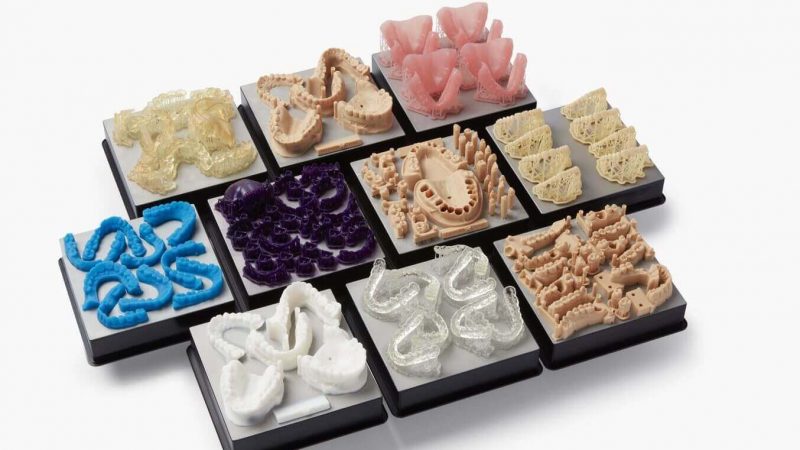 Credit: all3dp
Without any doubt, Form 3B offers great print quality. With 85 microns laser spot, you can expect the printer to get you the most accurate design effortlessly.
You can realize a layer height ranging between 25 microns to 300 microns. It does talk a lot about the print quality of the machine, doesn't it?
Software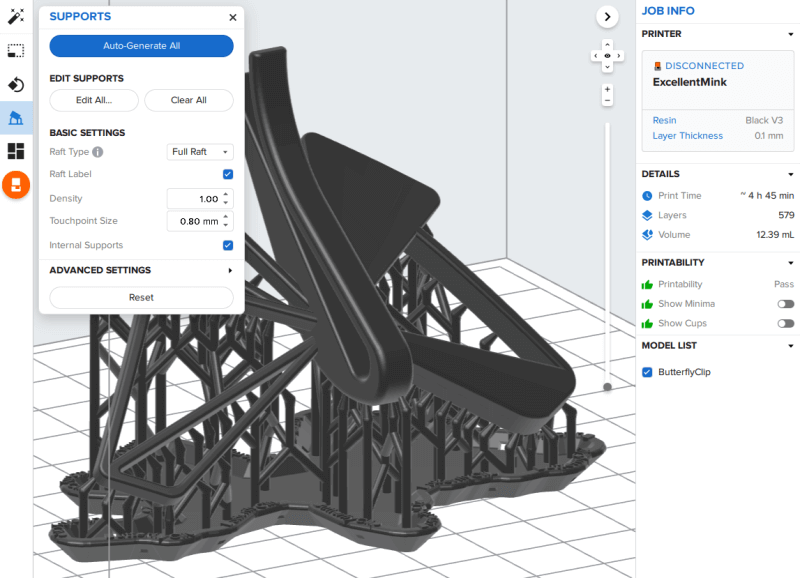 Credit: amazonaws
The 3D printer works with its proprietary Formlabs' PreForm software. And, without much hassle, the application allows users to create outstanding results. It comes with pre-saved profiles.
Along with that, the software is capable of handling 3D printers as well as teams at the same time. With an intuitive design, the application can work with STL and OBJ as the input file to provide the FORM file as output.
Compatible with Windows as well as MAC, the software is accessible to a larger group of users.
Customer Service
Formlabs ensure that the users are able to experience the full potential of their printer. That is why the company has come up with its Dental Service Plan (DSP) for businesses.
With DSP, users can get personalized training and regular check-ins from staff along with equipment checks carried every six months. The users can also avail themselves of the quick phone as well as email support.
In addition, users can also find a lot of training materials online. Their website also offers a treasure of knowledge for those starting with 3D printing technology.
You can check tutorials, guides, videos, and more to start working with the Form 3B machine in no time.
Parameters Influencing Buying Decision
You must have already understood the worth of this 3D printer. However, let have a small recap of the Formlabs' Form 3B 3D printer review quickly. And, find out if the machine is fit for your application.
3D Printer cost: Affordable when compared to the large format SLA 3D printers for industrial application. However, paying $4,999 may not seem like a feasible option to many.
3D Print quality: As always, you can expect a brilliant print quality with SLA 3D Printer that is specially designed for dental application.
3D Print speed: Well, it's faster than many SLA 3D printers in the market. However, if competing with FDM machines, which may not be justified at all, the printer will need some work.
3D Printer capability: It can build intricate designs with ease and manage to offer a smoother surface finish.
3D Printer Practicality: Best for dental application.
3D Printer User expectations: Getting the most of what a user will want from a 3D printer. Hence, Form 3B is very much from the good books of dental professionals.
The Verdict
Although SLA 3D printers aren't always accessible, this one is. Quoted at a fairly affordable price for professionals, Form 3B could certainly help designers and dental manufacturers to get their work done with precision and at a faster rate.
Hence, it is worth your attention. Mostly when it can work with multiple sets of resins for differentiating results.
The Formlabs Form 3B review outlines the various perks the printer offers as well as the probable limitation it carries. And, summing up every aspect, it is lucid that the 3D printer does have a lot in store for dental applications.