Raise3D E2
Raise3D E2 3D Printer is an ideal choice for users willing to achieve higher print performance than other printers at the same price range. Also, it offers a wide variety of professional filament options to choose from.
PROS
High print quality.
Ease of use.
Wide range of filament compatibility.
Safety.
CONS
Cooling a particular part is a little bit of a complex procedure.
Table of Contents
Complementing its Pro2 series of 3D printers, E2 is an educational 3D printer manufactured by Raise3D. The main highlights of E2 are its automatic bed leveling feature, independent dual extruder, and safety facet such as automatic pausing of print on door opening.
Although the machine looks like an average desktop 3D printer, it offers enough resources that make it an industrial-grade manufacturing system.
The printer hosts a cloud-based ecosystem that allows users to flexible manage their files. Also, it supports printing with any filament that is a part of the Open Filament program.
There are many other intriguing features that E2 hosts which bring it to the limelight when compared with other 3D printers in the same price range. Let's explore them one by one, in-depth in the article here onwards.
Features
Below mentioned and explained are the most striking features of the machine.
Independent Dual Extruders
This is perhaps the most outstanding feature of the machine. The IDEX setup is ready with two independently operating tool heads on a single axis.
Such construction permits dual extrusion printing without any drawbacks like oozing from the inactive nozzle and other handy printing functions.
As promoted by the printer manufacturer, the modes have been termed the Inverse and Duplicate. These modes allow users of the printer to create a mirrored version or a carbon copy of the part.
Meaning that if you have a mass customization printing project of a particular part, you can either speed up printing their batches or enable faster creation of symmetrical parts.
Huge build envelope
The maximum print volume offered by E2 is 330 mm * 240 mm * 240 mm which is more than that offered by Pro2 – another printer from the same manufacturer. It is as large as most entry-level 3D printers like Prusa i3 MK3S or Ender 3.
Using such a big build volume, users can print large parts and functional prototypes in one go. So, you would not need to print objects in various parts and assemble them, instead of print them as a whole! Also to note that the first impression of E2 is like a compact 3D printer, the one that is suitable for the classroom environment.
Automatic bed leveling with industrial video aid
Raise3D E2 is equipped with an automatic bed leveling system that helps users in getting started quickly with the prints. It allows easy printing of the first layer which is very important for the stability of complete print. But this feature is no new and is offered by many other 3D printers in the same price range.
What's new and intriguing is that E2 comes with an automatic function that creates an offset after leveling the bed. Such a feature decreases the print failures. Some form of the optical sensor is utilized for measuring the offset between two nozzles that are relative to the build plate and account for almost any inconsistencies during the printing procedure.
Enclosed frame with air filter
E2 is built using a sturdy aluminum frame. The printer features a fully enclosed build area as well as a filament holder with an air filtration system. Such a feature assists in reducing fumes as well as print warping especially while printing with materials such as ABS.
Also, the enclosed frame provides a clean and professional aesthetic that makes the printer relatively safe. Moreover, it's packed with sensitive components as well as moving parts that are tucked tidily away behind the sturdy metal panels.
Another helpful feature for the educators is that E2 will automatically pause the current print if the build chamber is open. So, when using the device in a classroom, there is no danger of hurting any curious fingers participating in 3D printing.
Power saving and filament run-out
Keeping in mind the current trend of notifying the user on material completion as well as saving progress during a power outage, Raise3D has equipped E2 with powerful sensors. So, the printing will pause when the filament will get over and you'd be able to resume from the point where you stopped before the electricity went off.
Flexible build plate
E2 is equipped with a removable flexible magnetic build plate that is coated using silicone. Practically, this means that the 3D-printed parts can be easily removed from the machine without any risk of breaking. Also, bed adherence of the part which is one of the most common problems with FDM 3D printers is completely solved because of the silicone coating.
So, the end part of the 3D printing process becomes completely streamline. A used build plate can be completely swapped out for fitting a new one at the end of the print. This also increases the overall turnaround time between the prints.
Aluminum heat block on the hot end
E2's hot end makes use of a proprietary Aluminum heat block and a brass nozzle. It's an all-metal block that permits the hot end to reach higher temperatures such as 300 degrees Celsius while 3D printing. The part is actually made from Titanium alloy that reveals a small piece of PTFE tube for further insulating the filament.
Specifically while 3D printing with PLA, it is important to print with such a cover for eliminating the issues while printing because PLA has a lower melting point and can get clogged. Whereas, PETG and ABS do not suffer from such an issue!
Webcam and lights for monitoring
Raise3D E2 also supports a good webcam that can be utilized for monitoring the printer remotely. It is equipped with an LED strip that can be controlled. It allows for resolutions up to 800*600 and frame rates up to 10 fps. Also, users can set the time-lapse automatically for every print which is extremely helpful for troubleshooting in case you get failures during the print.
User-friendly touch screen interface
Included with the printer is a 7-inch long capacitive touch screen interface that is straightforward with a nice dark theme and red accents. You can control the entire screen using ideaMaker.
So, all the essential features like starting the new prints, the print settings, calibration, as well as connecting it to the network, and updating the firmware over the air, can all be done using the interface.
Specifications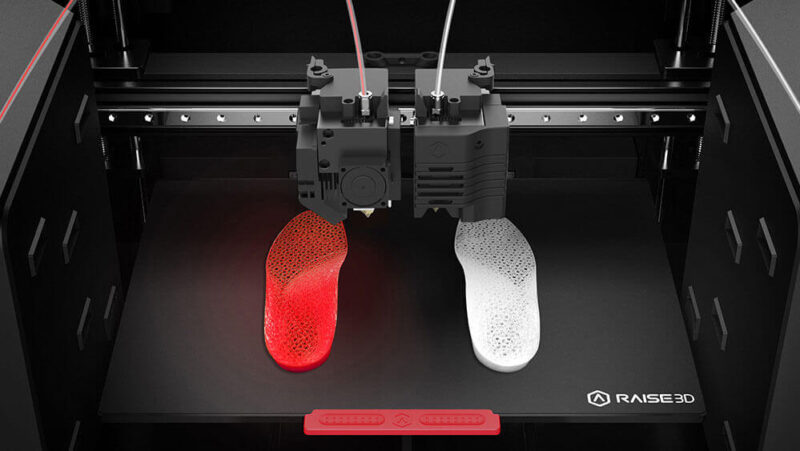 Credit: raise3d.com
Raised3D E2 prints using FFF 3D printing technology. It comes in a pre-assembled condition and offers a maximum build volume of 330 mm * 240 mm * 240 mm that allows users to print large parts in one go.
The main highlight of the printer is its independent dual extrusion system that permits printing in two different modes i.e. duplicate and inverse.
The printer has a nozzle size of 0.4 mm and sanctions printing with a filament diameter of 1.75 mm with materials such as PLA, ABS, TPU, and Flexible filament, Wood, PVA, and HIPS.
Its extruder can withstand a temperature of 300 degrees Celsius which enables 3D printing of materials with higher extrusion temperatures. A print speed of 150 millimeters per second allows printing parts and functional prototypes within a very short time.
The frame of E2 is made from Aluminum. An enclosed print area makes it possible for an even heating process and the air filter takes away all the harmful fumes making the area safe for the operator.
It has an automatic bed leveling system that assists first-time users to adjust the nozzle height. Users can connect with the printer using USB, Ethernet, and Wi-fi.
Price
Raise3D E2 is available for $3499.
First Impression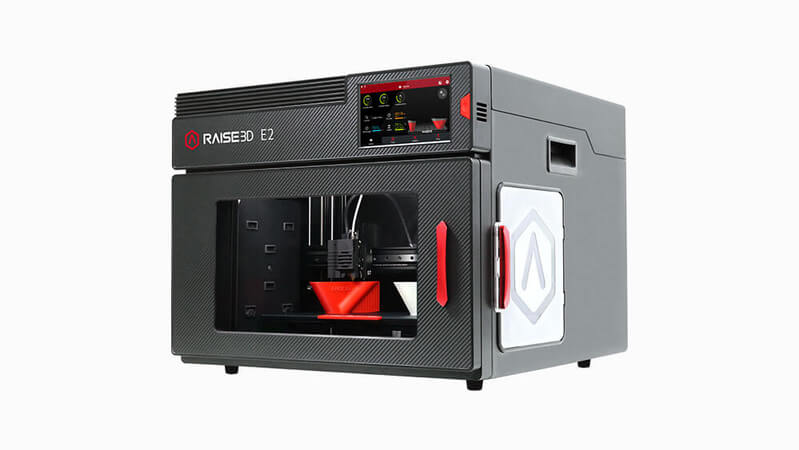 Raised 3D E2 ships on a huge wood pellet weighing about 45 kilograms! The cardboard box is thick and the entire 3D printer is covered using ample foam protection so that there are no issues about the safety while delivery. Along with the printer, you get the following things:
Two spools of Raise3D Premium PLA.
A pair of heat resistant gloves
Scraper
Tweezers
A pair of spare PTFE tubes with couplers
Set of hex wrenches
Metallic leveling card
The spool rollers
A pair of fuses
8GB Sandisk USB drive
A metal rod was used for unclogging the nozzle
The front view of the printer stars a carbon fiber finish that looks contemporary. Adjacent to it is a magnetic door that can be locked or set to stop the printing when opened, also it has a window for monitoring prints.
A top cover opens in a similar way that a car's bonnet does and is operated using a spring mechanism. The door also features a transparent window that allows monitoring of the prints from the top.
Setup
E2 is a plug-and-play type 3D printer, so all you need to do is establish it on the table and give it a power supply to start the 3D printing process on it.
Print Type/Cost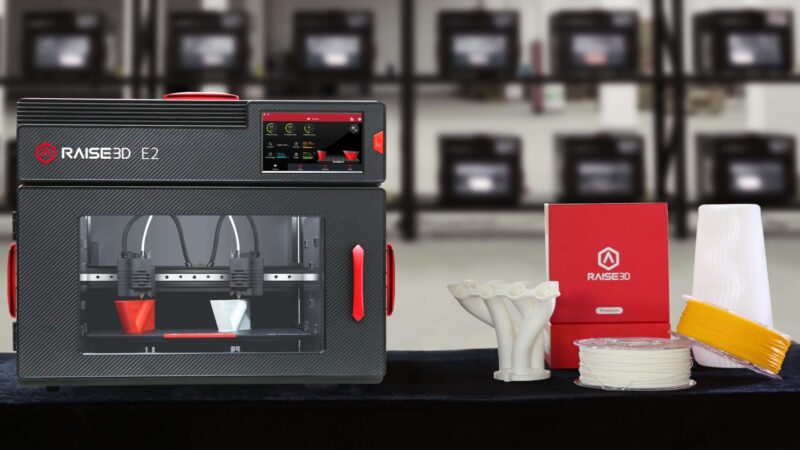 Credit: techradar.com
E2 prints using FFF 3D printing technology which utilizes a solid filament spool of specific material for 3D printing. The process starts by heating the filament to a temperature just above its glass transition. Till then, the print head has traveled according to the geometry of the part and is ready to deposit melted filament over the print bed.
The nozzle system allows the melted filament to lie on the print bed, layer by layer until the complete part is printed.
Generally, the cost of 3D printing a part using an FDM 3D printer is lower compared to other 3D printing technologies because of its simplicity.
Print Quality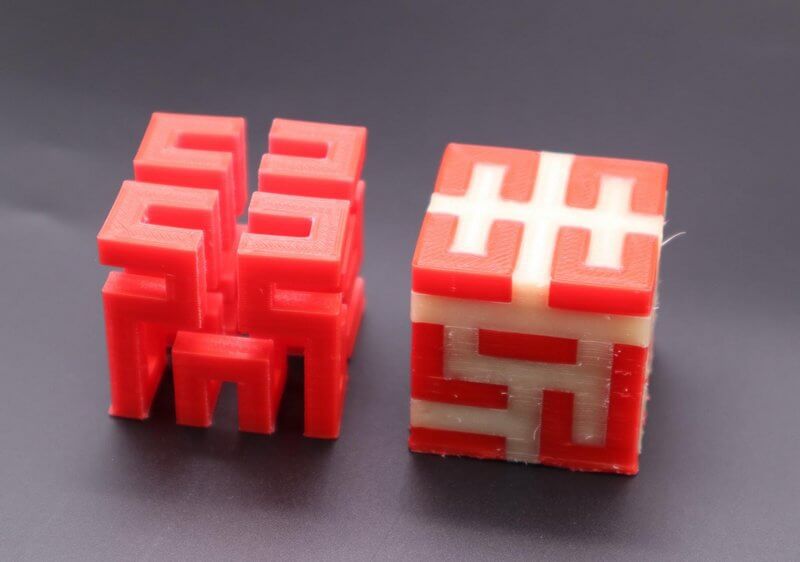 Credit: top3dshop.com
Raised3D E2 successfully manages to break the stereotype that the 3D printing community has for a typical desktop 3D printer operating on FDM 3D printing technology. It produces an amazing quality of prints with low layer heights. The printer is as good as printing with ABS, as it is with PLA and other filaments.
Software
E2 is compatible with ideaMaker slicing software that works fine with Windows as well as Mac operating system. ideaMaker supports STL, OBJ, and 3MF file formats. Apart from this, the company also offers an option of the cloud-based ecosystem.
Customer Support
Raise3D has an excellent support center via which customers can download documentation, raise a ticket as well as read about how to QuickStart, and maintain a particular 3D printer.
Information is also available about the firmware, repair procedure as well as FAQs and certifications. In case you wish to talk with the technical team, you can reach out to them via email or call.
Parameters Influencing Buying Decision
Below mentioned are the principal factors that are good to keep in mind before buying the printer.
3D Printer Cost: Although on a higher-end than regular desktop FDM 3D printers, considering the print quality it manages to provide, E2 is affordable for professional users.
3D Print Speed: E2 manages to offer industry-standard 150 millimeters per second for printing parts and functional prototypes.
3D Print Quality: The printer manages to gain excellent results even while printing complex geometries with intricacies.
3D Printer Capability: E2 is compatible with a wide range of filaments thereby offering many options for users to choose from.
3D Printer Practicality: The independent dual extrusion system makes it possible to expedite the complete 3D printing process especially while mass customizing.
3D Printer User Expectations: Raise3D E2 proves to be a very useful tool to professionals while printing geometries with considerable build volume and excellent print quality.
The Verdict
In a nutshell, E2 is an ideal choice for users willing to achieve higher print performance than other printers in the same price range. Also, it offers a wide variety of professional filament options to choose from.
The machine especially excels while 3D printing in small batches. Moreover, it's an excellent choice for educationists. So, if you wish to experiment with your 3D printing ideas and bring them into reality, Raise3D E2 can be used as a medium.