As the additive manufacturing technology is getting popular, many competitors providing the cheapest and amazing 3D printers have joined the race.
You can find many companies offering 3D printers based on different processes. While we cannot afford to buy and test each of these 3D printers available, getting one from the most trustworthy 3D printer brands is still possible.
Apart from the features and price, one should also look for post-purchase support and services. Leading 3D printing companies that have set standards in terms of high-end 3D printers and the best support should be the right choice for every individual.
Whatever price range you are expecting, never compromise with the brand. A brand matters a lot when buying a 3D printer.
3D printers have become more affordable, you can get a decent printer for as low as $500 nowadays.
Either you are a beginner or a hobbyist, you can use the list below to check the best brands selling within your range. Also, you can have a look at the professional 3D printers offered by these companies.
So, if you are looking for the best 3D printer brands to place your trust in, here are a few of the most suitable choices.
List of the Best 3D Printer Brands
There is no doubt that the competition is rising among the 3D printer manufacturers. This is one of the biggest reasons why every brand is trying to manufacture bets 3D printers at the cheapest cost.
Some succeed in doing so and some fail to offer the best features with a limited budget. Hence, there is a huge difference between the 3D printers sold by the best brands and those sold by many other companies.
The list contains the brands that offer affordable 3D printers as well as high priced 3D printers with unmatched qualities.
MakerBot


If you are interested in buying a 3D printer, you must have heard about MakerBot. The company was started in 2009 and is headquartered in New York City, United States.
The 3D printers built on early RepRap project was a huge initiation by its founders Bre Pettis, Adam Mayer, and Zach "Hoeken" Smith. Later, in 2013, the company was acquired by Stratasys. However, the great work that the company was known to accomplish never faded.
One of the most talked-about 3D printers developed by MakerBot is the Replicator+.
This 3D printer is very popular among 3D printing experts because of the speed and safety features it offers. Although the desktop printer falls on the expensive side of the 3D printers, the quality it offers justifies every bit of it.
Among all the 3D printer brands, MakerBot enjoys its own fan following. Coming up with better 3D printers with advanced features every time, MakerBot has proved it's worth many times.
A 3D printer is a great option for hobbyists and those printing from home. Its user-friendly features and the safety considerations attended by the company have taken Replicator+ to newer heights of fame.
If you are ready to stretch a little bit of your pocket to fit this 3D printer in your budget, it would be a great addition to your work station.
You can even go for the older versions. Though they may lack a few of the additional features present in this newest version, those would also not disappoint you.
Product
Specification
Videos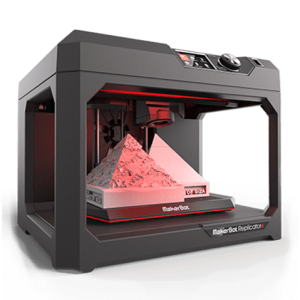 Equipped with Smart Extruder Plus, the MakerBot Replicator Plus is an award-winning desktop 3D Printer created for those wanting a reliable solution ...
| | |
| --- | --- |
| Model | Replicator+ |
| Manufacturer | MakerBot |
| Price Range | $ 2499 |
| Availability | Available |
| Classification | Desktop |
| Technology | Extrusion (FFF- FDM…) |
| Material | PLA |
| Filament diameter | 1.75 mm 0.07 in |
| OS compatibility | Linux, Mac OS, Microsoft Windows |
| XY accuracy | 0.011 mm 0 in |
| Max. build size | 295 × 195 × 165 mm 11.61 × 7.68 × 6.5 in |
| Max. build volume | 9.49 L |
| Min. layer thickness | 0.1 mm 0.004 in |
| Dimensions | 528 × 441 × 410 mm 20.79 × 17.36 × 16.14 in |
| Weight | 18.3 kg 40.34 lb |
| Nozzle diameter(s) | 0.4 mm 0.02 in |
| Power input | 0.76-0.43 A @ 110-220 V 50-60 Hz AC |
| Heated print bed | No |
| Heated build chamber | No |
| Automatic calibration | Yes |
| Closed frame | No |
| Dual extruder | No |
| Independent Dual Extruder | No |
| Full color | No |
| LCD screen | Yes |
| Touchscreen | No |
| On-board camera | Yes |
| Mobile app | Yes |
| 3D scanners | No |
| CNC mill | No |
| Electronics 3D printing | No |
| Laser engraving | No |
| Conveyor belt | No |
| Air filter | No |
| Pellet extruder | No |
| USB | Yes |
| Wifi | Yes |
| Bluetooth | No |
| SD card | No |
| Ethernet | Yes |

Ultimaker


This company was founded by Erik de Bruijn, Martijn Elserman, and Siert Wijnia. It started in the year 2011.
With its base in the Netherlands, the company has its offices in the USA too. Mostly known for manufacturing the most affordable FFF 3D printers, the company is also involved in selling 3D printing software and branded materials for 3D printing.
The 3D printers designed by Ultimaker are Ultimaker S5, Ultimaker 2+ series, Ultimaker 3 series, and Ultimaker Original+. The company sells these printers to various niches and are highly in demand among industries like healthcare, architecture, automotive, education, and small scale manufacturing.
You can expect the 3D printer manufactured at Ultimaker to provide high-resolution printing and is available with an open frame design.
The Ultimaker 2+ series is expensive and is very popular among small scale businesses because of the high price tag. Because of its simple technology and easy to use interface, the 3D printer is able to make it to the top chart.
The resolution offered is also amazing. Among all the big brands, Ultimaker chases technology at the fastest rate.
You can expect it to match the best industrial 3D printers soon with their desktop version. There is a lot that the brand does behind the scene to ensure that the users get the best affordable 3D printers loaded with innovative features.
If a high-quality 3D print is your priority, you can choose this brand anytime. Use the 3D printers offered by Ultimaker to know the worth.
FlashForge


The company was started in 2011. With around 10 years of experience in manufacturing 3D printers, the brand knows ins and outs of additive manufacturing technology. And, their skills are well reflected in their 3D printers.
FlashForge is the first company to manufacture professional 3D printers in China and is also the first materials R&D enterprise in China.
It has around 10 product categories to sell. Ranging from 3D printers to 3D filaments to 3D printing services. It can be quoted as the brand offering the full life cycle of 3D printing technology.
The company has divided its products into three categories. You can choose between the industrial level, commercial level, and civil level.
This is to ensure that the products are well promoted among each sector and there is no confusion left in the minds of buyers.
The company is currently exporting its products to more than 100 countries around the globe. One of the most popular 3D printers manufactured by this brand is FlashForge Creator Pro 2017.
The budget can be placed in between the cheap 3D printers and the expensive 3D printers. You may experience a bit of excess noise as compared to the others in the list, however, it offers high build quality and accuracy while printing.
LulzBot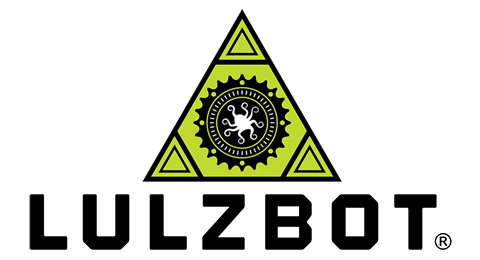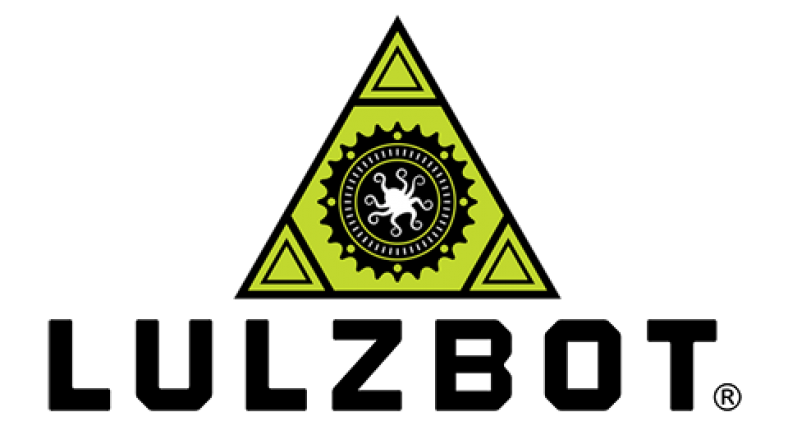 Among the top 3D printer brands, LulzBot has an edge as it provides free licensed designs and open-source hardware.
This means that one can easily understand the design with the documentation available and can make the modifications to the machine when available from the company. Being a product line of Aleph Objects, the company advocates an open-source foundation.
Application of the 3D printers offered by LulzBot ranges from small scale manufacturing to printing parts for NASA.
If you are a beginner and a professional, instead of settling for cheap options with not many features, try LulzBot Mini. This is one of the most affordable choices within the professional range of 3D printers.
You may find the speed a bit slow, but is a great option for printing accurate designs.
Moreover, as the foundation is based on open source hardware, the individuals from the community can shake hands for bringing innovative development to the machine by creating add-ons for the printer.
One more version of the 3D printer that is very popular with LulzBot is Taz 6. The machine offers great build volume and has taken automatic bed leveling to the next level.
A lot of enhancements have been made to the device as compared to its older series. Users can take huge benefits when printing with this 3D printer.
XYZPrinting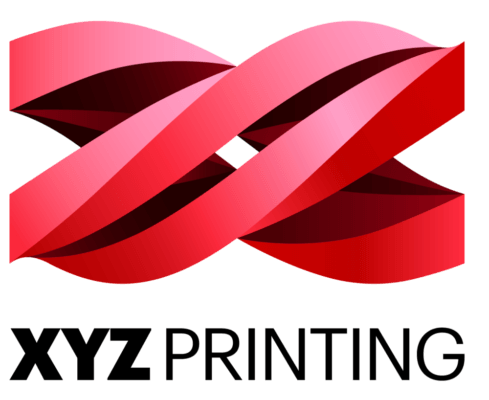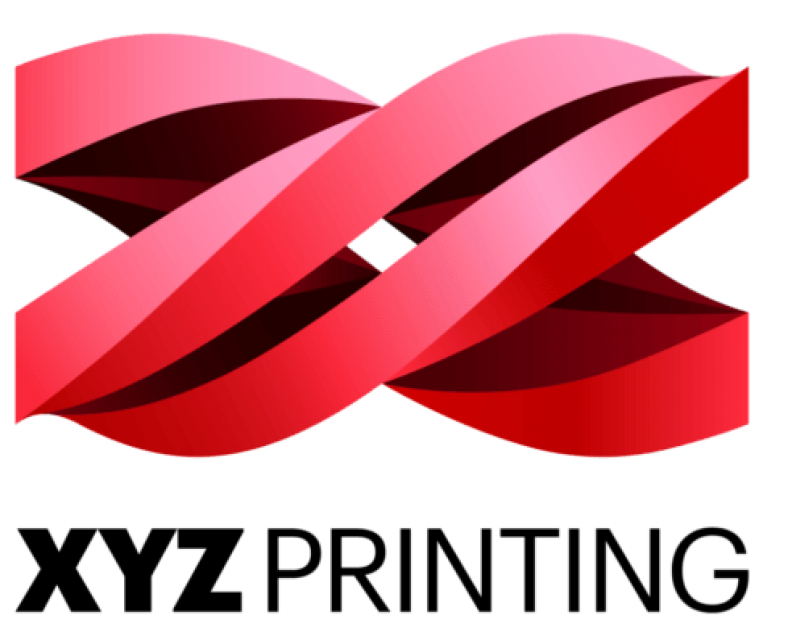 XYZPrinting may not be as old as MakerBot, but it is one of the biggest competitors of this brand. Among all the 3D printer brands, XYZPrinting sells a few of the most cost-effective 3D printer options.
The company aims at providing the best solution at the cheapest price for businesses to have access to this revolutionary technology.
If you do not know, XYZPrinting has its backing from Kinpo Group, the world's most popular electronic manufacturing giant.
With more than 8000 engineers hired across the four major continents, Kinpo has more than 15 years of experience in designing the best 3D printers for commercial as well as home use.
Nothing comes for free though. XYZPrinting sells some of the best 3D printers for the different price ranges.
The best one by far is the Da Vinci Mini which is affordable and provides high-quality printing.
The user-friendly interface makes the entire job easy when working with this 3D printer. A small sized 3D printer that can easily fit on your home desk or work station.
Other 3D printers offered by this brand are also great. You can check out different 3D printers, the company manufactures to decide what suits you the best.
3D Systems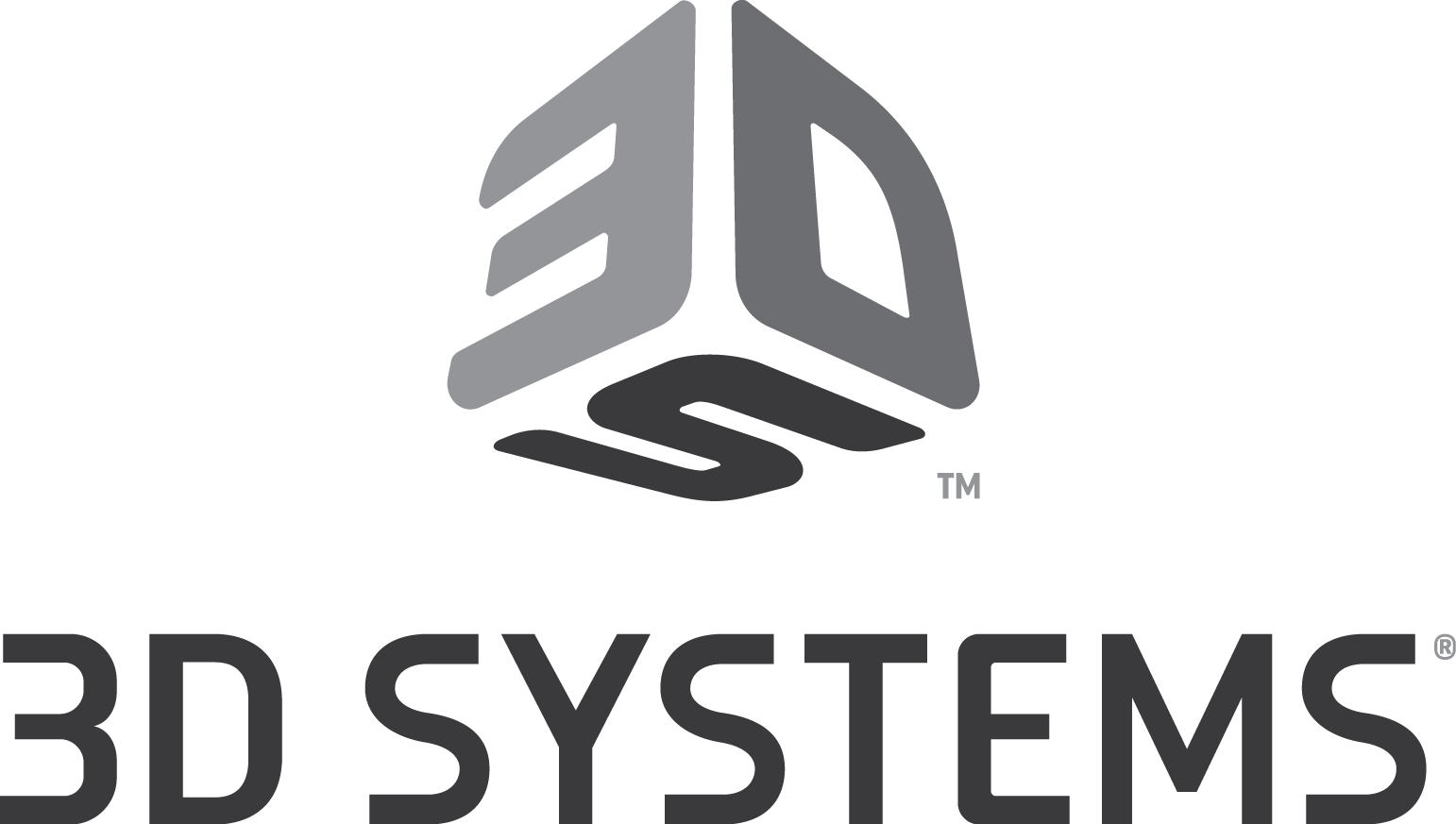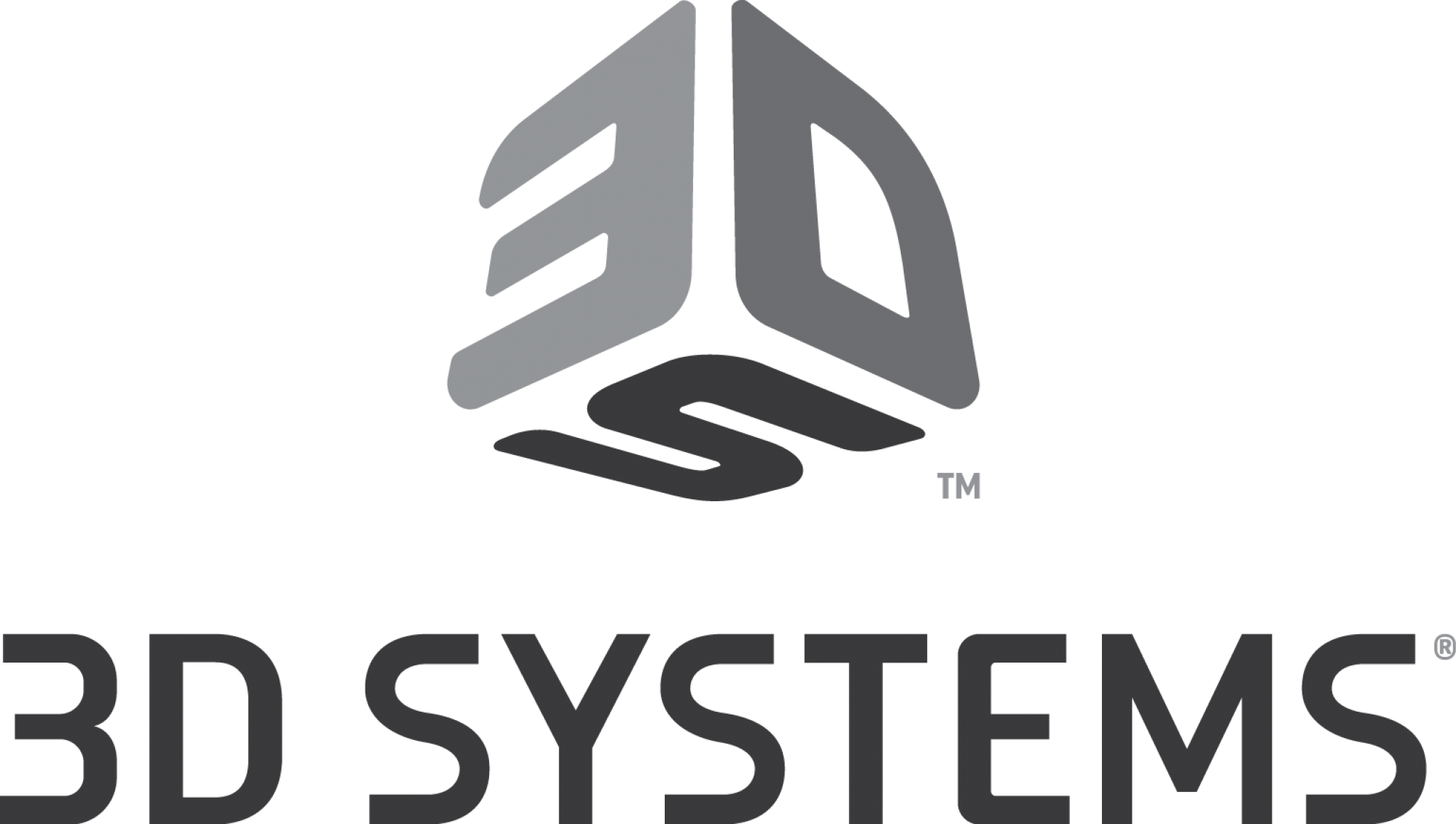 Bringing a difference to the world of 3D printing, 3D Systems is admitted to manufacturing amazing 3D printers with add on qualities.
The company has designed various options among 3D printers. However, the most talked-about version is the CubePro Trio 3D printer.
If you haven't yet guessed it from the name, let me clear the suspense behind the name of the 3D printer. Based on the Fused Deposition Modeling, this 3D printer is capable of printing with three materials and three colors simultaneously.
Usually, we have found the desktop 3D printers available with 2 color printing options. However, 3D Systems went one step ahead and created 3D printers capable of printing with three colors and three materials at the same time.
There are various other products that the company has sold so far. With amazing designs of the 3D printers that the brand sells, it is no doubt why it is considered one of the best 3D printer brands around the globe.
There are many businesses already using the 3D printers manufactured by 3D Systems.
The application of these 3D printers is also unlimited. Greatly helpful in printing enclosed mechanisms. You can use this 3D printer to make colorful prints come to life.
BEEVERYCREATIVE

This is a Portuguese company offering the best 3D printing solutions to its users. The brand is focused on innovating new features and innovative technologies to take 3D printing to the next level each time when it comes with a new idea of a 3D printer.
BEETHEFIRST+ 3D printer manufactured by this brand really captured a lot of attention worldwide. The machine is designed to impress users both in terms of its looks and printing quality.
You would love to place this machine in your living room as it is beautifully designed. A sleek design and handle present on the printer make it easy to take the printer from one room to another or shift it from one place to another.
The brand has also released many great options for its users in the past. The notable quality that the printer produces makes BEEVERYCREATIVE a great option for all levels of users.
Ranging from affordable range 3D printers to some of the most expensive ones, the brand offers few of the best series to its users.
The Conclusion
3D printer brands have evolved with the evolution of 3D printing technology. While there were two-three companies progressing in the past, today one can find many options when figuring out which company to buy the 3D printer from.
There are so many options that getting confused while buying the 3D printer is also not rare. There are times when one gets a 3D printer that may fall at the cheaper side but offers no solution to the printing needs.
When looking for a professional range 3D printer, it becomes even more important to clearly figure out the brand one should go with.
This is because the professionals look for an affordable budget with amazing features. Otherwise, the whole concept of 3D printing wouldn't fit the goals of professionals.
Among all the various 3D printer brands, the ones listed above offer the best quality 3D printing solution.
And, on top of that, these companies have amazing customer support and service centers to cater to your needs after buying the product from them.
As a user, you must know how much after service matters. Hence, you can trust these 3D printer brands when choosing the right 3D printer for your needs.