Formlabs Form 3L
Similar to Form 3, Form 3L by Formlabs has succeeded in creating a considerate fan base. The 3D printer has certainly raised the bars for many SLA printers to come in the market for years.
PROS
Reduced Peel Forces providing better quality prints
High speed printing
Economical price for an SLA based technology (LFS)
Automatic bed leveling
Plug and Play use
Light support easy to remove
Constant Monitoring
CONS
Post Processing Requirements
Expensive than low prices FDM machines
Support structure required for every design
Table of Contents
Formlabs has given SLA a new definition by letting the desktop 3D printing users experience the various benefits of SLA technology, that once was limited to few hands. The first 3D printer released by Formlabs based on SLA technology was Form 2 which is still available.
The company was to first to bring SLA to the desktop 3D printer model. Form 3L is something new being based on LFS (Low Force Stereolithography). Also, with huge build surface, one can produce larger parts without any hassle.
The company has always stressed on making 3D printers that require less manual intervention and can work as much as a stand alone machines. Formlabs has pretty much succeeded in doing so with the older releases. With Formlabs Form 3L 3D printers, the company has again tried to make the machine as user-friendly as possible.
So, why not check out what the Form 3L has in store for its users?
Features
The black and grey body with orange hood is a real eye catcher. And, who can ignore the large build area of this sophisticated looking, still sturdy machine? Talking about the features, as you would expect with Formlabs, you are going to be delighted to know in detail the various benefits of this machine.
Made to impress, Form 3L 3D printing machine has already turned many faces while trying to cover most of the applications 3D printers are able to commit to. From dental to functional prototypes to designer models, Form 3L has proved to surpass all the expectations of customers through its unbeatable quality and ease of printing.
One can easily print parts by one touch feature to convert one's imagination into real objects that one can touch and feel. The more you delve into understanding the features, the more you start liking this device.
back to menu ↑
Specification
Most of the specification are similar to that of Form 3, with few changes. As Form 3, the Form 3L printer also works on Low Force Stereolithography. The XY resolution is also similar to 25 microns. The layer thickness is also similar between 25 to 300 microns.
So, what are the differences between Form 3L and Form 3 printers? The major difference is the build volume of the printers. While Form 3 is 5.7 × 5.7 × 7.3 in, the Form 3L has enormous 13.2 × 7.9 × 11.8 in of build volume. Moreover, to enhance the quality of the prints, Form 3L comes with 2 LPU units and 2 resin cartridges.
One can pretty much claim that Form 3L is the bigger version of Form 3 with few more additional features. However, Form 3L is mostly for large scale production and industrial use.
The Form 3L printers are equipped with wifi, USB and ethernet connectivity. The 5.5 inches interactive touchscreen is as good as it is with Form 3 printers. With close monitoring, users get real time notifications of the print in progress. The SMS and email alerts are triggered through their dashboard software.
This desktop printer has few pre-requisites. To enable the desktop connection, the OS must be windows 7 with 64 bits or higher setup. If you are running a MAC machine, you require OS X 10.10 and upper version. And, the RAM must not be lesser than 4 GB. If your computer meets all these pre-requisites, you are good to go for using the Printer's software.
| Specifications | |
| --- | --- |
| Build Volume | 335 x 200 x 300 mm |
| Laser | Light Processing Unit (LPU) X2, 250 mW405 nm |
| File Type | STL, OBJ |
| Product Dimensions | 775 x 520 x 735 mm |
| Product Weight | 48 kg |
View full specifications here.
back to menu ↑
Price
The Formlabs Form 3L printer comes for $9999. The printer is only available in basic package unlike the Form 3 printers that are available with basic as well as complete package. In the basic package users get 1 Form 3L 3D printer, 1 Resin Tank, 1 Build Platform, 1 Finish Kit and a preform software.
This package is all you need to start the 3D printing. However, if you are looking to take long hours work from your printer, which you might be after paying such a high price, you must go for an extra build platform and resin tank to start with. Later, you can decide what fits your budget and requirement.
The price of this 3D printer is on a higher end. But, as you can see, this is a printer based on LFS (a form of Stereolithography), so what do you expect. With the build size of what this printer provides, one can use this machine for industrial use as well. It can be used to build larger parts when compared to many desktop printers.
Also, you get the benefits of SLA process with more advanced features through LFS.
back to menu ↑
First Impressions
A huge Form 3L offered by Formlabs when taken out of the box gives one a gigantic look. The design is similar to the Form 2 and Form 3 with silver and black metal body and orange coloured plastic hood. However, there is quite some difference in its working when compared with Form 3 and huge difference with Form 2.
This 3D printer looks stylish and is very durable. The printer looks close to the industrial model and can be considered one. It is one among the many expensive SLA machines that works on this expensive process of SLA but is affordable for many businesses not able to switch to SLA from FDM because of the cost factor.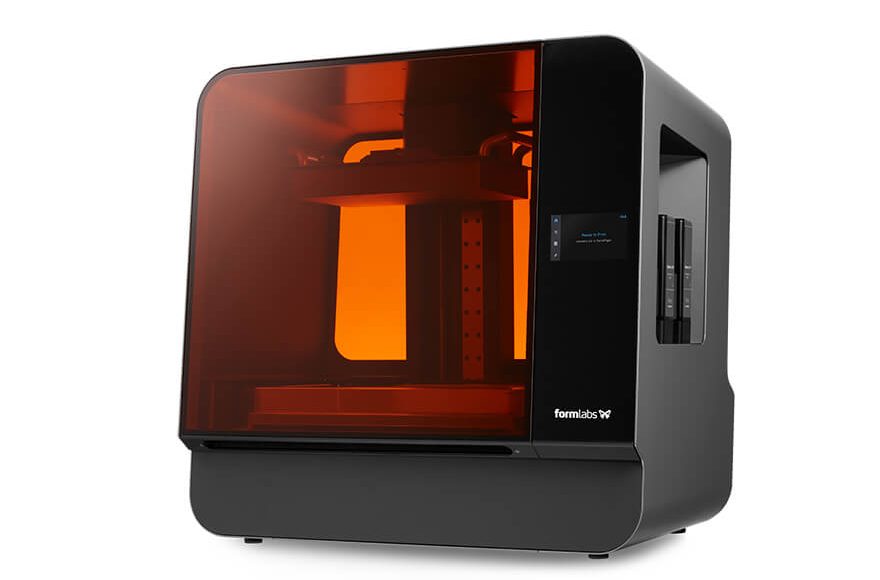 This printer very much could be used for many applications. From dental to aerospace to complex protype and designs, Form 3L can be utilized for several crucial industrial applications.
back to menu ↑
Setup
Formlabs are known to manufacture 3D printers that can be used after directly taking out of the box. A complete plug and play system. There is no difference with this machine either. With few steps, one can be ready to 3D print in matter of few minutes.
One has to install build platform, resin cartridge and material and upload the printable file to start the printing process. There are three ways to connect to this 3D printer. One can use the WIFI connection to connect with mobile or desktop with the Form 3L printer. Or, one can also make use of USB or ethernet to do so.
Once the file is uploaded for printing, one can switch off the computer if needed. The progress can be checked through the mobile software as well. The Dashboard Printer Management provides access to remotely manage the entire print process.
Isn't it like playing around with the technology with such ease of accessibility and user friendly features? It sure is.
back to menu ↑
Printing Type/Cost
The technology used for Form 3L is same as it is with Form 3. Instead of traditional SLA process, the company has come up with LFS (Low Force Stereolithography).
LFS (Light Force Stereolithography): The major difference between SLA and LFS is the use of linear illumination and a flexible tank that is unavailable with SLA process. The introduction of these two advanced technologies have greatly improved the print quality of the parts 3D printed by this 3D printer. This technology also helps in easy removal of support by introducing light support easy removal. This further helps in improving the surface quality that always has been a challenge with traditional SLA process.
LPU (Light Processing Units): Unlike Form 3, Form 3L make use of two high powered lasers for precise prints. The lasers with 250mW power are capable of realizing so me unmatched quality prints not usually seen among SLA printers. These two lasers are continuously moved below the resin tank for accomplishing complex prints with ease.
Monitoring of Prints: The constant monitoring is better way to underline what happens when the parts are getting 3D printed. The entire process can be closely monitored. The printer sends notification for print progress and keeps one informed all along the 3D printing process.
Notification When Material Finishes: The 3D printer also sends notifications when the material is low or is already exhausted. The print is paused in such case until you refill the material.
Easy Material Refilling: Unlike other SLA machines where one has to pour the resin into the tank all by oneself, this 3D printer helps in easy managing of material refilling. User only has to switch the material cartridge and the work is done. No use of manually pouring the resin into the tank. So, no wastage of material and the resin is also intact.
Only Company Resin: The 3D printers offered by Formlabs restrict the use of resin to their company's options only. However, this is not a bad thing if you have more than 20 materials to choose from with different physical properties and colour choices. The prices for these materials are also competitive. Some available for high end prints may come for a higher price. The good news is that these materials are also worth the price tag.
back to menu ↑
Print Quality
3D printing with Form 3L is very amazing with all the inbuilt features and benefits one receives from the device. Upgrading the quality of 3D printers working on SLA process, Formlabs have succeeded this time again with much delightful option of Form 3L.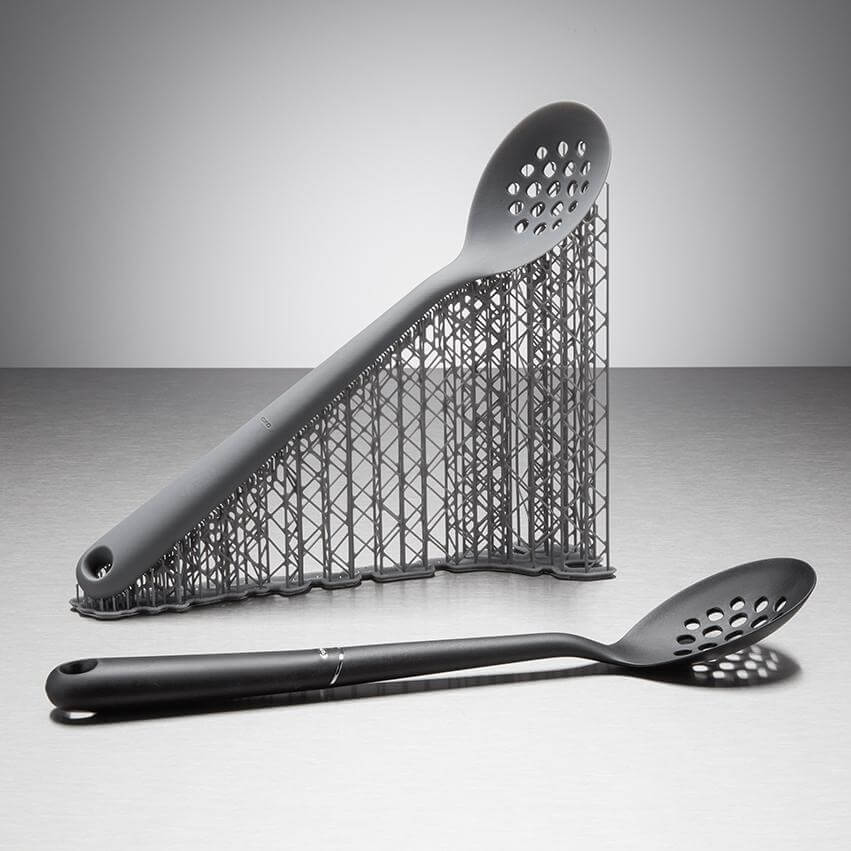 Aiming to increase the accessibility of SLA printers to the larger user base, Formlabs always stress on quality at affordable price. And, there is no shying away from the fact that the company has done it before with Form 2 and has repeated the history with the release of Form 3 and Form 3L.
Smoother Surface Finish: After the introduction of light support removal benefits, the parts printed with LFS have smoother finish than the ones printed with traditional SLA printers.
Precise Prints: The reduction of repeatability achieved by reducing peel forces helps in finer quality prints. The better intricate designs are possible with LFS. Functional prototypes and complex geometrical designs are just a press of button away with LFS.
Automatic Support Generation: By using the software available with Form 3L, one can directly generate the support structure without investing much time on it. One can manually make the changes too if necessary. However, the automatic support generation is precise and easy to use.
Automatic Bed Levelling: With many 3D printers in the market, manual bed levelling is still a thing. However, not with Form 3L. You do not have to worry about these settings. Moreover, the optical sensors are installed in the machine to provide automatic calibration.
back to menu ↑
Software
There are two software available with Formlabs: Dashboard Printer Management and PreForm. While PreForm helps in scaling the CAD designs and preparing it for making print ready, Dashboard Printer management helps in managing the print directions given to the printer. The dashboard printer management software can be used to manage the print process remotely. For example, starting a print, saving the printable file and a lot more things can be done with the help of this software.
back to menu ↑
Customer Service
The company provides good customer service support to its users. One can check the online videos available on the website for installing the printer at their place. One can place support request through the website contact form. Company caters to everyone's queries at the earliest.
back to menu ↑
Parameters to Access for Making Purchase Decision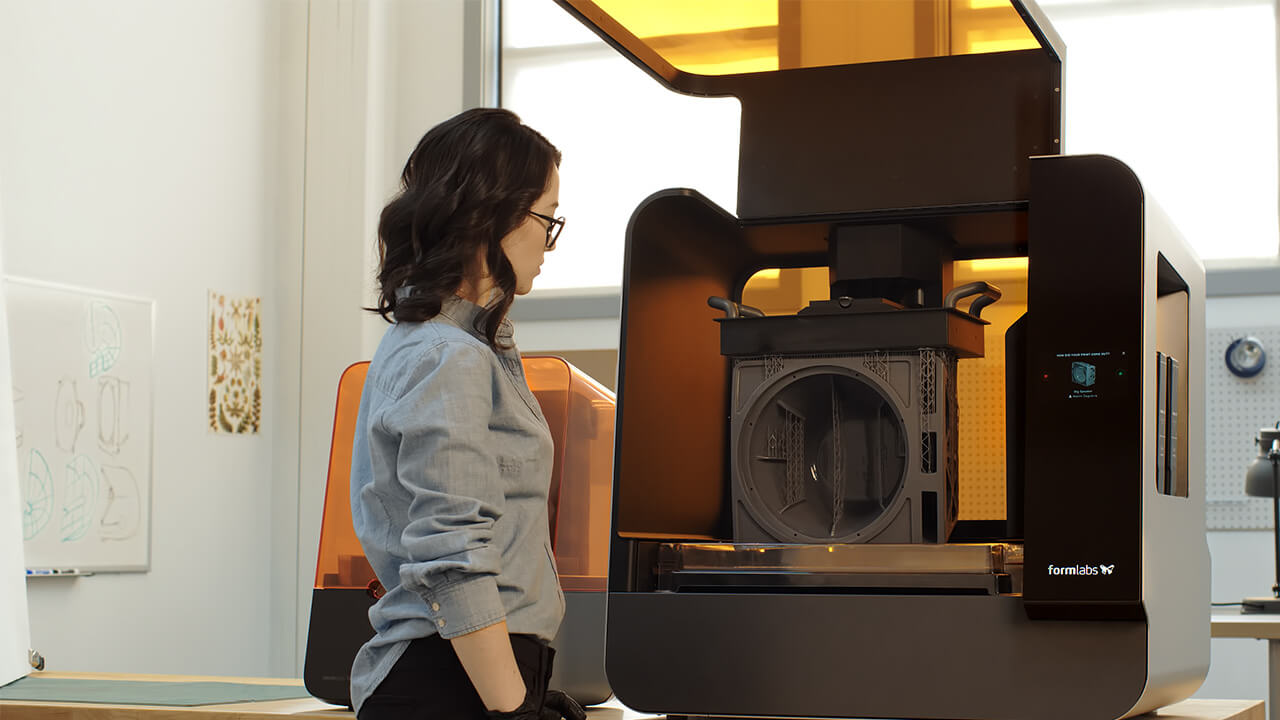 3D Printer cost: As compared to the large SLA printers, the price is very economical. If one is willing to spend more for an SLA printer rather than paying for FDM, this machine is the right fit.
3D Print quality: With LFS technology, Formlabs has tried to get the best quality from other traditional SLA based printers and have succeeded too.
3D Print speed: The print speed is also competitive enough making this printer a great choice for large scale production and close to industrial use.
3D Printer capability: One can use the printer for 3D printing large parts. The application stretches from medical to functional prototypes design. Variety of material is available to suit the need for different industrial application.
3D Printer Practicality: Although not very much compatible for high end industrial use, but is very close to in terms of quality and preciseness. It is best fit for those looking a solution for business 3D printing.
3D Printer User expectations: The printer is good option for users who weigh quality over price. If you are looking to use an industrial grade 3D printer (or closer) for your business needs, you have come to the right option. Form 3L can serve your needs with best results.