In industries such as jewelry, medical, dental, and manufacturing, metal 3D printing is one of the fastest-growing technologies, thanks to its ability to produce complex and unique structures with high precision. Using this technology, users can create cost-effective metal parts and prototypes.
A lot of waste is usually produced during metal part production. A 3D printer, on the other hand, can reduce energy consumption and material wastage.
Nowadays, companies are focusing their efforts on producing machines that are faster, easy to use, and more powerful. There are many metal 3D printers on the market that have varying specifications which cater to different demands.
With all that in mind, if you are on the hunt to choose the right 3D metal printer that suits your business needs then this article will provide the insights you need to make the best decision. Check out below:
What Is Metal 3D Printing And How Does It Work?
A laser beam melts 20 to 60-micron layers of metal powder one on top of the other, allowing designers and artists to create complicated shapes and details that would not have been possible using traditional manufacturing methods.
After printing, the metal is post-processed by removing the support structure, washing, and heat-treating the part. Sometimes sanding needs to be done, depending on what surface finish the user requires.
What Are The Benefits Of Metal 3D Printing?
When we talk about strength and flexibility, there is nothing quite like metal.
There are many advantages to metal 3D printing, one of which is that there are no design restrictions. From intricate to highly complex geometries, additive manufacturing achieves every design with greater precision and higher speeds.
One of the most widely known advantages of metal 3D printing is that cuts out overheads as well as bandwidth issues that you face with tooling which means that the manufacturer can produce low-volume parts quickly and affordably. Additionally, it eliminates manufacturing issues like inefficient workflows, third-party manufacturers, and complex purchasing processes.
Not to forget that Additive manufacturing is the best solution if you need to produce custom-made objects.
With so many benefits of having a metal 3D printer, manufacturers nowadays cannot resist the idea of investing in a metal 3D printer.
Comparison Chart
| Name | Link | Nomination | Overall Rating |
| --- | --- | --- | --- |
| Desktop Metal Studio | | Most Innovative | 9.5 |
| Concept Laser XLine 1000R | | Extraordinarily Efficient | 9 |
| Sciaky EBAM 300 | | Impressive Pick | 9.8 |
| Fabrisonic SonicLayer 4000 | | Highly Reliable | 8.7 |
| Renishaw RenAM 500Q | | Most Consistent Performance | 8 |
| Markforged Metal X | | Safest option | 8.7 |
| Velo3D Sapphire | | Most Advanced | 8.5 |
| Arcam EBM Spectra L | | Incredibly Productive | 9 |
| XJet Carmel 700M | | Most Cost-effective | 8.9 |
| Rapidia Metal | | Extremely Office Friendly | 8 |
List of Best Metal 3D Printers
Desktop Metal Studio
Launched by a US-based manufacturer, this 3D printer offers an impressive combination of speed and quality.
This 3D printer offers a 3-part system that includes a printer, debinter, and a furnace integrated with web-based software to ensure a seamless operation.
It also offers a layer height of 50 μm and a build area of 300x200x200mm (HWD) which is large and can accommodate huge designs without any trouble.
Although this machine is not cheap, it is much more affordable than the machines offering the same features at much higher prices.
Salient Features:
This printer requires zero toolings and comes with a single jet passing technology that produces complex parts in minutes.
Instead of a laser-based system, this 3D printer is quite similar to how a plastic FDM printer operates, as it extrudes bound metal rods while its Production system is inkjet and powder-based.
This metal 3D printer can print as fast as 16 cm3/hour print speed allowing it to produce parts in the fastest possible time.
This 3D metal printer comes with interesting features that include proprietary separable support technology and a software-controlled workflow which means that every stage of the process is fully automated which makes this machine a highly fascinating option.
Offers a dynamic interface where the user can interact and view precise tool paths
Concept Laser XLine 1000R
With an immense build volume of 630 x 400 x 500 mm, you can depend on this impressive printer for creating complex geometries without any hassle while its high-power laser creates precise and durable metal parts.
Simply put, this super-efficient machine comes with amazing specifications that lead to greater productivity and superb efficiency thus fitting most industrial needs.
This printer does not only offer a high printing speed, but it also comes with remarkable print quality.
Although we agree that this printer is not the most affordable, be assured that with all the exciting and unique features, this printer is worth a splurge.
Salient Features:
Comes with a touch screen interface to provide easy access to the settings of the printer
This versatile machine also allows you to work with a variety of metals like stainless steel, nickel-base alloy, and other precious metals such as gold or silver alloys
Uses LaserCUSING process that makes it possible to construct lightweight structures with no design restrictions
This printer offers a 1000-watt laser strength, which makes it possible to achieve construction rates of up to 65 cm³/h. What's more fascinating is that this machine is highly capable of building parts that can weigh up to 1000 kg
Sciaky EBAM 300
Rich in advanced features, Sciaky's Electron Beam Additive Manufacturing (EBAM) 300 offers the best printing experience for manufacturing parts and functional prototypes. This unique technology melts a 3 mm thick titanium filament using a powerful electron beam.
Another exciting thing about this printer is that it offers a build platform of 19′ x 4′ x 4′ x 8 which is the largest offered by any metal 3D printer in the market. Additionally, the company also claims that it is capable of producing a metal structure over ten feet long in just 48 hours.
This machine is a reliable option for both commercial and industrial use. It is also highly suitable for industries like aerospace, dentistry, medical, jewelry, and many others.
Even though the machine has a high printing cost, but with all the impressive features and quality work, the cost is justified.
Salient Features:
Its innovative IRISS process control technology provides greater control over geometry and eliminates inaccuracies. It also prevents material wastage.
The machine not only produces metal parts but can be used for customized repairs as well
Fast deposition rate ranging from 7 to 20 lbs of metal per hour
Fabrisonic SonicLayer 4000
Known for creating complex internal geometries and impossible designs, this huge machine is a great option for printing large components.
With a build space of 1016 × 610 × 610 mm, it features an Ultrasound Additive Manufacturing Technology that uses ultrasonic sounds to combine layers of metal foil.
Here the solid metal objects are built into a three-dimensional shape by using a series of metal tapes. Thanks to this innovative method, there is also no need for very high temperatures.
Considering its remarkable accuracy and smooth finish, the metal parts do not require post-processing so the overall print time is decreased which allows you to cater to an urgent production need.
Salient Features:
It uses industry-standard G-code programming which allows the user to choose the CAD/CAM software as per their  preferences
Compatible with a wide array of metals and their alloys
Comes with a table size of 44 inches * 24 inches
Renishaw RenAM 500Q
If you are looking for a printer that consistently produces superb quality output, then this 3D printer is your best option.
Featuring a building envelope of 250 mm x 250 mm x 350 mm, this 3D printer uses four high-power 500 W lasers that move independently and can access the powder bed simultaneously.
Most importantly with its four lasers, the printer achieves build rates up to four times faster than single laser systems.
Salient Features:
This printer is suitable to print titanium alloys, cobalt-chromium, stainless steel, and a range of other metal powders
With deposition rates of up to 150 cm3/hour, this machine not only improves productivity by speeding up the process of printing but also lowers the cost per part
It also offers an innovative dual Safe Change filter system that provides clean processing conditions throughout the duration of the build
Another great feature is that it comes with an intelligent gas flow system that reduces argon consumption
It also features a rich user interface that is operated through a touch screen with user-friendly controls
Markforged Metal X
Offering an impressive geometrical accuracy at an incredible speed, this metal 3D printer uses Atomic Diffusion Additive Manufacturing (ADAM), somewhat similar to FDM 3D printing as it uses a bound metal powder rod embedded inside a plastic filament.
One of the main benefits of this technology is that it allows the user to create fully enclosed structures.
This machine features a 50-micron layer height, which is quite convenient while also offering a generous build volume of 300 x 220 x 180 mm that gives users the freedom to use it to print large components.
Other than being easy to use, this machine also happens to be one of the most affordable options in this roundup.
Salient Features:
This printer comes with Markforged proprietary cloud-based software known as Eiger that allows for real-time fleet management so that you can handle production more efficiently
The software is also compatible with most browsers that allows you to seamlessly import CAD drawings and printed metal 3D parts
It can print parts from a variety of metal alloy filaments, including tool steel, Inconel, and others
Features a two-part post-printing process that saves the user a lot of his time
functions without using powder management systems that ultimately expedite the print speed
Velo3D Sapphire
If you are a designer who is hoping to minimize support structures, then look no further. The Velo 3D Sapphire allows geometries that are otherwise impossible to print due to hard-to-remove support structures.
Keeping its remarkable attributes in mind, this machine has targeted applications in aerospace, energy, industry, and medical implants and devices.
Salient Features:
This printer is equipped with dual 1kW lasers while its  build volume is 315 x 315 x 1000
It features an Intelligent Fusion and a proprietary 3D printing technology that makes it possible to produce parts with complex geometry that require little or no post-processing
Another point to note is that this printer is driven by a powerful software known as a flow that pre-print simulation and correction while also optimizing the design and adjusting the geometry and build layout thus ensuring predictable print outcomes every time
What makes this machine unique is its ability to print low angles. Not just that it can also produce overhangs below five degrees, as well as large inner diameters and tubes up to 40mm that too without requiring any supports
Arcam EBM Spectra L
This machine has been designed to reduce cost per part by 10% while also increasing the overall productivity.
With several interesting upgrades, this 3D printer uses an electron beam melting technology that requires no supports to save time and costs. It also offers a superior print quality as compared to other EBM machines.
Salient Features:
The build volume is 350 x 430 mm
Another noteworthy feature is that it comes with a 4.5 kW beam power that increases build speed by 20% which makes it quite an incredible machine
The improved auto beam calibration makes it ideal for delicate and bulky geometries
Advanced data analytics are also incorporated into the unit that helps the user with informed decision-making and future design and development.
The unit is also compatible with the Arcam EBM PRS 30
You can use this printer for printing out Titanium and Copper efficiently
XJet Carmel 700M
With the ability to deliver unlimited design flexibility, unrivaled geometrical designs, and exceptional operational simplicity, this metal 3D printer uses patented NanoParticle Jetting that produces parts with precise accuracy in a highly efficient manner.
Other than being compatible with ceramics and metal materials, this technology is said to be 5 times faster than other processes.
Salient Features:
This metal 3D printer features a build volume of 500 x 280 mm which allows the manufacturer to print dozen of metal parts simultaneously
Features a large and highly responsive touch screen interface with user-friendly controls, which makes it easy to control and operate while printing. It also displays the production status for user convenience
This 3D printer comes with Autodesk Netfabb Standard software tools that help you to streamline additive workflow efficiently
Rapidia Metal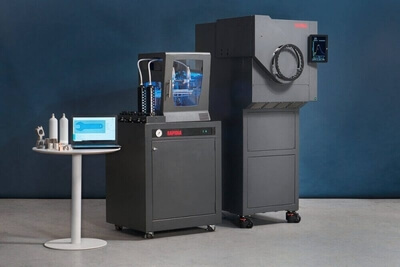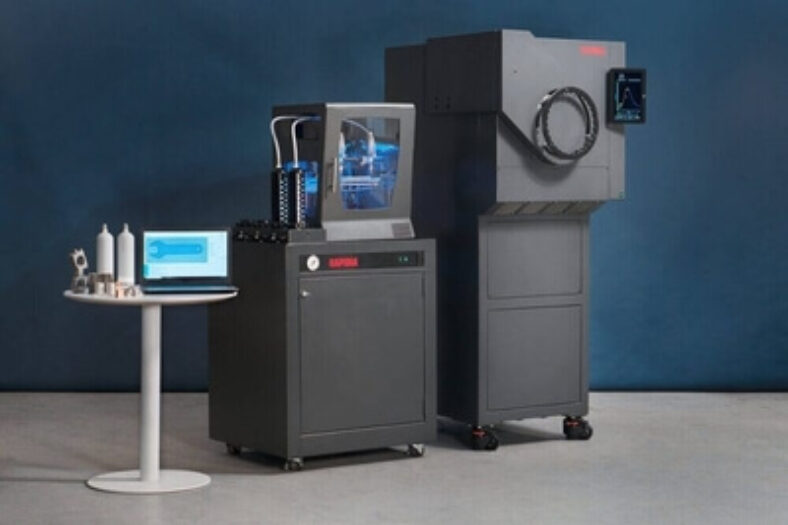 Rapidia is a relatively new competitor in the market but with the revolutionized capabilities and unique technology that this machine offers, it is safe to say that this machine has come to stay.
This printer works with a water-based paste for feedstock, which eliminates the need for traditional debinding. The water evaporates while printing so the part only has to go through the furnace so that it solidifies and attains its final form.
Last year, they also launched a new rapid cooling furnace that can complete a whole sintering cycle in about 20 hours. The best part? It does not require any vent installation.
Salient Features:
The printer comes with pre-installed software and sintering settings which makes it extremely beginner-friendly  so you do not have to worry if you do not possess any technical knowledge
Compatible with a variety of metals and ceramics
The build volume of this industrial 3D printer is 200 x 280 x 200 mm and has a speed of over 40 ccs (2.4 cubic inches) per hour
The printer uses two independent extrusion heads that you can equip with either a 0.4 mm or 0.6 mm diameter nozzle
Buyer's Guide
Some of the most basic questions that you would want to ask yourself before buying a 3D printer involves the following:
What metal(s) or composites do I want to print?
What mechanical properties do my final prints need?
Are speed and volume important to my business?
Before investing in a 3D metal printer, it is important to keep certain important factors in mind so you can choose the right model. Here is what you need to consider.
Printing Technology: This is the most basic factor that you need to consider. However, deciding which 3D printing technology to use might be difficult, but it is the most important step to assure that your 3D printed object meets your expectations. Ask yourself:  what properties your finished product needs to have? Listing those will help you figure out which technology will suit your production requirement more effectively and then choose a printer accordingly.
Accuracy and Print Quality: Carefully go through the machine specifications and make sure that it has all the attributes to guarantee impressive precision and unrivaled quality
Ease of Use: Your machine must feature advanced software that should allow you to print your parts with ease while making sure that the quality is not sacrificed. Moreover, it should also offer a user-friendly interface that guides the user through every step.
Size: Metal 3D printers come in various shapes and sizes.  Carefully go through the machine specifications and make sure that you have the space required to keep the machine in your office
Material Compatibility: This is also an important factor to consider when buying a 3D printer. If your 3D printed output is to be used for a specific application then the part has to be printed using the most appropriate technology. The material must possess the required properties to perform to meet the designed specifications. Therefore, choosing the technology that offers printing in materials similar to your application is a necessity.
Speed and Volume: If speed is an important element for you then it is wise to look for a printer that delivers such a smooth finish so that it will not require any post-processing. In addition, if you are looking to print multiple metal parts simultaneously choose a printer with a large build volume.
Other than that, keep in mind, that certain materials emit toxic fumes that can be harmful if inhaled. To avoid this, buy a printer with an enclosure or a system for ventilation so that it releases the fumes or gases outside.
Frequently Asked Questions (FAQS)
What Metals Can Be Used In 3D Printing?
Common metals like titanium, stainless steel, aluminum, copper bronze, and other precious metals like gold, silver, and platinum are printed directly by binding metal dust, which ultimately achieves a solid form.
Where Metal 3D Printing Is Used?
Metal 3D printing creates tool components and finished parts in sectors such as aerospace, and automotive. It also has a wide application in the medical sector as well as the dental industry.
Simply put, nearly every industry that uses metal parts has benefited from the time, money, labor, and material savings that metal 3D printing offers.
Are Metal 3D Printers Too Expensive?
Although there are certain metal AM systems that can only be afforded by large enterprises because of their high costs. But other companies like Markforged and Desktop Metal equipped their systems with more cost-effective components thus making it more affordable for small businesses.
What Are Some Of The Metal Printing Technologies Used Today?
Metal 3D printing is developing fast, and new technologies are being introduced with each passing day.
It includes different technologies that you will have to choose from depending on the project that you are working on. Some of these techniques are listed below:
Fused Deposition Modeling
Low wax casting
Bound Powder Extrusion
SLM and DMLS are the most dominant metal 3D printing processes today and are particularly suitable for high-end applications.
Are Metal 3D Printed Parts As Strong As Traditionally Manufactured Metal Components?
A lot depends upon the environment and the type of technology you are using to 3D print your metal parts. But in general, the printed parts are as strong as the ones produced through conventional methods.
Conclusion
In recent years, Metal 3D printing has been one of the most outstanding developments in the AM industry. As technology has developed, it has proved to be much better than traditional methods.
Although 3D metal printing is an expensive option, we cannot deny the fact that this method can certainly add much value to the manufacturing process by opening up new opportunities for manufacturing parts that were previously uneconomical or design prohibitive.