Ultimaker 3 Extended 3D Printer
The print quality of Ultimaker 3 Extended is amazing. One can achieve high resolution using this printer. This can be utilized for specialized tasks such as printing dentures and various other similar jobs.
PROS
Noise free cooling
Dual extruders available
Supports PVA
Highly precise results
Freedom to enhance the design code
Low maintenance
CONS
Expensive
Printing large designs could be challenging
Product
Specification
Videos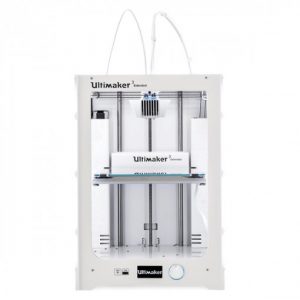 In the field of aerospace and medical equipment manufacturing, where accuracy and precision have to match levels like no others, Ultimaker 3 Extended ...
| | |
| --- | --- |
| Model | Ultimaker 3 Extended |
| Manufacturer | Ultimaker |
| Price Range | $ 4065 |
| Release date | 2016 |
| Country | Netherlands |
| Availability | Available |
| Classification | Professional |
| Technology | Extrusion (FFF- FDM…) |
| Material | ABS, Other plastics, PLA |
| Filament diameter | 2.85 mm 0.11 in |
| OS compatibility | Linux, Mac OS, Microsoft Windows |
| Generic material | Yes |
| XY accuracy | 0.0125 mm 0 in |
| Max. build size | 215 × 215 × 300 mm 8.46 × 8.46 × 11.81 in |
| Max. build volume | 13.87 L |
| Max. print speed | 300 mm 11.81 in /s |
| Min. layer thickness | 0.02 mm 0.001 in |
| Dimensions | 342 × 505 × 688 mm 13.46 × 19.88 × 27.09 in |
| Weight | 11.3 kg 24.91 lb |
| Nozzle diameter(s) | 0.4 mm 0.02 in |
| Power input | 221W @ 110-220 V 50-60 Hz AC |
| Heated print bed | Yes |
| Heated build chamber | No |
| Automatic calibration | Yes |
| Closed frame | No |
| Dual extruder | Yes |
| Independent Dual Extruder | No |
| Full color | No |
| LCD screen | Yes |
| Touchscreen | No |
| On-board camera | Yes |
| Mobile app | No |
| 3D scanners | No |
| CNC mill | No |
| Electronics 3D printing | No |
| Laser engraving | No |
| Conveyor belt | No |
| Air filter | No |
| Pellet extruder | No |
| USB | Yes |
| Wifi | Yes |
| Bluetooth | No |
| SD card | No |
| Ethernet | No |

Table of Contents
3D printing has given businesses from various niches a freedom to explore impossible design and improvisations. The ease of developing intricate and complex models is no more a challenge.
Either its medical field or aerospace, specialized industries have put their faith in this revolutionary technology for achieving the highest precision and accuracy.
While not every 3D printer can match the level of expectations, few can. And, one such machine is Ultimaker 3 Extended.
A lot of users have been vouching for its reliability and performance, all thanks to the company that helped businesses achieve their target quality via a much faster and easier method, 3D printing.
Ultimaker 3 Extended is an addition to those high-end machines that can be used for plenty of applications. One can depend on this 3D printer for many tasks. And, the best part is that it is easy to handle.
While there may be many printers claiming to provide an easy solution to challenges like removal of a support structure, there are few which perform as expected.
And, this one can be counted among those workhorses that need less maintenance to excel at every expectation.
Ultimaker 3 Extended review would help understand the various advantages the machine exhibits and at the same time, the challenges it entails.
Features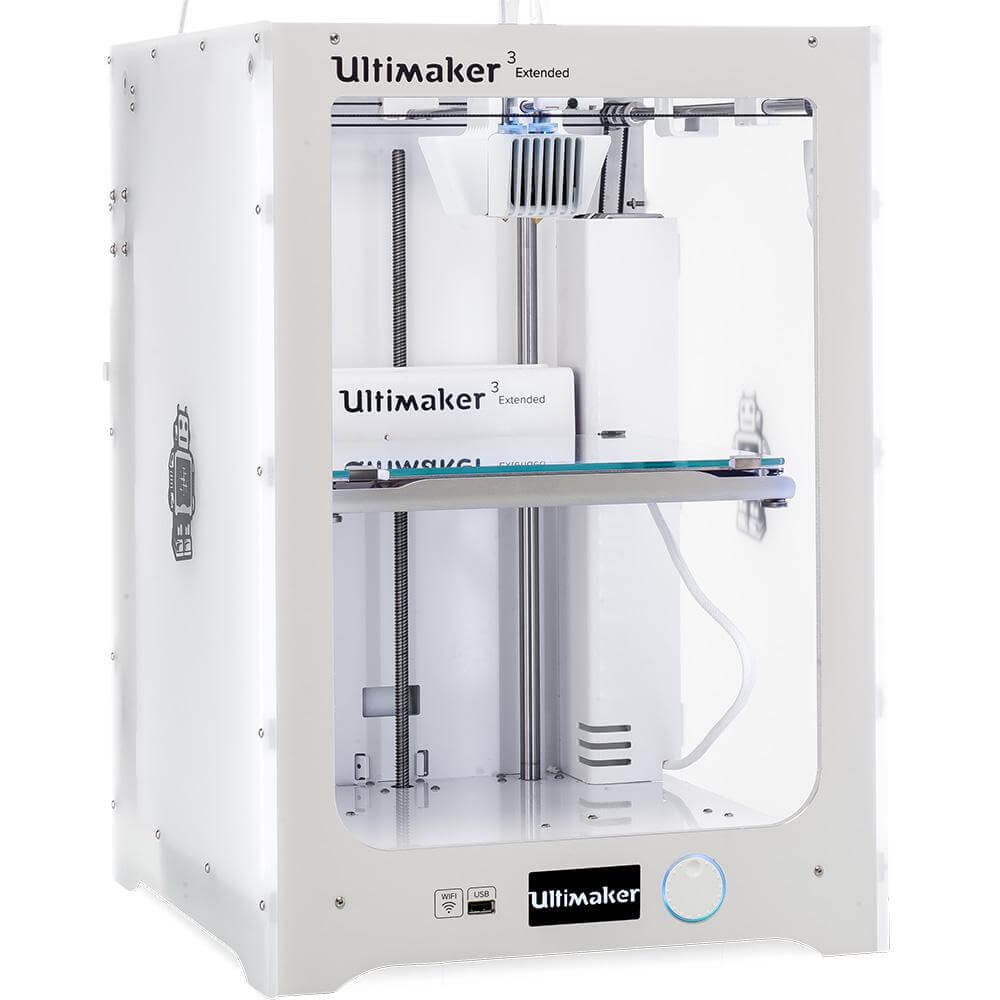 Ultimaker 3 Extended comes from the same series of 3D printers which has amused its users with various unique qualities. This can be called as the next generation machine loaded with many great features.
You can work on this machine for hours without expecting any problem. The company has ensured that the 3D printer is able to provide the best experience to its users by ticking all the right boxes.
So, it is important to check out the features that make this machine a great option for professionals as well as beginners.
Dual Extrusion: Similar to Ultimaker 3, this time again, the company has included a dual extruder. Hence, this printer is also capable of printing with two different materials and colors at the same time. It is also compatible with PVA.
PVA being water-soluble is best for creating supports and is easy to remove as well. Either one can decide to print multicolor models or use one of the extruders to print the support for the models.
High Uptime: Being designed as the industrial graced 3D printer, this machine can work continuously for hours without needing breaks. The maintenance cost is also very low and this 3D printer is easy to operate.
Material Recognition: If you are using materials provided by Ultimaker, the printer will recognize the same automatically. This happens with the help of Cura profiles and the 3D printer optimizes the setting for each material with ease. Apart from the material recognition feature, the printer also features material matching swappable print cores. Many do feel that the potential of this 3D printer is still to be realized.
Auto Calibration: The printer provides auto-calibration which helps in a more accurate setup for printing. You do not need to bang your head for hours in case you are a beginner. The easy setup helps you start the print within one hour of unboxing.
Cloud Access: One can operate the 3D printer over WIFI as well as the cloud access helps you change the setting of your printer or load the 3D designs easily for printing. WIFI connectivity provides an easy way of handling the device. You can even operate the device through your mobile phone.
Remote Monitoring: The camera installed inside the printer helps one keep track of the printing progress, even when not close to the device. The app provided by the company can help users sync with the camera installed inside the machine.
Fully Assembled: If you are starting your journey with 3D printing, you would be amazed to see the ease this printer provides while setting it up for the first time.
All you need to do is, take out the printer from the box, put inside the build plate, load filament and the calibration would happen on its own. Hence, you are not required to do any difficult job that may discourage you as the first time user.
These features are a few of the many that have been included with this device. The reliable performance and extreme uptime would let you print parts faster.
Specifications
Ultimaker 3 Extended specs and features would help you understand why the printer is priced at $4,295. With so much to offer, this 3D printer is sure a winner among the 3D printing community for offering dual extruder with such high precision and reliability.
The product dimension is 342 x 505 x 688 mm which is quite compact and can be used in homes as well. It has a build volume of 215 x 215 x 300 mm for letting its users print big size models.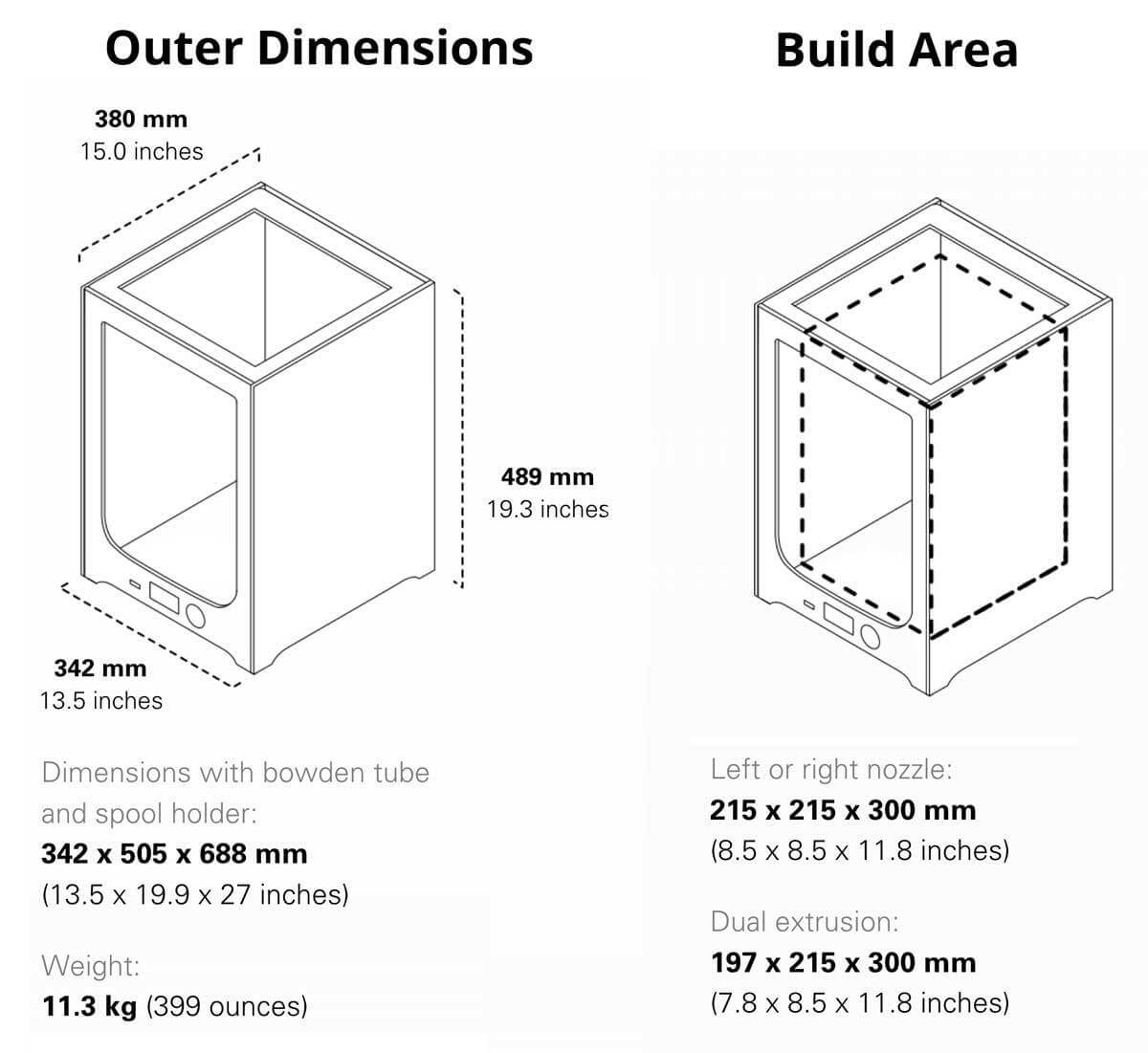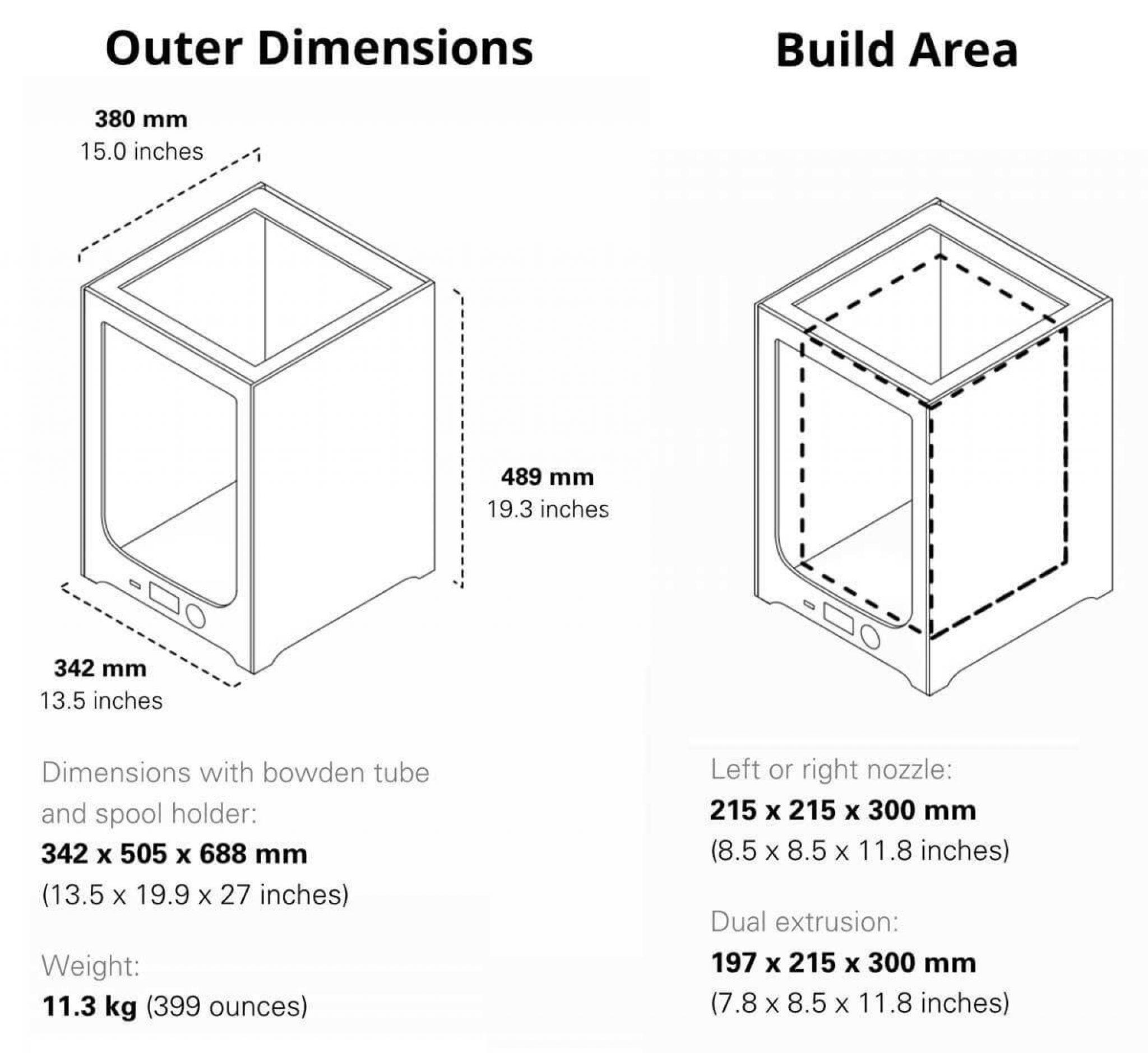 One can utilize the build space for printing many useful parts and models. The Ultimaker's large build volume for this price range certainly is a positive feature that adds to its usability.
This printer can also be used for printing anatomical structures in one print, instead of going through several prints and pasting them together.
Using this 3D printer, one can realize models between 20~200 microns resolution. A nozzle diameter of 0.4 mm is provided with the machine. And, the maximum temperature that the nozzle can reach is 280 degrees Celsius.
The printer speed varies between 30 mm/s – 350 mm/s depending on the material used, the designs, and a lot of other parameters. However, this can be considered one of the fastest printers available in the market.
Price
Before getting down to the price part, first, be clear about its offerings and the aim with which the printer has been designed. Although it is a desktop 3D printer, it is designed for specialized purposes.
It is not for those who are seeking fun and wanting to learn the technology for just one more addition to their forte. Hence, the price is high. This printer comes for $4295.
Hence, gifting this machine to your child or wanting it for yourself just for having fun may make it look overpriced. However, the machine is still affordable for small industries and businesses which are looking to scale their setup by introducing a scalable solution for production.
First Impressions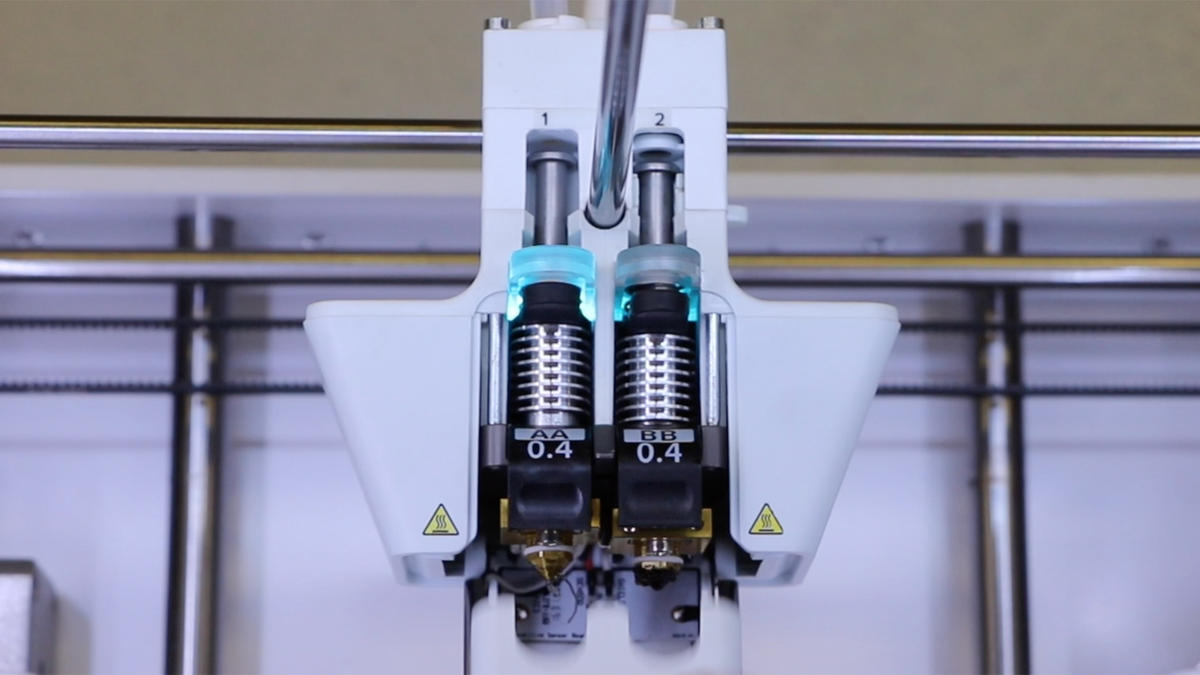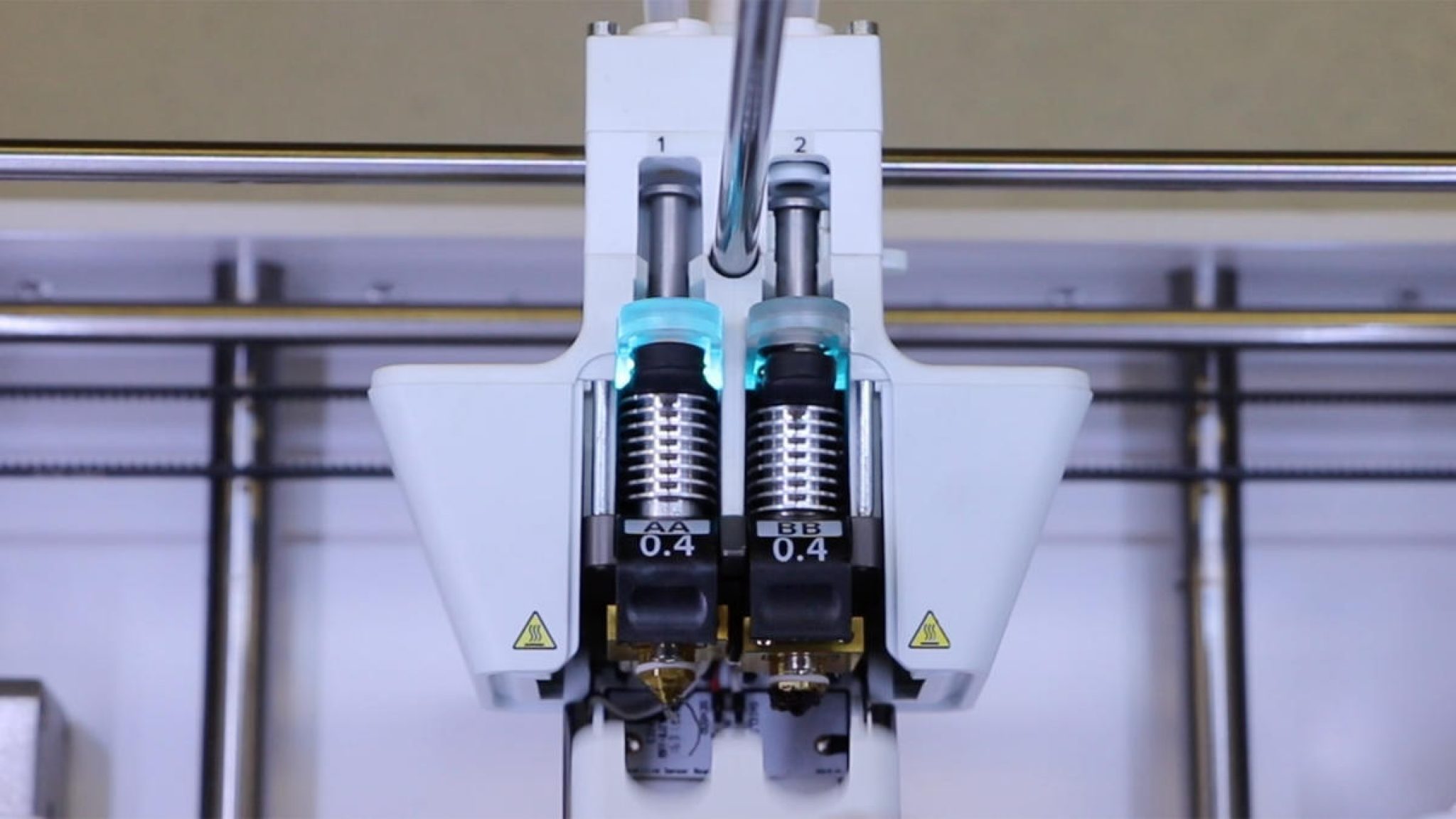 There are many 3D printers that are from the open-source community and most of them come as a kit. However, this one is a little different on that front. Although being from an open-source community, the printer comes fully assembled.
Hence, the first impression would be amusing. The entire machine with few setting requirements would certainly entertain users, especially those setting a printer for the first time.
The silver color body with acrylic finish looks stunning. The partially enclosed design may give users a setback, as the price isn't that cheap. However, the company has continued that design for all the printers of this series. And, those who have worked with an Ultimaker device know what to expect.
Setup
The setup is easy as it is with Ultimaker 3. All you need to do is take out the printer from the box and after a few steps, you are ready to go. Once you unbox the device, you need to place it on the build plate inside the machine.
This is very easy and the videos and help are all at your fingertip. After you do that, plug in the device and the calibration would start on its own.
Once that completes, the filament must be fed. The screen in the front would guide to complete that task through simple steps.
Printing Type/Cost
This is an FDM machine. This means that the printer runs on filament spools. The initial cost of the machine is high. However, the filament cost won't be much.
The printer allows third party filaments. Hence, one can print with standard as well as premium filaments. The company does suggest to use the filaments offered by Ultimaker. This is because the printer automatically detects the filament and optimize the setting for best results.
One can achieve high accuracy and precision with the filaments offered by the company.
Print Quality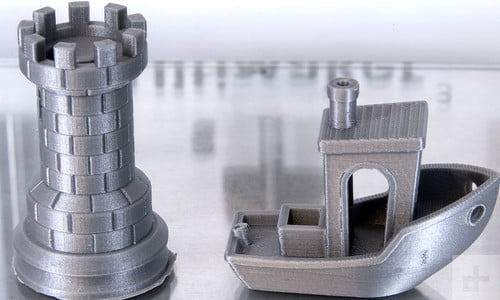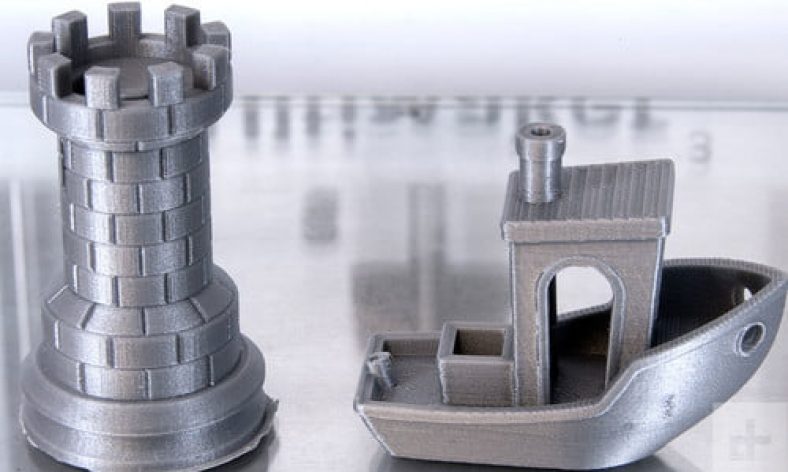 The print quality is awesome. There could be some trouble printing large images or highly complex ones, however, with few twigs in the settings, one can achieve the desired results. Because of the precision it offers, the printer can be utilized for many jobs across different niches.
The resolution of 20 mm isn't available with every other 3D printer. Users can use this FDM machine for a variety of purposes.
Software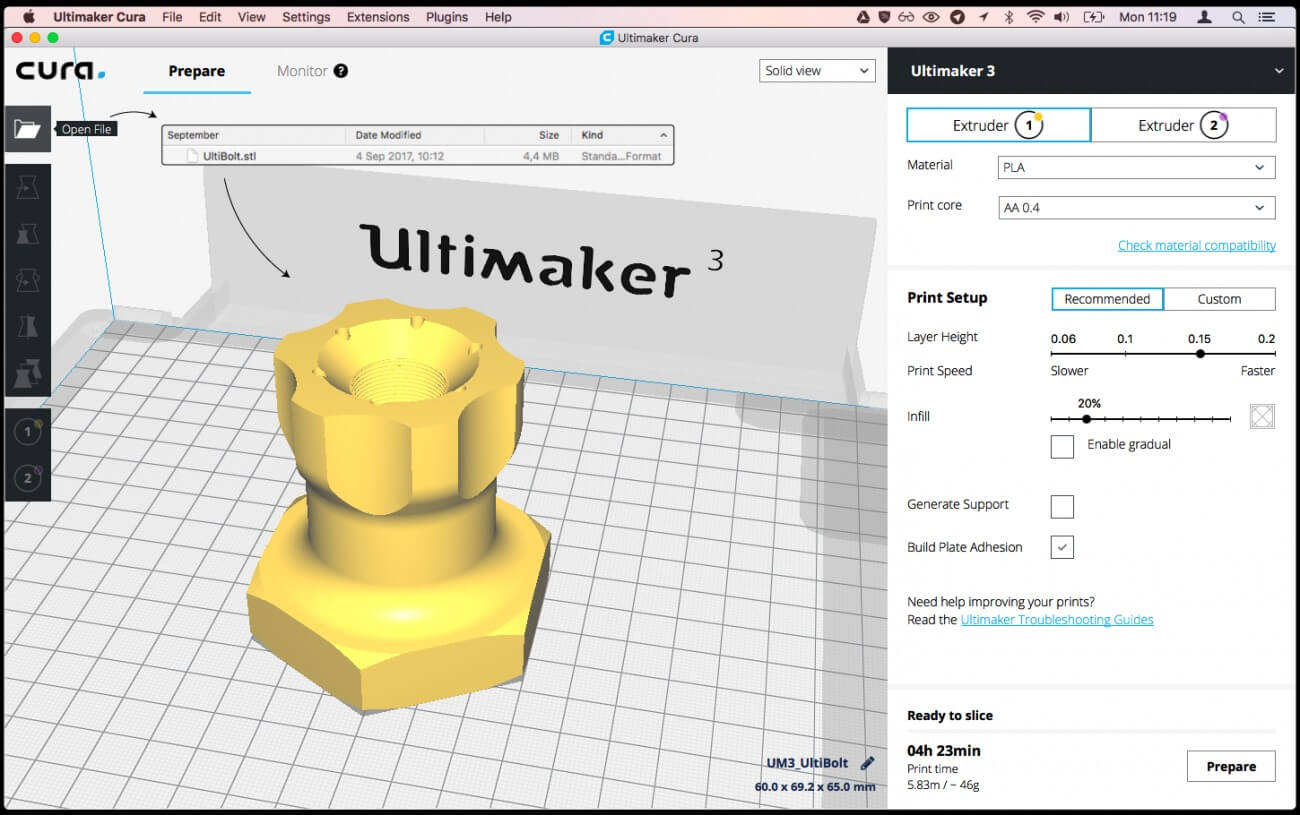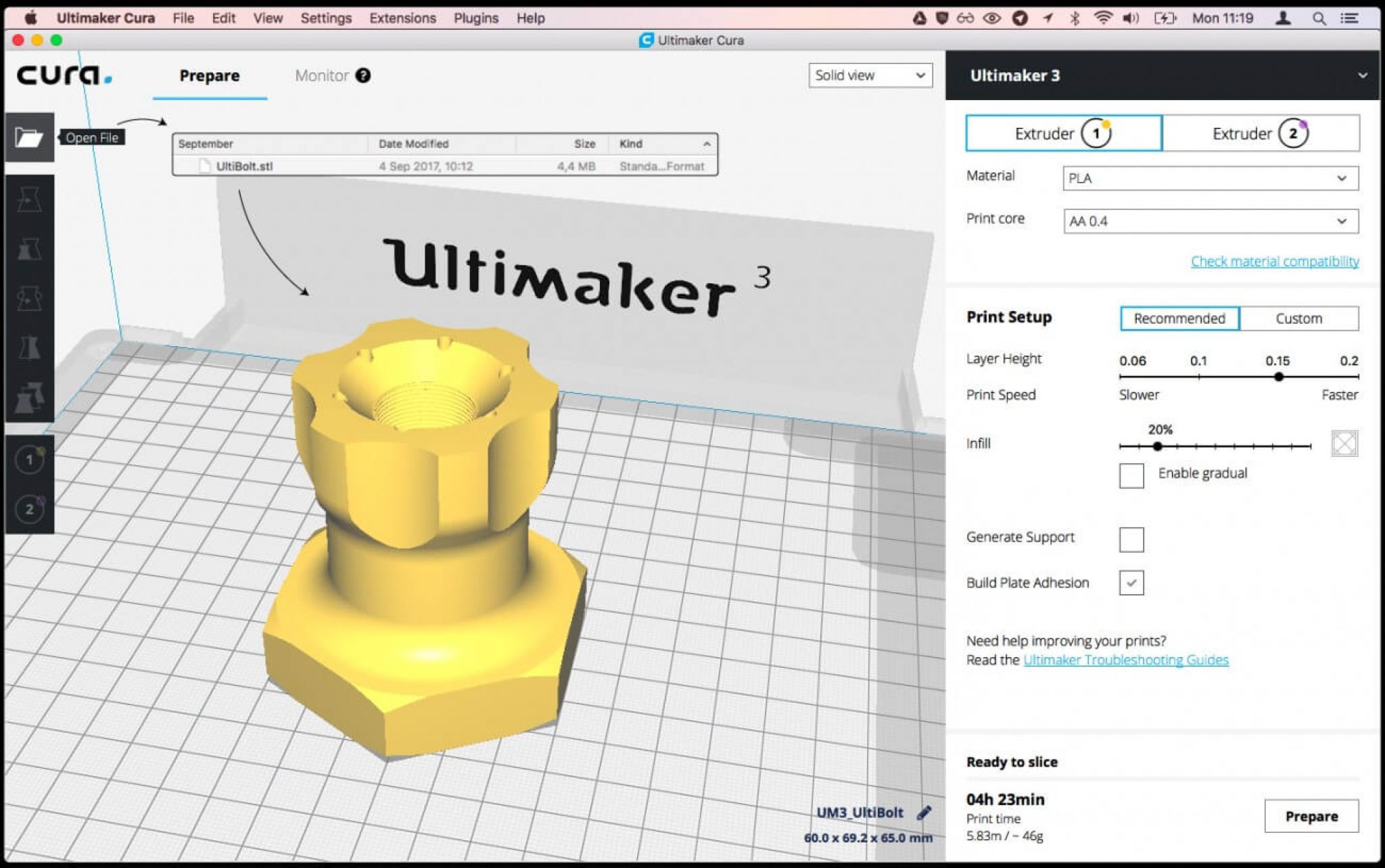 The company offers Cura, open-source software that can be used for slicing the designs and optimizing it for best results.
Cura is an intuitive application that provides a user-friendly interface with easy to use tools. This software has been rated best for beginners as well as experts within the open-source community.
The software offers freedom of experimenting with the designs. One can import as well as export the designs using this application.
It also helps set the profiles for the Ultimaker filaments and almost takes care of every setting related to the filaments. Either the nozzle temperature or the resolution, you can depend on the software for the best suggestions.
Customer Service
As always, Ultimaker excels when it comes to providing customer service to its users. From every help accessible through its website, the company does provide onsite help.
Parameters Influencing Purchase Decision of Ultimaker 3 Extended
The 3D printer has a lot of benefits for its users. However, this specific machine cannot serve every user's goals equally. This is best suited for a few and not so much for others. So, what all factors one must consider before opting for this machine?
3D Printer cost: This is an expensive printer, which means, it is not for those wanting another playtime routine for their kids. If you are looking for a budget printer for yourself, you must seek another one, unless you are too serious about your hobby.
3D Print quality: The print quality is amazing. One can achieve high resolution using this printer. This can be utilized for specialized tasks such as printing dentures and various other similar jobs. A lot of things are possible if one knows how to optimize the settings for the best results.
3D Print speed: You can expect high speed. Being an FDM printer, speed is anyway not an issue. The 3D printer runs at high speed, reducing the turn around time. And, can be used for continuous hours.
3D Printer capability: This 3D printer can be used for a plethora of applications because of its extreme reliability that it provides to the user. Professional and small scale production companies can use this 3D printer without any pinch of doubt.
3D Printer Practicality: The 3D printer prints with high resolution making it possible for building intricate parts. The medical niche or jewelry designing or many other such applications can be done with ease.
3D Printer User expectations: As expected, this printer is a sure deal for professionals and industrialists. With great customer service and a cohesive 3D printing community, one can realize great things with this 3D printer.
Verdict
Unlike many other 3D printers that require huge maintenance and operation cost, this printer can be run for hours without much hassle. The operation, as well as the maintenance cost, is minimal. You can create models designed with extreme complexity with the help of this machine.
Ultimaker 3 Extended is designed for offering high-quality results. The machine is very much capable of accomplishing difficult tasks with ease. The easy to operate device is packed with advanced features. If you seek high resolution and speed at the same time, this is the printer you must opt for.