Anycubic Photon Mono X
The printer is capable of producing high-quality prints with little effort and at rapid speeds in one go. Overall, Mono X is for a user that understands the core of SLA 3D printing technology and is not completely new to 3D printing technology.
PROS
Huge build volume.
Fast and highly detailed 3D prints.
Minimized setup.
Extremely affordable.
CONS
Resin management is a little messy.
Some print layering issues are visible on close inspection.
The Wi-fi setup is a little tedious.
Table of Contents
Printing using the LCD 3D printing technology, Mono X is an affordable resin 3D printer manufactured by Anycubic. Its most noteworthy feature is large build volume that allows printing of parts with big build volume in one go. Apart from the size, there are also other facets that are improved in MonoX from its predecessor.
One example of the same is the monochrome LCD screen that not only lasts longer but also enables shorter cure times than the RGB LCD screens on older models.
The increase in print speed is so noticeable that the printer builds those parts in 2-3 hours that would normally take at least more than 5 hours. Also, to note that with speed, the machine also delivers excellent print quality.
Moreover, monochrome screens utilize less energy compared to others. MonoX is packed with more such interesting features, which will take you through one after the other in this article. So, let's get started.
Features
The Mono X comes with Wi-Fi and USB connectivity options for transferring your files onto the printer. Users can also monitor their prints using the Anycubic application and check whether the print is finished or not. Also, the machine is quieter than Photon – a predecessor of MonoX.
It is one among those 3D printers that have made SLA 3D printing more accessible even to casual enthusiasts who like better detailing on their 3D prints. Below mentioned and explained are the striking features of this rarely affordable SLA 3D printer.
Excellent print speed
MSLA 3D printers are known in the field of 3D printing for exhibiting two main characteristics i.e. fast print speed and high resolution. The first one is due to the use of monochrome displays. With the utilization of that component, the average layer cure times cut down from around six seconds to two seconds.
Such cure times are achieved because of the monochrome LCD's light permeability that allows for a light wave of greater intensity to pass through that results in faster curing compared to the traditional RGB screens.
As mentioned in the printer's name, the machine features a monochrome display allowing it to achieve print speeds as high as 60 millimeters per hour at 0.05 millimeters layer height which is unparalleled.
High layer resolutions
Mono X features an 8.9 inch 4K monochrome LCD with 3840*2400 pixels that translate to an XY resolution of 50 microns. Most other MSLA 3D printers allow only for a resolution of as small as 35 microns due to the smaller size. Always note that the larger the screen of the printer, the more pixels can be achieved on it. Moreover, monochrome screens are known to have a longer life of about thousands of hours before needing any sort of replacement.
Optimized design
The Anycubic Photon X features a removable top cover that grants easy access to the print bed as well as the vat. Its new light engine boasts a quartz lamp and a matrix design that assures a uniform distribution of UV light.
In combination with the above-mentioned arrangement is the Z-axis lead screw that is guided by two dual linear rails for stability. Moreover, there is a 3.5-inch touch screen interface embedded in the Aluminum made frame that allows users to have engaging interactions with the machine.
The printer's design is simple comprising of the main print area and resin vat at the top covered by the large yellow UV protective screen with the front of the base consisting of the touch screen interface.
Straightforward Slicer
MonoX is compatible with Anycubic Photon Workshop – the company's proprietary slicing software using which users can perform functions that are needed for setting up resin prints. The typical list of functions includes punch-hole, and model cutting, as well as a few extras like the lettering function. Additionally, the application supports up to 8x anti-aliasing.
Dual linear rails
Accuracy is a very important feature of any MSLA 3D printer, and that's where dual linear rails play a part. Having two linear rails in a 3D printer stabilizes the build plate on all three axes in a much better way than a single rail does. Because there is no backlash present this helps a lot in getting consistent print quality!
Considerable build volume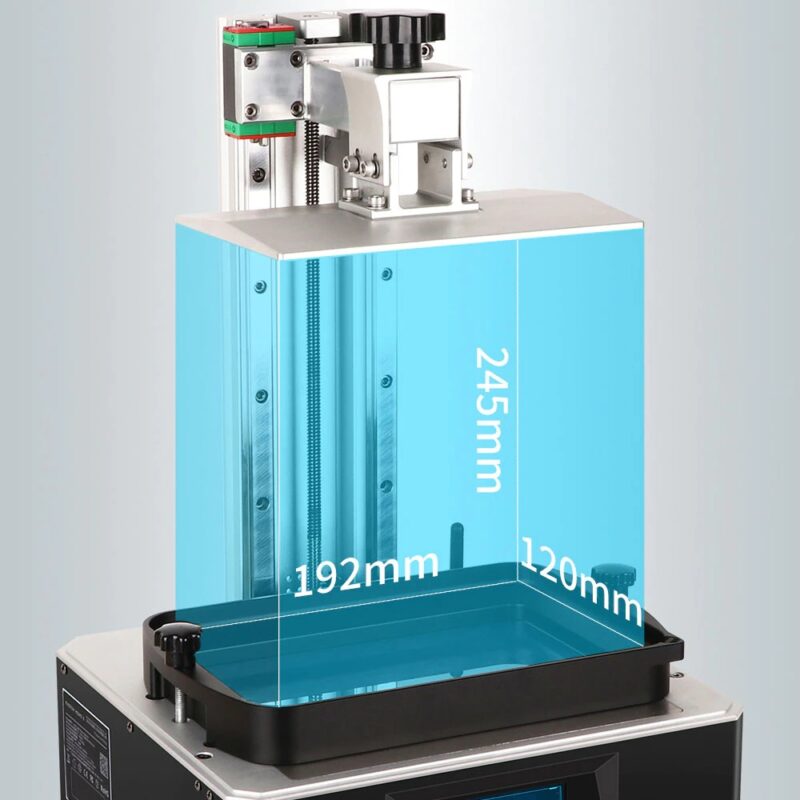 The maximum build volume offered by Anycubic Photon Mono X is 190 mm * 120 mm * 245 mm. Arguably, it's a lot low than FDM 3D printers, but remember Mono X is an MSLA 3D printer and that's where it steals the show by being comparative best.
Matrix UV light
The matrix UV light source put in place in Mono X is very powerful. The printer manufacturer recommends setting the power of the source to 80 percent for matte resin, and 50 percent when printing with transparent resin. This setting ensures a prolonged LED life and keeps the LEDs away from the normal problem of overheating.
Easily replaceable FEP film
The FEP transparent film is put in place between the ultraviolet screen and the build plate. It's very useful to ensure that the light cures the resin completely.
Also note that over time the FEP film will get deformed, perforate or bend and when such an anomaly happens, your prints will have higher chances of failing when put into application. To avoid all such troubles, the printer manufacturer supplies you with an easy and quick for replacing the FEP film.
Aluminum resin vat
The resin vat of Mono X is made from anodized aluminum. It comes with a printed marking for the max amount of resin volume i.e. at 500 ml. Moreover, there is a small lip that should help in pouring the resin out of the vat. Also, the FEP sheet can be easily replaced after removing the 14 screws present below the vat.
Wi-fi capabilities with the Anycubic remote control application
On the right side of Mono X, behind the place where it hosts a resin vat, there is a small antenna used for connecting the printer to your place's network. After connecting the printer to Wi-Fi, Mono X can be monitored remotely with an application on your smartphone.
Specifications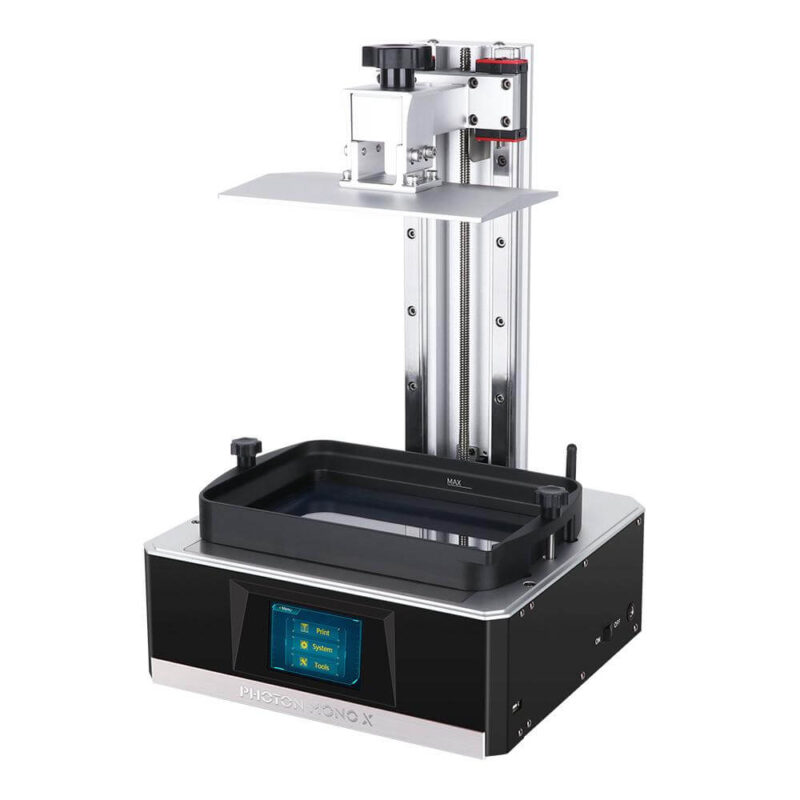 Based on MSLA 3D printing technology, MonoX is a 3D printer that offers a maximum build volume of 190 mm * 120 mm * 245 mm. Users can print parts and functional prototypes offering a layer height of more than 10 microns. The printer offers an XY resolution of 50 microns and a Z-axis positioning accuracy of 0.01 mm.
Objects can be printed on the machine with a print speed of 60 millimeters per hour. Thanks to the semi-automatic bed leveling feature that assists operators in the pre-printing phase. To ease the complete interaction of the user with the printer, there is a 3.5-inch long touch screen embedded on the body of the printer.
Yes! The printer does comply with third-party materials with 405 nanometer UV resins. It can be connected in two ways i.e. via Wi-fi as well as USB.
Price
Anycubic Photon Mono X is available for $589.
First Impression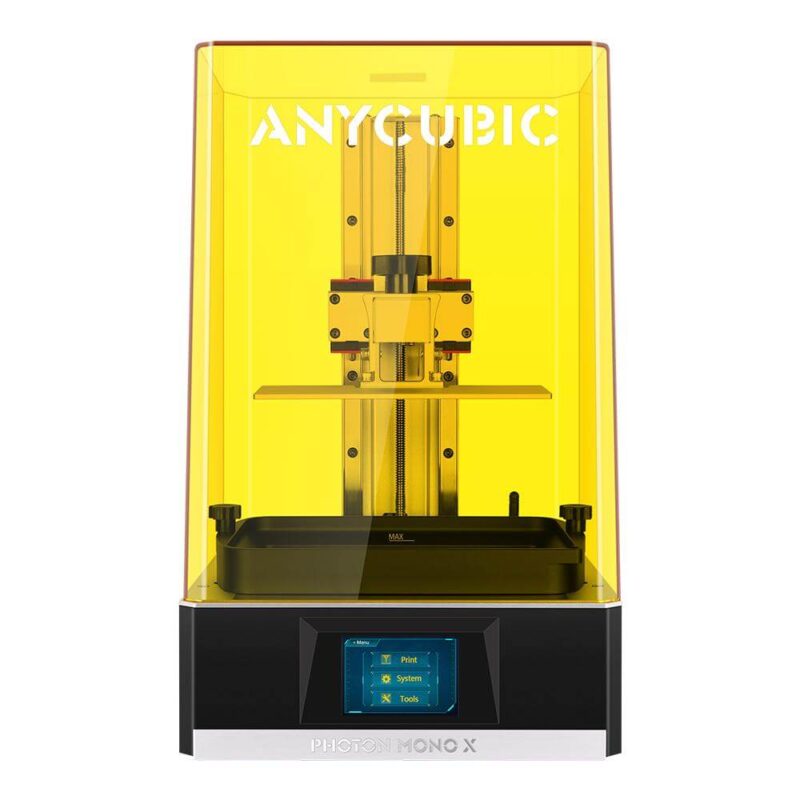 Mono X comes in a big box with ample protection on all the sides, with cardboard and plastic corners that offer protection to it while shipping. The trick to not spend much time opening the printer is to open the box from the bottom. After opening, you'd realize how Mono X comes with the following accessories.
Hex wrenches
Metalic spatula
3 pairs of gloves
3 resin filters
Wi-Fi antenna
Resin vat
Aluminum build plate
Power adapter
Quick start guide
Setup
Mono X is a plug-and-play 3D printer that does not require much setup at all. It needs to be placed on a suitable table nearby the power supply and cables are to be connected for starting 3D printing.
Print Type/Cost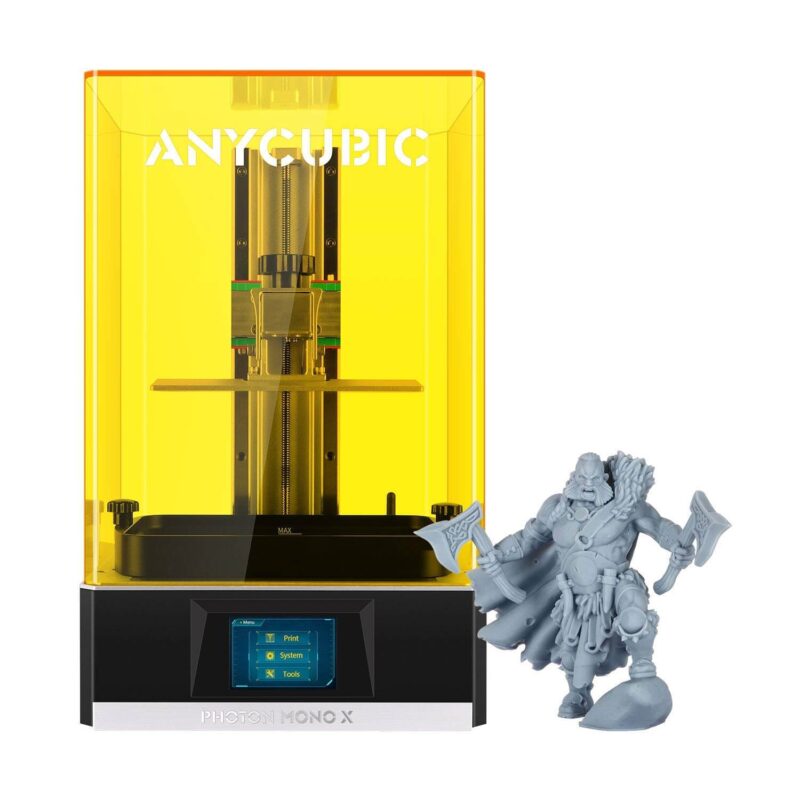 MSLA 3D printing is that variant of SLA 3D printing technology that takes less time to cure parts and functional prototypes than normal SLA 3D printers.
It deviates by using a monochrome LCD screen that allows exposure to a complete region rather than points as it is in SLA 3D printing. This not only decreases the time taken for 3D printing a part or functional prototype but also leads to greater print quality.
Normally the cost of 3D printing a part with MSLA 3D printing technology is more than basic FDM 3D printing technology and equivalent to that of SLA 3D printing technology. But then too, it depends on many factors.
Print Quality
Credit: windowscentral.com
Mono X manages to print excellent quality parts and functional prototypes with smooth lines and surfaces. Although occasionally you can see some small blips on the edge of the print these are small and can be easily removed.
Overall, the printer's print quality is exceptional and while comparing it against an FFF 3D printer, the difference can be easily visible. The layer markings are very less defined, also you can print many complex models than general.
Also to note how the adjacent supports are good, and the settings need quite a bit of adjustment, but once mastered they prove to be extremely helpful.
Software
Anycubic Photon Workshop enables all the adjustment, support model splitting, slicing as well as previewing that one needs. It is compatible with Windows as well as Mac Os X and prints STL file formats.
Customer Support
Anycubic offers excellent support by providing software, drivers as well as videos related to the 3D printer. In case you have any queries the support team of the manufacturer can always be reached out via phone or email for any sort of troubleshooting.
Parameters Influencing Buying Decision
The key factors that are good to know before making your buying decision are mentioned below in brief.
3D Printer Cost: Although expensive than normal desktop FDM 3D printers, Mono X has a reasonable price when compared with other desktop MSLA 3D printers.
3D Print Speed: The printer offers blistering fast speeds while printing models and prototypes of various sizes and geometries.
3D Print Quality: SLA 3D printing technology is known to offer extremely detailed prints even while 3D printing intricate geometries.
3D Printer Capability: Mono X helps professional users manufacture parts and functional prototypes of considerable build volume with extreme detailing in minimal times. It is also compatible with lots of resins.
3D Printer Practicality: The machine is smooth in operation. It has many flexible features that make operators' operations easy and straightforward. A touch screen interface, wi-fi compatibility, and operation via smartphone are some of its examples.
3D Printer User Expectations: Mono X is specifically for those users that do not wish to opt for FDM 3D printing for conducting their 3D printing experiments. Instead what they are looking for is higher quality desktop 3D printer at a minimal price.
The Verdict
Anycubic Photon Mono X is based on state-of-the-art SLA 3D printing technology that manages to steal the show with its large build volume offering, the monochrome 4K screen, and much more. Its all-metal frame exterior enables stable 3D printing. Coupled with an interacting user interface, makes things much easier for operation!
The printer is capable of producing high-quality prints with little effort and at rapid speeds in one go. Overall, Mono X is for a user that understands the core of SLA 3D printing technology and is not completely new to 3D printing technology. Only then will the operator truly be able to appreciate what the 3D printer manages to provide at the extra cost that it charges than FDM 3D printers.