FlashForge Finder 3D Printer
FlashForge Finder is designed to help beginners get their foot on with 3D printing.
PROS
Removable build plate
Quiet operation
Simple and impressive design
User-friendly touchscreen interface
Very Reliable
Overhead light for enhancing the visibility of prints
CONS
Tiny build space
Non-heated print bed
Lack of auto-leveling feature
Only supports PLA
Tricky when working with support structures
Product
Specification
Videos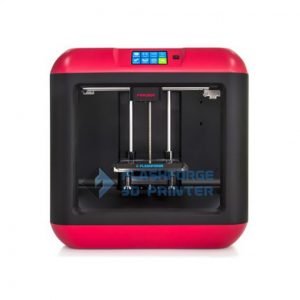 The first impression of this machine would let you think of it is a very compact solution for your 3D printing needs. And some users may even feel ...
| | |
| --- | --- |
| Model | Finder |
| Manufacturer | FlashForge |
| Price Range | $ 299 |
| Release date | 2015 |
| Country | China |
| Availability | Available |
| Classification | Desktop |
| Technology | Extrusion (FFF- FDM…) |
| Material | PLA |
| Filament diameter | 1.75 mm 0.07 in |
| OS compatibility | Linux, Mac OS, Microsoft Windows |
| Generic material | Yes |
| Max. build size | 140 × 140 × 140 mm 5.51 × 5.51 × 5.51 in |
| Max. build volume | 2.74 L |
| Min. layer thickness | 0.05 mm 0.002 in |
| Dimensions | 420 × 420 × 420 mm 16.54 × 16.54 × 16.54 in |
| Nozzle diameter(s) | 0.4 mm 0.02 in |
| Power input | 115-230V | 50/60Hz |
| Heated print bed | No |
| Heated build chamber | No |
| Automatic calibration | Yes |
| Closed frame | No |
| Dual extruder | No |
| Independent Dual Extruder | No |
| Full color | No |
| LCD screen | Yes |
| Touchscreen | Yes |
| On-board camera | No |
| Mobile app | No |
| 3D scanners | No |
| CNC mill | No |
| Electronics 3D printing | No |
| Laser engraving | No |
| Conveyor belt | No |
| Air filter | No |
| Pellet extruder | No |
| USB | Yes |
| Wifi | Yes |
| Bluetooth | No |
| SD card | No |
| Ethernet | No |

Table of Contents
There are many 3D printers that are released only to be forgotten in a couple of months or even weeks. However, some stand strong and keep impressing users with its usability and unique offerings.
FlashForge Finder is also among those very few that still hold reliability and trust within its user base. The machine was launched quite a few years back and has retained its popularity even now.
The 3D Printer is designed to help beginners get their foot on 3D printing. Recently, last year, the company even released its upgrade named Finder 2.0.
Although there are many features that are worthy to note, there are few missing ones too that users may have liked to own with this 3D printer. The good news is that it still serves its purpose.
By including a lot of advanced features and ignoring a few that mattered less for keeping the budget low, the manufacturer has come up with a very decent option. The great print quality and a huge fan following are just a few plus sides of the machine. There is much to know about this little guy.
So, let us find out what you must expect when planning to buy a FlashForge Finder.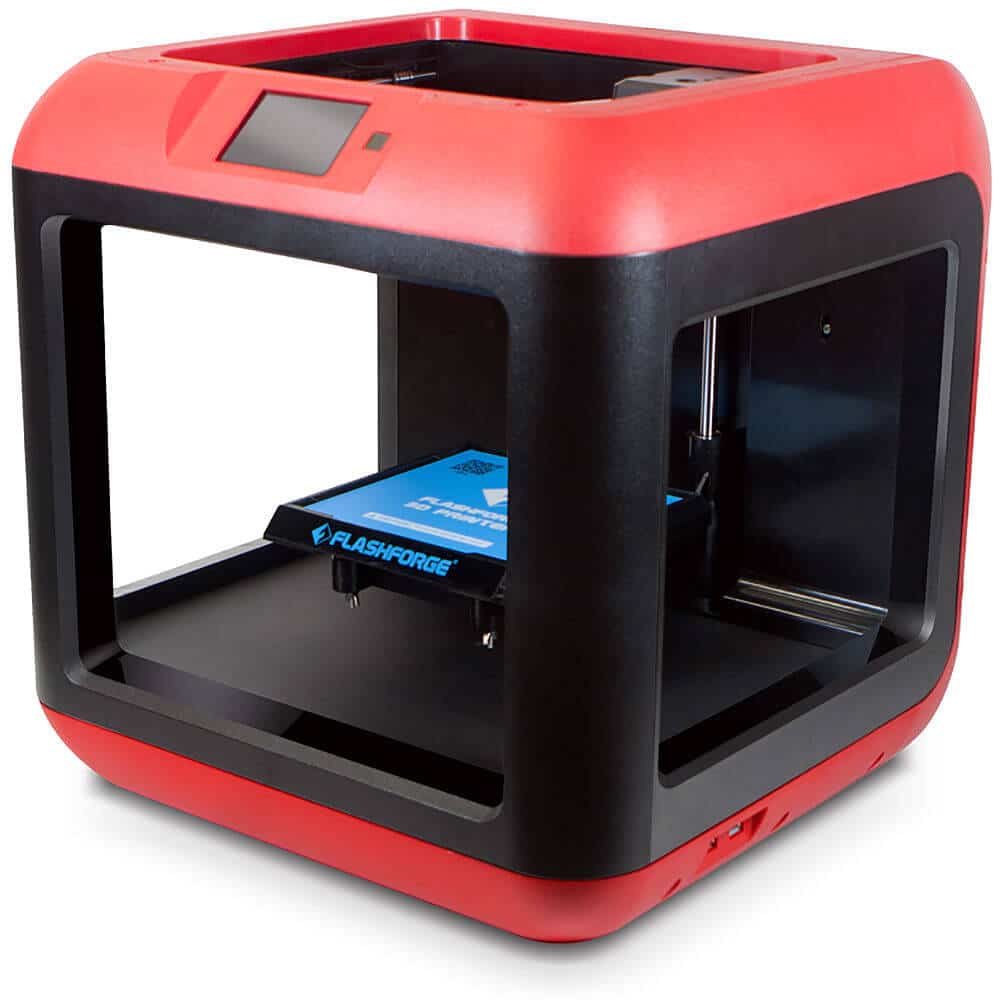 Features
FlashForge Finder is equipped with many features that set it apart from the printers of the same price range. The brilliant design and great attention to detail make this 3D Printer an amazing option for those looking to explore the technology without any past experiences.
Removable Slide-In Build Plate: You must have heard about the removable build plate a lot of times. Almost every desktop printer that is being manufactured these days owns a removable build plate. However, what is so special about this one? The fact that the build boasts a slide-in design, it could have been any easier to draw the plate out of the printer. This certainly accounts for minimizing the damage probabilities to the build plate. The feature is really helpful for beginners when trying out a sophisticated machine for the first time.
Assisted Calibration: FlashForge Finder does not have an automatic calibration system. However, it boasts an intuitive assisted calibration detection system for bed leveling. To do so, the printer makes a beeping sound once the screws are tightened or loosened correctly. Later, the 3D printer detects the distance between the build plate and the nozzle. If the leveling is correct, users are directed to the next screw locations in the same fashion. During the leveling process, the instructions are displayed on the touchscreen display. This makes the entire process even more convenient. This helps in getting to the most precise calibration setting in no time. And, without much manual intervention.
WIFI Connectivity: WIFI connectivity is sometimes not available with an expensive option as well. However, with this 3D printer, you get to enjoy the freedom of working with the printer without a need for a wired connection. The files can be transferred to the machine through your laptop via a WIFI connection. The company has utilized the 2nd generation wireless connection for better stability and reliability.
Noise Less: Finder isn't a noisy printer. You can work beside the machine without any disturbance. The 3D Printer works silently while providing you a noise-free workspace. This also is a very desirable feature for those who work from home. Because the printer is designed for beginners and even kids, the noise-free printing makes it easy for everyone to get used to it.
3D Cloud Operation: The printer supports 3D cloud operation. With the help of which you can store, check print status, share, and do a lot of other things when 3D printing.
3.5 Inches Touchscreen: To make accessibility to the settings easy, the printer features a 3.5 inches touchscreen. The interface is user-friendly and is very intuitive. You can do almost anything by using this interface.
Safe: Designed for beginners, the manufacturer has taken extra caution for ensuring the safety of the users. The printer only prints with PLA which is completely non-toxic. Hence, it is safe to work around children and inside a less ventilated space. This is also good news for your kids who are eager to explore the world of 3D printing. Moreover, the nozzle is covered to keep the accidents at bay, as much as possible. The wires are hidden too. Hence, this machine is a great choice for those having playful children at home or those wanting to gift this to their kids.
Open Frame: As the printer is only compatible with PLA and not with other materials that need a closed frame for best results such as ABS, this anyway, is not a need. Hence, the printer exhibits an open frame.
In short, the 3D printer is very decent when it comes to counting the best features. One can start printing with this machine even when having no experience of doing so before. Users can enjoy various perks when working with this 3D Printer. All thanks to the thought-out features and the decision of what to include and what to ignore for keeping the machine inclined towards educational purposes.
Specifications
The FlashForge Finder 3D printer is a compact and lightweight 3D printer with a dimension of 420 x 420 x 420 mm and weighing almost 16 kgs. The printer boasts a decent print space of 140 x 140 x 140 mm. It does have an adjustable layer resolution that can be set between 100 to 400 microns, helping users realize precise accuracy for models as desired.
With 11 microns and 2.5 microns of X, Y, and Z position precision, the machine is capable of creating detailed geometries. It has a 0.4mm of nozzle diameter that most of the printers encompass. Moreover, it also supports the standard 1.75 mm filament diameter and let users print with third-party materials.
Price
The printer is priced moderately for around $499. The price is affordable and highly attractive. The Flashforge Finder was featured in our 10 Best Affordable 3D Printers 2020. Those looking to achieve professional results that can put their faith in this little machine.
First Impressions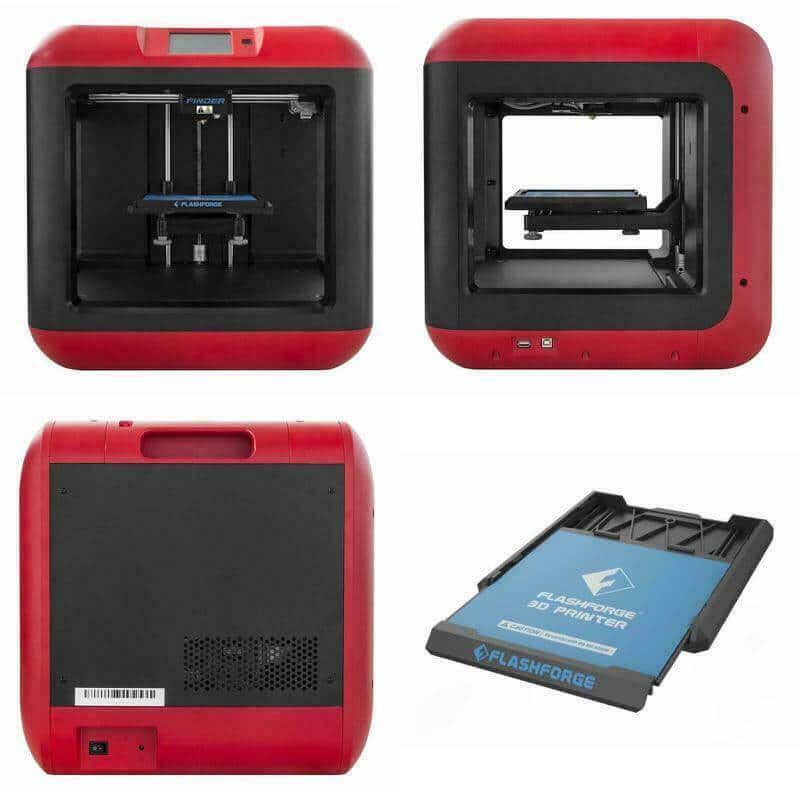 The first impression of the machine would let you think of it is a very compact solution for your 3D printing needs. Some users may feel the lack of bigger build space. However, one can definitely go with the connected parts to create a large print. Given that the printer is highly precise, creating different parts and connecting them together does not sound like a tedious job.
When opening the box, the machine comes fully assembled. You would love the color and frame of the cute machine that could fit perfectly inside a small house as well. The box is also secured properly to ensure the printer is safe inside it.
Setup
Setting this 3D printer is the easiest among those machines which do not have an automatic calibration feature. Not to exaggerate things further, let us check out what all you must do to fix the machine up for the first print of yours.
To set up the printer, one must carry on the calibration process. And, as deemed before, it is a very simple process as the manufacturers have utilized the assisted leveling system to make things easier for users.
The assisted leveling is carried on with the help of the retractable switch. With beep sounds, the machine alerts users when to stop when fixing the screws and then levels the bed to check the distance between the nozzle and the print bed. In case, the leveling is correct, the machine takes users to the next screw and the same process continues.
Isn't that easy? Although the leveling is easy and provides better learning opportunities to the beginners, most of the users still prefer auto bed leveling. This may turn off many users but that does not decrease the usability of the machine at all.
Printing Type/Cost
The 3D printer is based on the FDM 3D printing process and works only with PLA. PLA being the cheapest option among all the materials, helps keep the operation cost to as low as possible.
Moreover, the company allows printing with third party materials. This also further provides the freedom to the users for selecting the most affordable filament for printing, hence keeping the cost low.
The maintenance cost would highly depend on how efficiently one takes care of the machine. For example, cleaning the nozzle, maintaining the print bed, etc. However, it will also depend on how often the printer is used. Read more about how to minimize 3D printing costs here.
Print Quality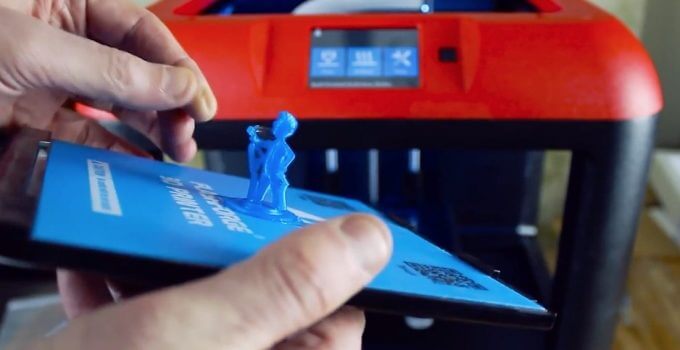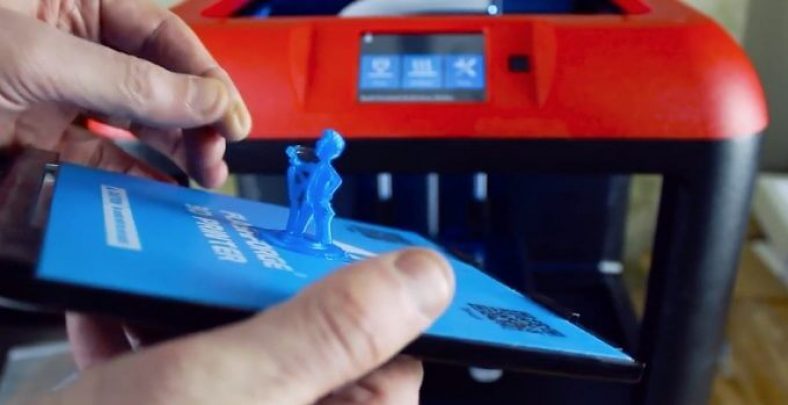 Overall, the print results are decent and it would be fun to create nice models right out of this 3D printer. The machine is very reliable and can handle difficult models. You can print the finer detail as well as achieve smooth surfaces when working with Finder. However, the printer does being a challenge when printing with support. These are difficult to get rid of completely, hence, leaving rough residue behind.
Software
Downloading and installing the FlashPrint file is a bit tricky where users need to work with the WINRAR to open the file and install it. However, after installation, everything feels like a breeze.
The software can be used for different activities including and is not limited to viewing, moving, rotating, scaling as well as cutting the 3D models. The software isn't very impressive when it comes to adding supports.
However, a nice choice for beginners and those trying to help their kids take the first few lessons of working with 3D modeling software. Huge customization options are available with the tool and the friendly interface lets users seep the benefits of the application.
Customer Service
The manufacturer provides a warranty and replacements. The support is also active in order to handle the requests at the earliest. There are various support guides and instructions available on their website. From setup to installation tips, users can find every question answered.
Parameters Influencing the Buying Decision
Not to forget, when buying a 3D printer, a huge amount is spent. Hence, looking at every detail is a must before making the final decision.
3D Printer cost: The printer is very affordable. Although a bit expensive than the cheapest 3D printers. But accounts for better print quality and reliability when comparing it with the $200 3D printers.
3D Print quality: The print quality is decent, however, struggles when removing the support.
3D Print speed: The print speed is decent too. One can expect to print with this machine real fast.
3D Printer capability: The printer is designed especially for beginners and kids. Hence, capable of creating fun designs and decent quality prints.
3D Printer Practicality: The printer can be used for educational purposes or for home users.
3D Printer User expectations: As per its price tag, the 3D printer performs well. The expectations to see a bigger build space and better utilization of support materials could have been a few added features. Overall, a nice printer.
Verdict
FlashForge Finder can be termed as an introductory 3D printer for kids and beginners. Hence, covers almost every essential and base feature to help users take the first step towards 3D printing.
It comes assembled and with few setup steps, one can start printing the first model in a few minutes after unboxing the machine. The printer exhibits quite an operation and works solely with PLA filaments. This again is sufficient for those wanting to purchase a 3D printer for fun and learning experiences.
FlashForge Finder is a very competitive 3D printer, however, not suited for professionals or those looking to carry out specific jobs. A choice that every parent would love to make when gifting it to their kids.