What Are 3D Printers And How Do They Work?
3D printers work by understanding a 3D file and replicating its design using filament or resin one layer at a time. Slicing is a method used to prepare most 3D models for printing. The 3D model can then be "sliced" and printed on a machine.
What Is The Definition Of An Industrial 3D Printer?
An industrial 3D printer, unlike a home 3D printer, is designed for organizations that want to develop new prototypes or cut manufacturing costs by using 3D printing.
Businesses are increasingly using 3D printers for rapid prototyping to reduce new product development time by allowing them to 3D print in-house, eliminating the time lag associated with having manufacturers provide prototypes.
Multiple prototypes can be tested and iterated on an hourly, or even daily basis, resulting in significantly faster and better products.
For product design, rapid prototyping uses 3D CAD software and, in most cases, a 3D printer. 3D printing is used to swiftly print small-scale replicas of a final product to test its design or operation, with any errors easily corrected by updating the 3D model and re-printing the next iteration.
In the aerospace, automotive, and medical industries, rapid prototyping is frequently used. Because 3D printing is a sort of additive manufacturing, there is no waste from materials that are carved out, as there is with CNC machines.
This makes industrial 3D printing particularly useful in businesses where cost-cutting is a priority, such as metal 3D printing.
3D printers can also produce parts with varying infill percentages, resulting in lighter but still strong metal parts, which is particularly useful in the automobile and aerospace industries, where reducing weight may significantly enhance profit margins.
We have made a list of the best industrial printers so you can get your work started by selecting one according to your requirement.
Comparison Chart
| Name | Link | Nomination | Rating |
| --- | --- | --- | --- |
| 3D Systems Fab Pro 1000 | | Accuracy and Speed | 8.2 |
| Raise3D Pro2 Plus | | Exceptional Quality Printing | 8 |
| Voxeljet VX 4000 | | Profuse Volume Printing | 8.8 |
| BigRep One V3 | | Large Scale 3D Printing | 8.1 |
| EOS P810 | | High Building Rate | 8.2 |
| 3D Systems ProX 950 | | Accuracy and Speed | 8.9 |
| Funmat HT Enhanced | | Sturdy Printing | 10 |
| Ultimaker S5 | | Smart handling | 8.5 |
| Stratasys F900 | | Versatility and Reliability | 8.4 |
| Formlabs form 3 | | Flawless Printing | 9 |
| Sinterit Lisa | | Highly Reliable | 8.4 |
| Roboze Argo 500 | | Cost effective | 8.4 |
| Anisoprint Prom IS 500 | | Repeatability | 9 |
| CreatBot PEEK-300 | | Sturdy Printing | 9.2 |
| Markforged Metal X | | Safe and Affordable | 10 |
Best Industrial 3D Printers
3D Systems Fab Pro 1000
This industrial 3D printer is the most economical on the list, capable of correctly designing and printing exact plastic prototypes for investment casting, dental models, and orthodontic splits in the jewelry industry.
With a minimum layer resolution of 30 microns, this industrial 3D printer can create parts and functioning prototypes.
This 3D printer's resin 3D printed parts and functioning prototypes will require post-curing. And you have an incredible support team eager to answer any of your questions about the 3D printer. A one-year warranty is also included with this industrial 3D printer.
Uses:
At three times the speed of its competitors, the FabPro 1000 can produce high-quality parts with precision and a flawless surface finish.
This printer's technology allows users to print numerous parts at the same time.
When compared to its competitors, the combination of quick print rates and effective printing results in lower printing costs.
The build volume of the printer is 125 mm x 75 mm x 120 mm.
The DLP StereoLithography method, which uses UV light to harden parts and prototypes, lies at the heart of the FabPro 1000.
Raise3D Pro2 Plus
It's not simple to find an FDM 3D printer with high resolution and incredible precision for prototypes and working items. Despite the fact that there are superior 3D printing technologies available, you should give the Raise3D Pro2 Plus a chance to win you over.
The printer, which weighs over 100 lbs and has a layer resolution of 100 microns, is capable of printing delicate parts and functional prototypes.
Uses:
A V2 hot end is included with the 3D printer. The temperature of this nozzle head can exceed 300°C. As a result, you can print with nearly any filament you want. The technology enables producers to adjust the construction plate as needed without causing any issues.
You will have little trouble creating extremely exact details. The precision is unrivaled.
A HEPA filter is one of the most important components that ensure users' safety. The filter is capable of removing more than 90% of dust and pollutants from the machine, ensuring the safety of the producers.
A filament run-out sensor is available.
The 3D printer has a print recovery feature in addition to the filament out detector.
If you need to monitor or control your prints while you're away, you may do it with the help of Wi-Fi and remote monitoring.
Inside the build area of the 3D printer is a built-in camera.
The noise level remains under 50 decibels to give you a peaceful 3D printing experience.
Voxeljet VX 4000
This printer is for those manufacturers who wish to use sand 3D printing to make a large number of parts or functioning prototypes for their customers.
This 3D printing machine is also referred to as the world's largest industrial 3D printing machine. The reason for this is that the printer's build volume is 4000 mm x 2000 mm x 1000 mm.
Uses:
VX 4000 is a large-format 3D printer system designed to create any type of object from particles.
Print speed and print flexibility are two of the most competitive areas where the Voxeljet VX 4000 excels.
Despite the fact that the Voxel VX 4000 has a lot to do, the operation of this printer system is simple, thanks to a well-thought-out ergonomic concept that runs throughout the entire Voxeljet series.
The Voxeljet VX 4000 can image even the smallest details with extreme precision.
This printer can produce large-format components up to four meters long.
BigRep One V3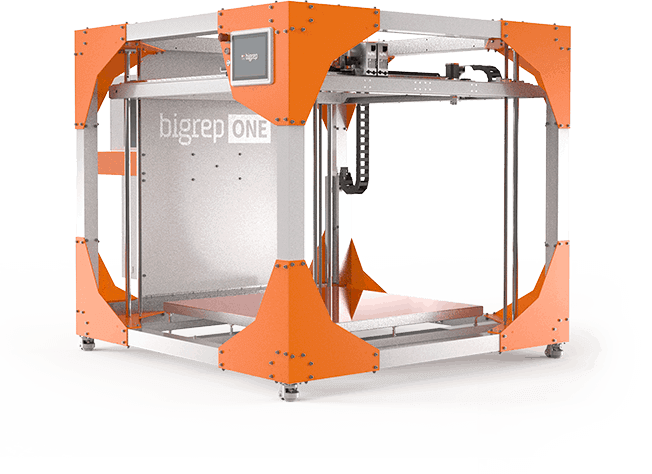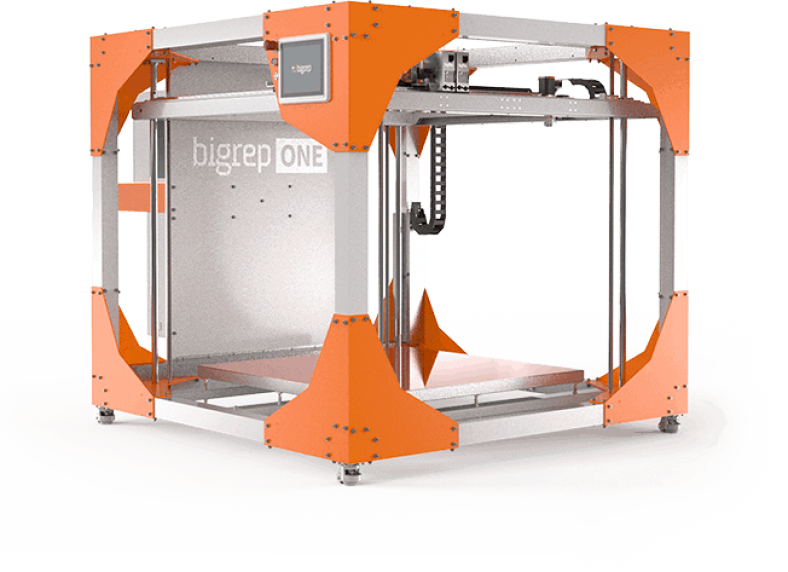 BigRep was established in Berlin with the goal of making large-format 3D printing as simple and economical as possible. A spool holder is included with this 3D printer, which fits all conventional spool sizes. The spool holder can handle up to 20 lbs of filament spools.
Uses:
The build volume is 1005 mm x 1005 mm x 1005 mm.
The 3D printing system includes modular print heads and a dual extruder for maximum versatility in any printing project.
You have the option of printing in two colors or materials. All you have to do to level the print bed of this 3D printing device is to press a button.
BigRep One V3 uses FDM 3D printing technology to create parts and working prototypes.
The printer provides an uninterrupted view of the 3D printing process thanks to its open build design.
EOS P810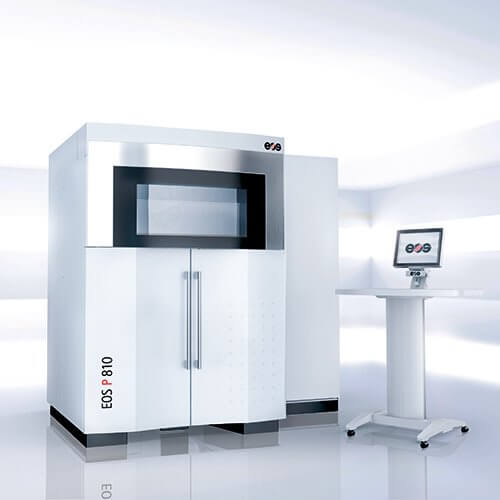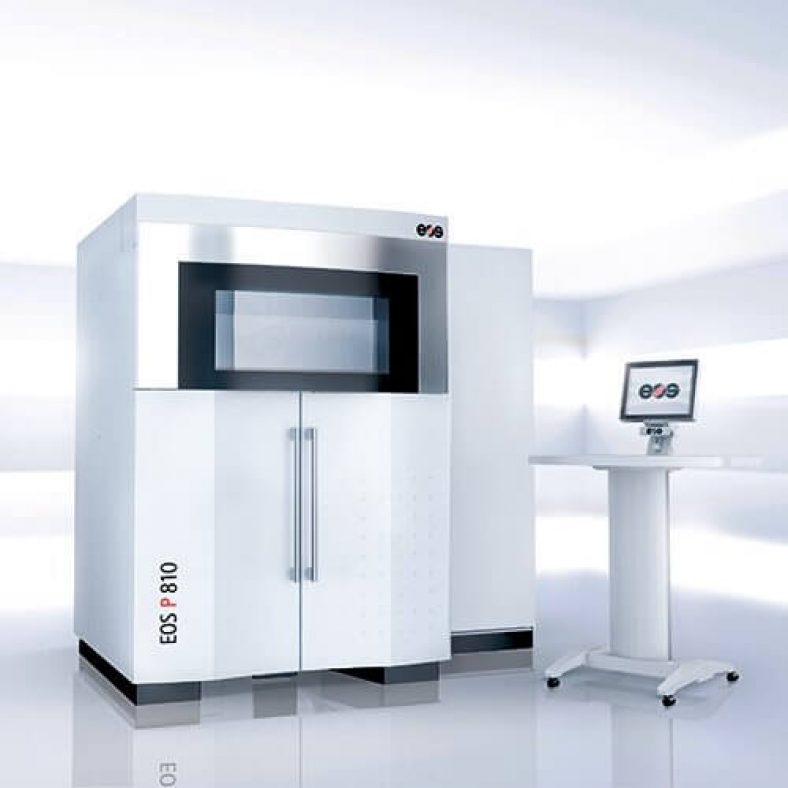 After working with Boeing, EOS created this industrial 3D printer. EOS is a German-based 3D printer maker. SLS 3D printing is used in the EOS P 810. The P 810 system is made to work with HT-23, a high-temperature, high-performance plastic.
Uses:
You can make lightweight parts, minimize production and part assembly time, and lower overall cost per part.
The build volume of this 3D printer is 700 x 380 x 380 mm.
It's also the first carbon-fiber-reinforced PEKK material to be utilized in conjunction with EOS systems, allowing for the production of high-strength, lightweight parts or functional prototypes.
Usable with high-performance 3D printing materials, making it ideal for usage in the aerospace industry. This is due to the fact that the requirements for UV resistance and flame retardancy have been met.
This industrial 3D printer uses Selective Laser Sintering 3D printing technology.
3D Systems ProX 950
This printer is one of the few SLA 3D printers that can handle high build volumes that are only available in FDM 3D printers. This industrial 3D printer comes fully constructed.  All you have to do is make sure you understand the details of each item and how it works.
Uses:
For the curing of printed layers, the ProX 950 claims to use two laser sources.
The printer is capable of producing dimensional accuracy in both small and large pieces and functioning prototypes.
The printer can print with a variety of 3D printing materials.
The Stereolithography 3D printing technique is used in the ProX 950 printer.
The ProX 950 has a large build volume, allowing you to make massive items, up to 1,500 mm long.
There is a single point of contact for expert application assistance on the ProX 950 SLA 3D printer.
The printer's sophisticated manufacturing software is this point of interaction.
The manufacturer, ProX 950, claims to deliver an equal number of parts or working prototypes, whether they are micro or large.
The ProX 950 assures produces less waste than SLA or FDM 3D printers.
Funmat HT Enhanced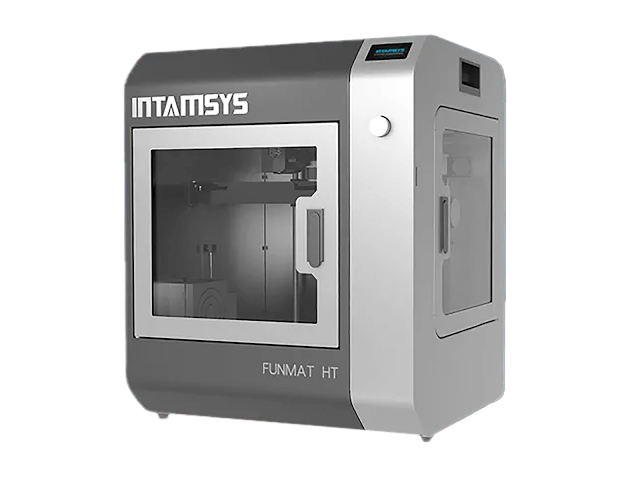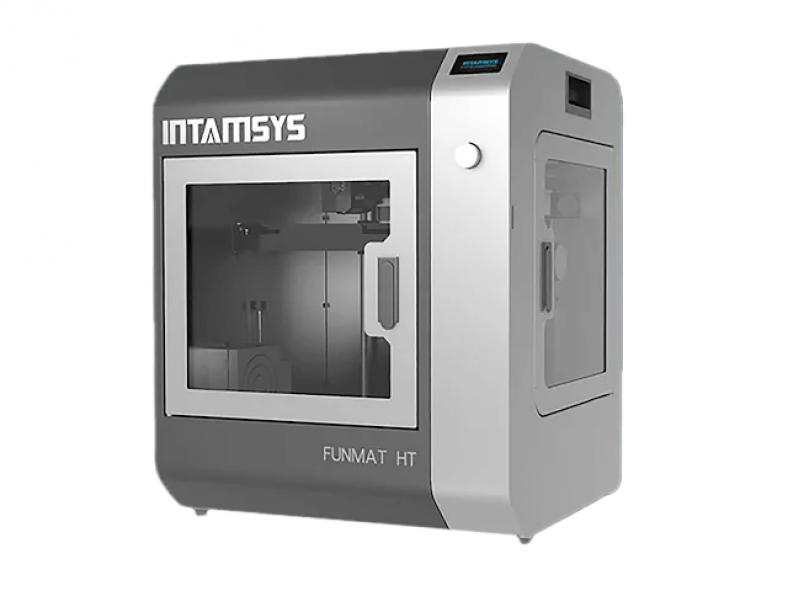 The FUNMAT HT is a professional 3D printer manufactured by INTAMSYS, a Shanghai-based company. The INTAMSYS FUNMAT HT 3D printer is aimed at the prosumer market and has a variety of features that are generally only seen in higher-end, industrial-grade 3D printers.
Uses:
The heated bed warms up to 160°C.
Two magnetically held glass beds are included with the Funmat HT Enhanced. It's considerably easier to remove prints once the glass has cooled.
An in-chamber camera to keep track of your prints
Funmat HT Enhanced will alert you when the filament is running low.
The build chamber includes three doors: One for the filament compartment, another one at the front for access to the build plate, and a last one in the roof. The latter can be opened if you wish to print with low-temperature materials.
Intamsys also offers high-temperature gloves in addition to a complete set of high-quality tools for FDM printing. Because the Intamsys Funmat HT's touchscreen is also pressure-sensitive, you won't have to take them off while working with it.
Ultimaker S5
This is the lightest industrial 3D printer on the list, weighing only 20.6 kg. Unlike other 3D printers that are exorbitantly priced and don't offer anything new to users, the Ultimaker S5 defies this stereotype. It isn't inexpensive, but it more than makes up for it with the number of tools and features it offers.
Uses:
Although this is a desktop 3D printer, it has a large volume.
Users are often astonished by the company's strong and robust frame. As a result, there are no vibrations when printing with the Ultimaker S5. As a result, a superior finish and accuracy are achieved.
At the same moment, you can 3D print with two different colors and materials.
Print cores can be swapped out.
A variety of materials can be printed using the 3D printer. That means you can make parts out of both common materials like PLA and more difficult ones like ABS and Nylon.
PVA can also be used to print. This indicates that employing this soluble material as support will make post-processing easier.
Pre-sets are included with the 3D printer. As a result, it can distinguish materials using an NFC reader and adjust the settings accordingly.
The Ultimaker S5 allows you to pause the print in the middle of it to change the filament.
Bed leveling is a breeze with the active bed leveling feature.
When the filament runs out, the 3D printer will pause and notify the user.
Stratasys F900
The Stratasys F900 is an industrial-grade FDM 3D printer designed to produce thermoplastic parts in a reproducible manner (including nylon, ULTEM, PC-ABS, and more).
It's based on the Fortus 900mc platform and can produce big end-use parts, jigs and fixtures, tooling, and functional prototypes.
Uses:
The customer must determine whether or not to employ an acceleration kit, according to the design. The printer would be able to print at a faster rate if the package is included.
Variability is a property of 3D printing that is rarely available. The ability of the F900 to print on fourteen different materials is simply amazing.
The F900 offers product optimization, which allows it to change the setup of the user's 3D models quickly and efficiently.
Depending on the geometry you wish to 3D print, the manufacturer states that the accuracy of this printer is +/- 0.089 mm or +/- 0.0015 mm per mm.
Formlabs Form 3
Formlabs' Form 3 is the printer for you if you want a printer that involves little work and produces professional results, requires low maintenance and is simple to master.
Form 3 is a touch-screen-driven machine that works with a range of materials. Its PreForm program is simple to use, and it makes altering models and changing their parameters a breeze.
Uses:
Form 3 is a Low Force Stereolithography (LFS) with flexible plastic at the bottom, which makes printing more reliable because the printer lifts the hardened layer with less force.
Print bed on top and a removable resin tank on the bottom to contain liquid resin during printing
Form 3 prints the model layer by layer, with the build platform lowered to this transparent layer for each step. It traps a tiny layer of liquid resin there.
The UV laser, which has a wavelength of 85 microns, burns the resin and causes it to adhere to the bed. As a result, the model is gradually built up layer by layer.
It can print up to 25 microns on the XY axis and 25 to 300 microns on the Z-axis, which can be adjusted manually. The prints are of superior quality, with a smooth surface, organic curves, and crispness.
Form 3 provides a reasonable size for creating 3D models; it is a dependable mixture of features that ensures hassle-free 3D printing.
Sinterit Lisa
This 3D printer created a stir in the market, being an astonishingly low-cost industrial SLS 3D printer. The machine has all of the key benefits of selective laser sintering 3D printing technology but without the astronomical price tag.
Every industrial 3D printer machine pricing from a Polish manufacturer undergoes a "precisely developed calibration and testing method," according to the company.
Uses:
You don't require any support structures with the Sinterit Lisa, which is a significant advantage.
This printer can print multiple parts at the same time.
The temperature resistance of the Sinterit Lisa is obviously much higher than that of printers using FDM and SLA technologies.
The Sinterit Lisa uses a powder with a diameter ranging from 20 to 100 microns.
The printer's build volume is 150 mm x 200 mm x 150 mm.
The printer manufacturer created proprietary software that is both user-friendly and compatible with the printer.
This 3D printer's 4-inch touchscreen, as well as Wi-Fi and USB, can be used to control and manufacture a part or working prototype.
Roboze Argo 500
The Roboze Argo 500 is based on FDM 3D printing technology, which can print with a variety of materials, including certain solid materials that operate as metal substitutes in parts or functional prototypes printed on the Roboze Argo 500.
Uses:
The print bed's door is open. The firm is attempting to explain to readers how the extruder can endure temperatures of up to 450o C with this claim.
The heated chamber is the subject of the other claim. The heating chamber can reach 356o C.
The printer's print volume for part manufacture and functional prototype manufacture is 500 mm x 500 mm x 500 mm.
Argo 500 includes an auto-leveling technology to ensure that the construction plate leveling is exact.
The spools are stored in a confined environment at a controlled temperature.
Carbon PEEK and Carbon PA are composites with the potential to replace metal, whereas PEEK and Ultem AM9085F are high-performance polymers.
Because the Roboze Argo 500 can print with these materials even for large-scale manufacturing of parts and functional prototypes, the company claims that each part or functional prototype is "strong as metal."
Its innovative X and Y mechatronic movements ensure the accuracy of these big-scale pieces that the company is attempting to print on such a massive print bed.
Anisoprint Prom IS 500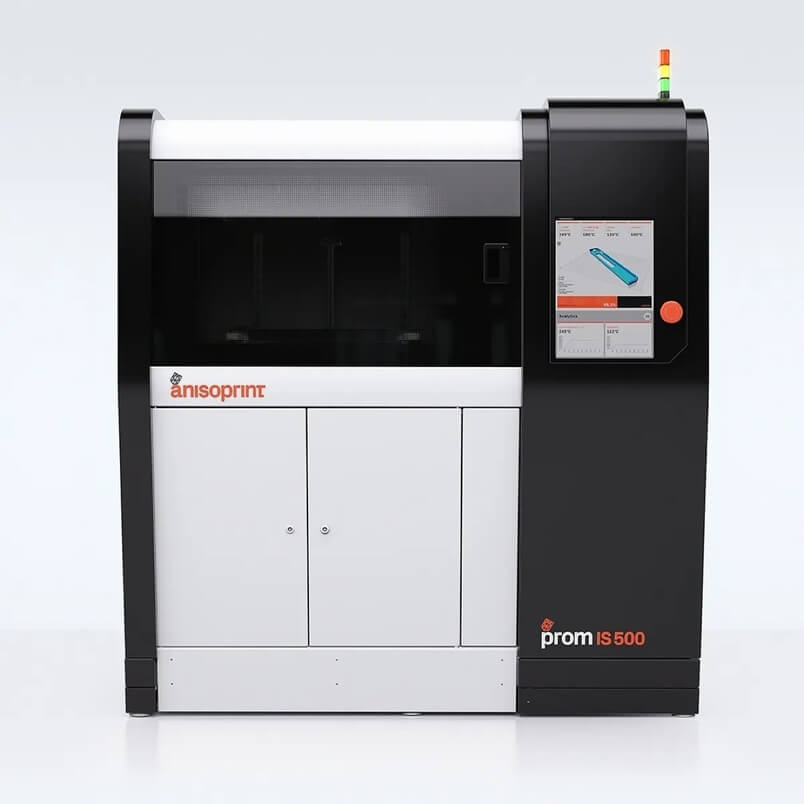 Anisoprint is a 3D printer company with offices in Luxembourg and Russia. Anisoprint, a maker of continuous fiber 3D printers, has unveiled a new additive manufacturing technology.
The ProM IS 500 is designed to 3D print thermoplastics with continuous fiber at high temperatures, unveiled at Formnext 2019, and is made with the company's Composite Fiber Co-extrusion (CFC) technology.
Uses:
The build volume of this continuous fiber 3D printer is 600 x 420 x 300 mm, which is quite enormous.
 It makes use of Anisoprint's CFC (Composite Fiber Co-extrusion) technology. The Prom IS 500 uses this technology to strengthen items using a continuous fiber strand. Reinforced polymer parts made with CFC technology can have a tensile strength of 860 MPa but a density of 1.4 g/cm3 – two times lighter than aluminum but with equivalent strength.
Anisoprint offers 1.5k and 3k Composite Carbon Fiber, as well as Composite Basalt Fiber, and reinforcing fibers.
The machine includes a drying chamber that can accommodate up to two spools of filament. For PEEK and PEI, a high-temperature extruder (400°C) and heated chamber (160°C) are optional (ULTEM).
CreatBot PEEK-300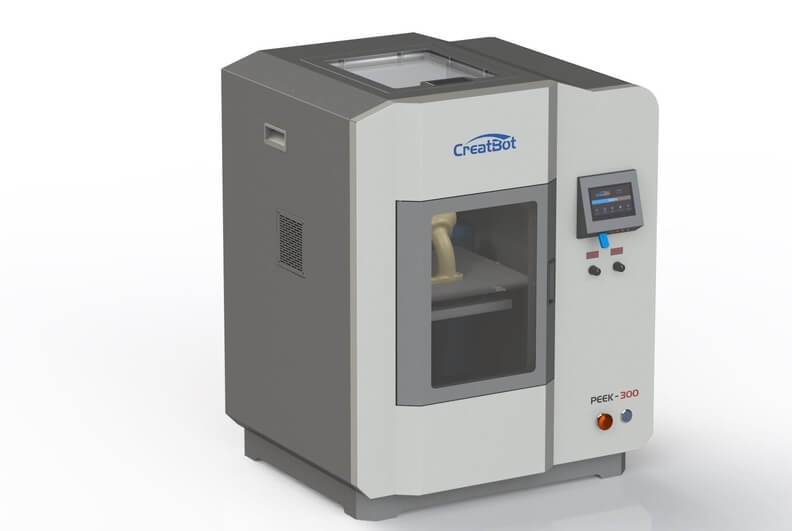 The Creatbot PEEK-300 is an FDM industrial 3D printer that can print professional-grade materials, like PEEK and Ultem. It's made of high-performance components that can resist high printing temperatures.
This dual extruder 3D printer has ultra-high-temperature nozzles (500°C), a hot build chamber, a heated print bed, and high-temperature resistance motors, rails, and belts, to name a few features.
As a result, it provides a long-term, dependable performance. Despite its extensive features, it is available at a reasonable price.
Uses:
The Creatbot PEEK-300 features cutting-edge controlled thermosetting technology as well as an effective water-cooling system that uses both circulating liquid cooling and air pump cooling.
It is backed by industry heavyweights such as Volkswagen Group, Bosch, Oxford University, and NASA, and is ideal for advanced production and research in medical, automotive, aerospace, and military applications.
Creatbot PEEK-300 produces high-quality prints with smooth surfaces and precise details because of its innovative DAS technology.
The Direct Annealing System (DAS) is a proprietary technology that allows you to regulate the annealing process on the fly. It reduces warping and cracking, which is useful for printing large-scale functional parts.
A power-recovery system, a filament run-out detection sensor, and an emergency stop switch are also included in the printer.
It can print layers at a resolution of 40 microns, which is ideal for high-performance materials.
Markforged Metal X
It is one of the best industrial printers available in the market. Layer resolution in Metal X ranges from 50 micrometers to 125 micrometers. The higher the layer resolution, the clearer the layers will seem after 3D printing a part or working prototype.
The printer employs FFF 3D printing technology, which involves the use of a continuous thread of material for 3D printing parts and working prototypes.
Uses:
The motion mechanism in most industrial-grade 3D printers is controlled by rails, which ensure that the interior travel of the material used to 3D print a part or functioning prototype is safe and secure.
This printer can 3D print a variety of metals.
Markforged's 3D printers are used in a variety of industries, but when it comes to the Metal X, the business has listed companies that are currently using the printer on the homepage dedicated to it.
If you buy this printer, you'll have to utilize Eiger software to slice your product files.
This printer has a build volume of 300 mm wide, 220 mm deep, and 180 mm high.
The print bed is heated and maybe calibrated automatically. A replaceable print sheet is included with the printer.
Buying Guide
There are various elements to consider, the most important of which are:
Build Area and Size: Consider the size of the industrial 3D printer in terms of build volume (the largest pieces you can print) as well as the total space it covers. You may not have enough room to keep the printer, or you may require additional build volume.
Technology for 3D Printing: 3D printing encompasses a wide range of technologies. Do you value low-cost part printing over high-detail surface quality? These factors will define the technology you require and which industrial 3D printer you should purchase.
Is A Trained Operator Required? High-end, sophisticated, and high-quality industrial 3D printers frequently require a qualified operator to ensure that the printing process runs smoothly and that the proper temperatures are maintained. This increases prices, but it may be important for prototyping, so bear that in mind.
Speed: Even within the same technology, some 3D printers print substantially faster than others. Delta 3D printers are almost always faster than Cartesians, while DLP 3D printers are typically faster than SLA.
Printing Resolution: Different 3D printers have different levels of precision, accuracy, and resolution. Material jetting printers feature some of the highest resolutions of any industrial 3D printer on the market today, and resin 3D printers are more precise than FDM 3D printers.
Printing Materials: Are you interested in 3D printing polymers, such as PLA, ABS, or Nylon? If that's the case, you can choose between FDM (all three) and SLS (Nylon). You'll need a DMLS, EBM, Binder Jetting, or another sort of metal 3D printer if you want to 3D print metal materials like aluminum or titanium.
Frequently Asked Questions (FAQs)
Which Industries Use 3D Printing?
3D printing is being used in the production process by an increasing variety of industries and businesses.
Aerospace, automotive, manufacturing, robotics, education, construction, engineering, architecture, dentistry, jewelry, and the health sector are among the areas that will gain the most from 3D printing.
By looking at these businesses, it's easy to see why 3D printing is becoming the most significant technological development since the internet.
Is The Quality Of 3D Printed Goods Comparable To That Of "Traditionally" Created Goods?
This varies depending on the product. A 3D printed Japanese kitchen knife may not be as sharp as a genuine, painstakingly crafted steel blade or keep its edge as well.
On the other hand, 3D printing has allowed certain items, such as jet engine components, to be upgraded beyond the capability of traditional manufacturing procedures.
However, implying that a particular 3D printed product is better or worse than its traditional counterpart would be a subjective remark.
In terms of cost, 3D printing is on its way to becoming an efficient, resourceful, and cost-effective means of production, and it will most likely surpass traditional manufacturing processes in the future.
How Can I Make Changes To A 3D Printing Model That Already Exists?
By importing the file into a 3D modeling program, you can make changes to existing 3D models. You can make whatever modifications you want from there.
When you've finished making adjustments, save your work and, if desired, export the 3D model. There are also dedicated editing tools for STL files that aren't full-fledged CAD systems, and hence are easier to use.
What Are The Advantages Of 3D Printing Over CNC Milling?
The beginning point is the most significant distinction between 3D printing and CNC milling. The manufacturing process with 3D printing starts from scratch, and objects are formed by layering materials on top of one other.
CNC milling begins with a block of material and progresses via the process of removing material until the desired shape is achieved.
What Kind Of Material Does A 3D Printer Work With?
3D Printing With FDM: FDM printers use a filament, which is a spool of material. Filaments can be manufactured from a variety of materials, including PLA, PETG, and ABS.
3D Printing Using Resin: Liquid resins, such as photopolymer resin, are commonly used in resin-based printers for UV curing.
Conclusion
It is difficult to make large investments, and for this reason, it is recommended to prepare for the long term while doing so. Some of the more expensive industrial 3D printers on the list would expect you to do the same.
Large-scale 3D printing systems, often known as industrial 3D printers, provide unique manufacturing possibilities that smaller machines cannot.
They can also make big prototypes and parts, such as those used in aerospace defense, as well as several series of smaller parts, all at the same time for the same reason. Large-scale 3D printing and industrial 3D printers have numerous advantages.
As a result, this field experienced advancement in recent years. It's vital to remember that bigger doesn't always mean better. Although large-scale industrial 3D printers can 3D print large-scale parts and functioning prototypes, smaller 3D printers cannot.
Smaller ones, on the other hand, can print parts and functioning prototypes with a comparable or even greater layer resolution, which is astonishing. As a result, it's advisable to choose an industrial 3D printer based on the application for which it'll be used.
That way, you can match the features and other characteristics of these 3D printing systems to your requirements, and evaluate whether or not they are within your budget. A lot is also determined by the 3D printing technology you use.