Anycubic Vyper
Anycubic impresses users with its overall experience, but especially the beginners. For users who are looking to print large build volumes and cannot afford to buy advanced 3D printers at the high end, Vyper turns out to be complete bliss.
PROS
The automatic bed leveling process is fast and reliable.
The printer is flexible, the textured bed enables easy removal of prints.
Cooling fan enables fast print speeds.
Silent motors allow for noise-free printing.
CONS
Excessive stringing with initial prints.
Assembly is not up to the mark.
Table of Contents
Equipped with a new 32-bit motherboard, Vyper is a hobbyist 3D printer produced by Anycubic. It prints parts and functional prototypes using extrusion 3D printing technology.
The machine features a faster computing speed and smoother system than its competitors in the same price range. Also, it is integrated with the TMC 2209 silent driver system that makes the motherboard quiet and more accurate.
Marketed as the first FDM 3D printer with an automatic leveling system, Vyper removes the user's need to manually level their print bed. The printer can be connected directly to the operator's PC or laptop, permitting them to have flexibility in operation.
High-flow generating fans immediately get to the work of cooling the freshly deposited liquid filament thereby decreasing the overall print time. In addition, the dual-gear extruder provides a solid drive mechanism by reducing almost all the chances of filament slipping or stripping out.
So, is Vyper worth buying at a price the printer manufacturer markets it? Well, let's analyze it in-depth to find out.
Features
A 4.3-inch-long touch screen interface is easy to operate even for beginners in the field of 3D printing. It allows them to control some major functions as well as start, stop and pause the process of creation.
Another such user-friendly feature is fast assembly. The printer does not take much time to get its components together and start functioning in minimal time. A spring steel magnetic platform provides high toughness to overall build-up and is compatible with a wide range of filaments.
Below mentioned are more such exciting features of the printer that makes it stand out in the list of others in the same price range.
Compact in size
Being a desktop 3D printer, Vyper offers a print volume of 245 mm * 245 mm * 300 mm. It makes up somewhere in between the medium to large size 3D printers. It is an ideal machine for home as well as office setup.
A little larger than this would need a dedicated space for itself and a little smaller than this would not offer the same amount of print volume.
So, Vyper is about perfect when thought along these lines. It can be accommodated in some corner of your room or office on a normal-sized table.
Auto bed leveler
Anycubic has put in place an automatic bed leveler. Vyper is equipped with an intelligent 16 point leveling system that automatically ensures the adjustment of uneven hotbed via a pressure strain gauge. A result of this is, users no longer have to engage in the tedious process of tightening the screws to make sure the nozzle height is fine depending on the print bed.
Moreover, a double Z-axis lead screw with photoelectric limit switches for more synchronous movement as well as stable operation of the axis.
In doing so, the switches compensate for any differences while trying to keep them in line with the hotbed, automatically. Such a one-touch leveling is like a gift especially to beginners who are not skilled with leveling a 3D printer.
Spring steel magnetic bed
Exceptionally, for Vyper, the printer manufacturer has looked upon a spring steel magnetic bed as opposed to their standard Anycubic Ultrabase print bed. And the reason behind the same is believed to be the non-deforming coated platform which can resist high temperatures. Moreover, the attachment of a special non-scratching rubber-like surface that guarantees adhesion to all the prints without the use of any tapes.
Not only does the print bed permit more thermal management than otherwise, but also it allows users to flexibly take away their prints. As it is a removable print bed, operators can easily take it off from the arrangement, bend it, and pop off the 3D printed objects.
Dual print head fans
Vyper provides its customers with dual print head fans that assure rapid heat dissipation and fast cooling of the printed layers. If seen from one point, this leads to a decrease in the overall print time, thereby increasing the efficiency. The fastest one can reach with Vyper is 100 millimeters per second.
Dual gear extrusion
Apart from the dual print head fans, the next duality is seen in gear extrusion. Vyper hosts the dual-geared Bowden extruders that are known to provide proper feeding of filaments even if users are printing with flexible filaments such as the TPU or others.
Also, it reduces the chances of filament tangling and is compatible with PLA as well as flexible filaments. This increases the overall range of filaments that operators are allowed to deal with.
Filament runout sensor
A filament runout sensor ensures that Vyper will pause in case you are in the middle of 3D printing and the raw material gets over, thereby alarming you to change the filament to continue the process.
Auto-resume printing
Users can resume a print even after undergoing a power outage or electrical shutdown. Not only does this saves time, but also the material waste that otherwise goes into creating the complete part again from scratch.
The large touch screen interface
Anycubic has embedded in the body of Vyper a 4.3-inch large touch screen interface which has a completely new and promising user interface. It is smooth and simple in operation.
Users can control multiple functions using this interface like changing the basic print settings. Managing the file transfer as well as the printing process.
It is specifically advantageous for beginner users to start interacting with the printer within no time at all.
Specifications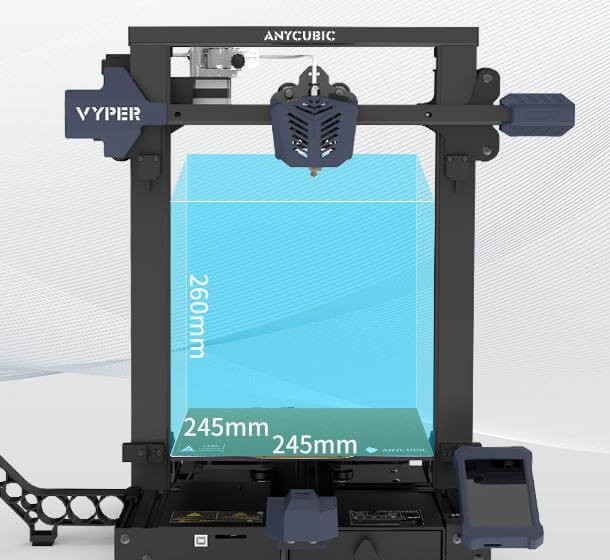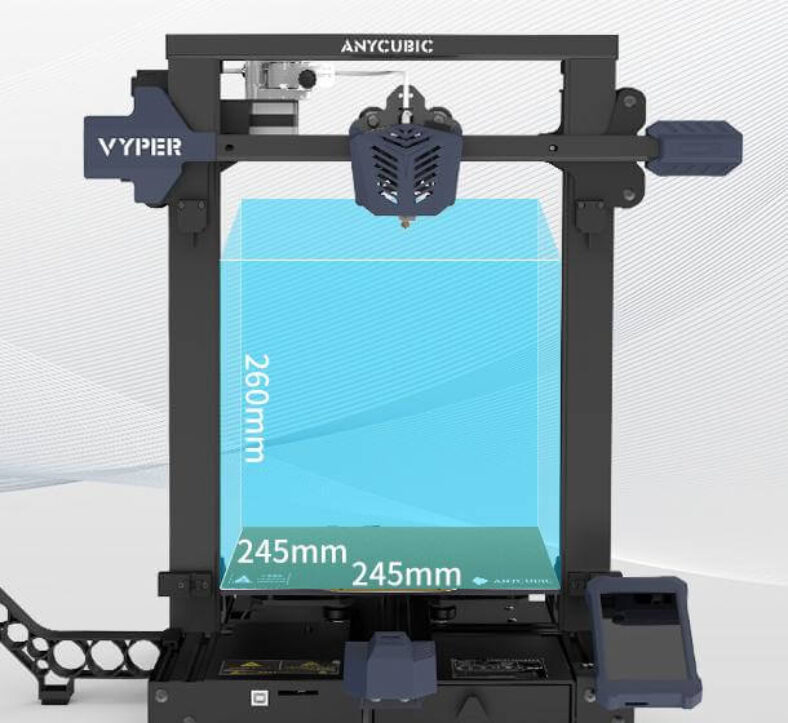 Vyper prints parts and functional prototypes using FDM i.e., Fused Deposition Modeling 3D printing technology. It offers a maximum build volume of 245 mm * 245 mm * 260 mm and an approximate print resolution of 0.1 mm. The machine's XY positioning accuracy is 0.0125 mm whereas its Z positioning accuracy is 0.002 mm.
The printer hosts a single extruder with a nozzle diameter of 0.4 mm supporting filaments with 1.75 diameters such as PLA, TPU, ABS, PETG, and Wood.
The maximum temperature that the machine's nozzle can withstand is 260 degrees Celsius, whereas its hotbed can resist 110 degrees Celsius. Users can print at a print speed of up to 180 millimeters per second, however, the standard print speed recommended by the manufacturer is 80 to 100 millimeters per second.
Vyper has a standard Cartesian XZ head type construction which is very common in desktop FDM 3D printers. It can be connected using a micro-SD card, or USB cable. A 4.3-inch touch screen interface facilitates user interaction with the machine. And the heated print bed benefits the operator by decreasing the overall print time.
Price
Anycubic Vyper is available for $359.
First Impression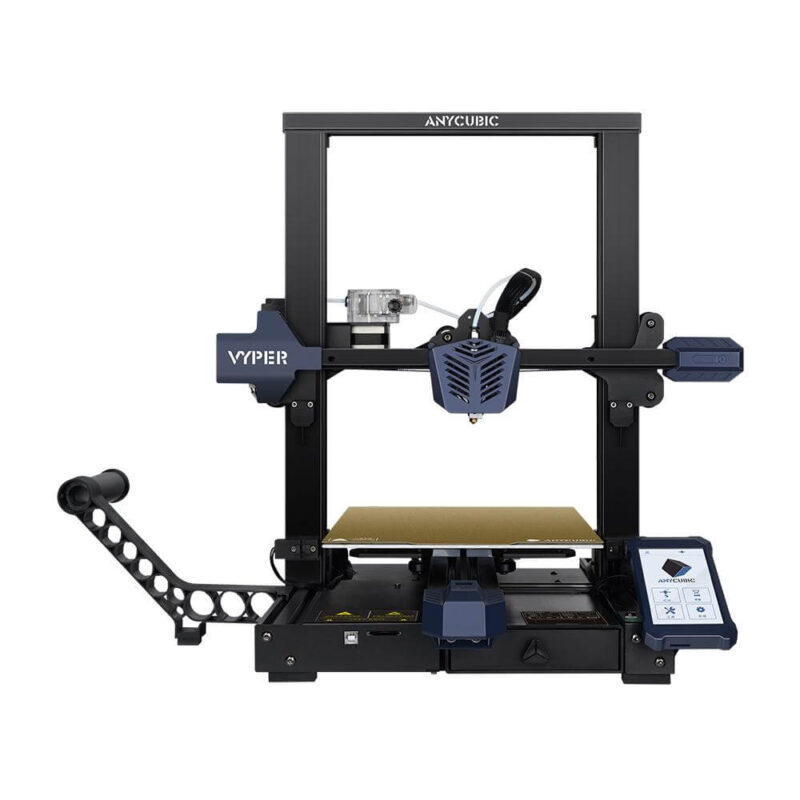 Vyper is delivered in a cardboard box with ample foam to give it protection from all sides. There shouldn't be any issues with shipping at all. While removing all the parts from the box, it is advised to take extra precautions as the gantry and the base of the printer are connected.
The tip to remove both of them at the same time is mentioned in the manual so take some time to read it out. Alongside the printer you get:
A manual
A spool holder
Plastic Spatula
8GB SD card
A power cable
Some screws
Hex wrenches
Filament snips
The needle that helps you to unclog the nozzle
A USB cable
Two spare Volcano nozzles
Some zip ties
A filament sample
Setup
Vyper is delivered in a semi-assembled state and doesn't require any sort of soldering or complex mechanical assembly to put together. As mentioned above, the base and the gantry are attached. They have zip ties at various points that prevent the extruder gantry or the build platform from having any movement during the shipping.
The complete assembly after which users can start 3D printing with the machine takes about 15 minutes. The screws that come with the printer are to be attached to the gantry and similar screws have to attach to the touchscreen. That's it for setup.
Print Type/Cost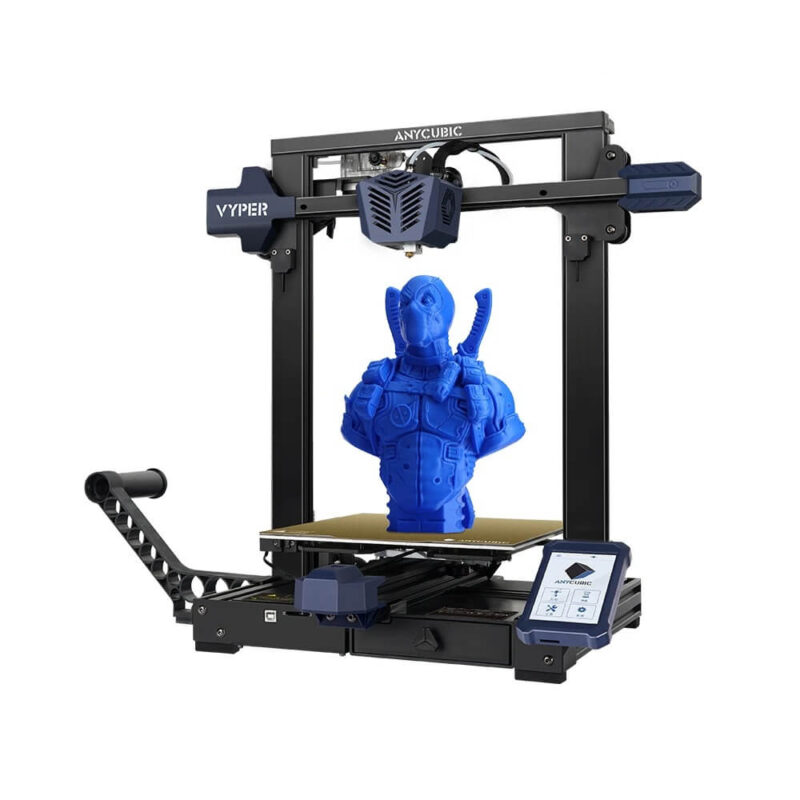 FDM 3D printing technology simply starts with heating a solid filament spool that is fitted on the printer.
The process continues until the glass transition temperature of that filament is reached and it transforms into a liquid condition. After which, the melted filament is allowed to flow through the nozzle onto the print bed thereby depositing a layer of the part. Then, the print head moves above its current status by a layer height and the layer deposition continues till the part geometry is completed.
Normally, the cost of 3D printing a part or functional prototype is lesser compared to other 3D printing technologies because of its simple mechanism. However, the cost depends on factors such as part geometry, the type of filament, cost of the same, amount of infill required, support structures, etc.
Print Quality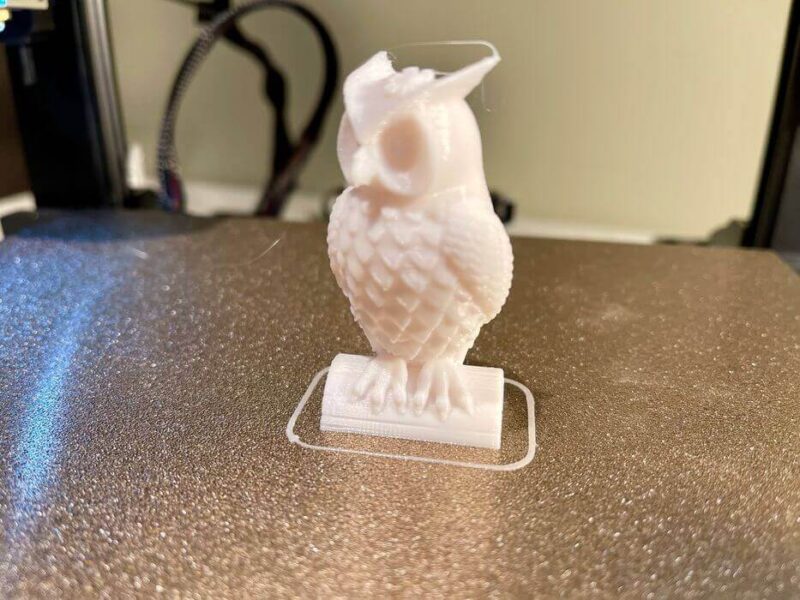 Credit: fabbaloo.com
The usual test prints such as 3D benchy, calibration cube, Phil-A-Ment, Torture Toaster, Fluffly the Unicorn, Aladin's Genie, Knurled Twist Container, Vegeta Bust, etc. turn out to be decent.
The usual layer height on these objects ranges from 0.15 mm to 0.2 mm. The overhangs, and other support structures printed using the printer also turn out to be of great quality.
Software
Anycubic recommends using open-source software such as Cura, Simplify3D, or Repetier Host, all three of them run fine with operating systems such as Windows, Mac Os as well as Linux. They allow printing with file formats such as STL, OBX, and AMF.
Customer Support
The software, driver, and video tutorials needed with the printer are available online. Apart from this, the support section consists of after-sales policies as well as the contact us section. Users can generate a ticket by filling in their information and the other way to reach out to the technical team is via phone or on call.
Parameters Influencing Buying Decision
Below mentioned, in brief, are the key factors that are good to know before buying the printer.
3D Printer Cost: Price just under $400, Vyper is extremely affordable considering the striking features it manages to offer to its users.
3D Print Speed: Anycubic Vyper allows users to go up to 180 millimeters per second. Also, users get the benefit of lesser print time due to dual efficient cooling fans.
3D Print Quality: All the test prints have decent print quality. Being a desktop FDM 3D printer, Vyper manages to outshine many of its competitors in the same price range by producing dimensionally accurate parts and functional prototypes.
3D Printer Capability: A heated bed that can withstand high temperatures allows users to print with various filaments thereby giving variability in 3D printing.
3D Printer Practicality: The touch screen interface, automatic bed leveling, multiple modes of connection, an Aluminum frame, and the removable print bed offers enough flexibility, therefore, making the work a lot easier even for beginners in the field.
3D Printer User Expectations: Vyper manages not only to efficiently serve novices in the field but also the professionals. Its feature list is filled with advanced components functioning in a top-class manner to let users achieve fine print quality at an affordable cost.
The Verdict
Anycubic impresses each class of user with its overall experience, but especially the beginners. For users who are looking to print large build volumes and cannot afford to buy advanced 3D printers at the high end, Vyper turns out to be complete bliss.
Apart from the build volume, the user-friendly features such as the removable build plate, reliable frame, touch screen interface, high temperature withstanding nozzle, and compatibility with multiple filaments ensure that Vyper outshines its competitors by a fair margin. All in all, Vyper has enough to help you make objects of decent print quality, large print size in commendable time.