BCN3D Epsilon W27 3D Printer
Apart from manufacturers in the field, and small business owners, even hobbyists who are looking for a long term future, can see this printer as a viable option.
PROS
Huge build volume.
Independent dual extrusion system.
High-quality parts and functional prototypes are assured.
Excellent print speed in batch production.
CONS
Difficult post-processing.
The enclosed print chamber makes the printer susceptible to a lot of maintenance.
Product
Specification
Videos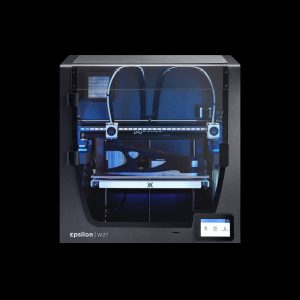 The BCN3D Epsilon W27 is a very capable 3D printer for professional applications that can deliver solid parts crafted with industrial-grade ...
| | |
| --- | --- |
| Model | Epsilon W27 |
| Manufacturer | BCN3D Technologies |
| Price Range | $ 6793 |
| Country | Spain |
| Availability | Available |
| Classification | Professional |
| Technology | Extrusion (FFF- FDM…) |
| Material | ABS, Carbon fiber and composites, Other plastics, PLA |
| Filament diameter | 1.75 mm 0.07 in |
| OS compatibility | Linux, Mac OS, Microsoft Windows |
| Generic material | Yes |
| Max. build size | 420 x 300 x 220 mm 16.54 x 11.81 x 8.66 in |
| Max. build volume | 27.72 L |
| Heated print bed | Yes |
| Heated build chamber | Yes |
| Automatic calibration | No |
| Closed frame | Yes |
| Dual extruder | Yes |
| Independent Dual Extruder | Yes |
| Full color | No |
| LCD screen | Yes |
| Touchscreen | Yes |
| On-board camera | No |
| Mobile app | No |
| 3D scanners | No |
| CNC mill | No |
| Electronics 3D printing | No |
| Laser engraving | No |
| Conveyor belt | No |
| Air filter | Yes |
| Pellet extruder | No |
| USB | No |
| Wifi | Yes |
| Bluetooth | No |
| SD card | Yes |
| Ethernet | Yes |

Table of Contents
In this article, we are going to look in-depth at various aspects of Epsilon W27 such as features, specifications, print quality, first impressions, price, print speed, etc.
Features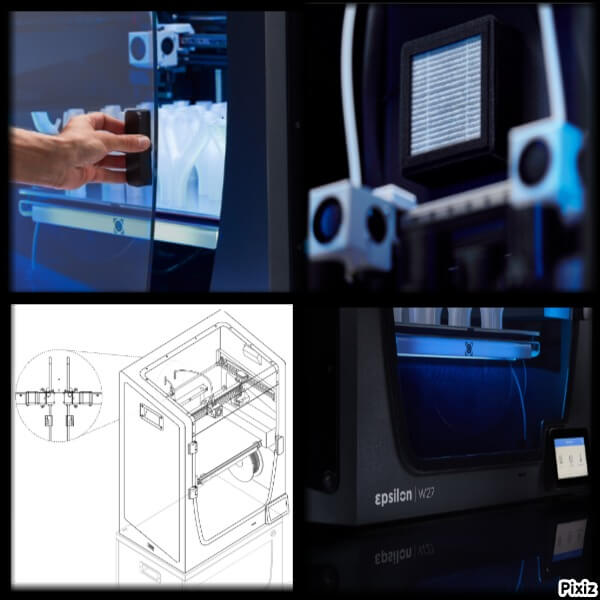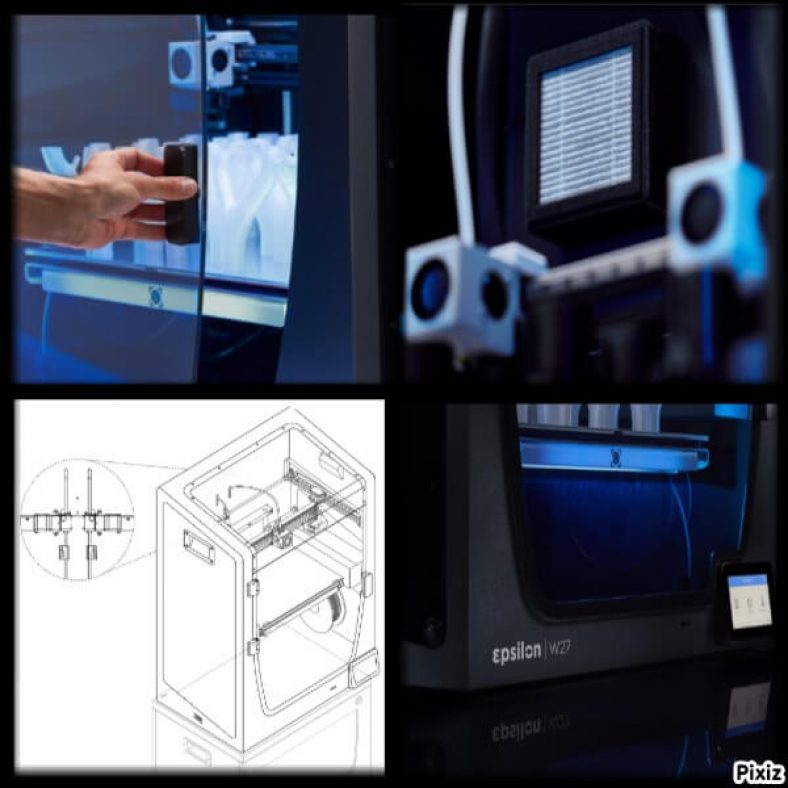 Like every other printer in the market, Epsilon W27 too has a set of features that make it stand out.
Independent Dual Extrusion Technology
Primarily targetting to decrease batch production time, the Epsilon W27 3D printer is based on independent dual extrusion technology.
Because of this, the printer can print using four different modes apart from the standard single-mode.
The Duplication Mode enables users of this printer to print identical models at the same time, doubling the rate during batch productions.
The Mirror Mode enabling users to print mirrored designs symmetrically and hence speeding up the iterations.
The Soluble Supports Mode creates intricate structures at the cost of avoiding geometric limitations.
The Multimaterial Mode technique lets one create two different materials and combine their properties.
Printing using these different modes, either increase your overall print speed or lets you print parts and functional prototypes eccentrically.
Both of which sets this printer apart from the other printers available in the market at the same price.
Humidity controlled environment and complete work station
For extending the service life of your 3D printing materials, Epsilon W27 is designed with silica gel that opens up to the dehumidifying environment for absorbing the moisture from the air in the chamber where the 3D printing material is stored.
After the silica gel becomes saturated, as it is associated with the materials, it gets heated up until it releases moisture that is clearing out of the system.
It is because of this process in the printer that the filaments for printing parts and functional prototypes are stored in dry and optimal conditions for their use.
Especially keeping in mind on-demand 3D printing service providers in mind, the printer manufacturer BCN3D has installed a tool drawer that provides every utensil you might need during any time in the 3D printing process especially while post-processing of parts or functional prototypes.
Additionally, there is an extra space for your laptop or tablet that you count on for completing your set of devices for a full work station, by a 3D printer.
Print while in storage and uninterruptible power supply
Epsilon W27 hosts a dehumidifier that has the capacity to fit, either up to eight spools that weighs between 750 grams and one kilogram, or up to four spools that weigh up to 2.5 kilograms.
Loading of this dehumidifier can directly be done in the 3D printer's humidity-controlled environment, permitting users to print while keeping the materials used for 3D printing in an ideal condition.
Whenever there is an electricity failure, the system provides extra two minutes of additional print time even after the blackout.
This permits users of the printer to return automatically to the home position, and once the power is back, the user will be able to resume printing from their last positions.
Full enclosure and passively heated chamber and Safety
The Epsilon series printers are built on a fully enclosed chamber that keeps the internal chamber's temperature-controlled, which allows for a smooth 3D printing process.
The print chamber is known to reach 60 degrees Celsius temperature, whereas the heated bed of this printer can reach up to 120 degrees Celsius.
For ensuring that all the parts or functional prototypes manufactured by this printer are safe, the printer comes equipped with HEPA as well as Carbon Filter.
Epsilon W27 has a HEPA filter that protects the working environment from all the potentially harmful particles while printing with industrial materials.
The Carbon filter inside this printer shields our environment from any harmful fumes that are produced while the production of parts or functional prototypes made from industrial 3D printing materials.
Additionally, there is a safety pause feature in Epsilon W27 which stops the printing process every time the door that gives access to the enclosure is opened.
The multilingual five-inch touchscreen on an Aluminum frame
The sturdy aluminum frame for guaranteed strength and durability fixes the printer on the work floor while the 3D printing process is going on and does not let it vibrate.
At the bottom right end of the printer's body, there are a five inches long multilingual touchscreen interface that lets the user operate as well as monitor the 3D printer.
To add an extra dose of comfortability, the touchscreen is programmed to display information in more than one language.
It guides you through the advanced features of this printer and helps you self-learn it.
Heated bed and hotends
Epsilon W27 is equipped with e3D hotends that are the best in the industry for delivering the smoothest and the most reliable extrusion.
Whereas the heated bed of the printer can withstand temperatures up to 120 degrees Celsius, which are ideal for printing engineering-grade materials and avoiding warping issues while printing.
So, once you have bought this printer you are destined to get parts and functional prototypes that are of high-quality which can be used at the application in various spaces.
Printing with fiber materials such as PAHT, CF 15 as well as PP GF30 is also possible using the Epsilon W27 because the newly designed hotend is compatible to do so.
It can print seamlessly with fiber-filled materials, apart from PLA, PETG, TPU 98A, PVA, ABS, PA, and PP.
BCN3D Cloud
Epsilon W27 is equipped with the latest connectivity features which enable you to easily send your print files whenever you are connected to the network for a hassle-free file transfer.
The BCN3D Cloud platform also allows for automatic upgrading of firmware using it's over air updates which will ensure that your printer is always up to date.
Specifications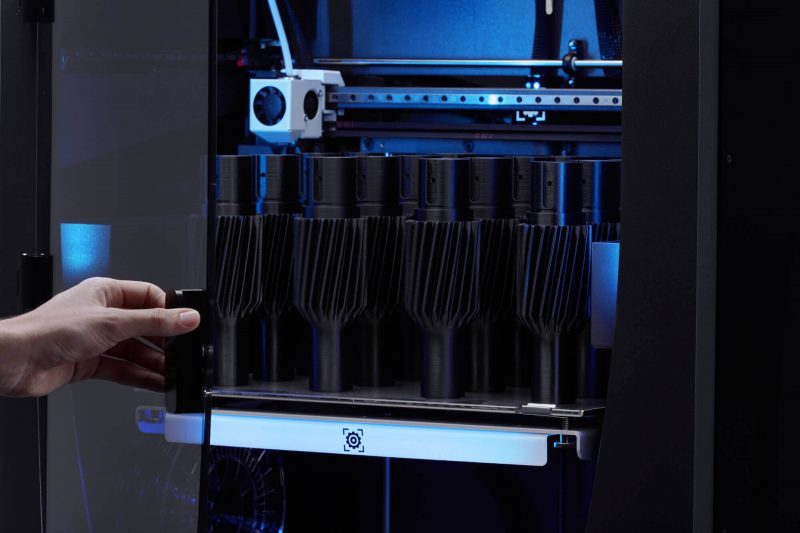 Credit: webshopapp.com
Epsilon W27 printer is based on FFF i.e. Fused Filament Fabrication 3D printing technology, it features an independent dual extrusion system that allows users to print with the printer using five different modes.
Apart from the single-mode of 3D printing, you can print using Duplicate mode, Mirro mode, Soluble support mode, as well as multimaterial mode.
Each of these modes is specially designed to give eccentric features to users when in batch production or doing iterations. They are known especially to speed up overall print speeds.
The printing volume of this printer is 420 mm * 300 mm * 220 mm. Printing of a part or functional prototype happens inside a passively heated chamber that is fully enclosed, featuring a safety pause door.
To ensure the safety of parts or functional prototypes the printer is equipped with a Category H13 HEPA filter as well as a Carbon filter.
The electronics inside this printer consists of a Single board computer: Toradex ARM Compute Module, whereas the Motion Board: BCN3D Electronics with Independent Stepper Drivers.
The firmware of the printer is BCN3D Embedded Linux distribution BCN3D Epsilon – Marlin.
The heated bed of this printer is made up of Silicon thermal pad, while the body of the printer features a five-inches long touchscreen interface that displays information in various languages:
Spanish
English
German
French
Italian
Japanese
Portuguese and
Chinese
The operating sound of Epsilon W27 is 49 decibels. The printer features a default brass nozzle of 0.4 mm, whereas one can exchange 0.6 mm, 0.8 mm, 1 mm nozzles.
The hotend of the printer has a nozzle diameter of 0.6mm. You can connect with the printer using an SD card, as well as Wi-fi/Ethernet.
The filament diameter that can be used with this printer should be 0.05 mm around 2.85 mm. You can print using PLA, PET-G, TPU 98A, PVA, ABS, PP, PA, PP GF30, and PAHT CF15.
The overall dimensions of this printer are 690 mm * 530 mm * 750 mm, and its weight is 33 kilograms.
The layer height of parts and functional prototypes printed using this printer, depending on the nozzle diameter would be around 0.2 mm, 0.3 mm, or 0.4 mm.
The positioning resolution along with the printer's X, Y, and Z-axis would be 1.25, 1.25, and 1 micrometer respectively.
Price
$6793 is the price of Epsilon W27, and it can be bought from the printer manufacturer's website.
First Impression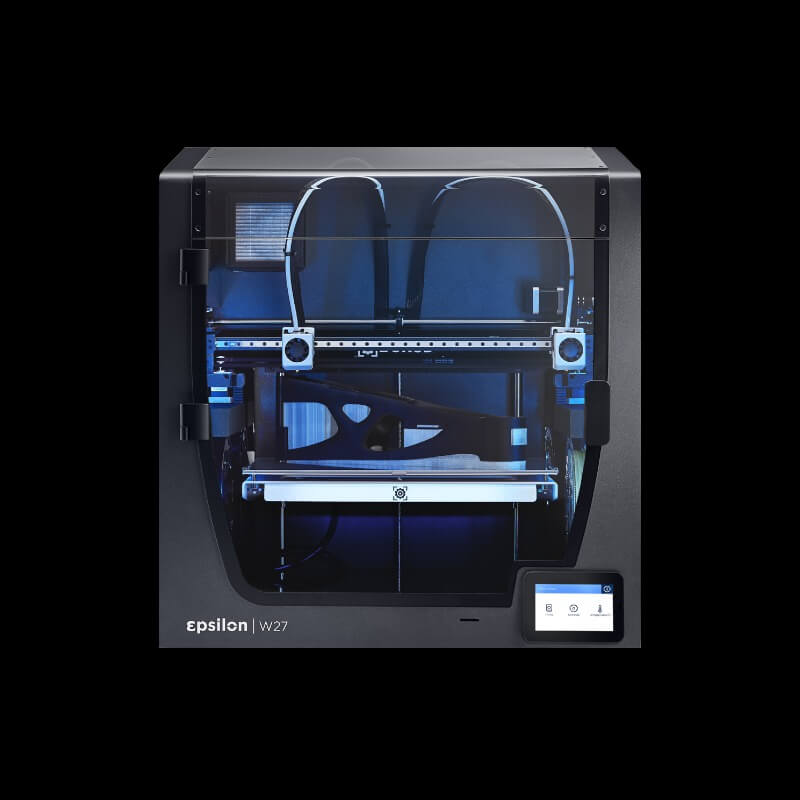 The heated bed of this printer would look be attractively visible to you if the lighting inside the printer is on.
It stands out to you because of the stand on which it stays a little heightened from the ground of the printed chamber.
The nozzle system and rails of the printer are associated with the filament spool holder to ensure smooth integration during the printing process.
The visibility is all thanks to the glass door which interrupts the aluminum frame from being complete. The touch screen interface is present at the right bottom of the body of Epsilon W27.
Setup
The printer comes completely assembled, all you've got to give it is the electricity plugin and then you are all good to go.
But before starting the first print, it is advisable to go through the instruction manual that comes with this printer, as well as the knowledge bank that is present on the manufacturer's website.
And for all the doubts regarding the parts or their functionality inside the printer, you are recommended to contact the company.
Print Type/Cost
FFF 3D printing technology is another name of the most famous 3D printing technology which is the basis of most 3D printers in the world i.e. FDM 3D printing technology.
The layer deposition happens by melting solid filament on the print bed of the printer. This process is repeated layer after the other and the result is a finished part or functional prototype, according to the 3D design file.
The cost of printing, if compared with other 3D printers based on other 3D printing technologies such as SLA or SLS, is lower.
However, it all depends on the geometry of the part, the support structures used for it, as well as the infill required in the part.
Print Quality

The layer height range of parts and functional prototypes manufactured by this printer is 0.05 mm to 0.5mm, which is above average for a printer that is available in the same price range.
Software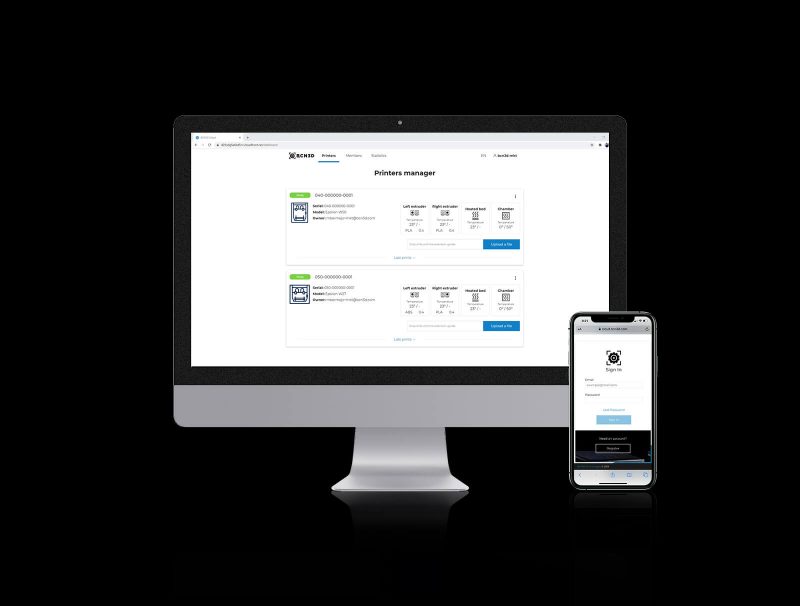 Credit: bcn3d.com
The software that comes along with the printer for designing a part or functional prototype is compatible with all three operating systems:
It supports files with extension STL, 3MF, OBJ, and AMF and browsers like Google Chrome, Mozilla Firefox, Microsoft Edge, Safari, and Opera.
Its name is BCN3D Cura, and its duty is to ensure that the file transfers are smooth and the upgrading of firmware is automatic.
Customer Support
BCN3D is well known in the market for offering world-class customer support. As far as Epsilon W27 is concerned, the company offers two years of warranty for EU countries, and one year of warranty to non-EU countries.
You can always reach out to the company via phone, email, or Skype, the technical team of the company would be happy to help you out with your doubts about anything related to this 3D printer.
Parameters influencing the buying decision
The parameters that one must look at, before buying this 3D printer, are mentioned below in brief.
3D Printer Cost: In between affordable and expensive.
3D Print Quality: Above industry average.
3D Print Speed: Extraordinary especially during batch production.
3D Printer Capability: Not only all the popular 3D printer filaments can be 3D printed, but also rare fiber-filled filaments can be printed.
3D Printer Practicality: A conveniently lucrative option for small business owners as well as professionals in the field.
3D Printer User Expectations: If good quality parts at a reasonable price and print speed are your expectations, it is bound to be fulfilled.
The Verdict
Apart from manufacturers in the field, and small business owners, even hobbyists who are looking for a long term future, can see this printer as a viable option.