Table of Contents
HP is a name that is not new for anyone who hears it. Starting in a garage as an electronic test and measuring equipment manufacturers, HP has grown like a tree from a single root into many branches of green leaves.
Currently, this tree-like company is well-known in its surrounding to give its fruits regularly in the field of manufacturing printers, software products, cloud products, digital cameras, scanners, tablet computers, mobile phones, pocket computers, desktop calculators and computers, business notebooks, personal notebooks, workstations, servers, and a lot more.
In this article, we are going to talk about HP's products in the field of manufacturing 3D printers. And about each of the HP 3D printer price.
For people who do not know about HP's venture into the field of 3D printer manufacturing, it must be surprising to hear about the transition and expansion of this "electrical equipment" manufacturing company devising 3D printers.
The company started walking along the road of additive manufacturing long ago but produced its first checkpoint in the year 2016.
This checkpoint was new even for the companies which started before HP. It is what is currently known today as HP's trademark 3D printing technology.
What is Multi Jet Fusion?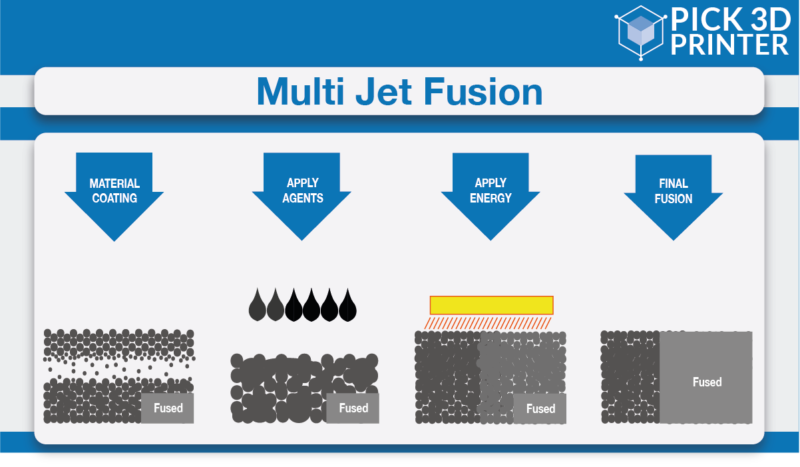 Based on Powder Bed Fusion 3D printing technology, Multi Jet Fusion aims to use plastic for creating parts and functional prototypes.
Technically this technique is known as a mixture of two older existing powder bed fusion technologies: SLS and Binder Jetting.
As mentioned above, this technology, based on powder bed fusion, starts working by laying a bed of powdered material that you have chosen to 3D print parts and functional prototypes.
Let's understand a little bit about the two technologies of which Multi Jet Fusion is said to be a mixture.
Binder Jetting: A printed adhesive/ binding agent is sprayed successively on layers of powder giving the geometry of a part or functional prototype.
Selective Laser Sintering: Starting out with a powder, SLS uses tiny volumes of nylon powder that are also known as voxels. These voxels play the part of connecting the complete part together as does binding agent in the Binder Jetting.
Combining Binder Jetting and Selective Laser Sintering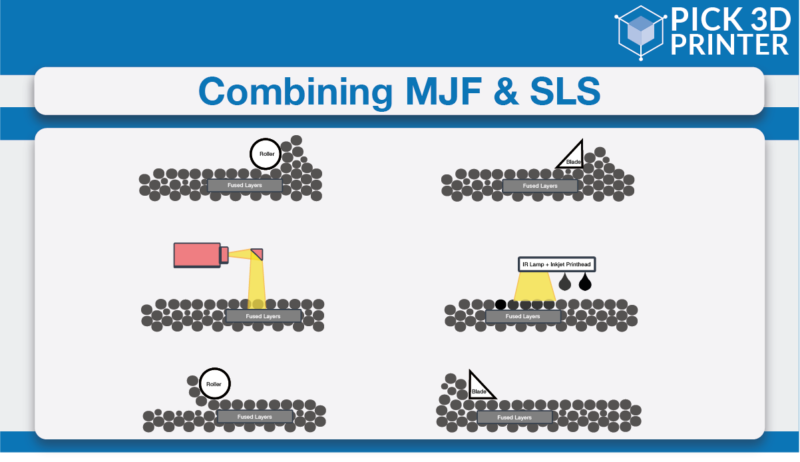 The benefit of HP in the field of 3D printer manufacturing is its lessons from 2D printing.
3D printing technology has 2D printing as its base ideas, and since HP has done it for years and extensively unlike many other companies, it knows the best of heavy-duty 2D printing.
Multi Jet Fusion, like binder jetting 3D printing technology, uses inkjet printing for defining part geometry, but that's all it takes from binder jetting.
Then the technique diverges in the way it fuses the powdered material into a part or functional prototype.
In printers based on Multi Jet Fusion technology, each fraction of part or functional prototype is created in a specific manner.
After the layer of powder is spread uniformly over the print bed of the 3D printer, the Inkjet print head spreads across the print bed, uniformly, millions of drops of light-absorbing ink. The voxels that can successfully keep up even after distribution of this light-absorbing ink keep up, while the rest fall away as powder. Surplus inks, in this case, helps mark a boundary of parts and functional prototypes that can then provide other properties such as color.
The work of sweeping is now shifted from the print head of the printer to the heater that sweeps across the complete print bed. The areas of the voxel that are ink-marked absorb enough of the infrared energy for sintering the underlying part or functional prototype while the rest remains fully-colored.
Using this technology parts and functional prototypes are printed in an HP 3D printer. To date HP has three 3D printers to its name:
Jet Fusion 5200 Series.
Jet Fusion 4200.
Jet Fusion 500/300 Series.
HP 3D printer price for all three of these printers is different from each other in the terms of their features and service offering.
We'll now look at each of these printers one by one, giving you a brief idea about each one of them.
Jet Fusion 5200 Series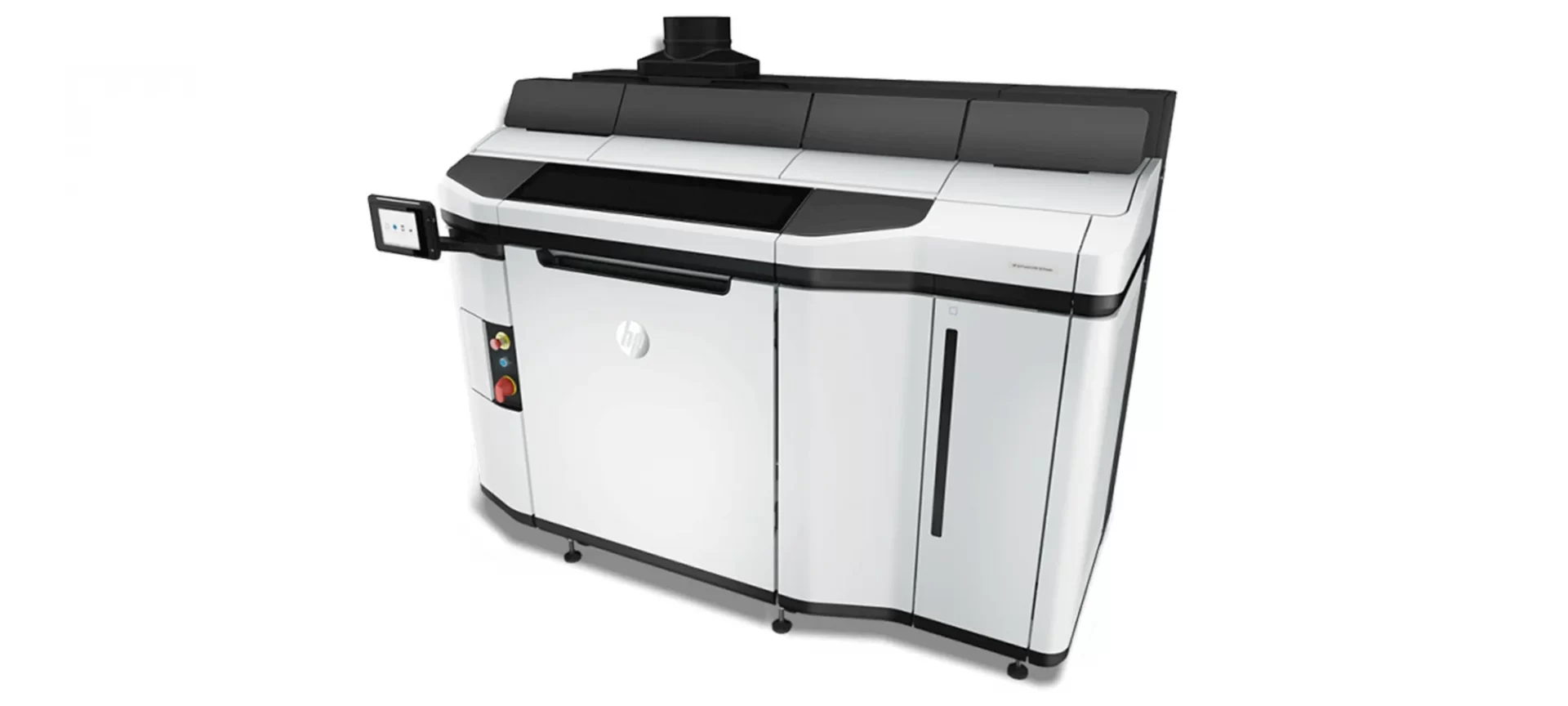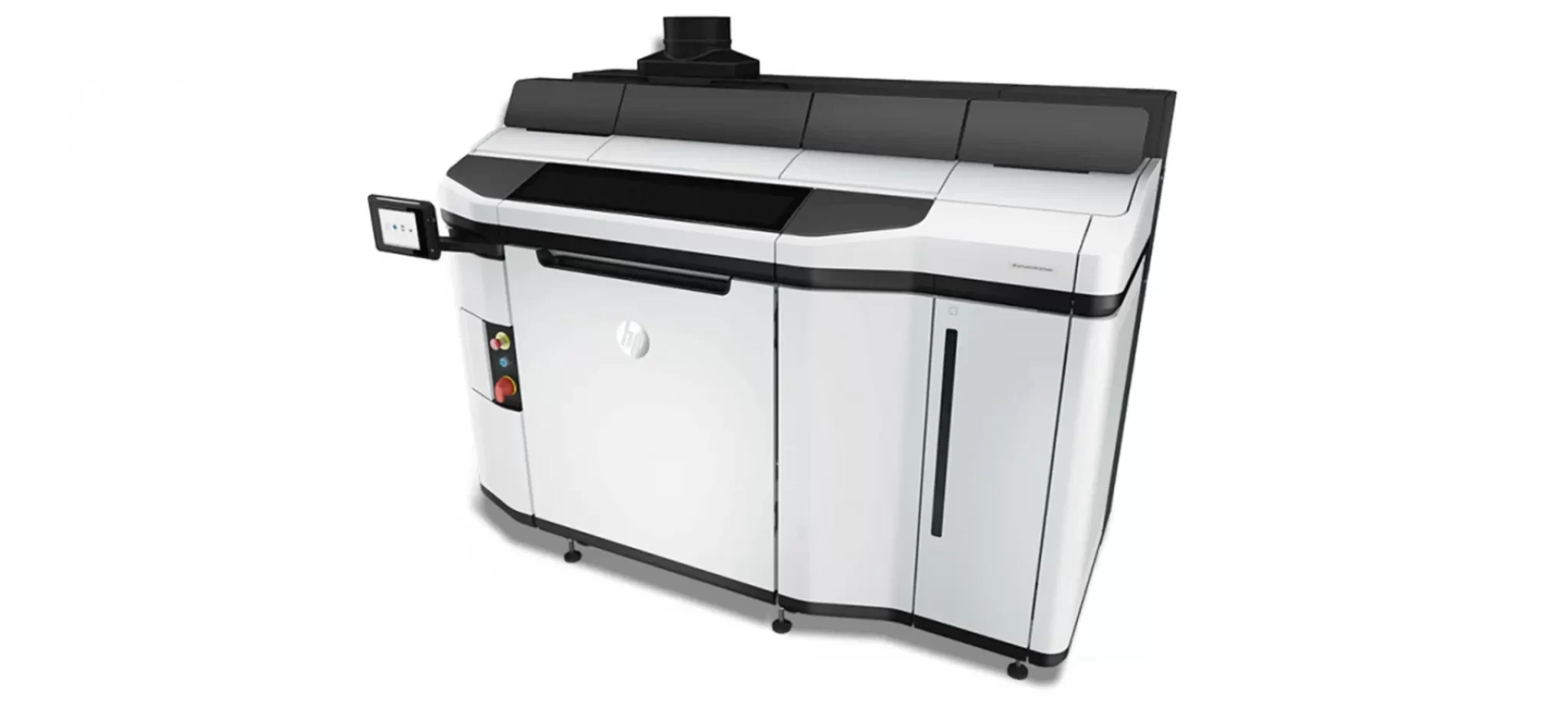 While the other two on the list are known for short runs and short production, the Jet Fusion 5200 Series is HP's offering to the world of long runs and longer production needing manufacturers.
The hardware of this 3D printer system comes with a number of significant improvements and upgrades that enable the user to take advantages like higher productivity, accuracy as well as consistency in the quality of each part or functional prototype that is manufactured.
Insights that led to the improvement of features in this 3D printing system were a gift to the company by its previous Multi Jet Fusion technology users. Three main categories include:
3D Printer cost.
3D printer productivity.
3D Printer applications.
Notable Features of this printer
The single-pass configuration is noted to be the most notable feature of the Jet Fusion 5200 Series.
This new system effectively is able to travel in the center of the operation from two-pass mode to a single pass mode.
An even more powerful lamp and a higher degree of productivity compared to HP's previously employed MJF systems fuels this process for all its users and creating opportunities for working with materials that achieve glass transition temperature at a greater number than others.
The thermal imaging system of this printer is developed with more sophistication and five times the resolution of the Jet Fusion 4200.
A new cooling module that enables faster and safer operation, streamlining and automating the complete production process.
Jet Fusion 5200 Series features a low-cost cooling unit that sits on top of the build unit and is hot even after the completion of the printing process.
The liberation of the build unit for the next job is completed when the "still-hot parts" are automatically transferred into the cooling boxes.
The complete system of Jet Fusion 5200 Series consists of three 3D printer models: The Jet Fusion 5200, 5210, and 5210 Pro.
Jet Fusion 5200 series HP 3D printer Price
The 5210 and 5210 Pro are of more economic value than Jet Fusion 5200 because they are more conducive for industrial applications and they enable manufacturers to see the status of their machine even from a distance.
You need to Get a Quote from the company to know the exact price of any of these 3D printers. However, estimations of the price of Jet Fusion 5200 Series is around $ 250,000.
Jet Fusion 4200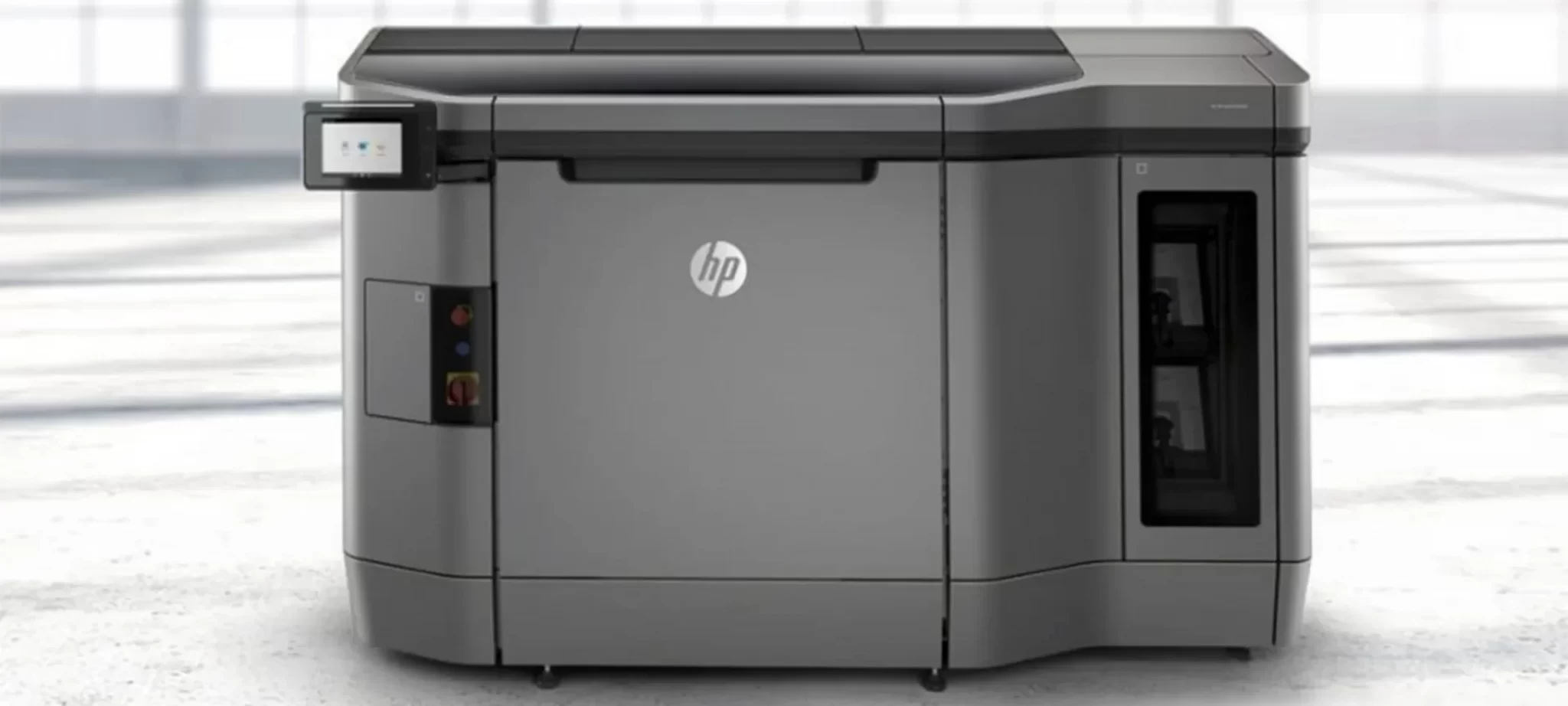 Able to produce parts and functional prototypes of medium-range, the Jet Fusion 4200 is considered ideal for industrial prototyping and final part production for manufacturers who do not wish to spend as much as the HP 3D printer price 5200.
The printer allows you to choose between print modes that are tuned for mechanical, or functional, or aesthetic properties, printer accuracy, and speed.
Jet Fusion 4200 has a size of 2210 mm * 1200 mm * 1448 mm and weighs 750 kilograms. The layer thickness of this machine is 80 whereas its print speed is 4115 cubic centimeters per hour.
An XY precision of 1200 dpi and can print file types such as 3MF, STL, OBJ, and VRML.
When the printer reaches your place, you can plug and play it directly, it needs no further assembling or installation.
The maximum build volume offered by this 3D printer is 380 mm * 284 mm * 380 mm.
Notable Features of the printer
Calibration which is one of the most important things to achieve before starting any 3D print is an area where more experienced hands are needed.
By providing an auto-calibration feature in the printer, HP has thinned out the line between experienced hands and first-timers.
The nozzle to print bed height will be automatically leveled depending on the part or functional prototype that you are 3D printing.
A highly effective and functioning control screen that not only lets one monitor but also operate various parts of the printer, makes it easier for people to manufacture parts and functional prototypes with lesser human intervention.
Ensuring the temperature needed to melt the powder, a closed chamber is designed by the manufacturers of this printer that lets users print parts and functional prototypes with uniformity.
And once the parts or functional prototypes are prepared, they can be cooled instantly using the processing station of this printer.
Jet Fusion 4200 series HP 3D printer Price
For knowing the HP 3D printer price of this printer, one needs to get a quote from the company. However, estimations of the price of this printer are around $268,000.
Product
Specification
Videos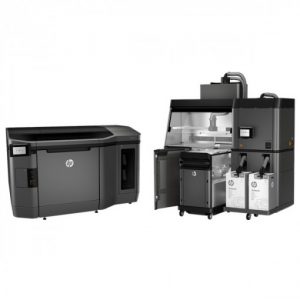 This 3D printer has featured many lists of best 3D printers that one should buy for this year. Jet Fusion 3D 4210 such an option that users can ...
| | |
| --- | --- |
| Model | Jet Fusion 3D 4200 |
| Manufacturer | HP |
| Price Range | $ 100000 – $ 250000 |
| Release date | 2016 |
| Country | United States |
| Availability | Available |
| Classification | Industrial |
| Technology | Material Jetting |
| Material | Ceramic, Other plastics |
| OS compatibility | Microsoft Windows |
| Max. build size | 380 × 284 × 380 mm 14.96 × 11.18 × 14.96 in |
| Max. build volume | 41.01 L |
| Min. layer thickness | 0.08 mm 0.003 in |
| Dimensions | 2210 × 1200 × 1448 mm 87.01 × 47.24 × 57.01 in |
| Weight | 750 kg 1653.47 lb |
| Power input | 9 to 11 kW @ 110-220 V 50-60 Hz AC |
| Heated print bed | No |
| Heated build chamber | No |
| Automatic calibration | No |
| Closed frame | Yes |
| Dual extruder | No |
| Independent Dual Extruder | No |
| Full color | No |
| LCD screen | No |
| Touchscreen | Yes |
| On-board camera | No |
| Mobile app | No |
| 3D scanners | No |
| CNC mill | No |
| Electronics 3D printing | No |
| Laser engraving | No |
| Conveyor belt | No |
| Air filter | No |
| Pellet extruder | No |
| USB | No |
| Wifi | Yes |
| Bluetooth | No |
| SD card | No |
| Ethernet | Yes |

Jet Fusion 500/300 Series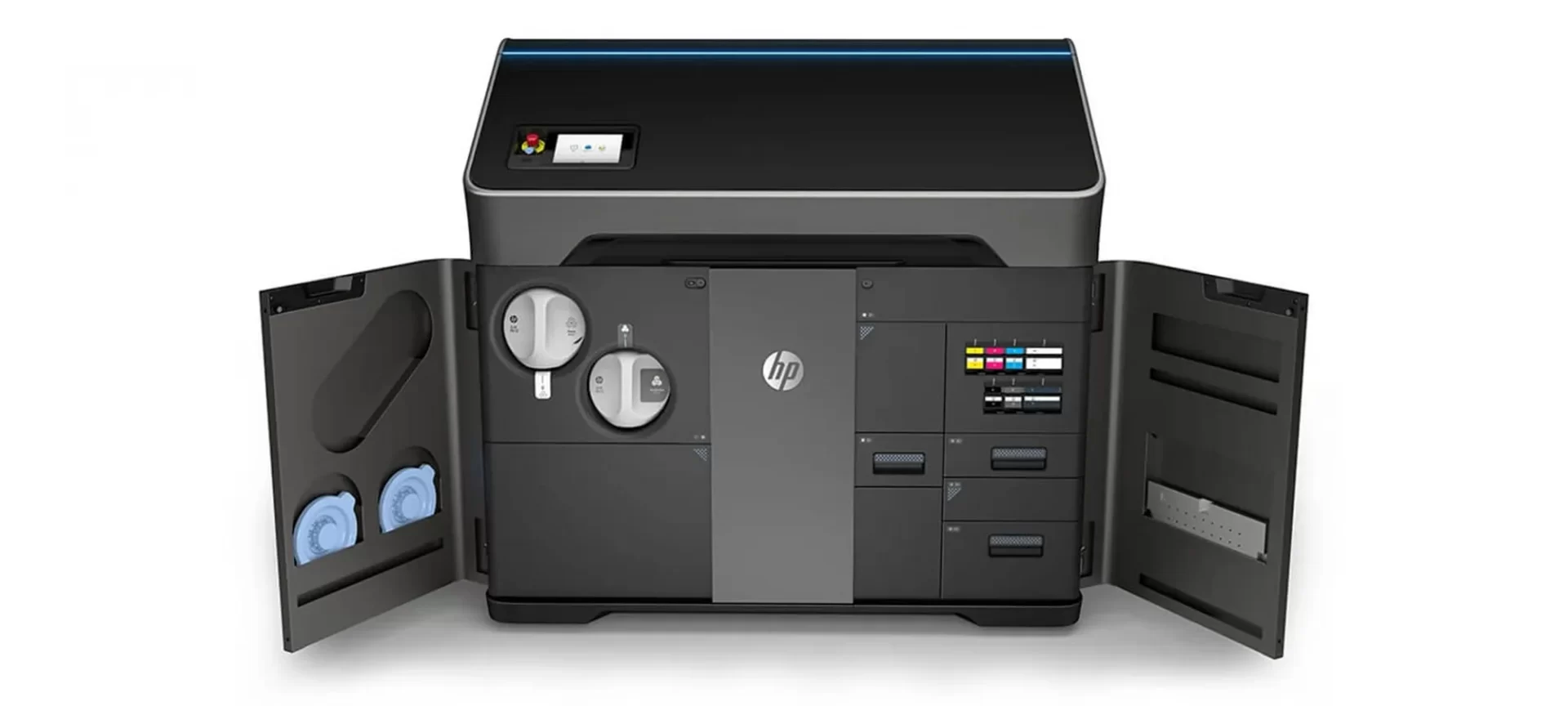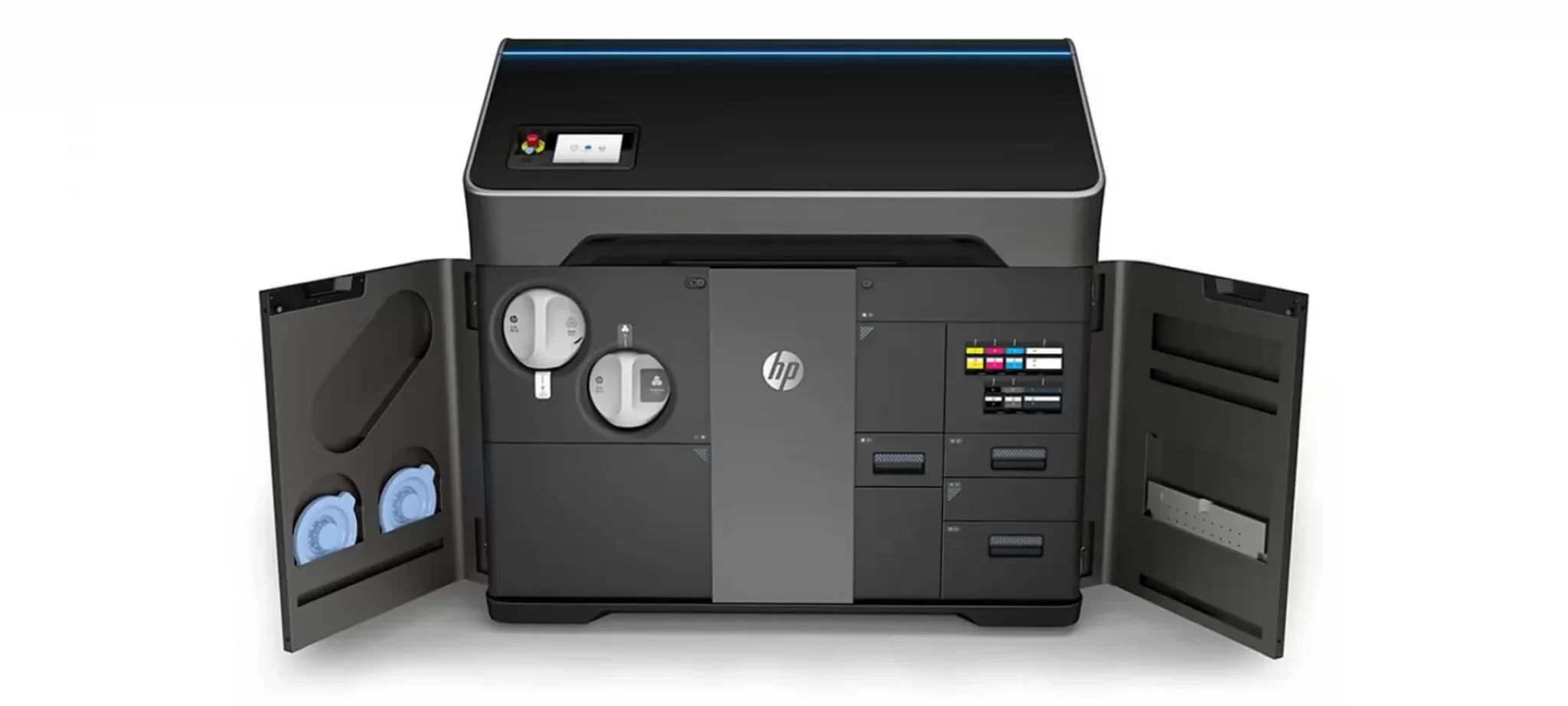 Being the most compact 3D printer in its offering, HP Jet Fusion 500/300 series printers are designed by cost-effective small to medium-sized product development teams.
Primarily designed for design firms that need professional 3D printing, as well as universities that want to teach their students with this amazing new manufacturing technology, HP Jet Fusion 500/300 series can increase your productivity by producing multiple design iterations at the same time, it takes for printing a single print.
The size of this printer is 1565 mm * 955 mm * 1505 mm, whereas its weight is 650 kilograms.
Like the previous 3D printer series on the list, this one too manages to offer a layer thickness of 80.
The speed of the 3D printing part and functional prototype offered by printers in this range is 2340 cubic centimeters per hour and the precision along the XY axis is 1200 dpi.
HP Jet Fusion 500/300 series offers a build volume of 190 mm * 332 mm * 248 mm. File formats that can be printed using this 3D printer are 3MF, STL, OBJ, and VRML.
Notable Features of the printer
Engineers would love to tweak and tinker with this printer because it has the ability to produce accurate functional parts that require intricate detailing.
Also as a user, it is fun to operate on this printer which promises to produce engineering-grade thermoplastics with optimal mechanical properties.
Whether your part is to be manufactured in black, white, or fully colored, you would always be able to stay ahead of the competition because of a technology that is completely ready and supportive.
As mentioned in the above section of this article, using 3D printers in this series you would be able to increase your productivity.
There are two 3D printers available in this series: HP Jet Fusion 580 Color, and HP Jet Fusion 540.
Jet Fusion 500/300 series HP 3D printer Price
You can buy the 3D printer from a reseller near you or from any website that functions as e-commerce for 3D printers.
These printers are known to be available anywhere in between the price range of $20,000 to $120,000.
All the series of HP 3D printers use HP Smarstream 3D Build Manager, HP Smarstream 3D Command Center as software to build a 3D design file of the part or functional prototype you wish to 3D print with.
The Conclusion
HP's Multi Jet Fusion has a very positive review to print parts and functional prototypes with unmatched accuracy.
Users of these printing systems recommend adjusting a little with the cost of getting a higher quality of products.
HP 3D printer price may seem on a higher-end, but they are only because of their proprietary 3D printing technology.
One should always remember before buying a product of HP, the immense amount of experience it possesses in the making of 2D printers. Also, to remember is that HP also acts as a 3D printing service provider.
So, if you wish to get parts straightway from the company, without purchasing its printers, it is possible.
You can check out the website of the company for more information regarding the HP 3D printer price, as well as HP 3D printing services.
Hope this article serves you the aim with which it started and provided you insights that were new and curiosity-raising.