Anycubic Mega S
Anycubic Mega S is an ideal machine that gives users great print quality at an affordable cost. Its steady frame, offering stable operation at higher speed provides users the best results without hassle.
PROS
Delivers good print results.
Quick to assemble, no previous experience needed.
Continued 3D printing even after power interruption.
The print bed heats up quickly.
Low error rate.
Relatively fast print speeds.
CONS
The filament holder's position is unfavorable.
The printer is relatively loud during printing.
Printing with metal PLA is not possible with Mega S.
High power consumption.
Table of Contents
Product
Specification
Videos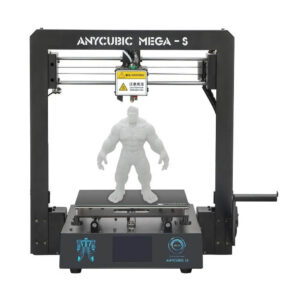 A semi-assembled 3D printer, Anycubic Mega S boasts an all-metal design and a robust build. Hence, users can expect the machine to perform with high ...
| | |
| --- | --- |
| Model | Mega-S |
| Manufacturer | ANYCUBIC |
| Price Range | $ 299 |
| Release date | 2019 |
| Country | China |
| Availability | Available |
| Classification | Desktop |
| Technology | Extrusion (FFF- FDM…) |
| Material | PLA |
| Generic material | Yes |
| Max. build size | 210 × 210 × 205 mm 8.27 × 8.27 × 8.07 in |
| Max. build volume | 9.04 L |
| Heated print bed | No |
| Heated build chamber | No |
| Automatic calibration | No |
| Closed frame | No |
| Dual extruder | No |
| Independent Dual Extruder | No |
| Full color | No |
| LCD screen | No |
| Touchscreen | No |
| On-board camera | No |
| Mobile app | No |
| 3D scanners | No |
| CNC mill | No |
| Electronics 3D printing | No |
| Laser engraving | No |
| Conveyor belt | No |
| Air filter | No |
| Pellet extruder | No |
| USB | No |
| Wifi | No |
| Bluetooth | No |
| SD card | No |
| Ethernet | No |

Known for manufacturing cheap 3D printers that deliver outstanding quality prints, Anycubic's Mega S lifts the printer manufacturer's reputation further within AM niche.
Mega S is one of those machines that users can depend on for delivering high-quality prints consistently with low error. The 3D printer has dominated the low-end market by offering new features at an affordable price. Precisely, Mega S is an upgraded version of the i3 mega printer.
Like other upgraded versions, Mega S too has added features and abilities and is better than its predecessors. The machine now hosts a mechanical filament sensor that can automatically detect when users are running at low filament levels. Moreover, the new extruder design is capable of handling flexible filament. In addition, the printer is also equipped with the power recovery loss feature.
Having stated so, let's discuss in detail the printer to find out whether Mega S is worth the money it's priced at?
Features
The Mega S from Anycubic is a very impressive 3D printer. It comes along with various unique and exceptional features, not available in machines in the same price range.
A decent print volume coupled with precise printing offer customers accurate parts that are easy to create. Overall, the manufacturer ensures that the printer works as per the users' expectations.
So, here is a list of some of the most fascinating features that allow Mega S to perform astonishingly.
Fast Assembly
Anycubic's Mega S 3D printer comes in a semi-assembled design. While it may take some time to fix the components together, the work isn't as tedious as it's the case with DIY printers.
Apart from the beginners, the printer is for all those who don't prefer building a product from scratch. All one needs to do is connect three wires and setup its eight screws. It is as simple as it sounds.
Sturdy Metal Frame
One of the features that Mega S borrows from its predecessor is its shape. The printer has a huge sturdy all-metal frame. This feature contributes to the consistent printing quality that comes in handy when working at a higher speed.
Stability is very crucial when it comes to 3D printing quality produced using entry-level 3D printers. If the print surface is not stable, users are bound to experience print imperfections.
Power Recovery Loss and Filament Run-out Detection
Although meant for fulfilling a simple function, this feature is very useful. It effortlessly deals with power outages. To avoid failed prints, the machine saves the part progress during power loss and resumes printing once the power is back. It doesn't only save users from working again on the same design, but also avoids unnecessary expenses too.
Another fascinating feature of Mega S is filament run-out detection. Because of this feature, the printer automatically stops working when the filament is over. In fact, the printer notifies users of filament shortage through an alarm.
High-quality Resolution and Increased Filament Compatibility
Unlike many 3D printers falling in the same price range that struggle when offering precise layer resolution, Anycubic Mega S goes a step further by allowing a maximum print resolution of 0.05 mm or 50 microns.
Therefore, ensuring that the layers aren't too obvious after the printing of parts completes. And this goes even while printing detailed prints with support structures. The printer can offer dimensional accuracy in printing intricate geometries.
Mega S supports printing with popular filaments such as TPA, PLA, ABS, PETG, and TPU. Apart from that, the printer is also good while dealing with flexible filaments. Its extruder can withstand high temperatures and so does the printer's hot end. Moreover, Mega S' build plate offers a decent amount of adherence which is suitable for flexible filaments.
Full-color Touch Screen and Titan Extruder
Anycubic Mega S' is equipped with a full-color touch screen that supports multiple languages. With a friendly interface, the touch screen eases out overall user interaction with the printer. It allows complete control over various 3D printing functions that the printer supports.
Titan extruders are well-known in the 3D printing industry for working smoothly with flexible filaments. The filaments filling is simplest when working with titan extruders. Also, the storage of filament is simple and straightforward.
Ultrabase Heated Bed and Large Build Volume
Mega S comes with a heated bed that ensures that all the prints stick to it and come right off as soon as the printing is completed. Moreover, the heated bed makes it possible for printing with filaments that have high glass transition temperatures. Also, it expedites the heating process, enabling users to start printing without waiting for too long.
Anycubic Mega S boasts a high build volume with dimensions 210 mm * 210 mm * 205 mm. The printer makes it possible to print parts with larger volumes in one go.
Specifications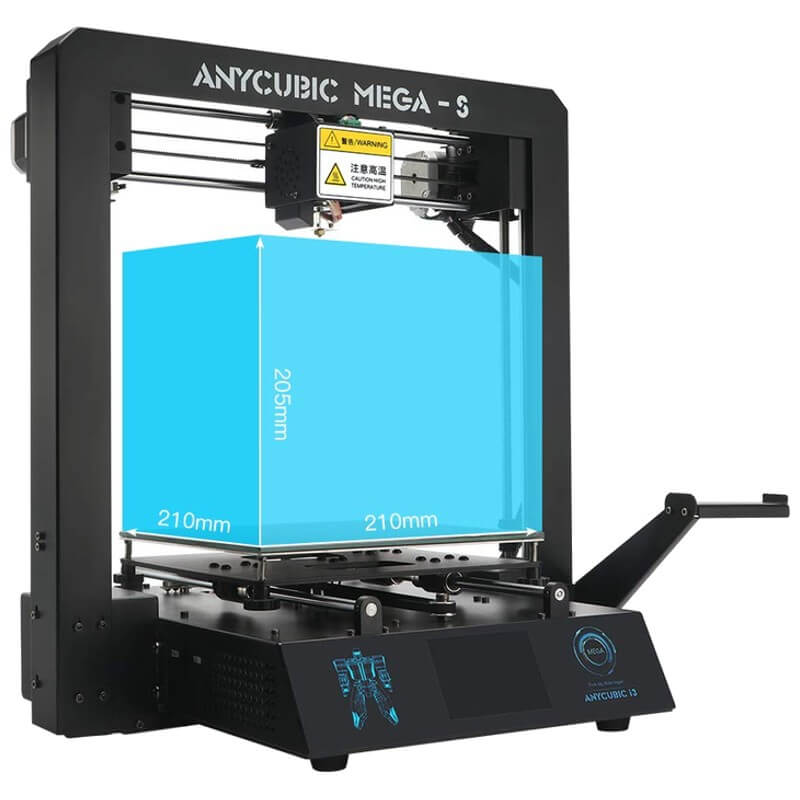 Credit: .powerplanetonline.com
Anycubic Mega S prints using FDM 3D printing technology. It has a Cartesian XZ head mechanical arrangement and comes semi-assembled. The printer offers a maximum build volume of 210 mm * 210 mm * 205 mm.
The layer height ranges between 100 microns to 400 microns. The printer's feeder system consists of a Bowden drive and geared feeder.
Mega S features a single extruder with a nozzle size of 0.4 mm. Its extruder and heated bed can withstand maximum temperatures of 275 and 100 degrees Celsius. The printer has an Aluminum frame which offers stable prints at high speed too.
It has an open print chamber and an ultrabase heated bed. The printer's body features a full-color touch screen interface. Users can connect with Mega S using an SD card and USB cable. It accepts ABS, PLA, PETG, TPU, and other filaments of 1.75 mm diameter.
Price
Anycubic Mega S is available for $339.99.
First Impression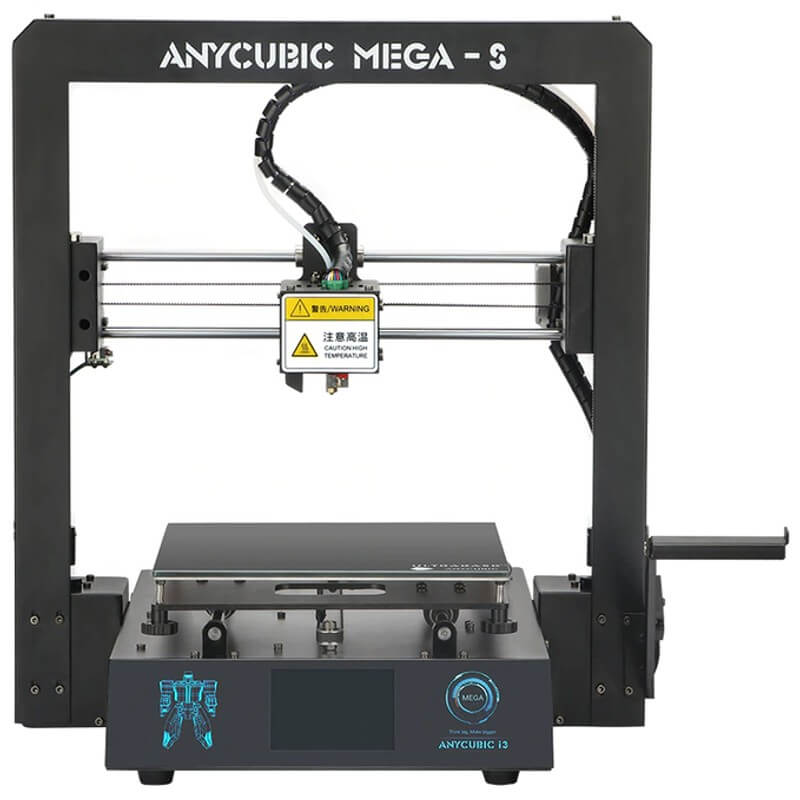 Although not very appealing in terms of its design, Mega S boasts great precision, often not available with its competitors. It is a great device that has a black matte, fully rigid, metal frame ensuring high stability while the printing process is in progress.
It is similar to many other 3D printer kits hosting an open printing chamber. At its base, there is a small 3.5-inch display with a color touch screen for quick operation, without needing a connection to the computer.
Mega S is not a plug-and-play device. On the contrary, it comes semi-assembled. Boasting a modular design, it does not take much effort to put the components together for completing the setup. Apart from the main unit, a power supply unit is also included.
Additionally, all the tools and manual instructions that come along with the printer make the setup process even easier. Moreover, you get a USB cable, a power cable as well as some screws.
Setup
Assembling the Mega S 3D printer takes a few minutes of your time as it is already delivered pre-installed.
To be candid, users only need to mount the frame with two screws and connect the sensors as well as motors with the electronics that the printer is housing, and finally plug in the connector.
As the connectors are present right behind the printer's Z-axis and are all color-coded in different sizes, it is usually easy to get the work done.
Tips to deal with one each of the components are properly described in the manual. The motors and threaded spindles are already greased. Hence, users do not need to carry machine maintenance once the setup is complete.
The belt tension of the GT 2 timing belts is also present inside the printer's package. Users need to manually adjust the print bed of Mega S themselves.
However, the leveling can be easily done by placing a piece of paper underneath while the printer is preheated to the PLA temperature. It is also clearly explained in the instruction manual. From unboxing to set up, it may take around 30 minutes or more, depending on your experience of handling DIY machines.
Print Type/Cost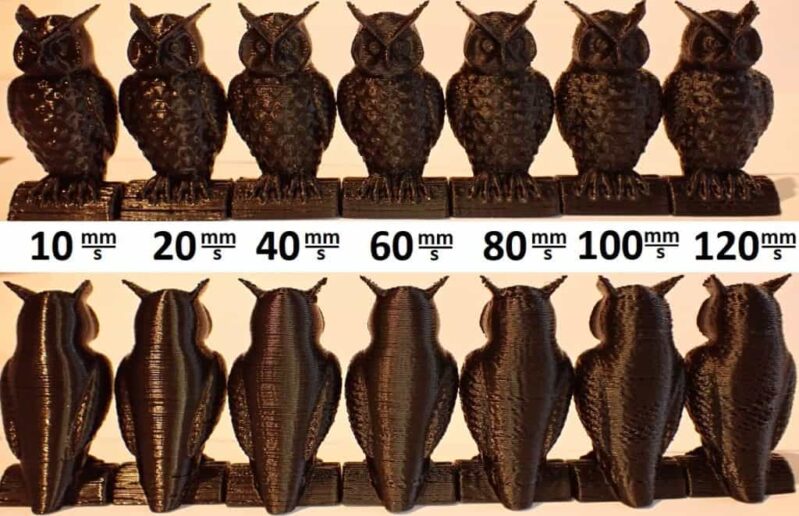 Credit: the3dprinterbee.com
Anycubic Mega S is based on the FDM 3D printing technology. Hence, it carries the same components that are common with other FDM printers. It has a filament spool holder, the extruder, nozzle system, and the print bed.
The process starts by heating the filament till it reaches its glass transition inside the extruder. Then, the melted filament is deposited layer by layer, using a nozzle. After each layer solidifies, the print bed moves a little to make room for the next layer. This process continues until the complete part is printed.
The cost of 3D printing parts depends on various factors such as part geometry, the raw material that goes into the printing, the design, support structures, infill percentage, etc. Generally, FDM 3D printed parts cost lower than other advanced 3D printing technologies that use expensive light sources to cure the material.
Print Quality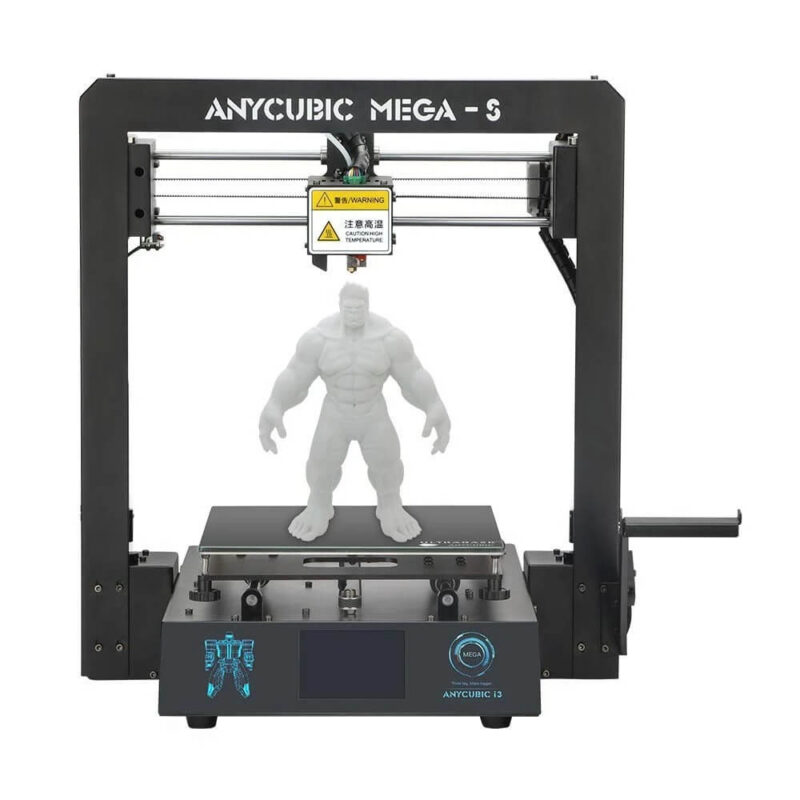 Credit: all3dp.com
Printing with Mega S is a hassle-free experience. Its printing platform is a coated glass plate that adheres very well. The Ultrabase 3D printing bed is screwed to the aluminum heating plate with a small metal clip as well as with nubs.
Hence, users can easily remove the printed parts from the plate without any problem, without even using a spatula. Also contributing to the print quality is the Titan extruder and software that lets you optimize the print settings.
Software
Mega S uses the standard Cura software. The application supports multiple input formats such as STL, OBJ, DAE, and AMF. With its intuitive interface and user-friendly settings, the application works well for even beginners with little to no experience with 3D modeling. A very straightforward software that allows for last-minute design changes with ease.
Customer Support
Anycubic offers excellent after-sale service to help users with sort of problems related to the device. Users can call or email the technical support team for contacting directly.
Parameters Influencing Buying Decision
It is crucial to go through the important parameters before planning to invest in a 3D printer. Hence, here is a quick bite from the above review to help users make the right decision.
3D Printer Cost: Considering the build volume and layer resolution offered by Mega S, its cost is extremely affordable.
3D Print Speed: Being an FDM 3D printer, Mega S delivers huge print sizes in optimal print time.
3D Print Quality: The printer can manufacture extremely complicated geometries accurately.
3D Printer Capability: Mega S is compatible with more than one popular 3D printing filament. In fact, it also prints with flexible filaments, thanks to the heated bed put in place.
3D Printer Practicality: The printer comes semi-assembled. It offers ease of use and decent print quality. Hence, beginners, as well as enthusiasts, can take advantage of its features to create amazing designs.
3D Printer User Expectations: Mega S produces good results prints because of its simple operation. Even if you do not have any prior experience with 3D printing, it is still easy to operate this intuitive machine. Yes, it fulfills customers' expectations with ease.
The Verdict
Anycubic Mega S is an ideal machine that gives users great print quality at an affordable cost. Its steady frame, offering stable operation at higher speed provides users the best results without hassle.
With most of the automated features, enabling ease of use, make this printer is the perfect choice for beginners. Not to forget, it is fun to create complex geometries with this budget-friendly machine.