Phrozen Sonic Mini
Sonic Mini is a very safe option to experiment your initial years with 3D printing. You can bring into reality a variety of different ideas with this easy-to-set-up and operate SLA 3D printer in relatively no time at all.
PROS
Extremely affordable.
Easy to use.
Faster than its competitors.
CONS
Offers a smaller build volume.
USB input is not that good.
Product
Specification
Videos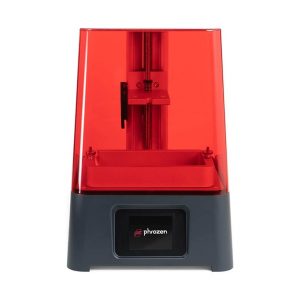 Using resin 3D printing, Phrozen Sonic Mini is a desktop 3D printer offering a build volume of 120 mm * 68 mm * 130 mm. The machine provides ...
| | |
| --- | --- |
| Model | Sonic Mini |
| Manufacturer | Phrozen |
| Price Range | $ 269 |
| Release date | 2020 |
| Country | Taiwan |
| Availability | Available |
| Classification | Desktop |
| Technology | Resin (SLA- DLP…) |
| Material | Liquid resin |
| OS compatibility | Mac OS, Microsoft Windows |
| Generic material | Yes |
| XY accuracy | 0.062 mm0.002 in |
| Max. build size | 120 × 65 × 130 mm 4.72 × 2.56 × 5.12 in |
| Max. build volume | 1.06 L |
| Min. layer thickness | 0.01 |
| Dimensions | 250 x 250 x 330 mm 9.84 x 9.84 x 12.99 in |
| Weight | 4.5 kg 9.92 lb |
| Heated print bed | No |
| Heated build chamber | No |
| Automatic calibration | No |
| Closed frame | Yes |
| Dual extruder | No |
| Independent Dual Extruder | No |
| Full color | No |
| LCD screen | Yes |
| Touchscreen | Yes |
| On-board camera | No |
| Mobile app | No |
| 3D scanners | No |
| CNC mill | No |
| Electronics 3D printing | No |
| Laser engraving | No |
| Conveyor belt | No |
| Air filter | No |
| Pellet extruder | No |
| USB | Yes |
| Wifi | No |
| Bluetooth | No |
| SD card | No |
| Ethernet | No |

Table of Contents
The Phrozen Sonic Mini utilizes a printing technology called stereolithography. As most of you might know, this is the second most available 3D printing technology characterized by using photosensitive resin and ultraviolet light for generating the pieces on the printer's printing surface.
While the printer looks a little bit like the Phrozen Shuffle Lite which can also be termed as the company's budget MSLA offering, it has its own identity so, don't let the similarities fool you.
For, it's a completely different beast that's capable of printing fast as much as five centimeters per hour under optimal conditions. Having stated so, the printer is as cheap, if not cheaper than its top competitors.
In this article, we are going to look at various aspects of the printer and try and analyze each one of them in-depth.
So, if you are considering buying an SLA 3D printer in a much affordable range, and Sonic Mini is on your list, it'll help you decide whether to buy it or not. And anyways reading it will provide you insights about the printer like no other.
Features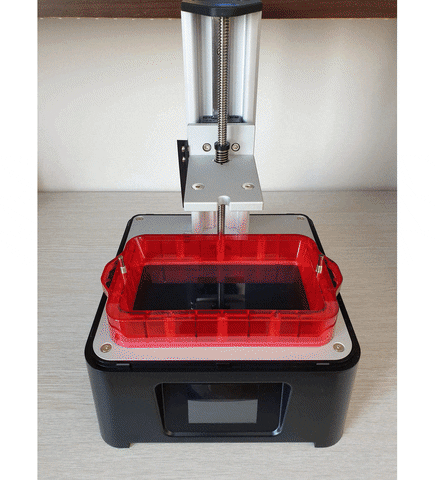 There are some amazing features that Phrozen Sonic Mini is a host to. Above that, starting the printer is very easy, since the time it reaches your place; it will only take five minutes to start printing with it.
Sonic Mini uses thermal stable mono-LCD which makes its lifetime over 2000 hours, so you do not need to make extra efforts for maintaining the printer.
The printer is compatible not only with all LCD resins but also with most DLP resins. It allows you to do faster printing compared to its competitors, offline printing by touch panel, and a lot more. Let's find out.
Translucent resin tank
The clear plastic bucket would make you feel at first glance as if it is lower in quality than the ones that you must have used, made up of aluminum.
Because of a simple reason that metal always gives you a better feeling than plastic when purchasing products. But after using it, your mind is almost certain to undergo changes which are logically for two reasons.
The first is very simple, and for noticing which you will have to fill it with liquid resin. It allows you to see at all times the level of resin available in it.
Because of this, if at any given time you fall "short" of resin, you can immediately visualize it and fill it a little on the side with great care. So, in all, you have easy access to monitoring the resin level!
The second reason is because of the easy access you will be able to detect possible errors in the printing much sooner than trays made up of aluminum, or similar metals that are not transparent.
So, you can stop if the print is not happening in the way you wish it did. Say you are halfway into the 3D printing process of a part or functional prototype, and you find some flaw, you'd be immediately able to stop. Hence, this feature will let you save time.
Easy parts removal and maintenance
Access to extract the parts or tray, as well as the handling and maintenance of the Sonic Mini is a very comfortable task.
All you need to do is just remove the top methacrylate closure, doing so will give you full access to the 360º degrees of the machine.
It should be noted how in other more encapsulated 3D printers you can only operate frontally because you do not even have an access to the other faces.
Working with such printers is something that is quite uncomfortable and very restrictive when using it.
In this context, the packaging of the Phrozen Sonic Mini gives you high freedom, and is also appreciated a lot from the very first impression.
Additionally, the maintenance in this type of printer is practically zero, so you would not be hurt to have this type of comfort by any means, in any way.
Odor free printing
Generally, printers such as this one are known to give away terrible smells. In that context, the Phrozen Sonic Mini will pleasantly surprise you.
After printing with the printer, you will know that the printer takes away all the fumes within minutes of time and after that, you don't even realize printing took place in that room.
This is practically an impossible phenomenon to have with other 3D printers. You will realize that not only does the smell literally escape through the joints of the enclosure provided in the printer, but the fan expels almost all the particles inside.
Also to note is the enclosure of the Phrozen Sonic Mini 3D printer which is made up of very basic encapsulating material methacrylate, but is incredibly effective.
There is hardly any smell to the point of being negligible present in the room and that little exists only when you pour the resin or when you remove the dome for the extraction tasks.
Otherwise, there is almost no odor at all. So, the biggest issue of dealing with smells while printing with an SLA 3D printer is something that you would not face while 3D printing with Phrozen Sonic Mini.
Simple leveling process
To carry out the leveling process of Phrozen Sonic Mini, you must press a button on the LCD display present on the body of the printer.
The same LCD will guide you through instructions on the screen, and you will not need to follow instructions from a written manual or videos on YouTube, like it is typically with other 3D printers.
Leveling procedure is very simple, all you need to do is just loosen 4 hex screws (metric 4). After doing so, when the printer has lowered the platform to the end of the stroke, you'll have to tighten them and that's it! You're done.
We advise you to not perform any operation later, whether it's easier or impossible.
Most certainly we recommend you to continue using a folio for keeping the distance that the FEP sheet will occupy, but unlike with its competitor Anycubic Photon, don't measure the resistance that the printer offers when trying to remove it.
Excellent accuracy and print quality
The printer does not use conventional COB LED design, instead, it uses ParaLED i.e., parallel UV LED matrix backlight system.
This is what makes Sonic Mini possess excellent accuracy print and quality for the complete build platform.
Using the printer, it is possible to create small as well as big parts or functional prototypes with dimensional accuracy.
Specifications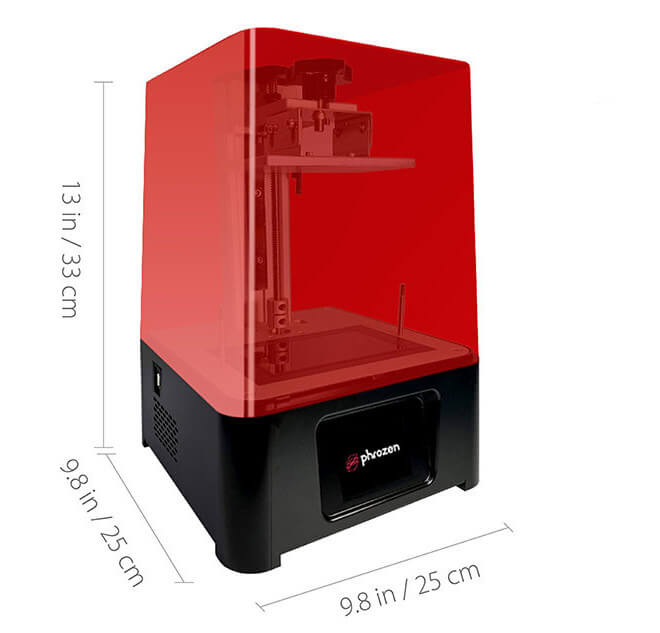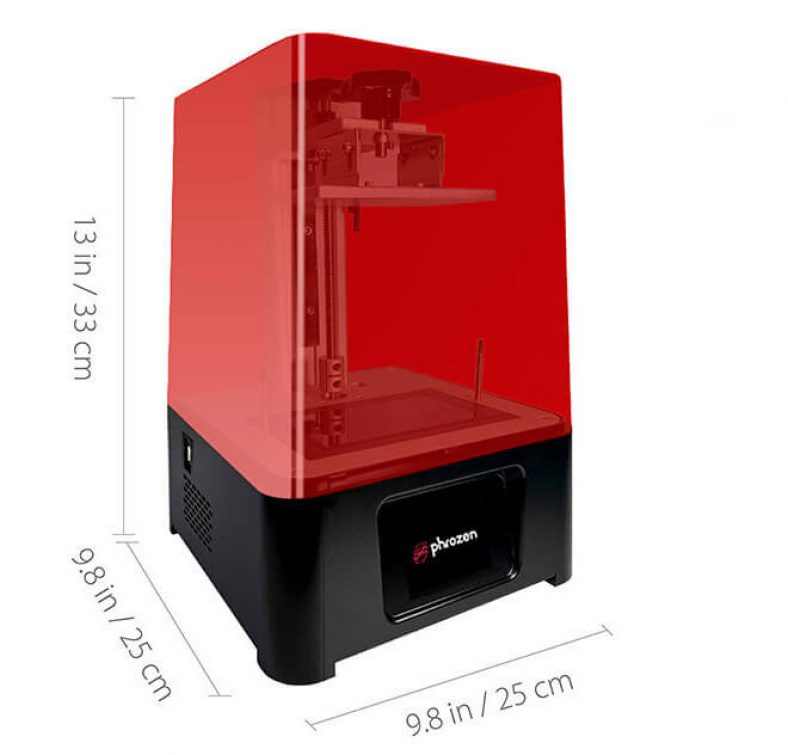 Phrozen Sonic Mini is based on LCD-based masked SLA 3D printing technology. The printer is home to LCD which is custom-made 5.5 inches long, 1920 mm * 1080 mm in area.
It utilizes a light source of 405 nanometers wavelength for curing parts and functional prototypes. The model's name is ParaLED 2.0 Lite.
The build volume offered by the machine is 120 mm * 68 mm * 130 mm. The Z-axis layer resolution offered by the printer is 10 microns, whereas the XY resolution is 62 microns.
You can connect with Phrozen Sonic Mini using a USB cord. For easing out your interaction the printer manufacturer has equipped their machine with a 2.8-inch IPS touchscreen display.
All the resins in the order of 405 nanometers wavelength that are generally preferred with LCD-based printers can be printed using the printer.
It weighs as light as 4.5 kilograms and has dimensions 250 mm * 250 mm * 330 mm.
Price
At the time of writing the article, the Phrozen Sonic Mini was priced at $269.
First Impressions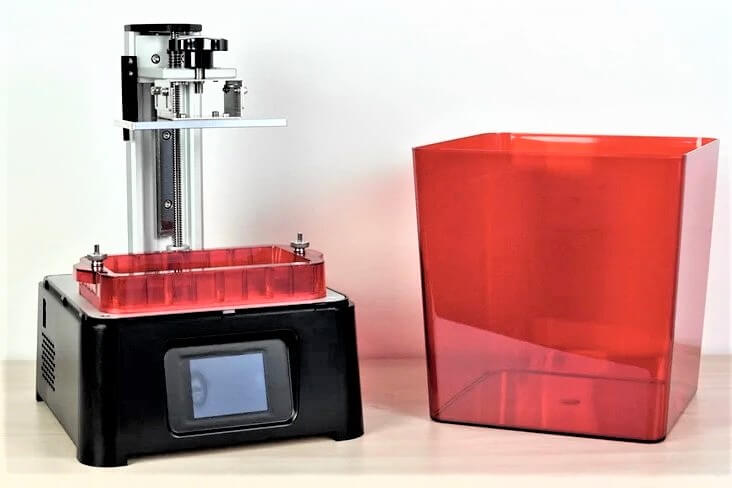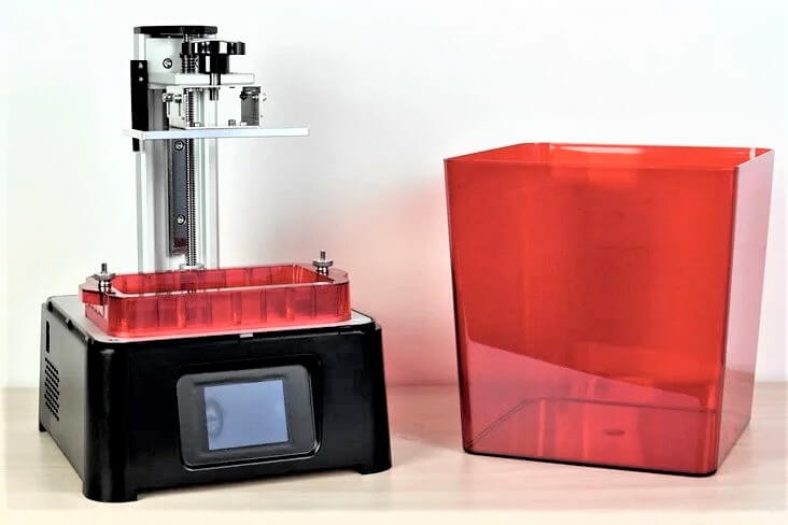 To start with, the frame is made up of an easily and cheaply mass-produced injection molded shell.
Although it does miss the characteristic sturdiness of Phrozen's past stamped-metal machines, in return the lightweight Sonic Mini retains some heft in its base that resists the tipping by offering a low center of gravity.
The printer uses an injection-molded resin vat, instead of the typical milled metal and this might account for the brilliant cost reduction that the printer manufacturer offers you.
Fashionably, you'll love the vibrant, semi-transparent vat and the splash of color it brings to the printer. The FEP sheets are replaced because they wear out.
While the metal tensioning plate the one that you typically get to see in desktop resin FEP vats is still present in the Sonic Mini.
The Z-axis assembly appears to have been compromised for reaching out to cater to the bottom of the market. In the printer, the print plate armature rides up a lead screw held steadily by a linear guide.
It's solid, also after a handful of prints, you will notice nothing to suggest the printing action or print quality is anything less than in sync with the current collection of budget desktop MSLA printers.
Setup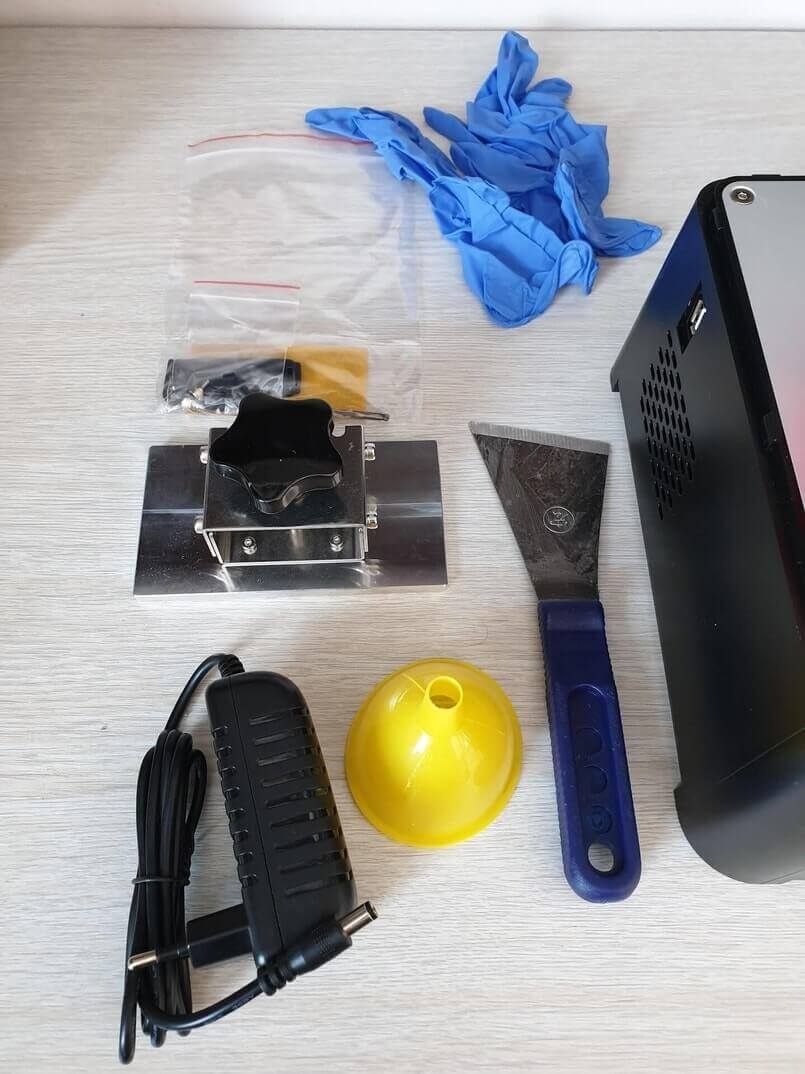 The printer comes in a padded box with ample amounts of packaging material so it should arrive at you without even the slightest damage.
Phrozen Sonic Mini is a plug-and-play 3D printer that will let you start printing on it with 5 to 10 minutes of the time after it reaches you.
Printing Type/Cost
LCD-based masked SLA 3D printing technology is a variant of SLA 3D printing technology.
Most of the working of SLA 3D printers is the same as Phrozen Sonic Mini's, the only difference being LCD light of wavelength 405 nanometers is used for curing objects, which is also quite standard considering its competitors.
The cost of manufacturing a part on such printers is obviously higher than FDM 3D printers. But then so is the quality of parts printed using this printer. So, it balances out.
Print Quality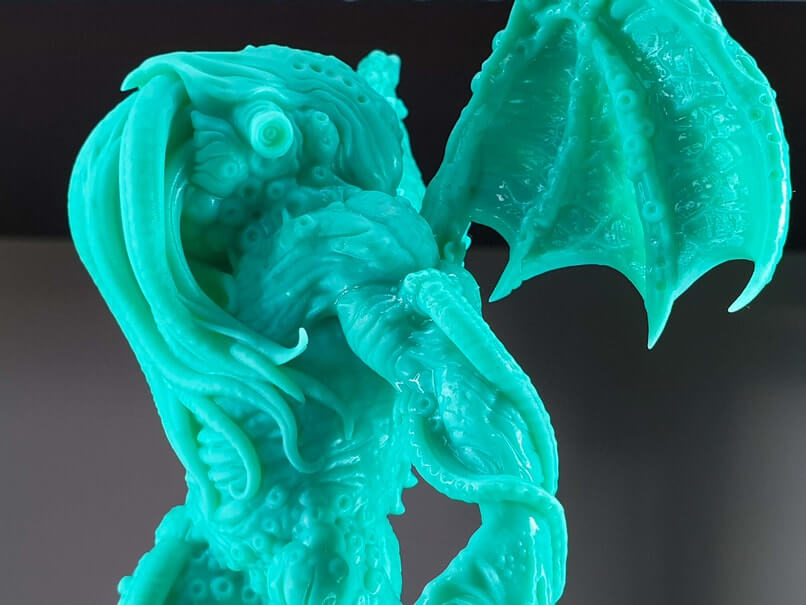 Credit: 3dprintbeginner
Reports on trustworthy websites check the printer by test printing, 3D Benchy, Hellboy, Cthulhu, drug dealer, Elena fighters guild beauty, and Gino the brewmaster.
Be it printing 3D Benchy i.e., without supports, or printing Hellboy i.e. with supports, the final results are great. Sonic Mini works fine even while printing Cthulhu which needs to be 3D printed in six different parts.
Even the other three; drug dealer, Elena fighters guild beauty, and Gino the brewmaster which take longer than the above-mentioned ones manage to impress you with their looks.
Software
Chitubox is the name of the slicer that the printer is compatible with and the complete community of 3D printing is busy talking about its technicality, user-friendliness, and efficiency.
Customer Support
Phrozen offers both, literary as well as video support for understanding the parts of the printer and its mechanism.
Apart from this, if you have any doubts you are all open to contact the printer manufacturer via call or via email id.
Parameters Influencing Buying Decision
We'd want you to skim through the most important points about the printer in a brief.
3D Printer Cost: Getting an SLA 3D printer at the same cost as an FDM 3D printer itself indicates the affordability of that printer.
3D Printer Quality: Of course, higher than FDM 3D printers of the same price range, Sonic Mini matches the quality of SLA 3D printers.
3D Print Speed: The speed of the printer is one such feature where the printer does manage to outdo its competitors.
3D Printer Capability: The printer is capable of letting you play with more than one type of 3D printing material. As well as it also lets you print various types of parts and functional prototypes with different complexities.
3D Printer User Expectations: Sonic Mini stands upon expectations of not just one type of user. Whether you are a beginner or an intermediate in the field of 3D printing, the printer will satisfy all your expectations. Being low in budget yet offering your fine quality prints in no time at all. What else do you need?
The Verdict
Sonic Mini is a very safer option to experiment your initial years with 3D printing. You can bring into reality a variety of different ideas with this easy-to-set-up and operate SLA 3D printer in relatively no time at all.