Ultimaker 2 Plus 3D Printer
Ultimaker 2 Plus review can be sufficed in terms of the benefits it provides and challenges it entails. Hence, here are the two sides of the coin that may help you understand the machine even better.
PROS
Low noise levels
Provides high accuracy and resolution
Allows usage of third-party filament.
Provide Olsson Block kit for users including interchangeable extruders.
Compatible with a variety of filaments
Compatible with different OS: Windows, OS X, and Linux.
Easy to setup and install
CONS
Absence of auto-calibration.
Expensive
Not enclosed, hence, prints are subjected to get affected with change in atmosphere
Generate odour with ABS printing
WIFI connectivity not available
Product
Specification
Videos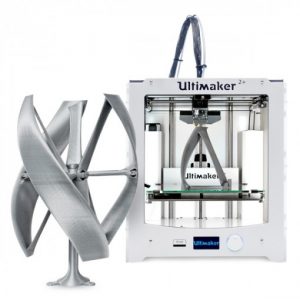 Ultimaker 2+ is an updated version of the 3D printer Ultimaker 2 by Ultimaker. Hence, you can expect this 3D printer to have similar functionalities ...
| | |
| --- | --- |
| Model | Ultimaker 2+ |
| Manufacturer | Ultimaker |
| Price Range | $ 1895 |
| Release date | 2016 |
| Country | Netherlands |
| Availability | Available |
| Classification | Desktop |
| Technology | Extrusion (FFF- FDM…) |
| Material | ABS, Other plastics, PLA |
| Filament diameter | 2.85 mm 0.11 in |
| OS compatibility | Linux, Mac OS, Microsoft Windows |
| Generic material | Yes |
| XY accuracy | 0.0125 mm 0 in |
| Max. build size | 223 × 223 × 205 mm 8.78 × 8.78 × 8.07 in |
| Max. build volume | 10.19 L |
| Max. print speed | 300 mm 11.81 in /s |
| Min. layer thickness | 0.02 mm 0.001 in |
| Dimensions | 357 × 342 × 388 mm 14.06 × 13.46 × 15.28 in |
| Weight | 11.2 kg 24.69 lb |
| Nozzle diameter(s) | 0.4 mm 0.02 in |
| Power input | 100-240V | 1.4 A |
| Heated print bed | Yes |
| Heated build chamber | No |
| Automatic calibration | No |
| Closed frame | No |
| Dual extruder | No |
| Independent Dual Extruder | No |
| Full color | No |
| LCD screen | Yes |
| Touchscreen | No |
| On-board camera | No |
| Mobile app | No |
| 3D scanners | No |
| CNC mill | No |
| Electronics 3D printing | No |
| Laser engraving | No |
| Conveyor belt | No |
| Air filter | No |
| Pellet extruder | No |
| USB | Yes |
| Wifi | No |
| Bluetooth | No |
| SD card | Yes |
| Ethernet | No |

Table of Contents
3D printing is full of possibilities and manufacturers of 3D printers try their best to bring better features with each upgradation. Ultimaker 2 Plus isn't an exception.
It has been developed by Ultimaker, a company based in the Netherlands. Ultimaker provides a complete range of 3D printers with almost everything that falls inside the 3D printing ecosystem.
Ultimaker 2+ is an update of Ultimaker 2. Hence, you can expect it to have similar functionalities with few advanced additions. And, serving the same user base.
Users have been loving this machine because of its most advanced and accurate results. Being one of the most reliable desktop 3D printers, as claimed by the company, the printer is expected to cater to the needs of a broad range of applications.
Those who have build parts and models with this 3D printer have supported the stance of Ultimaker too. The designs are well justified when printed with Ultimaker 2 Plus.
Features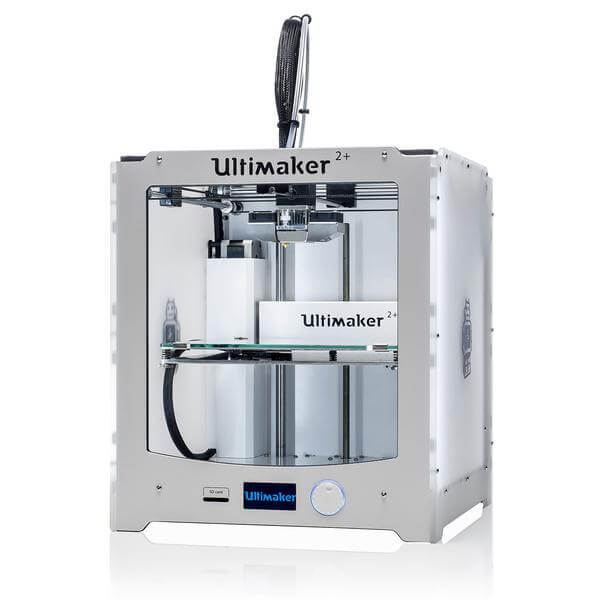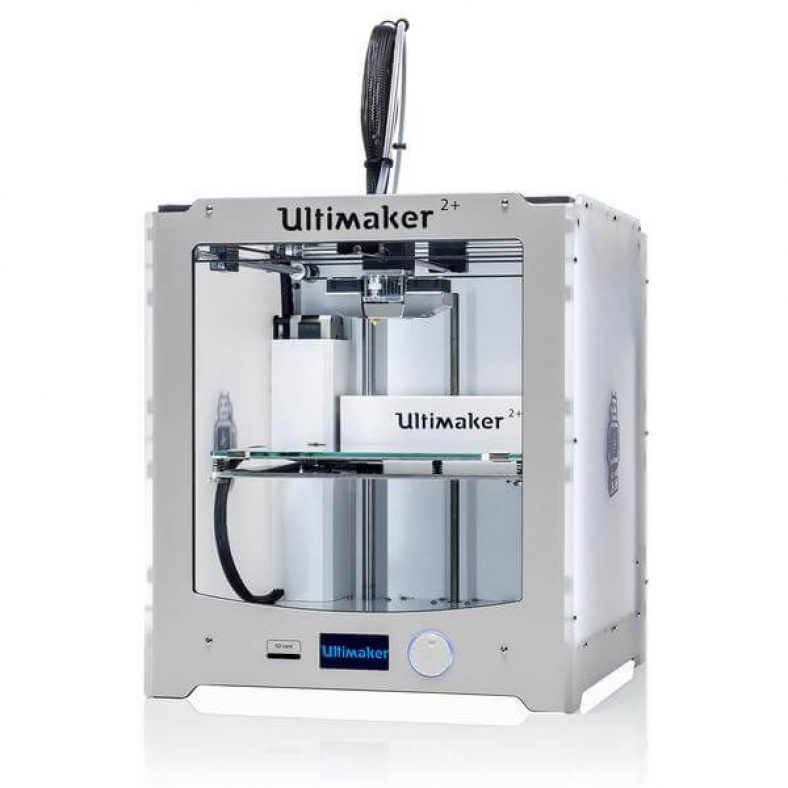 Ultimaker 2+ is packed with advanced features. With a lot of great things that come in handy with this device, one is sure to have plenty of benefits when printing with Ultimaker 2 plus.
Easy to Set Up: Ultimaker 2+ is very simple to set up. You simply need to snap the filament spool holder in place at the back of the printer, affix the build plate to the build platform with a metal clip, plug on the power supply, and turn the printer on.
Geared Feeder: The company has included a geared feeder to ensure that the machine provides high reliability. This inclusion has made the swapping of filament simpler and easier. It also allows users to choose the correct pressure for the filament.
Swappable Nozzle: The device can be used with different nozzle diameter to help users achieve the desired accuracy. By doing so, the machine provides better control over the printing process. One can use a nozzle diameter of 0.25, 0.4, 0.6, or 0.8 mm if wishes to enhance the speed of the prints.
Only SD Card Support: To load the printer with 3D designs one needs to use the SD card. The company provides a 4GB SD card with the machine. There is no other way to connect the device to a computer. WIFI or USB provisions aren't included with the printer.
Manual Calibration: The device isn't equipped with auto-calibration. One must know how to do that properly to achieve the best print results. However, the machine is easy to set up and calibration can also be done conveniently.
Heated Build Plate: It has a heated glass build plate that provides nice adhesion for the first layer.
Although the device lacks few features that are available with similar range of 3D printers, it still is a great choice for many tasks. It is all because of the great results it produces and the reliable performance that it exhibits.
Specifications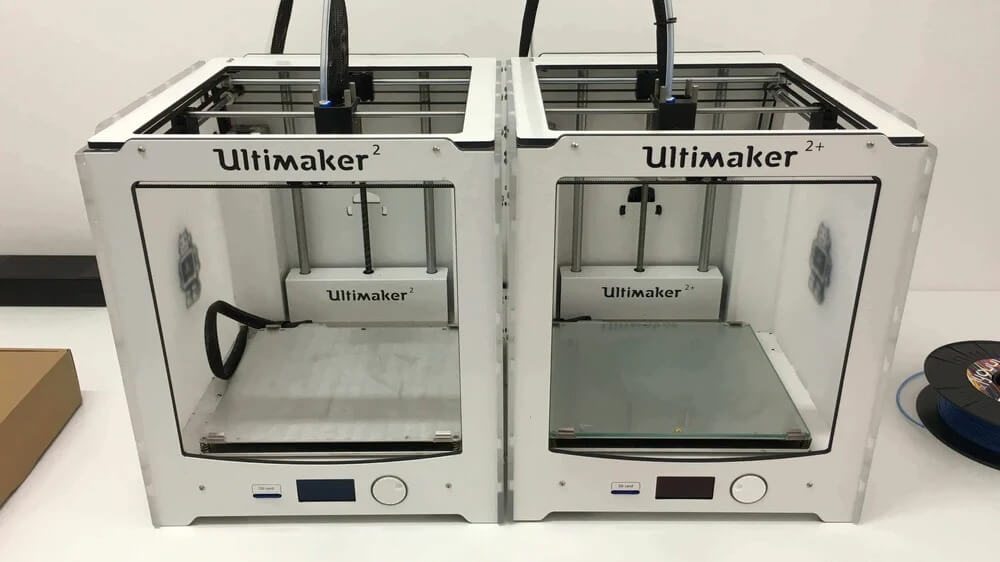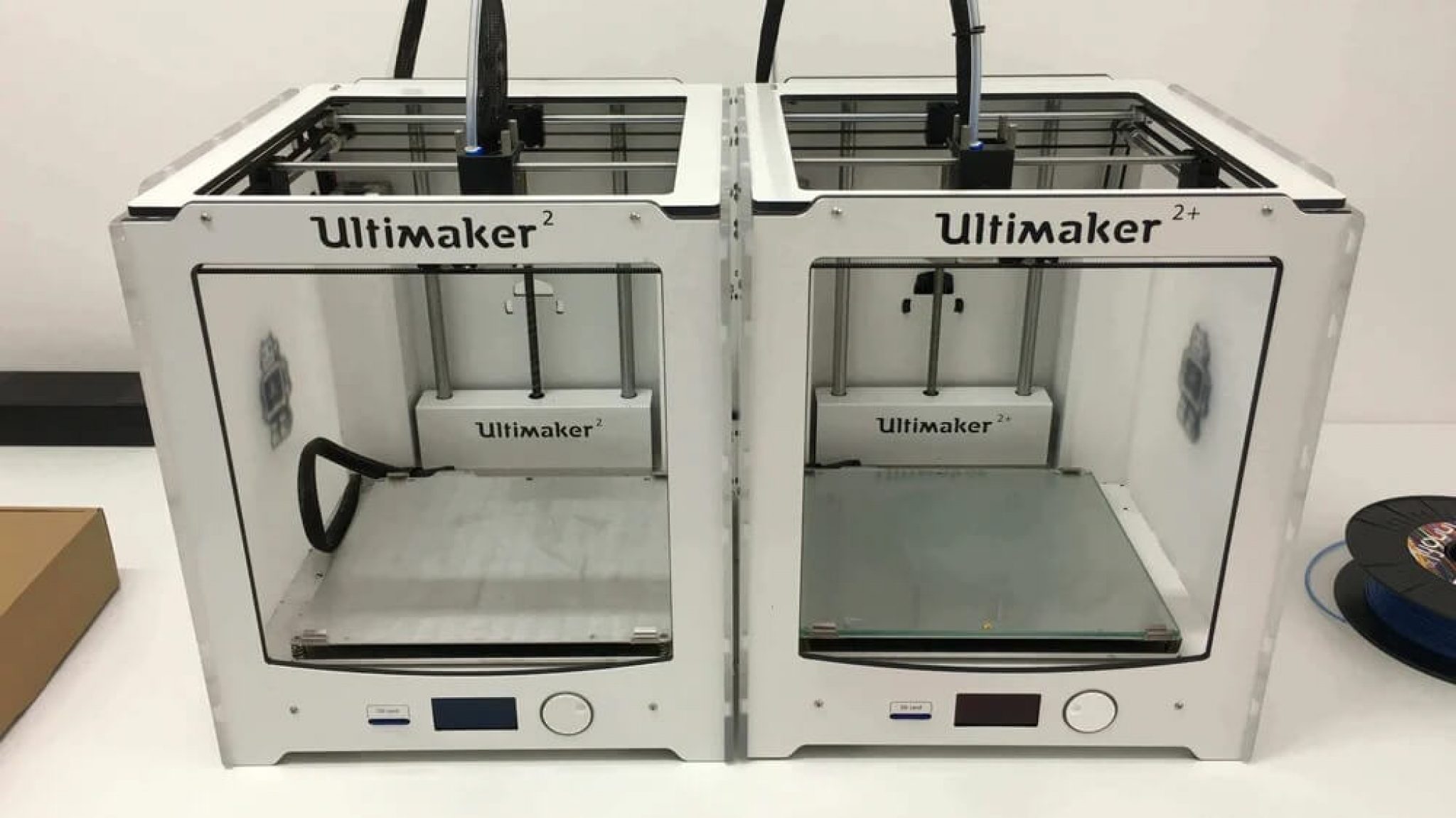 Ultimaker 2+ is based on the FDM 3D printing process. Talking about the Ultimaker 2 specs, the first thing that comes to mind is the build space.
While the printer occupies a volume of 15.3 x 13.5 x 14 inches, it offers a build area of 8.8 x 8.8 x 8.1 inches.
The acrylic frame with the partial enclosure. To be precise, the machine does not have doors on any of the sides or a cover on top of it.
However, the frame around the build area makes it safer than most of the open frame designs. The resolution of the device ranges from 600 microns to 20 microns.
Price
The printer costs around $2500. The device is designed for personal as well as professional use and has the capability to produce highly detailed parts. Hence, the price is on the mid-range side.
However, there could have been more additional features at such a rate. Such as auto-calibration or auto nozzle cleaning etc.
Although these are not very usual additions to the 3D printers, the ones manufactured by the competition and falling under this price range are already offering these features.
It is also true that the unmatched quality of prints provided by Ultimaker does deserve such a price tag.
First Impressions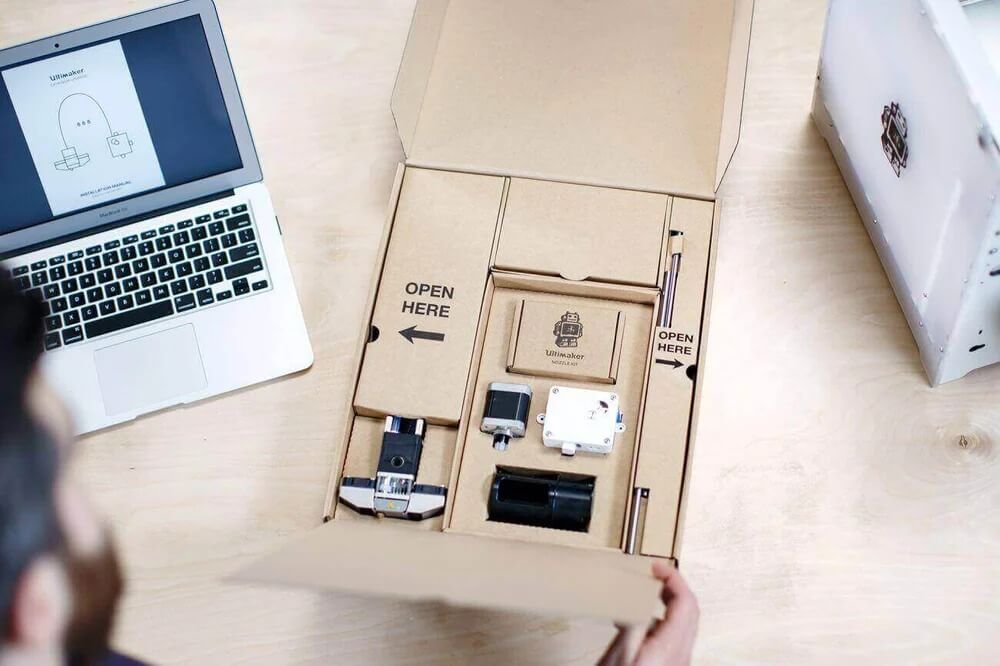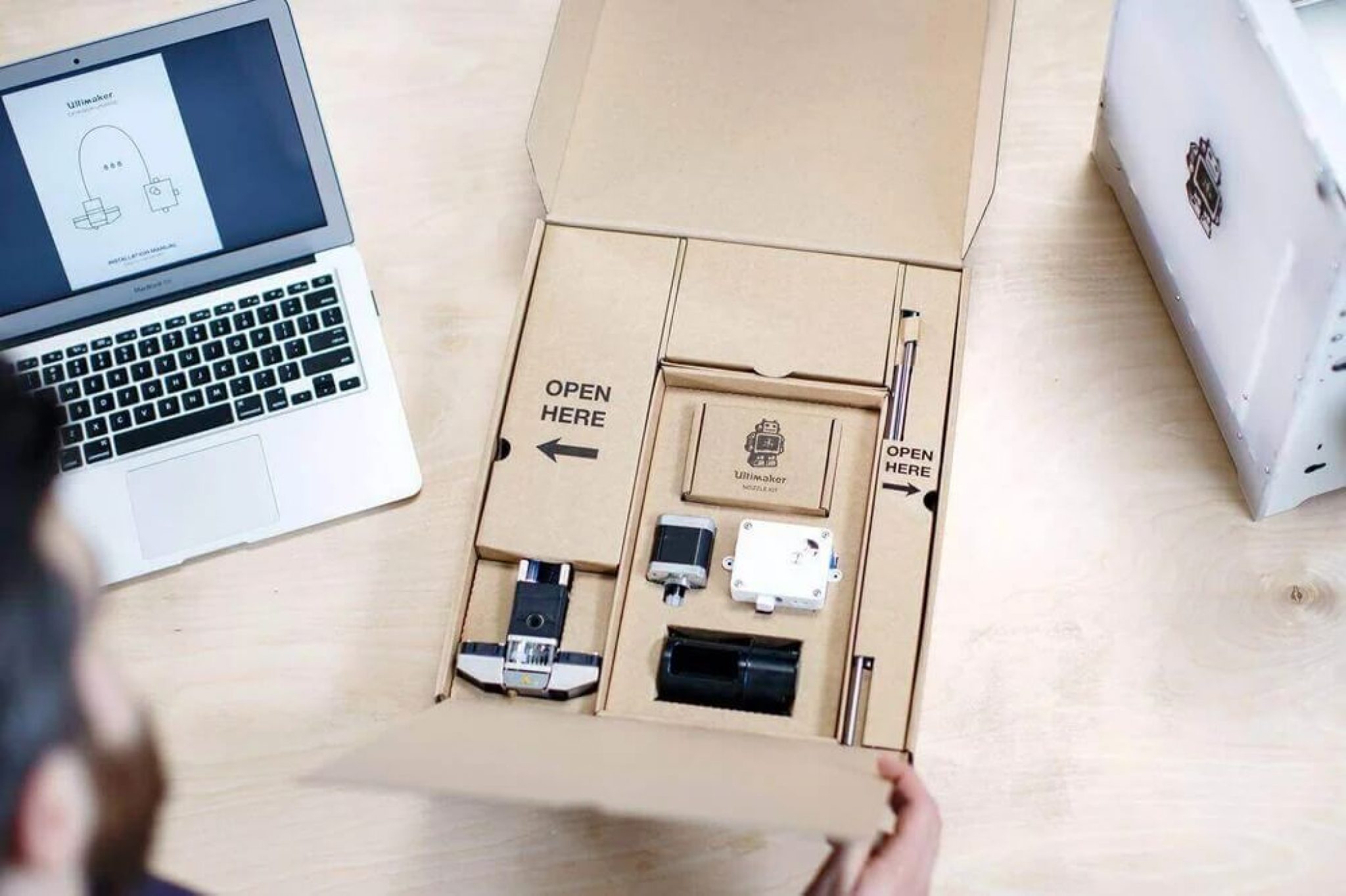 The printer looks sturdy and strong. You can depend on the design for providing stability to the printing process.
A silver finish body with acrylic touch do lift expectations of the users. The compact and advanced design makes it a nice option for home users.
Setup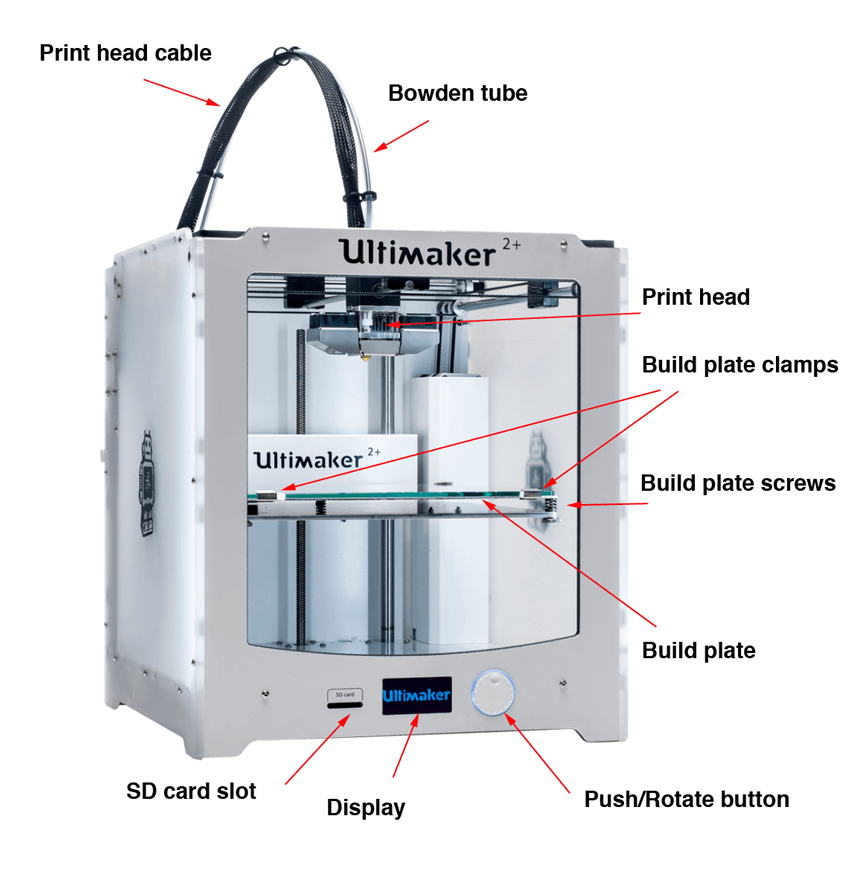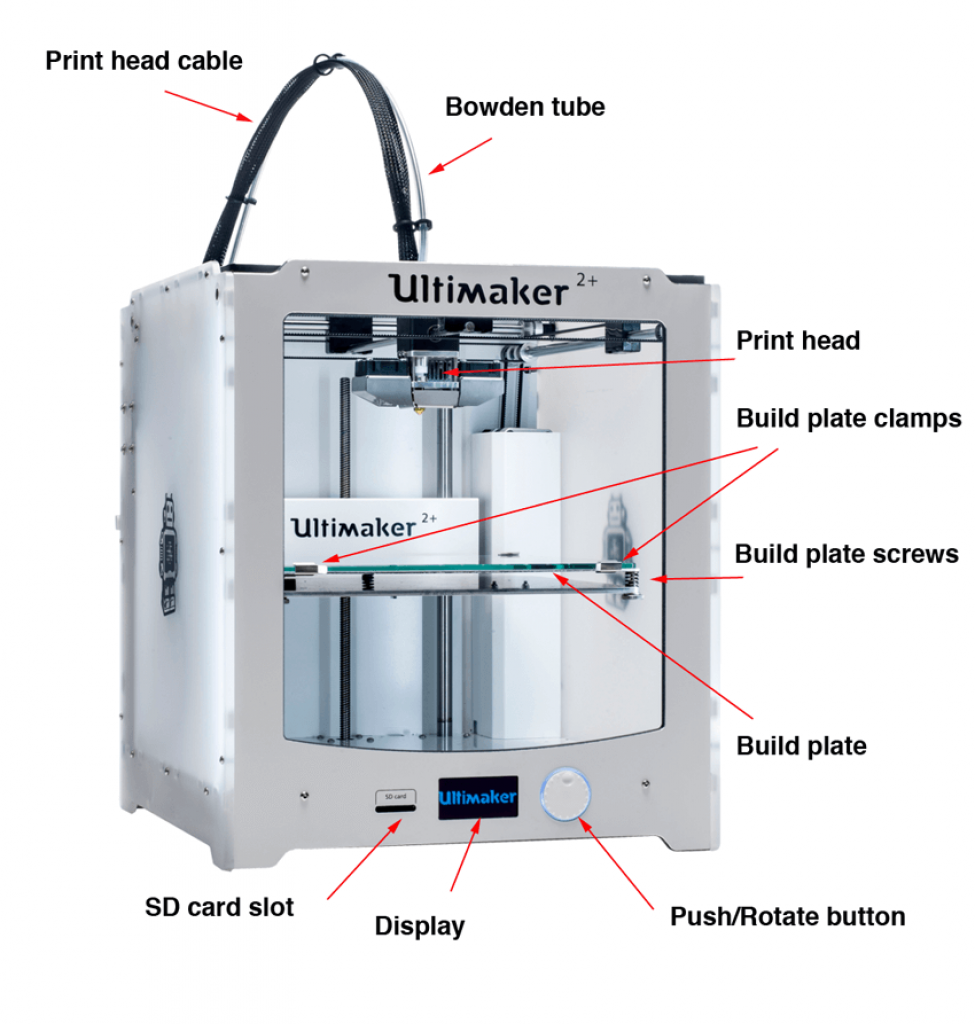 Like most of the plug and play 3D printer, this one stays closer to such a setup. Users do not have to invest hours putting parts together.
However, with few things here and there, one would be able to start the first print. After unpacking and taking the machine out of the box, plug it in and switch the device on.
You would be alerted to follow instructions provided on the LED interface for further proceeding with the setup. The first thing it would ask is to load the spool of filament. Next is to calibrate the print bed. Once you complete these steps, you can start printing with this device.
There is only one way to feed the printer with the digital file and this is through the SD card. Hence, the company also has included a 4GB SD card preloaded with test files.
These can be printed after the setup completes. You can test these models before progressing with your own designs for assessing the quality of prints and the accuracy of designs.
The list of items does not end here. The package does contain other parts as well for helping users print with complete freedom. You get the Olsson Block Kit with the machine.
This kit contains four printhead extruders of variable nozzle diameters. These extra enclosures help achieve precision and flexibility to print parts with desired specifications and resolution.
Printing Type/Cost
Ultimaker 2 Plus is an FDM 3D printing machine. While there are many printers available for cheaper cost with a few hundred dollars, this one is available for $2500.
Being an FDM machine, you can consider this to be on the higher side of the range. However, it does make difference with its amazing features and overall performance to provide an unbeatable result.
The printer is from the open-source community. Hence, is easy to maintain. One can even change the setup file and include updates if desired for enhancing the print results and experience of all other users of the community.
It also allows usage of third party filament spool. Hence, one can use the standard as well as specific advanced filaments with this machine.
This makes the operation cost cheaper as compared to most of the 3D printers.
Print Quality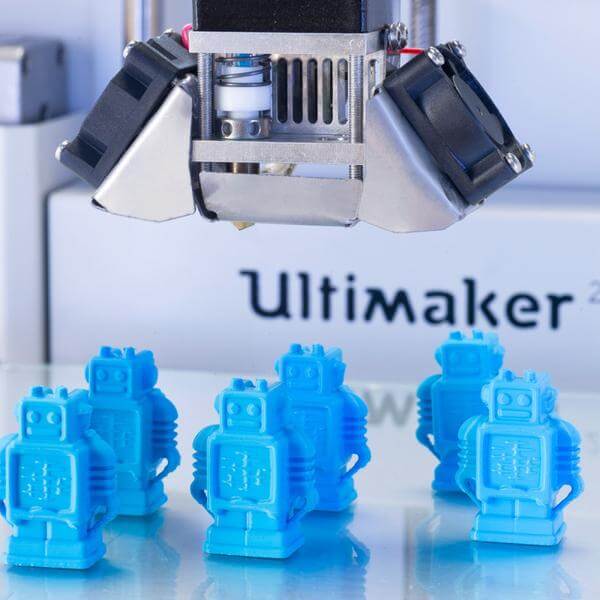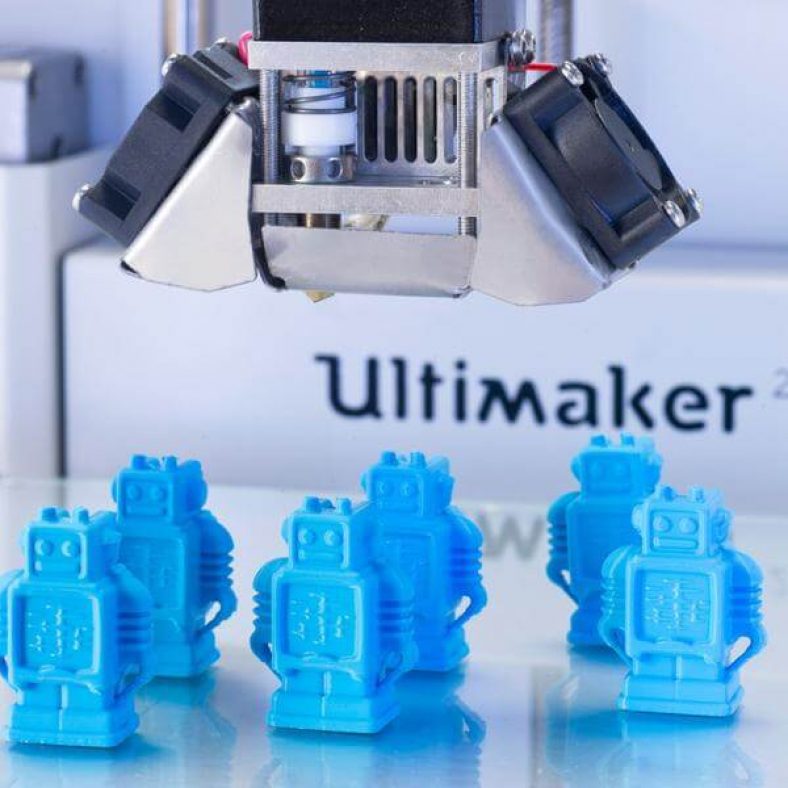 Let us jump to print quality. We have already understood what all the package includes and what features are unique to this machine. However, the most important thing that matters is the quality of prints.
The good news is that the printer prints astonishingly. Users of the machine have commented frequently about the print quality of the parts printed using this 3D printer.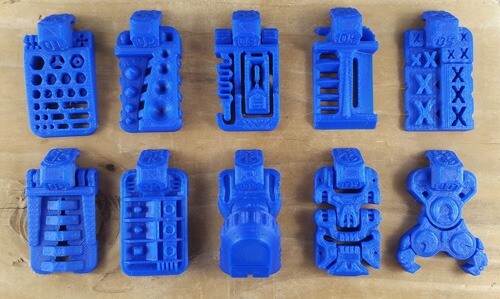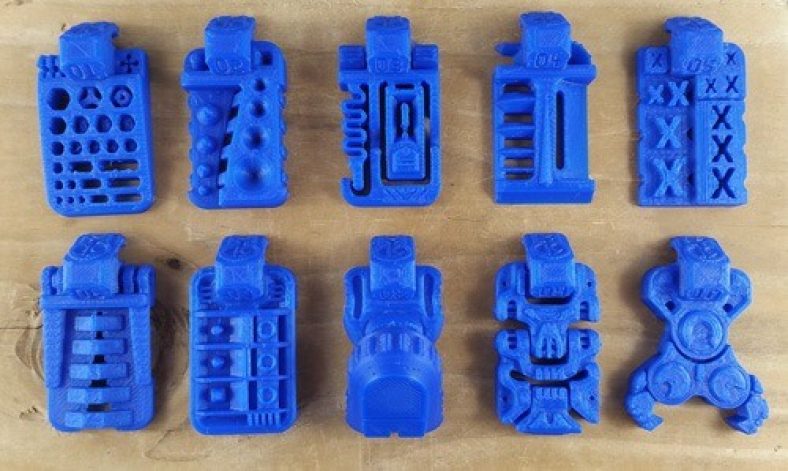 The test models could be printed with the highest precision after the printer is installed for use. The chances of failed prints are very unlikely and one can decide to print complex designs without any hassle.
The nozzles available with different diameter sizes help users create flawless models in a matter of time. Even the surface finish is nice. You can enjoy every bit of time spent printing with this little machine. Moreover, a decent build space gives you enough room for playing around with your designs.
The connecting parts can also be perfectly printed using Ultimaker 2 Plus. So, if you think space isn't enough for your models, try fixing small parts together.
Software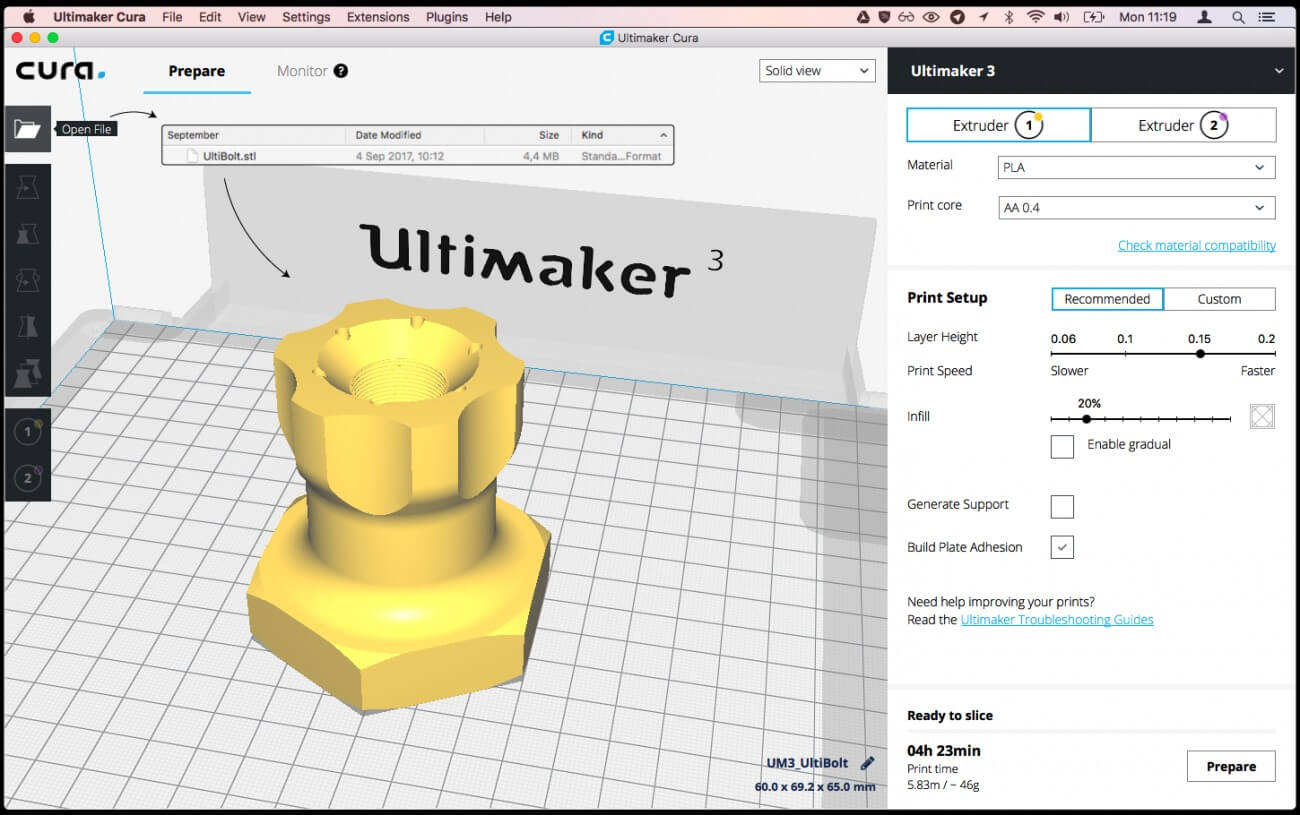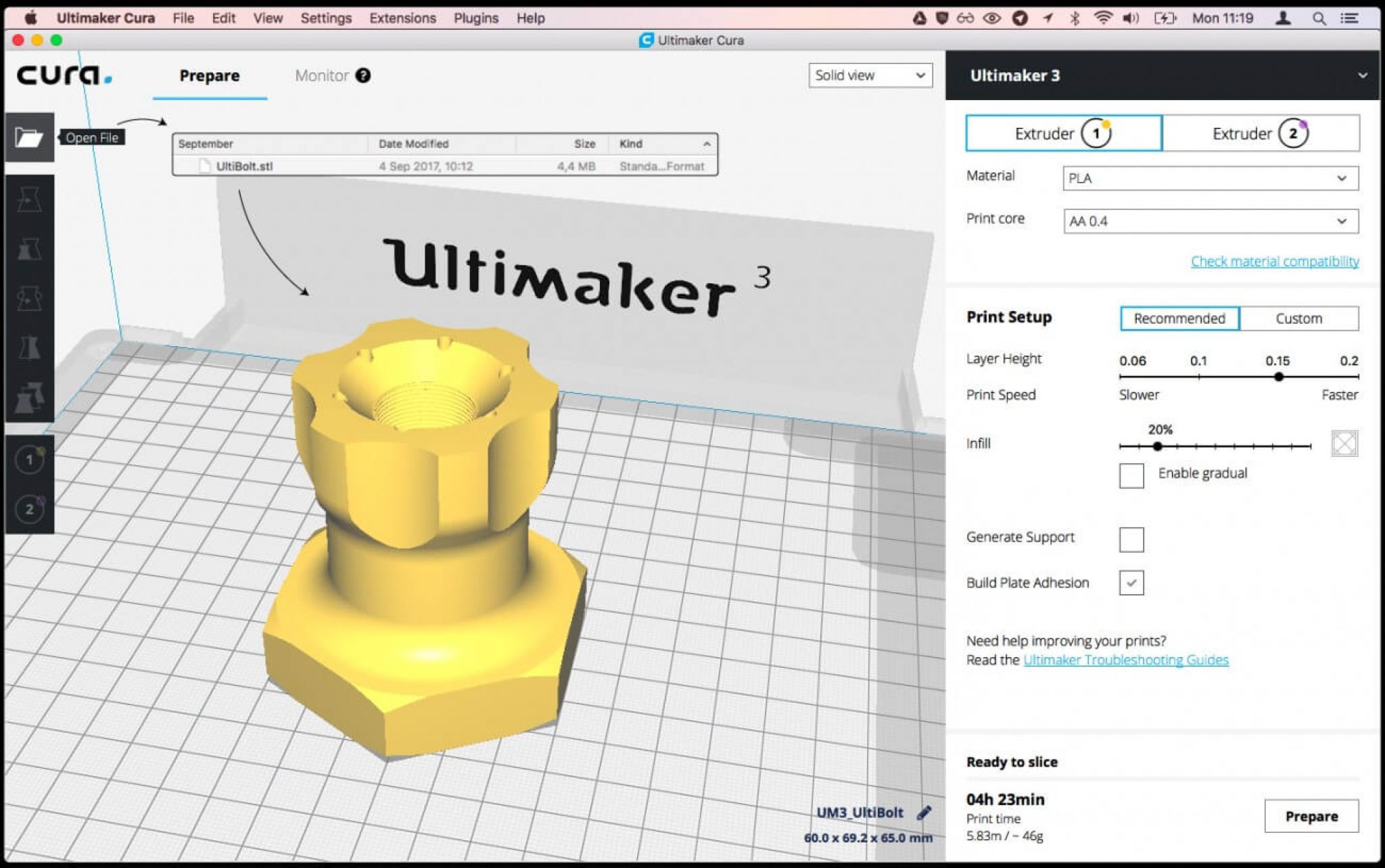 As the printer comes from an open-source community, you get a lot of options when using a slicing software for optimizing your designs for Ultimaker 2+. You also have access to the in-house software of Ultimaker, Cura 3D printing software.
Cura is one of the best open-source software available for 3D printer users, especially for beginners. Because the software is simple to use and is highly user friendly, it suits best for those who have never worked with similar applications before.
Customer Service
You receive huge support from the company as well as there is a large online community available. You can find answers to all your question related to the setup or operation of the device.
Moreover, the company offers onsite installation support for an extra cost, if required. All in all, you would find no trouble working with this awesome device.
Parameters Influencing Buying Decision of Ultimaker 2 Plus
Depending on the various benefits and limitations provided by the 3D printer, users can make the final decision of investing in the device or not. Usually, considering the parameters below, one can make an informed decision.
3D Printer cost: The FDM printer is expensive and comes for around $2500. However, it is great for those using the device for commercial purposes. It is also a good choice for educational applications. Being affordable for organizations can fit the budget of small businesses and professionals working on specific projects.
3D Print quality: Undeniably, Ultimaker 2 Plus is a great companion for those not ready to compromise with the print quality. Sometimes, it may have trouble with parts removal from the print bed, however, if properly cooled, this can also be avoided.
3D Print speed: The package comes with different nozzle heads of varying diameter. Hence, one can enhance the speed of the print by choosing the largest diameter without compromising the quality of the print.
3D Printer capability: This printer is very useful and can design complex parts with perfection. You can define the smallest detail with ease when using this device.
3D Printer Practicality: Because the print quality is above par, the printer can be utilized for a variety of applications. One can design prototypes, miniatures, combining parts, and much more with this printer. Hence, used widely by professionals and enthusiasts eager to improve their 3D printing skills.
3D Printer User expectations: User expectations are very well tackled by this upgrade. It is easy to set up and operate. Despite a few missing features, you will feel it simple to use. The help and other assistance are also available in surplus.
Verdict
3D printing is not a new technology, but one of the most revolutionary one. You can expect to witness upgradation to the existing design sooner to arrive than it is with any other technology.
However, changing your 3D printer every other day won't be feasible. To help subsidize the effect of change, you can always go for open source devices that are compatible with design changes. And, Ultimaker 2 Plus does provide you that provision.
Moreover, the device is packed with amazing features that will help you define almost every angle of your print.
From speed to surface finish, everything depends on what you choose and what you desire. If you have the skills to operate on such an advanced machine, you can very well justify the quality of the printer.
Some may feel that the absence of WIFI connectivity or auto-calibration is a huge turn-off. However, ask those who have worked with Ultimaker 2 Plus.
The machine works magic and being simple, it is easy to use and drive for better results. You can accomplish plenty of tasks by configuring your designs as desired. A complete device with the best print results is what you get for $2500.