Buying a 3D printer is no more a difficult task. The prices have dropped immensely in the last few years. You can get hold of a 3D printer for less than $200.
Usually, the cheapest 3D printers are used mostly by those who are looking to explore the technology for the first time for adding a little fun to their regular routine.
This does not mean that one needs to pay thousands of dollars for buying a printer that can be used for a professional setup. These days, top 3D printers under $500 can certainly do the job effortlessly.
You just have to pick the one that suits your 3D printing desire and you are good to go. If you have a small company or you are looking for a 3D printer to take your creativity to the next level, you can select the best 3D printer for $500 or even less for accomplishing your aim.
These 3D printers are fully or partially loaded with enough features to help you complete your job with complete satisfaction. Additive technology has given more room for creativity.
Users find it easy to work with these budget desktop devices to complete tasks in a smaller time span. On top of that, working with 3D printers keeps getting easier with time and experience.
The plenty of advantages provided by the 3D printers are the reasons why this technology has been welcomed with open hands by users across the world. Hence, it is important to know which all 3D printers could let you seek a similar experience too.
Here is the list of 10 top 3D printers under $500 that can help make your work simpler.
List of Top 3D Printers Under $500
The number of 3D printers available for each category is increasing with time. Those trying to get hold of a 3D printer ranging between $400-$500 may have to go through a lot of scrutinies before being able to finalize the right one.
The chances of finding the correct 3D printer also seem slimmer when surrounded by so many options to choose from.
These recommendations would help you explore a few of the top 3D printers under $500. Hence, taking away the pain of going through every other 3D printer that falls in that category.
X-Maker by QIDI Technology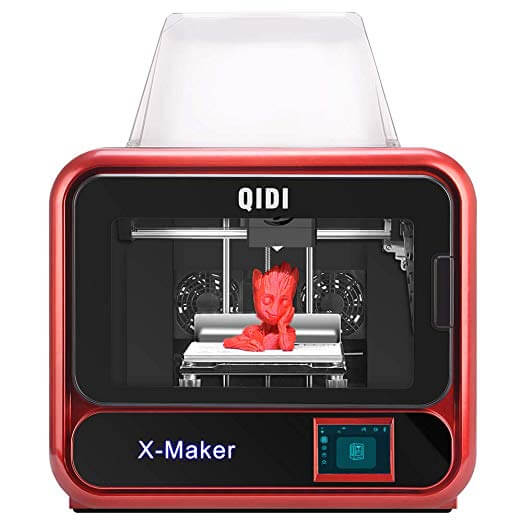 QIDI Technology is a known brand in the 3D printing space. There are very few brands that have been able to provide a similar printing experience as this company.
Some of the offerings from QIDI Technology has been able to impress almost everyone using those 3D printers.
This specific version, the X-Maker by QIDI Technology is created for professional research as well as for those wanting to use it for home and educational purposes.
The printer supports various materials for printing such as PLA, ABS, HIPS, TPU, PETG, etc. With a build size of 170 x 150 x 160 mm, the printer flaunts a sleek appearance.
Features of X-Maker
X-Maker is stuffed with great features. For just about $500, you are getting almost everything that you would need for an effortless experience.
Real-Time Monitoring: With a 720 HD Camera inside the 3D printer, you are able to see the printing process happening in real-time. Even when you are away, you can install the software available for monitoring on your mobile phone and stay in sync with the printing developments.
Noise Free Printing: 3D printers are known to make a loud noise. However, not this one. You can even sit next to it and do your work without any disturbance. The 3D printer produces little to no noise.
Breakpoint Printing: With breakpoint printing, you can break the work in between which can be continued later. In case of a power cut, the same feature would help you start the print where it stopped.
WIFI Connectivity: You can even connect your 3D printer over WIFI with your desktop or mobile phone. It becomes easier to operate your device with this feature.
Touch Screen Display: A 3.5″ touch screen display helps you take care of the 3D print settings.
This is not it. The features do not end here. It also has a removable build plate, and the product you receive is backed with a One-to-one QIDI TECH service. You even get a free one-year warranty with this 3D printer.
Adventurer 3 by FlashForge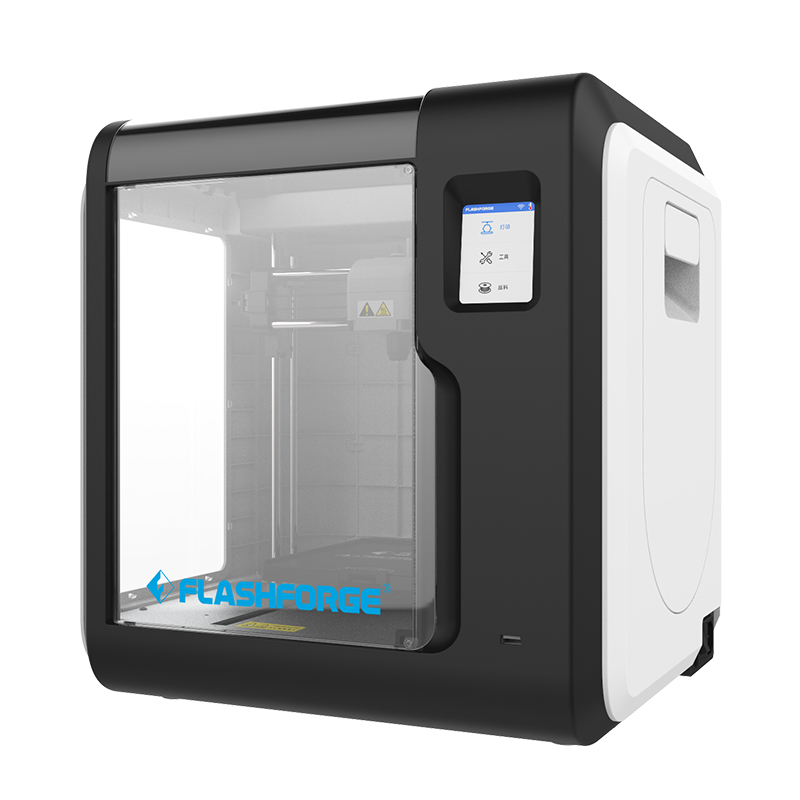 FlashForge is always in news for its amazing 3D printers and the many versions for different groups of users. The Adventurer 3 is another FDM 3D printer from the company.
The 3D printer has a 150 x 150 x 150mm of build size which makes it very lightweight and easy to handle. Most of all, it is affordable and offers a user-friendly system.
This printer could be used for professionals as well as those seeking to hone their skills in 3D printing. The price tag of $449 brings with itself a removable extruder structure, an integrated 2 Megapixel camera, along with cloud-based capabilities.
Features of FlashForge Adventure 3
Automatic Bed Leveling: The company claims that there is no need for bed leveling with this device. You can start printing with a little setup in the beginning.
Simple Calibration of Build Plate: The assisted calibration provided by this 3D printer is really helpful in making the entire process effortless and easy.
Great resolution: The 3D printer flaunts a 100-micron resolution which is very handy when printing details and complex designs.
Plug and play: By now, you must have understood that the printer does not need much hard work for its installation. It is simply a plugged and plays device which can be started in just a few minutes after taking out of the box. Hence, great for beginners.
With this 3D printer, you get to experience the friendly slicer which fits right in for beginners as well as experts. So, the entire combo is something every professional with a limited budget would prefer to own. As well as, those wanting a little extra from their learning goals would love to print with this 3D printer.
A5S 3D Printer by JGAurora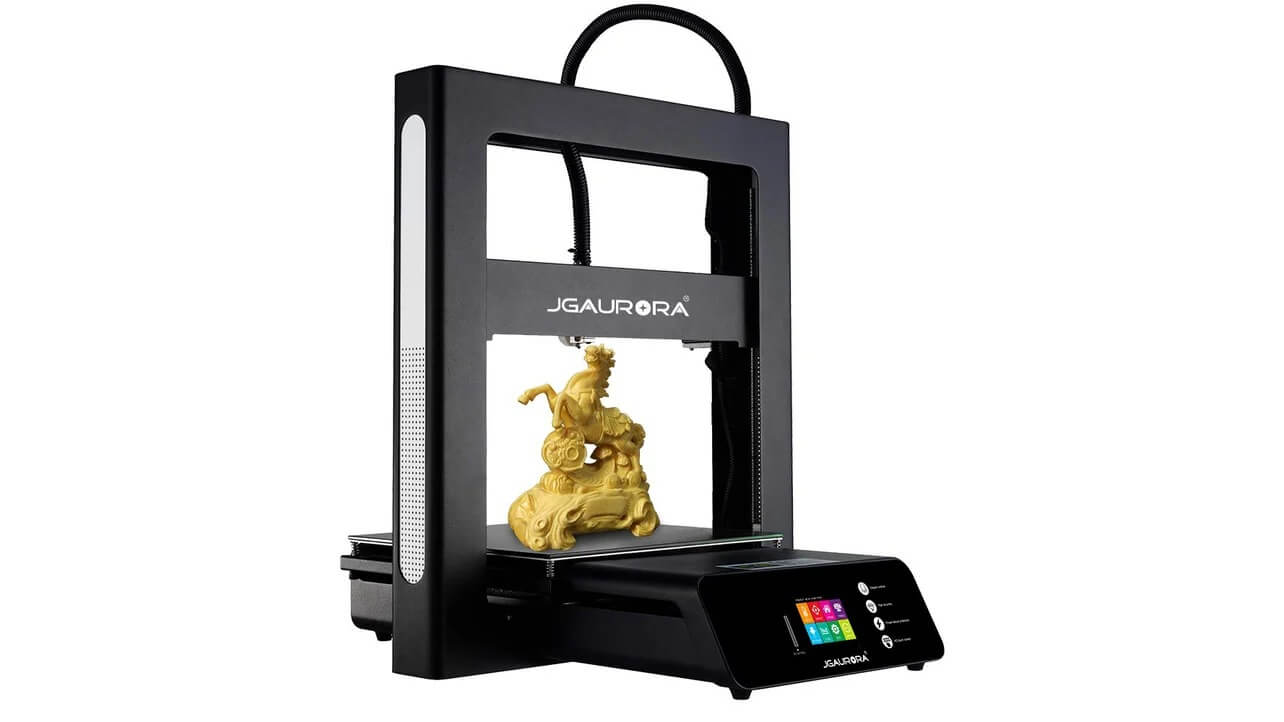 If you are looking for a large build plate, this one would awe you for sure. JGAurora A5S has a build volume of 305 x 305 x 320 mm which his enough for handling most of the prints without hassle.
Despite such a large build volume, the design is sleek and can be fit on the tabletop for operation. Although the 3D printer needs some assembling to start the printing process, it does not take much time as most of the kits take because of its modular assembly which is easier.
Features of A5S by JGAurora
If you are looking for a budget 3D printer with the best features, this option won't disappoint you at all. You can print complex designs without any flaws when using this amazing 3D printer backed by astonishing features.
Filament Over Detection: This 3D printer is definitely user-friendly. You hear a loud warning signal when the filament is over. While that sound is to get your attention, the 3D printer does its job in the meantime by pausing the printer right away. Once you refill the filament, the printing starts from where it was stopped.
Power Outage Recovery: Once again a great feature for working with a 3D printer at home or even in offices. The JGAurora A5 3D printer is capable of handling power outages with ease. It pauses whenever the power goes off and starts once the power comes back without destroying your earlier work.
Heated Platform: The black diamond glass which is a heated platform is used in this design to improve adhesion. It also helps while you try to remove your prints after the design is completed.
Touch Screen: A 2.8 inches touch screen is large enough to help you set the printing parameters with ease. The colorful touch screen is interesting and easy to handle.
You can use various filaments when working with this option. Either it's PLA, ABS, wood, or any other choice, this 3D printer would serve its purpose well.
SQ1 3D Printer by HIEHA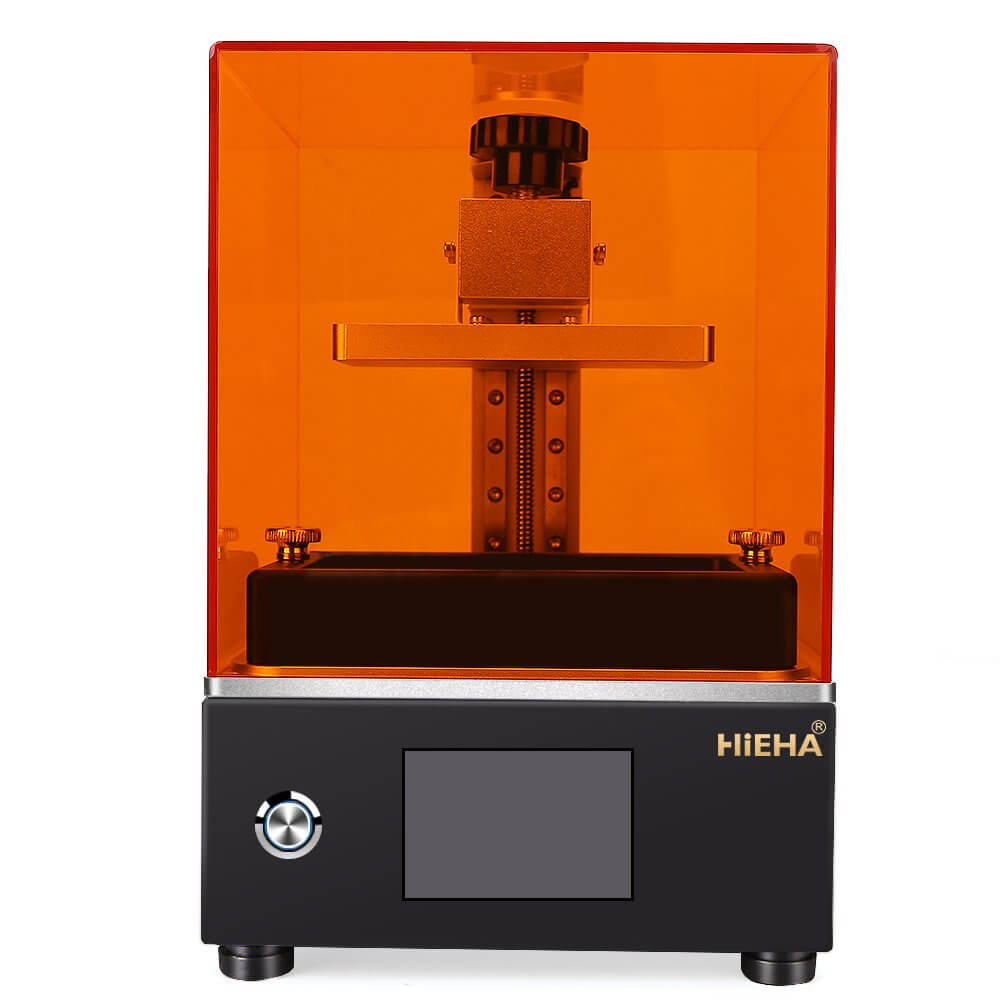 This is an SLA 3D printer. Yes, you can get an SLA resin-based 3D printer for just $499. Isn't that great news? Those who know what benefits SLA printers bring on the table must be excited for SQ1 by HIEHA.
The 3D printer provides is capable of handling complex geometric designs with ease. You can create wonderful models using this device. It can be connected using Wi-Fi, ethernet, and off-line printing options.
The best part is that you can control the printer's operation remotely as well as using your mobile phone or laptop.
Features of SQ1 by HIEHA
There is no doubt about the precision and quality this 3D printer is capable of providing. Being an SLA 3D printer, it does have few limitations such as comparatively low speed and post-processing steps, however, the ultimate results are worth the effort.
High Accuracy: The device comes with a masking LCD of 2560×1440 2K HD. This enables high-resolution printing with the XY axis having a precision of 45 microns. Hence, it is very helpful in providing a solution to jewelry stores or to dental prototyping. There could be many other applications of this device based on its resulting resolution and accuracy.
Great Slicing Software: HIEHA gets you a professional slicer called ChiTu which does not take more than a minute to slice a 30MB file.
Power Outage Resuming: This printer does support your prints when the power cuts off. It stores the current stage of printing and starts from there once the power kicks back. This manages the failure probabilities very well.
Apart from all these amazing features, the 3D printer exhibits a sturdy body and a reliable frame. It is designed with an aluminum body and acrylic cover. As the printer is completely assembled as well as calibrated, you do not need to spend more than five minutes to start printing your first model.
The company also provides a 3-year limited warranty with few parts excluded such as a 3.5" inch 2K LCD screen, and some others. A great option for professional use. And, an amazing companion for hobbyists and enthusiasts.
Anycubic Chiron 3D Printer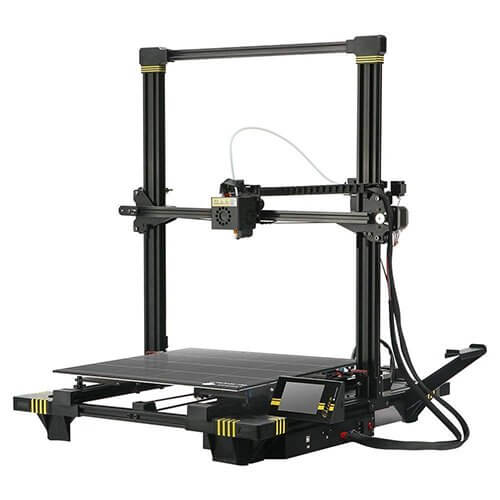 Once again, a huge build volume under $500. This 3D printer that costs just $499 is able to display a build volume of 400*400*450mm. Those who love to print large models would certainly fall in love with this device.
One among the top 3D printers under $500, this machine is capable of accomplishing great tasks with ease. A sleek design with a black and yellow frame looks stunning. You can use it for different purposes. This FDM machine is fast and provides decent accuracy.
Features of Chiron by Anycubic
When talking about the features, there is a lot that the company claims to provide. Under $500, you get to experience some of the most amazing features. Trying to ensure that the users find it easy to work with the device, the 3D printer has tried to benefit the community through many extraordinary and tempting features.
Large Build Volume: Many 3D printers are available for a lesser price tag, and even the ones falling under expensive options, very few cater to the volume requirements. This printer is an exception to those variants. It has a huge build volume of 400*400*450mm, hence, more freedom to enhance your design and play around with your creativity.
Semi-Automatic Bed Leveling: Although you would need to work a little while doing the bed leveling of this machine, the company supports you with real-time adjustment support and many other help and benefits.
Amazing Extruder Quality: As the extruder allows various filaments, you can design your models with different materials. You can even print with flexible filaments with ease.
The company has tried to ensure astonishing results for its users by adding dual Z axis switches. This is helpful in increasing the stability of the print bed level. In addition, you get to enjoy a 1-Year limited warranty on this device. This 3D printer can help you create a lot of designs with decent precision and huge details.
Anycubic Photon S 3D Printer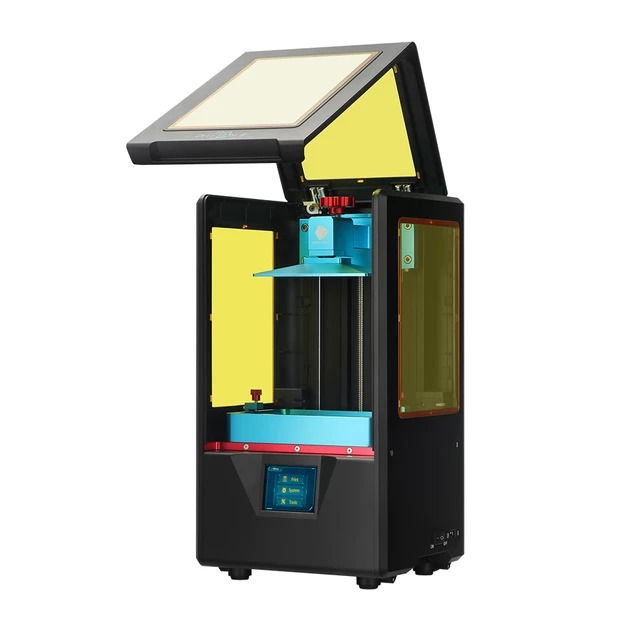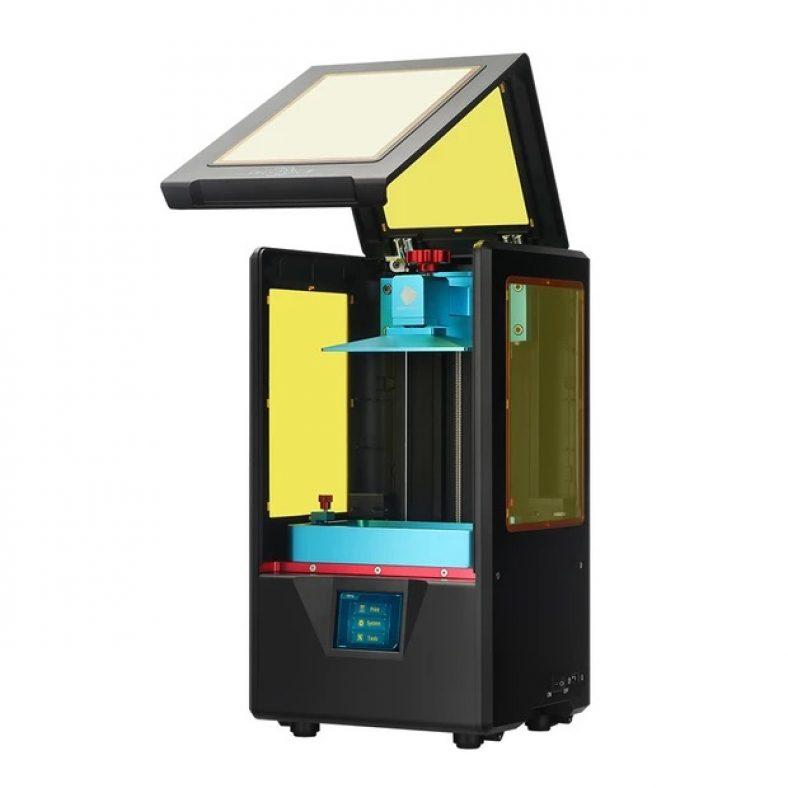 Another 3D printer from the same company, Photon S. Being a budget DLP 3D printer, the Anycubic Photon DLP 3D Printer has already amused a lot of users from across the globe.
It has successfully emerged as one of the most appealing 3D printers among the top 3D printers under $500. As you must know, the company owns the reputation of manufacturing some of the best FDM machines, this time, a DLP 3D printer is what you get on the offering.
Letting you print with a DLP printer under $500, Anycubic has created a lot of buzz among the 3D printing community.
Features of Photon S by Anycubic
Because there is so much to talk about, let us get to the point first. The best features can further improve the quality of the device and outdated features will take no pity in spoiling the entire work put in the design of the machine. Hence, the company has vigilantly processed the design taking care of user needs and consideration for overall amazing results.
Dual Z-Axis Assistance: This has been included for providing better stability of the Z-axis. Further enhancing the surface quality and precision to detail which a lot of DLP printers fail to provide.
High Speed: Although DLP 3D printers are known for speed, this one takes the action to the next level. It uses upgraded matrix UV lighting alongside a 2560*1440 high-resolution screen. Not just that, it exhibits uniform energy distribution.
Hence, contributing to improved accuracy and reduction of exposure time. This overall helps in reducing the print time while maintaining the quality of the models.
Easy Setup: The 3D printer is not only easy to operate but easier while setting or leveling. You will find all the help available online and for various other queries.
Air Filtration: With dual fans included for better ventilation, you get to work in an odorless environment. The machine uses carbon air filtration.
Once you are done praising the quality of the machine, it further excites you by offering a one-year complete machine warranty. You can definitely depend on this machine for giving shape to your creativity. It can also be used for tough designs and prototyping.
Monoprice Voxel 3D Printer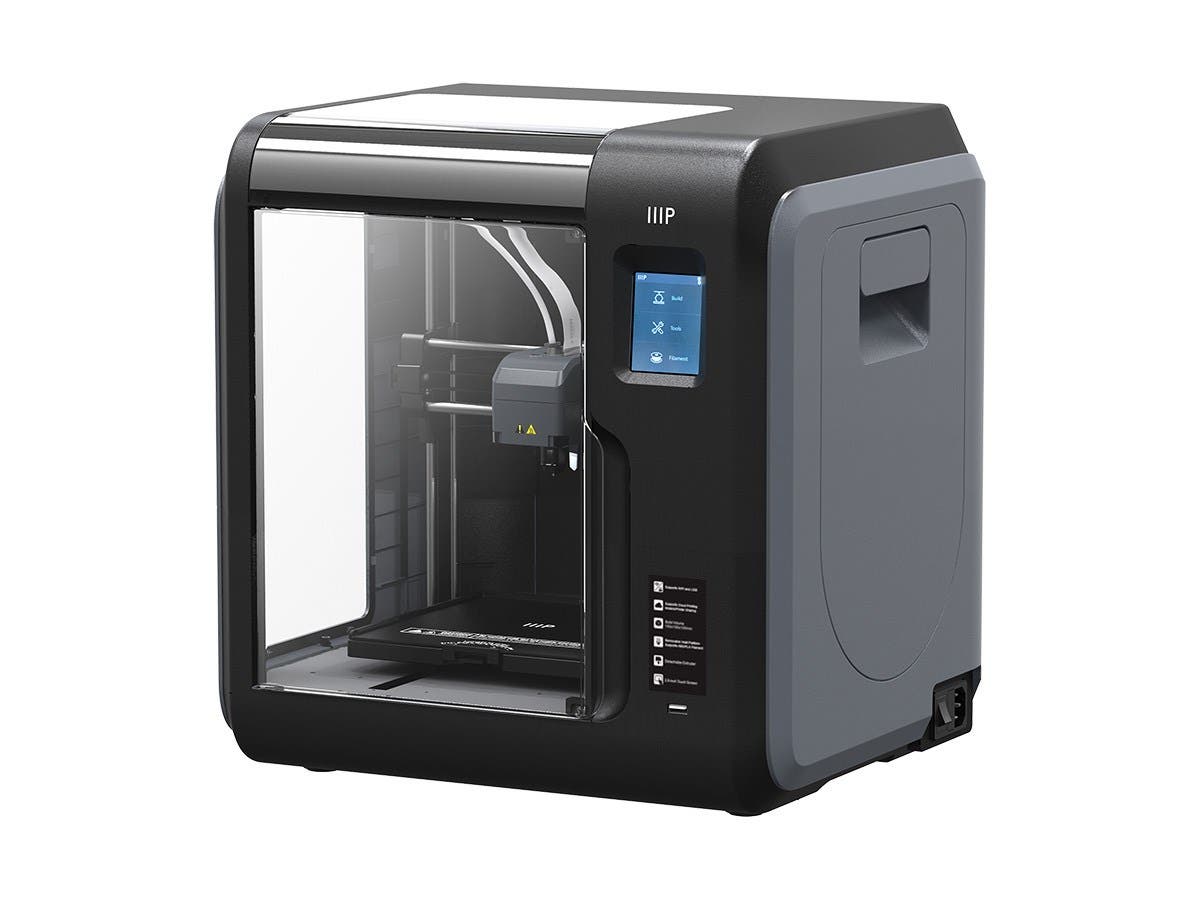 The Monoprice Voxel 3D printer is a low-cost device with lots of advanced features. For about $400, you can take home a highly accurate machine tagged with a huge customer base contributing to the popularity of this option.
Either you wish to print with PLA or ABS, you can use this device to get high-quality models. The build size is decent but enough to help you create amazing designs.
The product is great for home use as well as for educational purposes. The enclosed frame makes it safer and eligible for working around children. Moreover, the plug and play capabilities make the 3D printer best for beginners who do not have much experience setting the device.
Features of Monoprice Voxel
This 3D printer is one of the top 3D printers under $500. Best suited for printing creative and complex designs, it is backed with many features.
Easy Change of Nozzle: Usually, it requires a lot of time and tools to change the nozzle of printers. However, this device provides easy access to changing nozzles. In a few seconds, you can easily replace the nozzle without the need for any tool.
Automatic Bed Leveling: The 3D printer includes a completely calibrated printer. You can start printing right out of the box. However, if needed, you can make adjustments to the distance between the ned and the nozzle. You can use the touch screen for making the changes.
Removable Plate: The 3D printer displays a removable print bed which is a heated platform and enhances the adhesion of the first later prints. It can be heated to 60 degrees Celsius for managing the adhesion of the prints. Moreover, it is easy to take models out of the machine once it is printed.
Automatic Feeder and Sensor: The loading of filament is easier with this 3D printer. The entire process is automatic and takes no time to complete the job. Moreover, the machine is able to sense the filament levels. Once low, it pauses the print and resumes it once the filament is loaded back.
These features are provided to help users print easily using this 3D printer. You can create fun models and parts for commercial use with this wonderful 3D printer.
Monoprice Maker Ultimate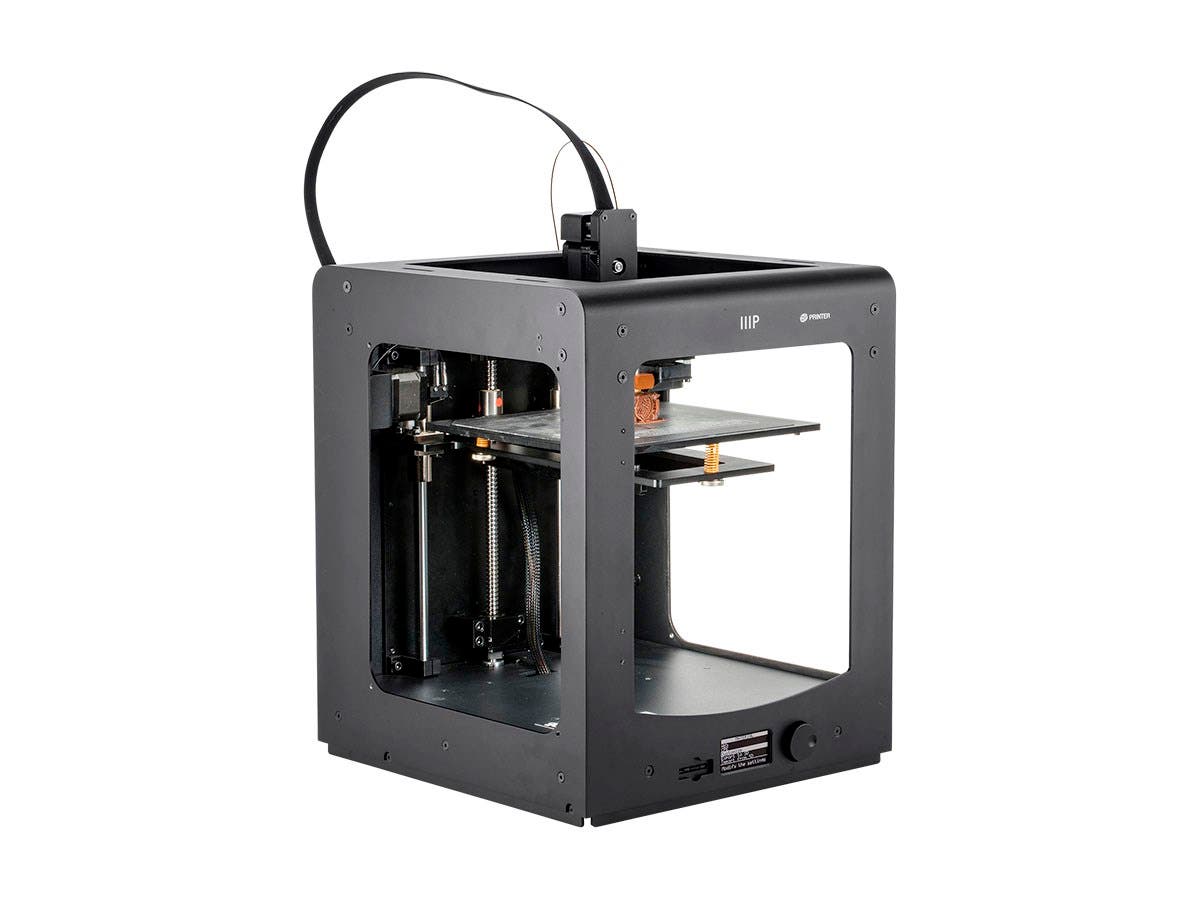 This 3D printer comes for $478 and is very well designed for multiple applications. Being a mid-range budget 3D printer, this offers great features and lets users take benefit of high accuracy and design freedom.
You can design complex designs with minimum hassle. No more turning to expensive printers for commercial use. This cheap 3D printer can be even used for professional applications while suiting home users at the same time.
Features of Maker Ultimate by Monoprice
Monoprice has successfully impressed a huge user base with its unique offering. And, Maker Ultimate is not an exception to the list. So, what are the features that make this amazing machine worth mentioning? Let us explore the various unique qualities that have been included in the device to provide a great user experience.
Great Accuracy and Precision: You can achieve a layer resolution of 20 microns with this 3D printer. This helps you create the finest details with precision. It is not possible for many machines to even get closer to the precision that this device provides.
Extruder with Anti-Jam Technology: You are introduced to an anti-jam filament feeder that takes care of processing filament to the extruder without any failure. You can enjoy printing the models without worrying anything about extruder jamming.
Heated Plate: The 3D printer exhibits a heated print bed. This allows for amazing adhesion and cleaner models. You can use this machine with different filament types. Possible to work with a few of the metal filaments as well.
Open Frame for Consistent Air Flow: The device has an open frame that is designed to ensure that the airflow is consistent and all the parts cool at the same time, increasing precision and accuracy of the parts printed by this 3D printer.
You can have a lot of benefits apart from the ones listed above. Once you get to print with this 3D printer, you would realize that 3D printing isn't that difficult. All thanks to the amazing design and features that make this 3D printer a breeze to work with.
Monoprice MP Maker Pro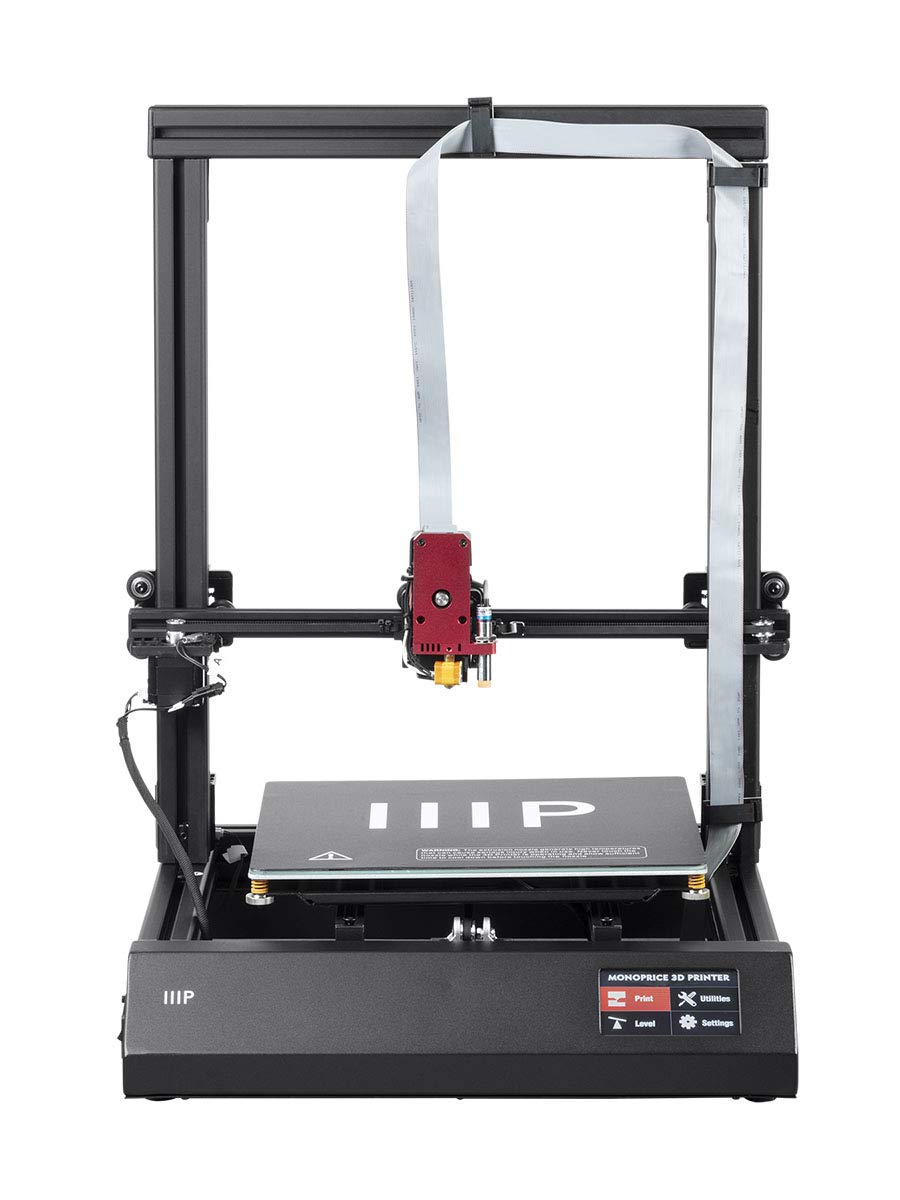 Monoprice offers many 3D printers for a similar range and all these options have something unique to offer to its user base. This device is a huge hit among its users because of the various advantages it exhibits.
You can certainly check this 3D printer before making the final decision, you may change your mind and get this one onboard instead. It has many capabilities that enable the device to fight expensive 3D printers in the market.
Feature of Monoprice MP Maker Pro
There is nothing wrong with exploring options, but why make the job difficult by looking cluelessly among irrelevant choices? There is a lot of trails and errors when working with 3D printers.
Not everything depends on the quality of the printer, but a lot depends on other parameters too. However, the strong feature tends to minimize the extra effort users have to employ to the job. And, this choice does that job remarkably.
Massive Build Volume: Not to forget, build volume does play some role for a few of the users if not everyone. Especially those who are willing to pay more for their device and not looking for the cheapest 3D printer.
You get to enjoy a huge volume and create amazing designs without worrying about limited space. However, it does require some extra spacing or a permanent place. You can handle that if you are a serious user.
User-Friendly Touchscreen Interface: Although this is not the first time Monoprice is including this feature in its machine, this does deserve a say here. A lot of things can be accessed without touching the desktop machine when configuring the printer. This is because of the touch screen display that is always easier to work with.
Auto Calibration: This makes the setup of the device easy and accessible to those not much acquainted with 3D printers. Great for beginners who wish to start operating the printer without much of a hassle usually connected with the initial setup of the device.
Removable Magnetic Bed: Like all the 3D printers listed here, this one too features a removable build plate. It is easy to take the prints out of the printer once the job is completed.
The 3D printer worth more than what it costs. Hence, you get a great deal when buying this 3D printer. It is also compatible with flexible materials and can be used with different ones. So, you have the flexibility to tweak and turn your design as per your wish.
DXPRO SC-3 by Prusa I3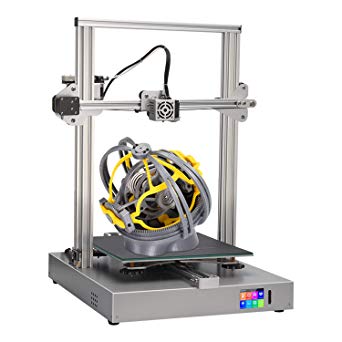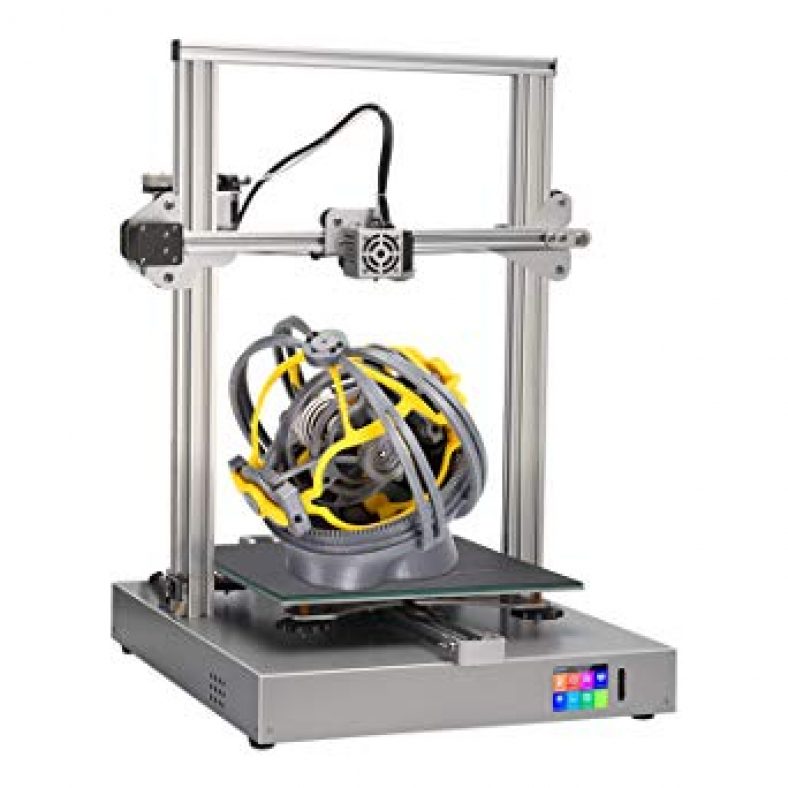 This is a DIY kit by Prusa I3. However, it does not require much time for setting it up as most of the choices offered by this company.
With just three sets of parts, you can easily assemble these within a few minutes and start using the device for your first print.
Although the company claims that the printer can be put together in just 5 minutes, it does take some time. You can expect it to range from half an hour to an hour depending on your experience.
The DIY kit is available for $400 and is a very stunning device. With an open frame, it features a large print volume and is capable of printing great details.
Features of DXPRO SC-3 by Prusa I3
You can be stunned to see how wonderfully the device is designed to meet every possible expectation of the user. There are plenty of great features and various guides to help you go through the installation process.
Huge print Volume: A 3D printer with the capability to print the models of 300 X 300 X 400 mm size wouldn't disappoint anyone. With this 3D printer, you are no more restricted to design small models. Give wings to your creativity while designing for this amazing 3D printer with this massive build volume.
Continuous Printing: This 3D printer could work for 200 hours continuously without any pressure. You can think of the work you can take from this little device.
Heated Build Plate: The 3D printer has an industrial-grade aluminum alloy platform alongside a special tempered glass. This helps in the formation of flat layers while preventing wear and tear of the surfaces and models.
This amazing device with a sleek design gives you the freedom to work with your imagination for creating accurate models without much hassle. The best part is that it can work non stop for long hours without asking for breaks.
A lot of expensive printers are incapable of doing so. Isn't it? With this choice, you get an impressive style 3D printer that can manage all your job with great speed.
The Conclusion
3D printers come in different sizes and loaded with various unique features. Some have better capabilities than others. However, not every 3D printer that is expensive can make your job easier. Some are complicated and others are too expensive to afford.
Hence, budget printers have been made available for those seeking decent quality at affordable rates. Moreover, easing the entire work with many simple and user-friendly technologies.
Looking for these 3D printers is like looking for a needle in the stack of hay. That is why the list of top 3D printers under $500 is crucial for giving users sorted choices for faster decision making.
These 3D printers provide enough functionalities to make your work easier and simpler. Moreover, giving you the freedom to experiment with your parts and models that are not possible through traditional methods.