Ultimaker 2 G
Ultimaker 2 Go has a decent build size and can print with two of the most popular 3D printer filaments i.e. PLA and ABS. It produces exceptionally fine quality prints with the help of easy-to-use open-source and user-friendly Cura software.
PROS
Good print quality.
Compact 3D printing size.
Offers four different modes of resolution.
Easy menu navigation.
CONS
Small build area.
Printing with USB is problematic.
Table of Contents
Ultimaker 2 Go is a desktop 3D printer by Ultimaker – the printer manufacturer based in the Netherlands. It has a semi-closed frame with a heated print bed and is capable of printing with filaments such as PLA, ABS, or CPE. The printer is especially renowned in the entry-level 3D printing market for offering a very high resolution of 20 microns.
Ultimaker 2 Go uses the 2.85 to 3 mm rare filament diameters for printing parts and functional prototypes. It hosts an innovative extruding system that provides users with high moving speed.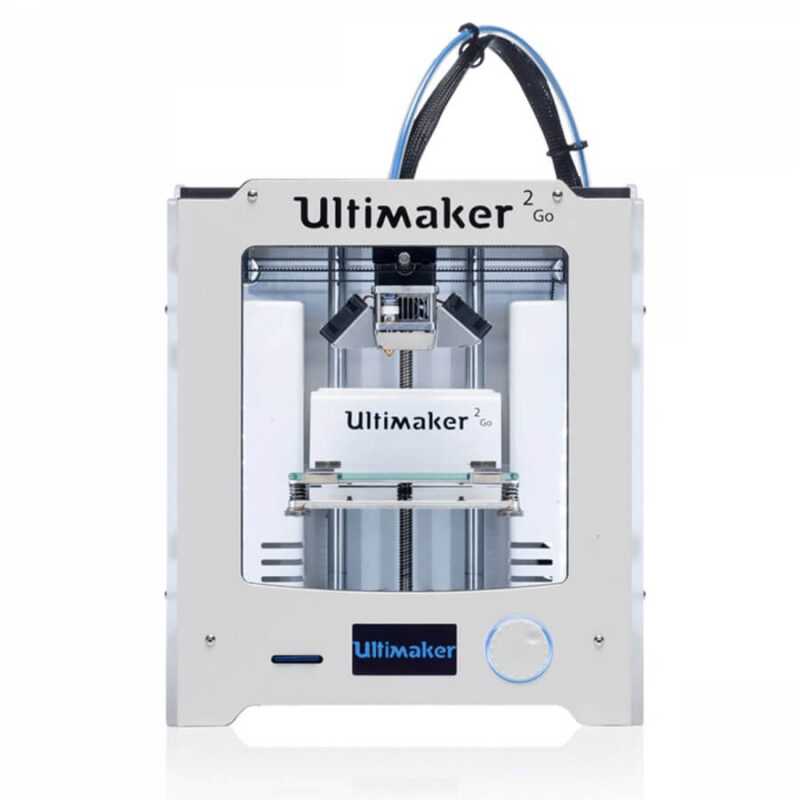 The hot end of the machine is not positioned on the moving head, instead of it's present next to the filament spool which is unique compared to other printers in the same price range.
Having stated so, what are the factors that make Ultimaker 2 Go an outstanding 3D printer among the printers offered at a similar price range? Let's find out by reading in-depth about the printer.
Features
Offering impressive quality and speed, Ultimaker 2 Go reveals itself the very next moment you hit on Print. It is not only a portable system but also one of the best small-sized 3D printers in the market.
The printer offers a high-quality product with a friendly interface that makes it an ideal starter machine for beginner users. Its slimmed design incorporated with dedicated portable packaging makes it available for users on the go.
All in all, Ultimaker Go has many features that make it strike out from the list of 3D printers available in the same price range. Such features are mentioned and explained below.
Portable design
Ultimaker 2 Go and its products are small and portable. It measures 11.3 inches * 10.2 inches * 9.9 inches and weighs 13 pounds and 11 ounces. So, if you encounter say 10 3D printers in the same price range, you would have 9 3D printers having more weight or size than Ultimaker 2 Go. But the printer manufacturer guarantees how it would not haul anywhere.
Within its box, the printer is securely packed in a Styrofoam case that can be carried with help of an included bag strap. It has a boxy white frame with translucent sides displaying the Ultimaker's logo and interior lit by strings of LEDs running down each front inside edge.
Eccentric filament use
Another unique feature of Ultimaker 2 Go is that it uses a filament of diameter 2.85 to 3 mm for 3D printing parts or functional prototypes. The printer hosts an extrusion system specifically designed for such a thickness of the filament.
Although the company itself is a filament manufacturer and sells filaments with 2.85 to 3 mm diameters, users are given the freedom to sell filaments of other brands, provided the spool's hole is at least 2 inches in diameter. The printer comes accompanied by a spool of polylactic acid (PLA) filament supporting printing with ABS as well.
Bowden fed hotend
Ultimaker 2 Go features a Bowden-fed hotend with the filament being fed from its backend. Such an arrangement makes the loading process relatively straightforward. All you need to do while setting up the printer is select the material via the menu, follow instructions written on it and that's it! You are all good to go.
Compatible with easy to use software
The printer is compatible with Cura, open-source, straightforward software used for preparing and transferring 3D models from the computer to the printer. This application is maintained by Ultimaker. It makes the process of loading and scaling models simpler than ever. In case the model is of the correct size, it appears in yellow.
In case it isn't the model will appear in grey and will require rescaling. The software also has various other options to quickly change layers and overhangs that are highlighted in red if Cura senses some or the other issue while 3D printing.
Cura lets its users adjust print settings, either manually or automatically via three to four print quality settings. These modes have a substantial difference between them and it's a known fact that the slower the prints are printed, the higher their print quality is.
Plug and play
Ultimaker 2 Go's complete unit is easy to assemble. It is almost ready to plug in and print the moment users take it out of the box. All one needs to do is simply take off the protective packaging, place the glass print plate above the printing platform, and put in the filament spool on the printer's back, that's it!
From the moment the printer is received to you in its box, to the moment you are allowed to hit print, there is just a maximum fifteen minutes long procedure to undergo.
Removable build plate
Ultimaker has put in place a removable build plate that users can take off from its place after their 3D printing process is finished. Doesn't matter if the printed object is hefty, operators can remove the build plate after allowing the object to sufficiently cool down and then remove it. There is no danger of damaging the already printed objects.
LCD screen
A small but efficient LCD screen present on the bottom of the printer's body is equipped with all the controls on Ultimaker 2 Go. Not only does it allow the users to control, but also changes the basic settings regarding 3D printing an object.
Multiple modes of connection
The printer handles everything via your computer. It can be used as a USB-connected 3D printing unit, or as an SD-card slot connected 3D printing unit.
The machine comes compatible with a very smoothly working slicer that can be easily operated via multiple operating systems. Inserting an SD card automatically switches the application to SD saving mode where users can also see the remaining print time, so it's a little bit intuitive that way.
Specifications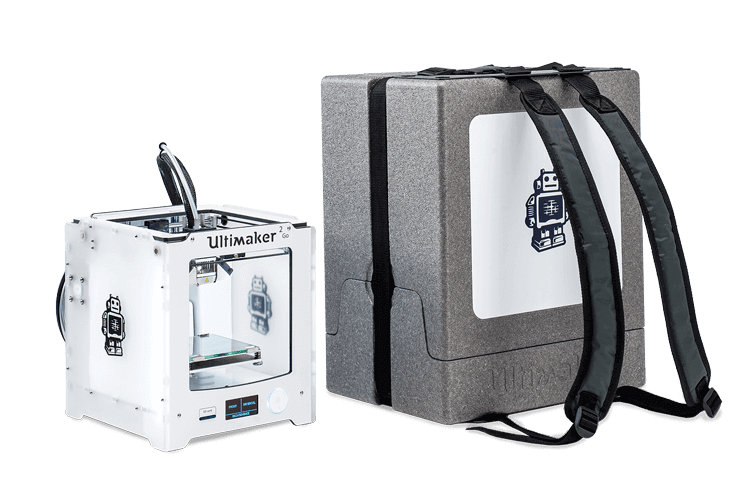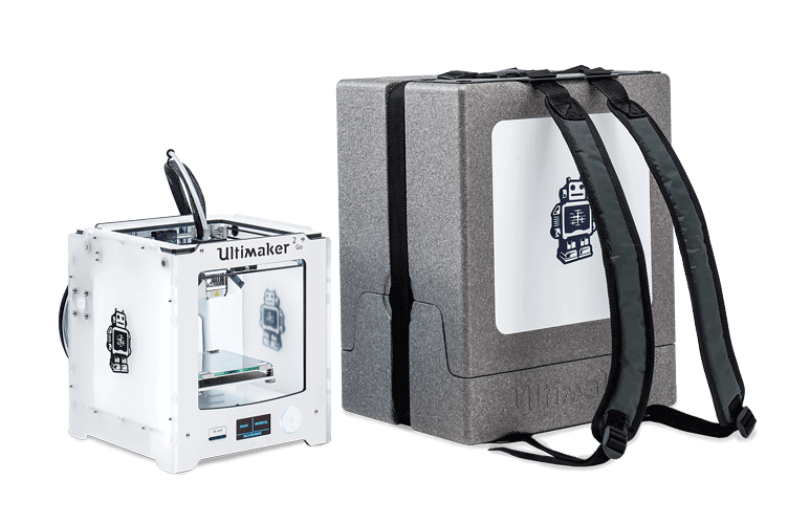 Credit: treatstock.com
Ultimaker 2 Go is based on the simplest and the most accessible Fused Deposition Modeling 3D printing technology. The machine allows users to print parts and functional prototypes of maximum build volume 120 mm * 120 mm * 115 mm. Moreover, it offers a layer resolution ranging anywhere between 20 to 400 microns.
The printer features a standard nozzle diameter of 0.4 mm. It can print with various filaments that have a more than normal diameter of 1.75mm i.e. 2.85 mm. Ultimaker claims how the machine can provide a maximum print speed of 300 millimeters per second.
There are four modes of 3D printing offered by the printer manufacturer, they are:
The fast mode permits users to achieve 200 microns.
Normal mode delivering a part of 100 microns.
The high mode offers users 60-micron layer resolution.
And lastly Ulti mode is capable of providing 40 microns.
The ambient operation temperatures of Ultimaker 2 Go's nozzle and print bed ranges from 180 to 260 and 50 to 100 degrees Celsius!
Price
Ultimaker 2 Go is available for $1450.
First Impression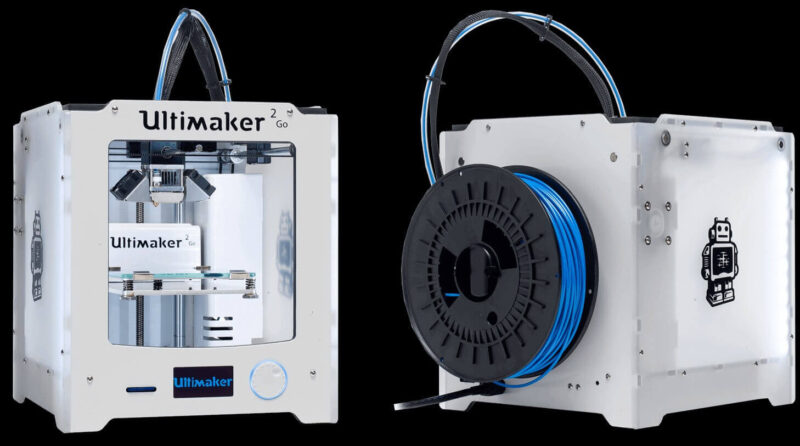 The printer comes in reusable, durable packaging specially designed to protect the printer while in the transport phase. Ultimaker 2 Go needs to be unraveled from the cardboard box in which it is delivered to your place, for which you can carry the belt and hold it while lifting the Ultimaker 2 Go.
Inside the foam, part present on the front side of Ultimaker 2 Go users will find a spool with PLA filament and a test print which you need to put aside. Open up the entire packaging by removing both the foam parts present at the front and the backside. Then, you can place the printer on the desk, ensure you are holding the frame and not on its belts or axis while carrying it from one place to the other.
Setup
Ultimaker 2 Go's setup is fairly simple. It starts by snapping the filament spool holder placed at the back of the printer. Doing this, while covering the top of the glass build plate with strips of blue painters' tape and fastening the plate to its build platform using clips, works. Then attach the printer with the power supply and turn it on.
After which, follow the instructions mentioned on the five-line display controlled using the dial present just next to it. This assists you to level the build plate, by moving the extruder to three different positions above the build plate involving you to turn the dial and tighten screws until the extruder is exactly one millimeter away from the plate.
The last step is to put a filament spool in its holder and push the free end of the filament into a tube till it's grabbed between a wheel and gear.
Print Type/Cost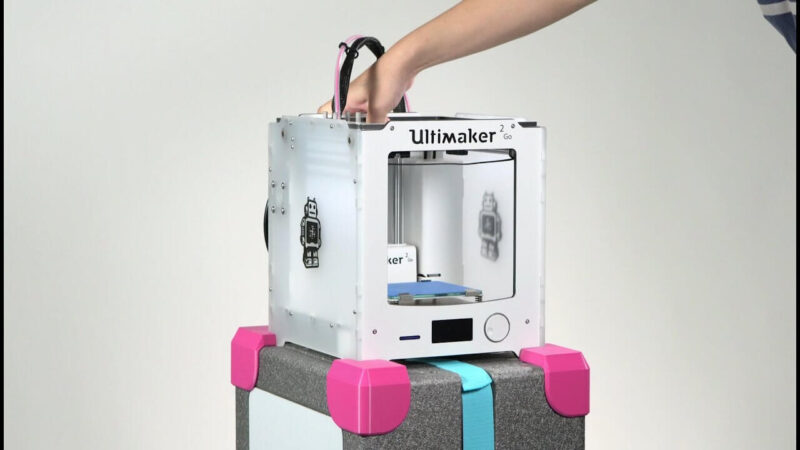 Ultimaker 2 Go is based on FDM 3D printing technology wherein a plastic filament spool is squeezed through a hot end. It is melted and then deposited in the form of layers on the printer's print bed. The layers are then fused building up throughout the print and eventually forming the finished part.
Generally, the cost of 3D printing a part using FDM 3D printers doesn't cost as much as printing the same part with other 3D printing technologies such as SLA, SLS, or powder bed fusion technologies. However, the cost depends on various factors such as part geometry, filament cost, support structures, etc.
Print Quality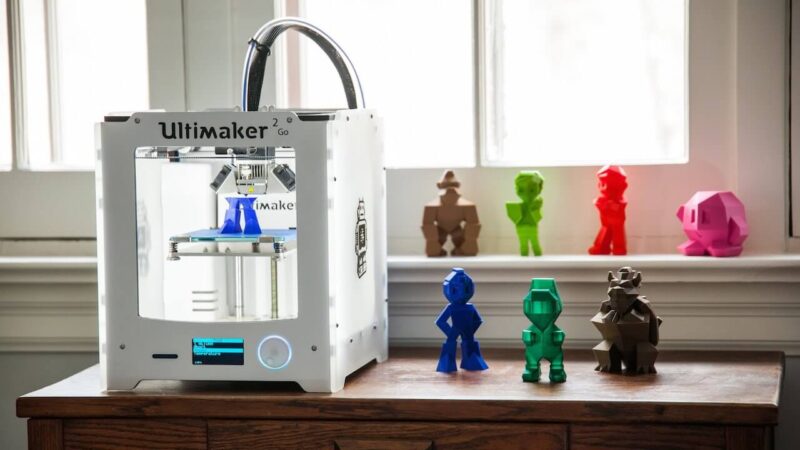 Similar to other Ultimaker 3D printers, Go too has an unusually high resolution for a FFF 3D printer. Its default resolution comes set at 100 microns, but users are allowed to enter their value which can be up to 20 microns.
The printer manufacturer recommends 60 microns as the high-resolution setting for providing a good balance between resolution and print time. The overall print quality of Ultimaker 2 Go is decent with required detailing and little trace of layering.
Software
Ultimaker offers Cura a popular open-source software that can be loaded on the computer for modifying 3D object files and saving them.
The application is easy to use and lets you resize as well as move objects, load multiple objects for 3D printing, and changing the resolution and other settings. It is compatible with file formats such as STL, OBJ, AMF, and DAE.
Customer Support
Ultimaker has local support teams in case of the need for personal support while troubleshooting the issues that show up while using the printer.
Parameters Influencing Buying Decision
Below mentioned are the key factors of Ultimaker 2 Go that are worth noting before deciding to buy it.
3D Printer Cost: Considering the print quality the printer manages to offer, it is affordable for a price of $1450.
3D Print Speed: Above average.
3D Print Quality: Decent.
3D Printer Capability: The printer is capable of assisting beginners and educationists to print and teach the simplest available 3D printing technology manufacturing decent objects with fast print speed easily.
3D Printer Practicality: When in operation, Ultimaker 2 Go doesn't undergo any hiccups and is straightforward in use. Most importantly, the printer is paired with Cura which makes all the work of users hassle-free.
3D Printer User Expectations: Ultimaker 2 Go is primarily meant for users who are willing to gain experience in the 3D printing industry. Based on FDM 3D printing technology, the printer offers a small but quality build volume for printing parts and functional prototypes.
The Verdict
Managing to sit on your working desk, Ultimaker 2 Go has a decent build size and can print with two of the most popular 3D printer filaments i.e. PLA and ABS. It produces exceptionally fine quality prints with the help of easy-to-use open-source and user-friendly Cura software. Moreover, the printer is packed with convenience-offering features such as SD card connectivity and LCD to make things a lot easier for users.