Creality3D Ender-3 Pro
The device offers plenty of advanced features not available with even the expensive machines, it delivers astonishing results and commendable quality prints. It's easy to set up, and, one can easily upgrade the machine as desired.
PROS
It is a budget friendly 3D printer
Semi-assembled. Hence, easy to set up
Offers generously sized build volume
Compact design, suitable for home users
Satisfactory print quality
Based on open-source design. Hence, open to upgrades
Compatibility with multiple filaments
CONS
Manual print bed leveling is a bit complex, especially for beginners
Difficult to print with brittle filament
Takes around two hours from unpacking to set up
Product
Specification
Videos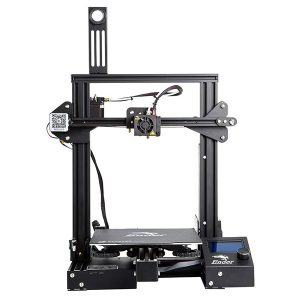 Starring an extremely innovative design, Creality 3D Ender 3 Pro offers super printing size with a one-piece structure and yet saving space. It comes ...
| | |
| --- | --- |
| Model | Ender 3 Pro (Kit) |
| Manufacturer | Creality |
| Price Range | $ 259 |
| Release date | 2018 |
| Country | China |
| Availability | Available |
| Classification | DIY/Kit |
| Technology | Extrusion (FFF- FDM…) |
| Material | ABS, Other plastics, PLA |
| Filament diameter | 1.75 mm 0.07 in |
| OS compatibility | Linux, Mac OS, Microsoft Windows |
| Generic material | Yes |
| XY accuracy | 0.1 mm 0.004 in |
| Max. build size | 220 × 220 × 250 mm 8.66 × 8.66 × 9.84 in |
| Max. build volume | 12.10 L |
| Max. print speed | 80 mm 3.15 in /s |
| Min. layer thickness | 0.1 mm 0.004 in |
| Dimensions | 440 × 410 × 465 mm 17.32 × 16.14 × 18.31 in |
| Weight | 8 kg 17.64 lb |
| Nozzle diameter(s) | 0.4 mm 0.02 in |
| Power input | AC 100-265V 50-60Hz |
| Heated print bed | Yes |
| Heated build chamber | No |
| Automatic calibration | No |
| Closed frame | No |
| Dual extruder | No |
| Independent Dual Extruder | No |
| Full color | No |
| LCD screen | Yes |
| Touchscreen | No |
| On-board camera | No |
| Mobile app | No |
| 3D scanners | No |
| CNC mill | No |
| Electronics 3D printing | No |
| Laser engraving | No |
| Conveyor belt | No |
| Air filter | No |
| Pellet extruder | No |
| USB | Yes |
| Wifi | No |
| Bluetooth | No |
| SD card | Yes |
| Ethernet | No |

Table of Contents
The Ender series from Creality aims at providing individuals with affordable 3D printers. At the same time, not compromising on the quality of the parts. And, Ender 3 Pro is no different.
Available at a very attractive price tag, the printer is the best in its class. It is easy to assemble and operate. From makers to tinkerers, Ender 3 Pro suits the needs of different sets of users with ease.
Apart from being a very compact machine suitable for home use, the 3D Printer boasts many advanced features too. In addition, the decent build space adds to the overall appeal of the machine.
With a sturdy body and a robust design, Creality ensures that the users get the best value printer. Not just that, Ender 3 Pro is even easier to set up when compared to its predecessor.
In short, Ender 3 Pro comes with many amazing benefits for its users that you may not find in the expensive printers as well. Here is a detailed review of Creality's Ender 3 Pro briefing the various perks and limitations of the printer.
Features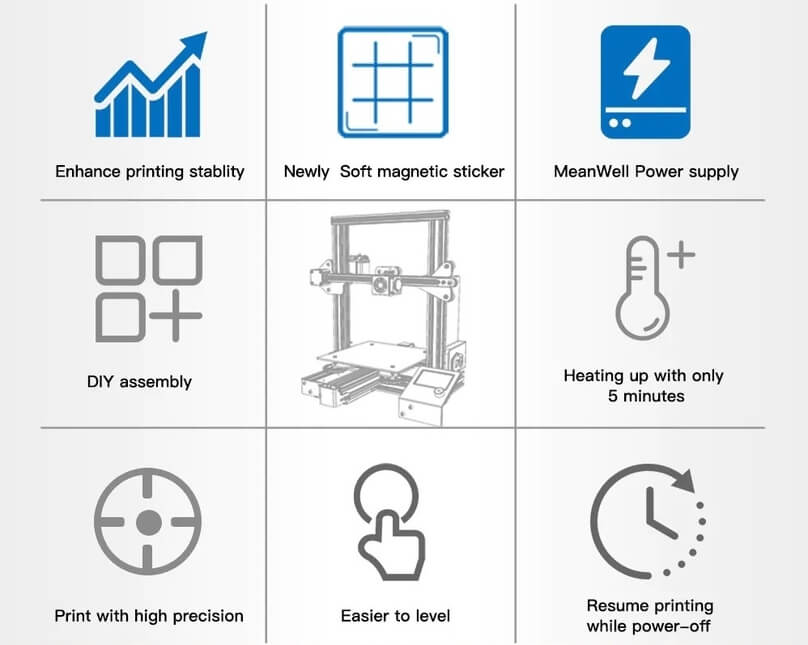 Retailing for a $240 price tag, the Ender 3 Pro is popular among beginners as well as users with budget constraints. The device comes unassembled featuring an open-source design. Hence, it is easy to modify.
Undoubtedly, there are many features that Ender 3 Pro offers. From removable bed to resume print function, you can expect it to excel in many ways.
Unassembled Kit
Like many other DIY Kits, Ender 3 Pro comes unassembled. Users must connect components to complete the setup. However, with precisely labeled parts, the task isn't too complex.
Moreover, it is not exactly a DIY 3D Printer. On the contrary, it comes partially assembled. Hence, users do not have to spend days or hours completing the setup.
Removable Build Plate
The printer features a "C-MAG" magnetic build plate. This sheet is not only removable but flexible too. Hence, making it easier for users to take out the prints off the build plate once the printing is complete. Moreover, the sheet has a textured surface. Therefore, allowing better adhesion of the first layers.
Enhanced Mechanical Properties
To enhance the stability of the build surface, the manufacturer came up with better aluminum extrusion for its Y-axis base. Not just that, the powerful bearing wheels allow higher stiffness along with reduced friction. Hence, providing amazing dimensional stability.
Reduced Noise Levels While Printing
Usually, the printers without an enclosed frame create a lot of noise when printing. However, this is not the case with Ender 3 pro.
By ensuring few broad rubber feet, along with other design improvements from its predecessor, the manufacturer is able to reduce the noise level significantly.
Tighter Filament Path
This is a very thoughtful improvement. With a tighter path for filament movement, Ender 3 Pro makes it simpler to work with flexible filaments.
Secure Power Supply
The printer has a UL Certified power supply. This protects the machine in case of unexpected power fluctuations. Also, the power supply helps in heating the hotbed to 110 degrees Celsius in not more than 5 minutes. Allowing users to start their print jobs without waiting too long.
Print Resume Feature
Creality never ceases to impress users with its highly capable printers available for an affordable rate. Including advanced features such as the print resume function with Ender 3 Pro, the manufacturer ensures that the users can work seamlessly without worrying about power outages.
The printer saves the extruder's last position during power cuts. And, resumes printing from where it stopped once the power is back. Therefore, saving unnecessary hassle of printing models all over again.
Heated Bed
Creality includes a heated bed to support printing with flexible filaments. Hence, you are not limited to one or two materials, however, you can experiment with multiple choices.
Specifications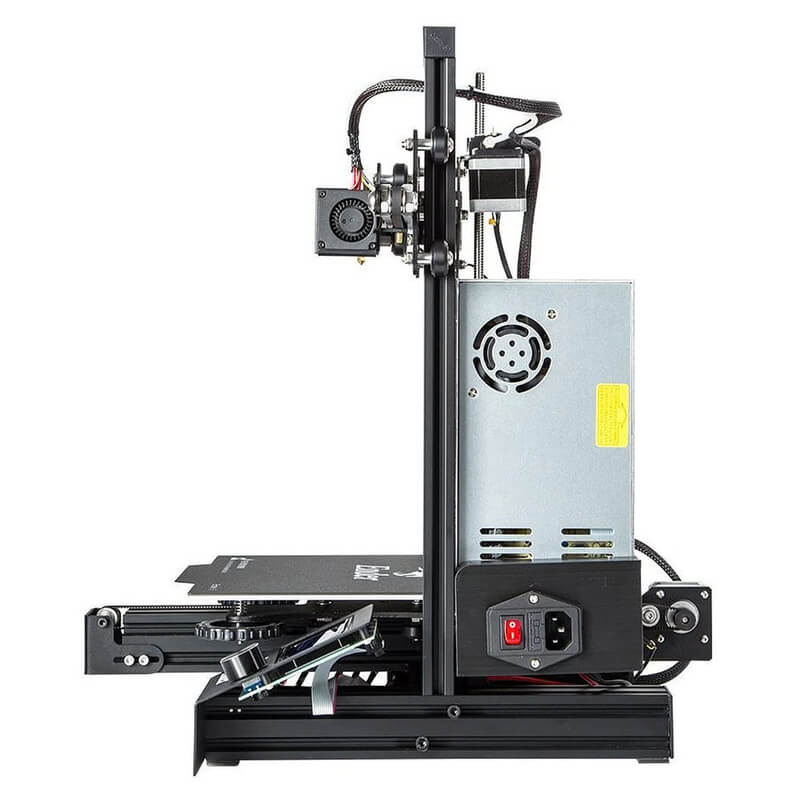 Credit: creality3d
With a 17.5 x 17 x 18 inches footprint, Ender 3 Pro can accommodate easily your work desk. It provides sufficient print space of 8.7 x 8.7 x 9.8 inches for creating medium sized models in one go. In addition, it exhibits a 3.25 inches LCD screen with a dial button.
The heated bed can reach a temperature of 110 degrees Celsius. Further, the printer can work at a higher speed with ease. It can reach the maximum print speed of 180 mm per second. When it comes to its accuracy, Ender 3 Pro offers a layer resolution between 100 to 400 microns.
Users can upload designs using the USB or MicroSD connection. Overall, the 3D printer is an amazing choice for beginners as well as young creators.
Price
The Creality Ender 3 Pro ships for $240. Hence, it is a very budget-friendly 3D printer offering amazing print results.
First Impressions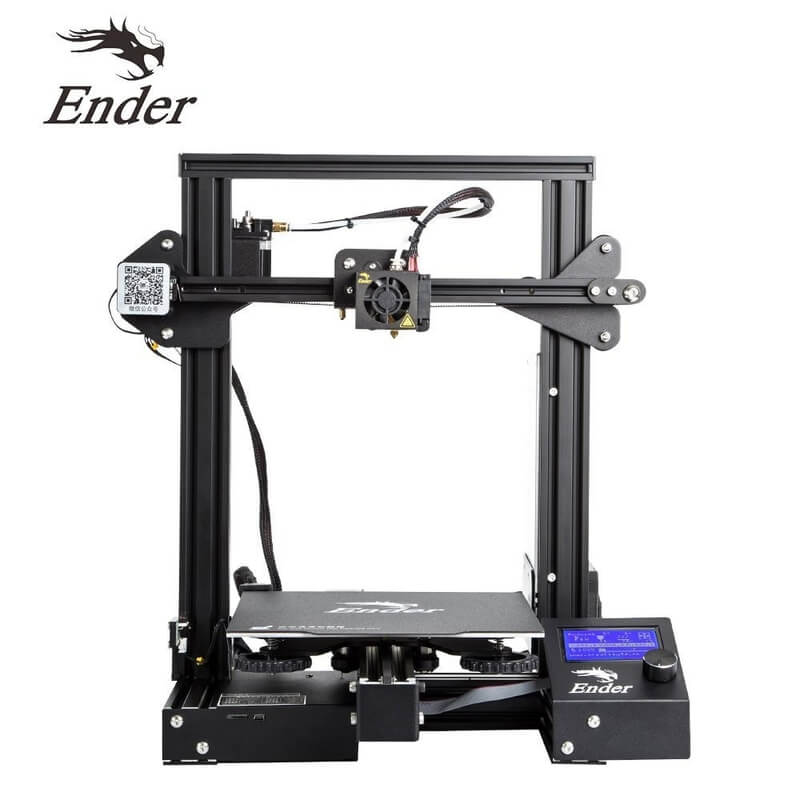 By including a few modifications from its predecessor, the manufacturer has come up with a strong competition for 3D printers falling in the same price range.
A robust design accompanied with sufficient build space, almost twice the size available with Ender 2, Ender 3 Pro is surely a great choice for beginners.
The 3D printer comes semi-assembled. The packaging is also securely done. With every part safely put inside different plastic bags with proper naming is commendable.
In short, the company ensures that the users do not have to go through the unnecessary hassle of organizing the parts for setting the device.
In addition, the printer comes along with all the necessary tools and test filament to complete the setup and start printing right away.
Setup
A lot of users feel dubious when choosing a DIY 3D printer. The complex setup and manual calibration aren't something that everyone can easily accomplish.
Therefore, in order to ease the users' experience, Creality has come up with minimal setup requirements for its unassembled kit.
Users can easily locate parts with the help of clear labels. Following the setup manual, it becomes even simpler to find out which part connects to which component on the device.
Additionally, the manual is very neatly designed. You can find all kinds of guides and instructions on the SD card that the company ships along with the Ender 3 Pro kit.
Moreover, you can also refer to a detailed video, created by Creality to assist users in completing the setup as fast as possible.
For experienced makers, the setup will take somewhere around two hours. Being a semi-assembled kit, the Ender 3 Pro comes with pre-built X and Y axes.
Hence, all you need to do is mount it to the Z-axis. Moreover, the package contains all tools with an 8 GB SD card.
Printing Type/Cost
Ender 3 Pro is an FDM 3D Printer. Hence, it makes use of an extruder to heat the filament above its melting point for creating layers.
Every time the printer creates a layer, the build surface moves down a little. Hence, making room for the next layer. The entire process continues until the model is completely printed.
While calculating the cost of printed parts, one must consider various factors. Such as the material cost, amount of material used, part design, infill percentage, and more. However, when comparing FDM parts with those created using other printing techniques, it's cheaper.
Print Quality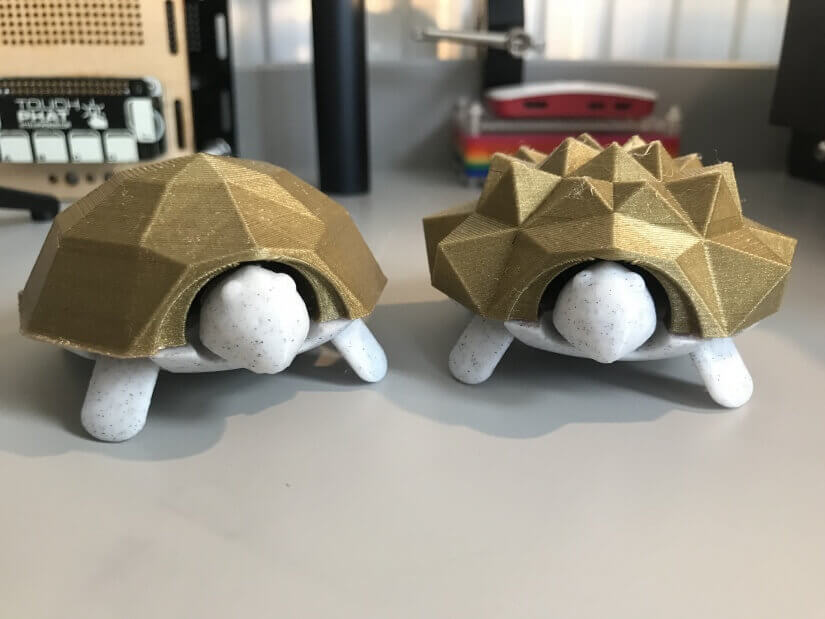 Credit: electromaker.io
It won't be justified to expect Ender 3 Pro to print like a professional 3D Printer. It does allow users to create nice prints, however, it's way far from being perfect. Enabling the layer resolution between 100 to 400 microns, the printer can create satisfactory parts.
Also, the results with different filaments vary. One may need to twig a little bit with the printer's settings to perfect their parts' finishing. It isn't a plug-and-play device. Rather, it requires constant attention to its setup for smooth printing.
Software
Users get the latest version of Cura with Creality Ender 3 Pro. This version is for Windows only. In case you are using a different operating system, do not forget to download the compatible version from the Ultimaker website.
The latest Cura version comes with a profile for the Ender 3. The same settings and dimensions will work for Ender 3 Pro. However, if you choose to add the device as a custom FDM printer to the software, ensure to change the filament diameter from 2.85mm to 1.75mm.
Ender 3 Pro is also compatible with other user-friendly and popular slicers. For instance, you can work with Simplify3D that comes with a dedicated profile for the device. This application is even better when creating supports.
To sum it up, the 3D printer works exceptionally great with these applications. Most of the settings are a cakewalk for beginners as well. And, not to forget, these applications offer simple interfaces.
Customer Service
The manufacturer is very reliable and ensures that the customers get all the attention they require to have a seamless experience working with the machine. And, to guarantee that level of satisfaction, it offers 24 hours professional assistance. As well as, lifetime technical support for the users of Ender 3 Pro.
The Parameters Influencing Buying Decision
Creality Ender 3 Pro is a very impressive machine. Offering a plethora of benefits to the users, the printer comes with various amazing features. And, its affordable price tag makes it even more desirable. So, let's find out if the 3D Printer is worth your attention.
3D Printer cost: Without a doubt, the printer is very much affordable. Available for $240, Ender 3 Pro is the best choice for users looking for a capable budget-friendly 3D Printer.
3D Print quality: Users can achieve a layer resolution ranging between 100 and 400 microns when printing with this device. This is highly satisfactory when considering Ender 3 Pro's price.
3D Print speed: The printing speed is really impressive. Users can attain a maximum print speed of 180 mm per second. Moreover, with sturdy design, Creality ensures that the parts come out clean at a higher speed as well.
3D Printer capability: Being a beginner's printer, Ender 3 Pro offers satisfactory results to the users. It can create parts with supports and intricate designs. However, users must ensure the correct settings to achieve desired results.
3D Printer Practicality: Best for beginners and home users. Those wanting to learn how to 3D Print can choose the printer without any doubt.
3D Printer User expectations: Apart from the complex setup and manual calibration, the printer does satisfy users with its overall performance.
The Verdict
There are many reasons to choose Ender 3 Pro over other choices. Definitely, the major attraction is its affordable price tag. However, the perks do not end there.
The device offers plenty of advanced features not available with even the expensive machines. Its decent print space, the heated and removable bed, print recovery mode, combined with many amazing features, provide users a seamless printing experience.
Overall, the 3D printer is easy to set up. And, one can easily upgrade the machine as desired. If you are up for investing some extra effort to care for the device, Ender 3 Pro could turn out to be an exemplary choice.
It certainly can deliver astonishing results and commendable quality prints. However, users must be ready to experiment with the settings.