BCN3D Epsilon W50 3D Printer
Epsilon W50 is a printer that is more suited for professional 3D designers in the field as well as small manufacturers and academicians because of the cost it is available at.
PROS
Independent dual extrusion system.
Passively heated build chamber.
Enclosed body.
Safety filter.
Huge build volume.
CONS
Post-processing of the part or functional prototype manufactured on the printer is difficult than it is in an open bodied 3D printer.
Product
Specification
Videos

If you are looking for a 3D printer that allows you to carry industrial-grade manufacturing at a fast rate while offering ease of use, do not forget ...
| | |
| --- | --- |
| Model | Epsilon W50 |
| Manufacturer | BCN3D Technologies |
| Price Range | $ 8200 |
| Country | Spain |
| Availability | Available |
| Classification | Professional |
| Technology | Extrusion (FFF- FDM…) |
| Material | ABS, Carbon fiber and composites, Other plastics, PLA |
| Filament diameter | 1.75 mm 0.07 in |
| OS compatibility | Linux, Mac OS, Microsoft Windows |
| Generic material | Yes |
| Max. build size | 420 × 300 × 400 mm 16.54 × 11.81 × 15.75 in |
| Max. build volume | 50.40 L |
| Heated print bed | Yes |
| Heated build chamber | Yes |
| Automatic calibration | No |
| Closed frame | Yes |
| Dual extruder | Yes |
| Independent Dual Extruder | Yes |
| Full color | No |
| LCD screen | Yes |
| Touchscreen | Yes |
| On-board camera | No |
| Mobile app | No |
| 3D scanners | No |
| CNC mill | No |
| Electronics 3D printing | No |
| Laser engraving | No |
| Conveyor belt | No |
| Air filter | Yes |
| Pellet extruder | No |
| USB | No |
| Wifi | Yes |
| Bluetooth | No |
| SD card | Yes |
| Ethernet | Yes |

Table of Contents
In this article, we are going to share information about various characteristics of this printer including features, specifications, as well as print quality, setup, and a lot more.
Features
Below mentioned are those features of the printer which are worth appreciating.
Two types of filters, as well as safety pause
Epsilon W50 printer comes with HEPA as well as a carbon filter. The function of the HEPA filter is to ensure that your working environment does not interact with any kind of harmful particles when you are printing with industrial materials.
Whereas the function of a Carbon filter is to shield your printer from any dangerous fumes that are produced when the printing material burns.
Additionally, the printer manufacturer has kept in mind the uncertainty that involves door locks. Epsilon W50 comes with a glass door lock unlocking which one is granted access to the inner print chamber.
Whenever this door gets opened, the printing stops automatically to ensure that there is no interaction between the outer and the inner atmosphere.
Heated bed and filament run-out sensors
Pertaining to the requirements of letting one print with more than one filament, BCN3D has kept their heated bed capable of withstanding 120 degrees Celsius of temperature.
This allows Epsilon W50 to print with 3D filament made from materials PLA, PETG, TPU 98A, PVA, ABS, PA, and PP.
When the filament of the printer is finished, there is a sensor that detects the finished filament and pauses the printing process until it is reloaded again.
This filament run-out sensor saves your job and from print failure.
Bondtech Extruders and touchscreen interface
The extruders inside this 3D printer has high-tech dual drive gears by the company named Bondtech.
The company is very well known in the field of the 3D printing industry for offering more control, sharper details, as well as superior performance for any type of 3D printing filament.
The multilingual intuitive touch interface is present at the bottom right part of the body of the printer.
This touchscreen interface can guide you to the printer's advanced features. The five-inch long touchscreen interface is available in many supported languages.
e3D Hotends and Aluminum frame
To deliver one of the smoothest extrusions ever, BCN3D has equipped the Epsilon W50 with e3D hotends, which is the smoothest and reliable extrusion maker in the 3D printing market.
To ensure that the printer does not vibrate while 3D printing a part or functional prototype, the manufacturer of this printer has made its body from Aluminum.
So, a sturdy printer frame is a guaranteed present for giving you strength as well as durability on your work floor.
Independent Dual Extrusion System
To expedite the printing process, especially during batch production, BCN3D has made Epsilon W50 comprising of an independent dual extrusion system that can print with four other modes than a single mode of 3D printing a part or functional prototype.
The multi-material mode makes printing two different materials and combining their properties possible.
The soluble supports mode for creating intricate structures for avoiding geometric limitations.
There is a Mirror Mode for enabling the printing of two mirrored designs symmetrically and speeding up the iteration time.
The Duplicate Mode enables printer users to print two identical models simultaneously which means that instead of a single part or functional prototype, you will have two parts or functional prototypes in a fixed set of time, doubling the production capacity.
Uninterruptible Power Supply and printing while in storage
This is a noteworthy feature that you would not get to see in the printers fall in the same price range.
BCN3D Epsilon W50 allows its users to print even after the electricity failure happens, for two extra minutes.
And after the power is back, you will be given the function to resume your print from its last position, so enabling you an uninterrupted power supply.
There is a dehumidifier that can fit up to either up to eight small spools that weigh anywhere between 750 grams or one kilogram, or four big spools weighing up to 2.5 kilograms.
All of these can be directly loaded into the humidity controlled environment of the printer, so all your material needed for 3D printing parts or functional prototypes are in an ideal condition.
Humidity-controlled environment and easy storage and transportation
The designers of Epsilon W50 have kept silica gel inside the printer's storage space for ensuring the humidifying atmosphere is developed inside the printer.
The silica gel absorbs moisture from the storage chamber, keeping all the 3D printing material safe and secured.
After the silica gel becomes saturated, it is isolated from the materials and gets heated up until it releases the complete moisture and thereby clearing it out of the system.
A result of all this is that the filament material in the storage chamber is dry and optimal for use.
This printer can also be bought with Smart Cabinet which is a transportable structure that allows the moving of this printer across various facilities.
Having such a smart cabinet would allow you to keep your workspace organized as well as clean all the time, by permitting you for surplus space for keeping materials as well as tools.
Passively designed print chamber as well as printing with fiber-filled filaments
The print chamber of this printer is fully enclosed which enables users to undergo a constant temperature 3D printing process.
Additionally, the printer's heated bed is known to withstand temperatures up to 120 degrees Celsius, whereas the print chamber can reach up to 60 degrees Celsius.
This allows the users of this printer to print with such filaments, whose melting temperature is a lot higher than others.
Using Epsilon W50 one can also print with fiber-filled materials such as PAFT CF15, as well as PPGF 30.
All thanks to the newly designed hotend inside the printer that can sustain an even higher temperature than most other printers in the same price range.
Specifications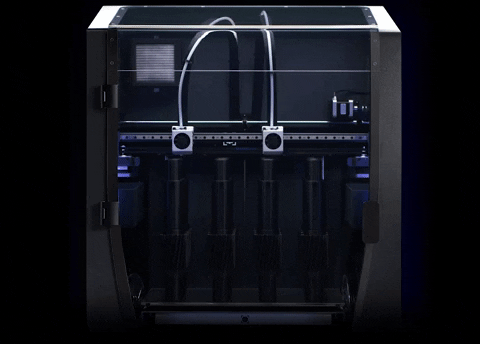 Credit: bcn3d.com
As mentioned in the Features section, this printer can print with four more modes apart from a single mode of 3D printing a part or functional prototype. There are:
Duplicate Mode.
Mirror Mode.
Multimaterial Mode.
Soluble Supports Mode.
Each of these modes is meant to raise the overall printing speed of the printer, especially during batch production of similar designed parts or functional prototypes.
The printer is based on FFF 3D printing technology that stands for Fused Fabrication Filament.
Epsilon W50 has an independent dual extrusion system that is fitted in the passively heated chamber that is fully enclosed with a safety pause feature.
The Category H13 HEPA filter, as well as an active carbon filter safeguarding not only the part or functional prototype, developed using this printer, but also the complete working environment.
The extruder system of this printer has Extruder Bondtech high-tech dual drive gears Hotends optimized and manufactured by e3D.
Whereas the electronics of this printer contain Single Board Computer: Toradex ARM Compute Module and the Motion Board: BCN3D Electronics with Independent Stepper Drivers.
The firmware of this printer consists of BCN3D Embedded Linux distribution BCN3D Epsilon – Marlin. High Temperature withstanding printer's heated bed is made up of Silicone thermal pad.
The five-inch long touchscreen interface supports multiple languages in which it displays information.
The nozzle diameters that can be used with this printer are 0.4 mm, 0.6 mm, 0.8 mm, and 1 mm.
You can connect to this printer using an SD card, or with Wi-fi/Ethernet.
The filament diameter of this printer can be 0.05 mm around 2.85 mm.
You can print using PLA, PET-G, TPU 98A, PVA, ABS, PP, PA, PP GF30, PAHT, and CF15.
The overall dimensions of Epsilon W50 are 690 mm * 530 mm * 750 mm, and its weight 33 kilograms.
Depending on the nozzle diameter the manufacturer has also recommended different layer heights such as 0.2 mm, 0.3 mm, and 0.4 mm.
The layer height resolution of parts or functional prototypes manufactured with the printer is 0.05 mm to 0.5 mm.
The positioning resolution on the printer's X, Y, and Z-axis are 1.25, 1.25, and 1 micrometer respectively.
Epsilon W50 needs to be operated between the temperature range of 15 to 30 degrees Celsius.
The extruder of this printer can withstand a maximum temperature of 300 degrees Celsius.
Price
The price of Epsilon W50 is $8200 and it can be bought from the manufacturer's website.
First Impression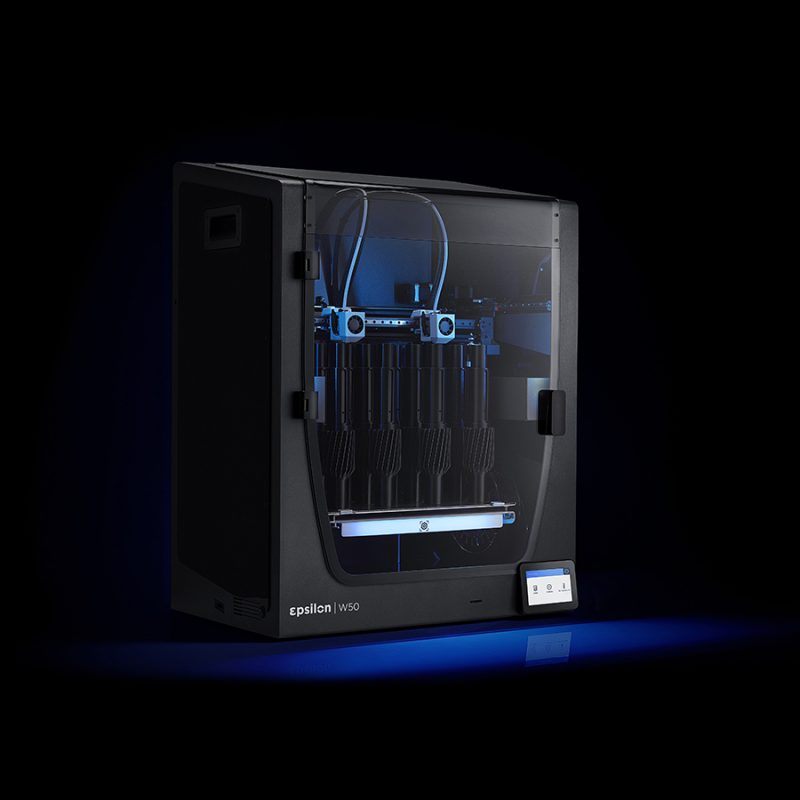 The printer stands out and catches your eye when it is present with ten others on the same table, because of its touch screen interface at the right bottom of the body, whereas general printers do have touchscreen interfaces at the head of their bodies.
The nozzle system of the printer is visible from the front of the printer because of the glass door that gives access to the passively heated print chamber.
The build surface stands above the ground, you also get to see the rails as well as the filament spool holder of the printer from the front.
Setup
The printer comes completely assembled, so all you've got to do is start interacting with the touchscreen interface to know the various functions of different parts of this printer.
You are also advised to read the manual that is provided with this printer as well as the knowledge base that is available on the printer manufacturer's website.
These materials would provide you all almost all the information needed to start printing with the printer.
Print Type/Cost
FFF 3D printing technology prints parts or functional prototypes layer by layer.
The printing happens after every 3D printing material reaches its glass transition temperature in the extrusion and then starts melting on the heated bed according to the design file.
And layer by layer the printing continues until the final part or functional prototype is made.
The printing cost of a part or functional prototype using this method is lower than that of any other technology.
But it depends on the type of part you are building, the amount of infill needed in that part as well as its layer resolution.
Print Quality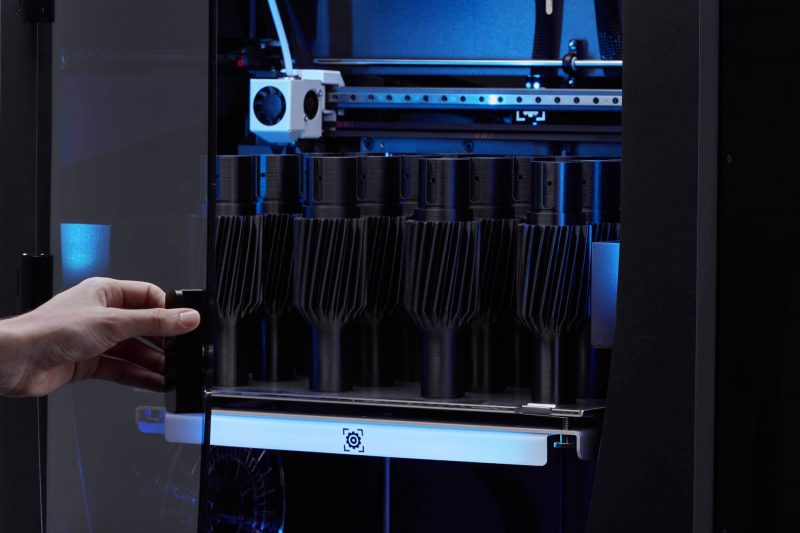 Credit: webshopapp.com
All the parts or functional prototypes have excellent layer resolution and surface finish.
Although the printer allows printing parts and functional prototypes faster than others in a similar price range, it does not compromise on the quality.
Software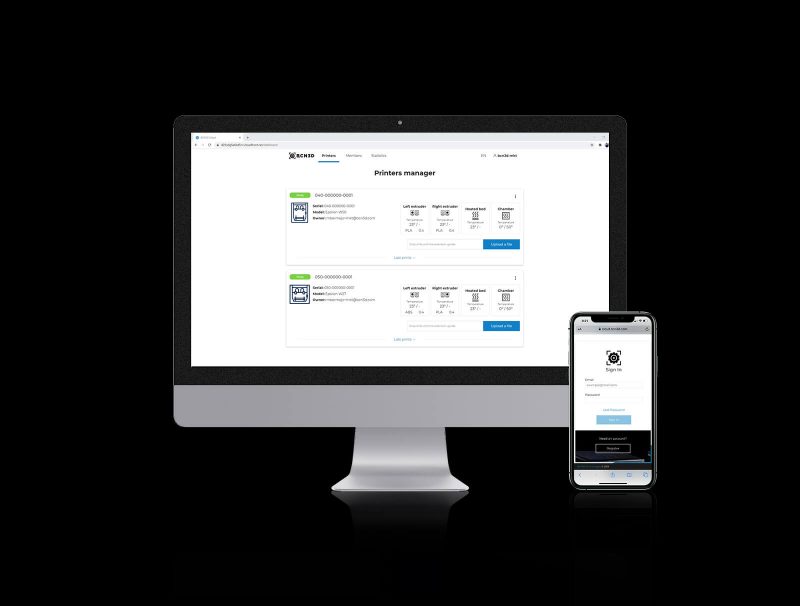 Credit: bcn3d.com
BCN3D Cloud is the name of the software that Epsilon W50 uses for sending files when connected with the network at your place.
You can easily transfer the files as well as automatically upgrade the firmware with which the system works. This process allows your firmware to stay up to date always.
Customer Support
BCN3D is known to offer customer satisfaction with its technical team solving all your doubts.
This can be done via phone, email as well as Skype, whichever way you like.
For ensuring their customers can self-learn if they wish to, the manufacturer has also uploaded every bit of information on their website in the Knowledge section.
Parameters Influencing Buying Decision
The below-mentioned factors can be handy while you are out in the market comparing other printers with this one.
3D Printer Cost: Expensive.
3D Printer Quality: The layer resolution of parts or functional prototypes is commendable.
3D Print Speed: Extraordinary.
3D Printer Capability: The printer is capable of printing with five different modes of 3D printing.
3D Printer Practicality:  There are many industries in which this 3D printer has found its application.
3D Printer User Expectations: This printer is promising when it comes to fulfilling the expectations of professionals as well as small manufacturers.
The Verdict
Epsilon W50 is a printer that is more suited for professional 3D designers in the field as well as small manufacturers and academicians because of the cost it is available at.