Anycubic Photon Zero
If you want higher quality prints at a cheap price, this simple SLA 3D printer should definitely be your destination.
PROS
Available at a very affordable cost.
Comes with a single screw leveling that decreases human effort like no other.
Low resolution of the printer is covered to a considerable extent with the printer's Anti-aliasing technology.
Low power consumption.
Quick FEP replacement.
Equipped with important tools that are highly useful in the due course of 3D printing.
New slicing software makes possible quick slicing of parts and functional prototypes.
CONS
Despite the anti-aliasing technology, the printer is only able to provide a resolution of 480 pixels.
Lesser printing materials.
Works only with Windows and mac operating systems.
Leveling of bed becomes a headache as you need to do it every time.
The Z axis lead screw and linear rail setup doesn't give the printer same level of stability as the former versions.
Product
Specification
Videos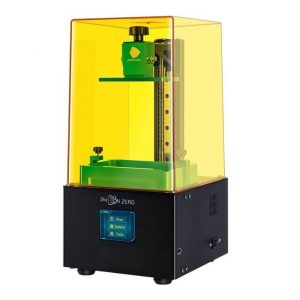 Providing a 16 times stronger anti-aliasing function, Anycubic Photon Zero lets you print highly detailed parts and functional prototypes in one go. ...
| | |
| --- | --- |
| Model | Photon Zero |
| Manufacturer | ANYCUBIC |
| Price Range | $ 169 |
| Release date | 2020 |
| Country | China |
| Availability | Available |
| Classification | Desktop |
| Technology | Resin (SLA- DLP…) |
| Material | Liquid resin |
| OS compatibility | Mac OS, Microsoft Windows |
| Generic material | Yes |
| XY accuracy | 0.115 mm0.005 in |
| Max. build size | 97 × 54 × 150 mm3.82 × 2.13 × 5.91 in |
| Max. build volume | 0.79 L |
| Min. layer thickness | 0.01 |
| Dimensions | 180 × 195 × 367 mm7.09 × 7.68 × 14.45 in |
| Heated print bed | No |
| Heated build chamber | No |
| Automatic calibration | No |
| Closed frame | Yes |
| Dual extruder | No |
| Independent Dual Extruder | No |
| Full color | No |
| LCD screen | Yes |
| Touchscreen | Yes |
| On-board camera | No |
| Mobile app | No |
| 3D scanners | No |
| CNC mill | No |
| Electronics 3D printing | No |
| Laser engraving | No |
| Conveyor belt | No |
| Air filter | No |
| Pellet extruder | No |
| USB | Yes |
| Wifi | No |
| Bluetooth | No |
| SD card | No |
| Ethernet | No |

Table of Contents
ANYCUBIC set out in the additive manufacturing market as a 3D printer manufacturer and distributor. They offer a solid budget SLA 3D printer primarily for people who wish to enter the market without needing to dig so far into their pocket.
With the ANYCUBIC Photon Zero, they have done the same. So, if you want higher quality prints and a better 3D printer that builds quality, at a cheap price, this simple SLA 3D printer should definitely be your destination.
Anycubic is the Shenzhen-based manufacturer and has gifted to the 3D printing market successful i3 Mega and Photon 3D printers along with many others.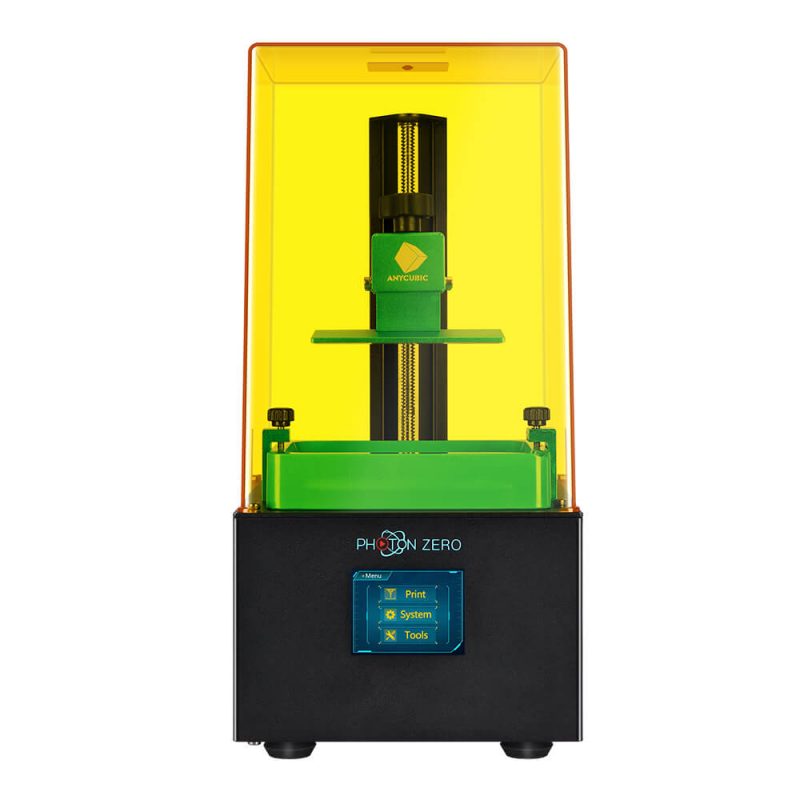 The Photon, in particular, stood top of the pile and managed to be there for a significant stretch of time as the best budget desktop resin printer.
But with more competition entering the marketplace, the printer manufacturer is reacting with a race to the bottom with the printer that we are going to review in this article. So, let's get started with the first aspect of Anycubic Photon Zero.
Features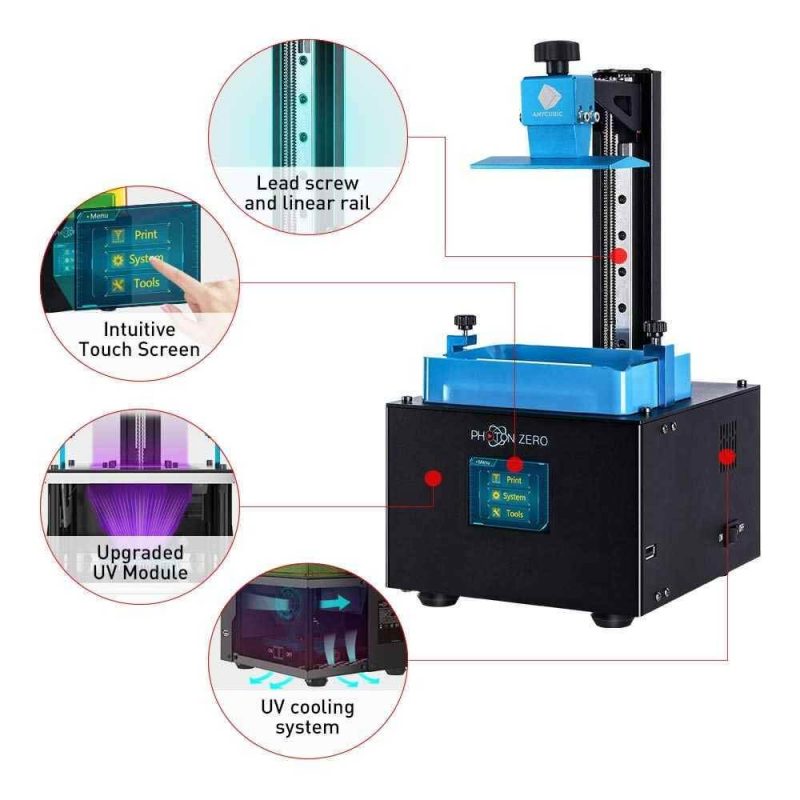 Credit: alicdn
Perhaps the most noticeable feature that separates the original Photon and the new Photon Zero is the size of the print bed. The former Photon has a build volume of 115 mm * 65 mm * 155 mm, whereas the latter Photon Zero only manages to offer 97 mm * 54 mm * 150 mm.
16* Anti-Aliasing and precise Z-axis
These are enough to remove all aliasing effect that is generated in the printer and provide up to 16x anti-aliasing which can produce highly refined edges. This is a major reason behind the production of highly smooth surface parts and functional prototypes.
The Z-axis of Photon Zero is connected to a linear rail making the movement of the printer along that axis smoother than ever. Overall, this is also responsible for the reduction in the design complexity of the printer and makes it compact.
Marked Resin Vat and UV Cooling System
The Photon zero comes along with a resin vat system that has the levels of filling marked on both of the longer sides of the container.
Because of this, it is possible to avoid miscalculation, which is a very common thing to happen while 3D printing with a resin vat. Also, you can avoid spilling resin when the print surface is dipped into it.
The printer is also accompanied by a dedicated cooling system for its UV module. What this does is, increases the life span of the module and allows you to work for long hours on a single project. This is very helpful while working on a geometry that has many intricacies.
Improved UV Module and different exposure parameters
The UV module that's used in Photon zero is an upgraded one and has never been used before in other previous models.
Even though the technology is still the same i.e. diffusion; the printer makes use of numerous refraction techniques for producing parallel rays of UV spread across the LCD masking screen. All of that with equal luminosity or intensity across the print plate. Isn't that amazing?
The Photon zero 3D printer allows you to print up to 8 different models at the same time. Each one of them being at different exposure parameters! T
his permits you to find the best exposure settings for a particular resin in a single go.
Hardware Improvements
Photon Zero's printer manufacturer boasts a combination of linear rail and leads screw which lets you have a stable and accurate Z-axis motion.
Because linear rails are becoming pretty standard fare especially on low-cost desktop resin printers to see them stick around in an overtly cheaper machine turns out to be a little more than appropriate.
Although the Anycubic Photon Zero is claimed to benefit from an upgraded UV lighting module, no further details are given on it. You'd be able to state only after using it that edge-to-edge print performance was good or not.
Another simply effective feature of the printer is the markings in the resin vat. This enables you to see the amount of material you have left in it. This feature was not available in previous Photon models.
Improved Software
The previously available Photon Workshop software is now updated to version 2.1.20. This transformation is a huge step up in terms of functionality over the Photon Workshop.
The new software offers a number of essential resin print preparation tools that were absent in the previous version. According to the printer manufacturer, an 80 MB file now slices in just 32 seconds.
Previously doing the same used to take several minutes. As detailed above, the software has much more parity with other leading resin printing slicers, but the experience of using the same and the reliability still lags behind the admiration that ChiTuBox got.
At the time of writing, you are locked into using Photon Workshop, provided that the proprietary file extension is saved by it. This alone is reason enough to hold off.
Specifications
Anycubic Photon Zero is based on LCD-SLA 3D printing technology that uses resin-type material for 3D printing parts and functional prototypes. The printer is delivered to you in a fully assembled condition.
It offers a maximum build volume of 97 mm * 54 mm * 150 mm. Every part or functional prototype printed by this machine has a layer height of more than 10 microns.
It has an XY resolution of 0.115 mm and a Z-axis positioning accuracy of 0.01 mm.
The printing speed offered by Photon Zero is 30 millimeters per second. To ease your interaction with the printer there is a touchscreen interface in it.
You are allowed to print with third-party resins on the printer, provided the materials have a wavelength of 405 nanometers and are UV resins.
For connecting with Anycubic Photon Zero you can use a USB cord.
The printer weighs 4.7 kilograms and has frame dimensions of 180 mm * 195 mm * 367 mm.
Price
At the time of writing the market of Anycubic Photon Zero is $109.
First Impressions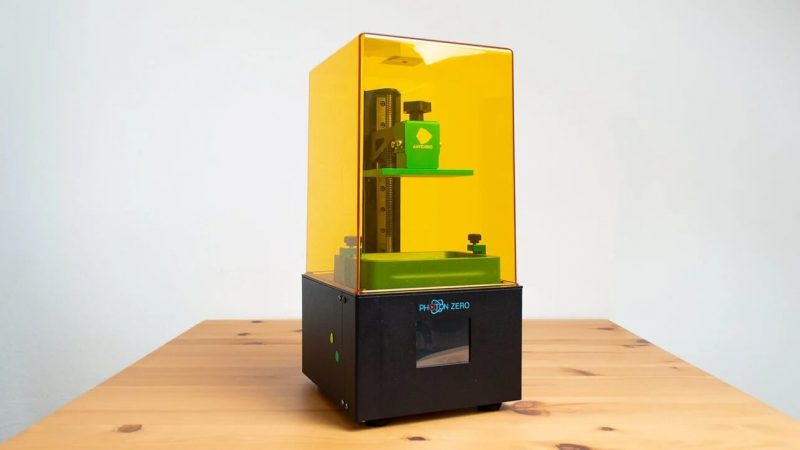 Credit: all3dp
The first glance over Photon Zero leaves a very catchy impression. The print chamber of the printer is of fluorescent color, whereas the bottom stand is black.
The print chamber is removable. And after removing it, you get to know the color of the print bed's stand i.e., blue.
A touch screen interface is clearly visible at the bottom body inside which the UV laser source must probably be.
A benefit of a transparent print chamber is that it'll allow you to monitor the complete print process from any of the faces.
Allowing the print head to move on Y-axis are the rails that are fit on the pillar that is raised from the support on which the print bed stands.
Overall, Anycubic Photon Zero's construction is simple and compact. It is very soothing for a desktop 3D printer.
Setup
As mentioned above, the printer is shipped to you in a fully assembled condition. The box that is delivered to you contains the following apart from the printer:
Glove
Tool Set
Funnel
User Manual
Scraper
SD card reader
Service card
Power adapter
It is recommended that you go through the complete user manual before starting to print with Anycubic Photon Zero. Also, you much check the calibration of the printer.
Overall, doing all of these should not take more than 10 minutes after which you can start printing. The printer is a plug-and-play type.
Printing Type/Cost
Photon Zero is like many other SLA 3D printers that use UV light source for curing or solidifying the already laid down liquid resin geometry on the print bed.
Resin vat of various materials is available in the market that you need to buy and use while 3D printing a part or functional prototype.
The light source that cures the layers of these parts has a wavelength of 405 nanometers.
Generally, the cost of 3D printing an object using this technique is more than the most common 3D printing technology preferred in the market i.e., FDM 3D printing technology.
When calculating the exact price for each printed part, you must consider various factors such as the power consumption of that 3D printer, the geometry, the cost of material used for making that geometry, and a lot more.
Print Quality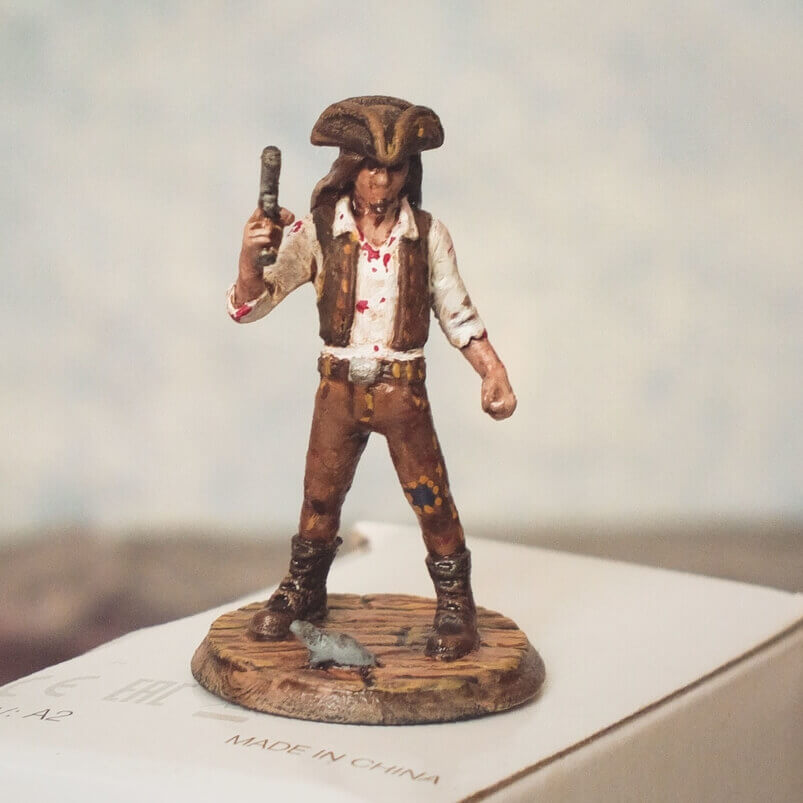 Credit: redd
Offering a layer height ranging from 0.1 mm to 0.2 mm, Anycubic Zero manages to cater to you that level of print quality which is normally only available to you while buying higher-end 3D printers.
Even for solidifying the parts and functional prototypes, the printer uses a 405 nanometer in wavelength UV resin which is the best in the market. A result of this is precise parts with smooth surface finishes.
Software
As mentioned above, Photon Zero is updated with Photon Workshop's latest version. This software is updated and cured with limitations that were seen in its previous version.
So, you essentially get with the printer very less technical and highly functional slicing software.
Customer Support
You can download the firmware for Anycubic Photon Zero from its website. Apart from the slicer, the manual is also available. A link also guides you to the technical team's contact number and after-sales services. So, you can reach out to the printer manufacturer normally via call as well as email.
Parameters Influencing Buying Decision
From all the factors that are important while deciding whether you buy a printer or not, we bring to you cost, quality, capability, practicality, and user expectations.
3D Printer Cost: Getting an SLA 3D printer at this price is very rare. Hence the printer manufacturer does a decent job with it.
3D Printer Quality: SLA 3D printers are known for smooth finishes and excellent quality parts.
3D Print Speed: Although a little on the lower end compared to FDM 3D printers, the quality is on a much higher end.
3D Printer Capability: In terms of playing with various materials, you'll fall short of choices. But that's generally the case with all SLA 3D printers. You have a lesser number of material choices in resins than in filaments.
3D Printer User Expectations: Being an extremely affordable 3D printer, Anycubic Zero does not only target beginners in the field, but also educationists and intermediates by offering the quality of parts that they are seeking on a low budget.
The Verdict
If you are a beginner and you want to do something eccentric by not opting for the traditional FDM 3D printing technology, and yet not spend much, there is nothing more lucrative than investing in Anycubic Photon Zero.
It will offer you amazing quality prints and also let you experiment with crazy ideas in your head as well as bring them into reality.