Anycubic Chiron 3D Printer
Anycubic Chiron has one of the biggest printable areas available in the segment of desktop 3D printers so if you are looking to print large parts and geometries, buy it. Chiron fully responds to the requirements of the users, who need large-format printing at a very affordable price with guaranteed high-quality results.
PROS
Overall, the cabling and general appearance of this printer are neat and tidy. There is a drag chain housing that consists of a thermistor, temperature probe, both fans and leveling probe cables, all these things are organized and the only projection from the hot end being the PTFE filament guide tube.
The Anycubic Chiron brings particular delight with its large build area of 400 x 400 x 450mm.
CONS
Notable is the fact that while unwinding this printer there are reports of screw falling out will the tapes that you try to remove to unwrap the printer.
This printer does not give you the best start, considering the included quality control card has a huge "Pass" stamp.
Product
Specification
Videos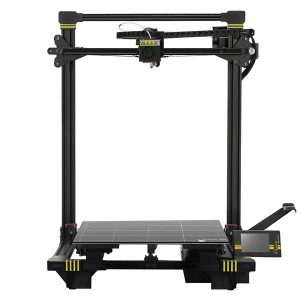 Wish to buy a large volume 3D printer that does the task with great results? Do not look any further and get the Anycubic Chiron 3D printer home. ...
| | |
| --- | --- |
| Model | Chiron (Kit) |
| Manufacturer | ANYCUBIC |
| Price Range | $ 499 |
| Release date | 2018 |
| Country | China |
| Availability | Available |
| Classification | DIY/Kit |
| Technology | Extrusion (FFF- FDM…) |
| Material | ABS, Other plastics, PLA |
| Filament diameter | 1.75 mm 0.07 in |
| OS compatibility | Linux, Mac OS, Microsoft Windows |
| Generic material | Yes |
| XY accuracy | 0.0125 mm 0 in |
| Max. build size | 400 × 400 × 450 mm 15.75 × 15.75 × 17.72 in |
| Max. build volume | 72.00 L |
| Max. print speed | 100 mm 3.94 in /s |
| Min. layer thickness | 0.05 mm 0.002 in |
| Dimensions | 651 × 612 × 720 mm 25.63 × 24.09 × 28.35 in |
| Weight | 15 kg 33.07 lb |
| Nozzle diameter(s) | 0.4 mm 0.02 in |
| Power input | 110V/220V AC | 50/60Hz |
| Heated print bed | Yes |
| Heated build chamber | No |
| Automatic calibration | Yes |
| Closed frame | No |
| Dual extruder | No |
| Independent Dual Extruder | No |
| Full color | No |
| LCD screen | No |
| Touchscreen | Yes |
| On-board camera | No |
| Mobile app | No |
| 3D scanners | No |
| CNC mill | No |
| Electronics 3D printing | No |
| Laser engraving | No |
| Conveyor belt | No |
| Air filter | No |
| Pellet extruder | No |
| USB | No |
| Wifi | No |
| Bluetooth | No |
| SD card | No |
| Ethernet | No |

Table of Contents
The first glimpse of this 3D printer was shown with a CGI video and the manufacturer hinted at something big. Anycubic Chiron was launched in the heady days of summer and soon after its landing, it became the hot topic in the complete industry how it was pulled out from the digital shelf.
The reason is not just one, but altogether the amazing set of features that Anycubic Chiron has and how low budget 3D printers are produced and consumed these days.
Early units of this 3D printer were shipped to influencers and publications who were asked to test it. These tests resulted in, complaints about build quality, quality control which resulted in the production halt of Anycubic Chiron.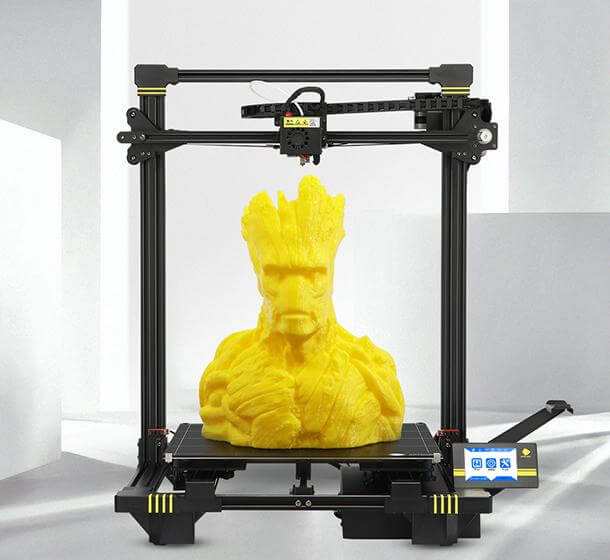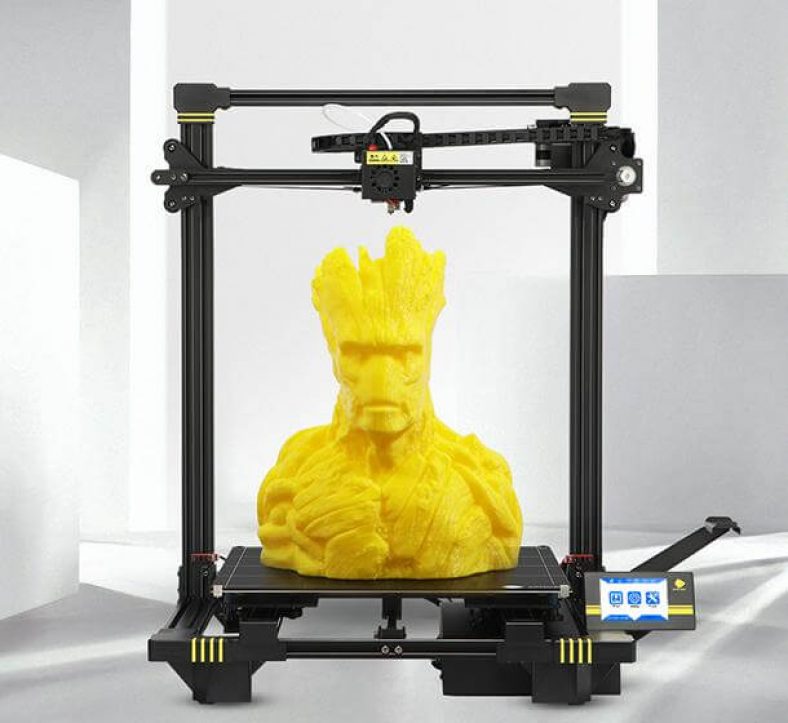 The 3D printer was then tentatively re-released to retail at the end of August. Isn't the story interesting?
If you've ever dreamt of building enormous single-piece models, the Chiron will undoubtedly catch your eye with its unmatched build volume.
Chiron is bigger than the CR-10 and Ender 5 Plus, the puts its competitors to shame. Let's take a look at the complete review to find out more about this much-talked printer.
Features
If you've had past experiences with Anycubic's 3D printers, Chiron would look like a winning 3D printer to you. If not, while buying you might get confused between Chiron and CR-10.
However, the experience of Chiron is of a 3D printer which has some good ideas and a killing feature that the company boasts about and that is the second one mentioned on our list.
However, it also has some quality control issues, tedious automatic bed-leveling, and few other minor irritants. So without saying much, let's take a look at its attractive features one by one.
Big Build Volume: Chiron's build size is 400 mm * 400 mm * 450 mm. It is the only printer that comes close to the CR-10 Max, which costs over twice as much. So this feature is something that you must take note of and ponder upon. Considering that the desktop is not Anycubic's territory, you should be impressed with the overall consistency of this printer regardless of the model size or shape that you opt for.
Ultrabase Print Surface: The talk of these features comes while speaking about printing huge projects. It's important that any 3D printer's model stays securely attached to the build plate during the entire printing process. And in times like these, nothing feels worse than managing only to get a large model's 75% completely, flawlessly from the base, and ruining the other. Thankfully, the printer's generous build plate made by its manufacturer has the Ultrabase coating, which works better than any glue or tape. This print bed material makes all filaments stick firmly to the printer's print bed. And it is because of this feature that removing large prints with Anycubic Chiron is easy, once the build plate cools down.
Chiron Allows You to Print Using Various Filaments: The quick-heating glass i.e. Ultrabase print bed allows users to print with a wide variety of filaments that includes material like ABS, PLA, TPU, and PETG. The specialty of Ultrabase coating is that it makes adhering and removing models easier than with most other print beds as mentioned above. Chiron has a huge build size so the print speed is understandably slow, around 20-30mm/s, and travel speed also is around 60mm/s i.e. maximum. And it's not that Chiron has good quality prints only with the popular materials, which each of the material mentioned above, Chiron has amazing layer resolution.
Sturdy Design: When it came to catching people's eyes, Anycubic stuck to the same old glass bonded design to a perforated grip sheet faintly, that is known for holding prints effectively when hot, and releases them when they are cold. Chiron has a towering frame that is constructed from aluminum extrusions which were brought in place with metal T-plates. However, the base of Anycubic Chiron serves as a home for many parts. LCD power supply, Trigorilla mainboard, MOSFETs, etc live in there. Whilst, all the ports, and connections of the printer are located on the right-hand side of its base unit. Doing this has given the overall assembly an easy-go. Setting the complete thing up takes 25 minutes or so even when you are following the well written and illustrated assembly instructions that the manufacturer gives you out.
Assembling Is Easy: The device is shipped to users in a partially unassembled state just like most desktop printers. The owner of the machine has to mount the frame on the base and set up the wiring and cabling. As mentioned in the previous section, the complete procedure takes no more than 20 – 30 minutes. Apart from the printer, you have a removable sensor for calibration, a spare hot-end, a PLA filament spool, an SD card and a card reader, a USB cable, an instruction manual, gloves, pliers, a spatula, tweezers, and a toolkit in the complete package making the assembling procedure easy.
Specifications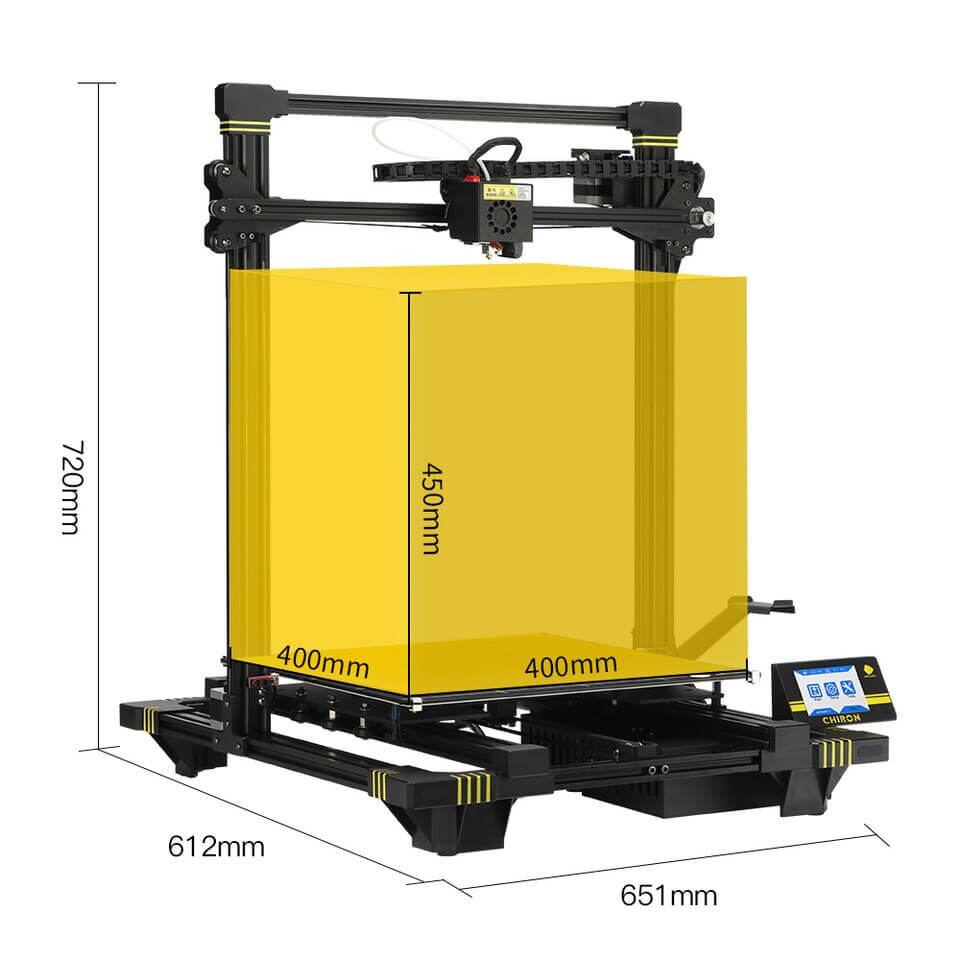 The printer is based on FDM technology and has a build volume of 400 mm * 400 mm * 400 mm. The print accuracy of Anycubic Chiron is 0.05 to 0.3 mm and the positional accuracy of the printer in the X and Y axis is 0.0125 mm while in the Z-axis it is 0.0020 mm.
Chiron comes with a single extruder and has a nozzle diameter of 0.4mm and a print speed of 20 to 100 mm per second. This printer can print using PLA, ABS, HIPS, Wood, and TPU.
It has an ambient operating temperature from 8 degrees Celsius to 40 degrees Celsius and an operational extruder temperature of 260 degrees Celsius.
One can connect to this printer using a memory card and Data cable. The extensions of the file that you get from this printer are.STL, .OBJ, .JPG and.PNG.
Price
Listed at just $429 on Anycubic's website, Chiron has hosts pretty impressive features that are mentioned in the list above. Overall, Chiron has some cons too, like every 3D printer does while working with it but the cost is completely justified.
This might be the best machine for hobbyists and designers, so it goes without saying that Chiron does perfectly well with newbies who are looking to experiment with the technology.
First Impression
As mentioned above, the frame of this printer is made from extruded aluminum, which is also an important feature of Chiron.
Because not only does it provide rigidity to the whole construction, but it also offers overall support to every user of this 3D printer. After observing this printer, one can easily notice the Cartesian kinematic system that it's based on.
However, the Ultrabase Pro print bed is where the manufacturer scores. This technology, developed by Anycubic designers, not only makes the printer stand out but also provides them a stable adhesion of the model on the print bed surface in the process of printing.
It offers easy removal after completion. And the microporous coating that the bed has firmly gripped the object in the process of printing.
Once the printing is over, the print bed cools down, and the microporous coating contracts and the ready-made printed object is easily removed from the bed.
Setup
As mentioned above, the printer comes partially assembled, and completely assembling it does not take more than 30 minutes if the manual of this company is followed.
Printing Type/Cost
You can print using various materials in this printer, so the printing cost various widely than in other printers. Also, the printer is based on FDM technology so the printing is going to happen layer by layer.
The time taken by the printer to complete its printing process is slow overall compared to its competitors. These are the point that is needed to be kept in mind if you are a small business owner who is going to run his/her business using this printer.
Otherwise, for hobbyists or academic institutions or even professional designers or engineers, these points aren't much of an issue.
Print Quality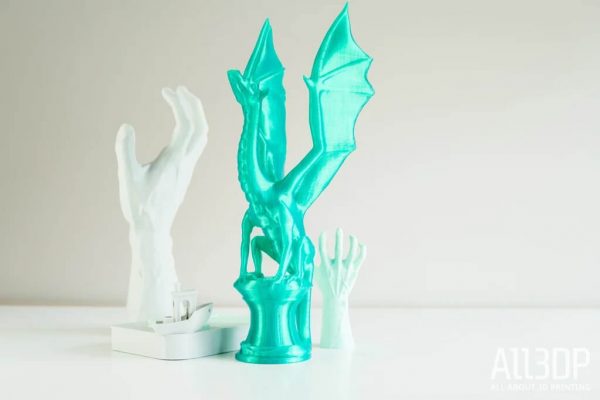 Credit: All3dp.com
Compared to other printers in the price list, the print quality of parts and prototypes that are printed using the printer is average and nothing fabulous.
Even though the company had to postpone its release and the company claims to have solved the issues that were found in the first versions of this printer, there are some issues with print quality.
And they have particularly to deal with the layer visibility on the part and not the correct amount of surface finish.
Software
Files for Anycubic 3D printers are sliced with the Cura slicing software. Alternatively, you can use other available software, such as Simplify3D. In order to transfer the ready G-code into the printer's database, you can use the package SD card or USB cable.
Unlike most other Chinese manufacturers, the company of Anycubic delivers its 3D printers with a full set of documentation which is something to cheer about.
All the materials concerning this device's specifications, assembly, and operation manual, as well as necessary software, can be found on the SD card so rub off your impression of dealing with a Chinese 3D printer before Anycubic Chiron.
Customer Service
Anycubic is a renowned name in the 3D printing industry for its customer service and 24*7 assistance that the company promises to provide. You can get support from an e-mail, via phone or Skype, however, you like.
Parameters Influencing Buying Decision
According to what we have noticed, your buying decision should be based on parameters such as the cost of the printer, its quality, speed, capability, practicality, and your expectations. Let's look at each one of those for Chiron by Anycubic
3D Printer Cost: The overall cost of Chiron is a little high but the build volume that it offers compensates for the quality issues that it has.
3D Print Quality: Anycubic Printers are not known to provide excellent quality so manufacturing functional prototypes is a problem with this printer.
3D Print Speed: Chiron, like other, is a desktop printer that produces a little less than 15 to 18 mm per second.
3D Printer Capability: Overall, Chiron is not that capable as the competitors in this price range.
3D Printer Practicality: Small businesses that are typically looking to produce parts of larger build volume without spending much can opt for this printer.
3D Printer User Expectations: Anycubic has gained a name in the 3D market by satisfying their user expectations i.e. producing cheaper 3D printers and making sure the technology which wasn't available to a specific economic class is available through them.
The Verdict
Anycubic Chiron has one of the biggest printable areas available in the segment of desktop 3D printers so if you are looking to print large parts and geometries, buy it.
Chiron has a solid robust construction, Ultrabase Pro heated bed, multi-fuel extruder, calibration sensor, and runout filament detector, apart from the large build volume.
The device fully responds to the requirements of the users, who need large-format printing at a very affordable price with guaranteed high-quality results.