Toybox
Toybox allows you to print simple, colorful, and fun toys on demand. The process is extremely wonderful yet easy to accomplish. Without worrying about unnecessary calibrations and bed leveling, users can just start the prints and watch the 3D designs coming to reality.
PROS
LCD touch screen interface.
Can connect via web browser as well as application.
make.toys has simple-to-use web interface
Decent print quality.
Above-average print speed.
Compact and flexible design.
CONS
Compatible with only one 3D printer filament.
Thick layers are visible on the print's surface.
Product
Specification
Videos

Starring a flexible print bed, Toybox is a plug-and-play 3D printer designed to make 3D printing easy and accessible for kids. Kids can start using ...
| | |
| --- | --- |
| Model | Toybox |
| Manufacturer | Toybox Labs |
| Price Range | $ 299 |
| Release date | 2018 |
| Availability | Available |
| Classification | Desktop |
| Technology | Extrusion (FFF- FDM…) |
| Material | PLA |
| Filament diameter | 1.75 mm 0.07 in |
| OS compatibility | Mac OS, Microsoft Windows |
| Generic material | No |
| Max. build size | 70 x 80 x 90 mm 2.75 x 3.15 x 3.54 in |
| Max. build volume | 0.53 L |
| Max. print speed | 60 mm 2.36 in /s |
| Dimensions | 188 × 188 × 230 mm 7.4 × 7.4 × 9.06 in |
| Weight | 3 kg 6.61 lb |
| Nozzle diameter(s) | 0.4 mm 0.02 in |
| Power input | AC 100/240 V |
| Heated print bed | No |
| Heated build chamber | No |
| Automatic calibration | No |
| Closed frame | Yes |
| Dual extruder | No |
| Independent Dual Extruder | No |
| Full color | No |
| LCD screen | Yes |
| Touchscreen | Yes |
| On-board camera | No |
| Mobile app | Yes |
| 3D scanners | No |
| CNC mill | No |
| Electronics 3D printing | No |
| Laser engraving | No |
| Conveyor belt | No |
| Air filter | No |
| Pellet extruder | No |
| USB | No |
| Wifi | Yes |
| Bluetooth | No |
| SD card | No |
| Ethernet | No |

Table of Contents
3D printing enables users to print useful things at home. That's exactly what the Toybox 3D printer does. It prints toys and various other models offering users the simplest and quickest operation. The manufacturer offers a variety of 3D models for toys that users can select and print using this amazing machine.
Among Toybox's 3D file collections are some of the best designs. For instance, trains, tracks, castle parts, walls, and action figures. All you need to do is start from an easy-to-use web interface to pick a 3D file and start printing with nontoxic PLA in your choice of color.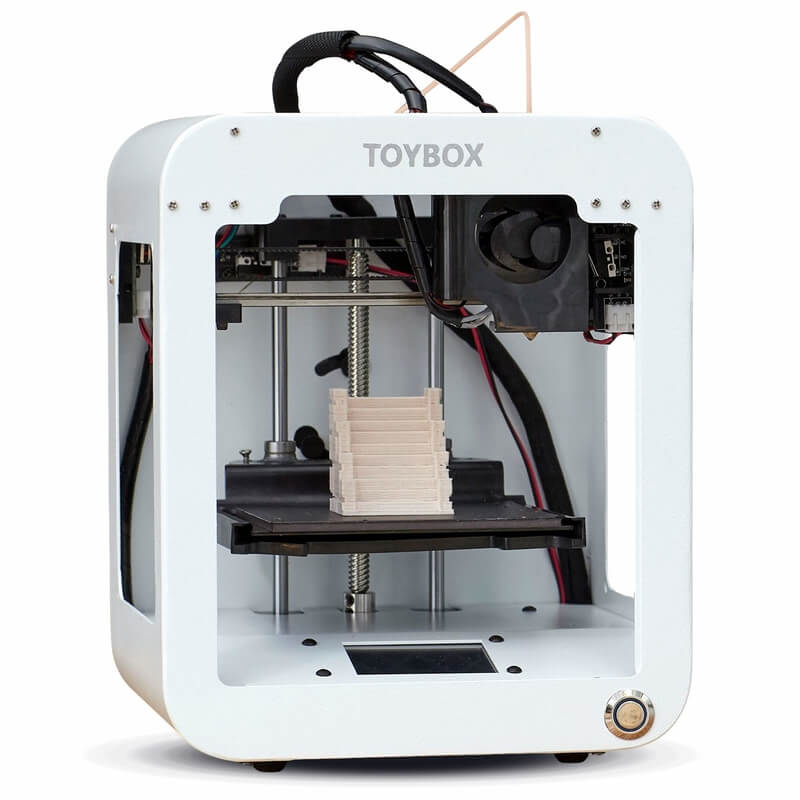 During printing, Toybox takes care of all the difficult parts leaving users with the most seamless experience. From start to end, the machine works smoothly to create wonderful parts with a decent surface finish.
And, all of these benefits come for a very reasonable price. Interested in trying printing with Toybox 3D printer? If yes, do not jump right away. On the contrary, read the in-depth review to find out if the printer is worth your attention.
Features
To start with, Toybox is cute. It's a compact 3D printer less than eight inches wide and a little bit more than 9 inches high.
The frame of the printer is made from metal which gives Toybox the stability it needs while 3D printing. There are open areas in the printer's design revealing the print head and removable print bed.
Moreover, the print bed of Toybox is a magnetic sheet holding tightly onto the base that slides off easily when the print is finished. With a flexible base, it becomes a piece of cake to remove prints. Just bend the plate and the parts will pop off.
That was just a brief overview of the many amazing features that Toybox boasts. Now, let's look at the premium features in detail.
Simple Controls
Toybox, the printer manufacturer, has kept the controls on the printer very simple.
Although the printer is very compact, Toybox ensures that none of the features go missing. Hence, users can find a small LCD touch screen interface to provide them easy access to the printer's settings.
Using the interface, users can load the filament, set it up for the print job and configure a few other basic setups.
Access to Make.Toys
The manufacturer offers hundreds of 3D designs that are easy to print with Toybox. To access these files, one needs to create an account on Make.Toys online service. And once that is done, users get free access to a wonderful collection of models available at Make.Toys.
The models include trains and tracks, castles, miniature figures, seasonal toys like cute pumpkins, and oddities like owl cookie cutters.
The web interface also allows you to create your own toys. You can either modify the already existing version or prepare a completely new model from scratch.
Impressive Hardware Delivering Decent Print Quality and Fast Printing Speed
Toybox 3D printer utilizes a single extruder with a 0.4 mm nozzle that's able to heat up to a maximum temperature of 220 degrees Celsius.
The printer is able to produce a standard 200-micron layer resolution offering the best print quality that you can expect from a small printer such as Toybox.
For most of the part, Toybox is able to produce impressive prints. Users may find the layers a bit thicker when compared to parts printed on expensive 3D printers. However, the results do not distract at all. Overall, the parts look decent.
Toybox can print at a speed ranging between 20 to 60 millimeters per second which is fairly fast considering its price. Just to give you an idea, the printer can take about an hour and 45 minutes to print the Thinker statue.
While printing a Halloween jaunty pumpkin can take about an hour to complete. Overall, with high speed and decent quality, kids can create toys instantly in a matter of hours or even minutes.
Easy Setup
Setting up the Toybox 3D printer is extremely easy because there is no bed leveling required. Users do not need to calibrate the printer or spend time assembling the unit.
So, after unpacking the printer, users just need to load the filament and connect the printer to their computer or smartphone via Wi-fi for accessing the 3D models.
Although the printer does produce noise while 3D printing, it's not loud enough to cause an extreme disturbance.
Specifications
Toybox supports iOS, Android, or any other web browser for its operation, monitoring, and control. The printer allows you to create parts with a maximum build volume of 7 cm * 8 cm * 9 cm.
In addition, it can print at a maximum speed of 60 millimeters per second. Moreover, the print quality is pretty decent with a maximum of 200 microns resolution.
The extruder of Toybox has a standard diameter of 0.4mm. It can reach a maximum temperature of up to 220 degrees Celsius. Also, Toybox supports multiple file formats for printing including STL, OBJ, and G-Code.
The dimension of Toybox is 7.4 inches * 7.4 inches * 9.05 inches. It weighs only 3 kilograms and allows you to print with PLA non-toxic plastic.
You require the power consumption of AC 100 to 240 Volts for operating the printer. Not to forget, you can connect using WIFI to share files and models for printing.
Price
The complete bundle of the Toybox 3D printer is available at $299.
First Impression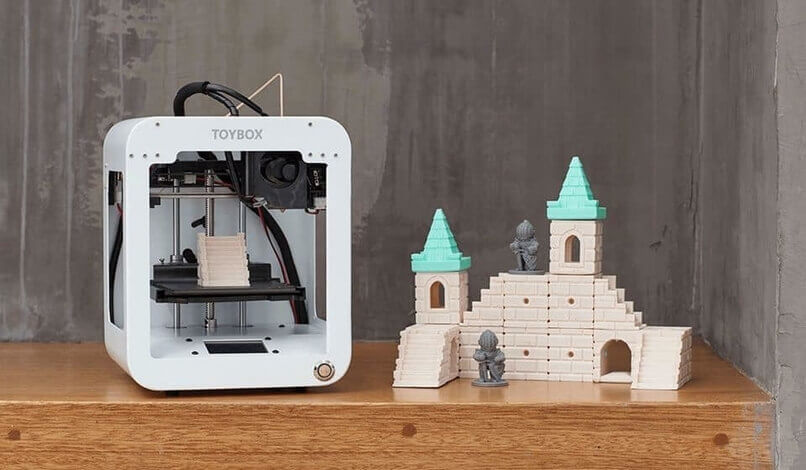 Credit: britishmums.com
Toybox consists of a small build occupying 3.5 inches * 3.1 inches * 3.9 inches space. It is a compact 3D printer that sits comfortably on work desks. The printer's frame is completely white in color.
The front of Toybox's body is transparent. Thereby giving users access to the printer's inner print chamber. Overall, it's a compact 3D printer that manages to catch users' attention because of its minimalistic design.
In addition, the manufacturer ships the machine inside a very secure package to avoid any probable damage during transportation.
Those opting for a Starter Bundle receive the following components along with the Toybox 3D Printer:
A coconut printer food
One EZ-peel bed
Free 2000+ Digital Toy Catalog
Free Creator Space Access
On the contrary, if you choose to buy the Deluxe Bundle kit, the list would remain unchanged except for the coconut food. The company replaces the coconut food with eight preselected printer foods.
Setup
Toybox lists down four steps for setting up its printer.
Installation: Removing the printer and its accessories from the box and connecting it to your electrical outlet.
Connection: Connecting the printer to your Wi-fi and pairing it with your profile.
Loading: Adding Toybox printer food into its chamber.
Printing: Navigating through the Toybox application, changing the required settings, and starting the printing process.
All these steps are easy to accomplish without spending too much time as it's the case with DIY 3D Printers. Also, users do not require to level or calibrate the printer as it comes with necessary factory settings.
Print Type/Cost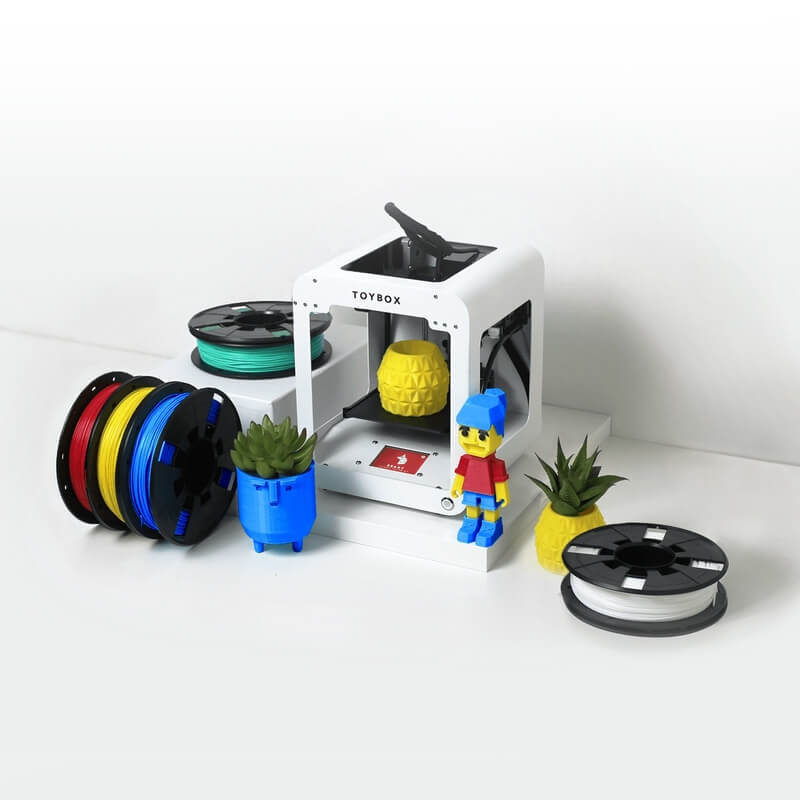 Credit: shopify.com
Toybox 3D printer creates toys using FDM 3D printing technology. The technique is not only the most popular among home users and beginners, it is simple too.
Based on the FDM technology, the extruder heats the filament to its glass transition temperature. Further, the nozzle deposits one layer at a time.
After the layer solidifies, the print bed moves down. This is when the nozzle creates the next layer. To create the part, the entire process is repeated until the last layer completes.
The printer can work with PLA filament only. However, to compensate for the same, the printer manufacturer allows variability in colors.
For calculating the cost of printed parts using any of the 3D printing technologies available, one must consider various factors.
To start with, one must include the material used, the cost of that material, support structures, infill percentage, and more to finally decide the overall cost.
Print Quality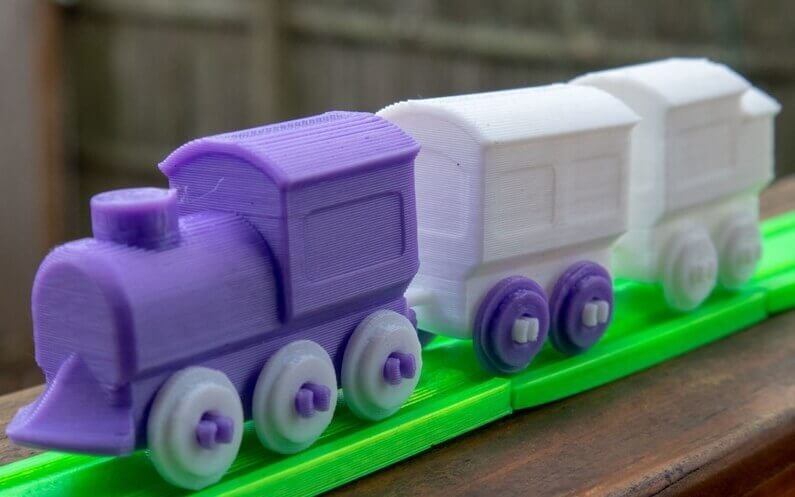 Credit: futurecdn.net
For most of the designs, Toybox is able to produce good quality prints, especially for toys. Although the overall quality of the parts is impressive, the layers are visible and need attention after printing to achieve the desired results.
Most of the test prints on Toybox work flawlessly, created parts stick well to the print bed, and are easy to remove from the print bed afterward.
Software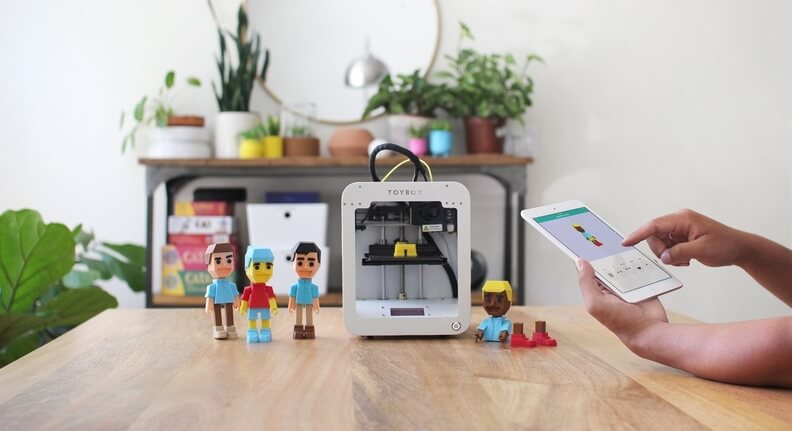 Toybox 3D printer utilizes its own slicing software that is accessible either via their website or mobile application.
Users cannot use third-party software but they can upload models or 3D designs from anywhere apart from their own online repository.
However, to access the designs from other websites, users must upload them to their online community, Make.Toys.
The Toybox application is compatible with STL and OBJ file formats. And, it works fine with iOS as well as Android devices.
Customer Support
Toybox offers excellent customer service by not only responding quickly to customer queries but also walking users through the troubleshooting process in case of any problem.
Their support team comprises skilled individuals who excel at solving technical issues with ease. Also, the website has a lot of manuals and guides to ensure the highest level of customer satisfaction.
Parameters Influencing Buying Decision
One must analyze a few factors before spending money on a 3D printer. Starting from the cost to its performance, users must verify every minute detail to make the right choice.
Hence, here is a quick bite from the Toybox 3D printer review.
3D Printer Cost: Toybox 3D printer is available at a budget-friendly price. Designed especially for kids, the manufacturer has taken care of its affordability. And, the printer costs only $299.
3D Print Speed: The printer lets its users create parts with a maximum print speed of 60 millimeters per second. Considering the affordability, this definitely is the fastest speed available in this price range.
3D Print Quality: Printed parts have thicker visible layers. However, users can polish the models to achieve a smoother finish.
3D Printer Capability: Although the machine offers 3D printing with one filament, it provides eight different options of colors. Moreover, the LCD touch screen makes complete interaction user-friendly. Also, the printer is fast and accurate.
3D Printer Practicality: Users do not need to calibrate Toybox before printing. It takes minimal time to set up and is easy to handle. All these perks make the printer a very desirable choice for beginners and home users. Not only that, but kids can also work on this compact printer, designed with proper safety guidelines.
3D Printer User Expectations: Apart from the visible layers requiring extra efforts during post-processing, the printer deals with every feature perfectly. And, it is really a kids' friendly machine meeting all the expectations of the users.
The Verdict
Toybox allows you to print simple, colorful, and fun toys on demand. The process is extremely wonderful yet easy to accomplish. Without worrying about unnecessary calibrations and bed leveling, users can just start the prints and watch the 3D designs coming to reality.
Although there are some issues with the printer's bed, and surface quality, users get enough benefits to trade-off these limitations without a second thought.
Overall, it's a fun device and a very thoughtful gift for your kids. Plus, adults can also use the printer for creating useful parts and decorative items for homes and offices.