Aluminum is a lightweight alloy with good strength, high flexibility, and mind-blowing thermal properties. Because of these characteristics, it has become the main metal that is used for 3D printing.
Aluminum 3D printers are used in the field of biomedical, automotive, and aerospace like no other metal 3D printers. The core strength of aluminum lies in the fact that it can be molded and used for functional prototypes.
Currently, aluminum is printed using powder-based technology that is named Selective Laser Sintering. This technology is also known by other names such as Selective Laser Melting or Direct Metal Laser Sintering.
As a recent development in technology, the company named HRL Laboratories has come up with neofunctionalization. This is a technique that involves printing with AI6061 and AI7075.
The complete process involves feeding the printer with nanofunctionalized powder which is heated until an object is formed out of it.
According to reports, the printed structures maintain their alloy strength and do not crack. Despite the advances in aluminum 3D printing, most of the users rely on 3D printing services.
Because only desktop or benchtop options remain within the budget ranges that are affordable for small to medium businesses. In this article, we present to you the list of 7 such aluminum 3D printers that have taken the industry to a stir with their service offering.
List Of Top 7 Aluminum 3D Printers
Generally, Aluminum 3D printers also allow printing with other common metals such as titanium, stainless steel, etc. This is keeping in mind the various options that metal 3D printing is known to offer its users.
EOS M100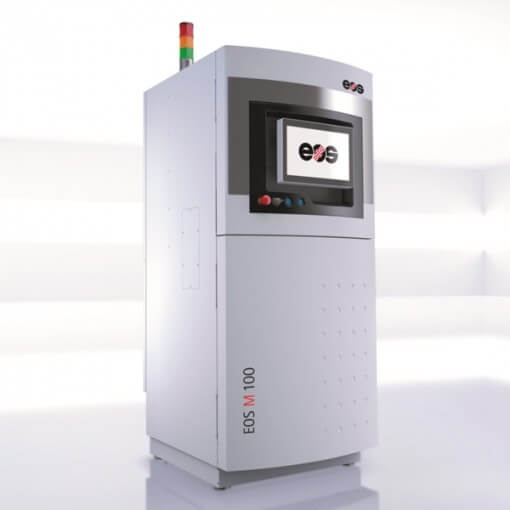 Based on DMLS technology, EOS M 100 is the German manufacturer's first 3D printer in the field of additive manufacturing.
This aluminum 3D printer is equipped with a 200-watt fiber laser for melting and fusing. Aluminum and other metal powders such as maraging steel, high-grade steel, titanium, nickel, and cobalt alloys can be easily printed with EOS M 100.
Freeform surfaces, deep slots, or coolant ducts are examples of some parts that can be made using this 3D printer.
Because of the small laser spot inside EOS M 100, complex metal parts, which require excellent resolution can be made.
Makers of this 3D printer have assured that their customers can produce quickly. Post-processing time and cleaning time are intentionally kept lesser than its competitors to decrease the overall print time.
The complete process is made easier inside this printer by its modular design and power supply bin.
back to menu ↑
Studio System by Desktop Metal
Manufactured by a Massachusetts based 3D printing startup, Desktop Metal was one of the biggest game-changers in the aluminum 3D printer market.
Its groundbreaking hardware offering allowed aluminum 3D printing to be much more affordable and capable of producing parts faster. In 2017, two printers were announced by the company by names Studio System and Production System.
The former is a desktop-sized 3D printer that has a print size of 330 mm * 330 mm * 330 mm and uses a BMD extrusion process. This printing process is similar to FDM printing.
It uses MIM metal powders that are bound by a polymer mix. After the printing is completed, the parts or prototypes are placed in the printers' furnace at the temperature of up to 1400 degrees Centigrade.
Doing this melts away the polymer and gives you the part. The Studio System aluminum 3D printer costs you around $12,000 along with its furnace and cloud-based software.
The Production system is an industrial-grade 3D printer that uses a single pass jetting 3D printing process. This aluminum 3D printer works by depositing aluminum followed by a binding agent. 32,000 jets are fitted inside the Production System.
These jets are capable of spraying millions of droplets per second. The print size of parts produced using this 3D printer is 330 mm * 330 mm * 330 mm. Production System is priced in the market at around $360,000.
back to menu ↑
Additec uPrinter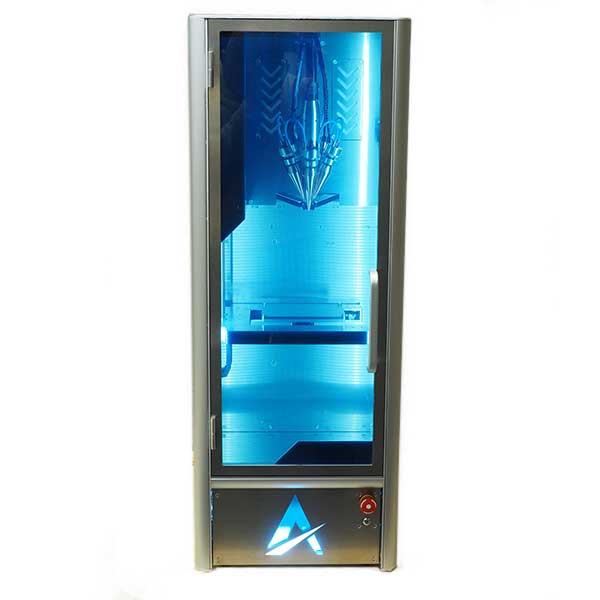 Additec is a 3D printing company that is headquartered in Germany. This aluminum 3D printer uses DED 3D printing technology for creating parts and functional prototypes.
DED stands for Directed Energy Deposition and is also known as LMD i.e. Laser Metal Deposition. Additec uPrinter is titled as one of the most complex 3D printers.
Even though Additec uPrinter is a desktop 3D printer, it is capable of depositing wire and powder feedstock into complex geometries.
The fact that this 3D printer can process commercial welding wire, indicates that the materials with which it can produce are widely available anywhere in the world for a cheap price.
Additec uPrinter boasts itself as the first 3D printer that processes wire and powder at the same time. uPrinter can also be used for various types of researches that can help grow the field of 3D printing technologies.
One use of this 3D printer is in the field of cladding or repairing of small parts and functional prototypes. Companies who want to start their startup in metal 3D printing can choose Additec uPrinter for multiple reasons.
The 3D printer has high process stability, it has an integrated monitoring system and other automated features. Such advanced features are available at a relatively low price.
This is what makes Additec uPrinter a complete solution for companies who wish to start with aluminum printing or metal printing in general.
back to menu ↑
Digital DMP 2500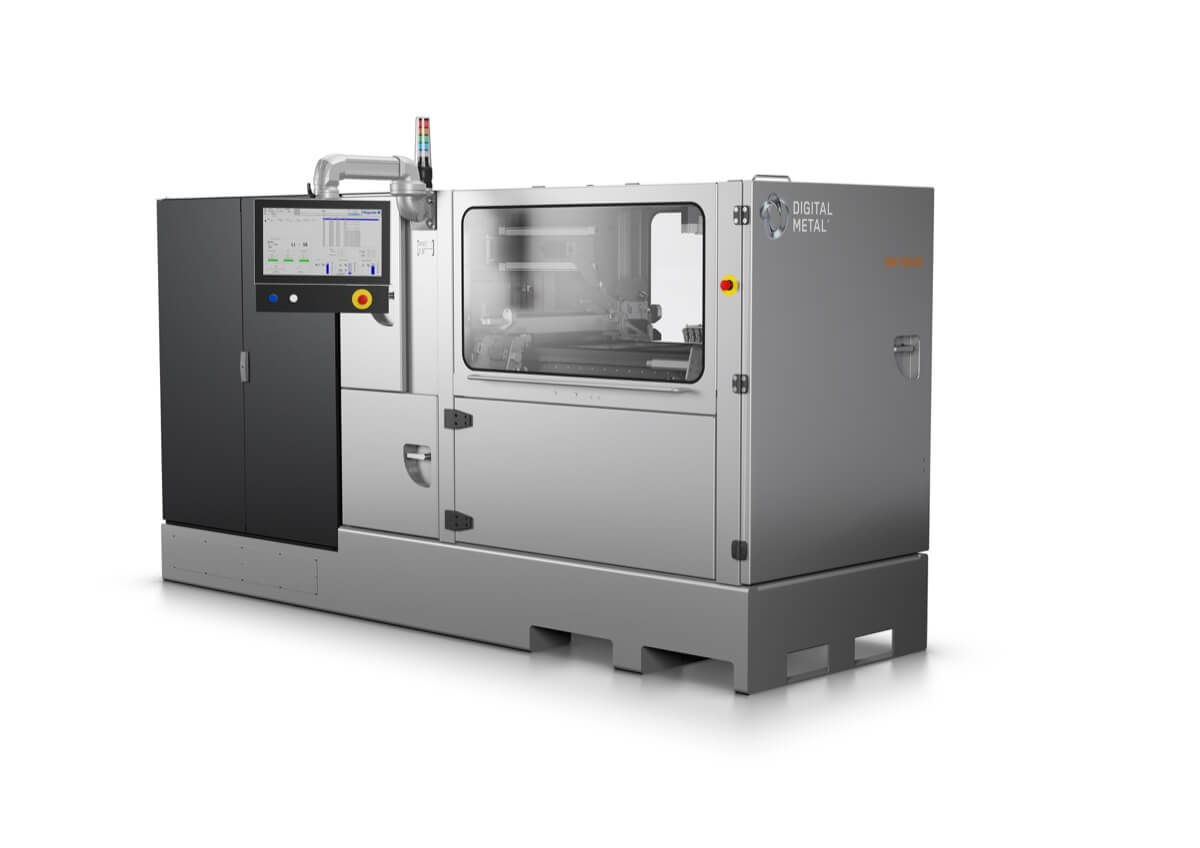 Digital Metal is a renowned name in Additive manufacturing. However, DMP 2500 is their first offering in the field of printers that produces small metal objects.
Digital metal is a subsidiary of Swedish metal powder producer Hoganas. This aluminum 3D printer is based on a high precision binder jetting system.
The build volume of parts and prototypes produced using this printer is 203 mm * 180 mm * 69 mm. Going further into the technical specifications, the printer has a minimum layer resolution of 42 micrometers and a print speed of 100 cc/hr.
One of the most noteworthy features of this printer is that the printer allows faster and flexible production of metal parts directly from CAD files. High level detailing with speed is possible in Digital DMP 2500.
The non-sintered powder inside DMP 2500 serves as a support for parts so, there is no need to give any external support.
It is possible to give the entire volume for the printing of complex and functional parts. This feature makes DMP 2500 an ideal printer for serial production as well as end-user customization.
back to menu ↑
Markforged Metal X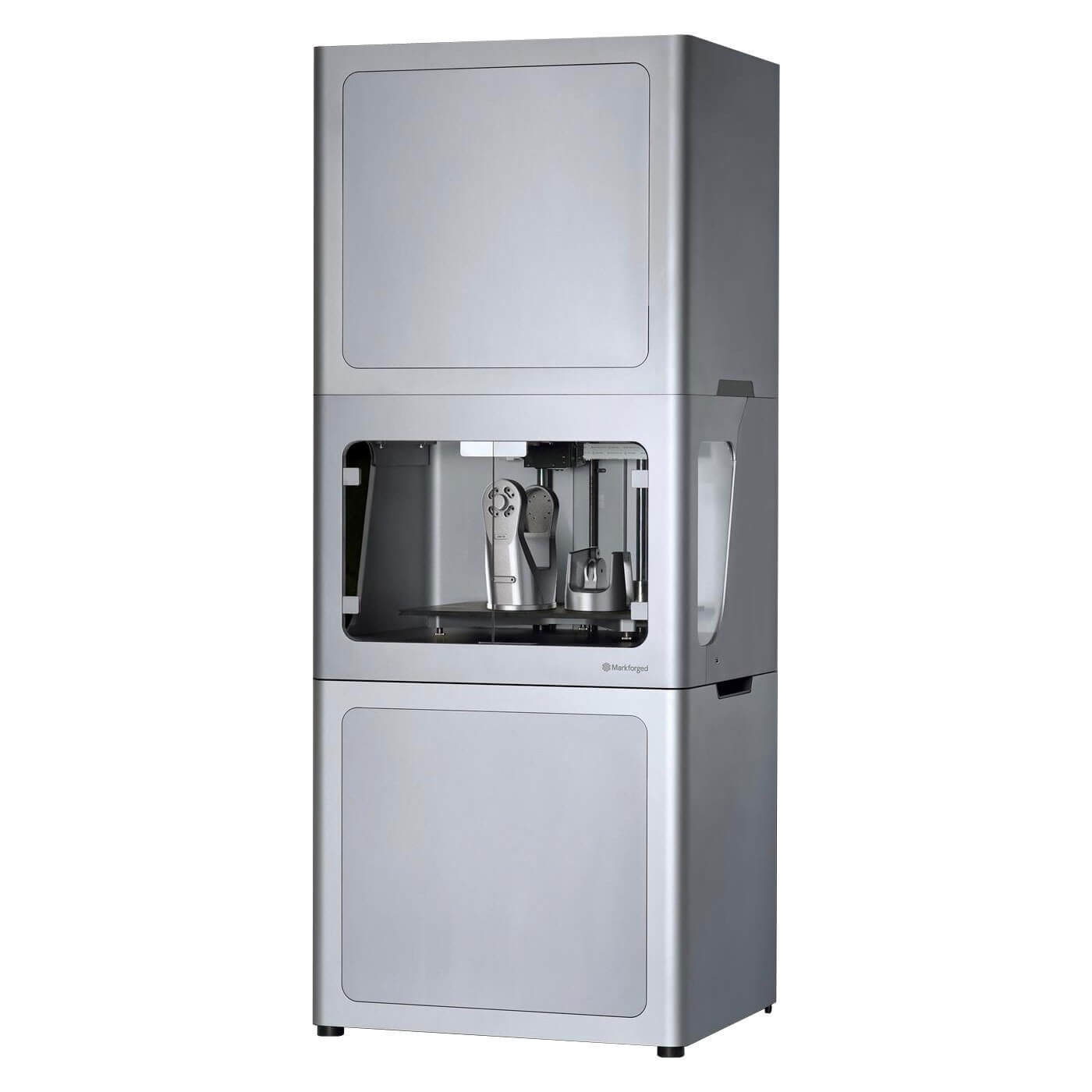 This aluminum 3D printer costs $99,500. Markforged is another company that focuses on making this 3D printing technology more and more accessible to small businesses.
Although this 3D printer costs lesser than most industrial-grade 3D printers, it offers almost a similar level of work.
Whenever Markforged Metal X is shipped out, its post-processing stations i.e. Sinter-1 and Wash-1 are always accompanied.
Metal X is based on the ADAM 3D printing process which is an abbreviation for Atomic Diffusion Additive Manufacturing. Sinter-1 i.e. the furnace and Wash-1 i.e. the debinder are two parts that are very necessary to complete the ADAM 3D printing process.
Similar to Studio System which is another printer from the same manufacturer, this one too works by printing metal powder that is bound in a plastic matrix.
Removal of plastic and sintering of metal into a stronger and much denser part is done by the printer's heating module.
The maximum build size of parts and prototypes that are printed by this 3D printer is 300 mm * 220 mm * 180 mm. Metal X also allows its user to print with tooling steel, titanium, Inconel, copper, and stainless steel.
back to menu ↑
3D Systems Pro X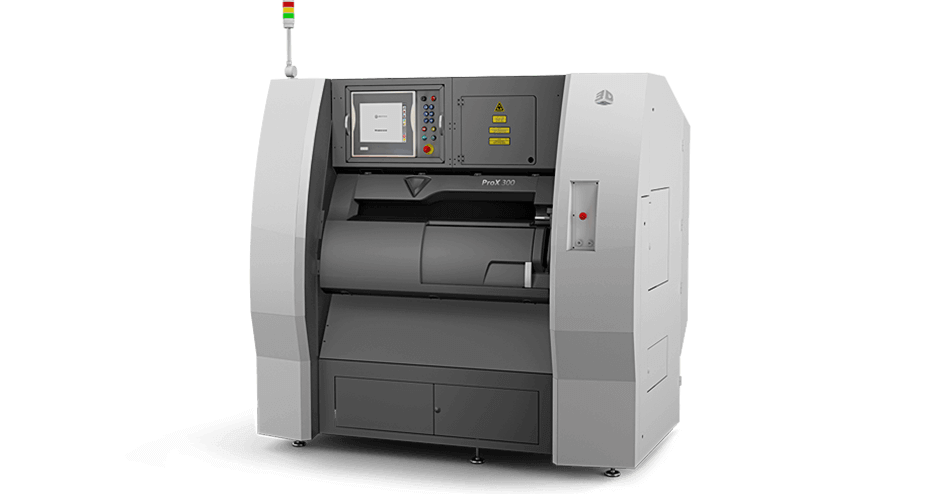 Designed to increase production speed and reduce material waste, Pro X is an aluminum 3D printer that is based on DMP 3D printing technology.
The 3D printer offers a build volume of 250 mm * 250 mm * 330 mm. One of the noteworthy features of Pro X is its automated material loading and recycling system. This feature offers users extra convenience over the other 3D printers in the same price range.
When we talk about material variability, apart from aluminum, Pro X offers printing with stainless steel, tool steel, non-ferrous alloys, and superalloys.
One of the eccentric material that this 3D printer allows its users to print with is Cement. 3D Systems is a very popular name in the additive manufacturing market that one can rely on.
Talking about the technical specifications of this printer, it offers a surface finish of up to 5RA micrometers and can produce parts at 20-degree surface angles without any supports.
Complex parts and prototypes with exceptional surface finish and elimination of support structures can be produced using this aluminum 3D printer.
3D Systems is known for its technical support and assistance. So if you are looking for a printer that can produce parts and prototypes of high quality in a considerable amount of time, Pro X should be your go-to.
back to menu ↑
Sciaky EBAM 300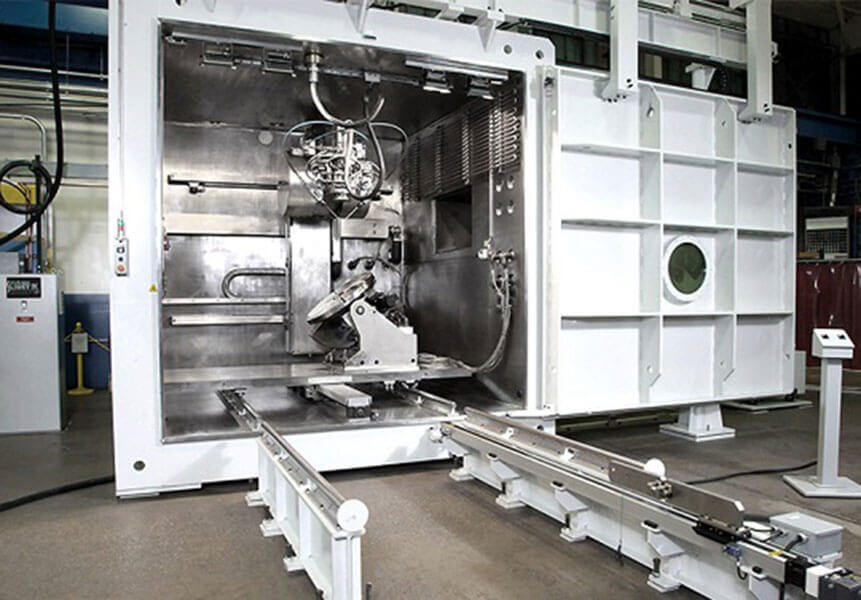 If printing only large aluminum and metal structures are your goal, you need not look at other options on the list. Sciaky EBAM series is capable of offering a build volume of any size that you can think of.
It is this 3D printer that the US Aerospace and defense department uses for printing their accurate defense and aerospace parts and prototypes.
EBAM stands for Electron Beam Additive Manufacturing. In this technique, huge build volumes are possible to build at high-speed deposition rates.
The height of the printed materials can be even 10 feet long and weight can be anywhere in the range of 3-7 kg. Such structures can be printed in a time of 48 hours. Forging the same parts can take up to 6 to 12 months.
The printer can print with titanium, Inconel, stainless steel, copper, nickel, and many more metals apart from aluminum.
The electron beam gun deposits metal layer by layer until the part reaches a near-net-shape that is fed into the machine by CAD software.
The gross deposition rates of this system are 7 to 25 lbs. There has also been a recent development in EBAM i.e. the dual wire feed system. This allows you to combine two different metal alloys in a single melt pool.
The benefits that one can get by printing with this technique are hard to find in other techniques.
Product
Specification
Videos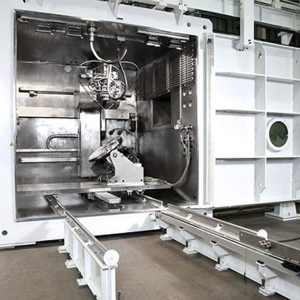 Talk about the large format metal 3D printer, and Sciaky EBAM 300 would top the list with the capacity to print models 19 feet in length. Aiming at ...
| | |
| --- | --- |
| Model | EBAM 300 Series |
| Manufacturer | Sciaky |
| Price Range | > $ 250000 |
| Release date | 2016 |
| Country | United States |
| Availability | Available |
| Classification | Industrial |
| Technology | Directed Energy Deposition |
| Material | Metal |
| OS compatibility | Microsoft Windows |
| Max. build size | 5791 × 1219 × 1219 mm 227.99 × 47.99 × 47.99 in |
| Max. build volume | 8605.20 L |
| Dimensions | 7620 × 2743 × 3353 mm 300 × 107.99 × 132.01 in |
| Heated print bed | No |
| Heated build chamber | No |
| Automatic calibration | No |
| Closed frame | Yes |
| Dual extruder | No |
| Independent Dual Extruder | No |
| Full color | No |
| LCD screen | No |
| Touchscreen | No |
| On-board camera | No |
| Mobile app | No |
| 3D scanners | No |
| CNC mill | No |
| Electronics 3D printing | No |
| Laser engraving | No |
| Conveyor belt | No |
| Air filter | No |
| Pellet extruder | No |
| USB | No |
| Wifi | No |
| Bluetooth | No |
| SD card | No |
| Ethernet | Yes |

The Conclusion
You must have understood the different constraints that fall in place when it comes to choosing the right metal 3D printer.
Because these printers are high in price, you cannot just compromise on the quality after you have made the purchase. Hence, you must be vigilant when looking for a 3D printer and choose the one that offers the required output.
For those of you who are looking to buy an aluminum printer or metal printer in general, there are some basic things that you need to take care of.
This is to ensure that the printer that you are buying is the one that you are actually looking for. The list of these basic things starts with build volume, layer resolution, the technology which is used for 3D printing of parts and prototypes. You can compare these things with printers at the same price to get a better judgment.
Apart from these things, you can compare the print speed of two 3D printers and the materials i.e. apart from aluminum you can print with. You should also try to find out the cost of the materials in your locality and their availability.
In case, you are looking for a long-term future in additive manufacturing, you must be highly vigilant. The main benefit of purchasing a 3D printer is that you print in bulk and increase your profit.
The golden rule to remember here is the more amount of material a printer offers printing with, the more variable parts and prototypes can be printed using that printer.
Most of the aluminum printers offer printing with other metals too. So, you can check the options and decide that better suits your specific needs.